100% Whole Wheat Graham Crackers
Homemade and healthier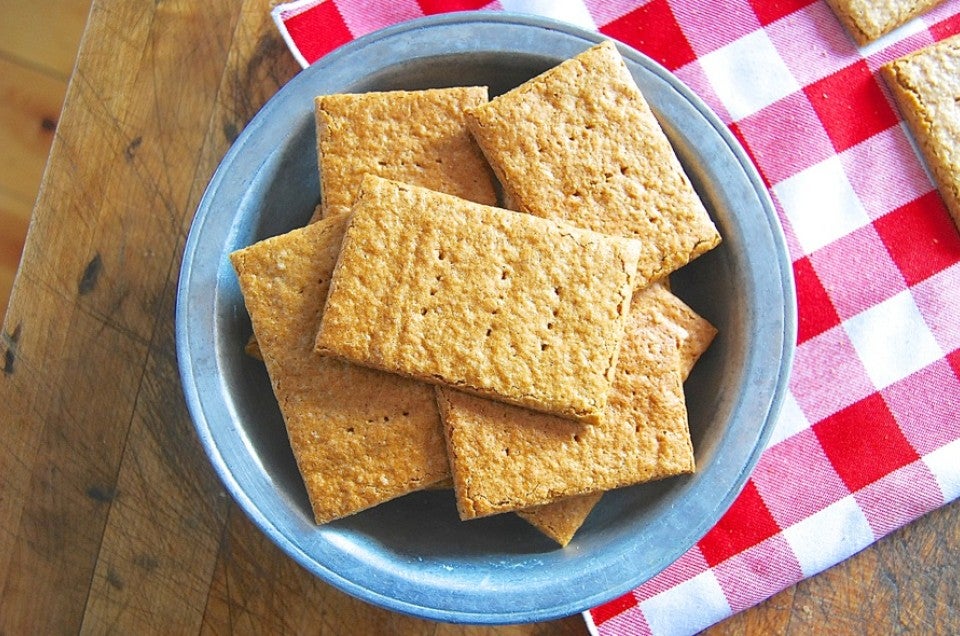 "The best graham crackers ever. One bite, and you'll want to eat the entire bagful."
So says Seneca. A member of our King Arthur Flour extended family via her mom, Jenn (our catalogue's art director), Seneca is 8 years old. And she knows a good thing when she tastes it. No dissembling; no hesitation.
Just "the best graham crackers ever."
Which warms my heart. Despite its nutritional attributes, whole wheat flour is often a hard sell, flavor-wise. Especially when it comes to kids, who can taste "healthy" in their cookies a mile off – and summarily reject it as "different."
If you have a child, you've seen "the face," right?
You hand little Chloe a whole wheat chocolate chip cookie. Expecting her usual happy chocolate chip cookie experience, she takes a bite. Happy fades, replaced by quizzical, followed by the "ewwwww" look, with an accusatory, dagger-laden "how could you" for good measure at the end.
That's a fairly common reaction with traditional whole wheat flour, ground from red wheat berries.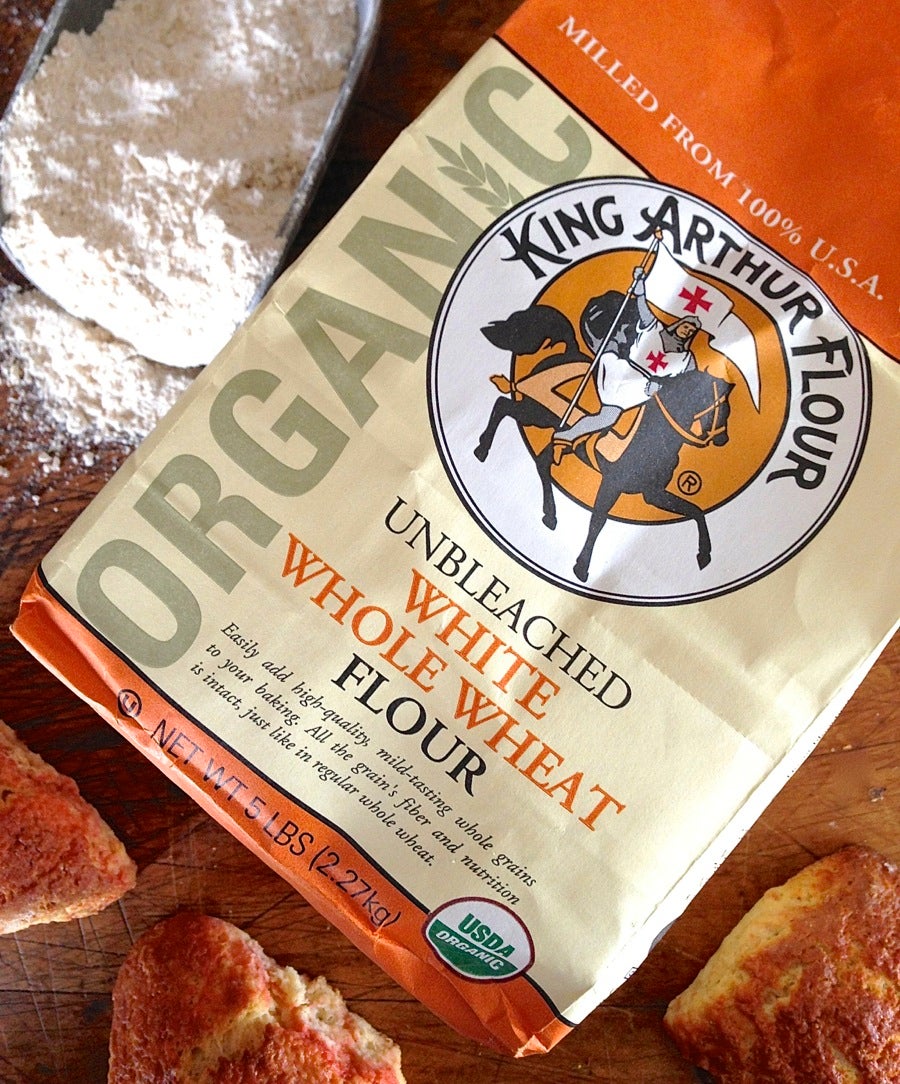 But our white wheat flour – ground from nutritionally equivalent white wheat berries – is a milder, lighter-colored flour, one that's easier to slip past your most discerning audience… the kids.
Graham crackers were an original poster child for whole wheat flour. Invented by preacher Sylvester Graham back in the mid-19th century, these 100% whole wheat crackers were part of Graham's drive to get Americans to eat healthier. He advocated a vegetarian diet of natural, unadulterated foods – including whole wheat baked goods of all kinds.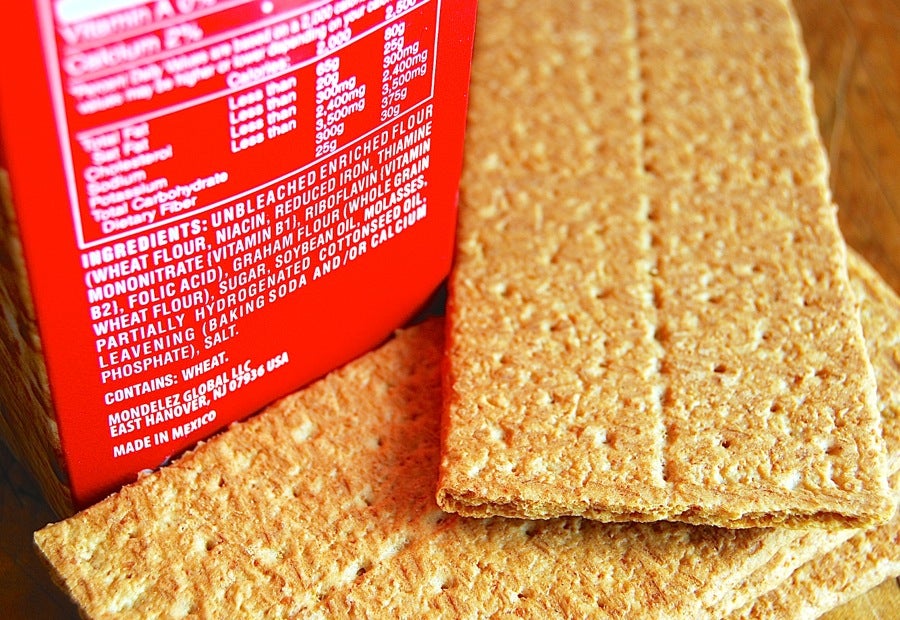 Today's typical graham cracker still includes graham flour – a type of soft whole wheat. But as you can see, today's packaged crackers are mainly white flour.
Which is why I decided to salute Rev. Graham with a recipe for 100% Whole Wheat Graham Crackers.
Crackers that – thankfully, if Seneca is any indication – won't result in the "ewww" face.
Preheat the oven to 300°F. Lightly grease two baking sheets; if you have parchment, you'll be using it to roll, transfer, and bake the crackers, so you won't need to grease your baking sheets.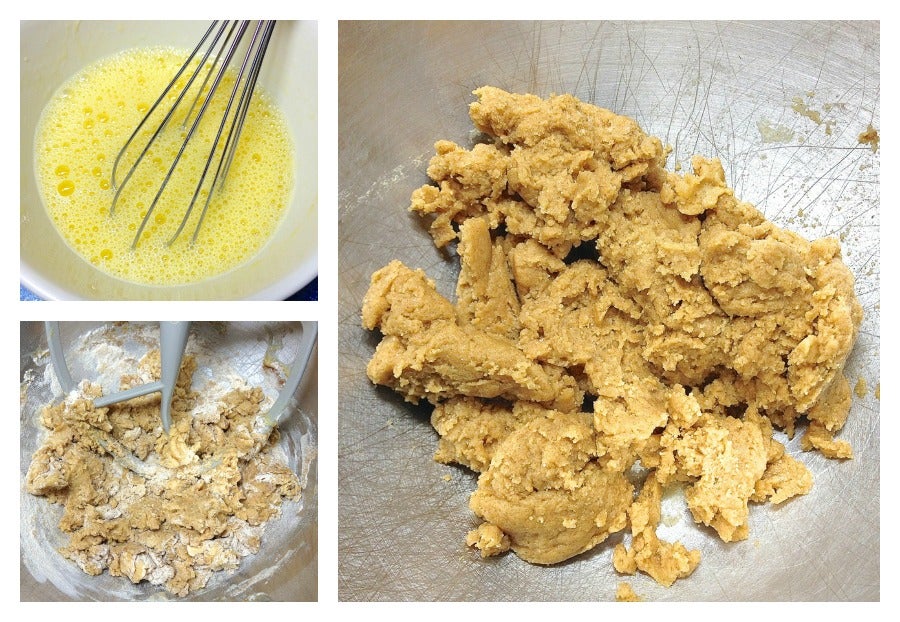 Gather the following:
2 cups (227g) King Arthur White Whole Wheat Flour
1/2 cup + 2 tablespoons (124g) sugar
1/2 teaspoon salt
1 teaspoon ground cinnamon
1/2 teaspoon baker's ammonia* or 1 teaspoon baking powder
*Baker's ammonia, a traditional ingredient known for imparting super light/crisp texture to cookies and crackers, will make the crunchiest crackers. Baking powder will work, too, though it'll produce a slightly harder (rather than crisp) cracker.
Whisk together the flour, sugar, salt, cinnamon, and baking powder, if you're using it; if you're using baker's ammonia, don't mix it in yet. Set the mixture aside.
In a separate bowl, whisk together the following. If you're using baker's ammonia, dissolve it in 1 tablespoon of the water before adding it to the remaining liquid ingredients.
1 large egg
1/4 cup (50g) vegetable oil
1/4 cup water; or 2 tablespoons each orange juice and water*
*Orange juice tempers the sometimes assertive flavor of whole wheat; we recommend it if you're baking for kids, especially with traditional whole wheat flour. OJ substituted in this small amount won't make your crackers taste orange-y, just less "wheaty". Use all water if desired.
Add the liquid ingredients to the dry mixture, stirring to form a cohesive dough.
Divide the dough in half, and shape each half into a flattened block.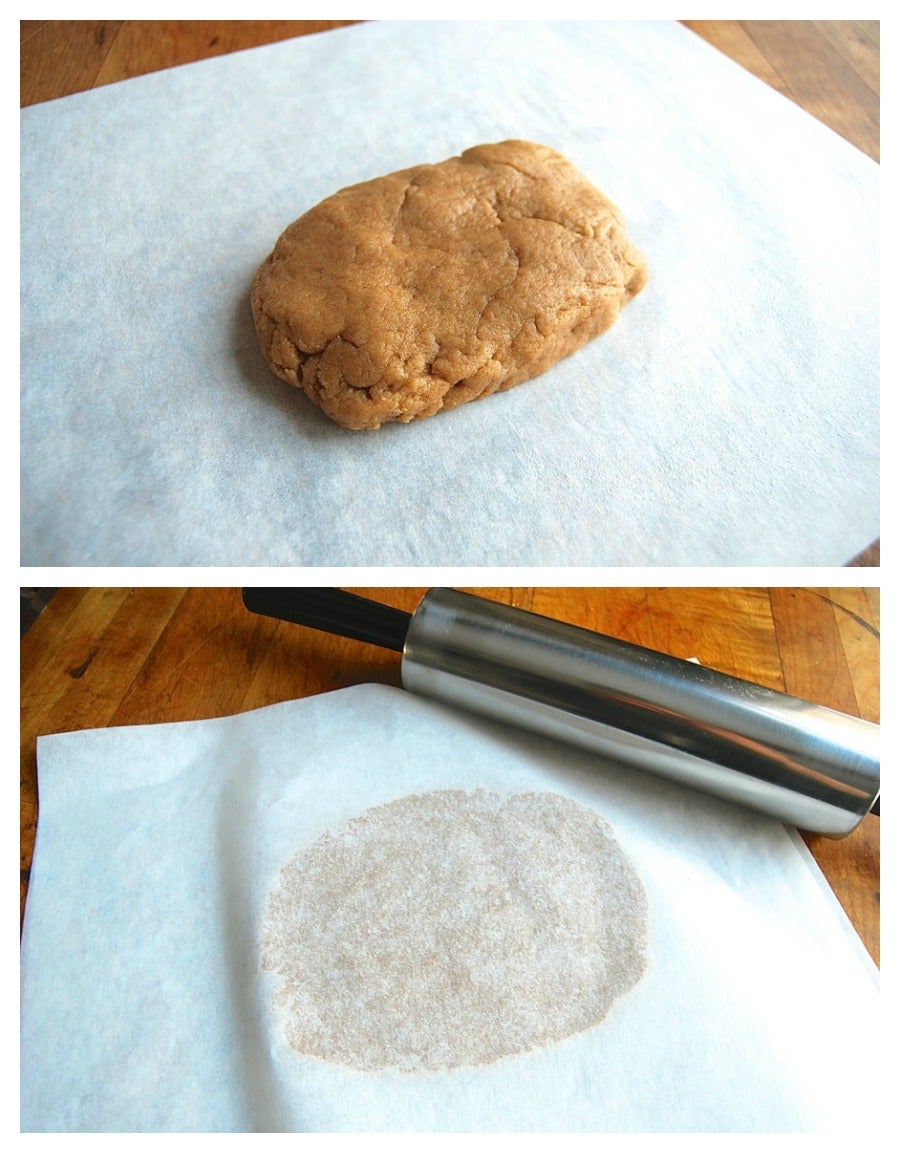 Working with one piece of dough at a time, roll it between two pieces of lightly greased parchment or waxed paper.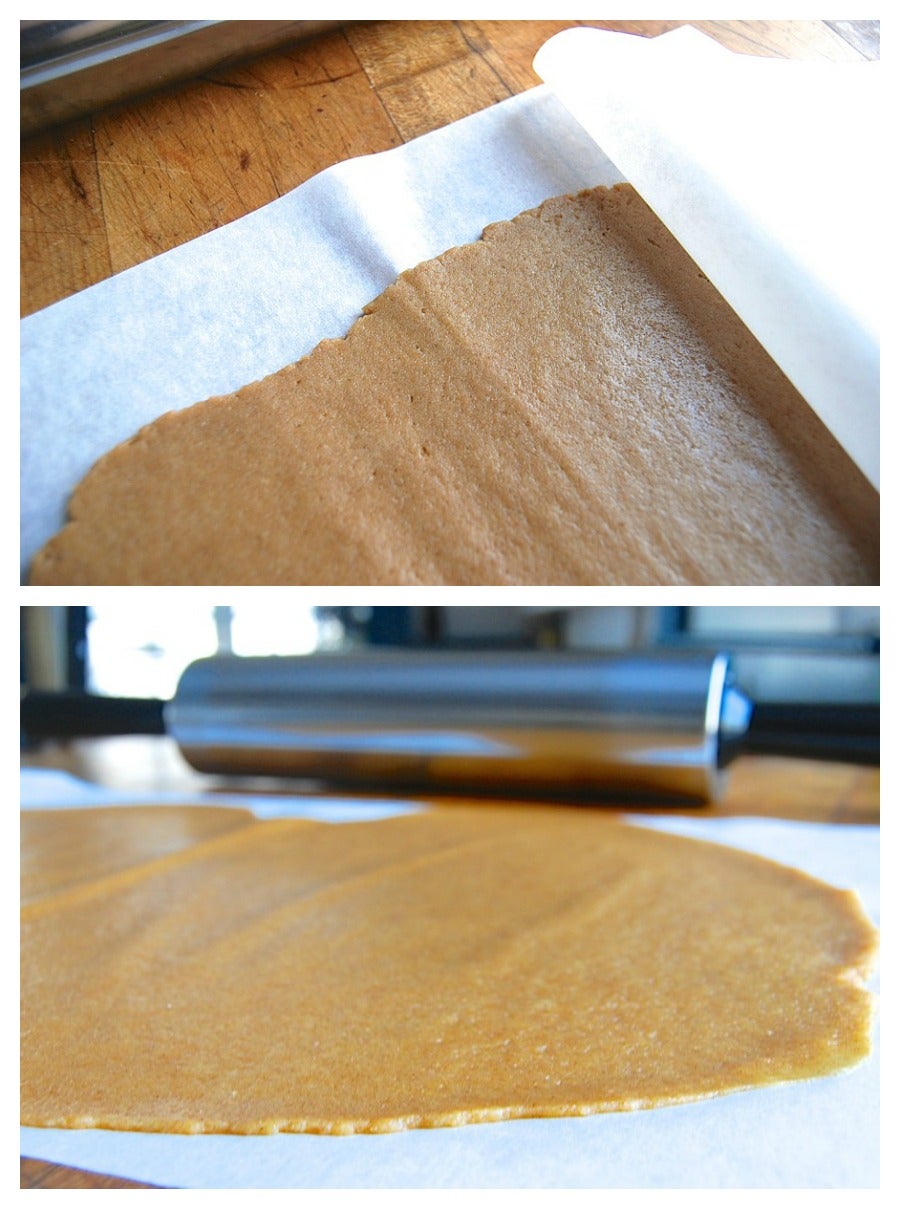 Roll the dough until it's 1/16" thick. Try to keep the dough a uniform thinness throughout, and make sure the bottom piece of parchment remains flat.
Rolling the dough ultra-thin (1/16") is key to the crisp, light texture of these crackers. If you can't roll the dough that thin, your crackers will be sturdier, and you'll need to bake them a bit longer.
See the parchment wrinkle in that top photo? You want to avoid that...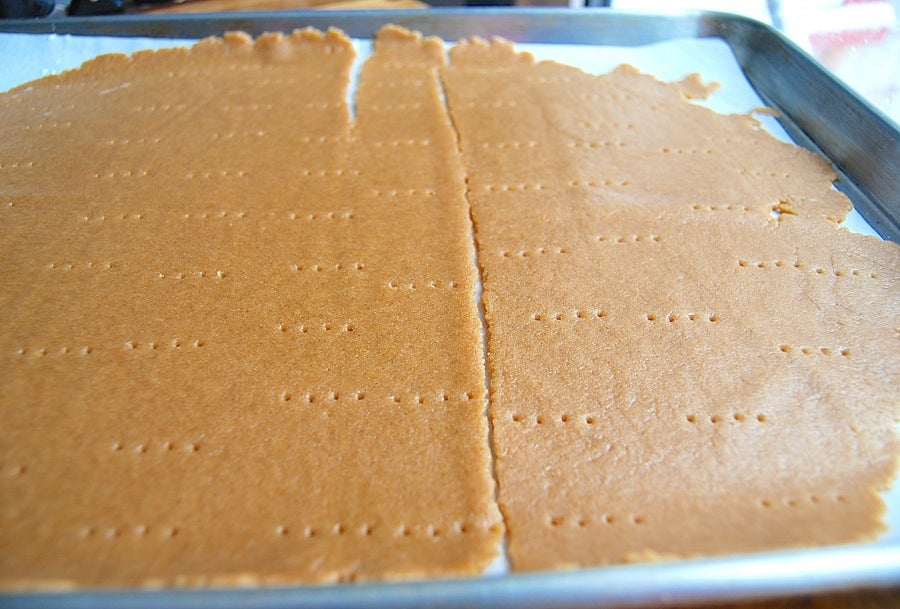 ...because here's what happens if you let the bottom sheet of parchment fold over on itself: you get a crack in your crackers.
Transfer the rolled-out dough to your prepared baking sheet; if it's on parchment, peel off the top piece, and lay the bottom piece on the baking sheet. If it's on waxed paper, peel off the top piece, flip the dough over onto the baking sheet, and peel off the remaining piece.
Repeat with the remaining piece of dough.
No, you didn't miss a step; we're not cutting the crackers quite yet. I mean, who wants to try to move 1/16"-thick crackers from paper to pan? Thanks to one of our blog readers for the following cracker-cutting suggestion – it's genius. (And I apologize, I can't find your comment/name anywhere!)
First, bake the crackers for 10 minutes.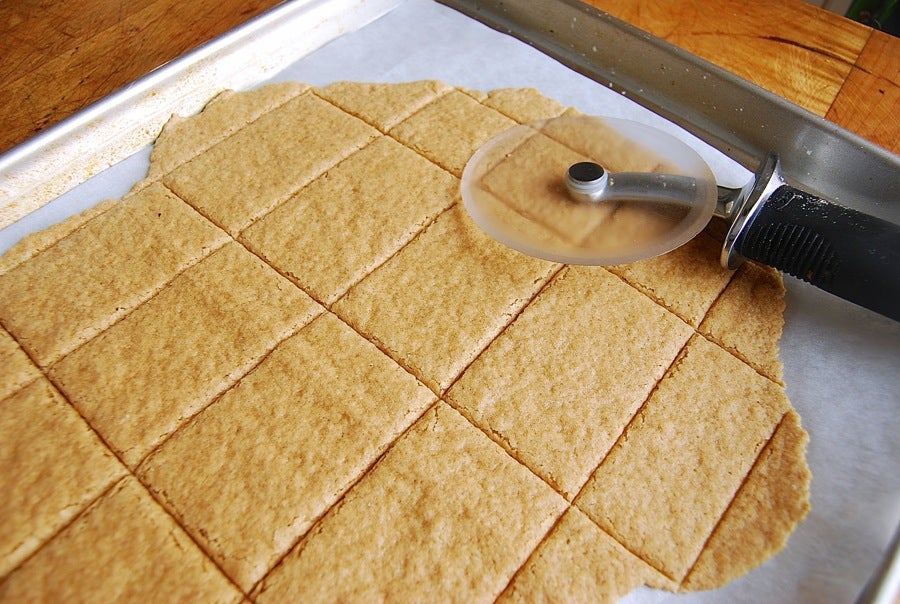 Remove them from the oven, and use a rolling pizza wheel or sharp knife to cut the sheets of dough into 3" x 2" rectangles; don't separate them, just cut them. You can use a fork to prick the crackers at this point, if you like, for that distinctive graham cracker look.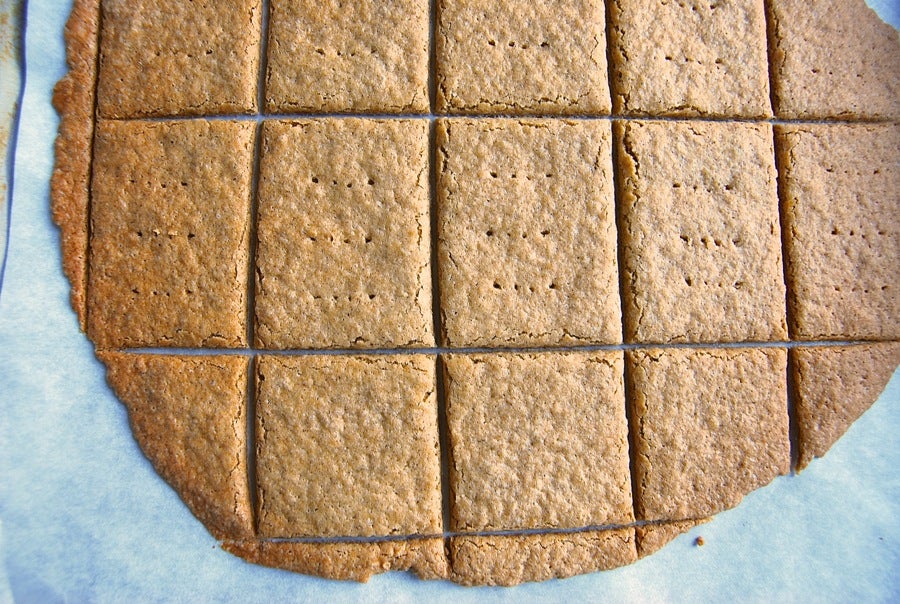 Return the crackers to the oven, and continue to bake for 20 to 25 minutes, until they're brown around the edges. Overall, they should be a shade darker than when they went into the oven; and they shouldn't be at all soft or pliable.
Turn off the heat, and open the oven door wide. After 5 minutes or so, when much of the oven's heat has dissipated, shut the oven door, and let it cool down completely with the crackers inside; this will help them become as crisp as possible.
Remove the cooled crackers from the cold oven, and wrap them airtight. They'll stay good at room temperature for several weeks.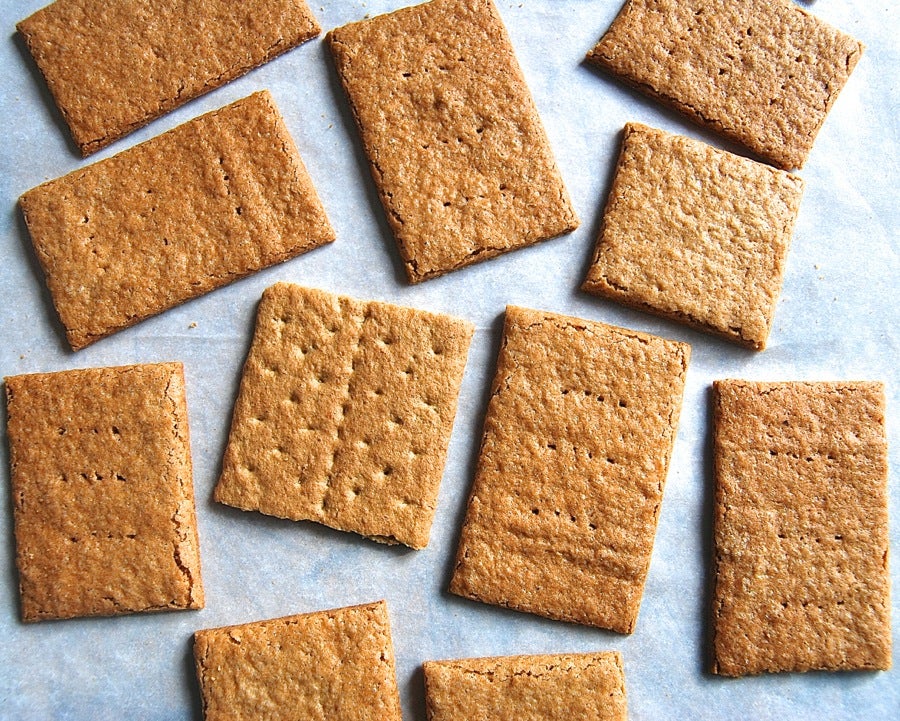 Now, I'm not saying these homemade graham crackers taste exactly like store-bought. There's a certain graham cracker flavor I've been unable to emulate – though looks-wise, they're a close match for packaged crackers. (See the manufactured cracker in the center there? It's the one with all the holes).
But judging them on their own merits, they're good. VERY good.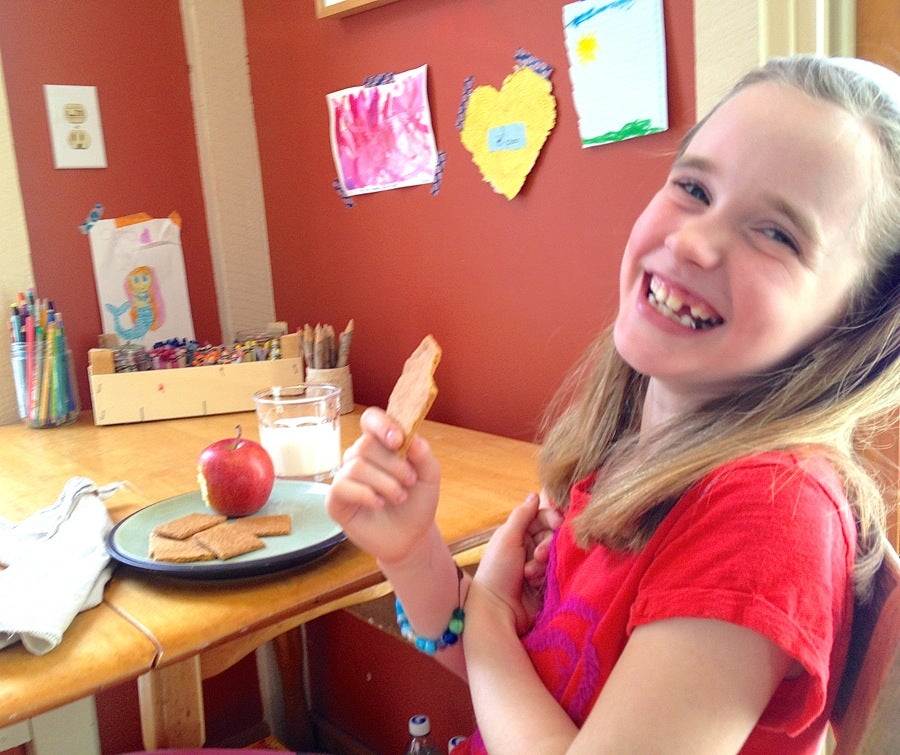 Just ask Seneca!
Please bake, rate, and review our recipe for 100% Whole Wheat Graham Crackers.
Jump to Comments