Passover is a holiday that celebrates questions – none of which have to do with flourless chocolate cake.
And yet, "What should I make for dessert?" is a question that plagues many a baker at Passover time, mainly due to restrictions around many grains, and leavening. This is a story about questions that remain the same, people who are always changing, and a lovely flourless chocolate cake.
For those of you who are unfamiliar with Passover, the Four Questions are a key part of the Seder (which means "order," and involves the ritual retelling of the Jewish exodus from slavery in Egypt). The Four Questions are traditionally recited, both in Hebrew and English, by the youngest boy attending the Seder – although nowadays I believe the honor goes simply to the youngest child.
There are lots of flourless chocolate cake recipes out there, including several delicious ones on the King Arthur website. But this Flourless Chocolate Truffle Cake does have some unique selling points:
It has an intense chocolate flavor and smooth, dense texture that will excite even the most discriminating chocolate lover – think the center of a rich chocolate truffle.
It's easy to make (really!)
It can be made ahead and frozen.
It's flour-free, gluten-free, nut-free, free of leavening, and also (if you choose to make it so) dairy-free.
It's a great Seder dessert for Passover when made with kosher for Passover ingredients. But it's also so good, you'll find you want to make it all year long for any occasion calling for an extreme dose of chocolate deliciousness.
It takes a little explaining how this cake came to join my family's Passover celebration, so bear with me.
My mother (of Mom's Caramels fame) grew up on a small farm in Sydney, Ohio, and wasn't raised in the Jewish faith. But then she met my father. They fell in love, my mom converted, and they got married.
My mother embraced Judaism (as she did all things) with devotion and determination. She joined Hadassah (a Jewish women's volunteer organization), she took her four children to Hebrew school and Sunday school, and for each holiday she did her best to recreate the traditions and foods my father remembered.
His parents had died when he was a young man, so she didn't have a mother-in-law to guide her Jewish cooking endeavors. Instead, she leaned heavily on her Hadassah cookbook, Like Mama Used to Make, and the guidance of Jewish friends and my father's siblings and cousins.
When it comes to preparation and cooking, Passover is by no means an easy holiday. There's the cleaning and purging of all chametz (forbidden grains and leavened products); the preparation of the ritual elements of the Seder plate, as well as cooking a large holiday meal for family and guests.
Every year for Passover my mother would prepare charoset (a mixture of chopped apples, walnuts, and sweet red wine meant to represent the mortar used by Jewish slaves), chopped liver, boiled eggs, matzo ball soup, gefilte fish (OK, she bought the kind in a jar), brisket, cooked and fresh vegetables, and fruit salad. It was a lot of work. And my mother was, at best, a reluctant cook and entertainer.
It was so much work that she was able to convince even my father to help with the chopped liver, one of his favorite foods. This was the one and only time of year that my father participated in food preparation. His job was to do the chopping after the chicken livers had been fried with onions in schmaltz and put through the hand grinder with hard-boiled eggs.
The mixture needed to be finely chopped to give it the desired smooth texture. Many families still own the "hocker" and bowl their grandmother used to make chopped liver, but my dad used a regular knife and wooden cutting board. Long after my brothers and sister and I were sent to bed, we heard the rhythmic sound of his knife hitting the cutting board – a soothing harbinger of Passover.
With all the cooking and cleaning required for just the basic Passover meal, my mother made a fruit salad for dessert and left the rest to Manischewitz and Barton's. Now don't get me wrong, we loved those canned macaroons and kosher for Passover chocolates! They were as much a part of my family's Passover traditions as chopped liver.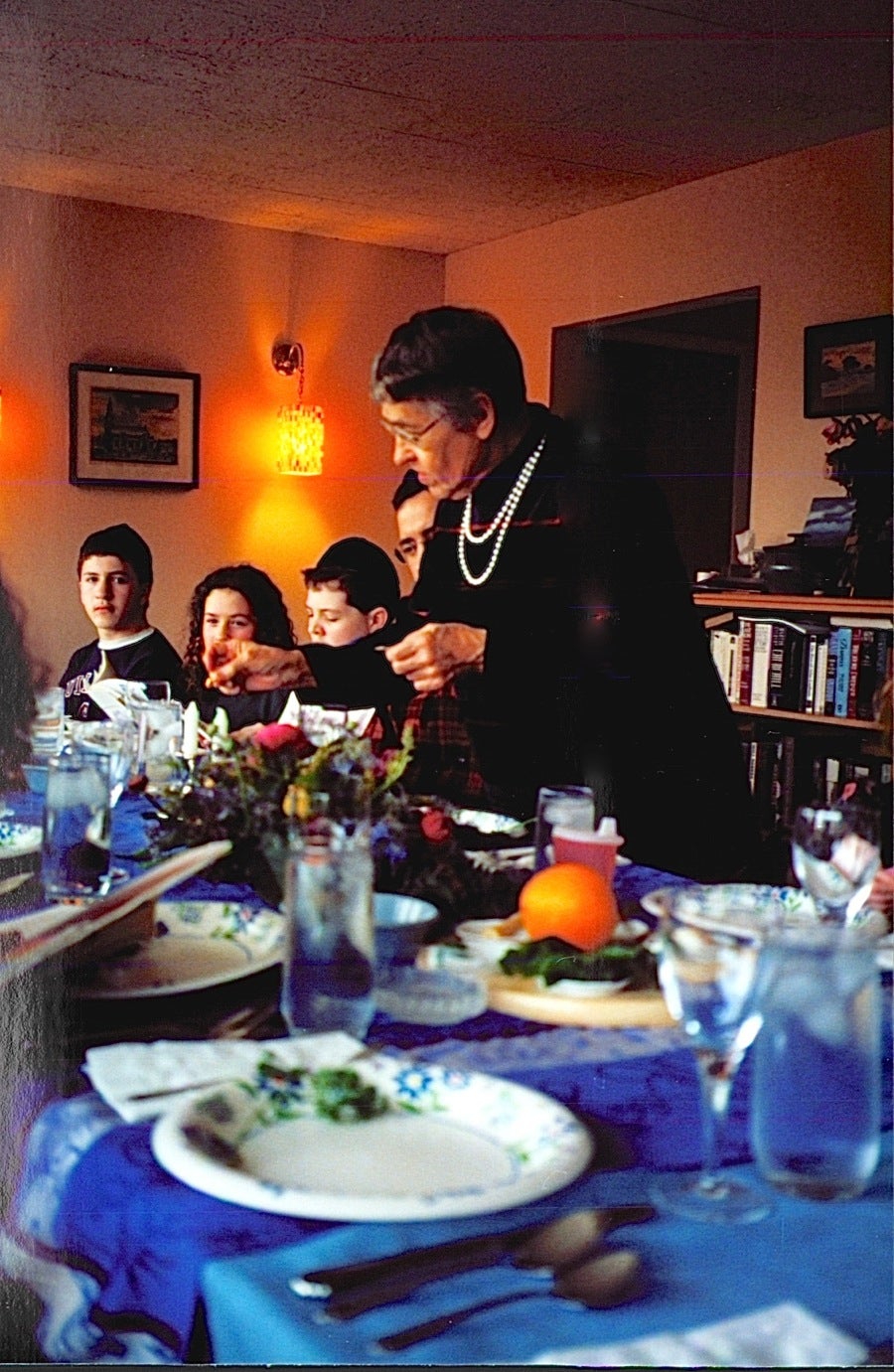 It wasn't until I was well into adulthood that I realized it was even possible to bake a Passover dessert at home. This revelation came when I went to work at Zingerman's Bakehouse in Ann Arbor, MI. It was at the Bakehouse that I first learned to bake wonderful artisan breads.
Later, when I had the opportunity to work in their baking school (Bake!), my education broadened to include amazing pies, cookies, cakes, pastries, and pizza. At Zingerman's, baking became not just a job for me, but a passion. One of the great teachers at Zingerman's that I had the good fortune to work with, Alejandro Ramon, created and shared the recipe for Chocolate Truffle Cake with Bake!
I must admit, however, that the Chocolate Truffle Cake and I got off to a rough start. I first met this cake while assisting in a baking class, assigned to bake all the students' cakes. This involved placing several cakes in a giant, heavy pan, pouring boiling water around them, and then ever so carefully sliding the whole thing into the hearth oven, trying my best not to burn myself or splatter water onto any of the cakes.
This was a little nerve-racking, to say the least! It was only later, when I made one of these cakes at home, that I realized how easy and delicious this cake is, and how hard it is to mess this recipe up. Bread baker that I am – that's my kind of cake!
In 2014 I moved to New Hampshire and joined the ranks of King Arthur Flour. I know a little more about flourless chocolate cakes now and am more familiar with the many choices out there. But this is still the flourless cake I love best.
When I asked one of the managing partners at Zingerman's Bakehouse, Amy Emberling, if she'd mind if I shared this recipe with King Arthur Flour and our baking community, she was kind enough to agree.
So, here we go – gather the following ingredients:
1 pound (2 2/3 cups chopped, 454g) Belcolade or Guittard bittersweet chocolate Onyx wafers (50-80% cocoa)
12 tablespoons (170g) unsalted butter or 3/4 cup (170g) margarine
2/3 cup (152g) water
1 1/3 cups (266g) sugar
1/2 teaspoon salt
7 large eggs
1/4 cup (57g) liqueur, flavor of your choice; optional
First, let's talk about the chocolate. It can be whatever degree of darkness you prefer; I love Belcolade or Guittard bittersweet chocolate in this recipe. You can also substitute up to 20% unsweetened chocolate, if you prefer a darker, less sweet cake.
Our chocolates are kosher, but aren't designated pareve or kosher for Passover; so you'll need to source out other chocolate if you keep strictly kosher. And if you're severely allergic to nuts, it's important to note that our chocolates are not produced in a nut-free facility.
I added 1/2 teaspoon salt, because I think the salt brings out the chocolate flavor; but this is optional.
This recipe works well with margarine if you're looking for a dairy-free dessert. But beware – many margarines contain salt; so if you use salted margarine, omit the salt in the recipe.
I leave out the liqueur when I make this cake for Passover, but it can be a fine addition at other times of the year. Think Grand Marnier.
First things first: Preheat the oven to 350°F. Boil a kettle of water; you'll need it for a water bath. Spray or butter a 9" round cake pan.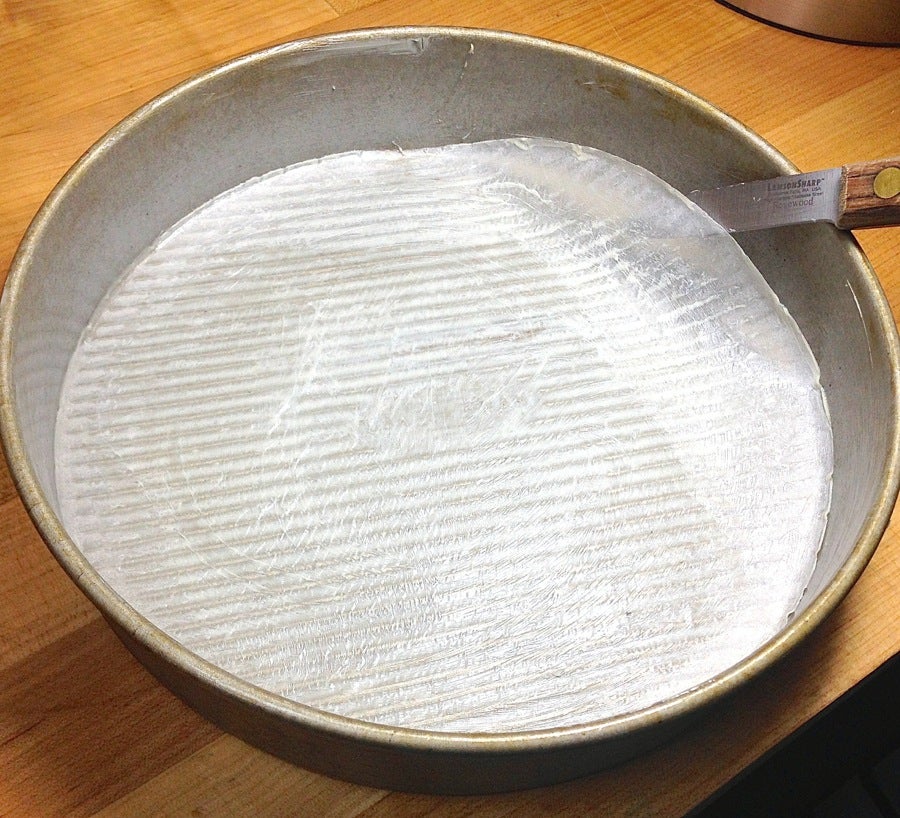 Place a parchment circle on the bottom of the pan, and grease the parchment.
Chop the chocolate and dice the butter or margarine into 1/4" pieces, and place them in a mixing bowl. Pour the water into a saucepan, add the sugar and salt, and bring to a boil, stirring occasionally to be sure the sugar dissolves.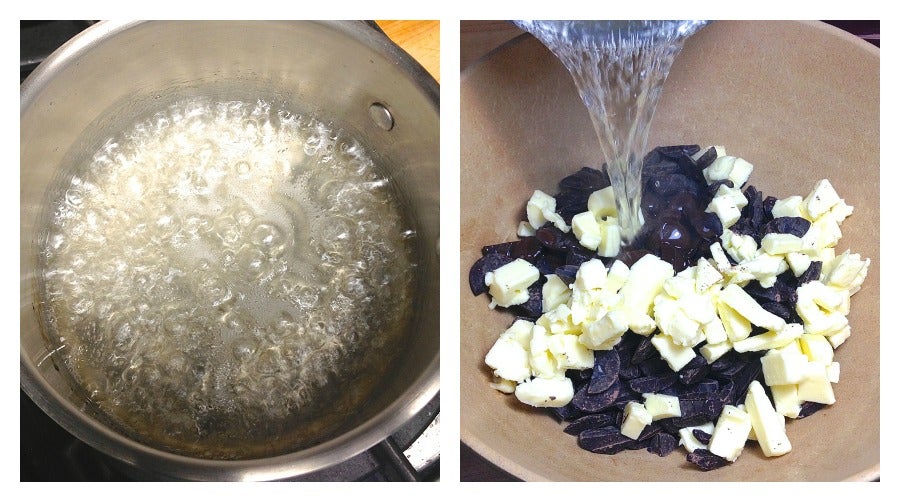 Remove the sugar water from the heat, and pour it over the chocolate and butter.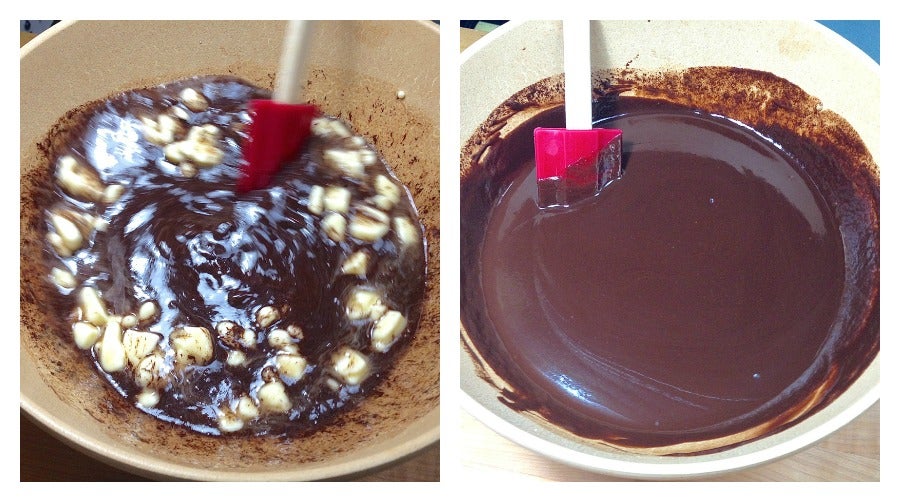 Stir until the mixture is completely melted, smooth, and shiny.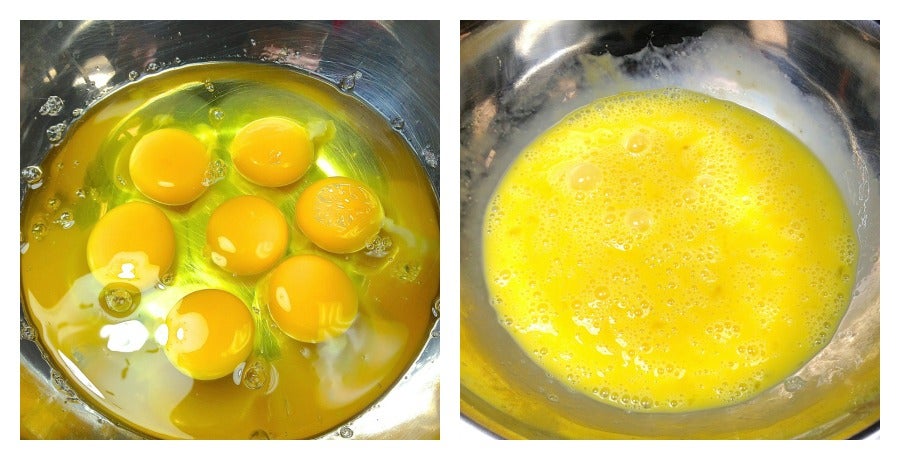 Whisk the eggs with a fork until well blended. This doesn't mean beat the eggs. Just be sure they're of a uniform consistency. Seriously – don't go overboard with the eggs here.
If you're adding liqueur, stir it in once the eggs are blended.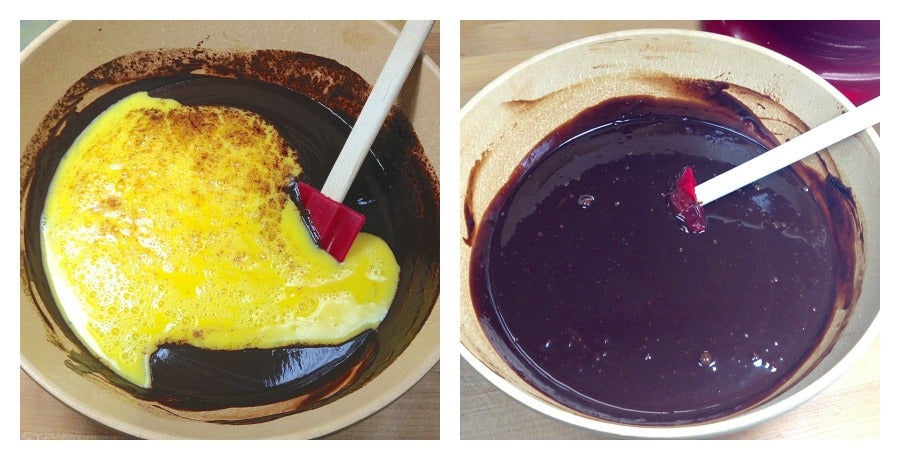 Add the eggs to the chocolate mixture once it's cool enough not to cook the eggs. Again, no beating required. This cake is meant to be moist and dense, so you don't really want to introduce a lot of air bubbles.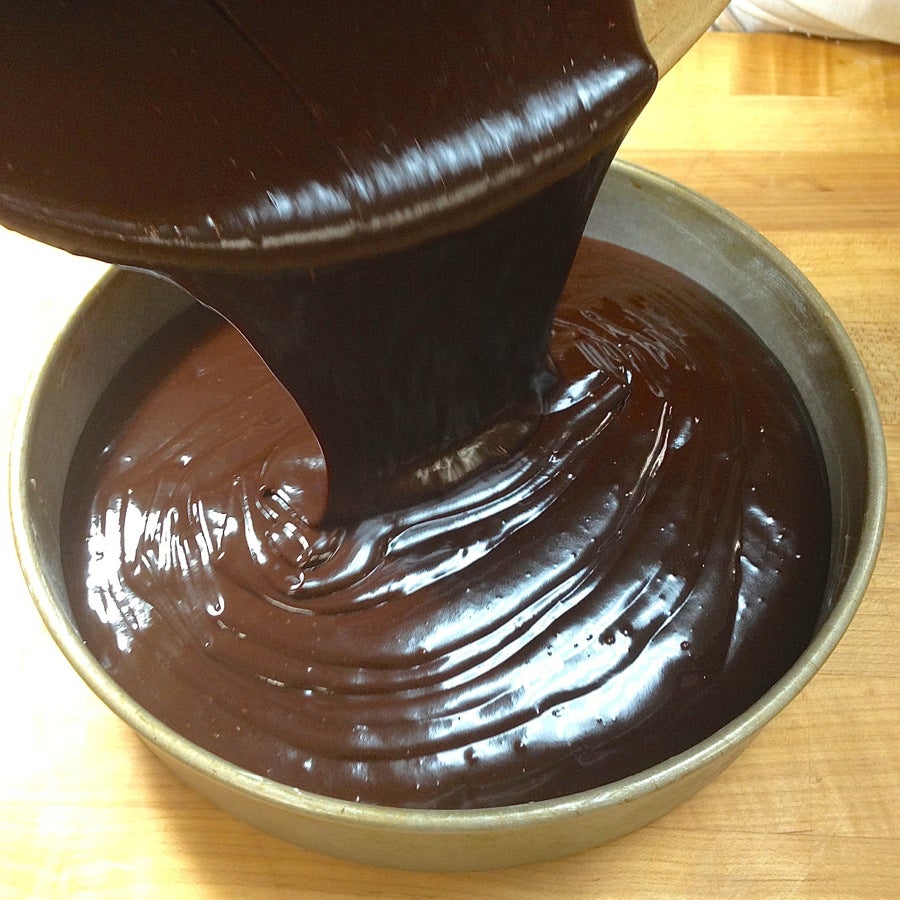 Pour the mixture into the prepared pan.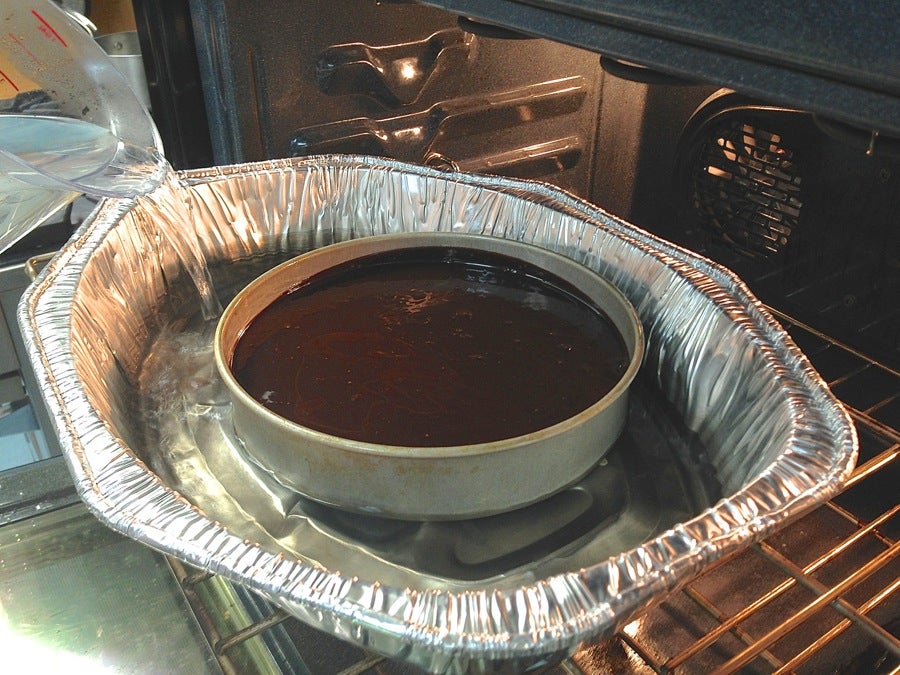 Place the cake in a large, deep baking pan that's already set on the oven rack. I use a disposable roasting pan. Slowly pour the boiling water into the deep pan, to bring it halfway up the side of the cake pan.
Carefully slide the rack back into the oven, trying not to splash water into the cake (although it won't ruin the cake if you splash in a drop or two of water).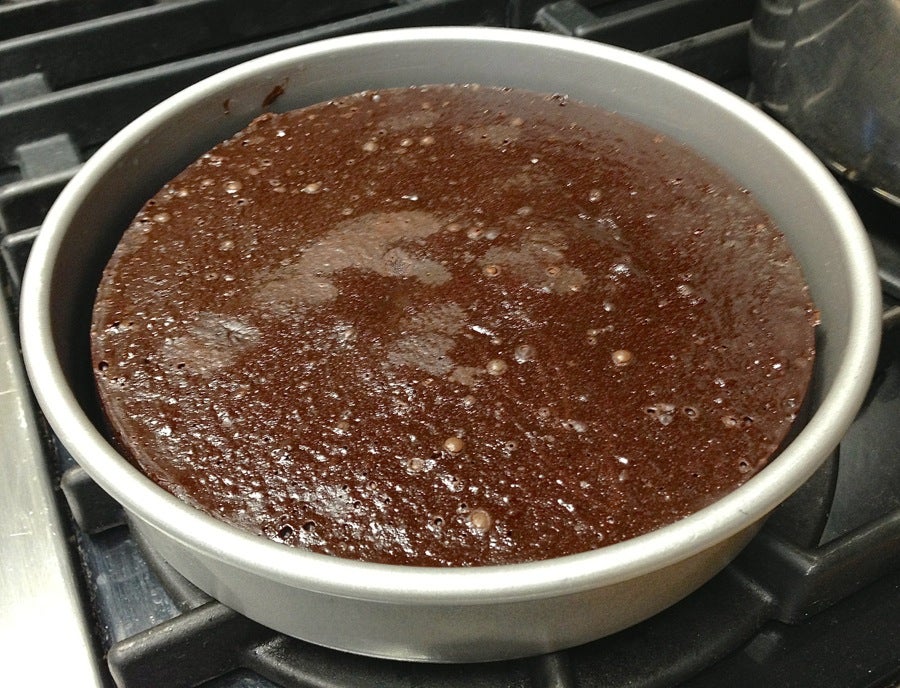 Bake the cake for 45 to 50 minutes, and remove it from the oven. The center should feel set when you touch it, and the edges will be just starting to pull away from the sides of the pan. The cake pictured above had been out of the oven for a bit, so it shows more pulling away from the sides than will be apparent when your cake first comes out of the oven.
Carefully remove the cake from the hot water. Allow it to cool at room temperature for 1 hour, then cover it with plastic wrap and refrigerate for at least 3 hours, or overnight.
De-panning this cake can be a bit tricky, because it sometimes requires banging the pan upside down – which you probably don't want to do on a beautiful glass or ceramic plate. Here's a technique that will spare your delicate plate.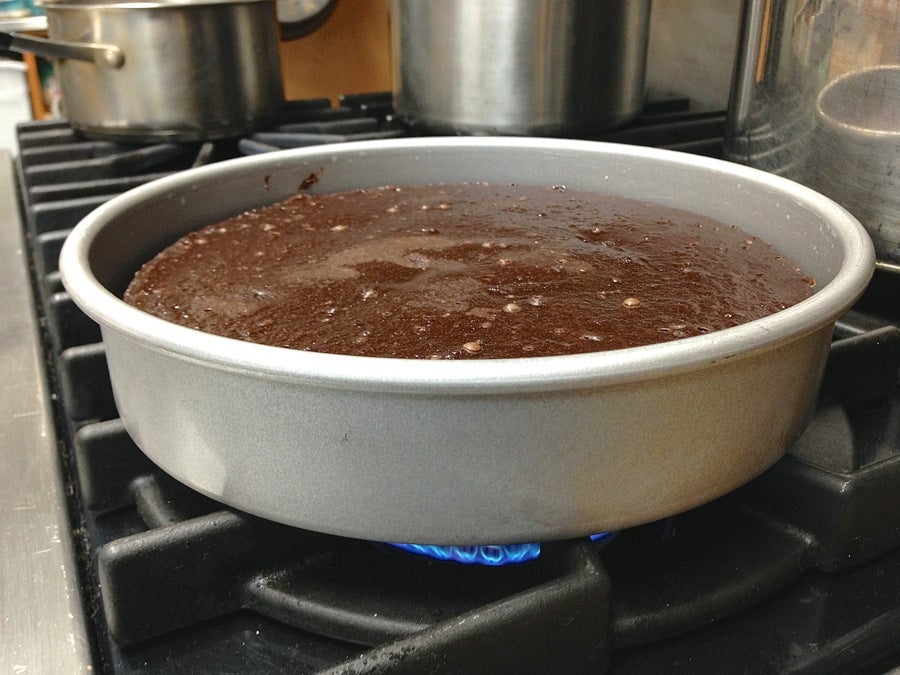 Run a knife or offset spatula around the edge of the pan. Set the pan over a low flame or burner on the stove for 30 seconds.
Lift the pan with oven mitts and place a cutting board covered with parchment paper over the top. Flip the cake over, so the parchment and cutting board are underneath.
Tap the edge of the pan sharply on one side, turn it 180°, and tap the pan again. The cake should release. If it doesn't, tap it a few more times.
When you feel the cake release, flip the cake and pan back to an upright position, using the parchment and cutting board to prevent the cake from falling out.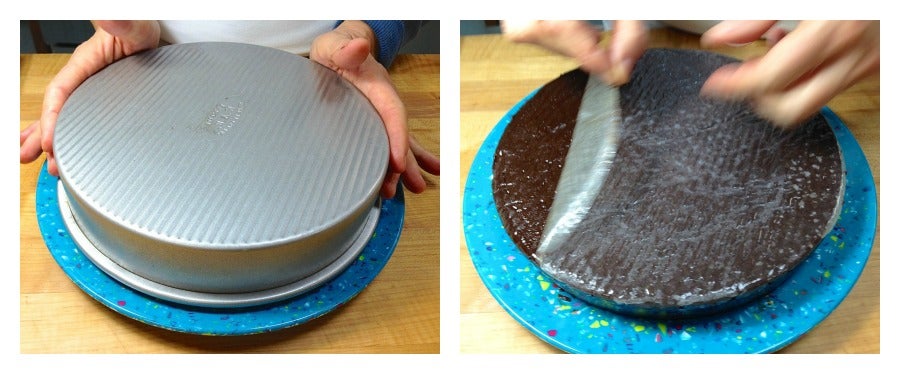 Next, place a serving plate on top of the cake pan, and carefully flip everything over. Lift up the pan – the cake should remain on the plate. Peel off the parchment.
Refrigerate the cake, uncovered, for 15 minutes, to allow the top to firm before cutting.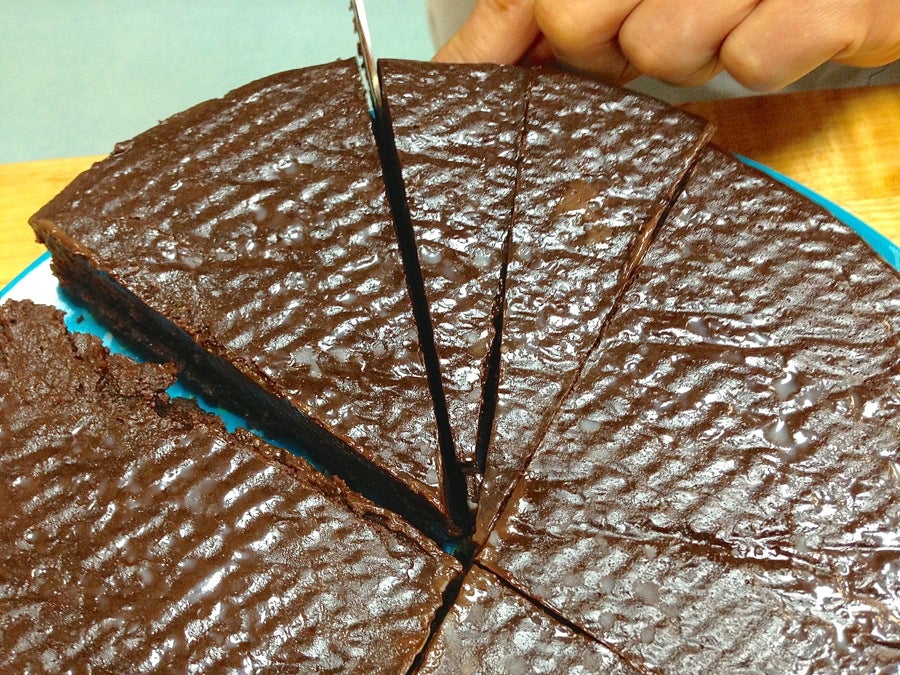 To finish and serve, cut the cake into at least 16 pieces – it's very rich. To prevent sticking, use a sharp knife, dipped in hot water and wiped off after each slice.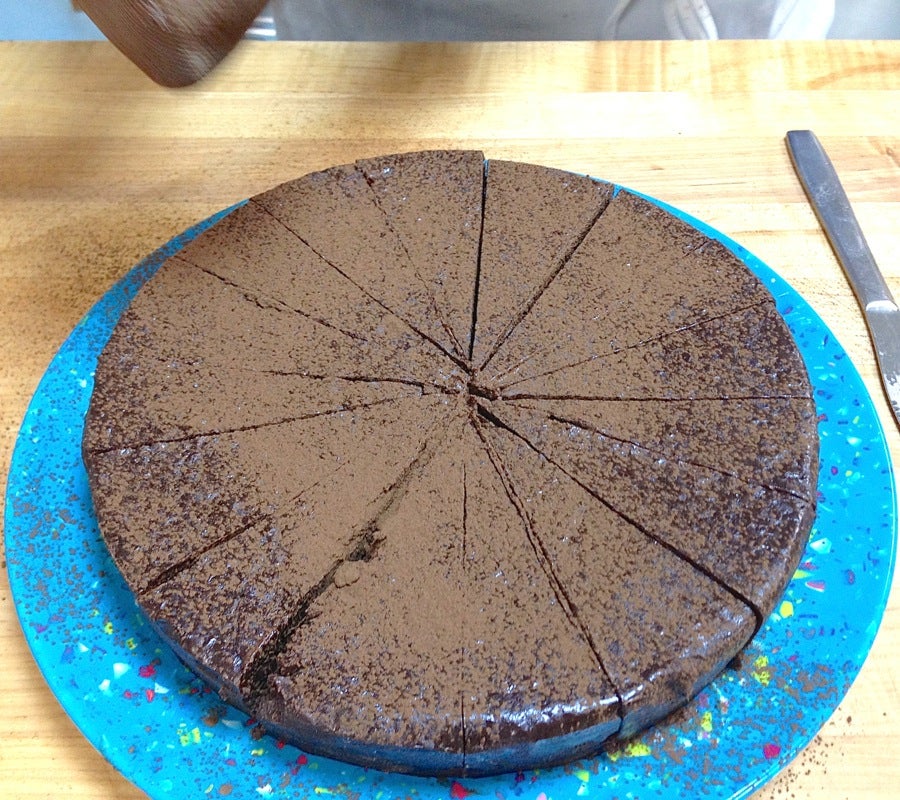 Dust the top of the cake with cocoa powder.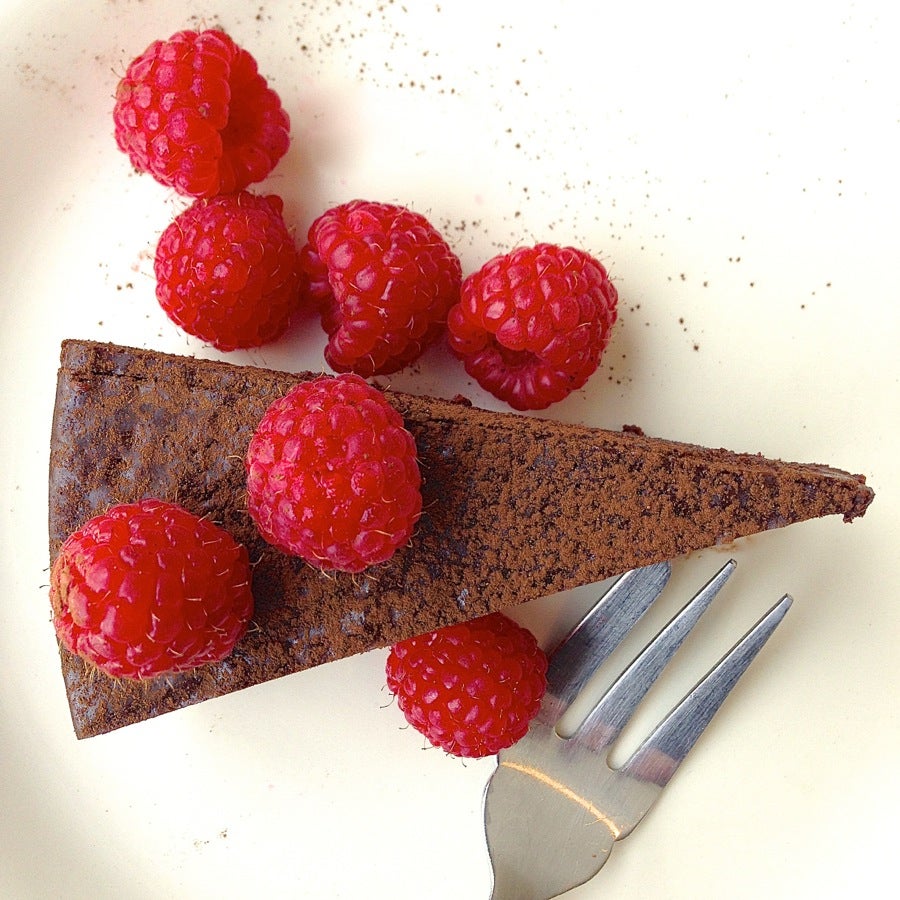 Serve with fresh raspberries.
This cake freezes very well, and can be defrosted overnight in the refrigerator. Wait to dust the cake with cocoa powder until you're ready to serve.
My friend, Jim, loves this cake slightly frozen, but it's wonderful cool or at room temperature. It keeps well in the refrigerator for up to four days.
The first time I brought this cake to our family Passover my father had passed away, and my mother was showing early signs of Alzheimer's. My older sister, Ann, had taken on the responsibility of the Seder, and introduced her own flare; one year this included a rousing round of Passover Jeopardy – "Can I have Moses for $100?"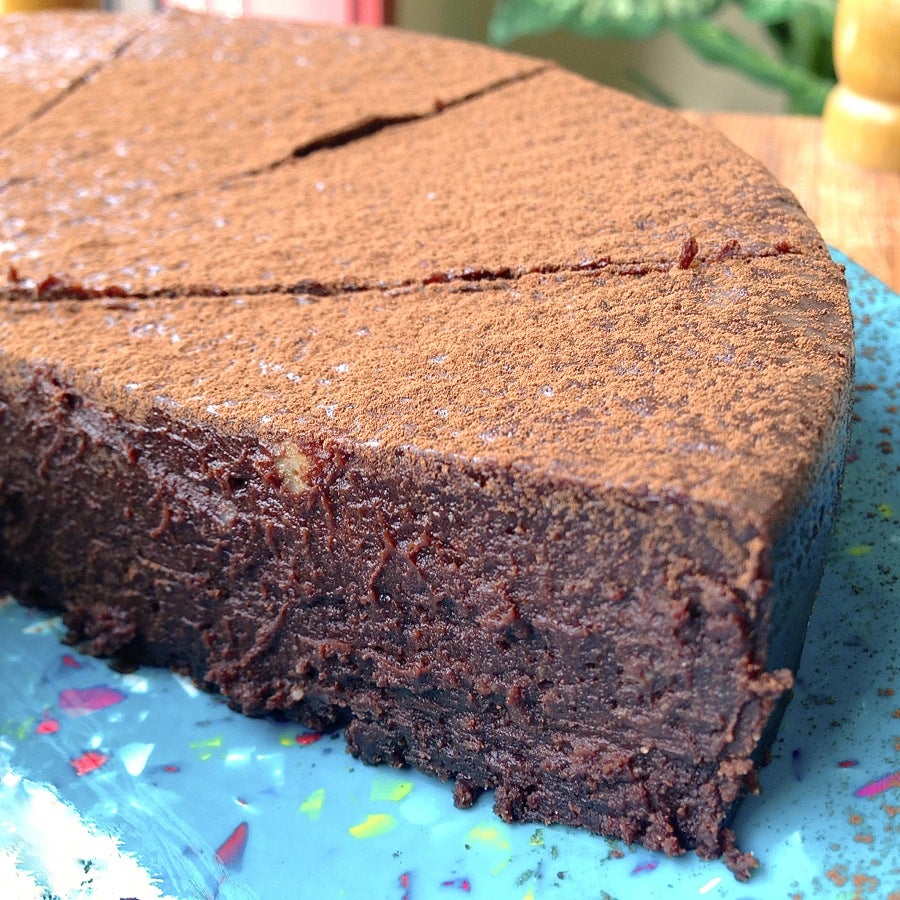 I'm happy to report that the Flourless Chocolate Truffle Cake was a hit with all generations, and has joined our traditional Passover fare.
It still impresses me that my mother, despite her limited background, embraced Passover and all its challenges, and took great joy over the years in seeing the table fill up with her four children, our spouses, and eventually her 13 grandchildren.
It's to my mother and father's credit that we all came to love Passover, which despite its restrictions and deprivations, its rituals and rules, is really a joyous celebration of family and religious freedom. Each year we're given the opportunity to come back to the same questions – "Why is this night different from all other nights?"
And each year the Passover questions and rituals invite us to re-engage, to wonder and discuss, and to feel always the embrace of family and the comfort of tradition.
It makes me sad that my father didn't live long enough to see all of his grandchildren around the Seder table. But it's a blessing to remember that my mother got to enjoy all of her 13 grandchildren and to witness her 12th grandchild, Holden, not only learning the four questions as a toddler; but later, chanting them with great confidence at our family Seder.
I wish a happy Passover and a joyous Easter to all those observing these holidays. And for everyone I wish celebrations full of laughter and love and (of course) great food. I hope this chocolate cake will make an appearance at many of your homes this spring, and maybe even become a family tradition.
Please bake, rate, and review our recipe for Flourless Chocolate Truffle Cake.
Jump to Comments