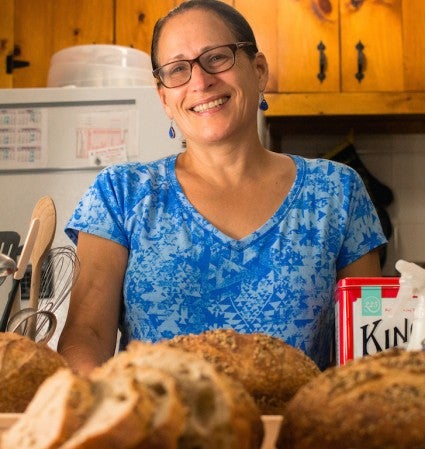 About Barb Alpern
Employee-owner since 2014
Barb began baking when she was assigned the job of baker at her co-op house in college. Whole wheat challah and granola were her specialties. This led to two years at Wildflour Bakery, a wholegrain collective bakery that existed in Ann Arbor, Michigan back in the day.  
Four sons and a master's degree in creative writing distracted her from her baking career for a time, but she continued to work on perfecting her whole wheat challah, while her sons formed their own bread with blobs of challah dough accented with sprinkles, raisins, and chocolate chips.  
In 2002 she returned to baking, this time at Zingerman's Bakehouse in Ann Arbor, Michigan, where she spent 8 ½ years honing her artisan baking skills. The first 7+ years were spent in the bread department, where she happily ran back and forth between the two giant ovens, extracting hundreds and hundreds of beautiful loaves every day. Her high holiday challah bakes earned her the unofficial title of Challah Queen. 
She then moved to Zingerman's baking school, BAKE, as an assistant teacher. This is where her passion for sourdough baking began, and where she learned a lot about pastry baking as well.  
The next few years were spent as head bread baker at two fledgling bakeries in Ada, MI and Camden, ME. Sadly, the bakeries didn't survive, but Barb continued to bake beautiful breads and learned a lot along the way.  
In 2014 she jumped at the opportunity to become a Baker Specialist at King Arthur. Earlier in her career, she'd attended a baking class at King Arthur with Jeffrey Hamelman (Advanced Bread Baking for professionals). Hamelman and his book, BREAD, inspired her, and King Arthur won her heart.  
Barb loves sharing her knowledge and experience with bakers on the Hotline, especially when it comes to sourdough. She also created the recipes for Jewish Rye and Artisan Sourdough Bread made with a Stiff Starter, and has enjoyed the opportunity to blog about her baking adventures.  
At home you'll often find Barb baking Sourdough Parmesan Pepper Bread (her own version of a Zingerman's recipe), cooking Mom's Caramels, and experimenting with sourdough starters. Her favorite baking days include her grandaughter, Maddie, who loves putting lots and lots of sprinkles in her bread.