Pumpkin Cake Bars with Cream Cheese Frosting
Two recipes – what's the difference?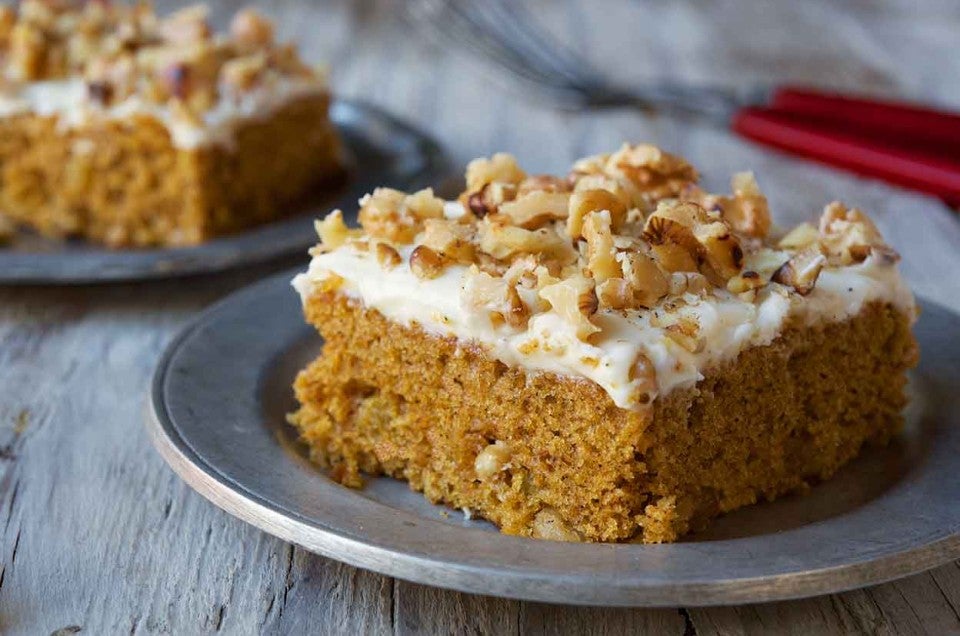 There's probably not a more universal American experience over the past 45 years than Sesame Street. And if you've sat on the couch with a giggly 3-year-old watching Big Bird and Cookie Monster, you've probably heard this song:
One of these things is not like the others,
One of these things just doesn't belong,
Can you tell which thing is not like the others
By the time I finish my song?
See the two frosted bars above? They look and taste incredibly similar, but there's a fundamental and important difference between them. Can you guess what it is?
OK, here's some context. I recently whipped up one of my favorite fall recipes, Pumpkin Cake Bars. Deep-orange, moist, cake-type bars, nicely spiced, they're crowned with rich cream cheese icing and toasted walnuts.
So, what's not to like? I know many of you dislike nuts; go ahead, leave 'em out. Subtract the golden raisins and crystallized ginger bits inside (though I'll sigh with disappointment if you do). Add chocolate chips (I won't object).
Don't like pumpkin? Look for another recipe. Fall is full of non-pumpkin treats, like these apple muffins.
Ah, here's a tougher proposition: you don't like gluten – because it doesn't like you.
Well – leave it out.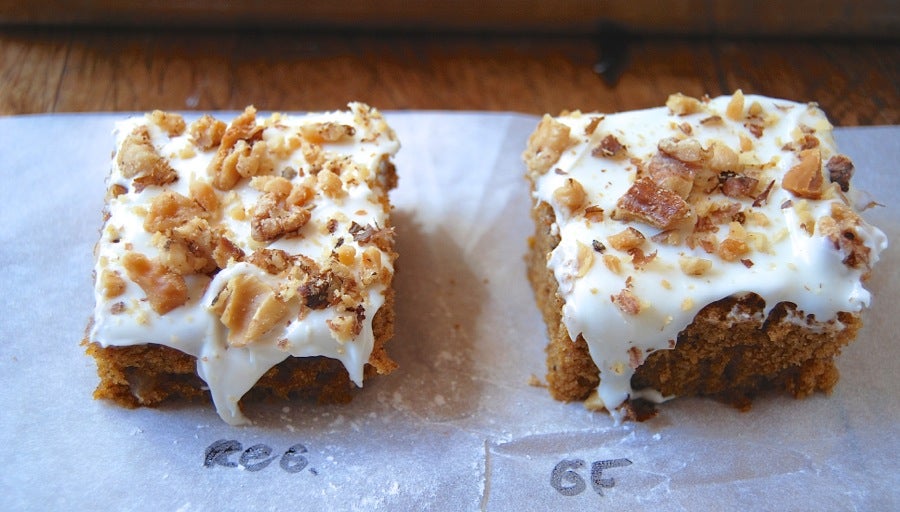 You can still make these wonderfully tasty bars – and I guarantee, no one will know they're gluten-free.
Yup, that's the difference. The bars on the left are made with all-purpose flour; on the right, with gluten-free flour. And while there's more to it than simply swapping out flours, it's actually simple to take this tasty bar recipe and make it gluten-free.
Here's how –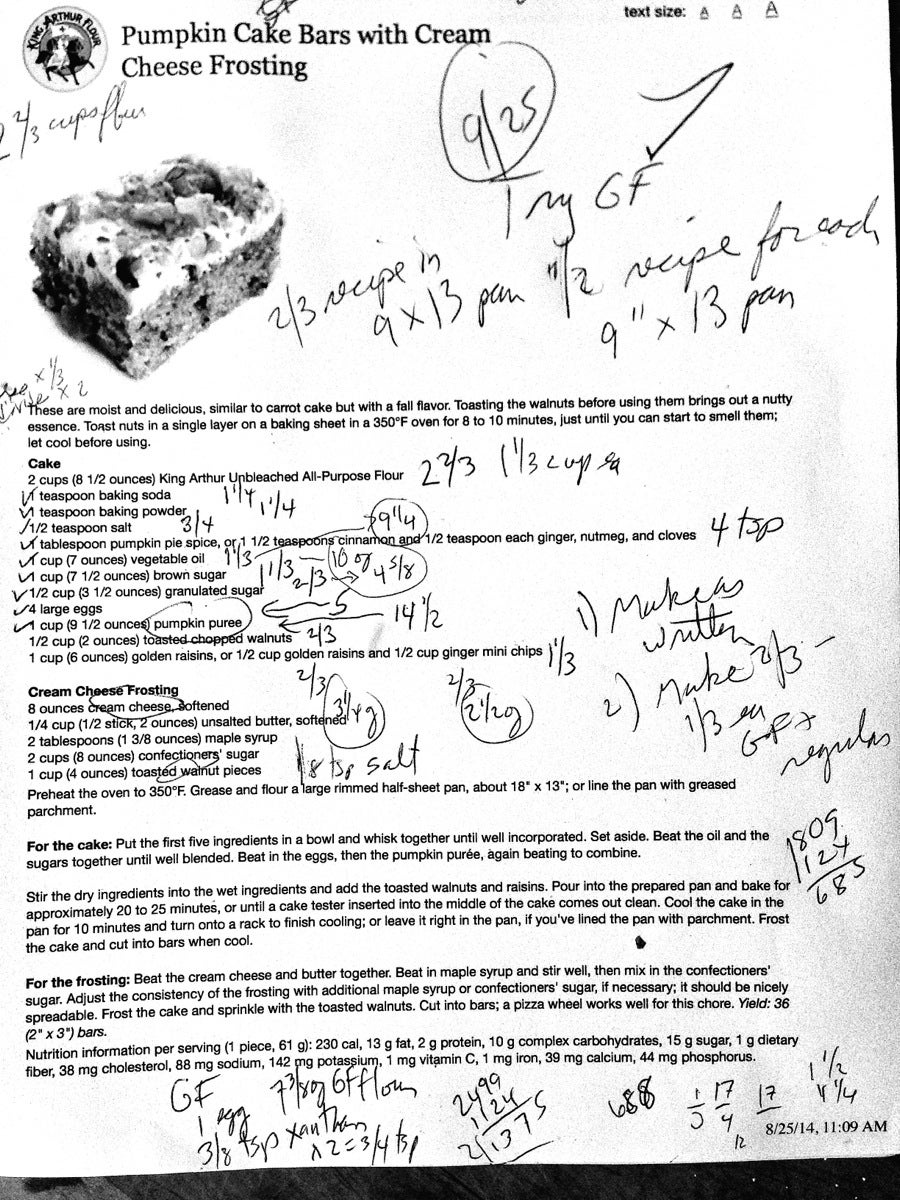 Don't worry, I'll interpret.
The original recipe calls for this to be baked in a large (18" x 13") rimmed cookie sheet – in other words, a half-sheet pan.
So, in order to test gluten-full vs. gluten-free versions side by side, I'm going to mix everything except the flour (and raisins and crystallized ginger), then divide the batter in half and, for starters, add regular all-purpose flour to one batch, and gluten-free multi-purpose flour to the other.
Unfortunately, it's not quite that simple.
My test kitchen buddy Susan Reid says that a recipe baked in a 9" x 13" pan can be baked in a half-sheet pan by multiplying the 9" x 13" recipe by 1 1/2. Yes, by 1 1/2, not 2.
9" x 13", 18" x 13" (half sheet) – looks like it should be doubled, right?
That would work if the half-sheet pan was 2" deep, like the 9" x 13" pan. But you have to take its shallower depth into account; we're not doing plain  2 x 2 = 4 arithmetic here, we're into the volume of geometry.
No need for a super-deep dive, but this formula meant I needed to take the original 18" x 13" recipe, multiply it by 1 1/3, then divide the resulting batter in half – one half becoming gluten-full, the other gluten-free, each baked in a 9" x 13" pan.
Wait! Come back! Remember, this is all for testing purposes; when you're ready to make these bars, just follow the original recipe (using either the 18" x 13" or 9" x 13" versions; there are directions for both).
Let's take a look, shall we?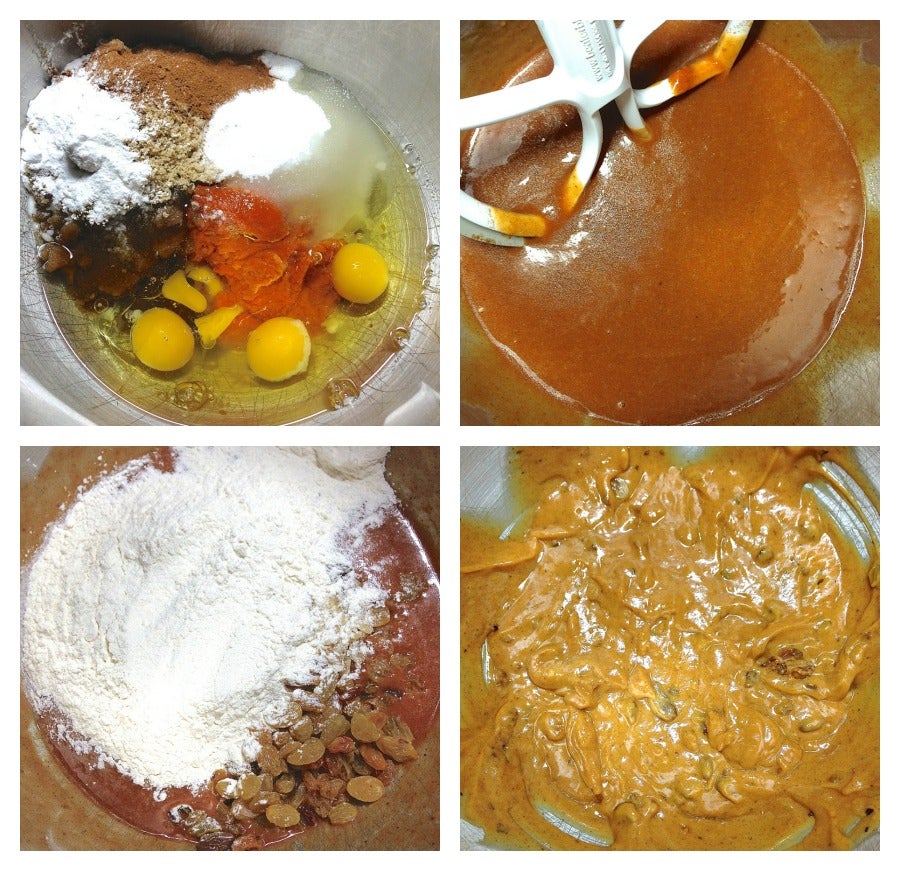 As you can see, I've stirred together everything except the flour, raisins/ginger, and nuts. At this point, I divide the smooth batter in half, setting half aside for my gluten-free experiment.
I then stir all-purpose flour, nuts, and raisins/ginger into the first bowl of batter, and pour it into a 9" x 13" pan.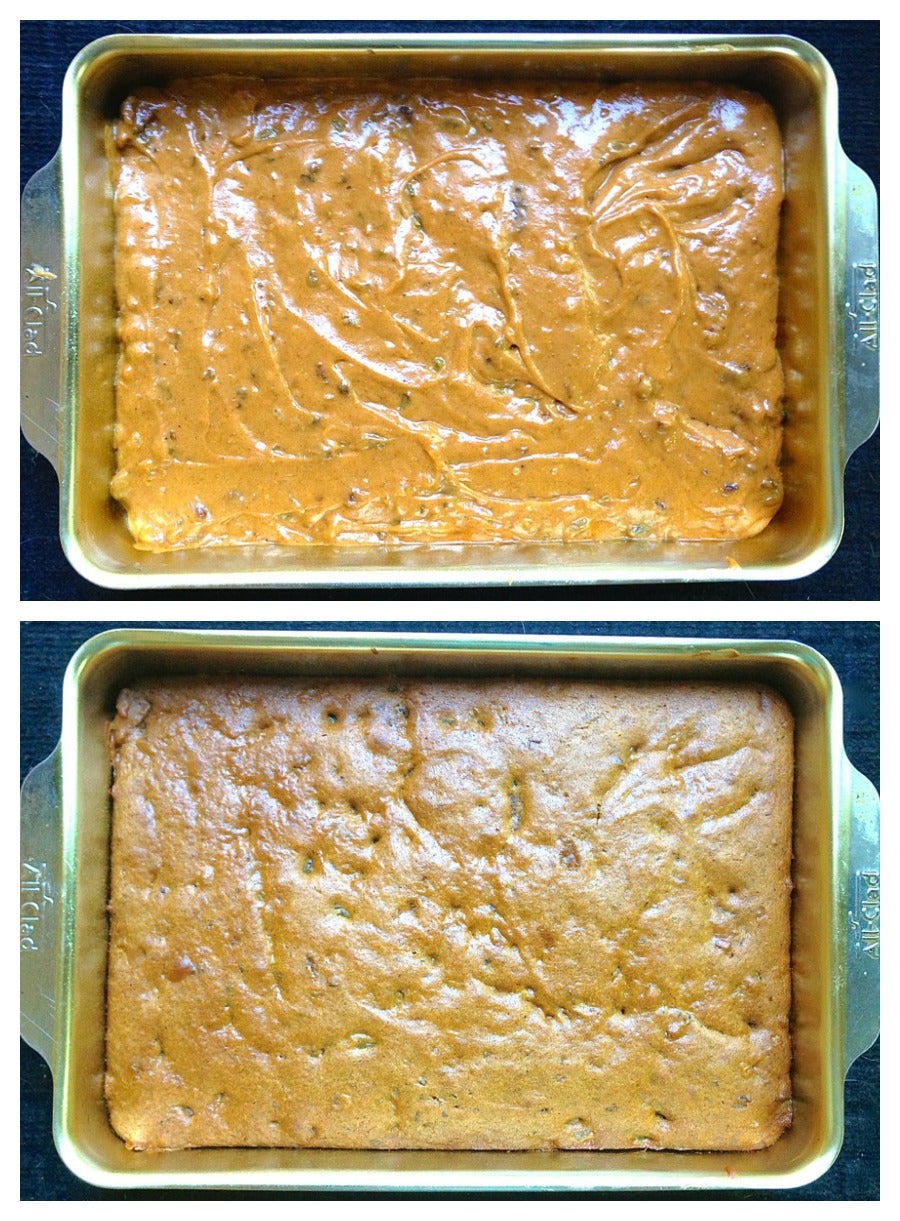 Bake it – looks good, right?
Let's make our gluten-free version with that remaining half of the batter.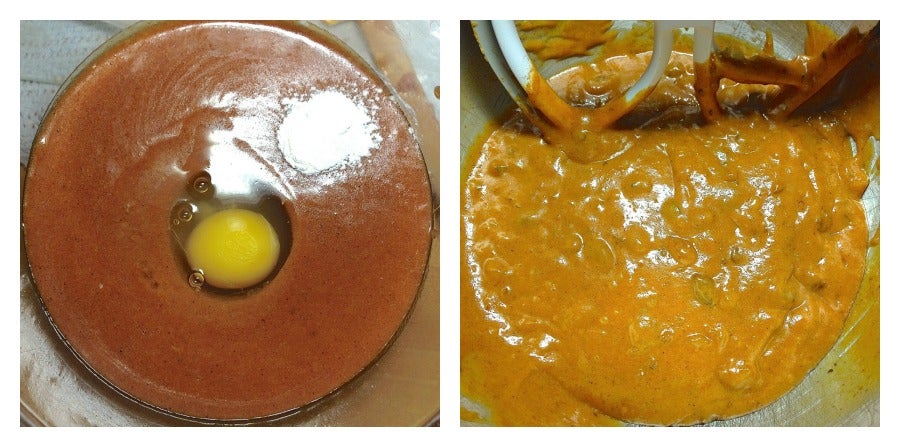 Since gluten-free baked goods miss gluten's structure, I'm adding an additional egg, whose protein will help hold things together. I'm also adding xanthan gum, another structure-builder.
I stir in the gluten-free multi-purpose flour, nuts, and raisins/ginger.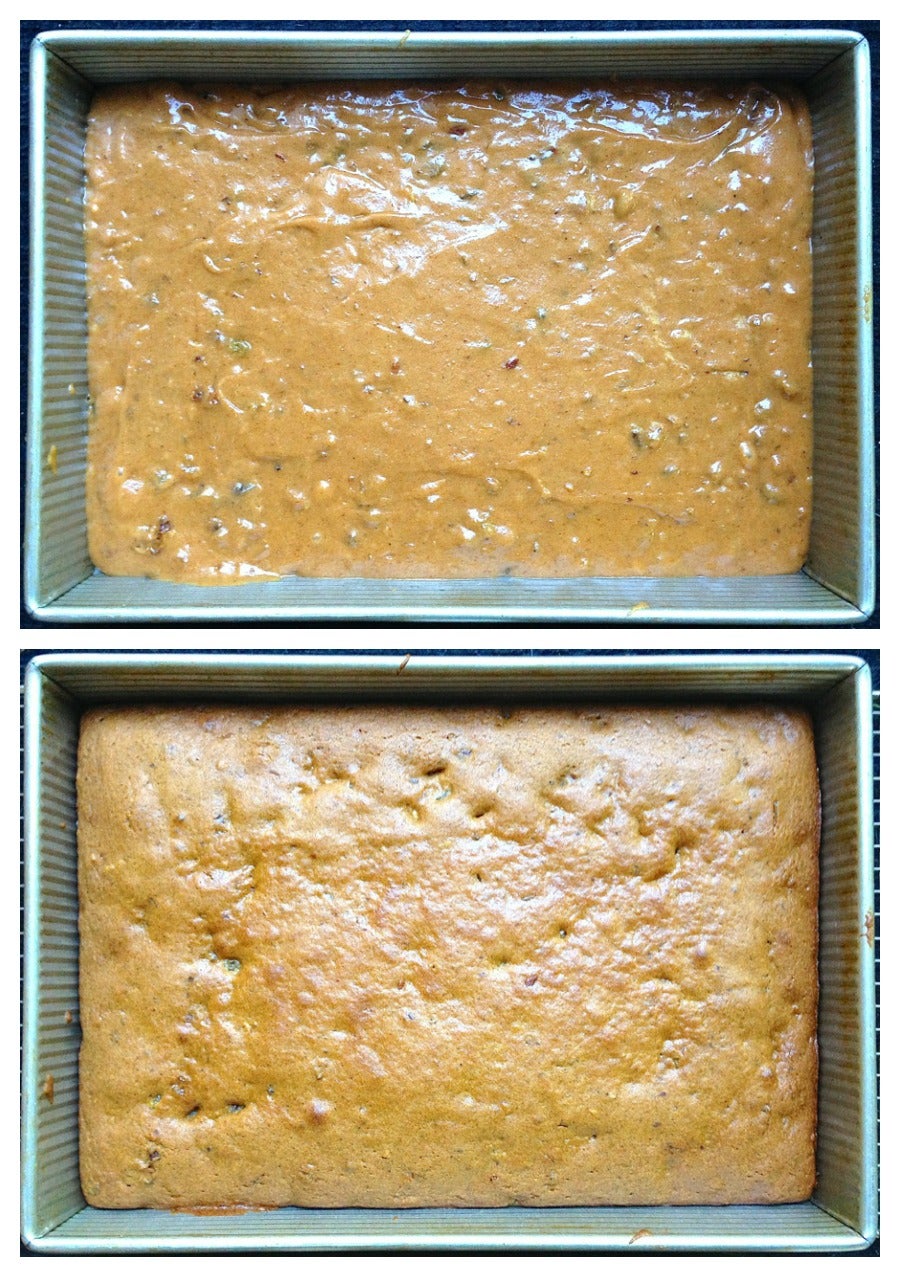 Pour the batter into the 9" x 13" pan, bake it – again, it looks good, right?

You bet!
Can you tell which of these is the standard version, which the gluten-free?
I can't – and I forgot to label them!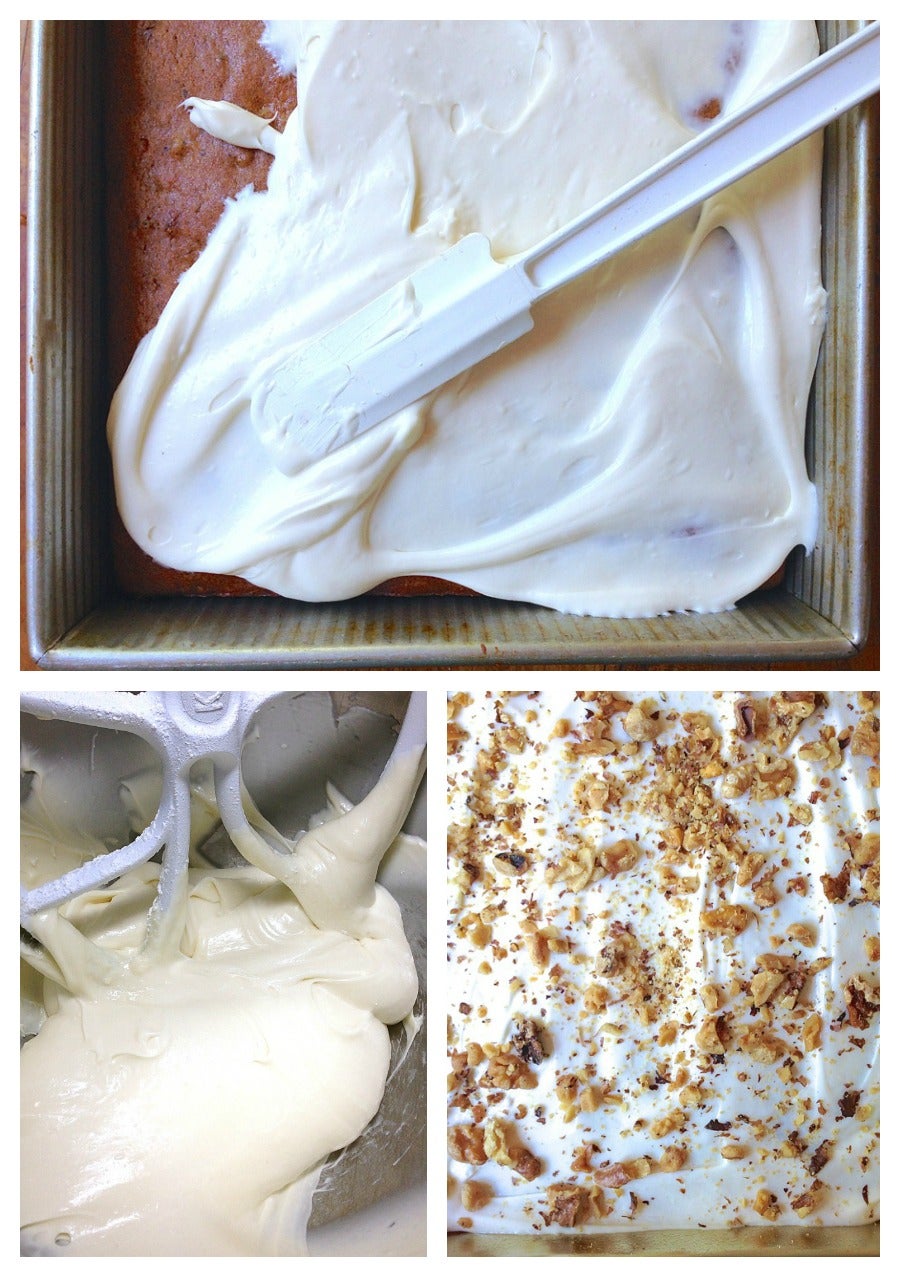 Whip up the cream cheese frosting, spread it on both cakes, sprinkle with toasted walnuts...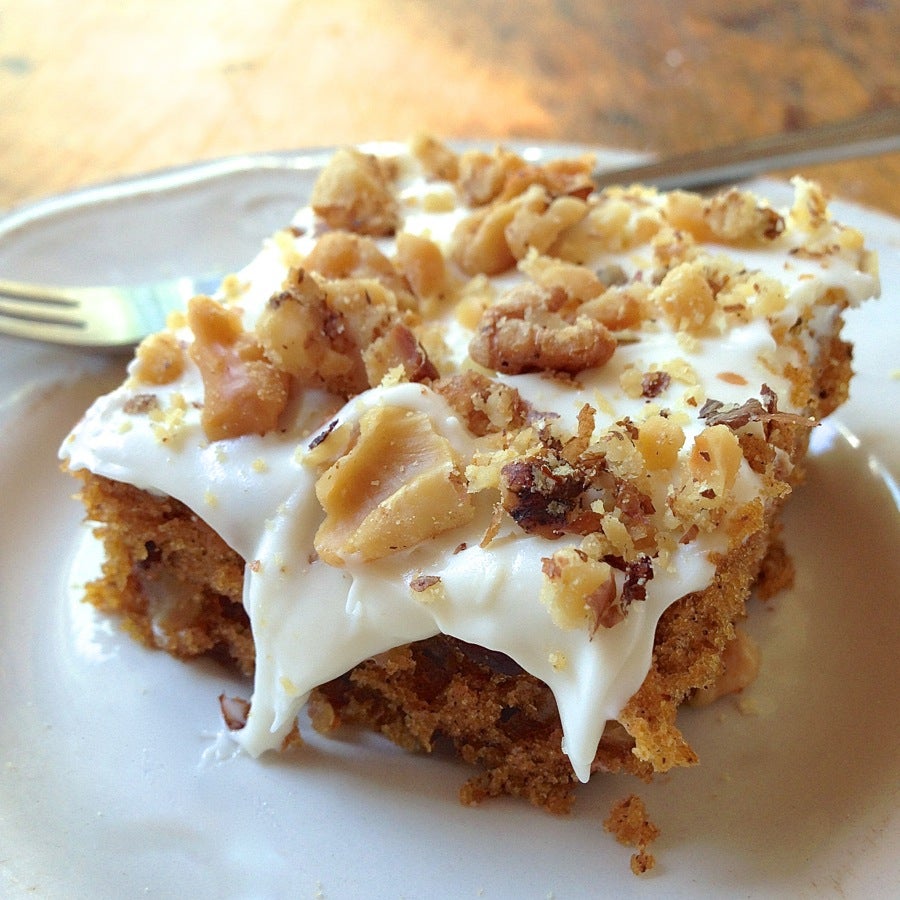 Et voilà!
Is this gluten-full, or gluten-free?
Doesn't matter; both versions are delicious.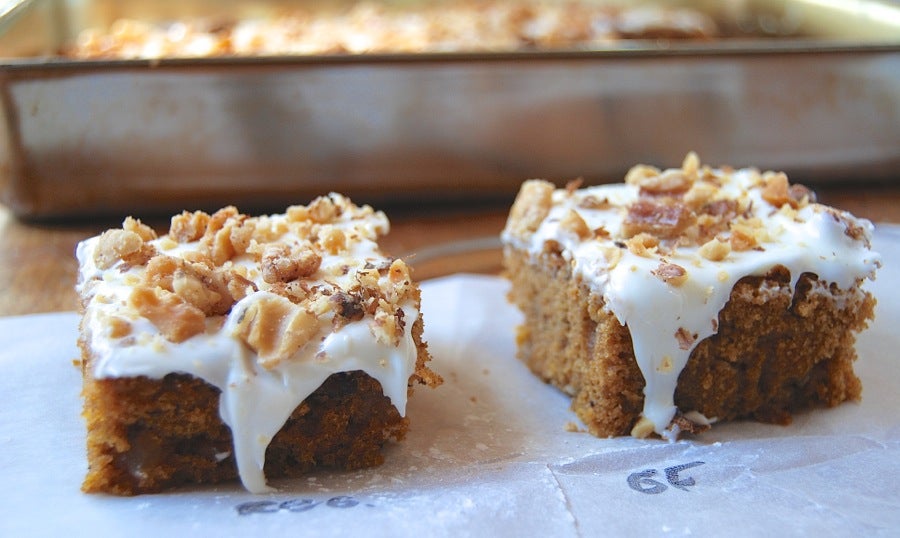 Counter-intuitively, the gluten-free bars actually rose a tiny bit higher than the all-purpose flour bars. Go figure.
I did some taste-testing with my fellow employee-owners here at King Arthur, and while some could taste a difference, they couldn't identify what it was. "They taste a tiny bit different, but they're both delicious," was the consensus.
And after all, isn't that exactly the reaction you want, when converting one of your favorite recipes from gluten-full to gluten-free?
Want to make these pumpkin bars? Read the recipe and accompanying tips, which detail the gluten-free conversion. Happy baking!