From gluten-full to gluten-free
Zucchini bread makeover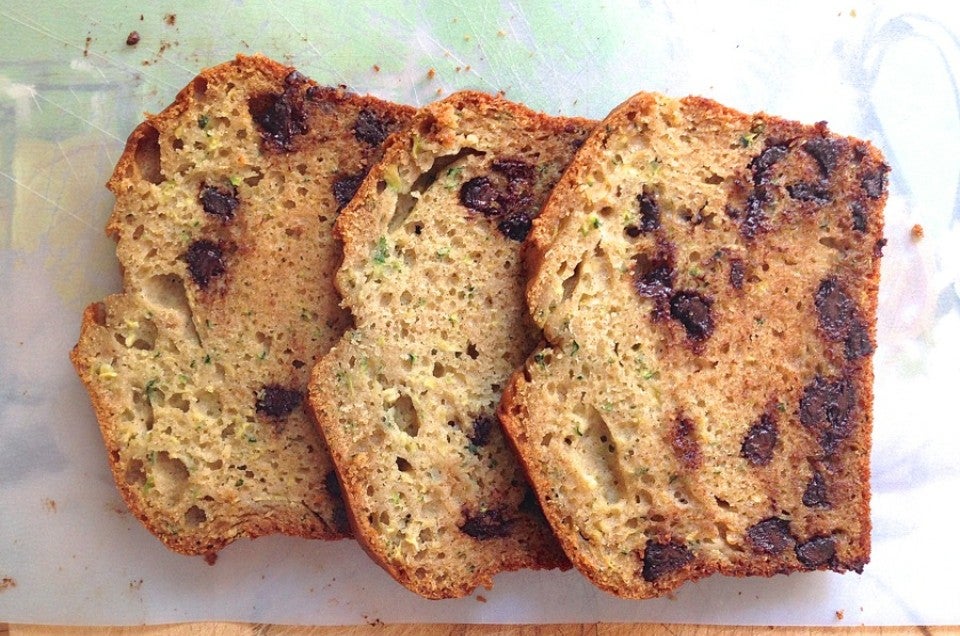 Do you know someone who's eating gluten-free, and you'd like to bake something without gluten for them, but you just don't quite know how to go about it?
It might be simpler than you think.
I happily consume lots of gluten. I'm lucky; it doesn't bother me.
But many people are avoiding gluten these days because a) they've been diagnosed with celiac disease, an allergy to gluten; b) they've been told by their doctor they're gluten-intolerant; or c) they simply feel better avoiding gluten.
Thus, a number of my friends and colleagues no longer choose to eat the brownies and cookies, the sandwich bread, apple pie, and dinner rolls I've always plied them with.
Which makes me sad; I love baking for friends and family. The look on someone's face when you hand them a fresh baguette, a warm apricot scone, or a chocolate chip cookie – delight, surprise, gratitude – are worth every bit of the time, effort, and money that goes into baking them.
I didn't want to lose the baking connection I have with my GF (gluten-free) friends. Baking and sharing – it doesn't get any better than that. But how to begin? Isn't GF baking complicated? I'd heard about xanthan gum, and tapioca starch, and amending techniques – more beating, no kneading, letting stuff rest – and just didn't feel ready to absorb a whole new system of baking.
To say nothing of having to ditch my favorite "gluten-full" recipes, my stable of tested-and-approved standards.
So, what do I need to do to a favorite recipe to make it gluten-free – without a lot of fuss?
Let's find out.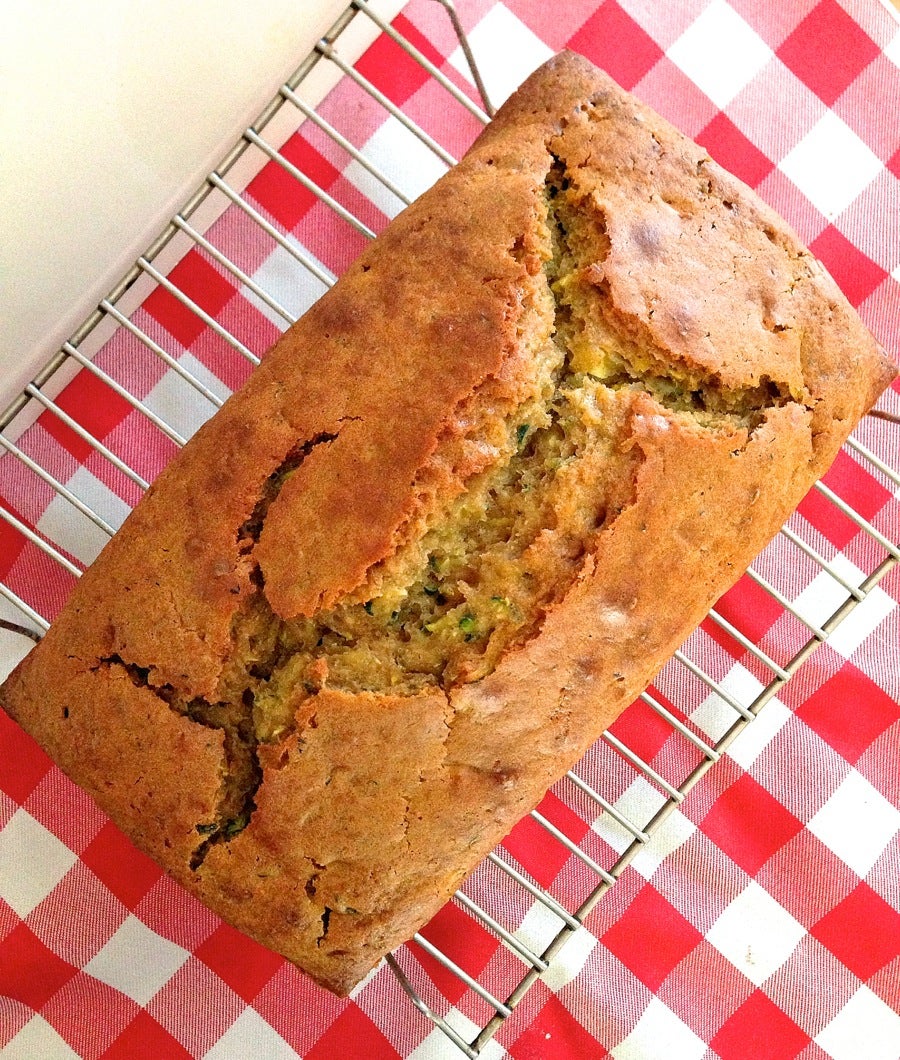 Here's one of my favorite zucchini bread recipes, Zucchini Chocolate Chip Bread, made gluten-free. Looks like a fairly typical loaf, right? Golden crust, cracks on the surface, little bits of zucchini poking up through the top. Score!
As it turned out, I only had to make four changes to the original recipe, all of them painless:
So, how did I figure out these changes? I read our blog post, The Gluten-Free Conversion Conundrum, and took it from there.
Here are the original recipe ingredients, with my amendments – one substitution, and two additions:
2 large eggs + 1 large egg
1/3 cup (114g) molasses or honey
1/2 cup (99g) vegetable oil
1/3 cup (71g) brown sugar
1 teaspoon vanilla extract
2 cups (312g) King Arthur Gluten-Free Multi-Purpose Flour (substituted for 2 cups King Arthur White Whole Wheat Flour)
1/2 teaspoon xanthan gum
1 teaspoon salt
1/2 teaspoon baking soda
1/2 teaspoon baking powder
1 teaspoon ground cinnamon
2 cups (242 to 300g) shredded, unpeeled zucchini (about 1 small/medium zucchini)
1 cup (170g) chocolate chips
3/4 cup (85g) chopped walnuts, optional
Let's go ahead and turn these ingredients into bread, shall we?
Preheat the oven to 350°F. Lightly grease a 9" x 5" loaf pan.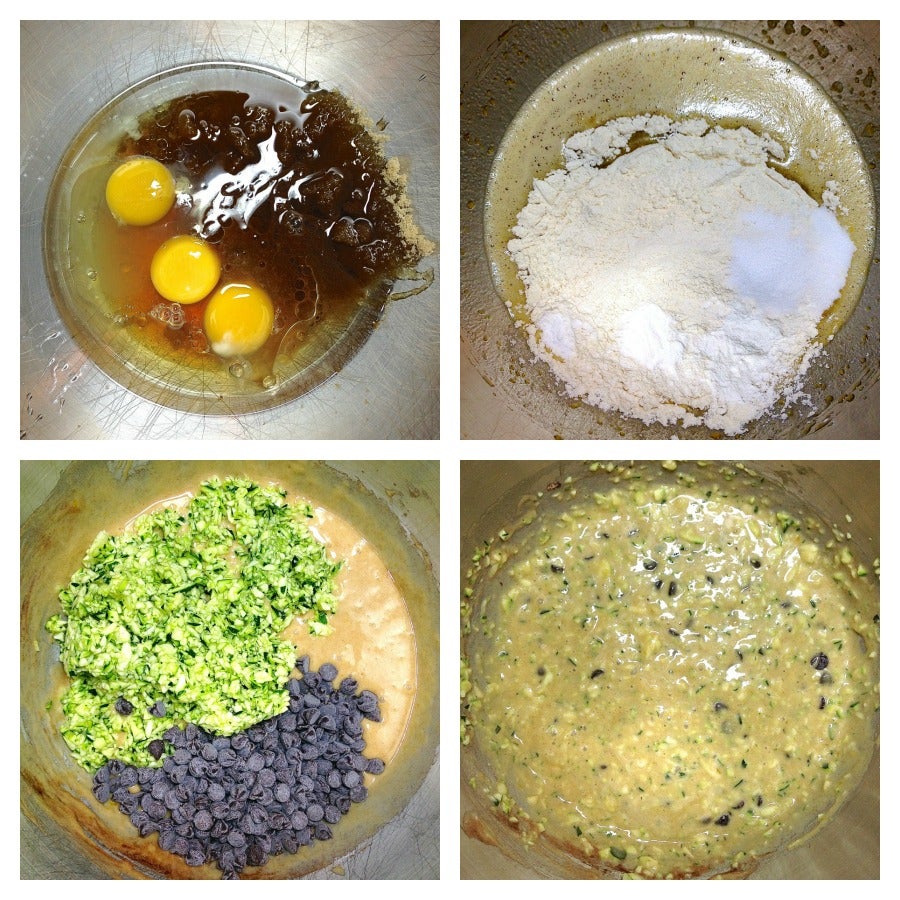 Beat the eggs, molasses or honey, oil, sugar, and vanilla until smooth. Add the gluten-free flour, xanthan gum, salt, baking soda, baking powder, and cinnamon, mixing until well combined. Stir in the zucchini, chocolate chips, and nuts.
Let the batter rest for 15 to 20 minutes. This will hydrate the starches in the gluten-free flour, helping to give them the strength they need to provide the "body" this bread would otherwise lack.
Stir the batter thoroughly, and pour it into the prepared pan.
Bake the bread for 65 to 70 minutes, until the loaf tests done (a toothpick or cake tester inserted into the center will come out clean, save for perhaps a smear of chocolate). You'll probably want to tent the loaf lightly with aluminum foil for the final 20 minutes of baking, to prevent it from over-browning.
Remove the bread from the oven, and let it cool for 15 to 20 minutes before turning it out of the pan onto a rack. Wait until the bread is cool to slice and serve.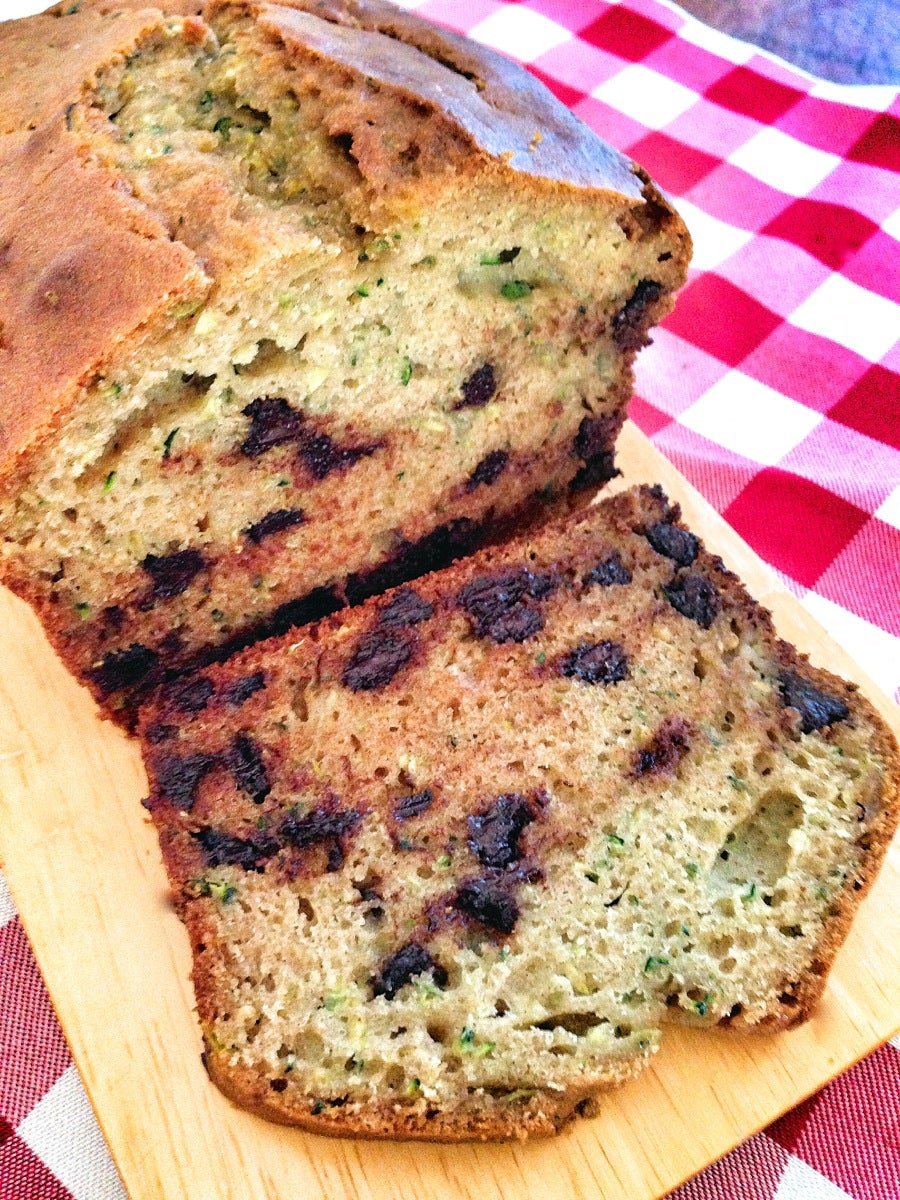 Yummy. Moist, tender, flavorful.
One issue: the chocolate chips took a deep-dive to the bottom of the loaf. This is a recognized problem with gluten-free quick breads and muffins: the batter, without gluten, isn't strong enough to support chips, nuts, dried fruit, etc., and it can end up sinking quite a bit.
Solution? Well, it helps to let the batter rest, as I mentioned. Beyond that, I could have tried sprinkling the chips on top of the batter in the pan, then swirling them in gently, so that they stayed near the top of the loaf – and thus had less chance to sink ALL the way to the bottom during baking.
Would that work? Don't know. I'll try it next time. And if you try it, share your results with all of us in the comments section below, OK?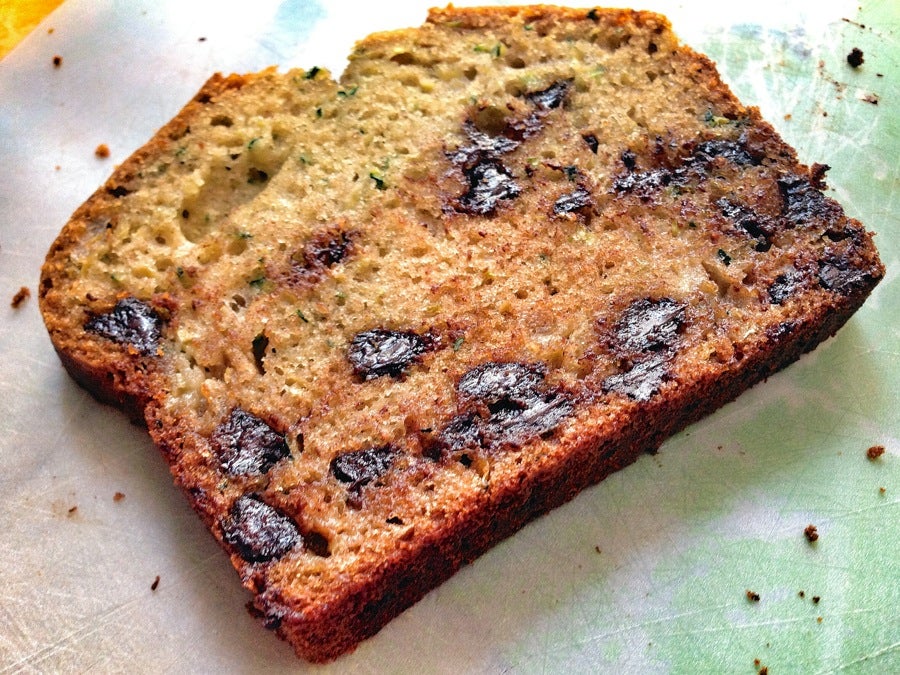 Despite the less-than-perfect appearance of this loaf, it's wonderfully tasty. Try a slice gently toasted, to melt the chocolate chips slightly.
So, my first try at turning a favorite recipe from "gluten full" to gluten-free worked out really well. I'll continue trying different treats – cookies, brownies, scones, muffins, cake – and let you know what happens.
In the meantime, if you're interested in doing some experimenting on your own, read The Gluten-Free Conversion Conundrum. It's a great place to start.
Happy (gluten-free) baking!
Jump to Comments