Biscuits are warm, wonderful meal completers. They soak up gravy or sauces, cradle a poached egg perfectly, and are dessert heroes in their own right when wearing some butter and jam. Once in awhile, though, it's their turn to take front and center. This is one of those times.
While many may see biscuits as an indulgence, in their savory guise they can be the foundation of a great sandwich. It's been pretty hot and sticky around here lately – the kind of weather that has me thinking about BLTs, frankly. From there it went from bacon to bacon/ranch, and boy, wouldn't that make a tasty biscuit?
It does. Our work on the Whole Grain Baking book taught us that whole grains pair very well with stronger flavors, and if I was going to make a meal around these biscuits, I'd want the nutritional oomph that whole grains provide. They're as easy to put together as any other biscuit. First, the dry ingredients:
2 1/2 cups (283g) King Arthur White Whole Wheat Flour
1/2 cup (60g) King Arthur Unbleached All-Purpose Flour
2 1/2 teaspoons baking powder
1 teaspoon salt
2 tablespoons onion powder
1/2 teaspoon garlic powder
2 tablespoons chopped fresh chives, or 1 tablespoon dried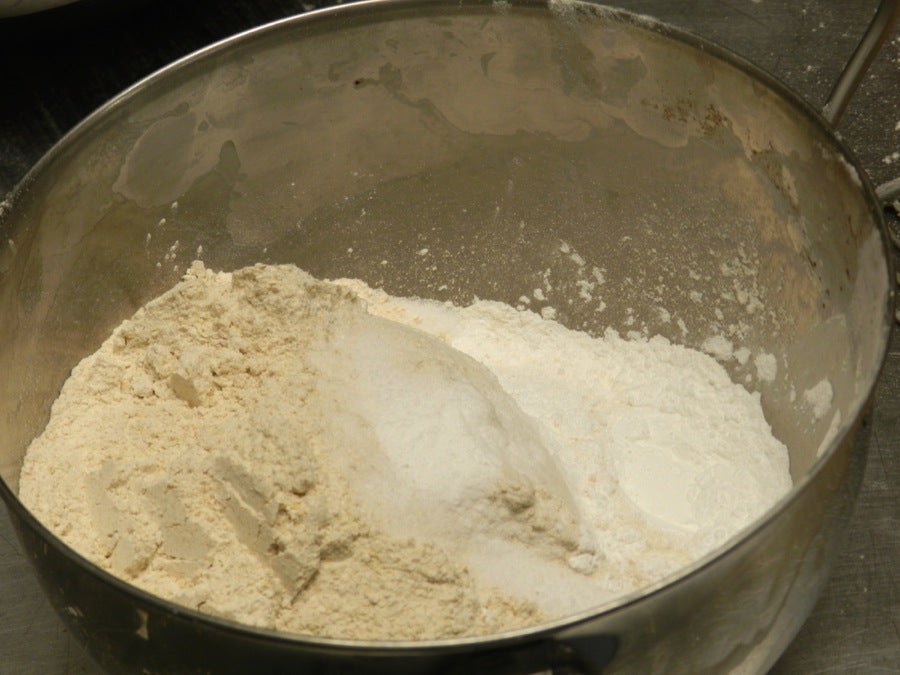 It's second nature to me now, but bears repeating: get in the habit of adding your dry ingredients in separate piles, so you can identify each one. If I'm being really good, I put the flour in, then the second ingredient at 12 o'clock, third at 3 o'clock, fourth at 6 o'clock, and so on. That way if I'm interrupted and come back, I can easily count and see where I am in the ingredients list.
Next, whisk everything together and work in 8 tablespoons (113g) cold unsalted butter.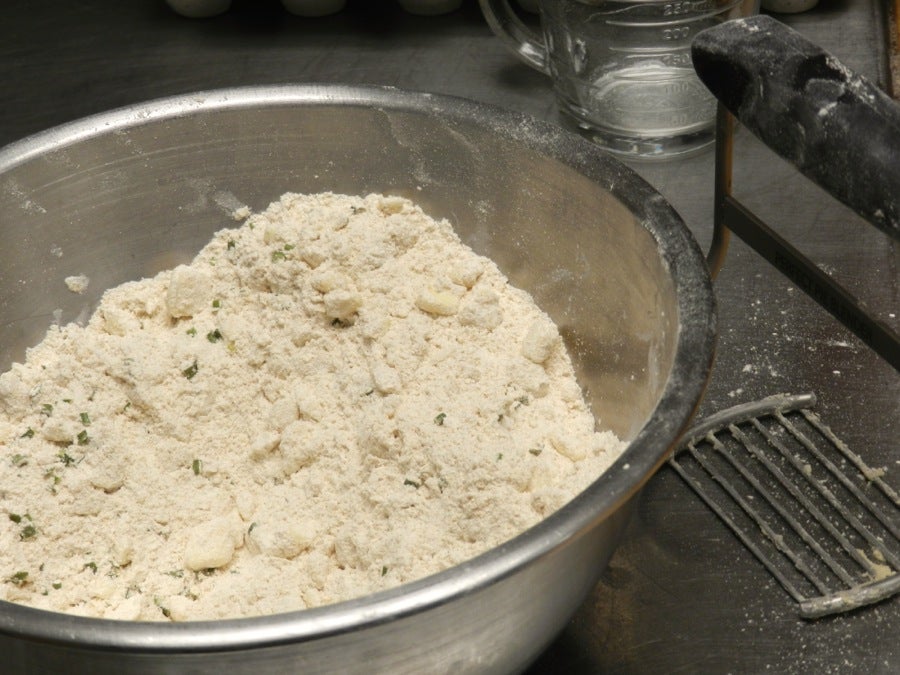 For biscuits, I cut the butter fairly small (smaller than for pie crust). Little blueberry-sized (in keeping with the summeriness of the season) bits.
Now, the indulgence. Bacon. Yes, you can leave it out, or simply add a slice of bacon to the concoction that's coming up. I'm using about 3/4 cup here, or 1/2 pound before cooking.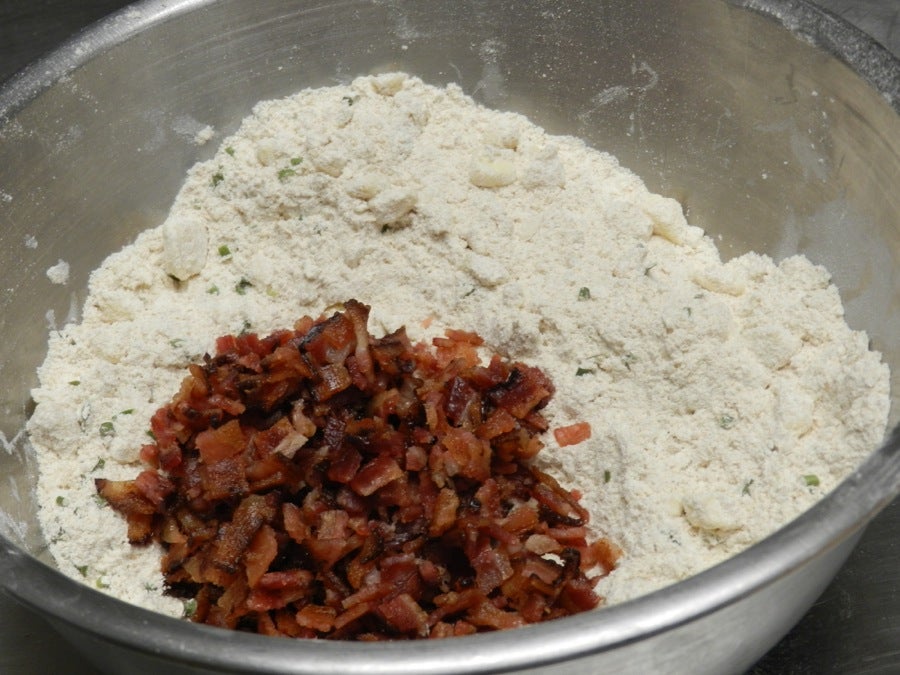 Use the good stuff. What you see here is from North Country Smokehouse (a local New Hampshire brand), thick-cut and cherry-wood smoked. Baked, drained, and chopped. Yes, I snitched a couple of bits. I'm only human.
By the way, if you haven't already, turn the oven on to 400°F.
After mixing in the bacon, it's time for the wet ingredients.
1 cup (227g) buttermilk
1 large egg
1 tablespoon honey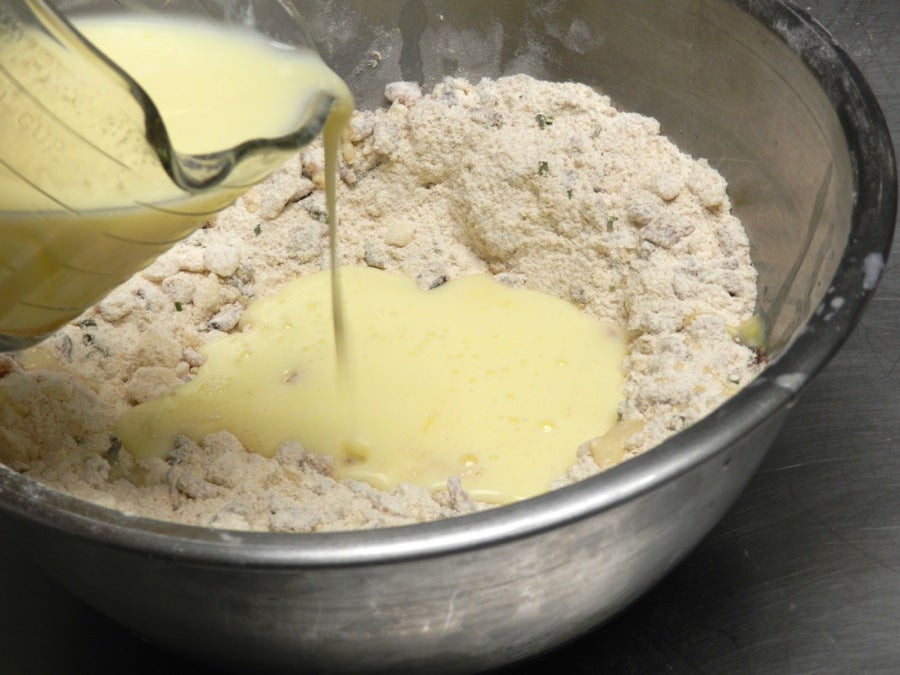 Mix them together in a measuring cup, and pour into the bowl.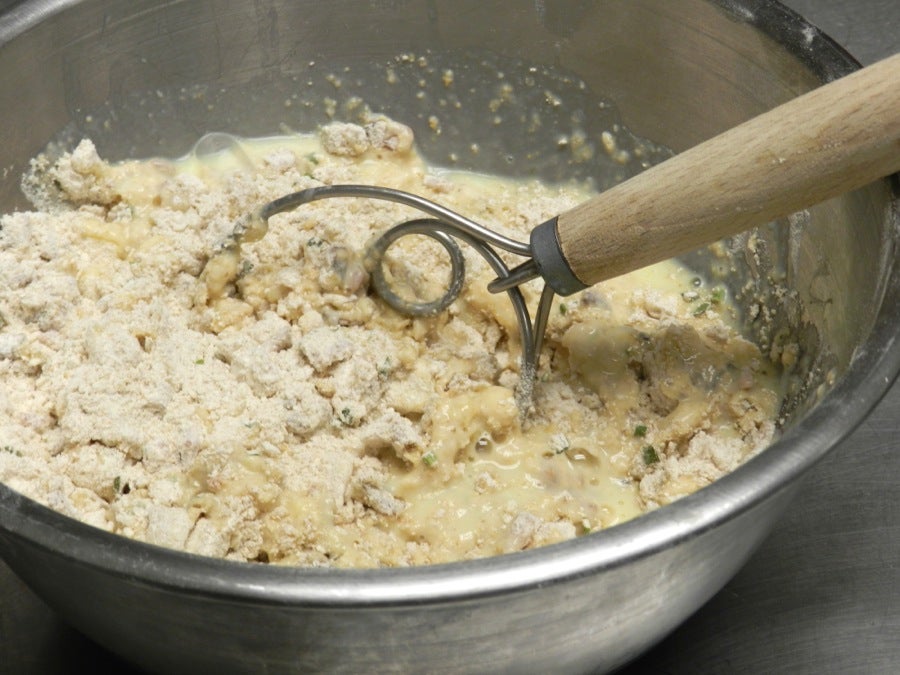 Now, mix until evenly moistened...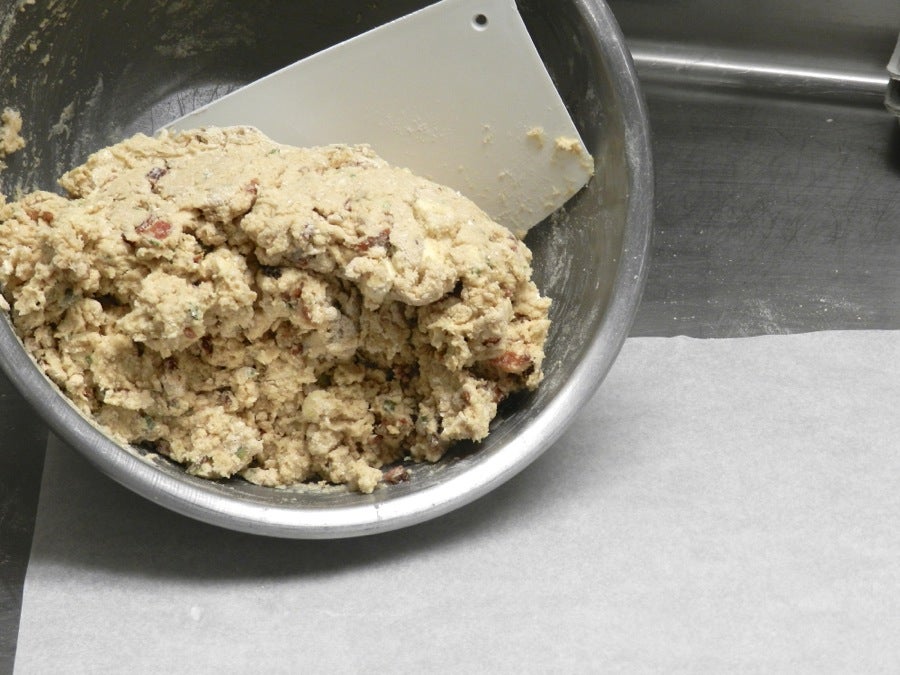 ...and scoop the dough onto a piece of parchment.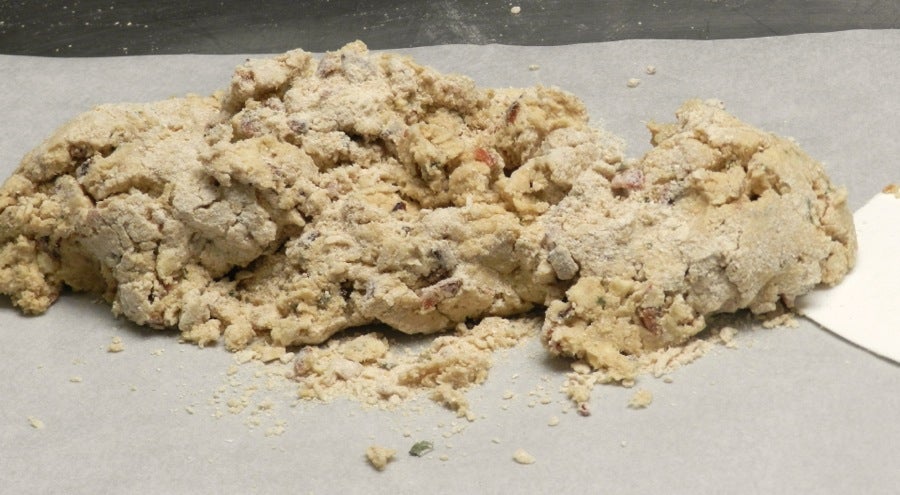 There's likely to be some dry flour from the bottom of the bowl...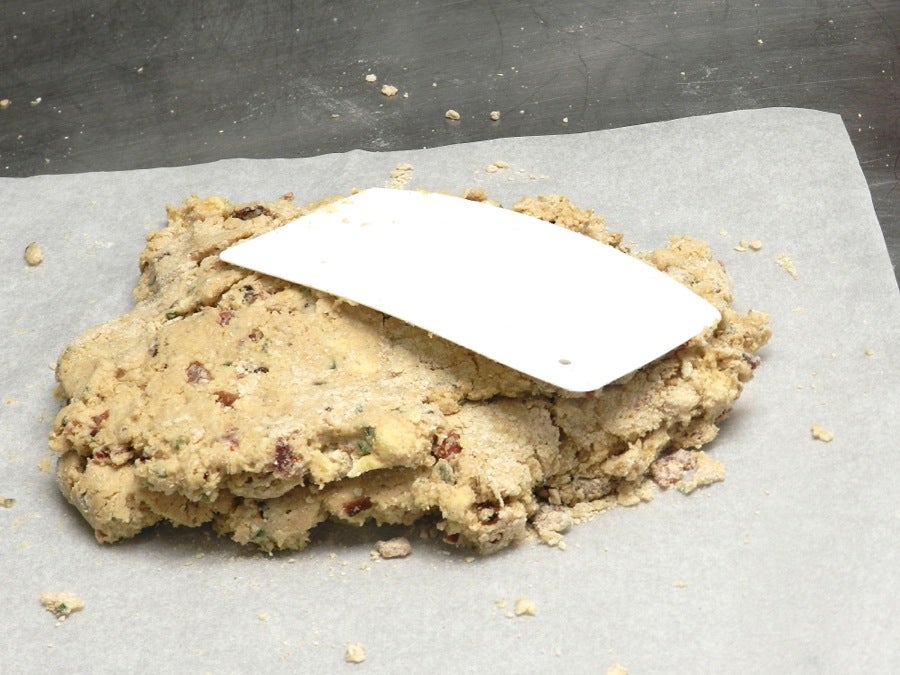 ...so fold the dough over on itself to make some nice biscuity layers.
Once the dry bits have become one with the dough, it's time for the cutter.
Decision time, by the way. If you're thinking these biscuits will be very nice next to an omelette or maybe split with an egg on top (and I agree with you there), reach for a cutter that's 2" to 2 1/2" in diameter.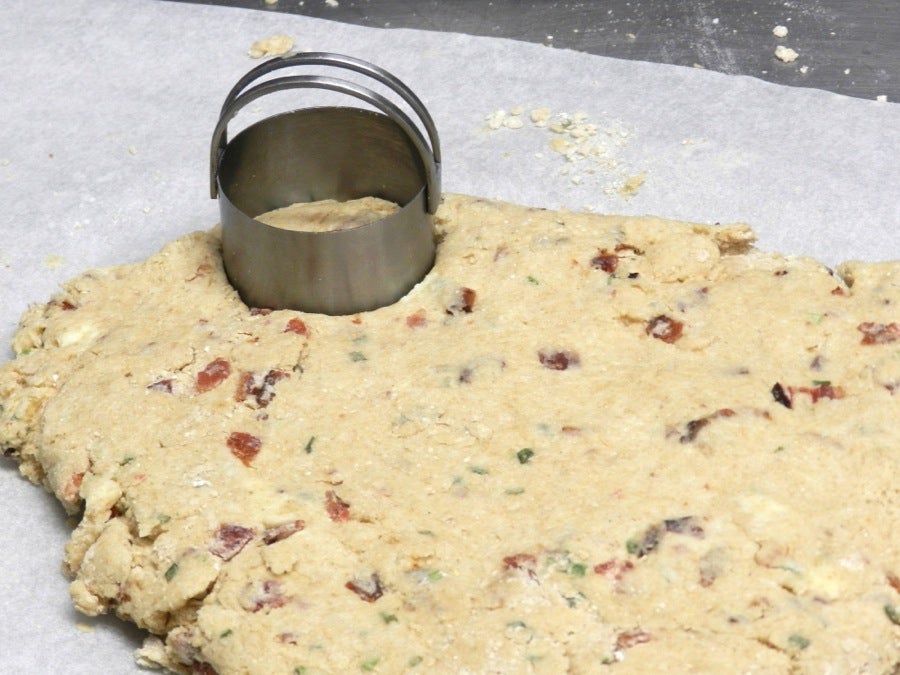 If you're game for bigger adventures, go for a 3" cutter. And, because I always like options, you could make some of either size.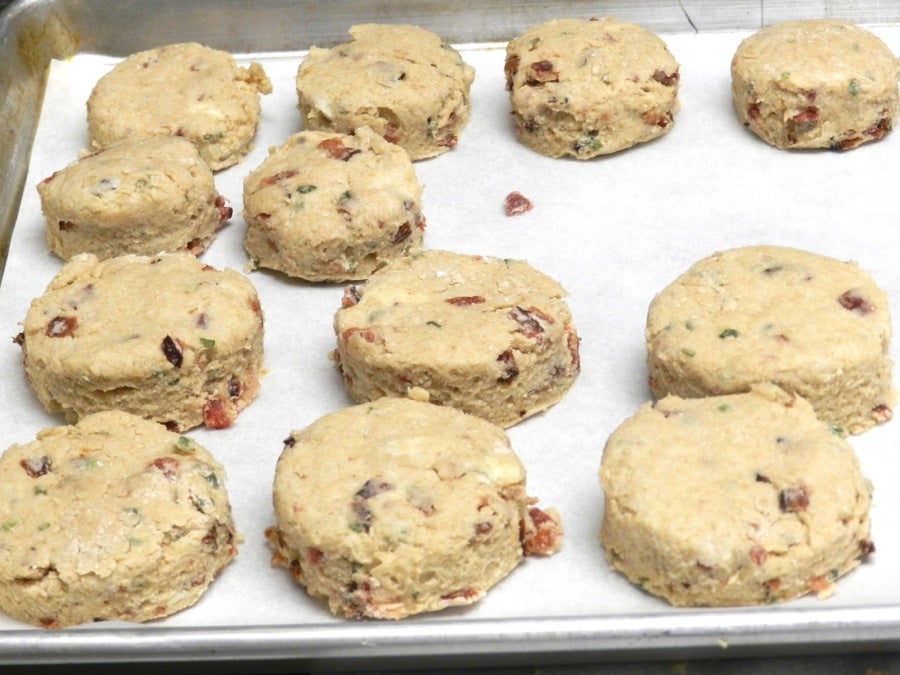 This batch of dough will give you 6 big biscuits and 8 small ones (not all of which are on the baking sheet just yet).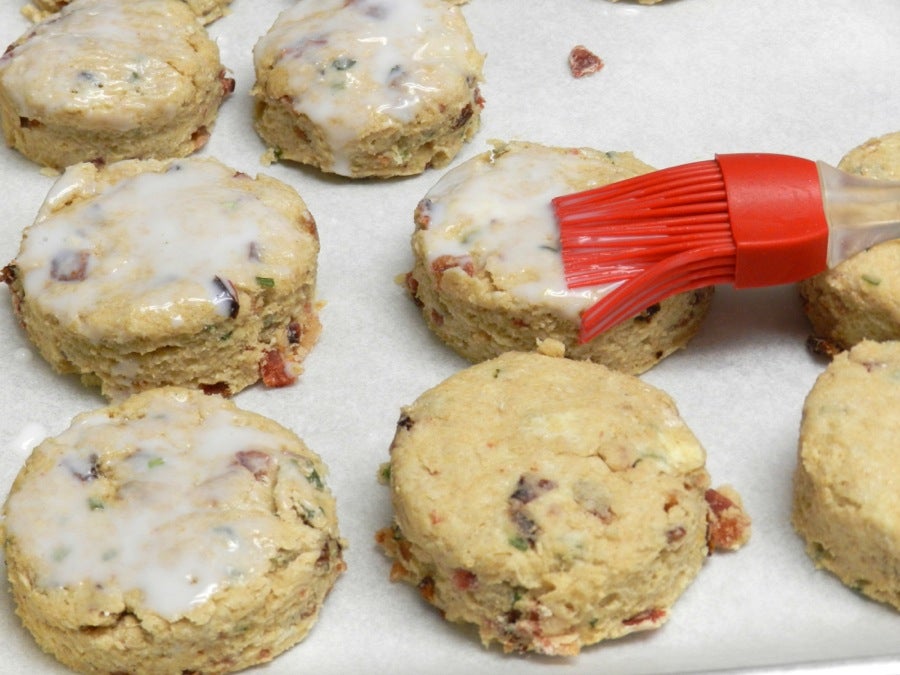 Before baking, a nice brush with buttermilk gives these biscuits a shiny, crisp top.
Bake the biscuits for 20 to 22 minutes, until they're nice and golden brown, and there you are.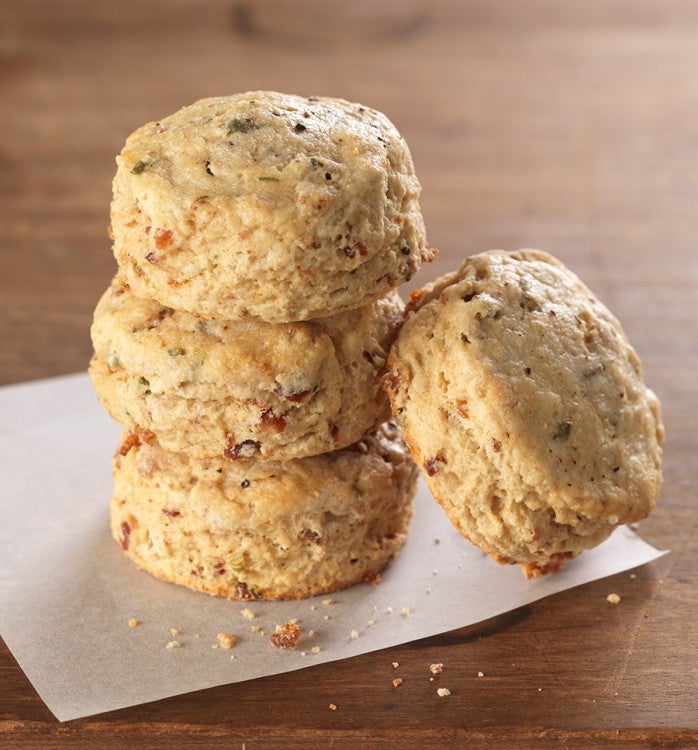 Ready to join whatever food partner you 're interested in. My dream was this: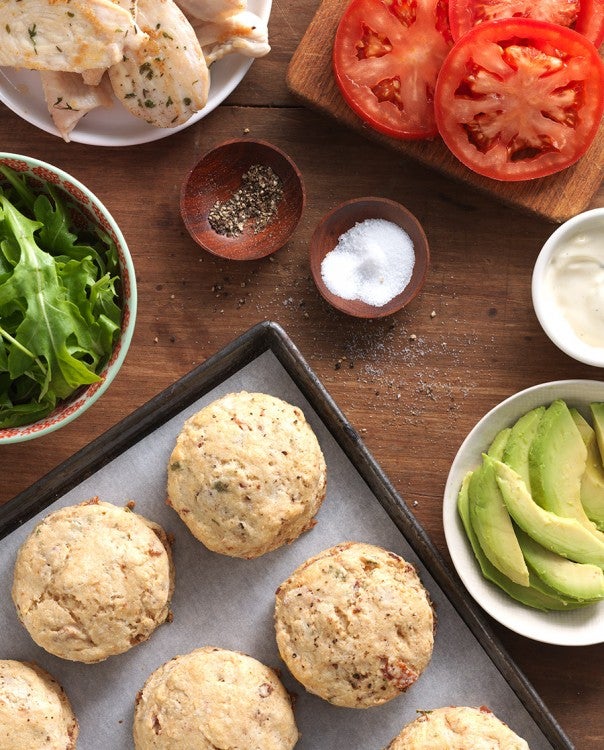 Still thinking about the BLT that started it all, morphed with its cousin the club sandwich. When I'm feeling particularly indulgent, my BLTs include avocado, so here it is altogether: grilled or seared chicken, avocado slices, tomato slice, arugula leaves.
Amounts? Whatever you can pile on there and still have a chance of getting a bite of everything on the first try. It's a little sandwich.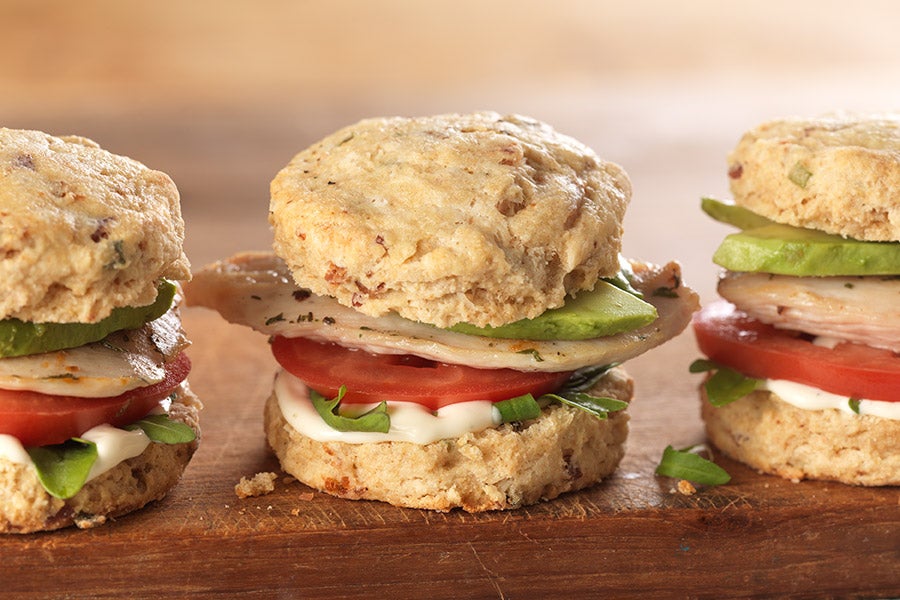 You can do it, really, all by yourself, no recipe. Be bold. Use leftovers if you have them. Or if you're having a party, just make a batch of biscuits, buy a couple of tomatoes, some lettuce and an avocado, and put whatever you're cooking on your tasty biscuit base.
Bake up our Bacon Ranch Biscuits, and leave a review to let us know what you think! 
Jump to Comments