One of my blog teammates here at King Arthur Flour recently made the following request: "Hey, do something clever for Pi Day, OK?"
Hmmm, Pi Day... March 14. 3/14. 3.1416... etc. Pi, as in pie.
It's a cliché to marry pie with pi; I mean, on March 14, EVERYONE does it. But heck, why not? Sure, let's put "clever Pi Day post" in the schedule.
Every couple of months or so we go over the blog schedule to make sure it's up to snuff. We want our posts to be engaging; and we want to entice you to bake. Because, after all, that's our goal. We want EVERYONE to bake.
OK, the cynic in you might say, "Well duh, yeah, you want to sell flour."
True. We do want to sell King Arthur flour. It's the product that supports our bottom line.
But flour only satisfies one-third of our bottom line. King Arthur Flour actually has what's called a triple bottom line: People, Planet, Profit.
Like any employee-owned business, we have to make a profit to support ourselves; we work with AND for one another, to that end, every day.
But we're not just about dollar profits.
We want to profit our environment, helping to create a world with better air, greener land, and healthier natural resources. We recycle (of course!). We encourage car pooling with designated reserved parking spots. We offer refueling stations for electric cars. We enthusiastically take part in Vermont's "green commute," which supports walking, biking, and taking public transportation to work.
We also want to profit our people beyond the paycheck. King Arthur has a vibrant wellness program, including everything from TRX to yoga to "Mindful Monday," an hour of meditation in the middle of the day. To say nothing of rewards for not smoking; for regular gym workouts; and even for simply having a yearly physical.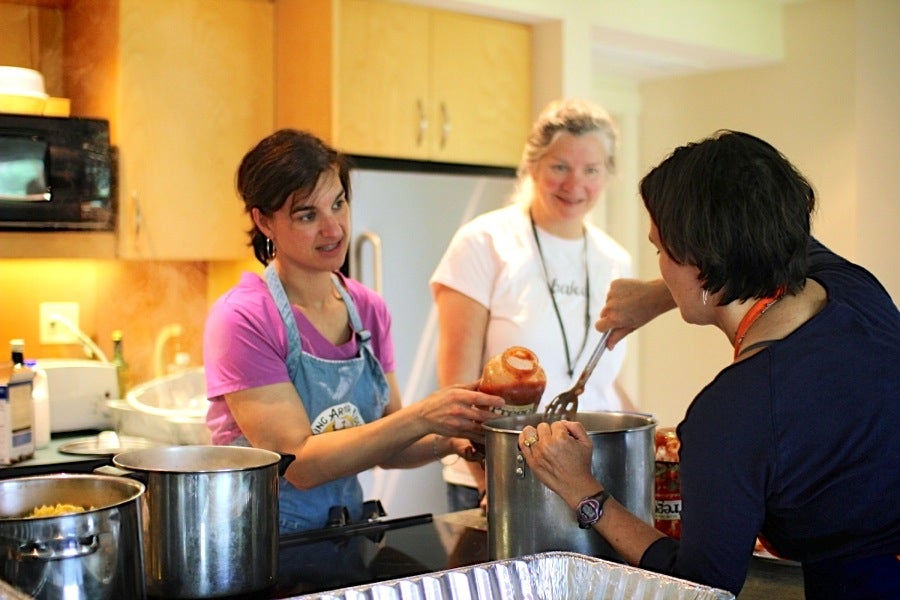 Outside our own doors, we cook dinners for those who might otherwise go hungry; we raise our hammers and ladders for Habitat for Humanity; we do trail work, volunteer at our local hospital, and read with elementary school children. All of this is supported by the 40 paid hours each employee is encouraged to take every year, in order to donate time to charitable causes.
We like to think of it this way: First we do good; then we'll do well.
King Arthur Flour is one of the founding members of B Corp, "People using business as a force for good." That about sums it up.
So, our bottom line? It's richly fulfilling, both for those of us who work here – and those in the community who "profit" by our good work.
Wow, that was a long and winding path from Pi Day, wasn't it? I confess, I get carried away talking about this neat company.
Let's get back to baking, and "something clever" for Pi Day: pi pies.
And when Pi Day is over, substitute top crusts for numbers...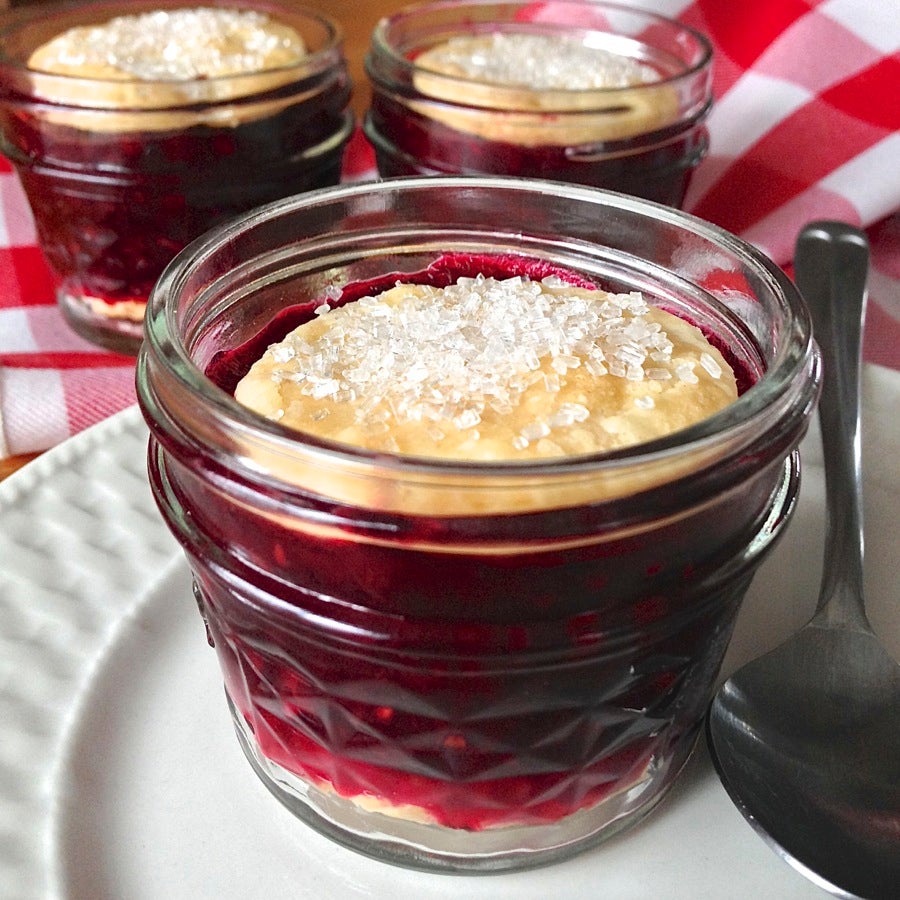 ...and you've got delicious, portable, single-serve Pies in Jars – which I think is very clever indeed!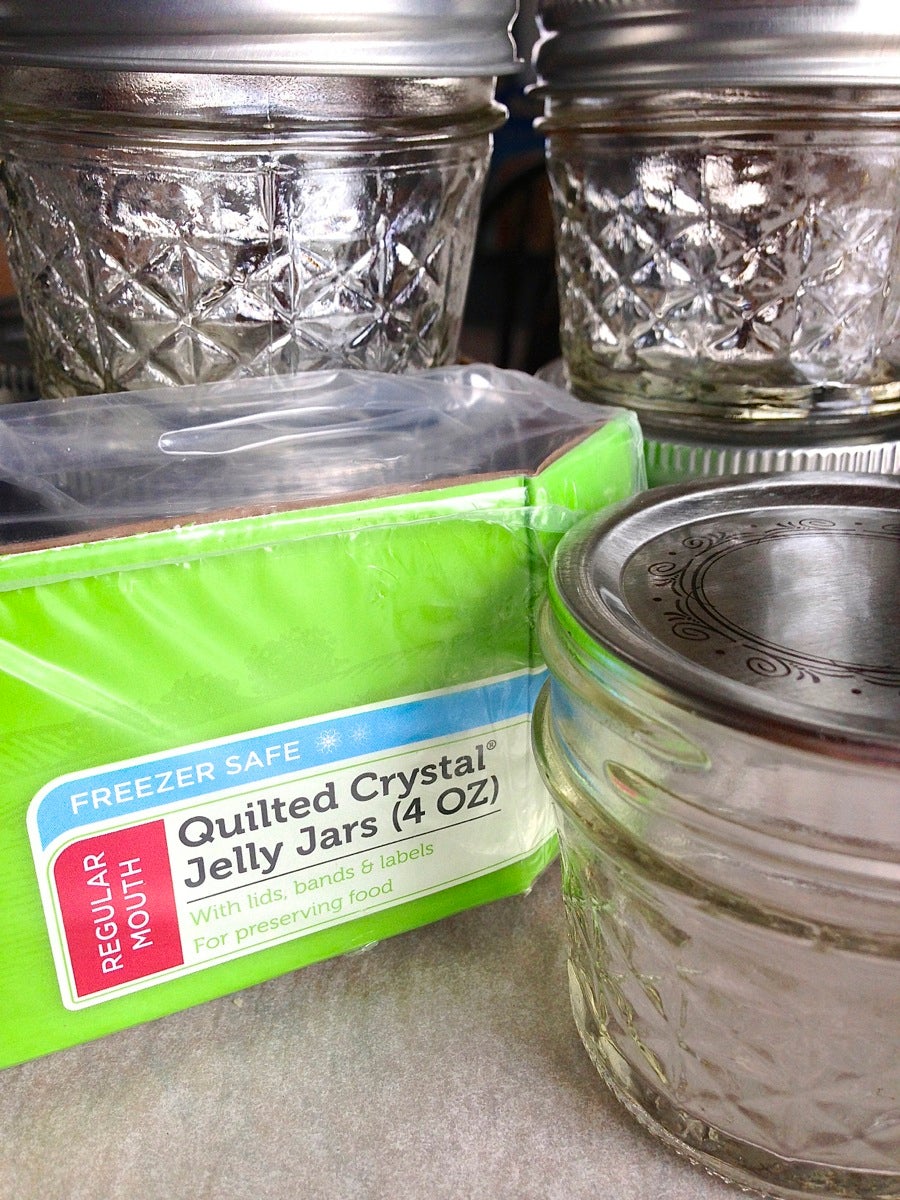 First, go down to the hardware store and grab yourself a package of 4-ounce jelly jars. They come 16 to a package; you'll only need 12 jars for this recipe.
You won't have any trouble finding uses for the extra jars, though - they make perfect spice containers. Dump spices from their original container into these wide-mouth jars, and you'll never again struggle with your measuring spoon being too large for the spice can.
At first I considered using wide-mouth half-pint jars, and that's certainly an option. But in the end, the consensus from my taste-testers was that the 4-ounce size made a lovely little individual dessert.
Next, dig out your favorite pie filling recipe.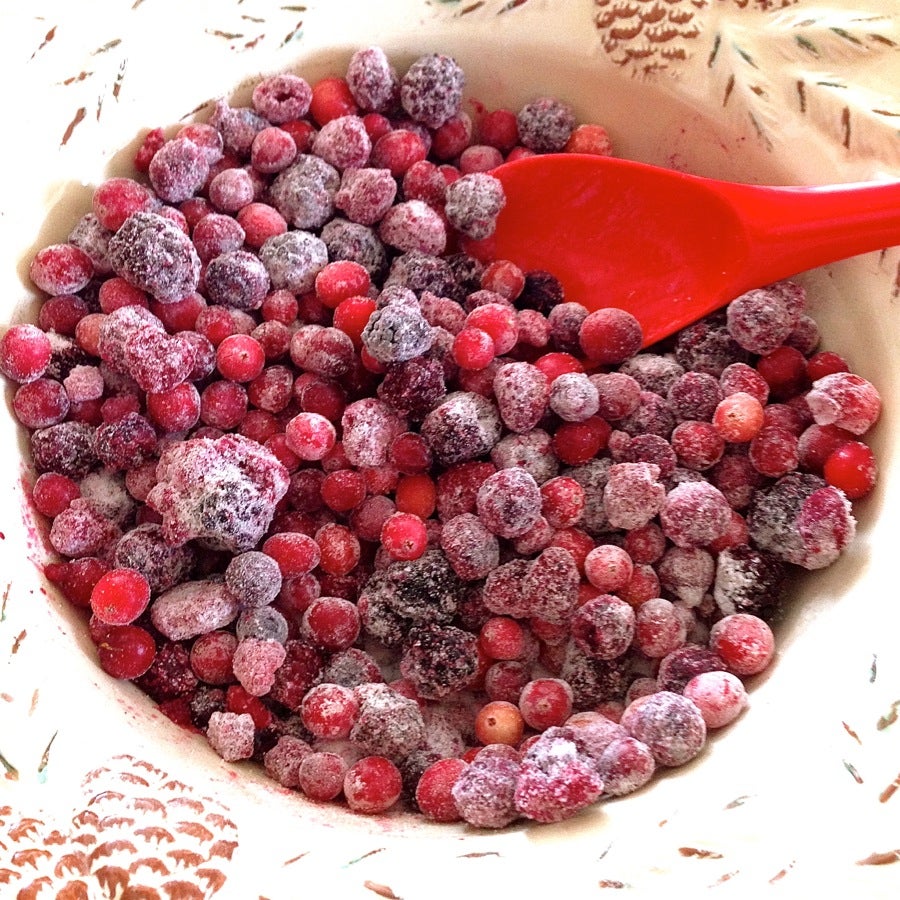 I'm using the filling for Mixed Berry Pie, with the cranberry option listed in the tips: half cranberries, half blueberries/raspberries/blackberries.
At this time of year my berries are coming from the freezer, so I dump them into a bowl to thaw a bit.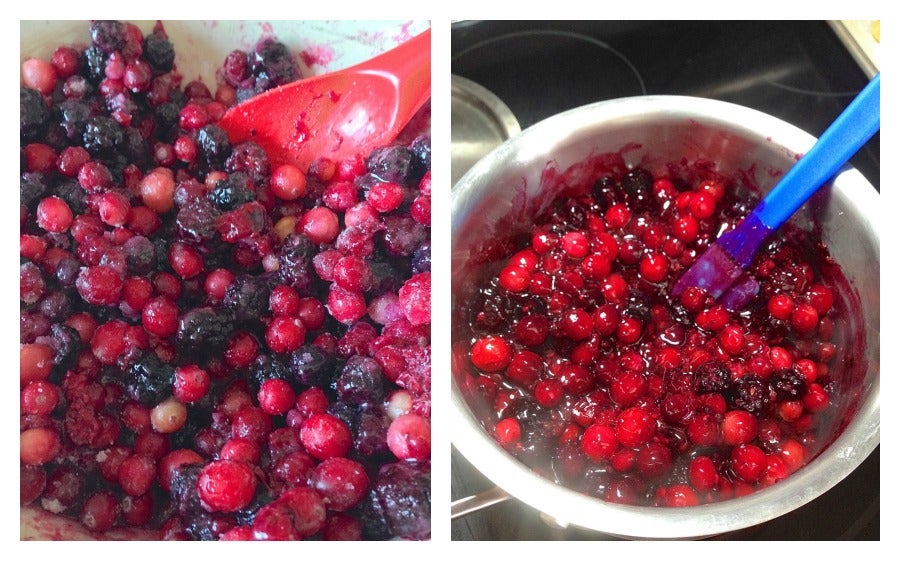 Next, I mix the berries with the remaining filling ingredients; then transfer the whole thing to a saucepan. I slowly warm the filling until the berries thaw completely and release their juices; then cook until thickened and syrupy before removing from the burner.
I'll set the filling aside while I make our Classic Double Pie Crust.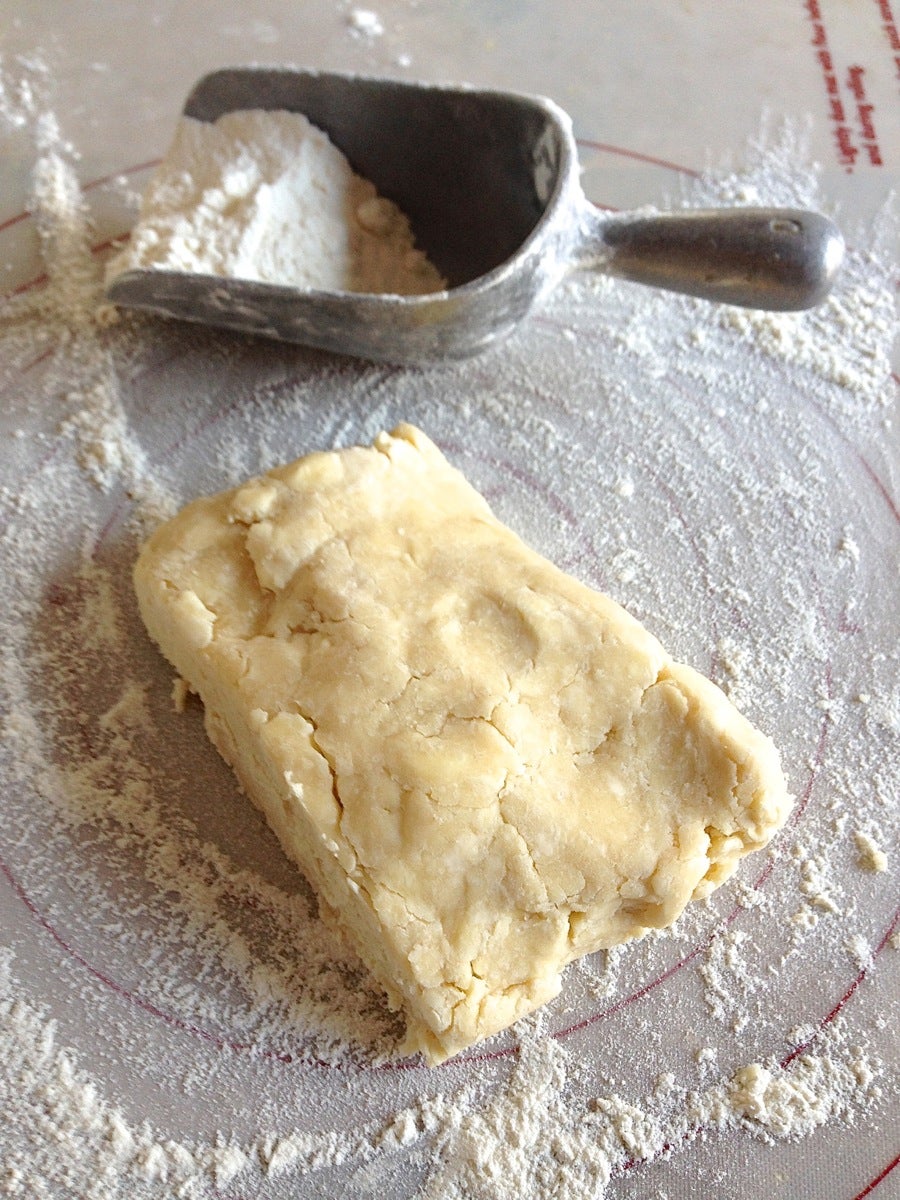 Here it is, chilled and ready to roll.
Turn on the oven; 400°F should do it.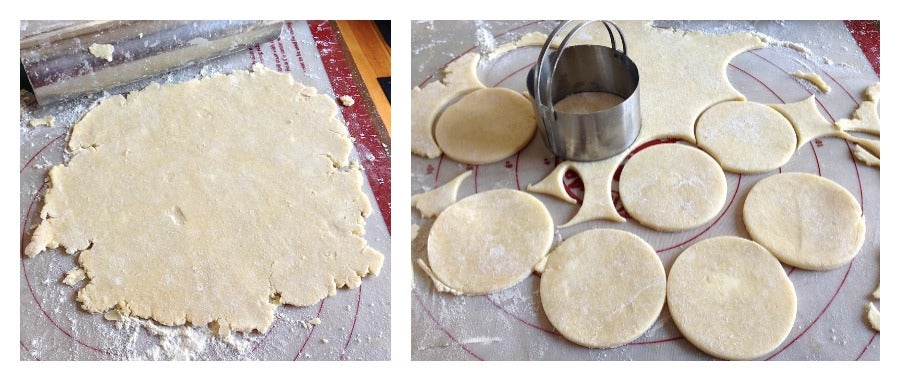 I divide the crust in half, and use a 2" biscuit cutter (or 2 1/8", if that's what you have) to cut 12 rounds of pastry.
"Gee, doesn't look like you're going to get 12 rounds from that crust..."
That's because I'm experimenting with using a larger cutter, for larger canning jars. In the end, the 4-ounce canning jars and 2" biscuit cutter prove a perfect match.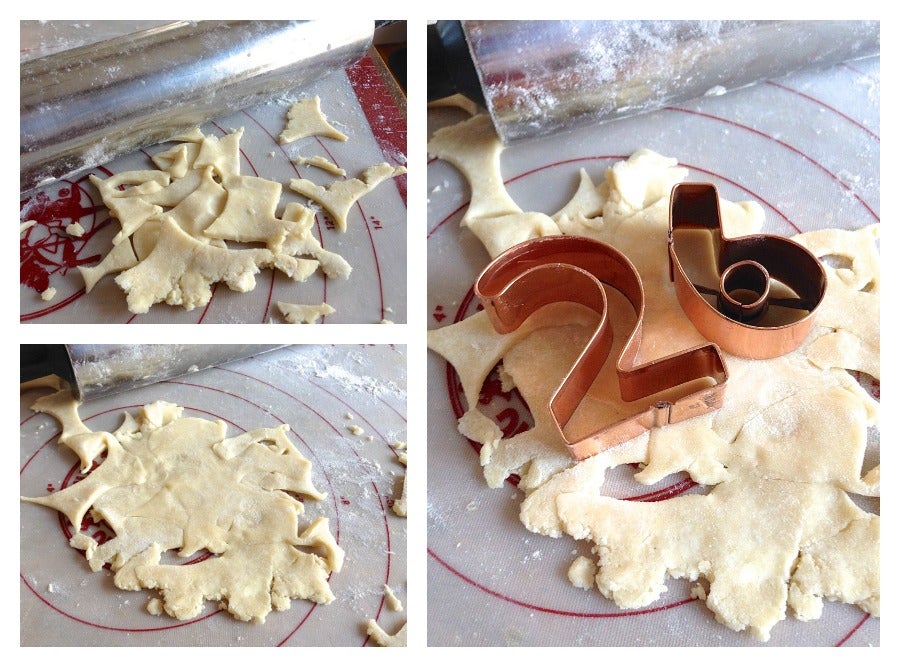 When cutting cookies, biscuits, or pie crust, I don't gather the scraps and squash them into a ball, then re-roll. I simply shove them close together, press down gently with the rolling pin, then continue to cut.
The tradeoff is slightly lumpy (but tender) cutouts, compared to more finished, tougher cutouts. I'll take tender over tough any day.
After cutting 12 rounds from one piece of pastry, I take the other piece and use a set of number cutters to cut out the appropriate numbers for pi. (Don't forget the decimal point!) Unfortunately, we don't sell number cutters; I borrowed them from a friend.
When Pi Day is over, I'll forgo the numbers and cut a dozen 2" rounds from each of the two rolled-out crusts. Hint: Sprinkle any leftover pastry scraps with cinnamon-sugar, and bake alongside the pies.
Yes, you're right, some of those rounds are bigger than the others; do as I say, not as I do! Again, I was experimenting with larger sizes; you want 2 dozen 2" rounds.
I sprinkle half the rounds with sparkling white (coarse) sugar; these will be top crusts.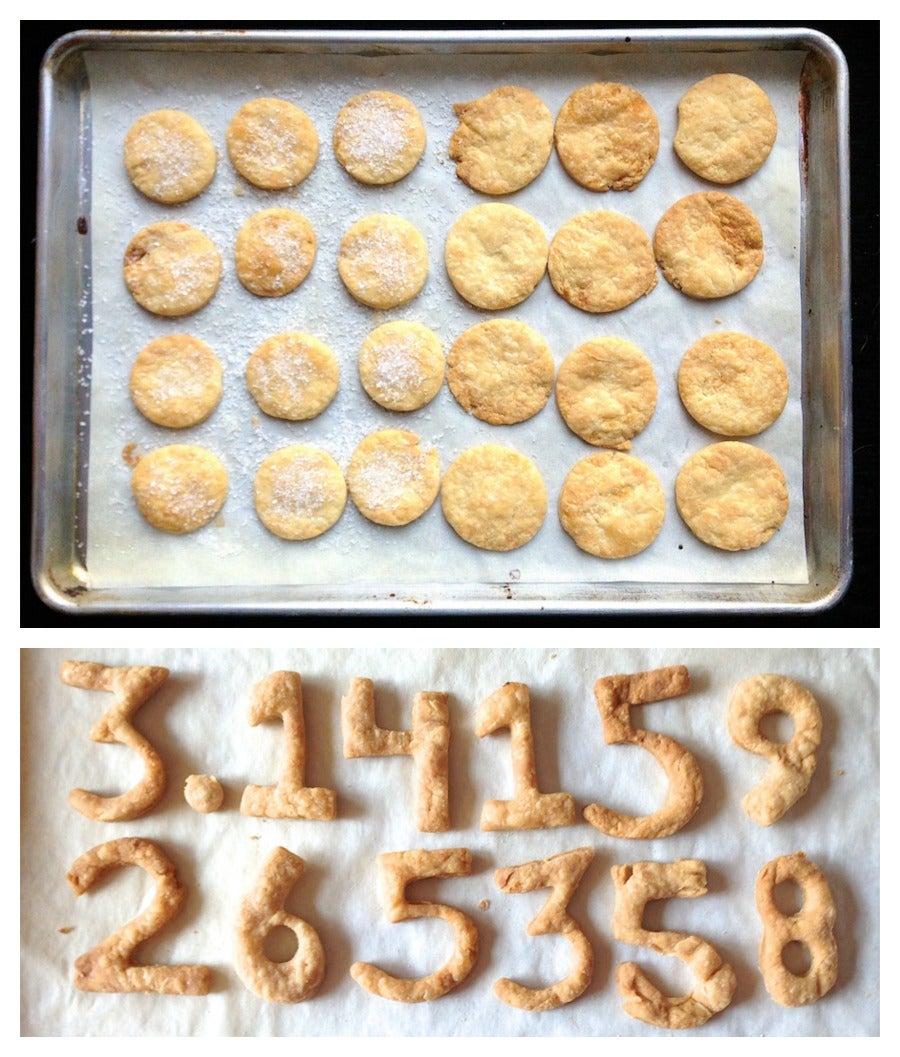 I bake the rounds until golden brown. This takes about 15 minutes for the rounds, slightly less for the numbers: maybe 12 to 13 minutes. I remove them from the oven, and let them cool for at least 10 minutes or so before assembling the pies.
Note: At this point, everything can be stashed for a day, or several days, or even longer. While you can make everything ahead, though, it's best to actually assemble these pies the same day you plan on serving them, to prevent the crusts from becoming soggy. Cover the filling and refrigerate it; wrap the crusts well, and store at room temperature. I suppose you could freeze both components for super-long storage, though I haven't tried this.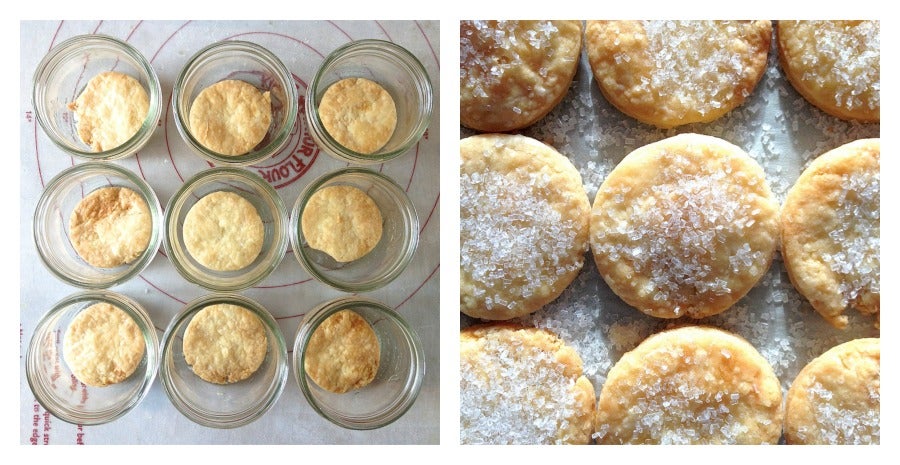 I place half the rounds (the ones without sugar) into the bottom of the jars. Some have spread as they baked, and they're a tiny bit too big; I GENTLY cut them down to size with my 2" biscuit cutter.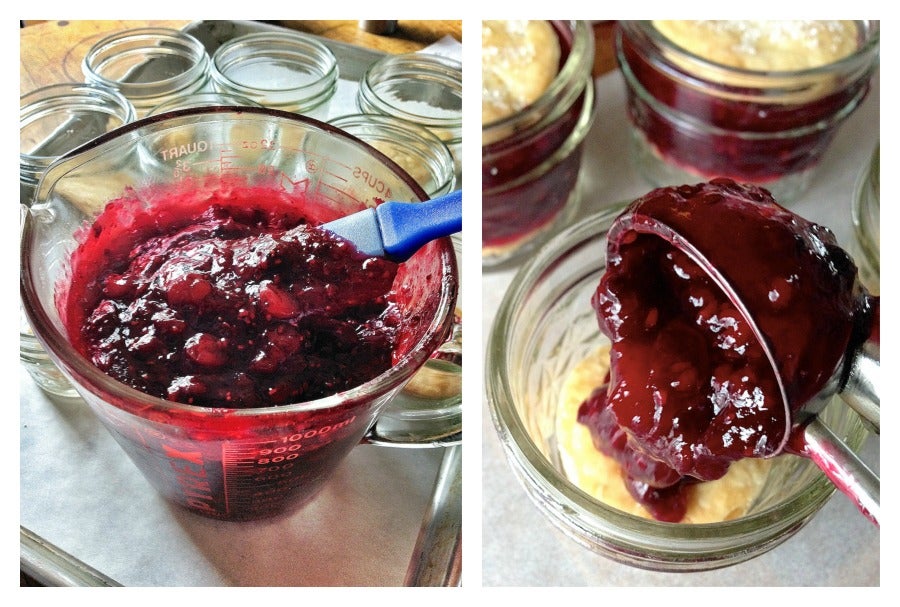 The filling has stiffened up, so I warm it gently in the microwave, until it's a more "flowable" consistency. I scoop a scant 1/4 cup filling into each jar; a muffin scoop works well here.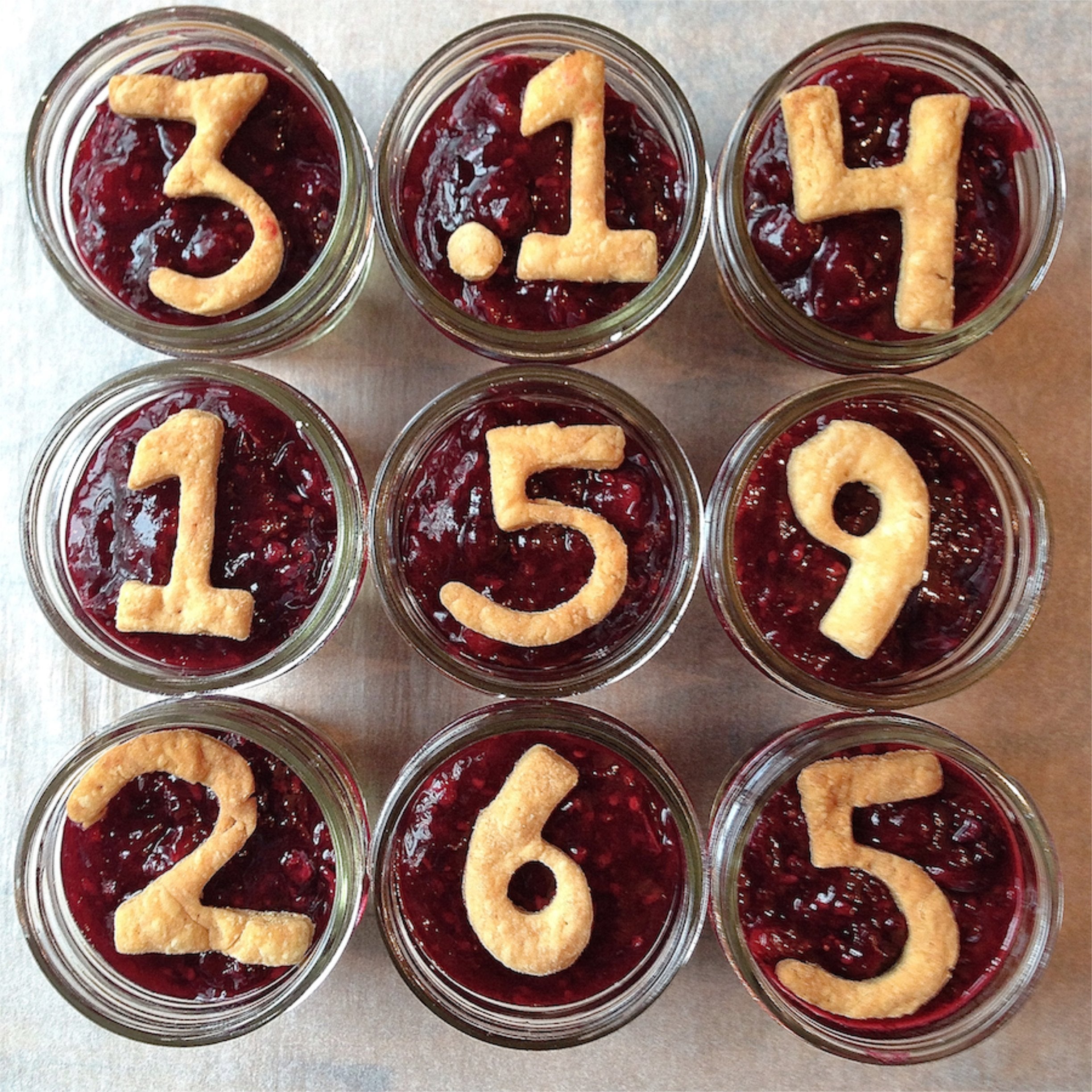 Finally, I place the pi numbers atop the filling.
Next time, when I'm not celebrating Pi Day...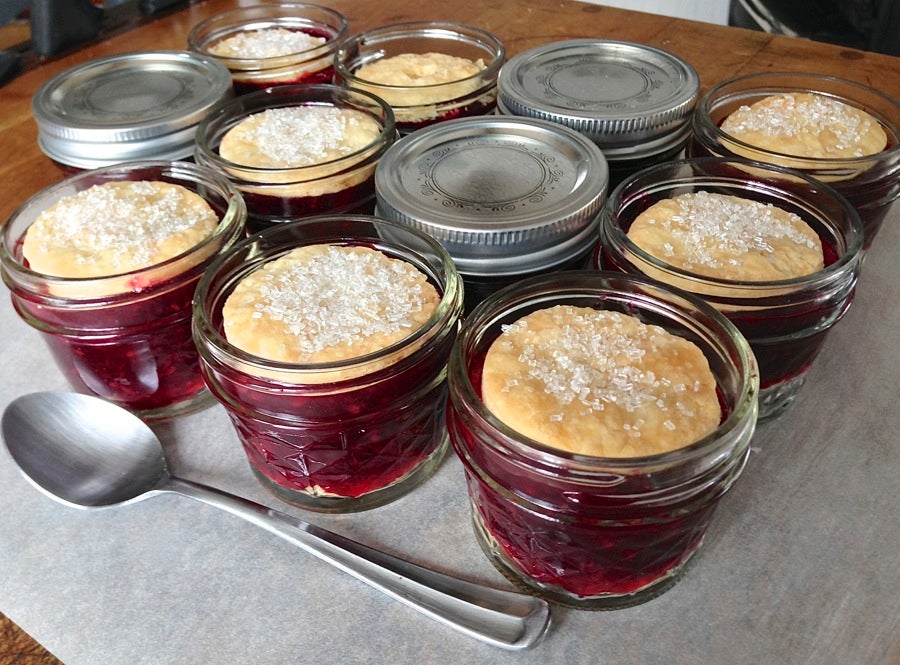 ...I'll simply top the filling with the sugared pastry rounds.
I serve some of these immediately, to absolute rave reviews. As mentioned above, I'm afraid people will think they're too small; but, just like Goldilocks and Baby Bear, the feedback is, "These are just right!"
Other pies I cool completely, top the jars with their lids for easy storage and transportation, and enjoy within a few days.
Just to see what will happen, I store a couple of pies for 10 days (at room temperature) before serving. They're still tasty, though the crusts have softened. Refreshing via a brief trip through the microwave helps.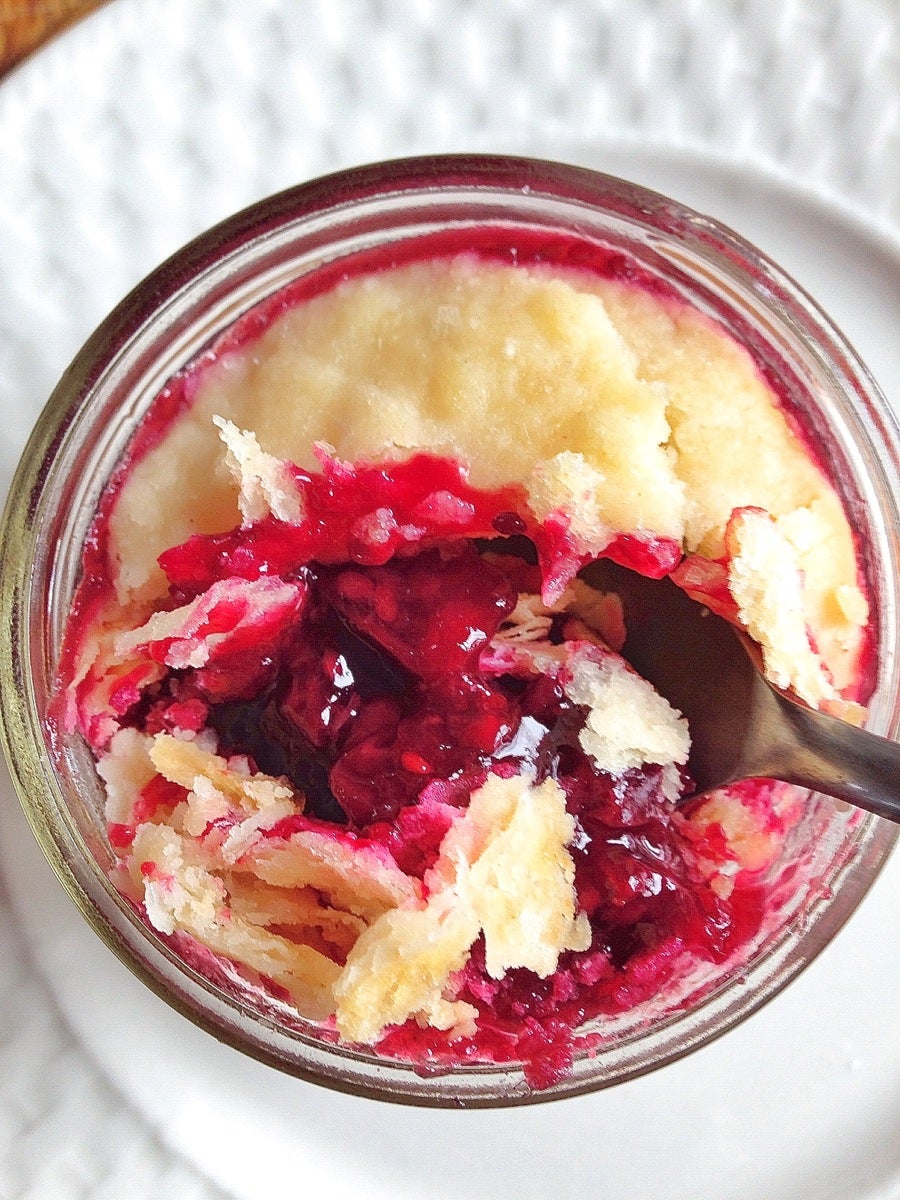 Here's my 10-day-old Pie in a Jar: crust still flaky (though soft), berry filling still delicious.
I can't wait to try this with individual apple pies for Thanksgiving, little lemon meringue pies with baked meringue cookies on top... banana cream with vanilla cookies as bottom crust... And, of course, chocolate cream on a chocolate cookie with a marshmallow cream cap.
The CLEVER possibilities are just endless!
Do you typically celebrate Pi Day? Do you have any favorite recipes you like to make? Let us know in the comments, below. 
Jump to Comments