Banana Cream Cheese Roll
Step aside pumpkin, banana's in town
If you've been anywhere on the internet these days, you have probably seen pumpkin spice EVERYTHING wherever you've gone. Pumpkin spice lattes have taken over Starbucks ads, pumpkin spice muffins are nearly rolling off the screen, and this meme is everywhere:
The artwork by peasandcrayons is based on artist and blogger Allie Brosch's hilarious writing over on Hyperbole and a Half. Her over-the-top childhood self portrait has become the icon for how we can take something we like and turn it into a raging tidal wave from which there is no escape. Or IS there?
For years we've enjoyed a pumpkin cream cheese roll as part of our fall/Thanksgiving holidays. It's something I've looked forward to year after year, sneaking into the fridge to shave off just enough for a taste, but not enough so anyone would notice a big piece missing. But with pumpkin pie, pumpkin cookies, pumpkin bread, and pumpkin doughnuts on the menu, too, I'm ready for a break in the pumpkin action.
Enter our old and dear friend, banana. Texturally pumpkin and banana share a lot of traits, and both have a richness that can stand up to a cream cheese filling. How about if we swap in banana in our favorite holiday roll?
No hyperbole here, this roll is AMAZING! It's like fresh banana bread with a schmear of cream cheese, only gilded in gold and served by cherubs. The caramel-rum sauce adds an extra touch that really earns this roll a place at the holiday buffet.
Let's make Banana Cream Cheese Roll.
Preheat the oven to 375°F.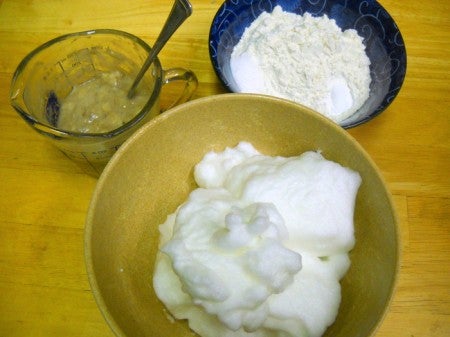 In a small bowl combine:
1 cup (4 1/4 ounces) King Arthur Unbleached All-Purpose Flour
1/2 teaspoon salt
1/2 teaspoon baking powder
1/2 teaspoon baking soda
Whisk until well combined and lump free, and set aside.
Mash 1 medium banana, about 1/2 cup.
In a stand mixer, whip 2 large egg whites (reserve the yolks) until foamy. Continue to beat as you slowly add in 1/4 cup sugar. Whip until you have stiff, but not dry peaks. Remove from the mixer and set aside with your other ingredients.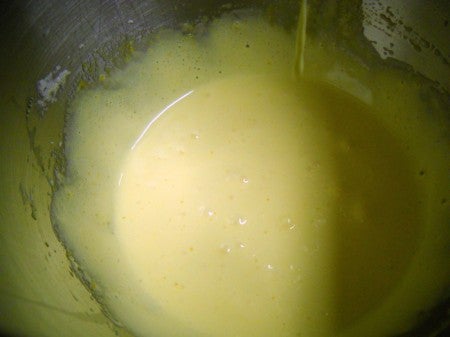 Rinse your mixing bowl and put the two reserved egg yolks into the bowl. Beat on medium-high speed until the eggs lighten and thicken. Keep beating while you gradually add 1/2 cup sugar.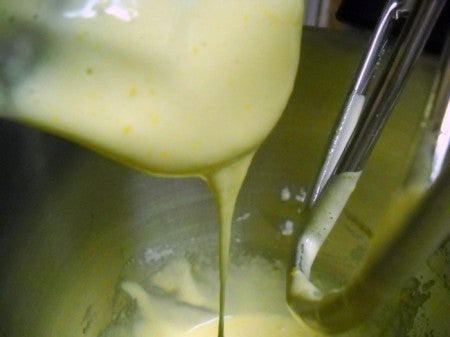 The egg yolks should fall from your beater or spatula in a thick ribbon, almost like pancake batter. If it runs off like thin liquid, you'll want to beat it a bit longer.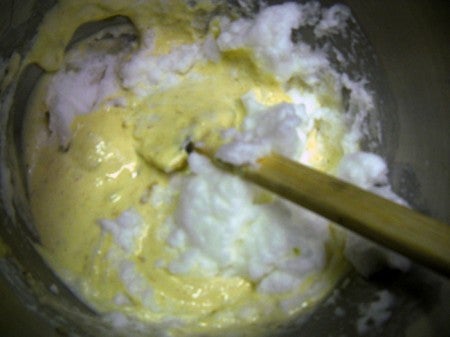 Once the yolks are thick, gently stir in the mashed banana, then the flour mixture. Finally, fold in the whipped egg whites. Try to make large, gentle folds to keep the batter as light as possible.
Prepare a parchment-lined jelly roll pan. These pans are smaller than cookie sheets, measuring around 9" or 10" by 14" or 15". Trim your parchment to fit, and spritz with cooking spray. Pour in the batter and spread to the edges and corners.
Bake the cake for 8 to 12 minutes. The edges will begin to pull away from the sides of the pan and the center will spring back when lightly pressed.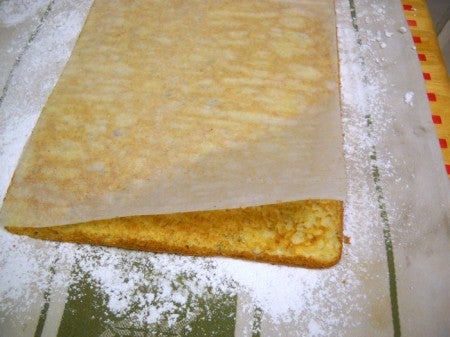 Remove the cake from the pan by lifting the parchment paper. Place the cake on the counter and trim off the edges to make rolling easier. Turn the cake over onto a clean towel well sprinkled with confectioners' sugar. Peel off the parchment paper.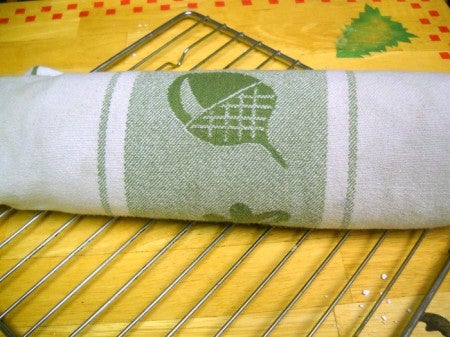 Roll the cake up as though the towel were the filling. Cool the cake, rolled up, for 20 to 30 minutes. Be sure to cool on a rack so that the bottom of the cake doesn't become soggy and stick to the counter.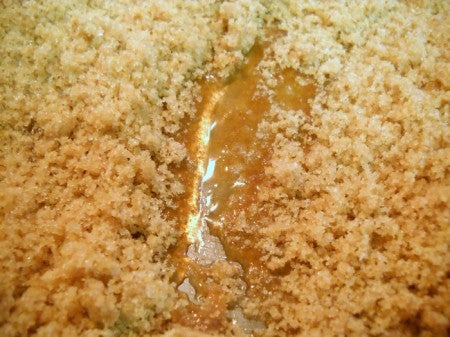 While the cake is cooling, prepare the filling. To make the rum syrup, place 1 cup of brown sugar with 1/2 cup of  water in a medium-sized sauté pan over medium heat. Cook until the sugar dissolves and the liquid turns syrupy, stirring occasionally.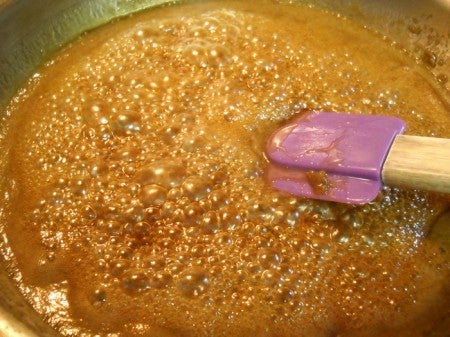 Remove from the heat and stir in 2 tablespoons of butter and 2 to 4 tablespoons of rum. Allow to cool to room temperature.
You can certainly leave the rum out, but it brings amazing flavor to the party. If you prefer rum extract, use about 1/4 teaspoon or to taste.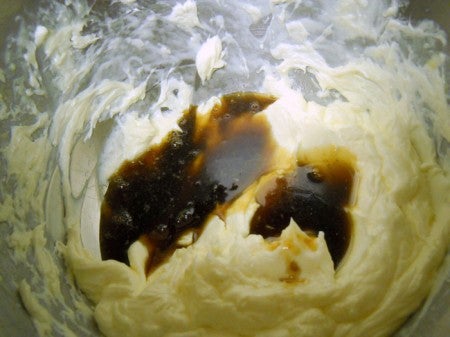 To make the cream cheese filling, mix together 1 cup of softened cream cheese and 1 cup of sifted confectioners' sugar until the mixture is lump free and fluffy.
Add a pinch of salt, plus 1/4 cup of the cooled prepared rum syrup. Whip again until light and soft enough to spread.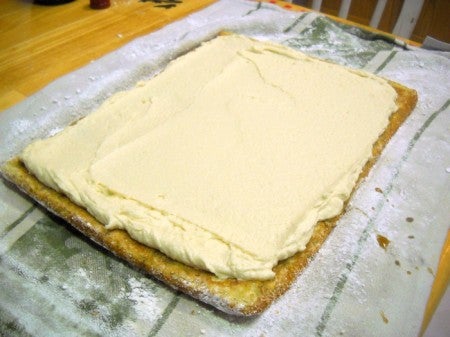 Unroll the towel and cake. Lightly brush the cake with 2 to 3 tablespoons of the rum syrup. Spread the cake with the filling and re-roll. Chill for 20 to 30 minutes. The roll can be frozen at this point, well wrapped, for up to 3 months.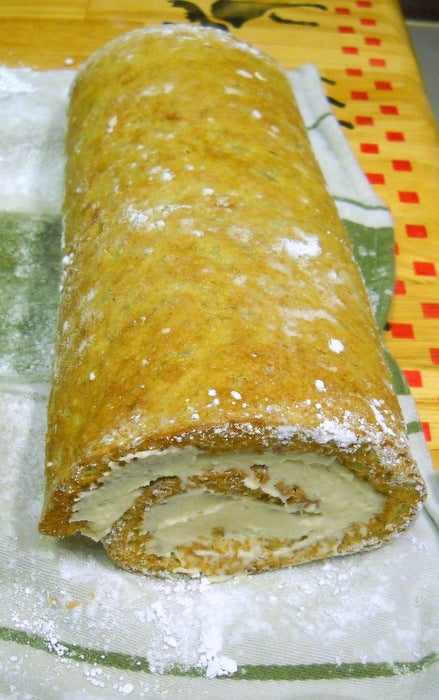 To serve, place the roll on a long serving platter and dust with confectioners' sugar. Serve slices with an extra drizzle of the rum syrup, if desired. Be sure to refrigerate any leftover cake or syrup.
I know at our house this dessert will make a star appearance as part of our Thanksgiving dessert offerings. Pumpkin pie and Banana Roll on the same day? Yes, please and thank YOU!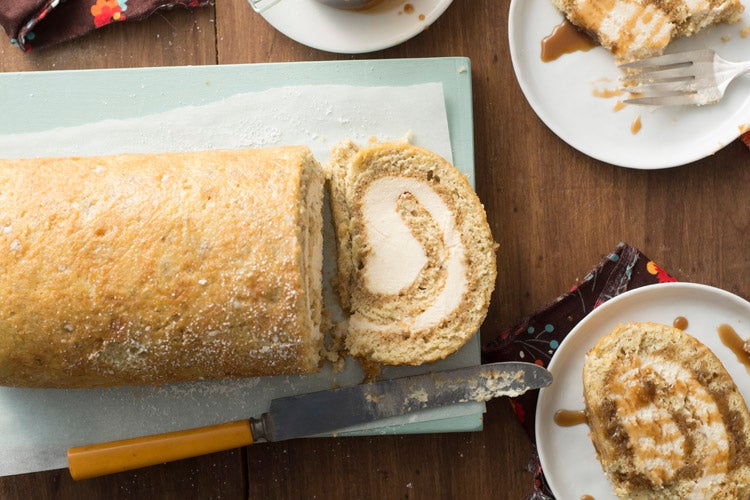 Please bake, rate, and review our recipe for Banana Cream Cheese Roll.
Print just the recipe.