Calzone: the prim & proper pizza eater's answer to the ooze and drip of melted cheese, hot sauce, and ungainly toppings.
Let's just call it outside-in pizza.
If you're a lover of thin-crust pizza, you know that it can be a bit fragile, structurally speaking. Loading thin-crust pizza with anything more than the merest layer of sauce, perhaps pepperoni and paper-thin mushroom slices, plus a drizzle (not a blizzard) of cheese can result in the dreaded FLOP.
As in pick up pizza slice, move hand towards mouth, and FLOP: triangular end of pizza responds to gravity's command, dipping downwards with its burden of hot sauce and oozy cheese, which in turn sliiiiiiiides off said crust into your lap. Or onto your shirt front.
Been there, done that.
The solution? The self-contained calzone, picky moms' solution to tomato-stained T-shirts.
A calzone is nothing so much as a thin-crust pizza topped on only half its surface, then folded over on itself. The fillings are sealed inside; the folded-over pizza – a.k.a. calzone – bakes up golden brown; and its top-and-bottom crust safely contains all the delicious (and messy) topping ingredients, which have now become filling.
The following simple recipe for Spinach-Ricotta Calzone comes from our Baking Education Center, where you can learn to bake everything from these simple calzone to multi-layered croissant.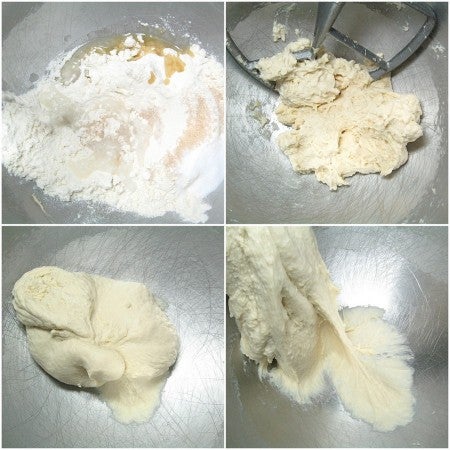 Place the following in a bowl (or the bucket of your bread machine):
2 cups (241g) King Arthur Unbleached All-Purpose Flour
1 1/4 teaspoons instant yeast
3/4 teaspoon salt
1 tablespoon (14g) olive oil
1/2 cup to 3/4 cup (113g to 170g) lukewarm water*
*How much water should you use? Well, it's best to start with the lesser amount, as you can always add more (but can't add less). And here's a rule of thumb: Use the lesser amount in the summer, the greater amount in the winter, and somewhere in between in the spring and fall. Your goal is a soft dough.
Mix and knead — using your hands, a mixer, or a bread machine set on the dough setting — to make a soft, smooth dough.
Can you make this with whole wheat flour? Try substituting whole wheat flour for 25% of the all-purpose flour, to start; if you like the result, increase the amount of whole wheat flour next time.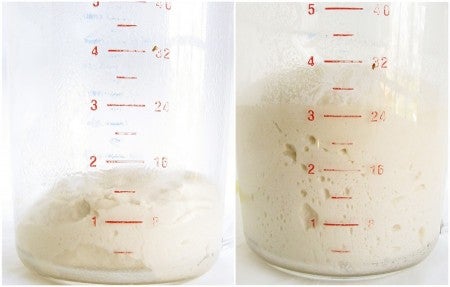 Place the dough in a lightly greased bowl or other rising container (an 8-cup measure works well), cover it, and let it rise until it's just about doubled in bulk, about 2 to 2 1/2 hours.
Gently deflate the dough, and divide it in half.
While the dough rests for a few minutes, make the filling.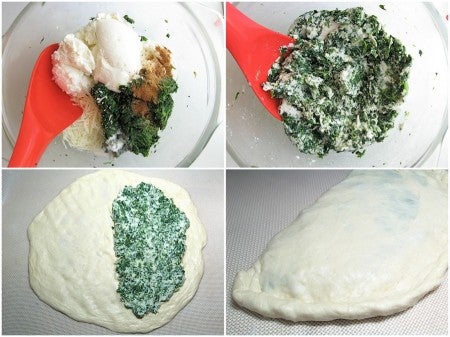 Combine the following in a small bowl:
1 1/2 cups (283g) cooked spinach, squeezed completely dry
1 cup (227g) ricotta cheese, whole-milk or part-skim
1/2 cup (57g) freshly grated Parmesan cheese
1/4 teaspoon grated nutmeg
1/2 teaspoon salt
Working with one half at a time, place the dough on a piece of parchment, or onto a lightly greased baking sheet. Pat it into a 10" to 11" circle.
Spread half of each disk of dough with half the filling. Fold the unfilled half over the filling, crimping and pressing the edges together to seal.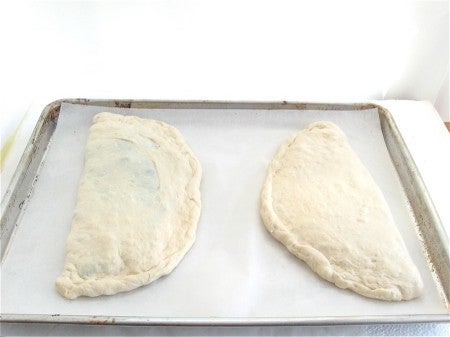 If you've shaped the dough on parchment, lift the parchment onto a baking sheet. Or, if you have a pizza stone in your oven, place the parchment on a peel, for easiest transport.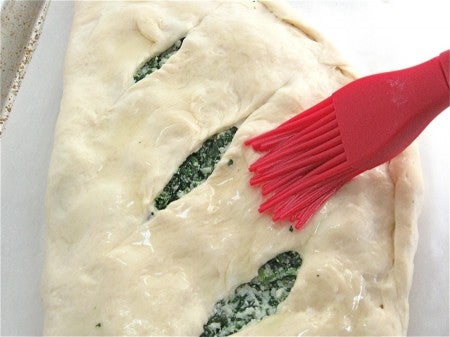 Cut 3 or 4 slits in the top of each calzone, to allow steam to escape. Brush with olive oil.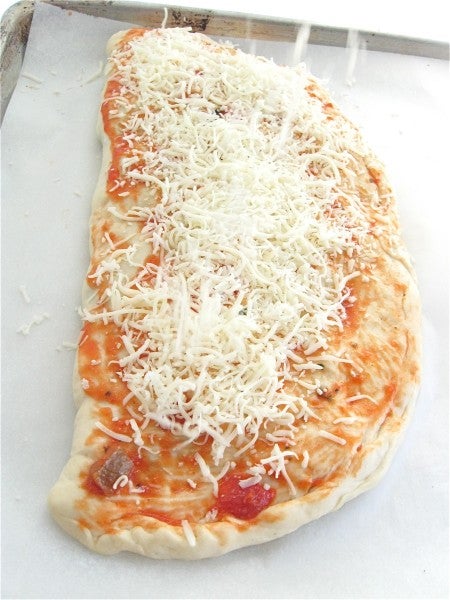 Or brush with a thin layer of pizza sauce, and top with shredded cheese.
Let the calzone rest, uncovered, for 30 minutes, while you preheat your oven to 450°F.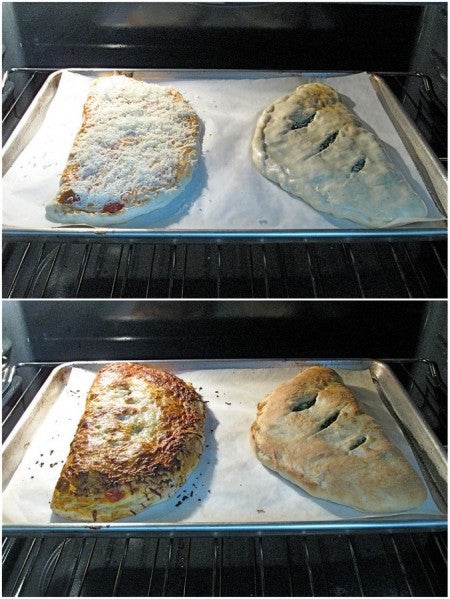 Bake the calzone for 18 to 22 minutes, until they're golden brown.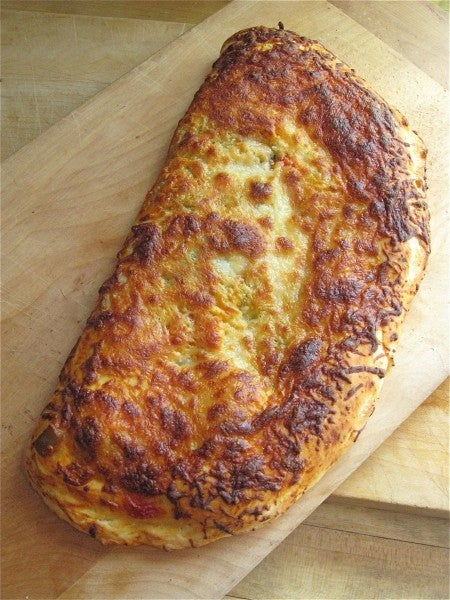 Like this. (Yes, I DO like this!)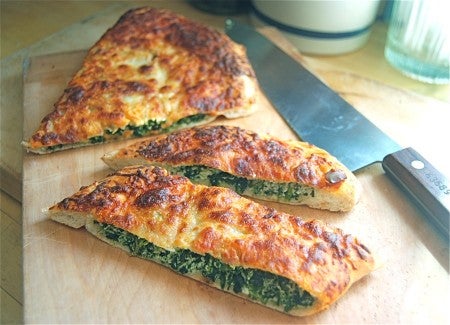 Slice into pieces to serve.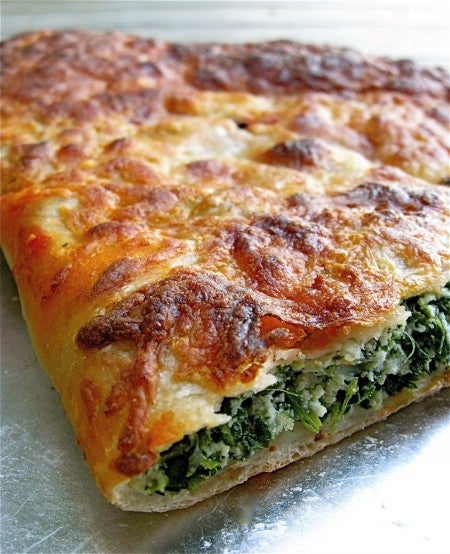 What did I tell you? Like a slice of thin-crust pizza, folded over.
Read, bake, and review (please) our recipe for Spinach-Ricotta Calzone.
Jump to Comments