The King Arthur Flour Company marks its 225th anniversary this year. And we're celebrating by exploring some of America's favorite recipes, decade by decade, starting in 1900. Join us on this fascinating stroll through American food history.
Did you know the original Toll House cookie was called a Chocolate Crunch Cookie?
Back about 80 years ago, when this signature American cookie first saw the light of day – at the Toll House Inn in Whitman, MA – there was no such thing as chocolate chips.
Legend has it that Ruth Wakefield, the inn's proprietress and head chef, ran out of chocolate for her chocolate cookie recipe one day, and added a chopped Nestlé's semisweet chocolate bar to her sugar cookie recipe, hoping it would melt and turn the cookies chocolate.
Well, that didn't happen; the chopped chocolate remained intact. And thus was born an American classic: the chocolate chip cookie.
Another take on the cookie's origin comes from George Boucher, a chef at the Inn who claimed that the vibrations of a mixer stirring up a batch of sugar cookie dough caused a bar of Nestlé's chocolate to fall into the mixing bowl, where it broke into chunks. Rather than discard the dough (as Boucher said Wakefield wanted to do), he baked it into cookies. Birth of the chocolate chip cookie, version 2.
By 1939, the recipe had been printed in a number of New England newspapers, and the cookies' popularity was growing by leaps and bounds. After experimenting with scoring its chocolate bars so customers could easily break them into bits, Nestlé came up with a new product: "chocolate morsels," a.k.a. chocolate chips.
Ruth eventually sold her recipe to Nestlé's in return for a lifetime supply of semisweet chocolate; and the familiar yellow bag of Nestlé's chocolate morsels has included a variation of that recipe ever since.
So, with all of the hundreds of chocolate chip cookie recipe variations and stories out there (remember the apocryphal $250 Neiman Marcus cookie tale?), there's something both exciting and comfortable about finding the original recipe – and baking it.
Come along with me as we bake Ruth Wakefield's Chocolate Crunch Cookies – just as she did at the Toll House Inn.
Ruth Wakefield's Chocolate Crunch Cookies
Ruth calls for "2 bars (7-ounce) Nestlé's yellow label chocolate, semi-sweet, which has been cut in pieces the size of a pea."
Easier said than done! I used two of a competitor's bars (6.8 ounces each – close enough), and thought I'd just use my handy bench knife to chop them up.
Way too difficult.
Next, I whacked each bar vigorously with a rolling pin, hoping it would break into tiny (pea-sized) pieces.
No dice.
The rolling pin did, however, crack the bars into irregular shards – which I then chopped into smaller pieces with the bench knife. Some were smaller than peas, but most were larger.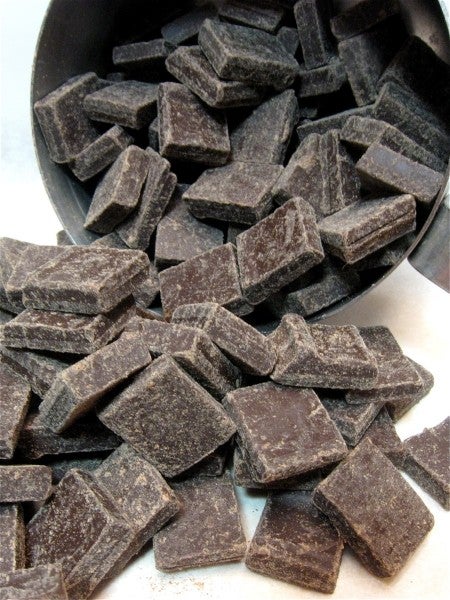 Next time, I think I'll just stick with my favorite semisweet chocolate: Peter's Burgundy Chunks, which comes in handy little squares. Perfect!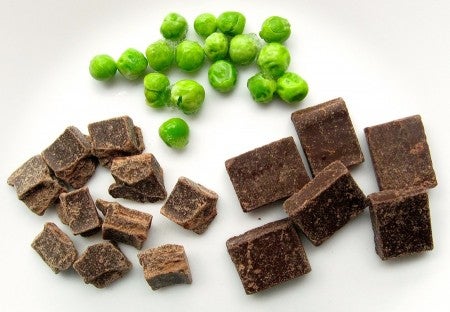 Or, if you want to get closer to "pea-sized" – our Callebaut semisweet chocolate chunks (left; Burgundy chunks are on the right) are even closer to Ruth's suggested size.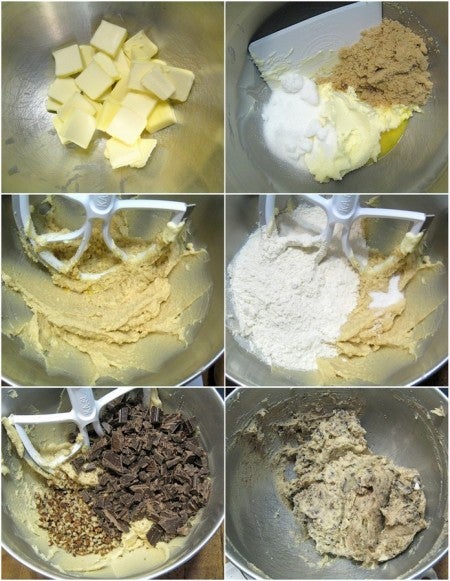 Next, cream 1 cup butter, then add 3/4 cup each brown sugar and granulated sugar, along with "2 eggs beaten whole".
Once those are thoroughly mixed, dissolve 1 teaspoon baking soda in 1 teaspoon hot water, and "mix alternately with 2 1/4 cups flour mixed with 1 teaspoon salt."
I confess to diverging from the recipe directions here. Mix a teaspoon of water/baking soda into the dough alternately with a couple of cups of flour?
Phooey on that; I just added the baking soda in water right along with the flour, and mixed it all up into a soft dough.
By the way, rumor has it (and we believe) that Ruth used King Arthur Flour at the Toll House Inn. After all, it makes sense; King Arthur was New England's local flour back then. So, make sure to use your King Arthur Unbleached All-Purpose Flour when you bake these cookies!
Next, add 1 cup chopped nuts and the chopped chocolate, along with 1 teaspoon vanilla.
OK, the dough's finished. Ready to "drop half teaspoons on a greased cookie sheet."
Rather than greasing the sheets, I lined them with parchment – the cookie baker's BFF.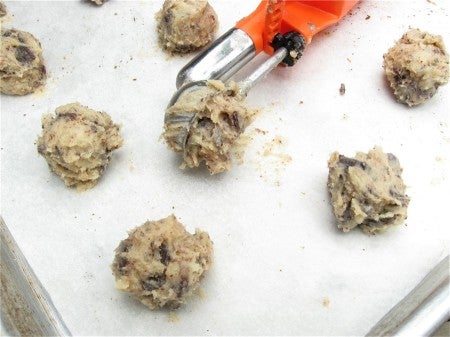 BFF #2? My teaspoon cookie scoop, a very helpful tool for this sticky dough.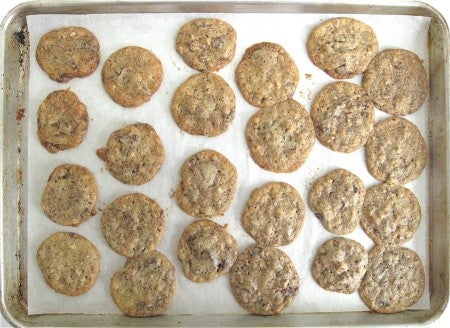 "Bake 10 to 12 minutes in 375°F oven. Makes 100 cookies."
The cookies did indeed bake nicely at that time/temperature, though I only got 92 – but who's counting, right?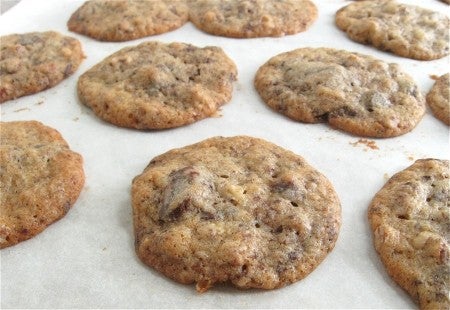 Speckled from the finely chopped bits of chocolate, lumpy from the bigger chocolate chunks and the nuts, these cookies don't win the Miss Chocolate Chip Cookie USA beauty pageant.
But tasty? Suffice it to say, I can see why this recipe spread around the country like wildfire back in the day.
Buttery and vanilla-y, with the occasional big chunk of melting chocolate, these chocolate chip cookies are exactly what they're supposed to be: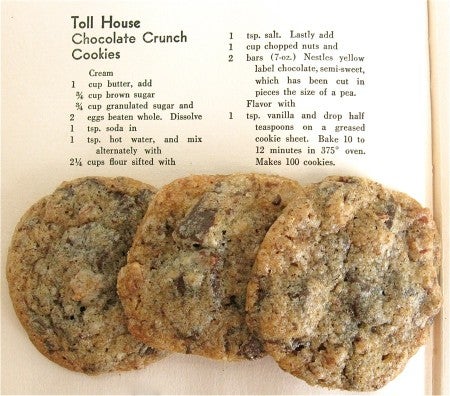 Toll House Chocolate Crunch Cookies – the Original Chocolate Chip Cookie.
Whatever the real story – we're SO glad that a Nestlé semisweet chocolate bar found its way into Ruth Wakefield's sugar cookie recipe!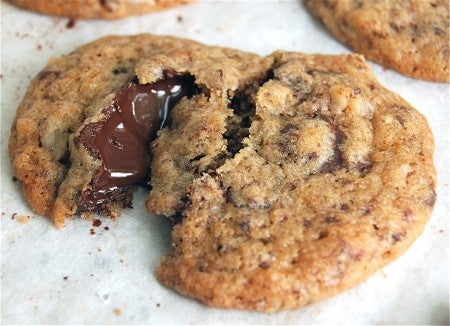 Here's a warm-from-the-oven cookie made with chopped-up chocolate bar. BIG melting chunks.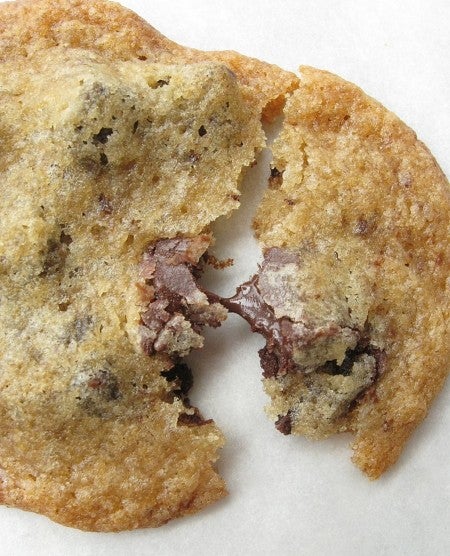 And here's the same cookie using the smaller (Callebaut), more uniform chunks.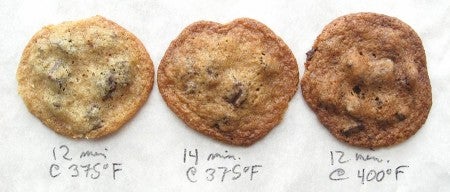 Finally, here's the same batch of cookies baked three slightly different ways, for three different textures/flavors. Note: all three were baked on a light-colored cookie sheet lined with parchment. If you bake on a darker sheet without parchment, reduce the time by about 2 minutes.
Want a soft/chewy cookie? Bake for 12 minutes at 375°F.
For a crisp/crunchy cookie, increase the time to 14 minutes.
For a dark, crisp cookie with caramelized flavor, bake for 12 minutes in a hotter, 400°F oven.
Note: That's right, there's no recipe link here; please follow the recipe in the photo above.
Jump to Comments