Chicken noodle soup.
If those words immediately paint a mental picture of Mom opening a red and white can, and settling in at the lunch table after a morning spent building a snow fort in the backyard with the neighborhood gang, then you're a Campbell's Kid.
When we were growing up, soup came out of cans - period. And almost always, those cans were plain red and white, script on top, gold label in the middle, block letters down below.
Never mind the fancy pictures, callouts to Facebook, or offers of recipes or coupons inside the label. Campbell's told you all you needed to know: there's chicken noodle soup in this can.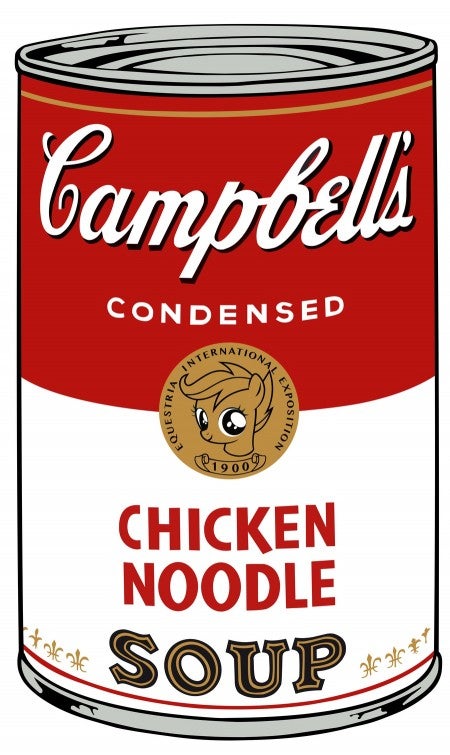 Like this. Heat and eat.
But notice the can also says "condensed" – woe betide the eager youngster who dumped the soup into a pot on the stove (no microwave back then), heated it, and took a big mouthful, WITHOUT first adding water.
EWWWWW....
I've pretty much grown beyond Campbell's soup these days. Nothing wrong with it; my husband, who will ALWAYS choose store-bought over homemade, still loves it.
But as I've gotten older, I've come to love homemade soup. I appreciate the absence of that faint eau de tin can offered by supermarket soups; and I like being able to adjust flavor and consistency to taste.
Still, chicken noodle soup holds a special place in my heart, wrapped up as it is in memories of snowball fights, sodden woollen mittens, and black galoshes that did absolutely nothing to keep your feet warm.
Clomping onto the porch, using numb fingers to unfasten the icy metal clips on your boots, shrugging out of a wet jacket, and seeing a kitchen table set with buttered bread and steaming bowls of soup – just writing these words, I can still feel the pure comfort of hot food, a warm kitchen, and a simple agenda of school, play, family meals, bedtime stories, and 8 hours of peaceful sleep.
You can't go home again; and really, who wants to? But you can certainly re-create one of childhood's favorite soups: chicken noodle. This version is a rich, creamy/brothy soup with big wide noodles and fat chunks of chicken. Add oven-hot biscuits, and you're talking comfort food at its best.
Are you a Campbell's Kid?
Come along with me.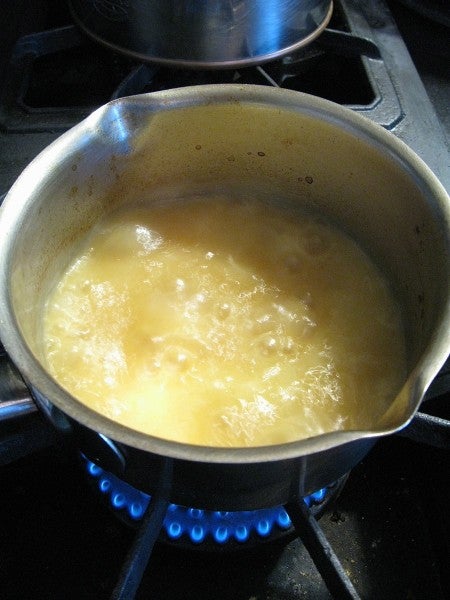 The first thing we're going to do is make a flavorful base for the soup.
In a small saucepan, combine 1/2 cup (113) chicken stock with 2 tablespoons (28g) dry vermouth and 2 tablespoons (28g) butter. Bring to a boil and reduce the liquid to about 1/4 cup.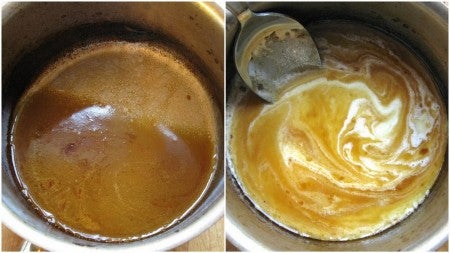 The mixture will be syrupy.
Stir in 1/2 cup (113g) heavy cream, and set the mixture aside.
Prefer not to use vermouth? Alcohol is a flavor carrier, so you'll definitely lose a bit of flavor; but substitute extra broth or water for the vermouth, if desired.
In a larger saucepan, bring 6 cups (1361g) chicken stock to a boil.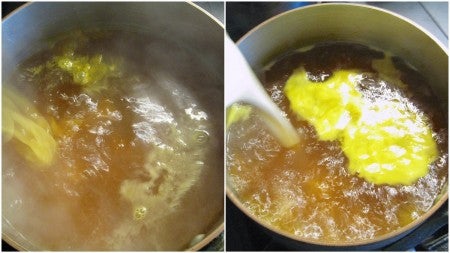 Add 2 cups (113g) egg noodles, and cook until the noodles are tender, 7 to 8 minutes (or whatever the noodle package says).
While the soup is simmering, start preheating your oven to 425°F; you're going to be baking biscuits shortly.
Whisk together 1/3 cup (39g) King Arthur Unbleached All-Purpose Flour and 2/3 cup (152g) water, and stir into the noodle/broth mixture.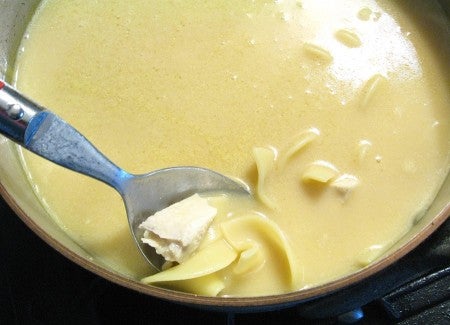 Allow the soup to boil for 1 to 2 minutes, then stir in the cream mixture, and 1 cup (or more) (142g) diced cooked chicken.
Season to taste with salt; I lean towards saltier soups, and since I'd used a lower-sodium canned broth, I added 1 teaspoon salt. But start with less than you think you'll need; clearly, it's easier to add more salt than to add less.
Add black pepper if you like, too; though I usually enjoy black pepper, I don't like the speckled appearance it gives this soup, so I'm leaving it out.
Cover the soup, turn off the burner, and let it sit at the back of the stove while you bake the biscuits.
Which is a ridiculously easy proposition, if you have self-rising flour.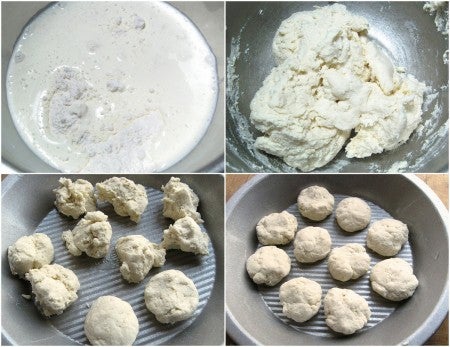 Mix 1 cup (113g) King Arthur Unbleached Self-Rising Flour with 1/2 cup (113g) heavy cream.
Stir to combine. Break off pieces of dough, and gently pat into flattened rounds. Place in a lightly greased pan.
Bake the biscuits in a preheated 425°F oven for 10 to 14 minutes, or until they're a light golden brown. While the biscuits are baking, check the soup; if it doesn't seem warm enough, set it over a low burner while the biscuits bake.
Are we ready to sit down at the table?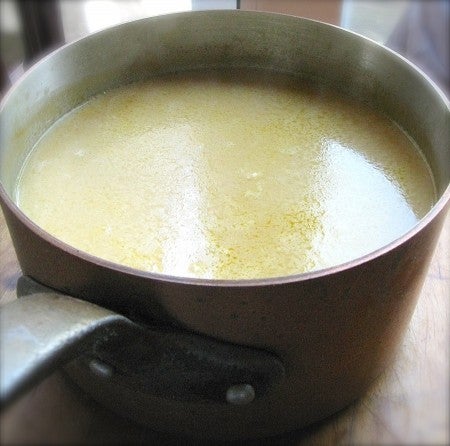 Hot soup.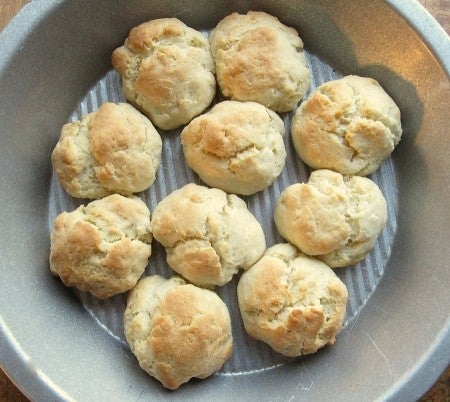 Hot biscuits.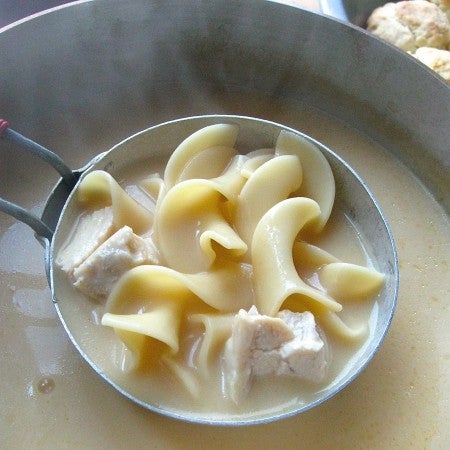 Ladle into bowls.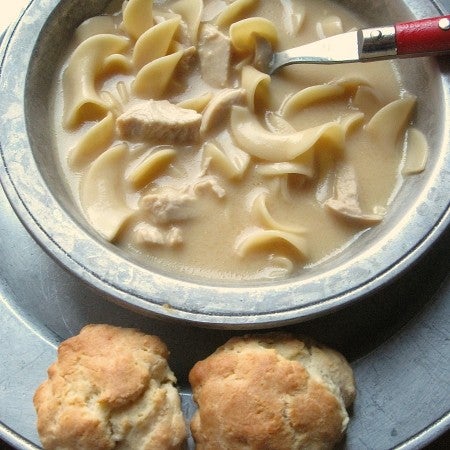 Enjoy!
OK, let's talk a bit more about those biscuits – because I know you have questions.
"What if I don't have self-rising flour?"
No problem; follow our recipe for David Lee's Biscuits, which uses unbleached all-purpose flour.
"Can I make the biscuits ahead?"
Sure. Make anytime, and reheat for about 8 to 10 minutes in a preheated 350°F oven just before serving.
Or make the dough, shape into biscuits, and freeze. Just before serving, bake frozen biscuits for 12 to 16 minutes in a preheated 425°F oven, or until they're golden.
"Can I make biscuits with whole wheat flour?"
Absolutely. Make our whole grain Bacon Ranch Biscuits, leaving out the bacon, if desired. Substitute white whole wheat flour for the all-purpose flour in the recipe to make them 100% whole wheat.
Any other questions? Call our baker's hotline, (855) 371-2253. We're always happy to chat.
Read, make, and review (please) our recipe for Shaker Chicken and Noodle Soup.
Jump to Comments