"WOW... This is the best cheesecake I've ever tasted." - Halley, my boss.
"This is really good. In fact, I think it's the best cheesecake I've ever had." - Jeff, my co-worker.
"Hey, this cheesecake is REALLY good..." - John, my brother-in-law.
There's nothing like unsolicited raves from taste-testers to make my day. Especially when what they're tasting is uncharted territory – at least for me, a New Englander with only the tiniest of connections to New York, from whence this particular type of cheesecake springs.
It's true, I actually lived in New York for a few years – Yonkers and Mt. Vernon, to be precise – but that was pre-K. All of my growing up and adulthood has been in New England which, aside from scattered pockets, is sadly bereft of an Empire State institution: the New York deli.
A towering corned beef on rye. Hot pastrami, its burned, fatty edges melting in your mouth. Half-sours. Dr. Brown's Cel-Ray, an oddly compelling celery-flavored soda.
To say nothing of lox, bagels, and cream cheese. Whitefish and eggs. Plus liverwurst and onions, a sandwich that'll drive away unwelcome company for hours afterwards.
And then there's dessert: fudge layer cake. Rugelach. Rice pudding. In Brooklyn: the famous Blackout Cake.
And cheesecake, the sine qua non of any self-respecting NYC deli.
We've all had cheesecake, right? It's not hard to make, and is universally beloved.
Maybe you've made a box mix – add milk, stir, and pour into a graham cracker crust, no baking needed.
Or maybe you've made it from scratch; after all, it's not complicated. Cream cheese, sugar, eggs, and vanilla, gently beaten and poured into a graham cracker (or cookie crumb) crust, baked, and crowned with the fruit topping of your choice.
I've done it myself; Easy Cheesecake is a never-fail recipe I clipped from The Boston Globe decades ago, one whose grease-stained edges attest to many cheesecakes.
But Brooklyn-Style Cheesecake? Never heard of such a thing, until "Junior's Most Fabulous Cheesecake & Desserts" restaurant in Brooklyn, self-proclaimed home of the "World's Most Fabulous Cheesecake," was featured on the Food Network a year or so ago.
I was fascinated by this cheesecake's crust: not crushed graham crackers, nor even a cookie crust, like so many New York cheesecake recipes, but a layer of sponge cake.
Cake crust – really?
So say the bakers at Junior's.
I tried it; found a couple of online recipes purporting to be "Junior's original." Followed them faithfully.
The result was OK, but the process was weird and difficult. So I streamlined it, added a couple of practical-sense touches, and voilà! A light, golden spongecake crust.
So, while it's truly the filling that shines here – "best ever," says the crowd – I encourage you not to blow off the Brooklyn-style cake crust. Change is good, right?
If you decide it's "meh," go on back to your graham crackers. But at least you will have experienced one of New York's culinary landmarks: a Junior's cheesecake.
Chanukah starts tomorrow. With its emphasis on dairy foods, it's the perfect opportunity to showcase our version of the "World's Most Fabulous Cheesecake" – Brooklyn-Style Cheesecake.
Sponge cake is light, airy, and "spongy," in the nicest of ways – think Twinkies. This is a great place to use our cake flour blend, a lower protein flour perfect for light, fine-textured cakes. If you don't have any, never fear; I'll give directions for all-purpose flour, as well.
Since cream cheese is the star of this particular show, it pays to use the best – which in our book is Philadelphia. You'll need 2 pounds – four of the 8-ounce blocks. A few hours before you're going to bake, take them out of the fridge, unwrap, and let them come to room temperature. It's much easier to make a smooth filling with room-temperature cream cheese than with cold.
Preheat the oven to 350°F. Lightly grease a 9" round springform pan or deep 9" round removable-bottom pan.
This cake is very tall, and requires an extra-deep pan. Measure your pan; if it's not at least 2 3/4" deep, don't attempt this recipe.*
*Another option – make your usual graham cracker crust in a 9" pie pan, and fill with HALF the following filling recipe.
Wrap the bottom and sides of the springpan with aluminum foil, preferably a single sheet.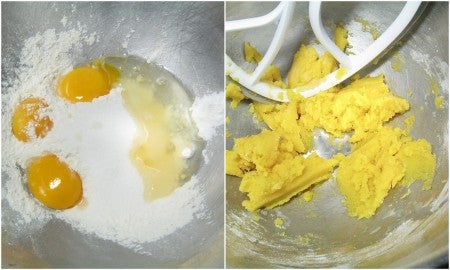 To make the crust: Place the following in a mixing bowl –
1/2 cup (57g) King Arthur Unbleached Cake Flour Blend*
2 tablespoons (25g) sugar
3/4 teaspoon baking powder
1/4 teaspoon salt
3 tablespoons (35g) vegetable oil or 3 tablespoons (43g) melted butter
3 large egg yolks, whites reserved
*If you don't have cake flour, use King Arthur Unbleached All-Purpose Flour, reducing the amount to 7 tablespoons (1/2 cup less 1 tablespoon).
Beat until well combined; the mixture will be stiff and somewhat crumbly/pasty.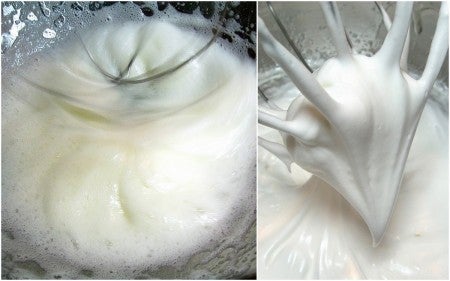 In a separate bowl, beat the reserved egg whites with 1/4 teaspoon cream of tartar until they're frothy. Add 1/4 cup (49g) sugar gradually, beating all the while, until the mixture is stiff and glossy.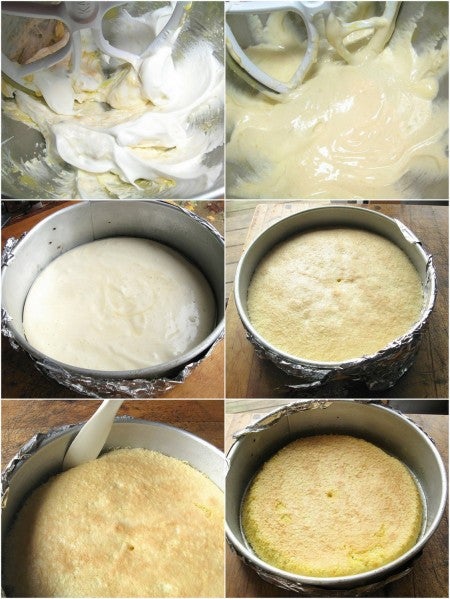 Gently but thoroughly mix the beaten egg whites into the batter. Take care to keep the batter light; mix gently, don't beat. You may find at the end there are still some tiny lumps in the batter; that's OK.
Spoon the batter into the prepared pan. Bake for about 15 minutes, until the cake has risen, is barely beginning to brown, and a cake tester inserted into the center comes out clean.
Remove the cake from the oven, and immediately loosen the edges with a table knife or thin spatula. Allow it to cool in the pan while you make the filling. It'll settle and shrink a bit as it cools; that's OK. Leave the oven on.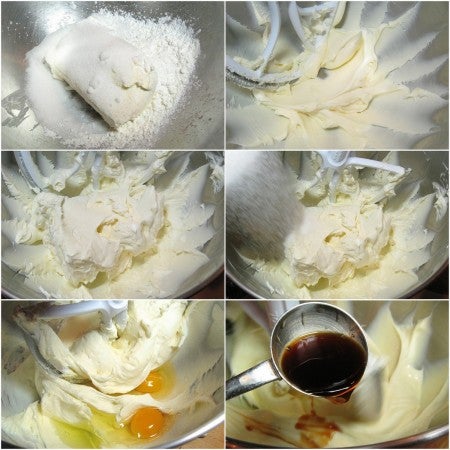 To make the filling: Place the following in a mixing bowl –
one 8-ounce package cream cheese, at room temperature
1/3 cup (66g) sugar
1/4 cup (28g) cornstarch
Mix on low speed until smooth.
Add the remaining three 8-ounce packages cream cheese, continuing to beat on low speed until smooth.
Add 1 1/3 cups (265g) sugar and beat until well combined. Again, keep the beater speed on low; you don't want to aerate this dense filling.
Beat in 2 large eggs, then 1 tablespoon (14g) vanilla.
Finally, gently beat in 3/4 cup (170g) heavy cream or whipping cream.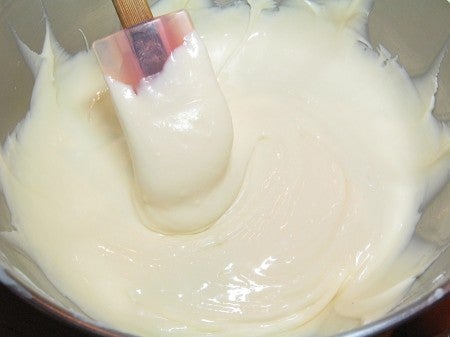 The filling should be smooth and pourable.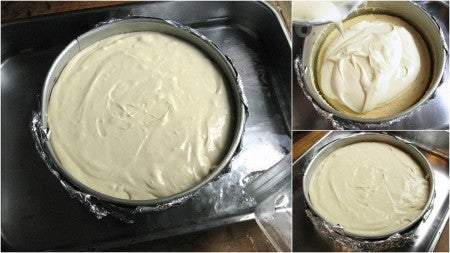 Place the springform pan into a larger pan, and fill the larger pan with enough hot water to come 1" up the sides of the springform.
Spoon the batter over the cake in the pan. The filling will expand and rise, so make sure you don't fill the pan right to the brim.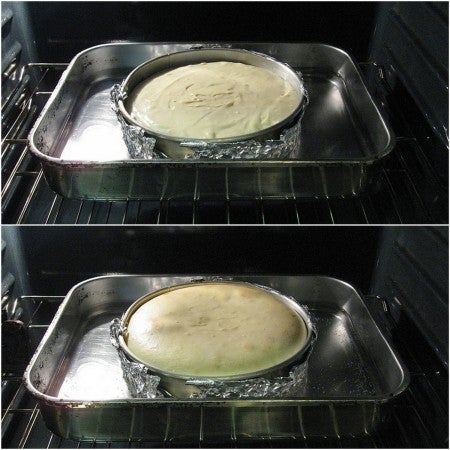 Place both pans on a lower-middle rack of your oven. Bake the cheesecake for 75 to 90 minutes, until the cake is just barely beginning to turn golden around the edges, and the top appears set. The center will still look jiggly; that's OK. A thermometer inserted into the center should register about 160°F to 165°F.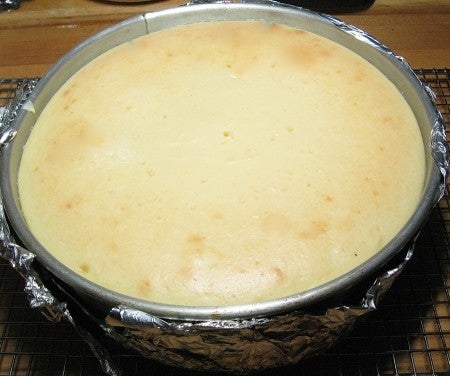 Remove the cake from the oven, and gently lift it out of the water bath onto a rack.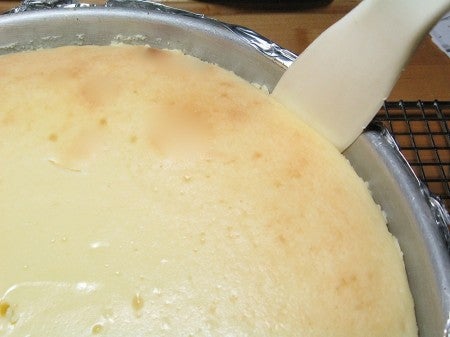 Run a table knife or spatula around the edges of the pan to separate the filling from the pan; this will help keep the cheesecake from sinking.
Allow the cake to cool at room temperature, undisturbed, for 2 to 3 hours, until it's no longer warm to the touch. Refrigerate the cake, covered, until you're ready to serve it.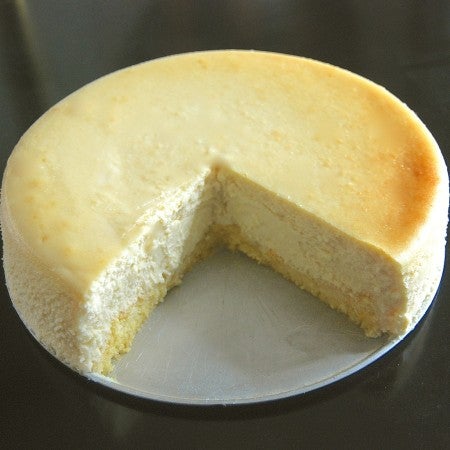 To serve, slice with a knife dipped in hot water and wiped dry. Repeat this step after every slice.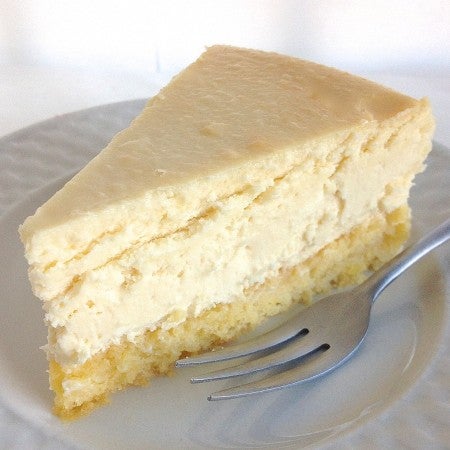 This cake is traditionally served without topping; but feel free to add your own favorite, if desired.
Now – I know many of you are itching to tell me that this isn't a REAL New York cheesecake. It's not Carnegie Deli's cheesecake. Nor is it Lindy's, nor that of the newly trendy Two Little Red Hens.
Junior's Brooklyn cheesecake, like the borough itself, has attitude – mostly fostered by that sponge cake crust. It's authentic to Junior's, in Flatbush, in New York – and that's good enough for me.
Read, bake, and review (please) our recipe for Brooklyn-Style Cheesecake.
Jump to Comments