Would you believe I live about 45 minutes away from the Guinness World Record's longest candy counter in the world? Would you believe I don't go there for the candy? For me, it can be all about the fudge...
Let me just say that yes, folks, the longest candy counter in the world (an impressive 112 feet!) is in Littleton, NH. It's in a lovely shop called Chutters, and it's a twice-yearly destination for our family. We hit the door with an excited "See you in a bit" and head for a paper sack and a glove, then off to open jars of sweet sugary goodness. The candy is pay by the pound, so you pick your favorite treats and pay at the end.
My personal bag (hands off!) is chock full of licorice Scottie dogs, BB bats, sour cherry balls, Sixlets, and a couple of flavored Tootsie Rolls. My husband will choose an assortment of hot cinnamon candies and I don't even try to keep up with what the kids we've brought along get.
My true love at Chutter's, though, is their fudge counter. I don't mind waiting in line; there are always plenty of free samples, and folks from all over the country to chat with. Oh yes, and don't let me forget to mention the buy-one-pound-get-a-half-pound-free offer. Music to my ears, that offer.  I fill my box with penuche, maple walnut, chocolate mint, and something called Tiger's milk, a peanut butter creation that's beyond-words delicious.
Alas, I can't go to Chutter's every day. So in between visits, I get my fudge fix at home. Confectioners will say that this quick version isn't true fudge, and I agree. But it certainly is a quick way to get creamy, flavorful candy that's gift-worthy during any season.
Ladies and gentlemen, fire up those microwaves: it's time to make Easy Microwave Fudge.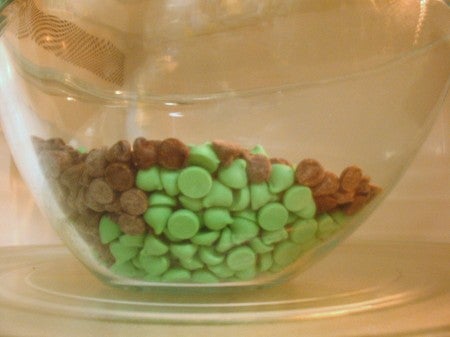 Place 2 cups of your chips of choice in a large microwave-safe bowl, and heat on high for 1 minute. Here I've used 1 cup of chocolate chips, and 1 cup of green mint chips from our local grocery store.
*UPDATE* Some folks had trouble with the fudge setting up with the original measure of 1 1/2 cups of chips. After more testing, I  found that increasing the chips did not hurt the fudge in any way, and even the bargain chocolate chips I used set up fine. So, the measure has been increased to 2 cups of chips. Thanks everyone for your input!**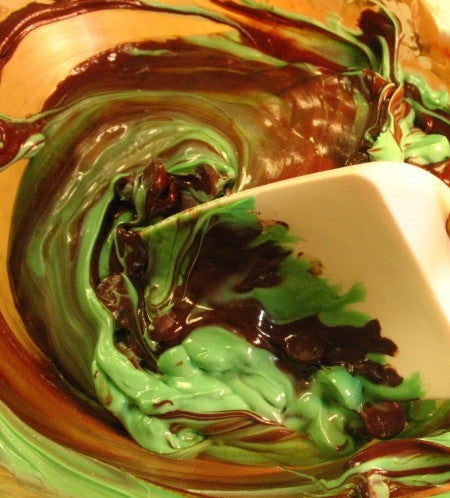 Remove from the oven and stir well. If you have many unmelted chips, return to the microwave and heat for another 15 to 20 seconds, or until all the chips are glossy and losing their shapes.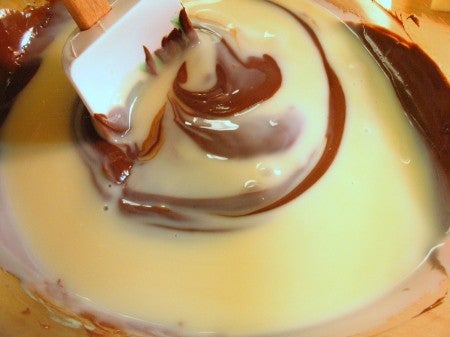 Pour in one 14-ounce can of sweetened condensed milk. Stir to combine. Cut 2 tablespoons of butter into small pieces, and scatter over the top of the fudge.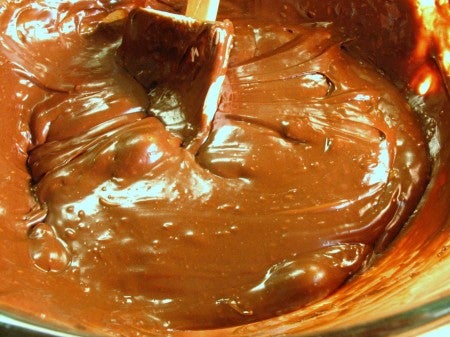 Return to the microwave for another 30 to 45 seconds. Stir again, adding 1 teaspoon vanilla. The fudge will be getting thicker at this point.
Now's the time to add chips, dried fruits, nuts, etc., or a few drops of your favorite flavoring. I'm leaving this chocolate-mint version as-is for now.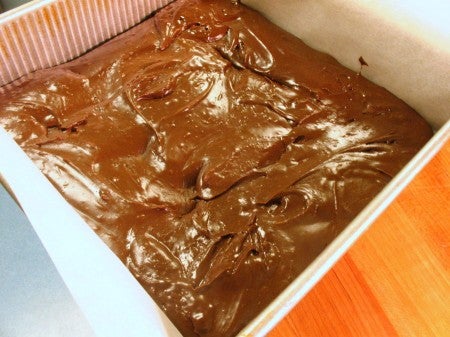 Pour/scrape the fudge into a parchment-lined 8" square pan, and gently spread to fill the pan evenly.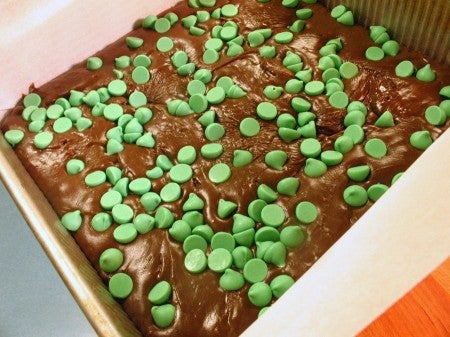 If desired, sprinkle additional toppings on. I love the look of green mint chips on dark fudge. Plus, it gives the taster an easy way to identify the flavor at a glance.
Pop your tray of fudge into the fridge for at least 2 hours, to firm up.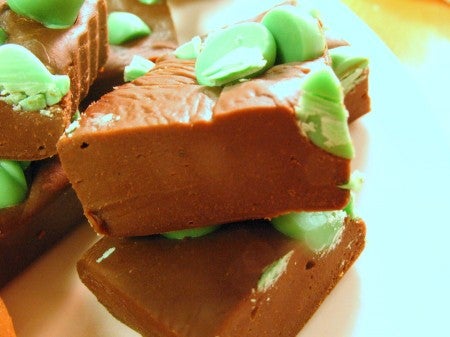 Once your fudge is chilled, cut into small squares and serve. Ah, the velvety smooth goodness that awaits!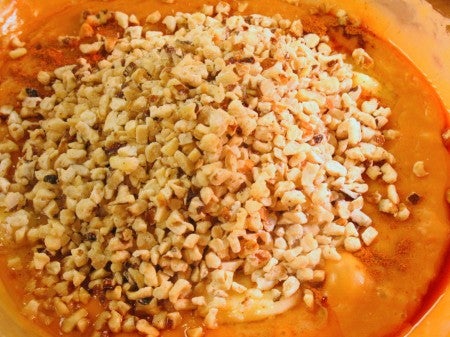 Chocolate not your thing? How about a blast of butterscotch and pumpkin?  Use 2 cups butterscotch chips instead of chocolate.
After microwaving and stirring in the condensed milk, add 1/4 cup pumpkin purée, 1/2 cup diced nuts, 1/2 teaspoon pumpkin pie spice, and a few drops of pumpkin flavor.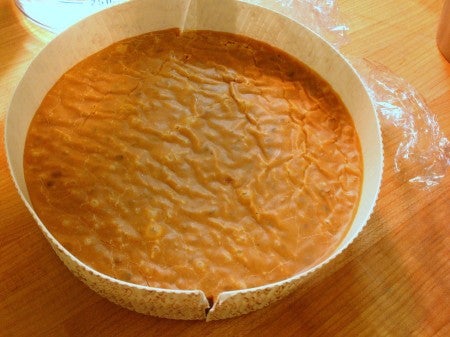 Here I poured the final fudge into a round paper baking pan. In hindsight, I wouldn't go this route again. The fudge didn't want to release from the pan easily, and the pieces got squashed.
If you want to offer a tray of fudge for gift giving, use your metal pans to chill the fudge, then cut and place in the paper pan for gifting.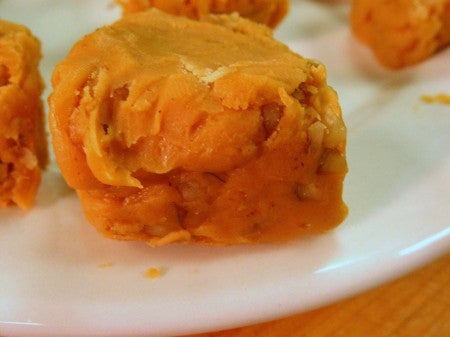 A little squished, but still delish!
In the two days that I tested these fudge variations we made and ate the following: chocolate, chocolate walnut, chocolate mint,  and butterscotch pumpkin. We didn't quite get to chocolate peanut butter cup, chocolate caramel, chocolate chile, and chocolate Oreo; but I'm sure you, our intrepid fellow bakers and confectioners, will soon be posting your comments below on the sensational swaps you make. Can't wait to see them all!
Please make, rate and review our recipe for Easy Microwave Fudge.
Jump to Comments