There's nothing like fresh, hot apple scones on a chilly Sunday morning in October – especially when you're feeding a crowd.
Make and shape them the night before, stick in the freezer, bake early the next morning, and Bob's your uncle – by the time your house guests emerge from their respective beds, breakfast is ready.
Of course, it helps if you remember to PUT THE SCONES ON THE TABLE. The pumpkin doughnuts, too.
Neither of which made an appearance one recent Sunday when I was entertaining 11 visiting family members.
All of whom ended up eating Cap'n Crunch and stale English muffins for breakfast, to my great and lasting chagrin.
What happened?
So, here's the deal. I was hosting our fall family get-together, an annual extravaganza of grilling, horseshoes, bocce, beach-walking, lobsters, steamers, and midnight card games.
Saturday morning, I made the pumpkin doughnuts: check. They're deliciously moist, and stay fresh for days, so it's not a problem making them ahead.
Scones, though, are more a "just in time" thing – I like my scones just-baked warm.
So Saturday afternoon I made the dough, shaped it into scones, put 'em on the pan, stuck 'em in the freezer, and joined the crowd.
Around the card table. Where much merriment (and cheating) ensued, well past midnight.
Earlier, we'd celebrated my MIL's 90-something (I'm not telling) birthday with two cakes – to hold the 90-something candles!
(I know, never mind the party, you really want to know about the cakes, right? That's Lemon Bliss on the left; Classic Yellow with Fudge Frosting on the right.)
So, it's after midnight by the time I get to bed – knowing I have to be up early the next morning to bake the scones before church.
Next morning - 6 a.m., to be precise – I stagger out of bed, bake the scones, and get ready for church. I put the scones and doughnuts on a serving tray, cover it, and stash it out of the way while I wash dishes.
Then I go to church.
When I come home, last night's crowd has migrated to the kitchen, where they're enjoying – not fresh scones and delicious baked doughnuts, but boxed cereal (which someone had gone out and bought, since I'd managed to forget to put out the homemade granola, too) and frozen, store-bought English muffins.
What, they didn't like the scones and doughnuts? Hey, where ARE the scones and doughnuts?
Oh, yeah, stashed out of the way. And out of sight – in the pantry.
Sigh. As we used to say – great play, Shakespeare.
It all worked out in the end. As the family dispersed to their various homes later in the day, each one got their own little goody bag of scones and doughnuts.
Oh, and I managed to foist off the Cap'n Crunch on one of my teenage nephews, too. The frozen English muffins? I'm gradually making my way through them.
But next time I'm entertaining, I'm definitely going to make these Fresh Apple Cinnamon Scones again.
And also remember to serve them!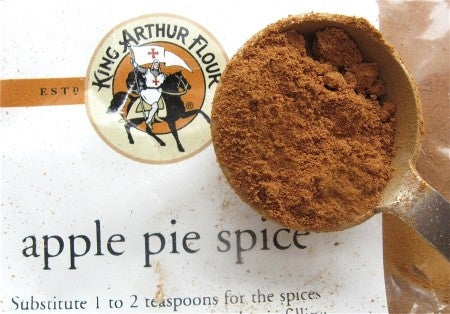 Let's start with one of my favorite apple ingredients: apple pie spice, a  blend of cinnamon, nutmeg, and allspice. Substitute it for cinnamon in any of your favorite apple recipes; you'll enjoy its more complex flavor.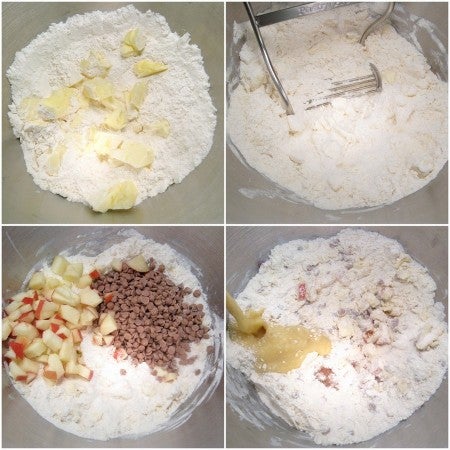 Whisk together the following:
2 3/4 cups (11 1/2 ounces) King Arthur Unbleached All-Purpose Flour
1/3 cup granulated sugar
3/4 teaspoon salt
1 tablespoon baking powder
1 teaspoon Apple Pie Spice or ground cinnamon
Add 1/2 cup (8 tablespoons) cold butter, cut into pats. Work it into the flour mixture just until everything is unevenly crumbly; it's OK for some larger chunks of butter to remain unincorporated.
Stir in 3/4 cup chopped fresh apple, cut in 1/2" pieces (about half a medium apple; leave the skin on, if you like); and 3/4 cup cinnamon chips (or butterscotch chips, also a good choice).
In a separate bowl, whisk together the following:
2 large eggs
1 teaspoon vanilla extract
1/2 cup applesauce, unsweetened preferred
Add these liquid ingredients to the dry ingredients, and stir until all is moistened and holds together.
Line a baking sheet with parchment; if you don't have parchment, just use it without greasing it. Sprinkle a bit of flour atop the parchment or pan.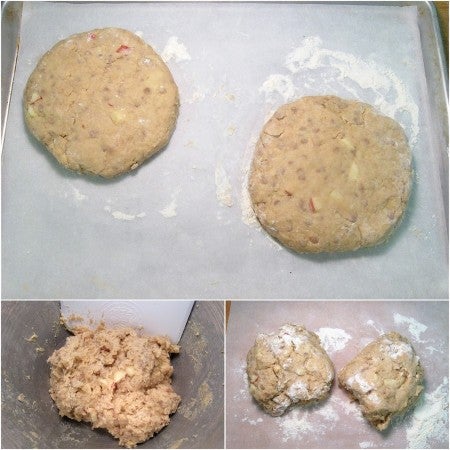 Scrape the dough onto the floured parchment or pan, and divide it in half. Gently pat and round each half into a 5" to 5 1/2" circle about 3/4" thick.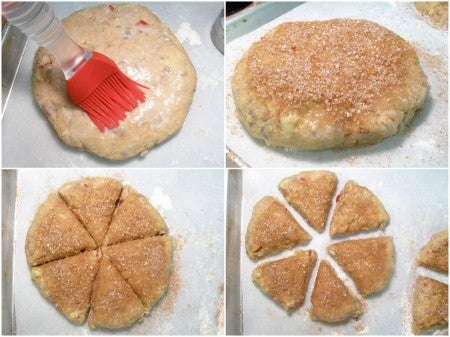 Stir together 3 tablespoons coarse white sparkling sugar and 1/2 teaspoon ground cinnamon (or apple pie spice).
Brush each circle with milk, and sprinkle with the topping.
Using a knife or bench knife that you've run under cold water, slice each circle into 6 wedges.
Carefully pull the wedges away from the center to separate them just a bit; there should be about 1/2" space between them, at their outer edges.
For best texture and highest rise, place the pan of scones in the freezer for 30 minutes, uncovered. Why freeze the scones before baking? Because 30 minutes in the freezer relaxes the gluten in the flour, which makes the scones more tender and allows them to rise higher. It also chills the fat, which will make the scones a bit crumblier/flakier.
While the scones are chilling, preheat the oven to 425°F.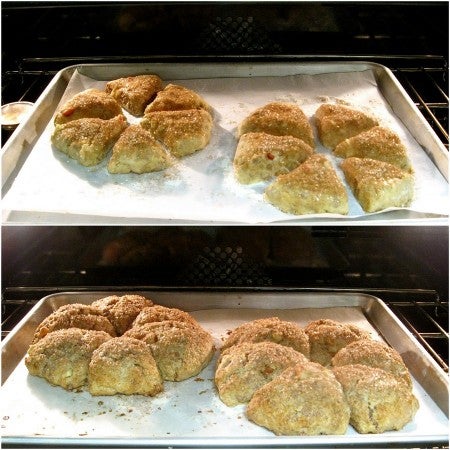 Bake the scones for 18 to 22 minutes, or until they're golden brown. When you pull one away from the others, it should look baked all the say through; the edge shouldn't look wet or unbaked.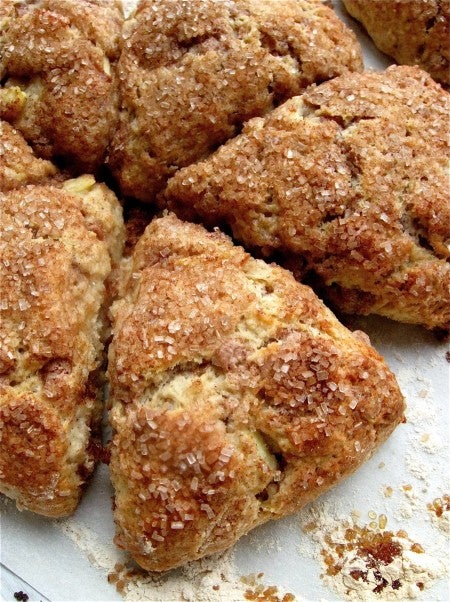 Remove the scones from the oven, and cool briefly on the pan...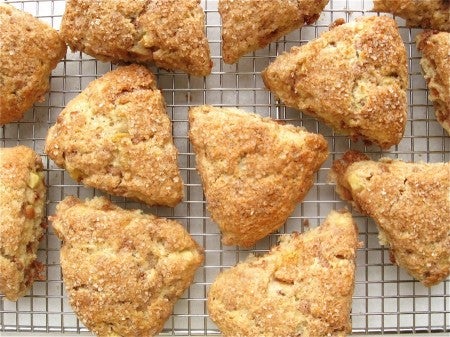 ...before transferring to a rack.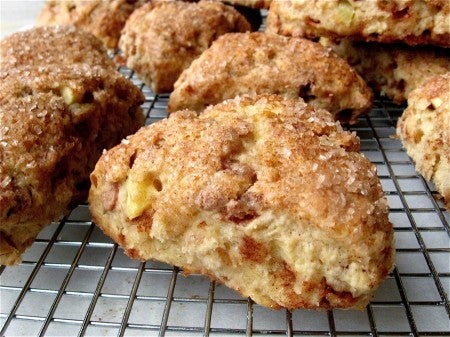 Scones are best served warm. They're delicious as is, but add butter and/or jam (or apple butter), if you like.
To reheat room-temperature scones, place on a baking sheet, tent lightly with foil, and warm in a preheated 350°F oven for about 10 minutes.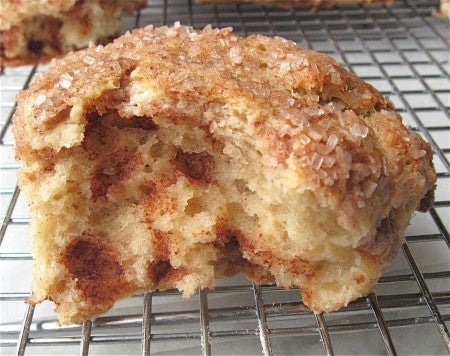 See the pockets created by those melting cinnamon chips? SO good...
Read, bake, and review (please) our recipe for Fresh Apple Cinnamon Scones.
Jump to Comments