When summer fades gracefully into autumn rhythms and we start pulling out the long-sleeved wool, packing lunchboxes, and harvesting our gardens, there's a quiet reverence that transports me to my childhood.
I always enjoyed the first weeks of school, seeing the crisp frost on the ground as I walked down my long driveway to catch the bus, and picking that first ripe apple from the tree at our neighboring orchard.
I love seeing my children experience the same joys of the fall season and hope they, too, will long hold fond memories.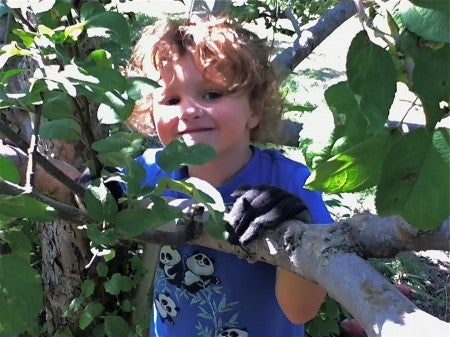 I took my tiny guy apple-picking last week. He had a long journey climbing up through branches and leaves...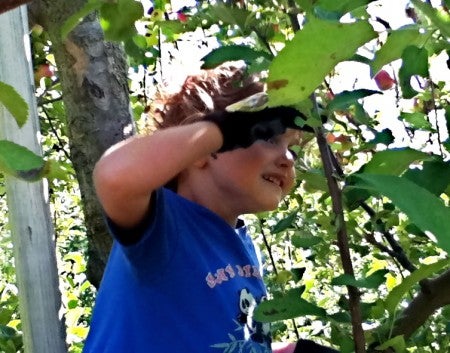 ...to get to the reddest, most hard-to-reach apple he could find (had his eye on it from the ground when he started). It's a good thing he was wearing his very special apple-picking gloves!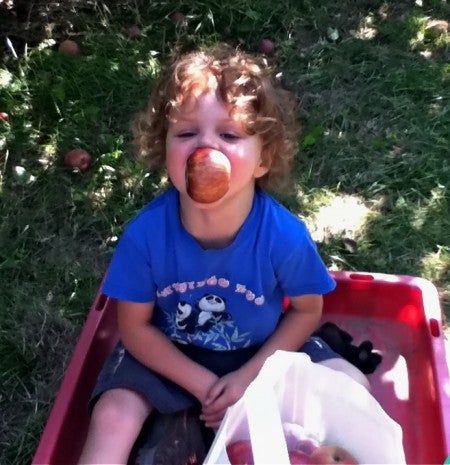 He's the best and silliest little harvester in the Upper Valley and I think the smile hiding behind the fruit is not just from being smitten with himself for finding the perfect apple.
For a 4-year-old, he is unusually aware of making healthy choices, which comes from much more than our family's Waldorf schooling background, or the fact that we live in the "buy local" haven of New England. He knows things taste better the harder you work to get them. (OK, with one exception - apple crisp!)
My family is particularly fond of apple crisp – in my opinion, the quickest throw-together dessert on the planet. For the breed of bakers out there who cringe at the thought of tackling homemade pie crust, this one is always a relief.
I hadn't thought of using a bread crumb topping for a crisp until it was suggested to me by Susan Reid, our Baking Sheet newsletter editor, as we were strategically plotting how to create a gluten-free topping without the gritty mouth-feel.
The idea of drenching bread crumbs, brown sugar, oats, and spices in butter to toast on the top of tart, juicy, cinnamon-spiked apples was not only unique and appealing, it also eliminated my crumble topping dilemma. Hopefully this apple tradition, taking a slight left, will appeal to even the most loyal fruit crisp fans.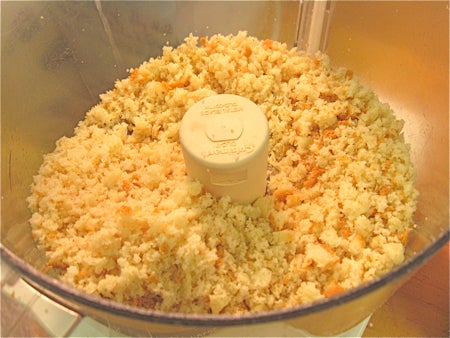 Start by pulsing gluten-free bread in your food processor and setting 3 cups (142g) of the crumbs aside for the topping. About half a regular-sized loaf should do.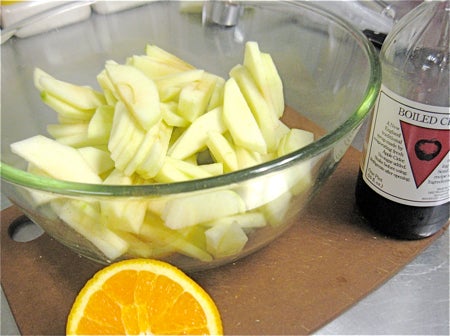 Peel, core, and slice about 5 or 6 apples (794g) – the variety is your choice. I used a mixture of Granny Smiths and Pink Ladies.
Combine 2 tablespoons boiled cider and the juice from 1 orange, and toss with the apples.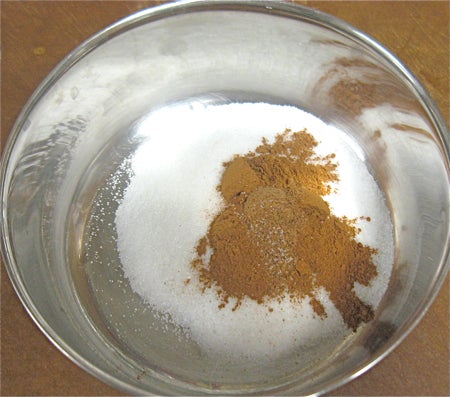 Whisk 1 1/2 teaspoons cinnamon, 1/4 teaspoon nutmeg,  1/4 cup (50g) granulated sugar, and a pinch of salt (if you're wanting to thicken the juice of the apples, you can add 1 tablespoon gluten-free tapioca starch). I tested the crisp both with and without a thickener and I personally prefer it without one. The juices will slightly thicken naturally as the crisp cools.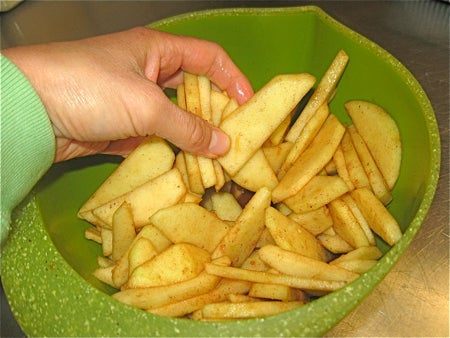 Toss the apples together with the sugar/spice mixture to coat.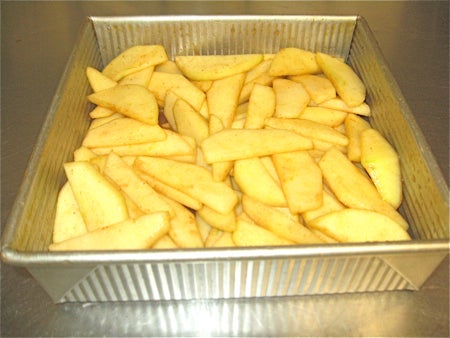 Spread evenly in an 8" square pan.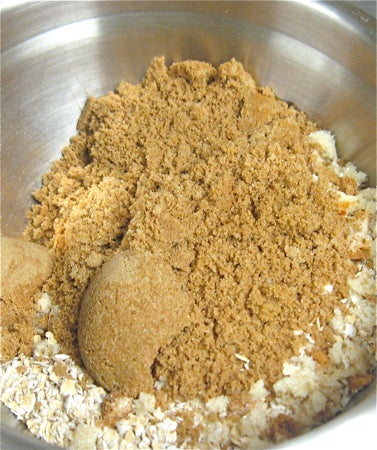 Combine 3 cups (142g) of the bread crumbs, 1 cup (89g) gluten-free oats, 3/4 cup (156g) brown sugar, 1 teaspoon cinnamon, and a pinch of salt. Pour 12 tablespoons (170g) melted butter over the mixture and stir.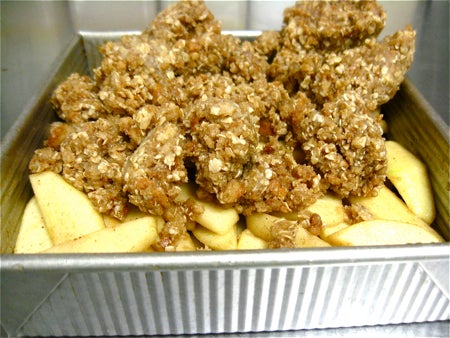 Press the bread crumb topping evenly over the apples and bake the crisp and bake in a preheated 350°F oven for 20 to 25 minutes, or until the topping is golden and the apple filling is bubbly.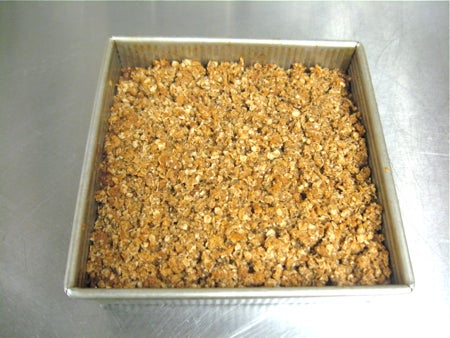 Dig in while it's warm, or cool to room temperature before serving... and for Pete's sake, don't let me hear about you forgetting the ice cream! Either vanilla or ginger are the perfect complements.
If you have the chance, please post your favorite fall dessert traditions for me to read. I'd love to hear from you!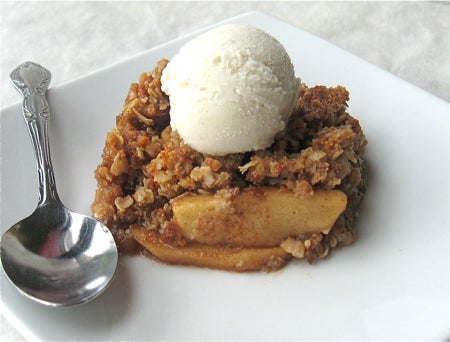 Please read, bake, and review our recipe for Gluten-Free Apple Crisp.
Jump to Comments