Lemon Meringue Cupcakes
Pie baker or cupcake maker, where do you fit in?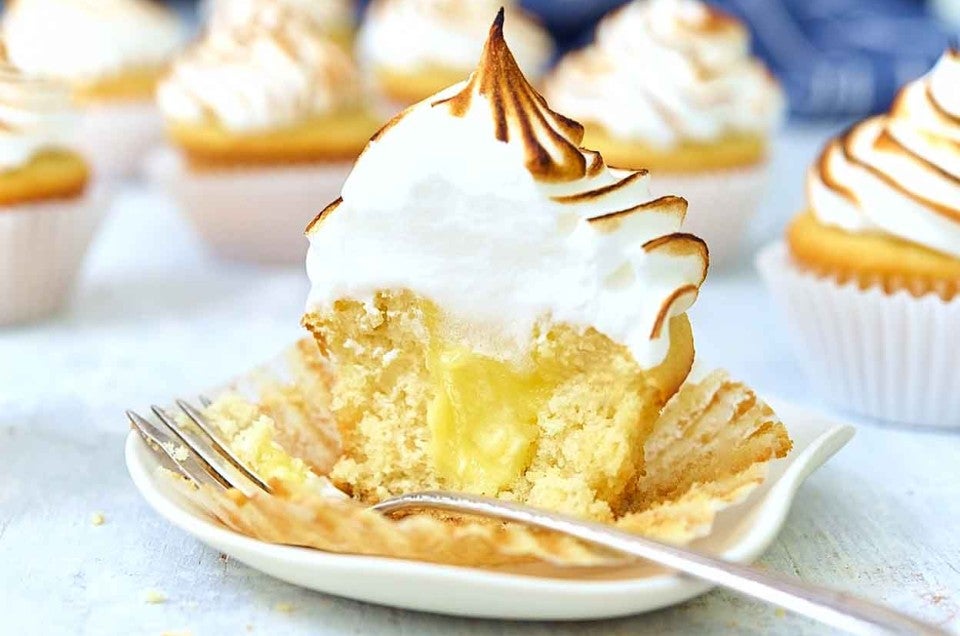 So, did the title of the blog get you riled up? No worries, I've no intention of starting a turf war nor am I trying to stick labels on anyone. I was just pondering the other day where I fall in the baking scheme of things, and thought it was an interesting topic.
As a baker, I definitely fall more into the cake category than the pie category. I love to eat pie and I'm pretty happy with my pie making skills, it just isn't something that floats my boat the same way that making cake or cookies does. Maybe it's a bit like fashion. I can admire and even desire to own a stunning pair of stiletto heels, but I just don't want to wear them any more. Too much trouble on the tootsies.
As a pie maker, I would tend to want perfect crimps and decorative borders. I'd want cutouts and colored sugars and more, more, more filling. Our pie making tools are getting fancier and more sophisticated all the time and that is definitely a boon to my pantry, but my heart as a baker lies elsewhere.
Still and all, when I itch to get in the kitchen, it is usually buttercream that is calling my name, or ganache whispering sweet nothings in my ear. Is that bad? Is it wrong? Not to me it isn't. Taking time to get comfortable in your own baker's skin is important. But it does sometimes leave me in a conundrum...
how do you cope with wanting pie flavor but not wanting to make pie? The answer is you make pie flavored cupcakes! Take the very best part of lemon meringue pie ie:the filling and the topping and combine those with a flavorful cupcake and you've got a hit.
Let's make Lemon Meringue Cupcakes.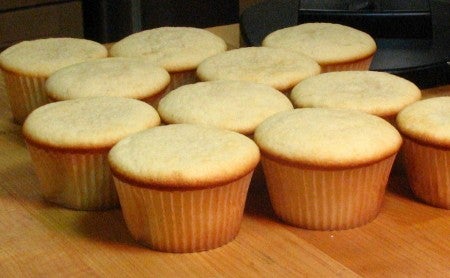 The batch of cupcakes makes 12, so whip them up according to the recipe and allow them to cool completely.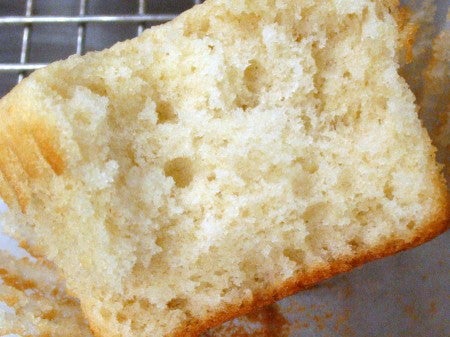 I sacrificed one cupcake so that you could see the very tender and fine crumb inside. The smell of these cupcakes is wonderful, especially if you get to use the optional 1/8 teaspoon of lemon oil. It makes the fresh, citrus flavor of these cupcakes pop!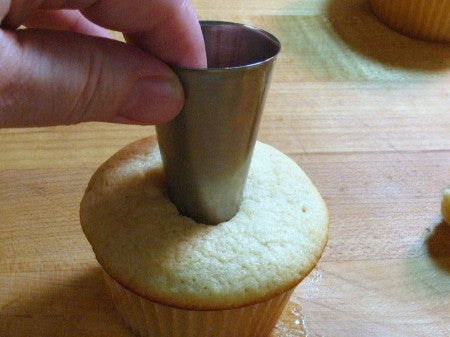 Whip up a batch of Easy Microwave Lemon Curd and allow it to cool and thicken. If you haven't made the curd before, check out PJ's easy-peasy blog, that's exactly what I did.
To core the cupcakes, you can use a cupcake corer, an apple corer, or even a large pastry tip. Be careful not cut through the bottom of the cupcake.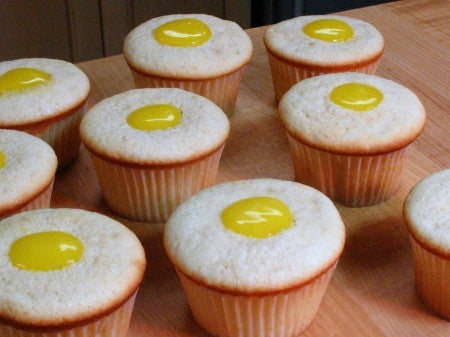 With a small spoon, fill each cupcake to the brim with the curd. These cupcakes are nice and level so you shouldn't get any spill over.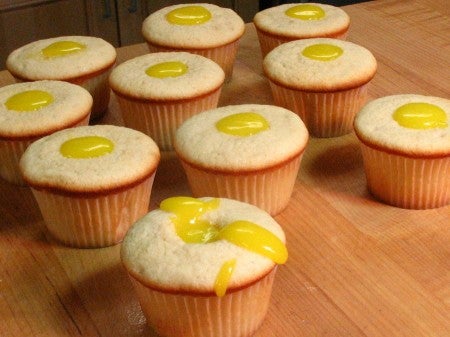 Umm, yeah. "Shouldn't" is a loose term, right?
Set the cupcakes aside to firm up while you prepare the meringue. You can absolutely make meringue from scratch, but I really love the convenience of prepared meringue powder.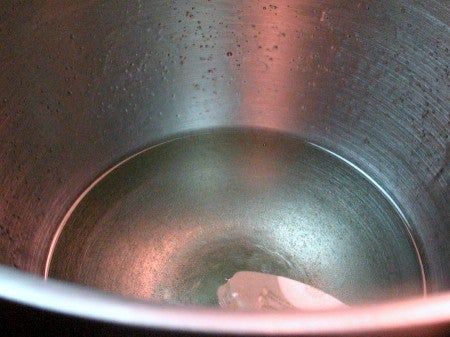 To make a large batch of meringue, dissolve 3/4 cup of granulated sugar in 1/2 cup of boiling water. Cool until it is room temperature.
Add 1/4 cup of meringue powder, stirring until dissolved.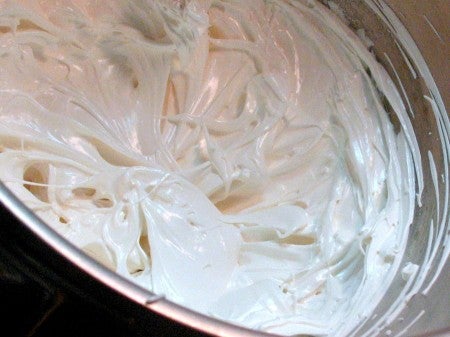 Gradually increase the speed of the mixer, whipping on high speed for about 2 to 3 minutes or until the meringue is fluffy and cloud-like. When you dip the point of your finger in (Shut the machine off first!!) and pull it out, you should have a nice pointed stiff peak.
I happen to like the mild flavor of the powdered mix, but at this stage you could add a touch more vanilla if desired.
Just not into ready-made meringue? Here's how to do it from scratch:
Meringue
3 large (106g) egg whites
1/4 teaspoon Bakewell Cream or cream of tartar
1/8 teaspoon salt
6 tablespoons (71g) sugar
In a large bowl, mix egg whites, cream of tartar and salt. Beat until soft peaks form. Gradually beat in sugar, continuing to beat until stiff peaks form. This is not a cooked sugar meringue, so be sure to use pasteurized eggs, or liquid egg whites sold in cartons.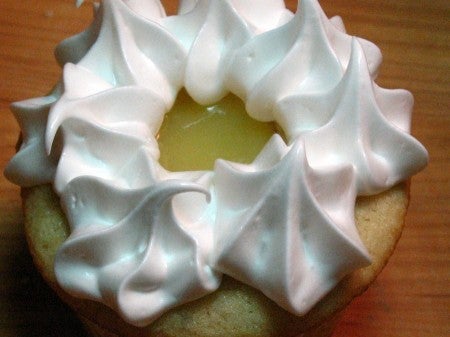 This meringue pipes beautifully. I wanted to play with the idea of showing off the filling, so I piped around the edge of the cupcake. Can you see the difference in color for this filling? I didn't add any yellow food coloring, so this is how the curd looks "au naturale". You can use a plain tip, or a star tip to get more whirls and swirls.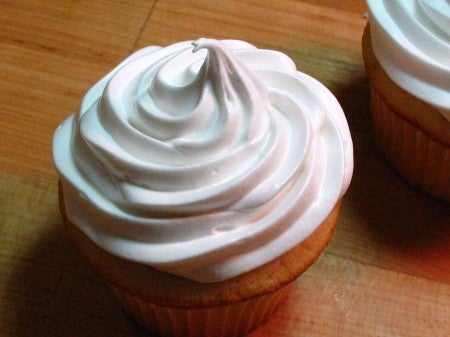 For those of you who love the meringue more than the filling, you can pipe on plenty...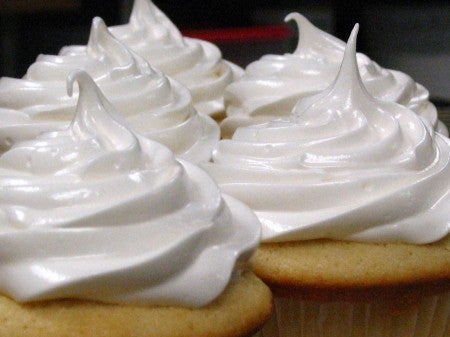 that's right, plenty! How tempting would it be to just pick  up one of these and give it a big kiss, right in the middle? You'd be sticky but happy as can be.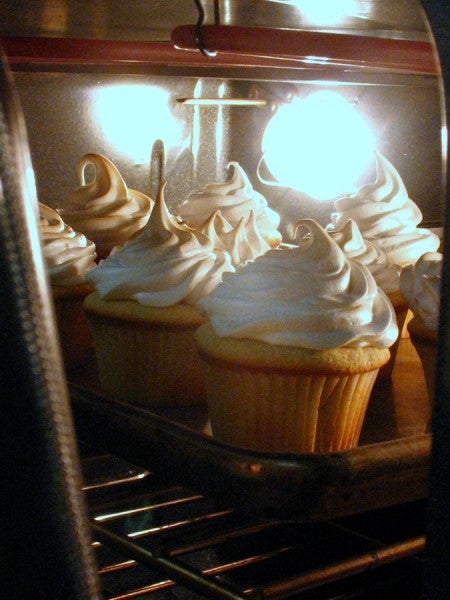 To brown the meringue, you can use a handheld cook's torch, a blowtorch (favorite tool in professional kitchens) or your broiler. If you are broiling, keep the door open a crack so that you can monitor the cupcakes closely.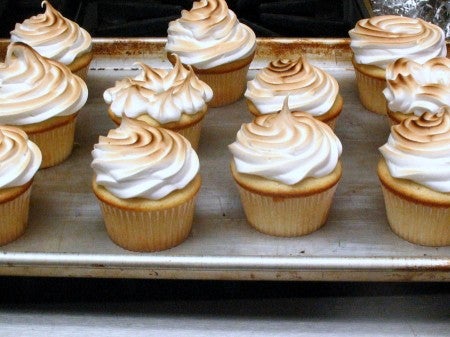 Ta-da! A whole tray full of decadent desserts in a flash.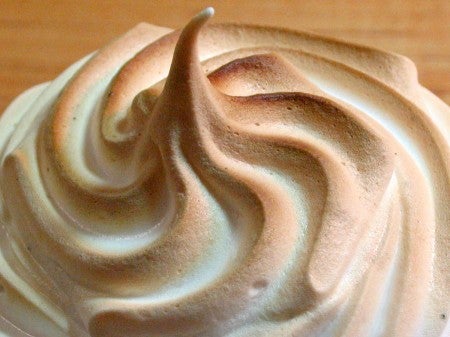 Like flowing sand dunes in the sweetest desert on Earth.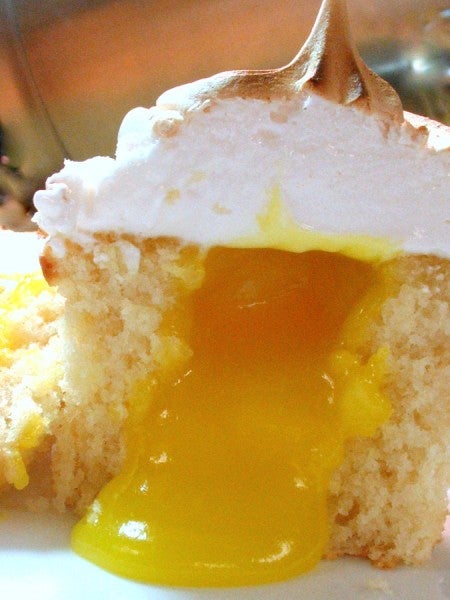 Browning the meringue under the broiler will heat the whole cupcake more than using a torch will. Eating the cupcake with warm curd is fine. When you cut into the cake, you get a gorgeous flow of lemon lava, ready to be scooped up with a bit of crisp and fluffy meringue. I honestly couldn't decide if I liked them better warm, or after cooling. Guess it's time to make another batch and test taste some more!
Now is your chance to weigh in on our title. Where do you feel you fit in to the baking world? Are you a Cupcake Katie or King of the Yeasts? Pie all the time, or is crust a crime? We want to hear from you. (just remember, play nice and be polite).
Please bake, rate and review our recipe for Lemon Meringue Cupcakes.