There's nothing like a good, hearty sandwich, is there?
Now, I'm not talking tea sandwiches. Those thin-sliced, crust-free triangles have their place; after all, you really can't go wrong with egg salad on white bread.
But when you want a sandwich you can really dig into – a sandwich with body and bite, one that you struggle to get your mouth around, one that you need two hands to handle – delicate sliced bread just doesn't cut it.
You need a roll; preferably a large one. A roll that's big on crust, skimpy on crumb; one that can easily hold multiple layers of cheese, meat, and vegetables. AND won't fall apart as the olive oil or mayo and mustard soak in.
Enter ciabatta rolls.
More golden crust than crumb? Check.
Sturdy enough to withstand (indeed, gladly embrace) provolone and Genoa salami and thick slices of tomato, lettuce and chopped onion and diced peppers? Check.
Its hole-y, chewy interior perfect for absorbing olive oil and vinegar dressing without turning to unpleasant mush?
Absolutely.
I recently made lunch for my in-laws, serving these rolls with a spread of cold cuts, cheese, and all the fixin's. I have to admit to a certain hesitancy; this group is known for its allegiance to squishy white rolls - which ciabatta definitely aren't.
In fact, if I don't bring Golden Pull-Apart Butter Buns to every family gathering, I'm toast.
Surprisingly, these Ciabatta Rolls were embraced with equal fervor.
And what did they like best about the rolls?
Their chewy crust and open interior? Their flavor?
Nope. "I like how thin they are. You can really stuff a lot of filling inside without making them too hard to hold."
Well, chalk up another attribute for what's fast becoming my favorite sandwich roll!
Let's start with an overnight starter.
Why the extra step? Because the longer you let yeast work, the better the flavor of your bread. Also, the organic acids yeast releases as it feeds help keep bread fresh longer.
Place the following in a mixing bowl:
1 1/2 cups (177g) King Arthur Unbleached All-Purpose Flour
1 cup (227g) cool water
1/16 teaspoon instant yeast
Don't stress about measuring exactly 1/16 teaspoon instant yeast; a pinch is fine.
Mix until well combined. Cover the starter and let it rest at room temperature overnight, or for up to 15 hours. It will become bubbly.
Next day, add the following to the risen starter:
2 teaspoons instant yeast
3 cups (361g) King Arthur Unbleached All-Purpose Flour
2 1/4 teaspoons (14g) salt
2 tablespoons (14g) Baker's Special Dry Milk or nonfat dry milk
2/3 cup (152g) lukewarm water
3 tablespoons (35g) olive oil
Beat at medium speed, using the flat beater, for 7 minutes. The dough will be very smooth, soft, shiny, and elastic.
Alternatively, you can knead the dough ingredients in your bread machine using the dough cycle.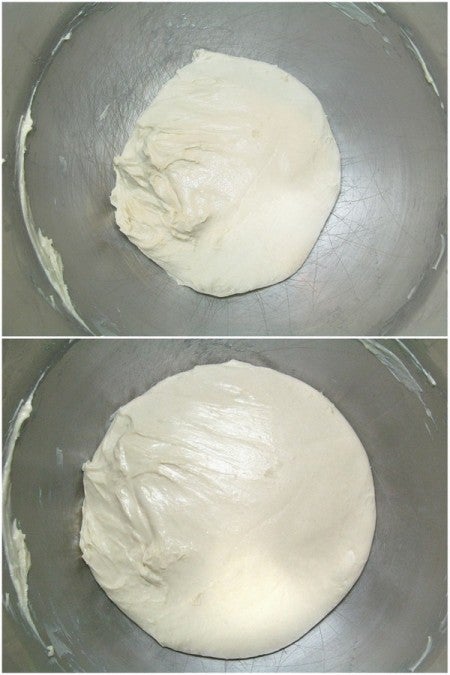 Lift out the dough and lightly grease the mixing bowl (or other rising container, if you need your bowl for something else); cover the bowl, and let the dough rise for 2 hours, gently deflating it midway through.
If you're using a bread machine, allow it to rise for an additional hour after the dough cycle has ended.
Lightly grease your work surface, and two half-sheet baking pans (18" x 13") or similar large baking sheets. Grease your hands, as well.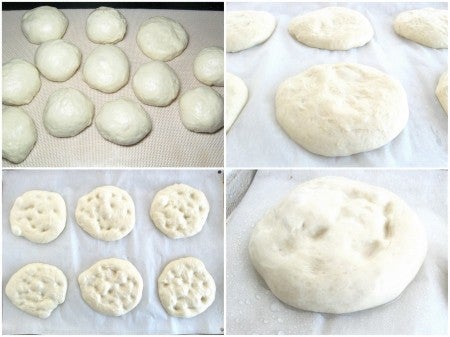 Turn the dough out of the bowl onto the lightly greased work surface. Divide it into 12 pieces, about 80g (2 1/4 ounces) each. Round each into a ball. Gently stretch the balls into flattened disks, about 3 1/2" wide, and place them on the prepared baking sheets, six to a sheet.
Lightly cover the rolls with heavily oiled plastic wrap or a proof cover, and allow them to rise for 2 to 3 hours, or until they're showing some signs of puffiness. Towards the end of the rising time, preheat the oven to 425°F.
Spritz the risen rolls with lukewarm water, and gently but firmly dimple each one with your fingers, making fairly deep pockets.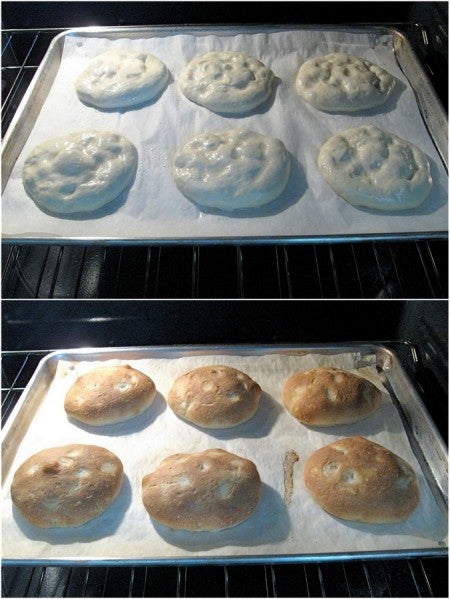 Immediately place the rolls into the oven. Bake them until they're golden brown, about 18 to 20 minutes.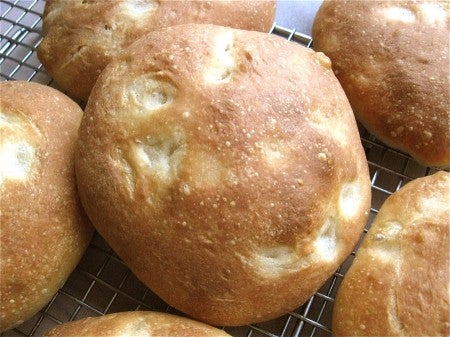 Remove them from the oven, and cool on a rack.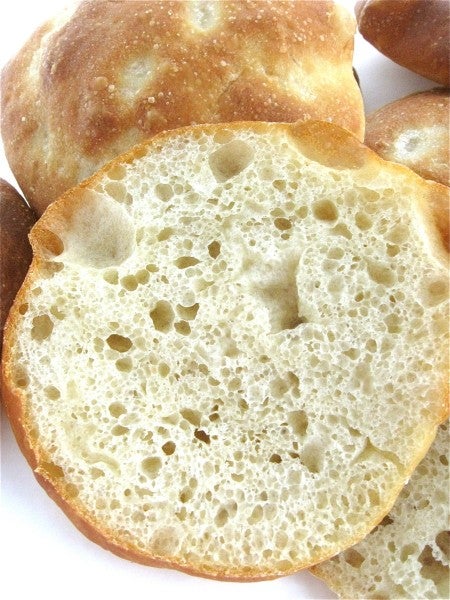 See the distinctive, ciabatta-like "open" texture of these rolls?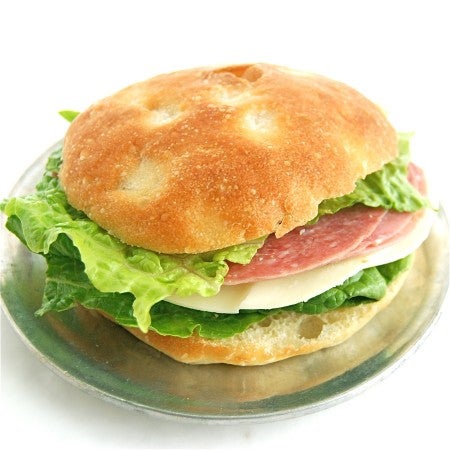 Slice crosswise, and add your favorite fillings.
I like to drizzle the cut surface of the rolls with flavored olive oil, then pack with lettuce, diced tomatoes, roasted peppers, Italian cold cuts, and provolone cheese. You just can't go wrong with this classic [sub] [hoagie] [grinder] [Italian] - pick your own regional terminology!
Please read, bake, and review our recipe for Ciabatta Rolls.
Jump to Comments