Irish Cream Cupcakes
Bring the ladder, we're going top shelf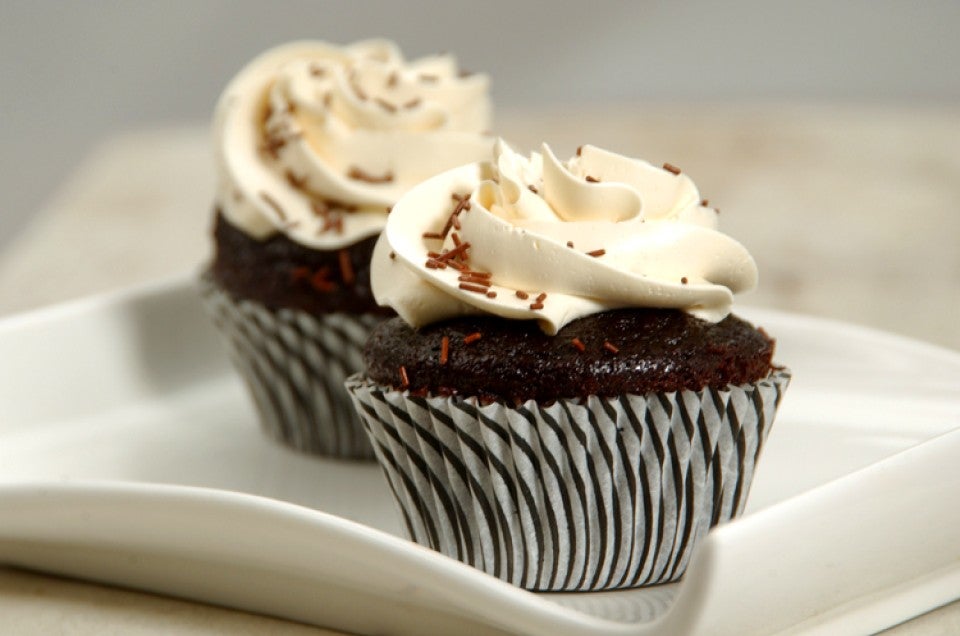 In the past few months, I've been making quite a dent in a certain section of the test kitchen pantry.
No, not the chocolate section although I do spend plenty of time there.
No, not the drawer of cheese in the fridge.
Think higher up. Think top shelf...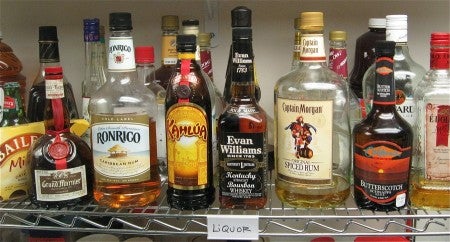 Behold, the pantry liquor shelf. Home to flavors both homey and exotic. Wines, whiskeys, and everything in between.
So, you ask, why the sudden urge to bake with booze?
I have no specific recipe or baked good that I can link it to, but I've seen some incredible-looking recipes and goodies online that feature a little of the hard stuff here and there.
I know working on the Fruitcake Fridays blog in the fall certainly brought me closer to the bottles, as I kept a liter of brandy on my station for a month to soak fruitcakes. Believe me, there were plenty of jokes bandied about regarding how tough my job must be if I have to keep a bottle at hand. It was all in good spirits though. (*groan* couldn't resist the pun!).
What I learned was that spirits can really lend a depth of flavor and a layer of sophistication to your regular baking. You don't need to use a gallon, just a splash in a filling or a glug in a batter.
It makes your tasters sit up and say "Hmm, what is that flavor?" Or better yet, " I love what you've done with this recipe."
For instance, let's take a regular chocolate cupcake and make a couple of small changes. Out goes the milk and in comes Irish coffee: nice strong coffee with just a tipple of Irish Cream liqueur added in. Add coffee buttercream filling and an Irish cream buttercream topping, and you've got a sophisticated international cupcake treat on your hands.
Let's make Irish Cream Cupcakes.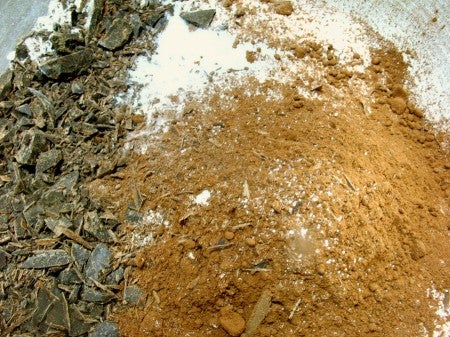 In the bowl of your mixer, place 1 1/2 cups King Arthur Unbleached Cake Flour Blend, 1/2 cup King Arthur All-Purpose Cocoa or other natural cocoa, 1 cup sugar, 1/2 teaspoon baking soda, 1/4 teaspoon baking powder, and 1/2 teaspoon salt.
Blend the dry ingredients on low speed for 1 minute to combine. Here I've also added 1 ounce chopped bittersweet chocolate for some texture. Put it in or leave it out, your choice.
Add 1/2 cup room temperature butter, 2 large eggs, and 1 teaspoon vanilla.
Blend 3/4 cup black coffee and 1/4 cup Irish Cream liqueur together, and pour half into the bowl.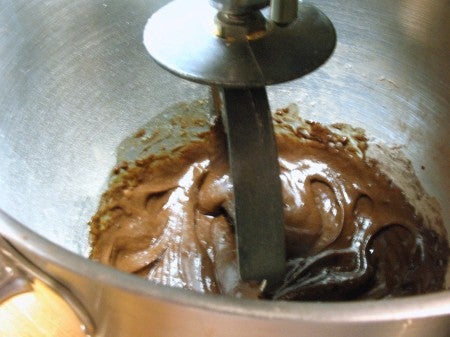 Mix the batter on medium speed for 2 minutes. Add the remaining 1/2 cup Irish coffee and beat again on medium speed for 1 more minute.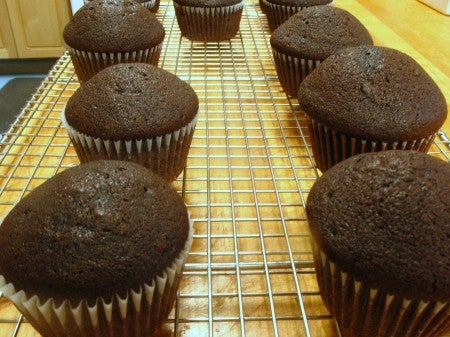 Divide the batter among 12 paper-lined wells of a cupcake or muffin pan, and bake at 350°F for 15 to 18 minutes. A cake tester will come out clean and the tops will be dry to the touch.
Remove from the oven and transfer the cupcakes from the pan to a wire rack to cool.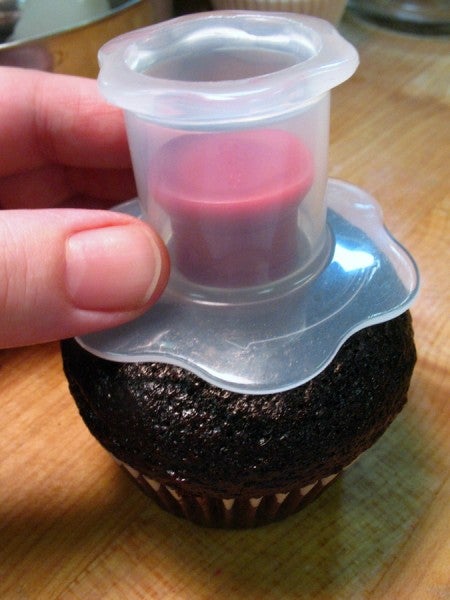 When the cupcakes are completely cooled, it's time to core and fill them. I adore this little plastic cupcake corer. It cuts to the same depth each time and the core of cake can be popped right out by pressing the plunger.
If you don't have a special cupcake corer you can use an apple corer, or any round tube. Just be sure you don't core all the way through the cupcake. That could get pretty messy.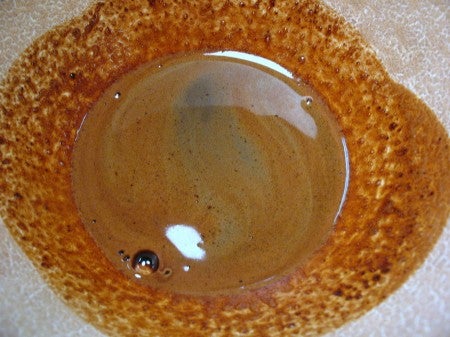 For the filling, dissolve 1/2 teaspoon of espresso powder in one tablespoon of water. Stir or swish in the bowl until you can't feel any graininess.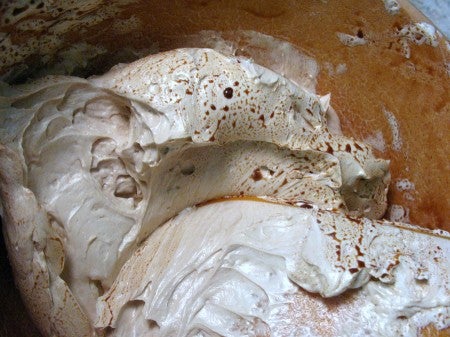 Pour the strong coffee concentrate into 1 cup of prepared buttercream icing. It won't want to mix together at first (that whole oil/water thing), but keep stirring and it will come together.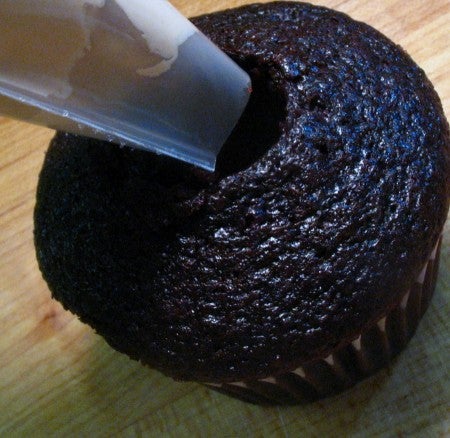 Place the coffee icing in a disposable pastry bag or a zip-top bag, and snip off a fairly large hole. Pipe the filling into the cored cupcake just even with the top.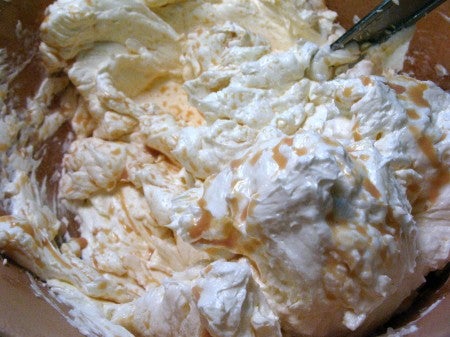 To top the cupcakes, pour 2 tablespoons Irish cream liqueur and 1/8 teaspoon Irish Cream flavor into 2 cups prepared buttercream icing.  Again, it will take a little stirring to get everything to combine.
If you prefer not to use the liqueur, use 1/4 teaspoon of the flavor, or to taste.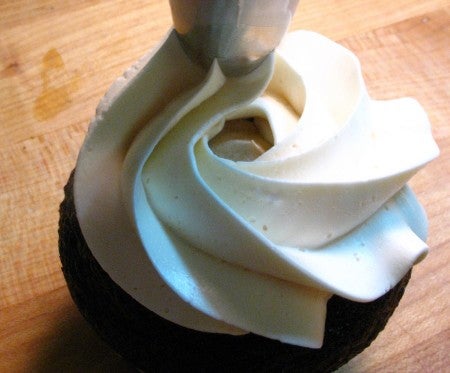 The final touch? A sweet swirl of buttery-rich, extra-creamy icing.
These cupcakes were a huge hit here at King Arthur, and no one lamented when I had to make a second batch for photos. My good friend Tara, a customer service team leader and fellow hotline baker, was inspired by the cupcakes to try the new Irish Cream flavored coffee from our machine in the break room. Poor girl, she grimaced and declared, "I should have stuck with the cupcake!"
So, how do you feel about baking with spirits?  I've really been into the "boozy baking" lately, but I know it isn't everyone's cup of tea, so to speak, so let's hear what you have to say. Just keep it clean and respectful, and hopefully humorous.
Please bake, rate, and review our recipe for Irish Cream Cupcakes.
Enjoy more cupcake recipes.