Creamy Tomato Soup: can the can – homemade is heavenly.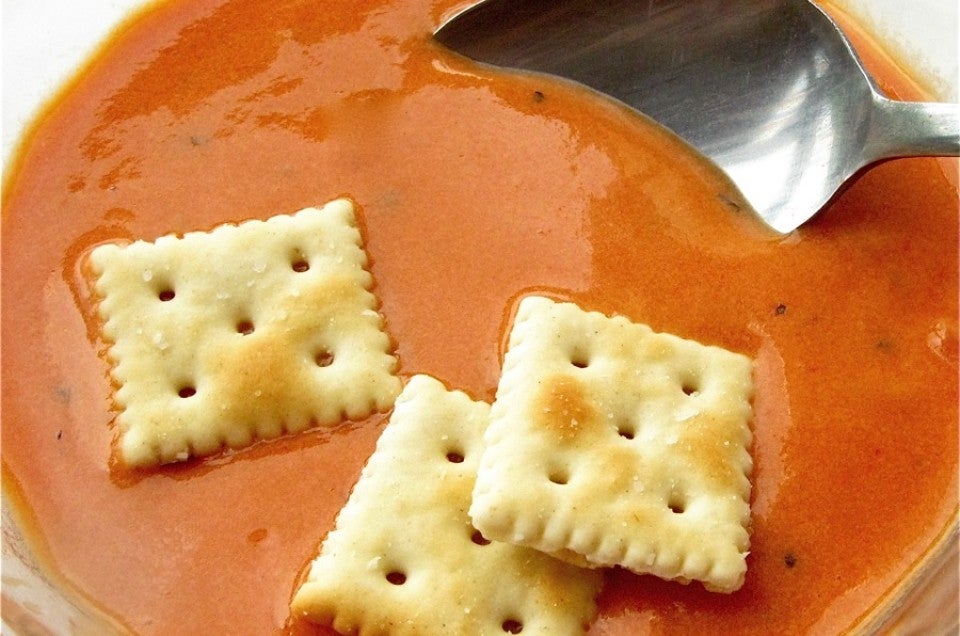 Cream of tomato soup is [fill in the blank]:
Delicious. Satisfying. Nostalgic.
Campbell's.
All of the above? Not necessarily.
Many of us grew up on Campbell's Soup, the hands-down king of the soup shelves at the A & P, or Grand Union, or First National.
Chicken Noodle was the #1 favorite of us kids.  Alphabet was fun, too – remember lining up the floating pasta letters to spell your name?
The adults went in for really icky stuff like Scotch Broth (mutton broth, vegetables and lamb); and Pepper Pot (beef tripe, carrots, and macaroni).
Yeah, tripe. You never read the label on the back of the can? I did, one day when my mom tried to pawn off some Pepper Pot on us, in a pinch. EWWWWWWW.
And then there was Cream of Tomato. I have to admit I was never a huge fan of tomato soup, but my brother loved it. As did my parents.
And I was OK with it, so long as there were enough saltines to enliven its smooth, bland flavor.
These days, I'm more than OK with cream of tomato soup – because I make my own. Better yet, I make it in my Zojirushi bread machine.
That's right - in the bread machine. Same appliance in which I not only knead bread dough, but bake peach cobbler, hot artichoke dip, cheesecake, meatloaf, and all manner of tasty baked and simmered and stewed creations.
If you've got a Zojirushi, check out this soup, made on the machine's jam cycle.
If you don't have a bread machine - scroll down for stove-top instructions.
However you do it, make this soup; there's nothing like it on a cold winter's day.
Attach the paddles to the posts in the Zo's bucket. Program the machine for the jam cycle. Set your own timer for 15 minutes.
Pour 5 tablespoons melted butter into the bucket. Add 1 tablespoon oil and sprinkle in 3 tablespoons King Arthur Unbleached All-Purpose Flour. Spread 1 cup chopped onion (2 small-to-medium onions) evenly over all. Press Start. Start your own timer, as well.
When the 15-minute timer goes off, add the following:
one 28-ounce can tomato purée
¼ teaspoon thyme
½ teaspoon basil
½ teaspoon salt
a couple of shakes of black pepper
1 to 3 tablespoons sugar, to taste; optional
¼ teaspoon baking soda
1 can (a scant 2 cups, 14 to 15 ounces) chicken broth
Reset your timer for 45 minutes.
When the 45-minute timer goes off, heat 1 1/2 cups light cream, half & half, or evaporated milk (one 12-ounce can) over low heat on the stove top, or in the microwave, until it's just below a simmer.
While the milk is heating, you can purée the soup, if you have a stick blender; insert the blender into the center of the bucket (carefully avoiding the paddles), and blend until relatively smooth.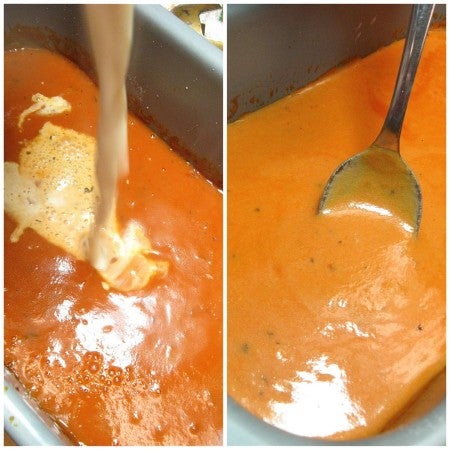 Stir in the hot milk, close the lid, and allow the machine to complete its cycle.
And that's it. Hot, creamy tomato soup, perfect with homemade crackers.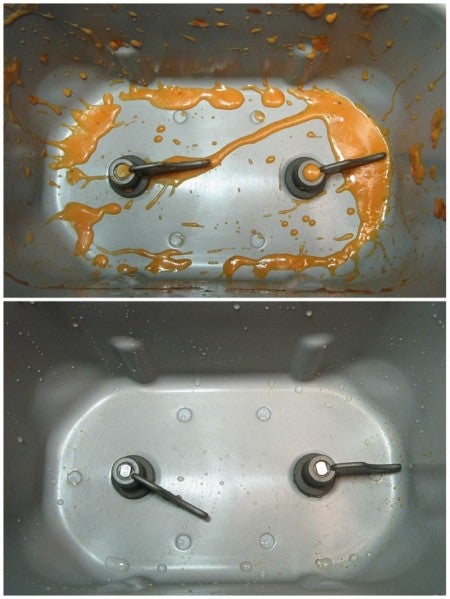 Best part yet – simply rinse your bread machine bucket in warm water. No scrubbing; no scouring. LOVE this non-stick bucket!
OK, I hear you - you don't have a bread machine. Well, of COURSE I'll show you how to make this soup in a pot on the stove!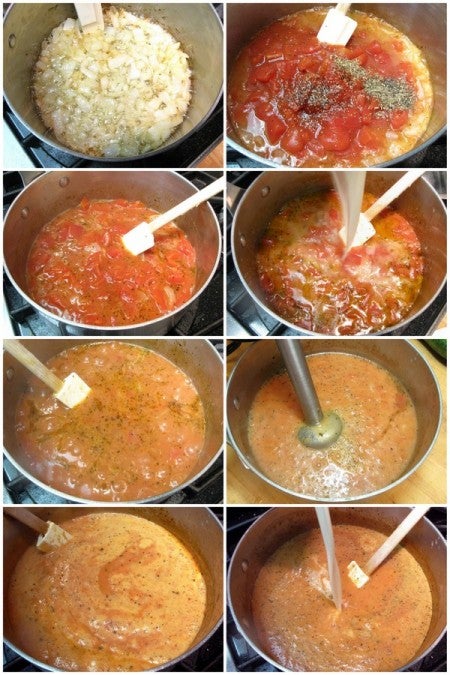 Put the following in a large saucepan set over medium heat:
5 tablespoons butter
1 tablespoon vegetable oil
1 cup (about 4 1/2 ounces) chopped onions (2 small-to-medium onions)
Heat over medium heat, and sauté the onions until softened and golden, about 10 minutes.
Add the following:
1 (one) 28-ounce can tomato purée or tomatoes in purée
1/2 teaspoon salt
1/2 teaspoon basil + 1/4 teaspoon thyme
a couple of shakes of black pepper
Bring the mixture to a simmer, and cook for 10 minutes.
You'll notice in the photos above that I used diced tomatoes, rather than tomato purée. MISTAKE. Diced tomatoes taste fine, but the soup they make is pale orange, rather than deep orange/red. Do as I say, not as I did, and use purée.
In a small bowl, combine 3 tablespoons King Arthur Unbleached All-Purpose Flour and 1 can (a scant 2 cups, 14 to 15 ounces) chicken broth, whisking until smooth. Add this mixture to the soup, stirring constantly. Cover and simmer slowly for 25 minutes, stirring occasionally.
If desired, purée the soup in a blender or food processor, or with a hand blender. You can also just leave the soup as is; the onion bits will give it a bit of body. Return the soup to the stove, and set it on a burner over low-to-medium heat. Stir in the following:
1/4 teaspoon baking soda
1 to 3 tablespoons sugar, to taste; optional
1 (one) 12-ounce can evaporated milk
1/2 teaspoon salt
The baking soda will make the soup foam up briefly. Don't worry; so long as it's in a big enough pot, you'll be fine.
Heat, continuing to stir, until the soup comes to a bare simmer.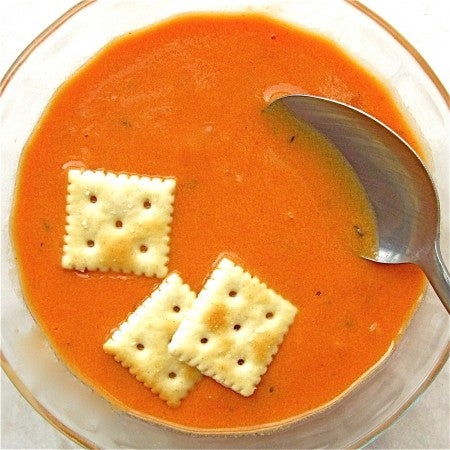 Serve hot. With crackers.
And remember with fondness those winter days when you'd run up onto the porch with snow in your boots, wet mittens, red cheeks, and an empty tummy, and Mom would have a bowl of Campbell's soup on the table, ready and waiting.
You CAN go home again - better yet, you can go homemade.
Read, make, and review (please) our recipe for Creamy Tomato Soup.
Interested in more neat ways to use your bread machine? Check out our recipes for Peach Cobbler and bread machine breads.