The best use for your cast iron? Pizza
A pizza's best friend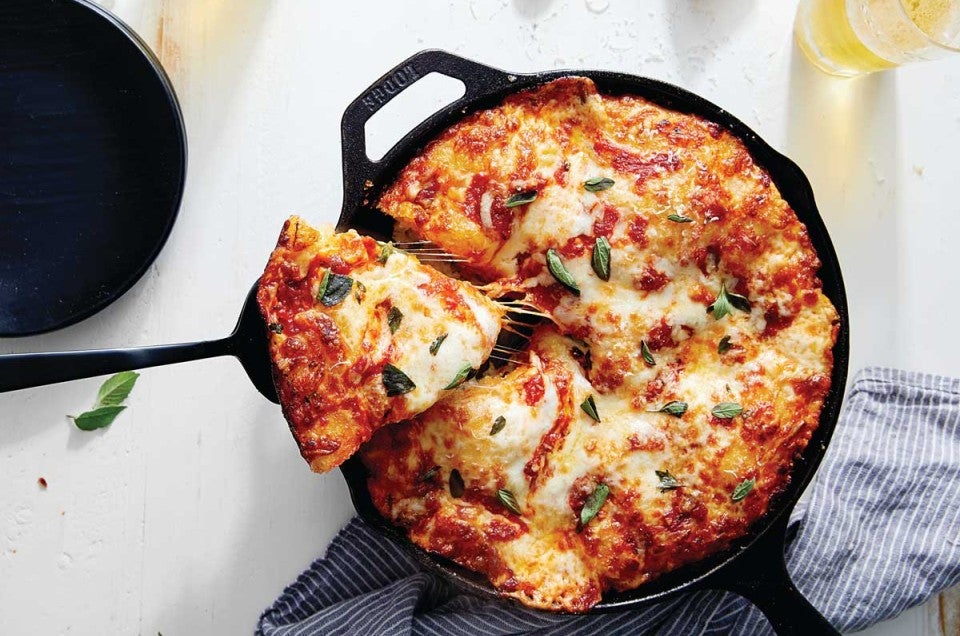 Cookbook author Susan Purdy has a saying: "You can only change a pie so many times before you have a pizza."
It's a good warning about messing with recipes too much for those mad scientists in the kitchen. But I've been thinking. How many times can you change a pizza?
Happily, you can change a pizza over and over and over again. Change the dough, change the topping, change the cheese – it all just keeps getting better and better.
Today I'm not changing the crust or the toppings, though. The big change is in how the pizza itself is baked. No parchment for me this time. No perforated pan, no baking sheet, not a pizza peel in sight.
So, what's the hot new thing about this pizza? How about a hot plan for a hot pan?
Cast iron used to be the hottest thing in baking, and it's been making a big comeback for the last couple of years. Cast iron holds heat like no other pan, and lasts literally for generations. You can bake, fry, stew, braise, and brown in cast iron – the fun never ends.
After seeing this technique for pizza online in a few different places, I knew I had to try it. I was stunned and amazed at the delightfully crisp crust cast iron produced, and it was fast and easy to do. I desperately wanted to blog about it, and wooed my Web team with hot pizza until Halley gave me the green light.
READY? SET? LET'S GO!
Editor's note: Since MaryJane wrote this blog in 2011, we fell in love with cast iron pizza so much that we decided to make it our 2020 Recipe of the Year! Check out Crispy Cheesy Pan Pizza for a recipe specifically designed for baking in a cast iron pan. Or follow MaryJane's lead and use this technique for your go-to recipe. 
Start with a batch of your favorite pizza dough that's had its first rise; and a preheated 400°F oven.
Gently deflate the dough and divide into two pieces, or more if your cast iron pans are smaller.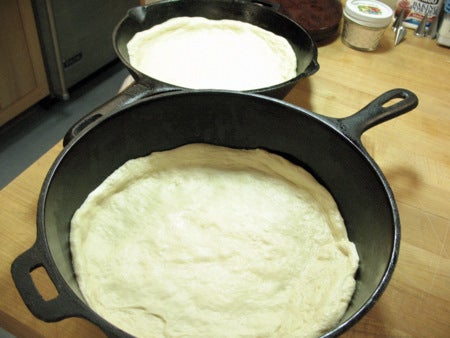 Next, break out a cold cast iron pan. Here I used a 10" x 3" (front) and a 10" x 2" (back). Cast iron spiders (the pans with little feet) also work well here.
Well-seasoned cast iron is fairly non-stick but I like to add just a touch of garlic oil to the bottom of the pan before pressing the dough out. If you're a fan of crispy crusty edges that can be dipped in garlic butter, press the dough up the sides of the pan about 1/2" to 1".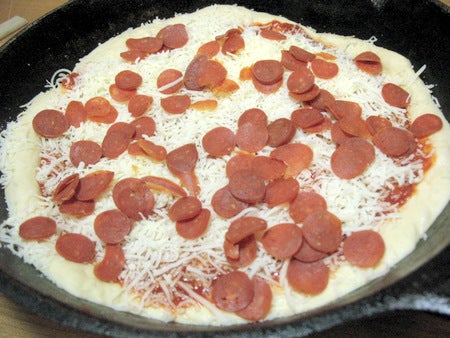 Next, add your toppings. Sauce, caramelized onion, turkey pepperoni, and cheese is a standard at our house, and a test kitchen favorite, too.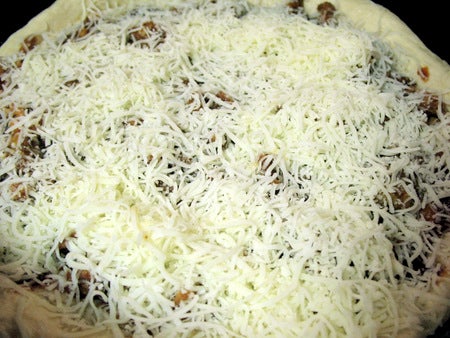 We also happened to have some leftover pulled pork, so that topped the second pizza, along with a heapin' helpin' of pizza cheese blend.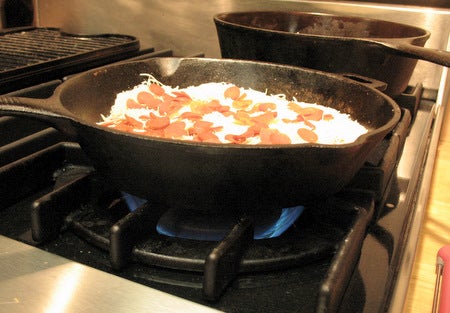 Next up, the leap of faith. Place the pans on the STOVETOP and turn the heat to medium-high for 3 minutes.
Cast iron is an excellent heat conductor, and these pans will shoot up to rocket hot temperatures in no time. The bottom crust is getting a super head start on baking before it even hits the heat of the oven.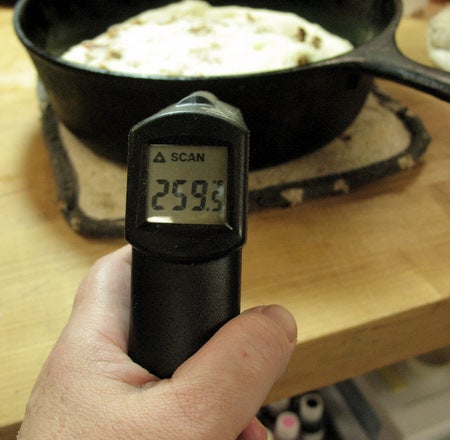 The 3 minutes are up and, as promised, the pans are HOT! I probably don't need to say it, but definitely be careful handling them.
(Don't you just love this nifty infra-red thermometer? You can get one at the auto parts store.)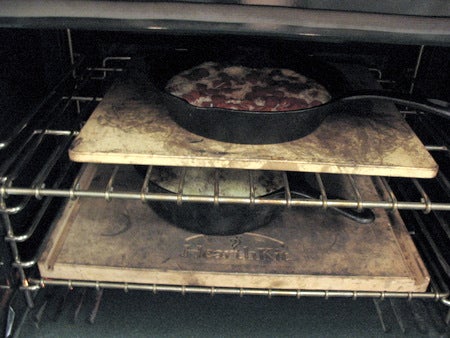 Transfer the pans to the preheated oven and bake for an additional 10 to 12 minutes, or until golden browned and bubbly.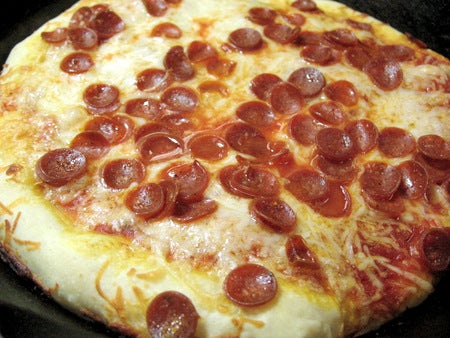 Almost done, but not quite. The center needs a bit more color, so back to the oven with this pie.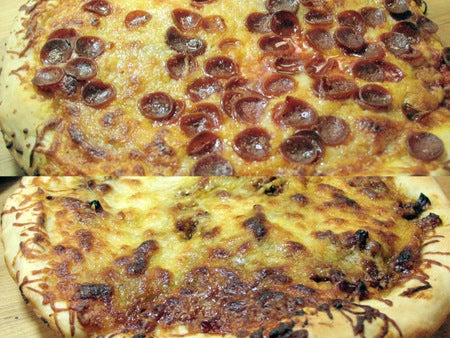 Now THAT 'S what I'm talkin' about! Those are some amazing looking pizzas.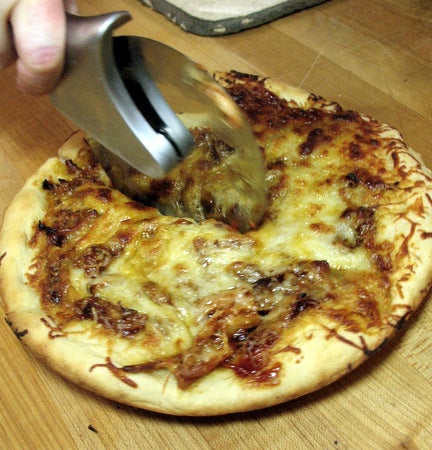 Carefully tilt the pan and use a pancake spatula to slide the pizza out onto your cutting surface. Because the bottom crust is so resoundingly crisp, the whole pizza will move as one piece. *CRUNCH*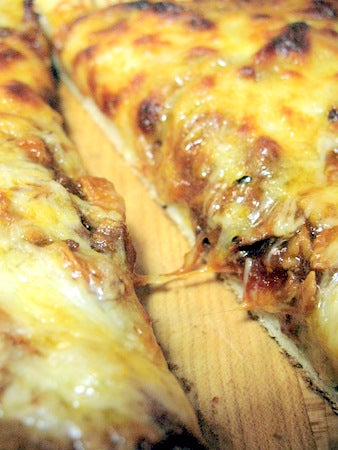 Sorry we don' t have smell-o-vision. Think hot barbecue sauce, tomato rich and spicy. Smoky pork and creamy melted cheese and, of course, warm bread.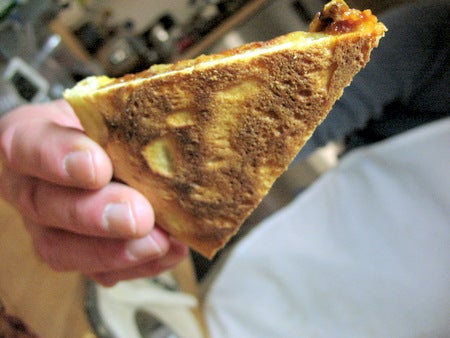 Just look at that crust! Golden brown all over, crunchy and fortifying without a trace of sogginess. This is pizza you can sink your teeth into, and crust you can sink into heaps of garlic butter.
OK, thanks for holding still, Frank. You can eat your pizza now.
I've been playing with pizzas in cast iron for several months now, and I have a host of ideas of what to try next. How about a cheese-stuffed crust? I think the added benefit of the cast iron would cook the thicker crust to perfection. I'm also considering how calzone would work, or a double-crusted pizza. I'll be sure to keep you posted.
Have you ever tried pizza in cast iron before? What other non-traditional things do you make in your favorite spider? Let us know in the comments below.
Jump to Comments