"When life gives you lemons, make lemonade."
It's a phrase we all remember from years past. Don't get me wrong, lemonade is wonderful on a hot summer day, but I think the phrase could use a little updating.
I'll start off with, "When life gives you lemons, make cupcakes!" Lemon juice is fine, but for super-spectacular lemon flavor, the zest (grated peel) is where it's at.
In baking, lemon zest is a great way to add a big punch of flavor to cakes, cookies, icings and, yes, cupcakes. The only problem is, you end up with a lot of naked lemons sitting in the fridge, and often several Mickey Mouse bandages on your skinned knuckles.
I've promised I will always be honest with you about specialty items in our recipes. I'll give you a substitution when I can, and I'll always let you know if I think a recipe won't work out if you don't use an ingredient we call for.
For these cupcakes, I'm here to tell you that I think the lemon powder called for are truly great products.
In baking with these powders, I find I get the same true citrus flavors – without the grated knuckles. And with just one bag's worth, I get batch after batch of flavor without a single naked fruit wasting away in my kitchen.
Don't worry, I've still given information on substitutions. But if you're looking for an ingredient that really can give your baking that little something extra, consider these powders for your next baking adventure.
Let me show you how they work in these Lemon-Lime Cupcakes.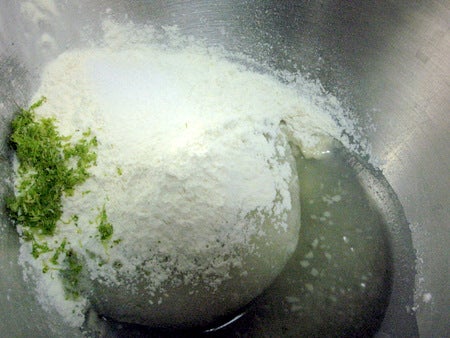 Begin by preheating the oven to 375°F. Line a 12-cup muffin tin with baking papers, and spritz them lightly with cooking spray.
Place in your mixer bowl:
6 tablespoons (74g) vegetable oil
3/4 cup (149g) granulated sugar
2 tablespoons (18g) lemon juice powder or lemon zest
1/2 teaspoon salt
1 tablespoon lime zest (grated lime peel)
Beat on medium-high speed for 2 minutes, until light in color.
*Our juice powders provide big flavor and store beautifully. If you don't have them, you can use fresh zest instead: use an additional 1 tablespoon zest in place of the 2 tablespoons powder.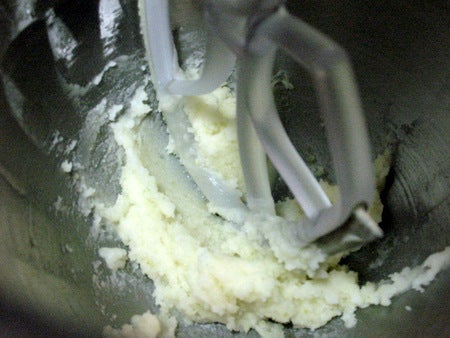 The mixture will look a lot like creamed butter and sugar at this point.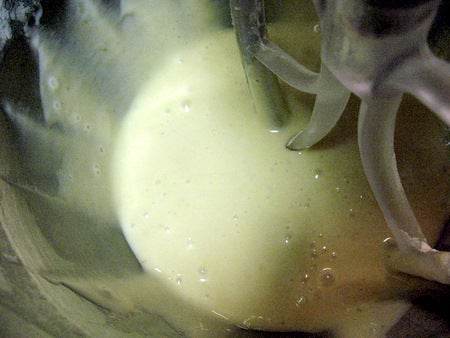 Blend in 1 tablespoon lime juice. Beat in 2 eggs,  one at a time. The mixture will lighten further.
In a small bowl, whisk together 1 1/2 cups (177g) King Arthur Unbleached Cake Flour Blend and 1 teaspoon baking powder.
Alternate adding the flour mixture with 1/2 cup (113g) room-temperature milk, beginning and ending with flour – flour, milk, flour, milk, flour. Mix on medium-high speed for an additional 30 seconds after the last of the flour has been added.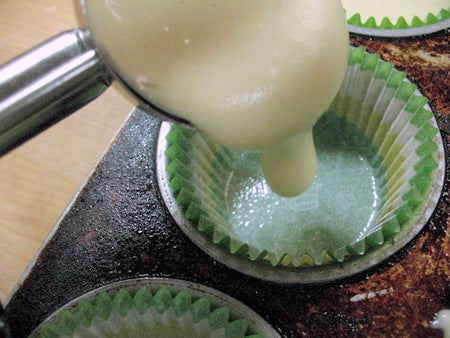 Scoop the batter into the prepared pan. Fill each cup about 2/3 full.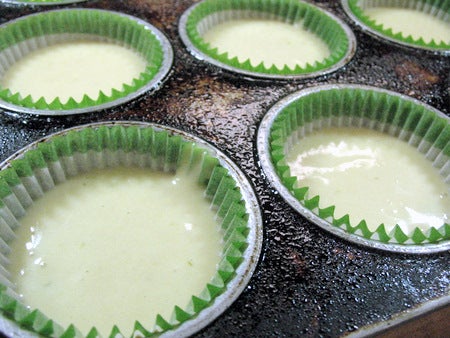 Using a muffin scoop is a huge help here.
Bake the cupcakes at 375°F for about 16 to 20 minutes. A cake tester or toothpick will come out clean when inserted into the center of a cupcake.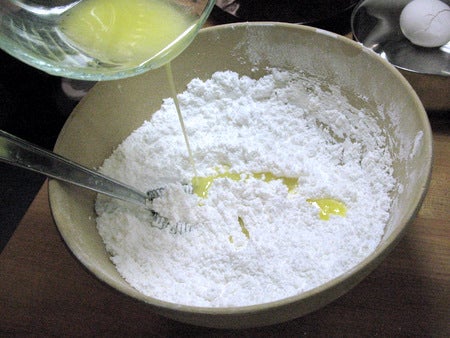 While the cupcakes are baking, prepare the glaze.
In a bowl combine:
3 tablespoons (43g) melted butter
1 tablespoon lemon juice powder *
1 tablespoon lime zest
1 1/2 cups (170g) confectioners' sugar
2 to 3 teaspoons water
*Lemon powder gives a big punch of flavor here. You can substitute 1/8 teaspoon lemon or lime oil if you don't have the powder.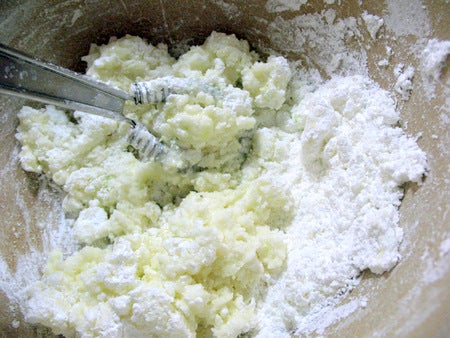 The glaze will be quite thick to work with at first, but take your time and stir well. You're looking to make a glaze that flows like molasses. You can adjust with more liquid or sugar as needed to get the right consistency.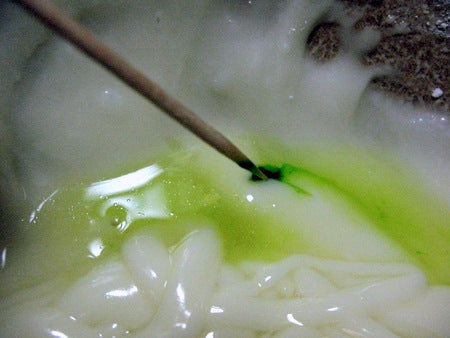 As you stir and adjust the consistency of the glaze, you can add a touch of yellow or green food coloring, if desired.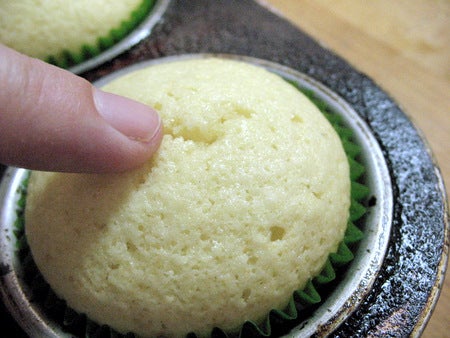 Beautiful! Nice and domed and lightly springy when touched. These particular cupcakes don't brown up, so remember that when you check them as they bake.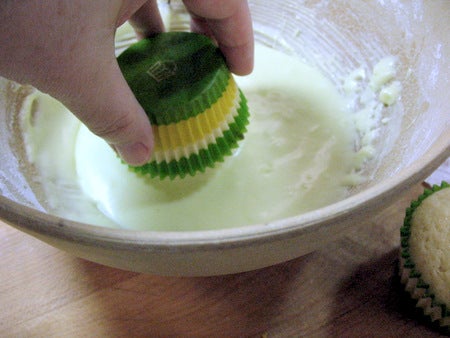 After the cupcakes have cooled completely on a rack, dip them into the glaze. Let excess glaze drip off, then quickly...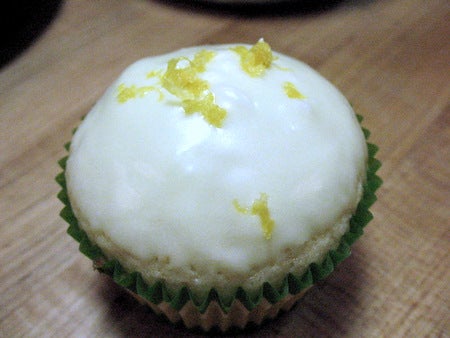 Sprinkle with a little freshly grated zest, if you have some on hand.
Because my wrappers were mostly green, I used lemon zest to complete the lemon-lime look. Feel free to use what you have on hand, or leave the zest off if you wish.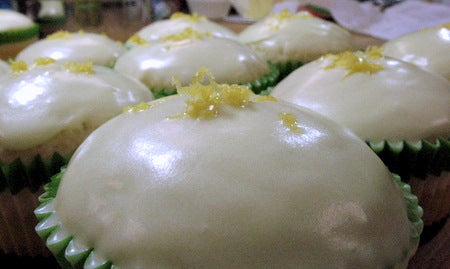 Check out that smooooooth top, and cupcakes as far as the eye can see.
On any given day, I love a good chocolate cupcake, but there's something about this sunny, bright citrus flavor that picks you up and makes you smile in the middle of the day. They're perfect for a summer party, light and perky and pretty as can be.
So, let's hear your take on all things citrus.
Do you use fresh zest? How do you treat your fruit in the raw, so to speak?
Got a favorite "Life gives you lemons" saying? We'd love to hear it.
Let's share our tips and tricks!
Please bake, rate, and review our recipe for Lemon-Lime Cupcakes.
Jump to Comments