Nanaimo.
It sounds like someplace faraway, doesn't it?
Bali. Maluku. Oahu.
Nanaimo.
There's just one difference between those first three island paradises, and the last -
Location. Or, as the real estate agents say, "Location, location, location."
Bali, Maluku, and Oahu are all Pacific islands bathed by tropical breezes.
They're places you'd go when you're from Buffalo, and it's -14°F, and the lake-effect snow has risen not only to the eaves of the garage, but to the limits of your patience.
Nanaimo? It's Pacific, too.
But tropical?
Only if you're from the aforementioned Buffalo, and you consider Canada's Vancouver Island a warm-weather retreat.
According to Wikipedia, Nanaimo, a city of nearly 80,000 on Vancouver Island, "has been dubbed the 'Bathtub Racing Capital of the World...' It is also fondly known as the 'Hub, Tub, and Pub City' because of its association with bathtub racing and the numerous 'watering holes' in Old Nanaimo."
So there, all you cynics out there; man does not live by palm trees and piña coladas alone.
In fact, Nanaimo is known for SO much more than its bathtub racing (honest, it's not what you think!) Namely: Nanaimo Bars, perhaps the densest, richest, most sinful cream-filled, ganache-topped, chocolate-nut-coconut bars known to mankind.
These tasty bars were born in 1952, when a fund-raising cookbook from the island featured three recipes for chocolate squares. These recipes were reprinted under the name "Nanaimo Bars" in the Vancouver Sun. Canadian food companies adopted them as a convenient vehicle for their products, and the bars have been growing in popularity ever since.
So what if Nanaimo isn't a tropical paradise? With an average low in January of just under freezing, and an average high in August of about 75°F, it's wonderfully temperate – Buffalo residents, eat your hearts out!
And besides, anyplace that invents a confection that's been steadily growing in popularity for nearly 60 years has earned its place in (food) history.
Nanaimo (nuh-NYE-mo), we salute you! (And your bathtub racers, too.)
Thanks for the wunder-bars - let's make 'em.
First, preheat the oven to 350°F.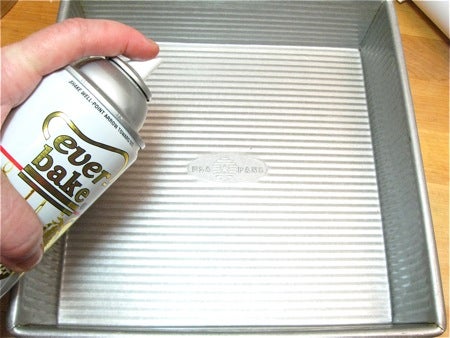 Lightly grease a 9" x 9" or 11" x 7" pan.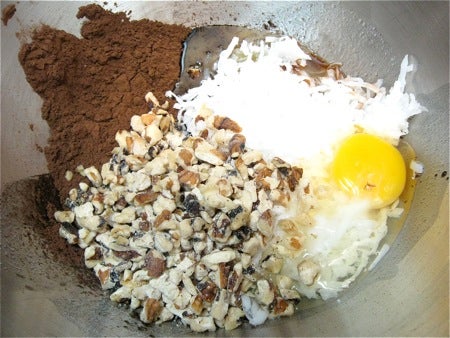 To make the crust – place the following  in a mixing bowl:
8 tablespoons (113g) unsalted butter, melted
1/4 cup (50g) granulated sugar
1/3 cup (28g) unsweetened cocoa, Dutch-process cocoa or natural
1 large egg
1 cup shredded coconut, sweetened (85g) or unsweetened (53g)
1/2 cup (57g) chopped walnuts or pecans
1 teaspoon vanilla extract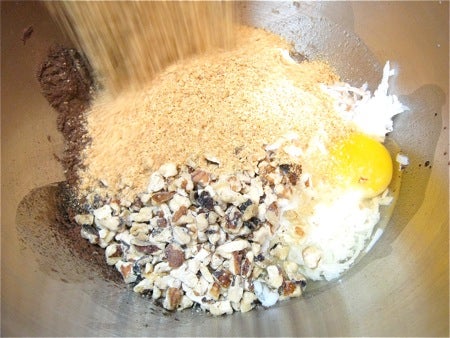 Add 2 cups (198g) graham cracker crumbs (made from about 13 whole crackers).
Beat everything at medium speed just until thoroughly combined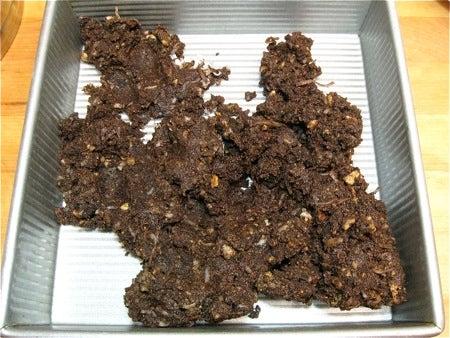 Transfer the sticky mixture to the prepared pan.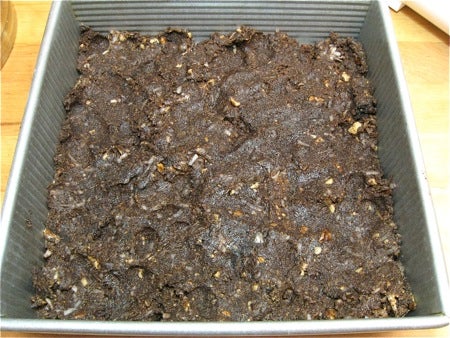 Press to cover the bottom of the pan.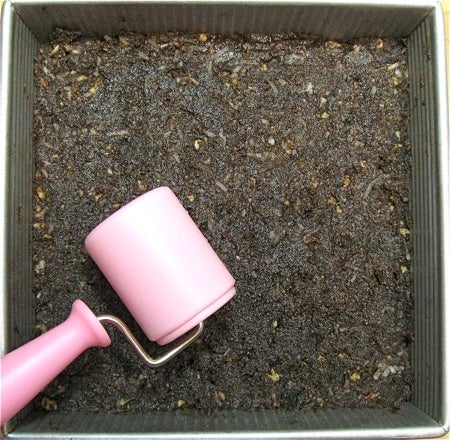 A small pastry roller is helpful here.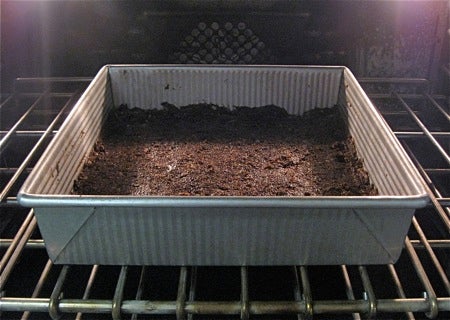 Bake the crust for 10 minutes.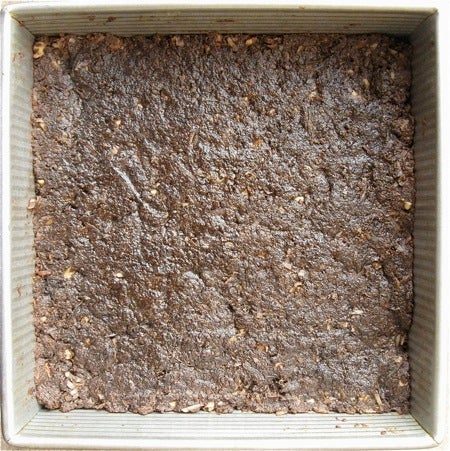 Remove it from the oven; it'll feel soft. Set it aside to cool while you make the filling.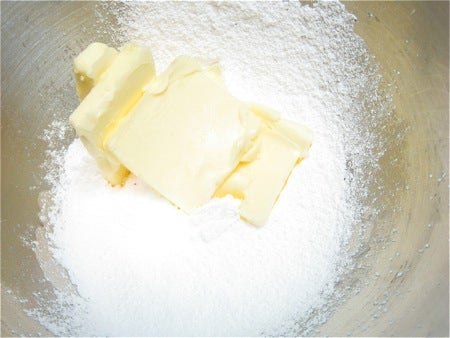 Place the following in a mixing bowl:
8 tablespoons (113g) unsalted butter, at room temperature
1/4 teaspoon salt (omit if you use salted butter)
1 cup (113g) confectioners' sugar, sifted
Beat until smooth.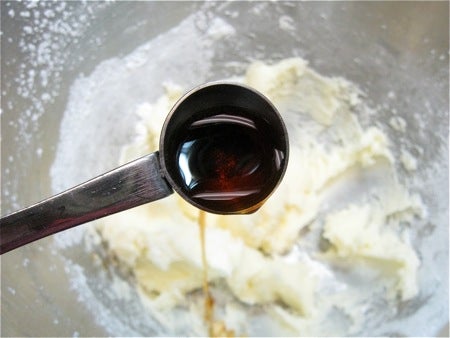 Add 1/2 teaspoon vanilla extract.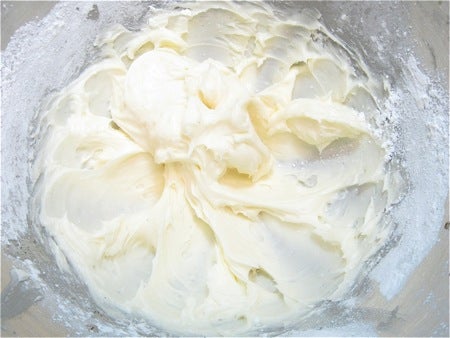 Beat until well combined.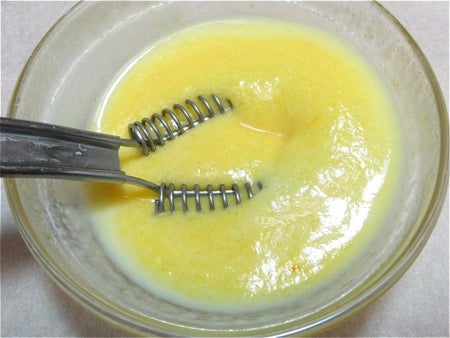 In a separate small bowl, combine 2 tablespoons (21g) Pastry Cream Filling Mix or 2 tablespoons instant vanilla pudding mix, and 2 tablespoons (28g) milk, stirring until thick and smooth.
OK, I hear you: "What am I going to do with the rest of the pudding mix, now that I've opened the box?"
Make instant pudding, of course, reducing the milk in the recipe on the box by 3 tablespoons. Add 1 teaspoon vanilla extract for enhanced flavor.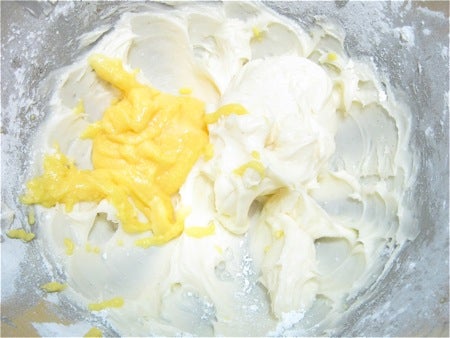 Add the pudding mix to the butter/sugar mixture; stir to combine.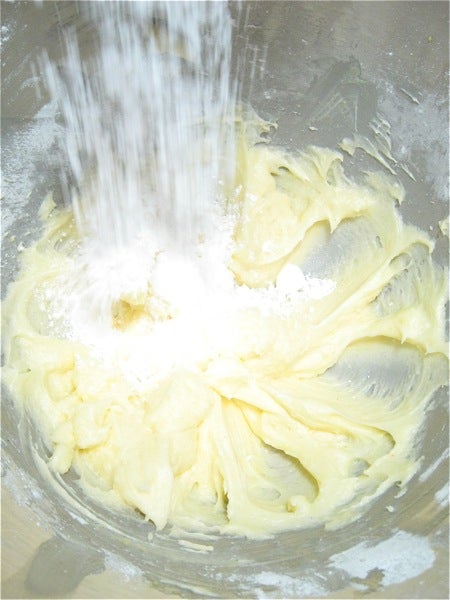 Add an additional 1 cup (113g) confectioners' sugar or glazing sugar, and beat until the filling is smooth.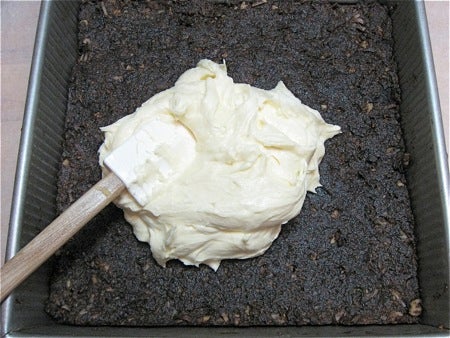 Dollop the filling onto the cooled crust.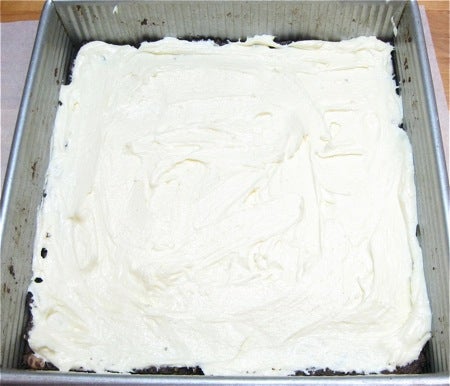 Spread it all the way to the edges.
Cover, and refrigerate until chilled.
Once the bars are thoroughly chilled, make the icing.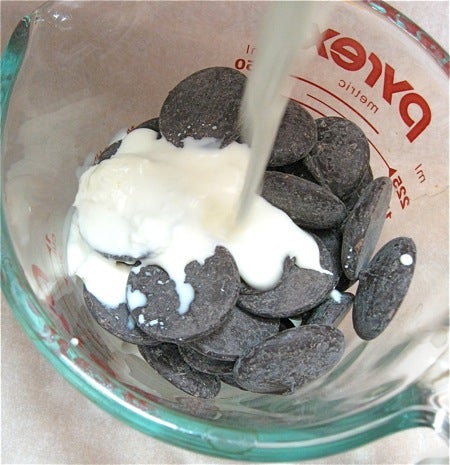 Place the following in a small saucepan, or microwave-safe bowl or cup:
1 cup (170g) chopped bittersweet chocolate (Belcolade bittersweet disks are tasty) or semisweet chocolate chips
1/4 cup (57g) heavy cream or 2 tablespoons butter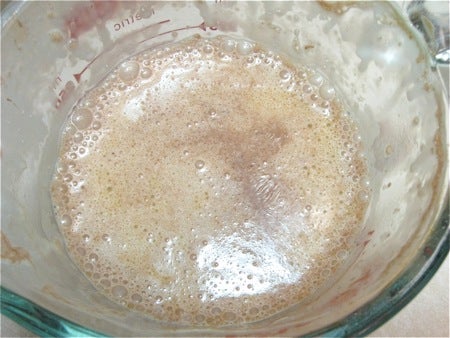 Heat until the cream is steaming.
Then start to stir. At first, the mixture will seem unpromisingly lumpy; just keep stirring.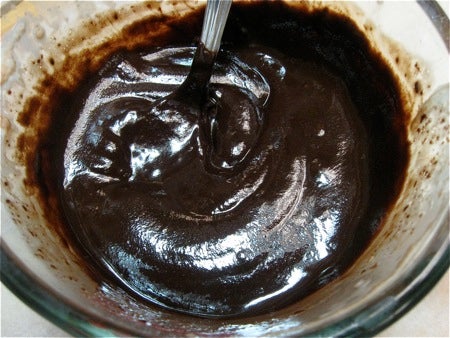 Don't worry; it'll smooth out quickly.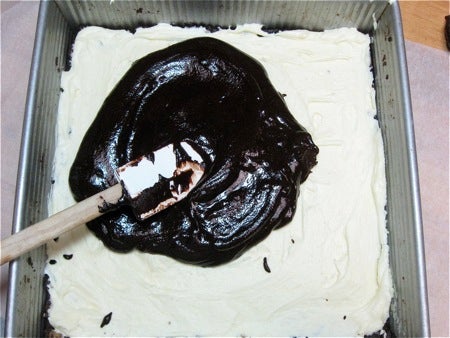 Spread the frosting onto the bars.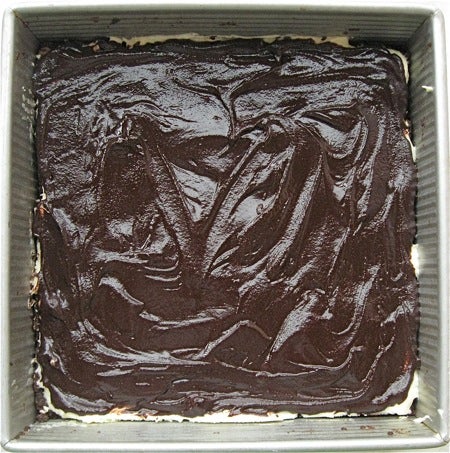 Refrigerate until the chocolate is set.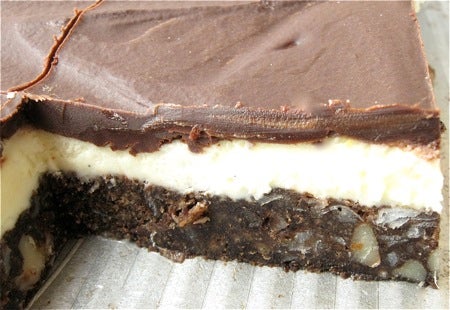 Cut into small bars or rectangles to serve. The bars will be very stiff when cold, but will soften quickly at room temperature.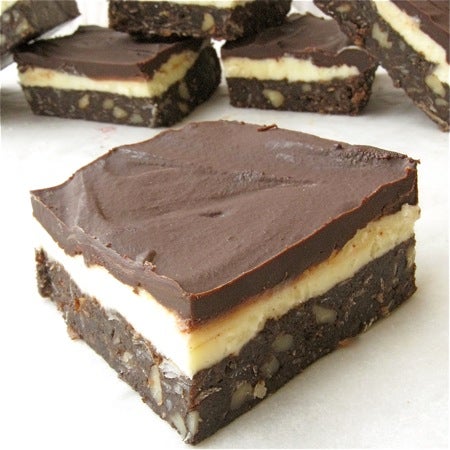 Is that not a thing of beauty?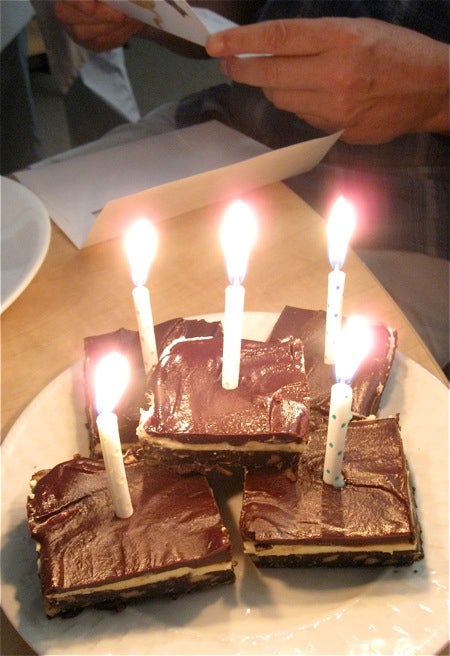 Can't let something as good as this "go to waist" in the testing area; I served these at a birthday party we had for Jim, our Web developer.
To great approval from all in attendance: our Web/email team.
The open (mouth) rate was VERY high...
Read, bake, and review (please) our recipe for Nanaimo Bars.
Jump to Comments