Now THIS, friends, is what I call chocolate ice cream.
Spare me the wimpy, beige-tone "frozen desserts" that masquerade as chocolate.
Mass-market ice cream with an ingredient label like this: Milk, Cream, Sugar, Corn Syrup, High Fructose Corn Syrup, Cocoa Processed with Alkali, Whey, Buttermilk, Mono & Diglycerides, Guar Gum, Flavors, Carob Bean Gum, Polysorbate 80, Carrageenan.
With cocoa the sixth ingredient down, it's no wonder the ice cream is more milk than chocolate.
Hey, if you happen to like milk chocolate, then store-bought ice cream is probably right up your alley.
But me? I'm a dark chocolate-lover, and the only chocolate that passes my lips is dark as... well, as a vanilla bean, in a serendipitous pairing of complementary flavors.
The following recipe started out as Chocolate Intemperance, a chocolate smoothie. And indeed, the two share the same ingredients.
But where Intemperance is served as is, or just slightly frozen (the intemperance comes from the vodka you're invited to stir in), Decadence is fully frozen: smooth, spoonable, and shamelessly seductive.
And, what about the name, Chocolate Decadence? It's overworked, for sure; it seems every restaurant dessert featuring even a hint of chocolate has been given the over-the-top "decadence" label.
But this ultra-smooth, dense ice cream truly is decadent, meeting at least one of the word's definitions: "downfall." If you're dieting — this ice cream will surely be your downfall!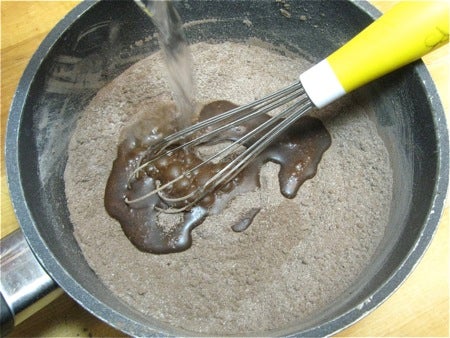 Whisk together the following, in a medium-sized saucepan:
1/2 cup (43g) Dutch-process cocoa
1 cup (198g) sugar
3 tablespoons (25g) Instant ClearJel or cornstarch
1/4 teaspoon salt
Gradually whisk in 1 cup (227g) cold water, stirring until smooth.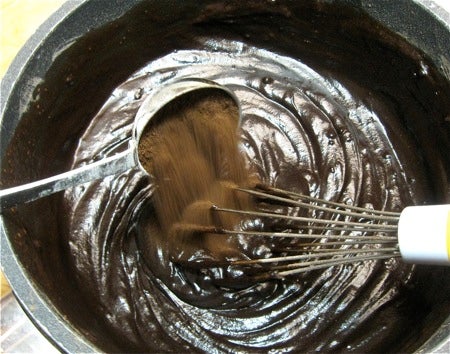 Add 1 tablespoon vanilla; or 1 tablespoon espresso powder, as I'm doing here; or 1 teaspoon cinnamon (all optional).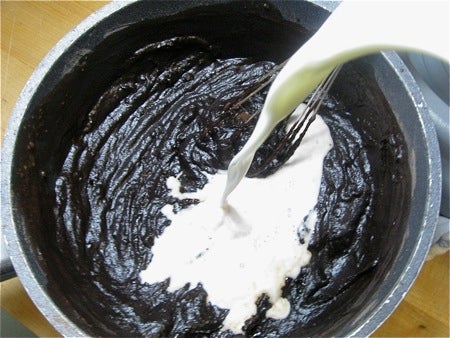 Whisk in 2 cups (454g) whole milk. That's right, this ice cream has no cream; it's mostly chocolate, which is why it's so delectably dark.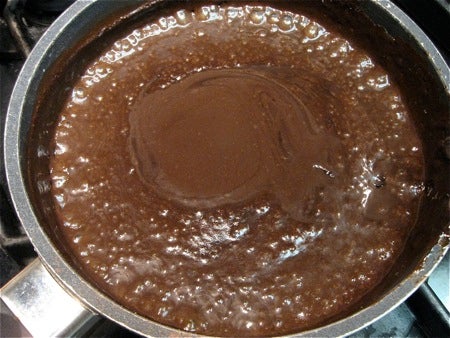 Bring the mixture to a boil over medium heat, whisking frequently as it warms, then almost constantly as it becomes hot; you don't want anything sticking to the bottom of the pan.
Next - more chocolate!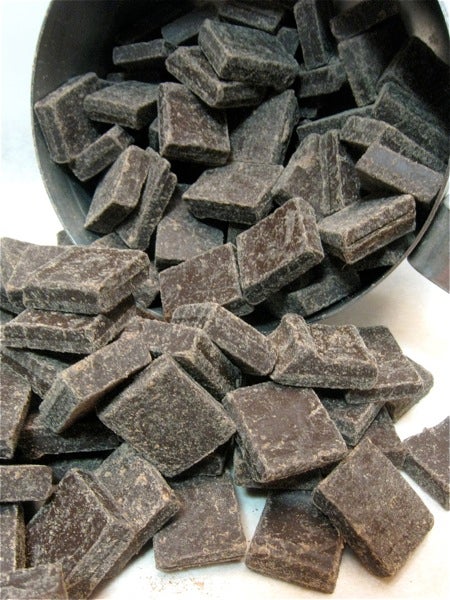 I'm going to use Peter's Burgundy Chunks here, my favorite all-purpose semisweet chocolate. Since the cocoa is unsweetened, I didn't want to go TOO dark with the solid chocolate; and Peter's has really nice flavor, IMHO.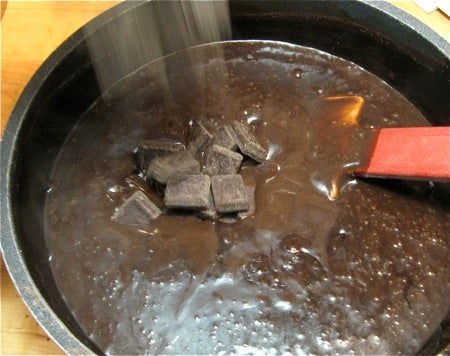 Remove the pan from the heat, and add 1 cup chopped semisweet or bittersweet chocolate, or chocolate chips; those are the aforementioned Burgundy chunks I'm stirring in. Stir until the chocolate melts completely.
Pour the chocolate into a bowl, and stir occasionally as it cools, to prevent a skin from forming.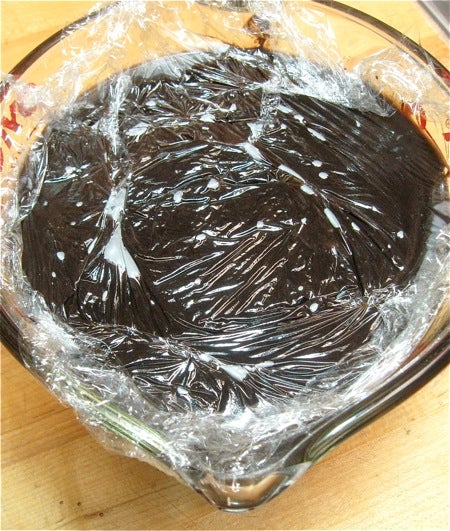 Lay a piece of plastic wrap on the surface of the chocolate, again to prevent a skin from forming, and refrigerate until it's well chilled; overnight is good.
Make sure the canister for your ice cream maker is in the freezer, too; it needs to be as cold as it can be.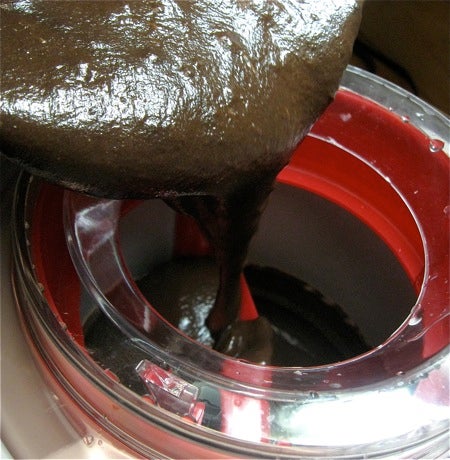 Next day, pour the chocolate into the ice cream maker, and freeze according to the manufacturer's directions.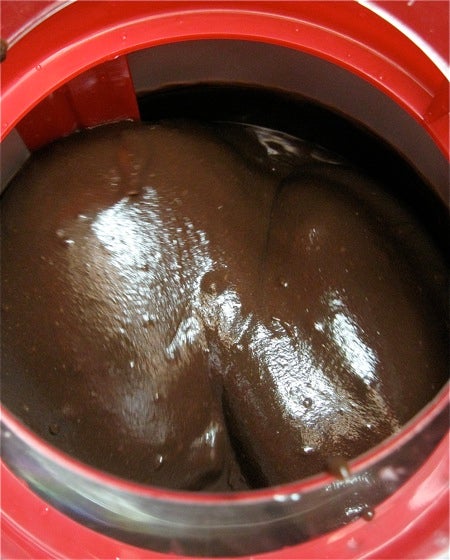 You'll see the ice cream gradually thicken, over the course of about 20 to 25 minutes. When it's as thick as you like, add 1/4 cup (57g) coffee liqueur (e.g., Kahlua) or the liqueur of your choice.
This step is optional, and you can certainly skip it if you prefer your ice cream alcohol-free. But liqueur not only enhances the flavor of the ice cream, it helps its texture.
Most homemade ice cream becomes rock-hard when stored in the freezer longer than 6 hours or so; this one, with the addition of liqueur, remains nicely scoopable indefinitely. Why? The alcohol in the liqueur acts as anti-freeze.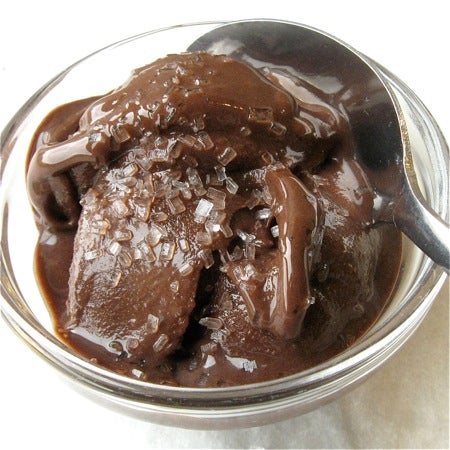 Serve the ice cream immediately, if desired; it will be very soft. I've added a sprinkle of coarse white sparkling sugar, just for appearance, and a bit of crunch.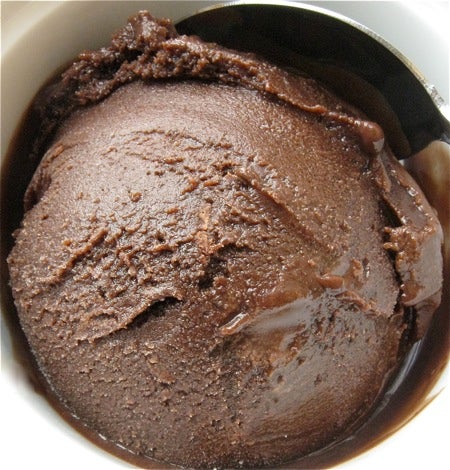 For harder ice cream, store in the freezer. Ice cream without liqueur will become nicely hard in 3 hours. With the addition of liqueur, it will take 6 hours or more to become quite solid.
Ice cream without liqueur will become rock-hard within 5 hours or so; to soften, let it sit at room temperature for 30 minutes or so before serving.
Jump to Comments