What exactly is it that makes a waffle so gosh-darned good?
Is it the slightly deep-fried flavor, from batter coming into direct contact with the hot iron?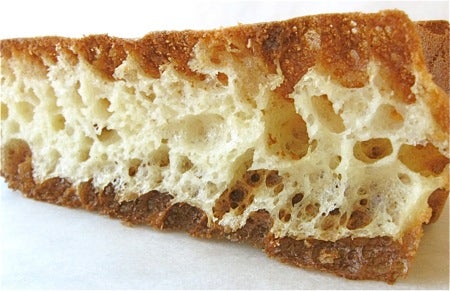 Perhaps the contrast of crisp crust with soft, moist interior?
Or maybe just the way waffles speak to us of happy times. Childhood. Family.
IHOP. Hey, whatever floats your breakfast boat, right?
Yet, with all their happy associations, how many of us make waffles with any regularity?
Raise your hands, please –
See what I mean? If you said, "Sure, I make waffles at least twice a month," I'd venture to guess you're in the minority.
It's time to reach up to the top cupboard shelf, grab that waffle iron, and put it to work.
Making whole wheat waffles.
WHOLE WHEAT waffles?! Won't they be, like, gritty and dark and bitter?
Perish the thought. Good-quality whole wheat flour – flour that's been carefully milled, then moved quickly through the distribution system – is perfectly tasty. And if your family is truly afraid of whole wheat, choose white whole wheat: it's lighter-colored and milder-tasting than regular (red) whole wheat.
The following recipe is one of the most-viewed on our site. Not only that, readers rate it one of our top 50 recipes. Can so many of your fellow breakfast cooks be wrong?
It's time to put aside your reservations, and give these whole wheat waffles a try.
First, preheat your waffle iron while you make the batter.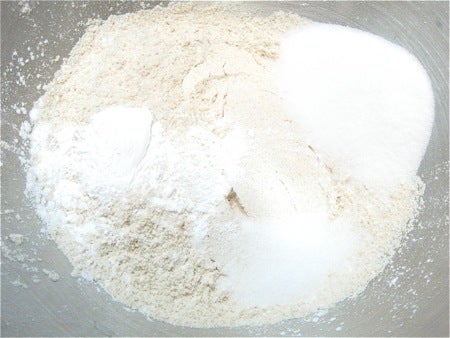 Whisk together the following:
1 1/2 cups (170g) King Arthur 100% White Whole Wheat Flour or Premium Whole Wheat Flour
2 teaspoons baking powder
1/2 teaspoon salt
2 tablespoons (25g) granulated sugar
Yes, that's whole wheat flour you see. Pretty light, eh?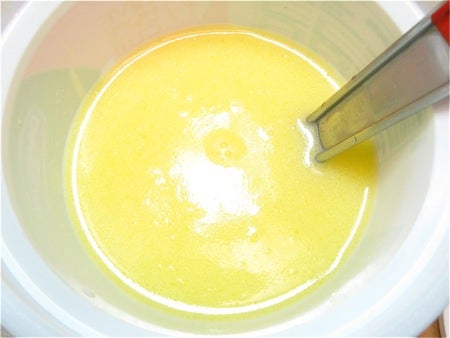 In a separate bowl, whisk together the following:
1 large egg
1 1/2 cups (340g) milk, lukewarm
5 tablespoons (71g) butter, melted or 1/3 cup (67g) vegetable oil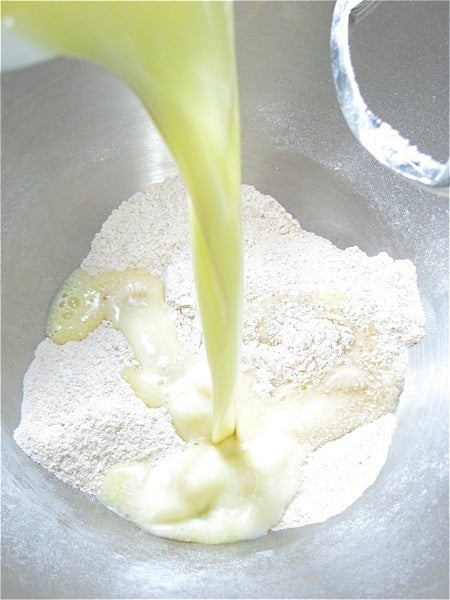 Add the wet ingredients to the dry ingredients.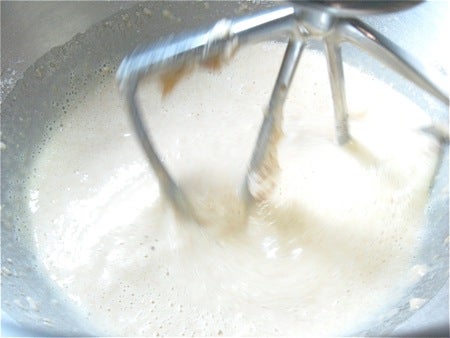 Stir until well blended.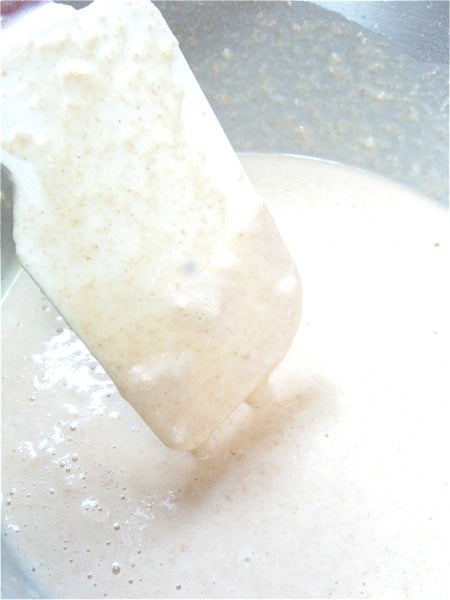 The batter will be a bit lumpy; that's OK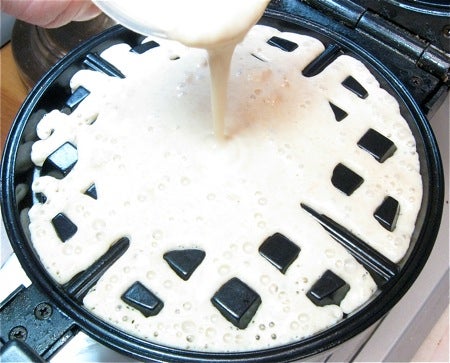 Pour batter onto your heated (and greased, if necessary) waffle iron.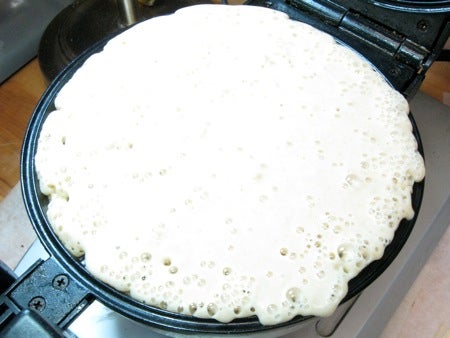 Use enough to cover the entire surface – though barely.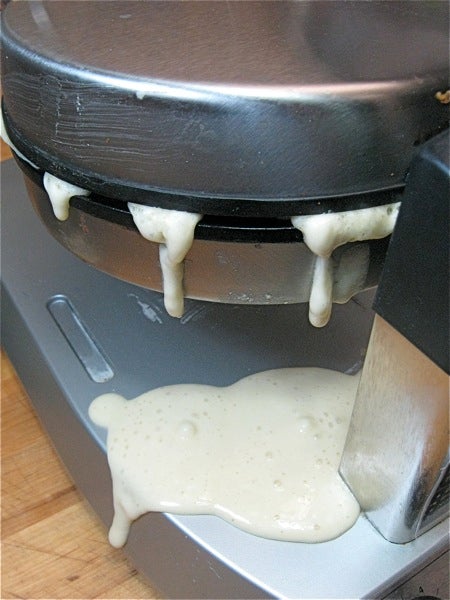 Whoops, guess I used a little too much batter for this one!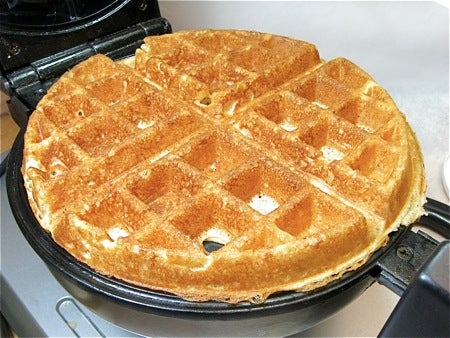 Cook the waffles for the amount of time indicated in the instructions that came with your waffle iron.
Using this iron, the waffles took about 6 minutes.
Remove golden brown waffles from the iron...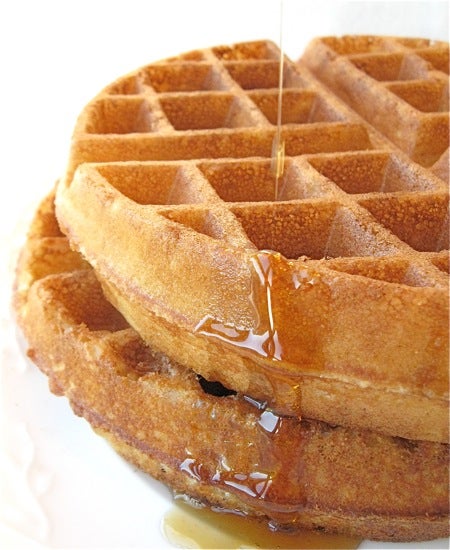 ...and you know what to do next.
I highly recommend this assertive Grade A maple syrup, which I'm using here.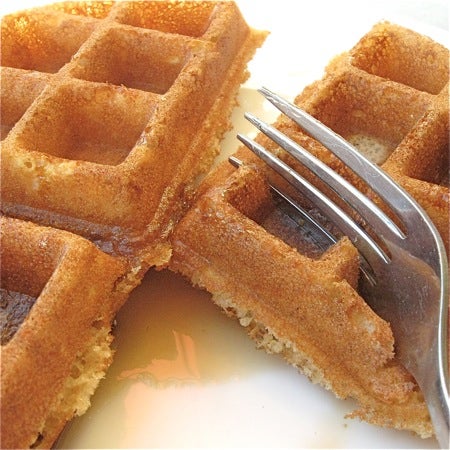 Whole wheat? You'd never know it!
Read, rate, and review (please) our recipe for Whole Wheat Waffles.
Jump to Comments