Doesn't the mere mention of Baked Alaska make you think of tuxedos, gowns, lobster, and crystal flutes of champagne?
I don't think I've ever heard a baker say "Gee, it's rainy and I'd love to whip up a warm batch of Baked Alaska" or "The cookout is this weekend, I think I'll bring Baked Alaska". It just doesn't mesh. UNTIL NOW!
True Baked Alaska is a special occasion treat, as the preparation is quite involved. You need to bake a sponge cake base and soak it with spirit-laden simple syrup. You then line a deep bowl with the cake, pack in the softened ice cream (usually two flavors), and finish with more cake. The cake is frozen for several hours, then topped with a meringue and broiled until the meringue is browned. Sometimes alcohol is poured over the whole Alaska flambé style, and lit for presentation tableside. No wonder so many people have never had this amazing dessert - it's a labor of love for sure!
My fellow KAF bakers Susan Reid and Allison Furbish published a wonderful step-by-step recipe for traditional Baked Alaska  in the Summer 2010 issue of our newsletter, The Baking Sheet. So many times we all say "great minds think alike" and it's too true in this case. Just around the same time, I had started thinking about an easy version of Baked Alaska to satisfy my craving for toasted meringue.
Enter the Baked Alaska Cookie! I knew I wanted a recipe for individual servings, more golden brown goodness per person. I knew too that a more solid base than cake was going to be needed to make the dessert portable. Brownies seemed too heavy, but sugar cookies hit just the right note. Sturdy, crunchy, and crisp would be a great counterpoint to the cold, creamy ice cream and the soft, warm meringue.
The best thing about the recipe? You can tailor it to your favorite flavors and recipes. I used our Holiday Butter Cookie recipe, and also used our Guaranteed Sugar Cookie recipe; both worked great. If you have a family favorite that makes a nice sturdy cookie, by all means, use it!
The ice cream can be homemade or store-bought depending on your tastes and timetable. I really wanted Neapolitan and Andrea delivered. You GO girl!
It's important to make the meringue fresh the day you serve the Baked Alaska Cookies, but meringue is so quick and easy it won't break the bank or your schedule.
So keep the ball gown in the closet, throw on your jammies and let's make Baked Alaska Cookies.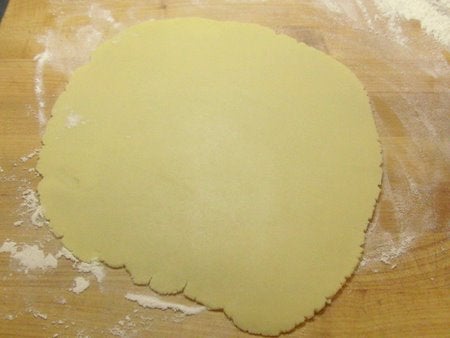 Roll your chosen cookie dough out to between 1/4" and 3/8". Too thin and your cookie will shatter when served, rather than breaking crisply.
Cookie size is up to you, depending on how many guests you need to serve. I found this 3" round cutter to be perfect for making a dozen individual Alaskas.
Remember to plan out the best way to arrange your shapes for a minimum of scraps. Chilling the scraps before re-rolling also lessens the chance of a tough cookie on the second round.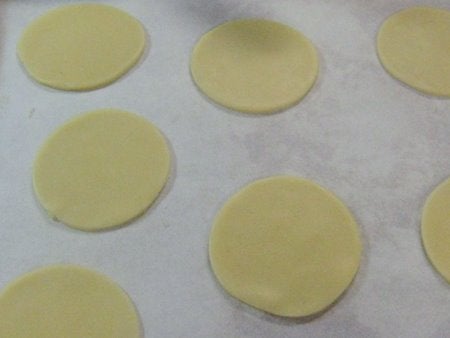 Leaving plenty of space between cookies ensures even air flow and even browning.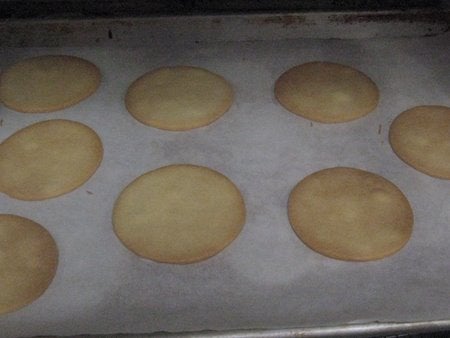 Bake the cookies until they just begin to brown around the edges. Again, overbaked cookies will tend to shatter instead of breaking nicely under the fork when served.
Don't worry about a few bubbles; those will be covered with ice cream and meringue. I can't wait!
While the cookies cool, let's prepare the ice cream filling.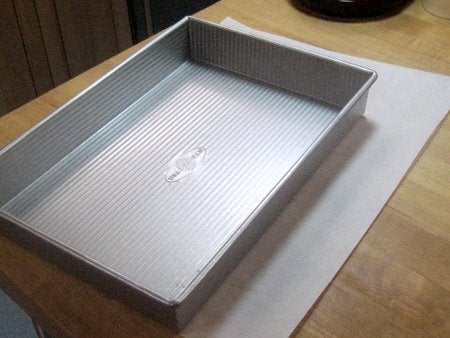 You'll need a parchment-lined sheet or pan to put the ice cream scoops on in the freezer. Our freezer here is quite full at the moment, so I opted for a 9" x 13" pan. Set it on the parchment and trace with a pencil to get the correct size to line the bottom of the pan. Cut with your trusty safety scissors.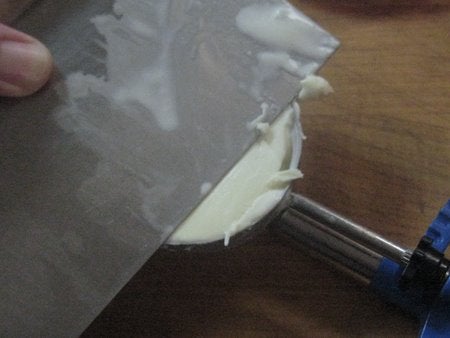 Using your flavor of choice, scoop the ice cream while it is slightly soft, about 10 minutes at room temperature. Use a straight firm tool, like a bench knife to level the bottom of the scoop. This will ensure that the scoop sits fairly evenly on the cookie.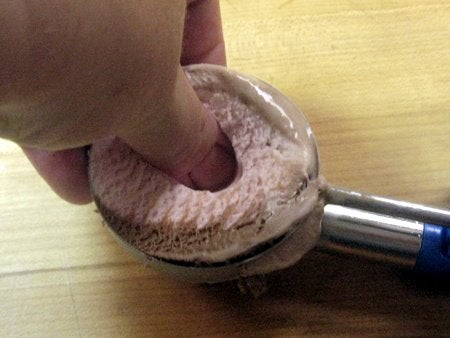 You can leave the scoops plain or for an extra special treat, you can fill them with another ice cream flavor or in this case, fresh plump cherries (pitted, please).
Hollow out a depression in the scoop with a spoon or your thumb. No licking, please!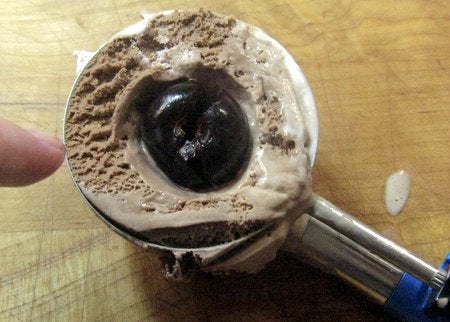 Add the cherry or other center, pressing down into the ice cream.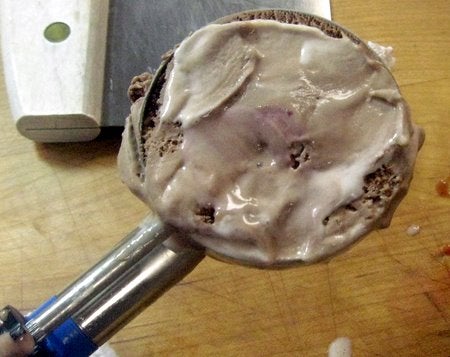 Spread a bit of extra ice cream over the filling, and smooth the bottom out again.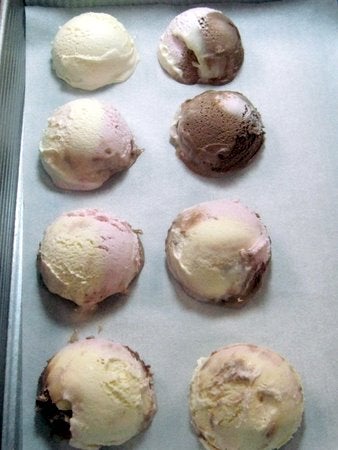 Place the scoops on your parchment-lined sheet and put in the fridge for at least 30 minutes to freeze solid.
I really love how the Neapolitan (or VanChocStraw if you're Susan Reid's brothers)  ice cream gives you so many different choices in one container. What a great surprise it will be for each person to see their own personal mix inside their dessert.
Baked Alaska just wouldn't be Baked Alaska without the toasted meringue. Let's get whippin'!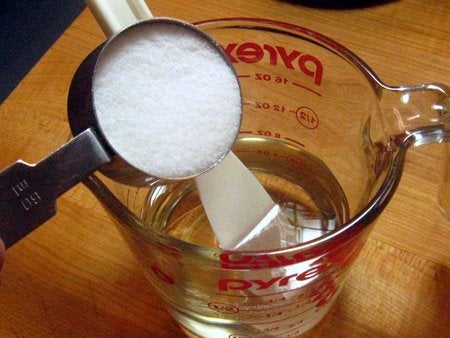 Our meringue powder makes the easiest, tastiest meringue* I've ever had. Even my husband David, who doesn't like meringue, likes this.
To start, dissolve 3/4 cup sugar in 1/2 cup boiling water. Stir until dissolved.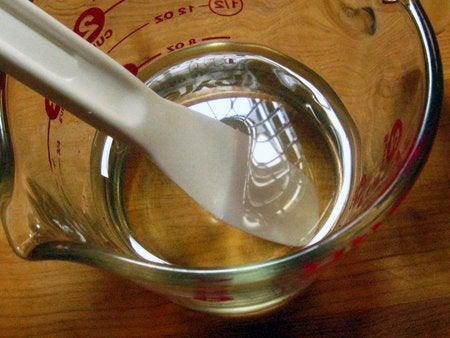 The sugar water will be clear, but have a slight golden tinge to it.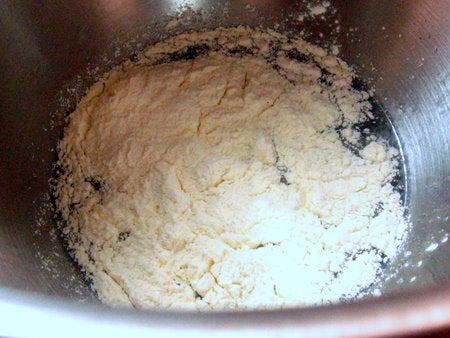 Pour the sugar water into the bowl of your stand mixer and add 1/4 cup of meringue powder. Stir to moisten and dissolve the powder, then gradually increase the speed and whip the mixture for 3 to 5 minutes, until peaks form.
*This handy meringue recipe is printed right on the package of powder, so you'll never lose it!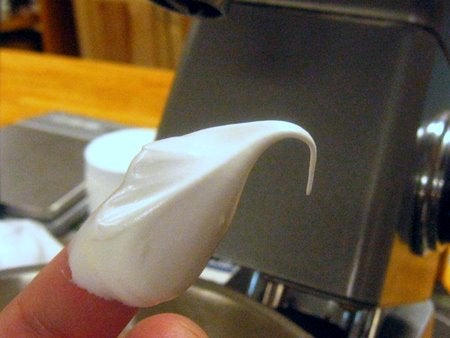 I like these medium-stiff peaks best. You get the nicely formed peaks, but also a bit of softness at the points that will toast up beautifully.
At this point, you can cover the meringue bowl with a damp cloth for up to an hour. Re-whip for 20-30 seconds or so to fluff up before using.
Cookies? Check. Ice cream? Check. Meringue? Check. Let's assemble!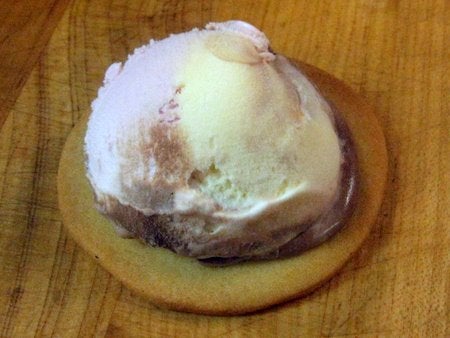 Top each cookie with a frozen ice cream scoop.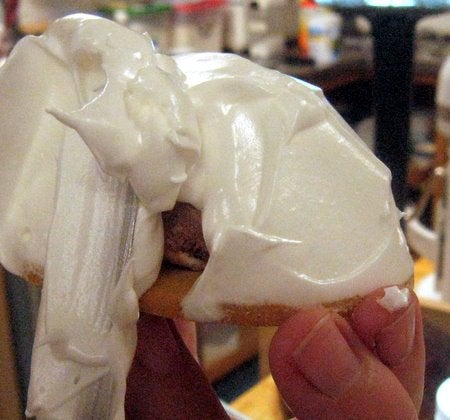 Holding the cookie, apply a generous amount of meringue and spread to cover the ice cream. Did I mention this time how much I use my nylon spreaders? They're perfect for spreading anything.
Be sure that the meringue completely covers the ice cream and seals down to the edge of the cookie.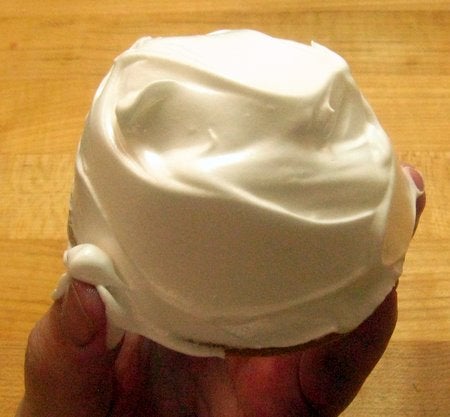 A creamy dreamy dome of goodness!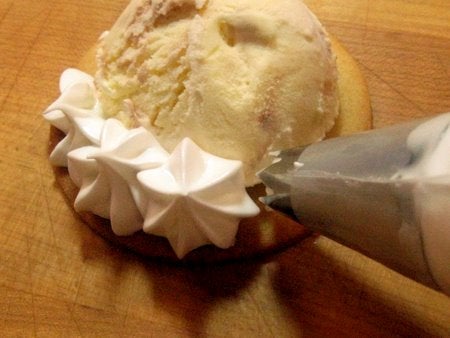 If you want to really be fancy-pants, you can pipe your meringue with a star tip or other design. Again be sure to pipe all the way down to the cookie and cover all of the ice cream.
So try stars...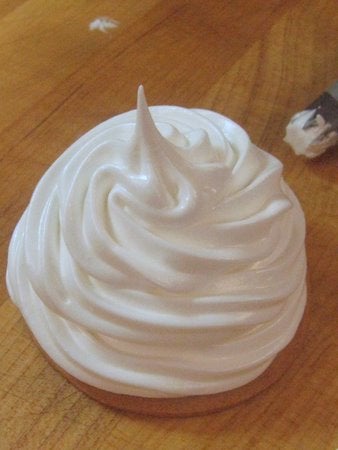 ...or swirls. This reminded me of vanilla soft serve, but will soon be much toastier.
Freeze the meringued Alaskas for 20 to 30 minutes to firm up the ice cream before you break out the fire.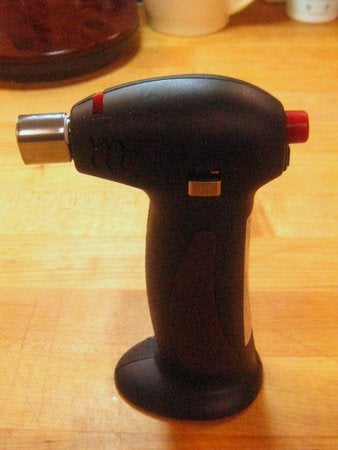 I think a cook's torch is one of those kitchen tools that definitely cross the line into kitchen toys.  Not toys you'd share with the little ones, but toys that bring a smile to your face when you know you get to use them in the kitchen. Come on now, who doesn't like to play with a little bit of fire?
So, how do you use this bad boy?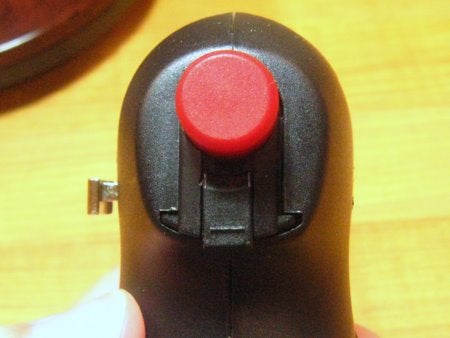 On the back face, you'll pull down the black switch under the red button with your thumb, locking it into place.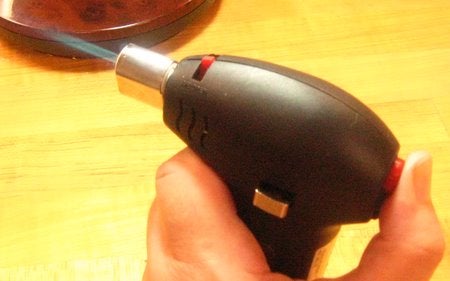 Push the red button with your thumb and poof, "Flame on!"
The nice safety features of the torch are that if you remove your thumb, it will instantly go out, and lock. You'll need to repeat the whole process to get a flame again.
You can use the silver button on the side to get a continuous flame if needed, too.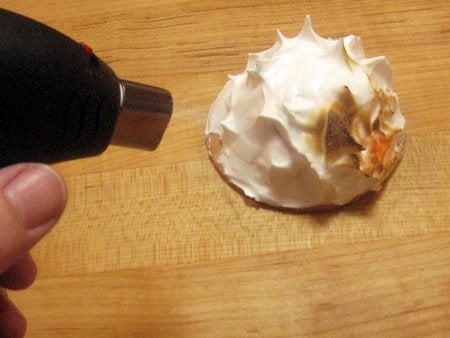 To practice your toasting technique, chose one Alaska to sacrifice. Andrea and I decided this um, unattractive one would forfeit its snowy exterior to our mad toasting skills.
You'll soon be able to gauge how close or far you need to be, and how fast or slow you need to move the flame to get the perfect golden brown color.
If you don't have a cook's torch you can borrow your spouse's blowtorch from the basement (that's actually what they use in most restaurants) or you can place a tray of Baked Alaskas under the broiler for about 3 minutes or until golden browned.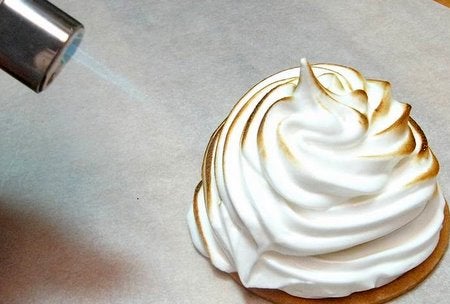 PJ's photography is killer and she captured the blue flame perfectly as it toasted this swirly beauty.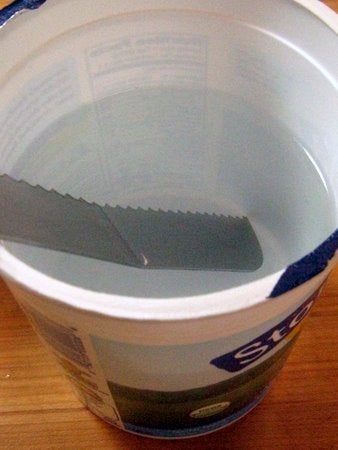 To serve, you can simply give each guest their personal Baked Alaska on a plate, or you can cut a small section out first for an ohhh and ahhh factor. Using a sharp serrated knife dipped in hot water and wiped clean really helps. Thanks, Sue Gray, for the tip.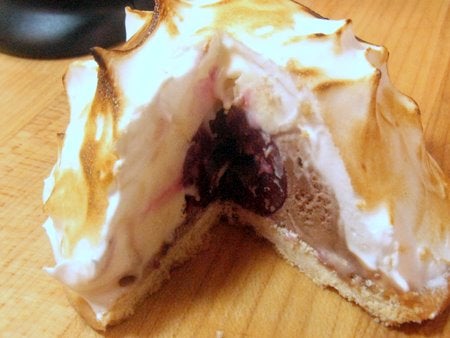 A thing of beauty is a joy forever. Toasted meringue, warm on the outside and creamy on the inside covering cold, delicious ice cream; and finally the crisp snap of the cookie to melt in your mouth. A treasure of a cherry in the center and it's truly a treat of Alaskan-sized flavor in a Vermont-sized package.
Just a gentle reminder, there's no printable version for this technique. Use your favorite cookie, favorite ice cream, and meringue – then enjoy! And let us know how it goes in the comments, below. 
Jump to Comments