Did you ever notice that there are some things you can serve to your family that just send a regular weeknight dinner over the top into the realm of "Is it Sunday already?"
Like when we serve homemade chicken noodle soup, another of my husband's fantastic recipes, everyone settles back and sighs as the weekday woes melt away. If I get to bake that night...
I serve hot Bakewell Cream biscuits at the same time, and even Mr. Beasley's math homework loses its power to paralyze your brain and all is well.
When we serve fresh white dinner rolls with pot roast and gravy it's enough to help me forget the dent my 15-year-old put in my new car. My BRAND NEW CAR! Ahem, pass the dinner rolls again, I'll be fine.
Serving these Cheese & Onion Swirl Buns with our favorite pasta dishes, there isn't much that can dent their cheesy, onion-y armor around my spirit. The scent and taste of warm baked goods has a calming effect that can't be beat and if you could bottle it, I'm betting love and peace wouldn't be far behind.
As I start to get mushy with thoughts of love and peace, I'm reminded that April was National Poetry month and I'm going to take the opportunity to be inspired by Elizabeth Barrett Browning's famous poem as I tell you more about these Cheese & Onion Swirl Buns.
How do I love thee, Cheese & Onion Swirl Buns?
How do I love thee, let me count the ways.
I love thee as thy onions perfume
my kitchen in the sunlight.
I love thee for thy dough,
rich with butter and egg as it rises.
I love thee for thy Pizza Seasoning
invoking the pizza parlor with thy scent.
I love thy Vermont Cheddar cheesiness purely,
and with a cheesy passion and a cheesy poem.
I love to unroll thee and pull thee through the sauce
of my plate of pasta, smiles and dribbles.
And if the world pleases, I'll love thee more
when thou art gone and then shall make thee again. And again.
Yes, gentle reader, I do believe I've finally gone around the bend. Then again, if these rolls are so good they make a regular gal like me burst into poetry, that tells you just how delicious they really are!
Let's get going on these poetically good Cheese & Onion Swirl Buns.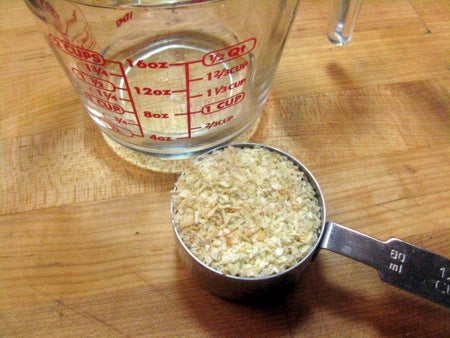 Working with the dried onion is very convenient. It's light, easy to find, totally portable for camping or hiking and it's real onion, minus the tears.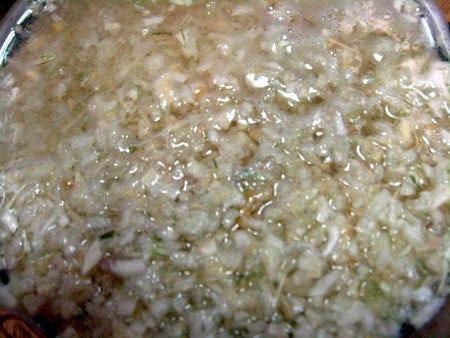 Add the onion to the water. At first it won't do much, it may look a bit like Lipton Dip at this point, but give it a few minutes and...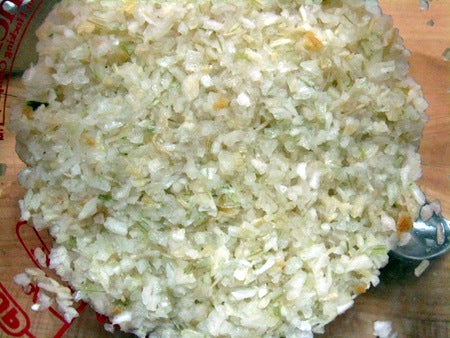 Ta-da! The onion hydrates and begins to look moist and fresh, and smells heavenly. Leave it on the counter to finish doing its thing while we head off to make the dough.
Want to make these buns with fresh onion instead of dried? Combine 1 tablespoon butter with 3/4 cup (111g) finely diced onions in a pan and cook for 10 to 15 minutes over medium heat, stirring occasionally, until golden brown. Transfer the onions to a bowl and cool completely, while you make the dough.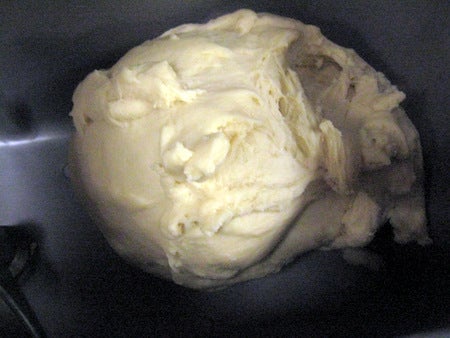 I chose to go the bread machine route on this dough. Just add the ingredients to the machine, set for the dough cycle and let 'er rip. Well, maybe not rip so much as chug away.
One piece of advice that we give out on a daily basis from our Baker's Hotline is to check your dough as you're working with it. Even if you're using a bread machine it's a good idea to lift the lid and check the consistency during the kneading process. This dough is looking just a tad dry to me so I added 1 tablespoon of water.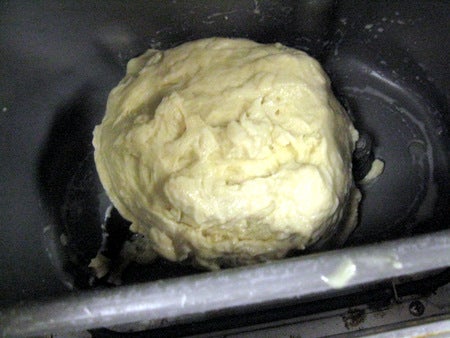 That's better. It's better to err on the side of a slightly wetter dough than a slightly drier dough. This is looking good now, so let the dough cycle complete (or the first rise if you're doing the dough by hand.)
While we wait, let me show you my new toy. I mean, my serious kitchen tool.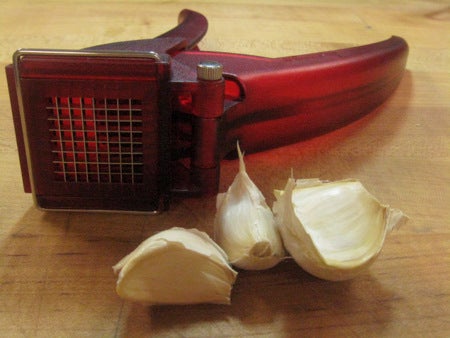 This garlic cutter has everything that I love in a kitchen tool. It's well designed, sharp, compact, easy to use, and easy to clean. It cuts very even, tiny little 2mm cubes with just one swoop. And bonus – it's red!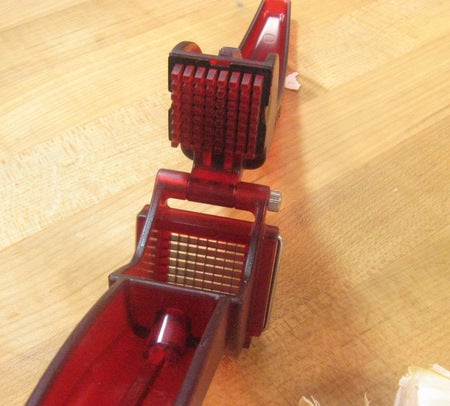 Check out the plunger. It has individual little fingers to push into each individual hole. No mushing the garlic up against a plate with just a few holes, this presses every bit of garlic through usable space.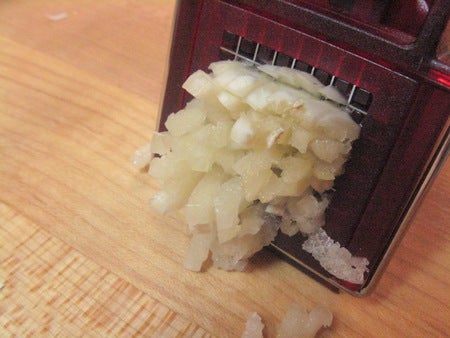 Whaaaa hooo! Look at that!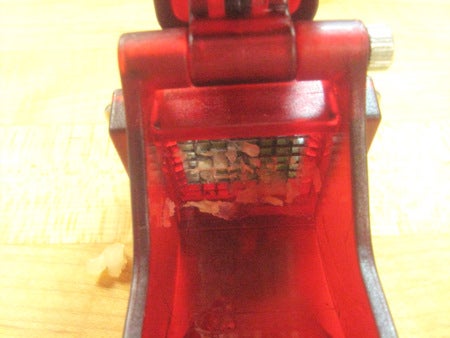 And no mushy mess to re-press or try to dig out. All garlic, all the time.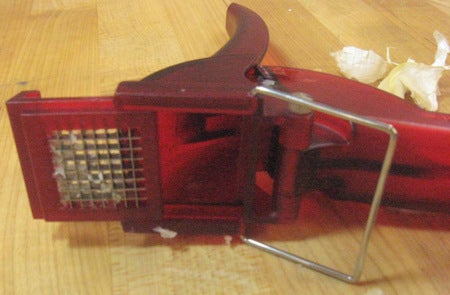 Did I mention it's dishwasher safe and comes apart easily for cleaning? Just pop the silver bail like a mason jar, and the grid slides right out.  How cool is that?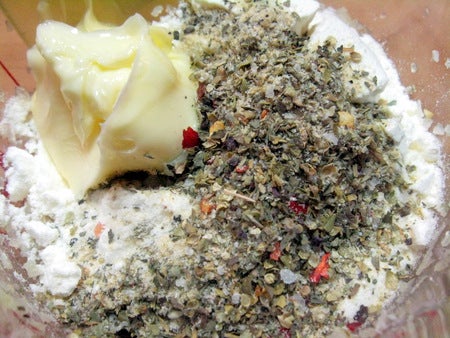 Now that our dough is ready and I've minced up some garlic (I know, the recipe doesn't call for garlic, but I'm sneaking 2 minced cloves in. Mmmm, garlic)...
...add the Pizza Seasoning, Vermont cheddar cheese powder, and the butter to the hydrated onions. Sneak in your garlic here, if you're using it.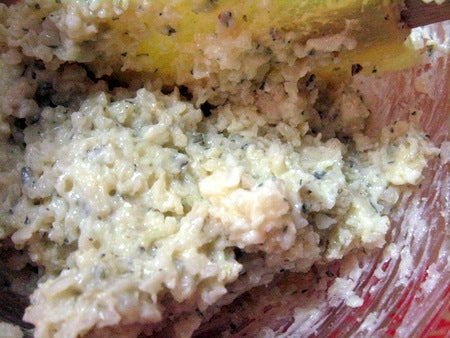 Mix to a spreadable consistency. I can't say smooth, this baby will never be smooth with all those lovely pieces of onion.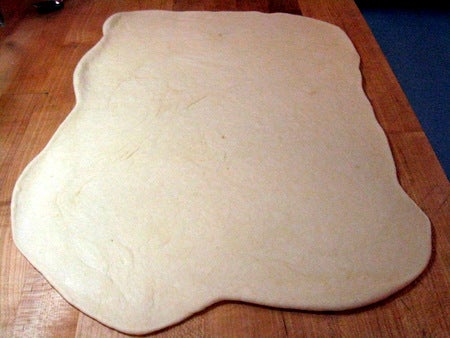 Roll out the dough to a 10" x 18" rectangle. Don't worry about super-even edges, you're going to be rolling it all up soon.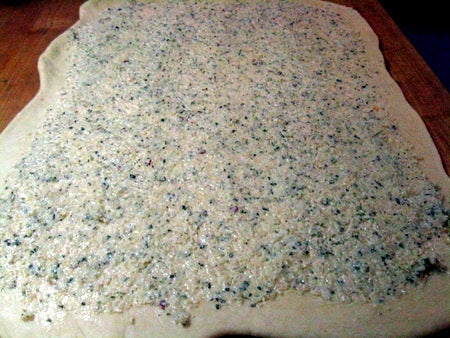 Spread the filling evenly over the dough, leaving a small border on all edges and a 1" border on the far long side.
Beginning with the long 18" side nearest you, roll the dough up jelly roll style. Pinch the dough sealed along the long seam.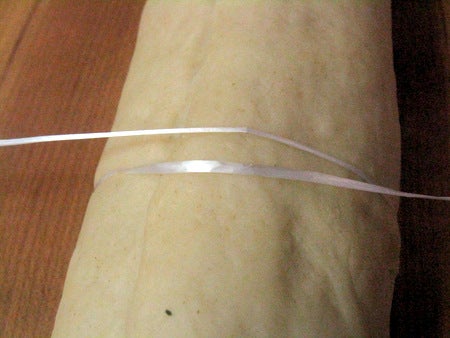 My favorite method for slicing through logs of dough is good ol' dental floss. I've heard quilting thread works just as well too, but I had floss here today.
To cut with the floss just pass it under the log, like a very skinny sling. Cross the ends over each other like you were tying your shoes, but don't go through. Continue to pull criss-crossed as the floss slices down through the log. Very neat cutting that doesn't result in squashed buns.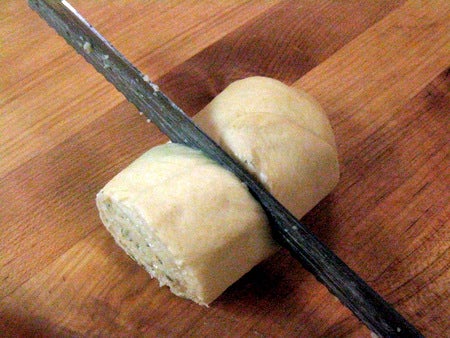 If you do go the knife route for slicing, use a sharp, serrated knife. Pull the knife towards you only, don't saw through the log. Don't use much downward pressure either, let the knife do the work.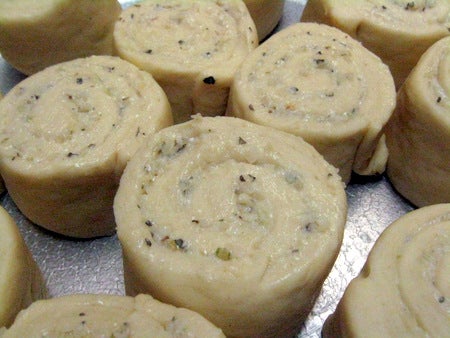 There, neat and tidy buns. Place on a greased baking sheet and let rise for about 1 hour, or until puffy. Bake at 350°F for 22 to 26 minutes. You can also bake in a 10" round pan. The buns should be barely touching before rising.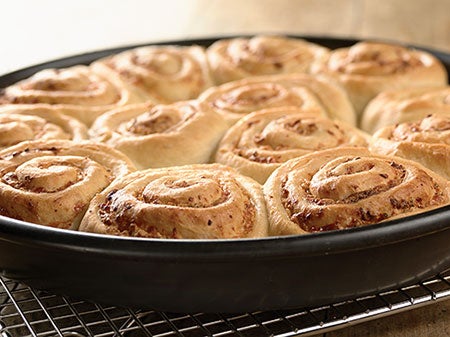 These were delicious with pasta and marinara for dinner, and would be delightful with pork. I'm thinking of splitting any leftovers and buttering them, then grilling for a snack. What do you think?
Please bake, rate and review our recipe for Cheese & Onion Swirls.
Jump to Comments