Go here...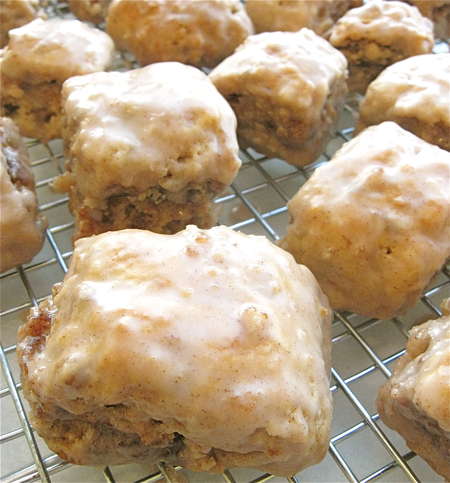 ...or here...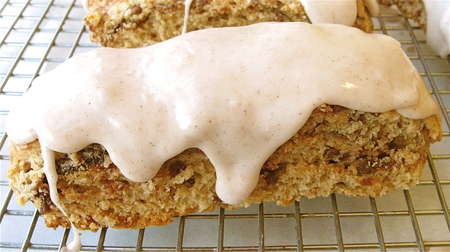 ...or here.
All with one ridiculously tasty, cinnamon-stuffed (in more ways than one), iced or glazed (or not) tender-and-oh-so-tasty scone recipe.
There are people in the world who don't like cinnamon. I'm not one of them. Cinnamon has perfumed my life since the days when Mom used to pop open (literally) a can of Pillsbury cinnamon buns on Sunday morning, and lay them on a cookie sheet ready to go into the oven when we came home from church.
I'd hang around the kitchen so I could nab the icing can once Mom was done frosting the hot buns. Ah, pure sugar - a 9-year-old's bliss.
Later, Pepperidge Farm cinnamon-swirl bread captured my heart. (Did it have a streusel topping back in the day, or am I dreaming?) Toasted and spread with peanut butter, it was the perfect addition to my morning bowl of – you guessed it – apple-cinnamon instant oatmeal.
Snickerdoodles. Pie crust dough dusted with cinnamon-sugar and baked. Cinnamon toast. Cinnamon doughnuts. Apple-cinnamon anything.
In fact, cinnamon anything.
Are you still with me? If so, then you're a fellow cinnamon-lover. And speaking of lovers – did you know cinnamon is an aphrodisiac? Supposedly, scientific studies show that American men find the scent of cinnamon in baked goods quite definitely... uh, "alluring."
My Cin?
And on THAT note – let's bake!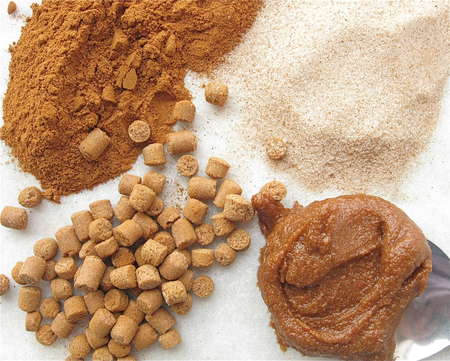 If you love cinnamon like I love cinnamon, this array of ingredients will resonate with you. Let's go clockwise, from upper left:
•Vietnamese cinnamon. Because of its higher oil content, Vietnamese cinnamon disperses more fully throughout your baked treats, giving them cinnamon-through-and-through flavor. The flavor of this cassia cinnamon just pops, too – it's considered by chefs in the know to be the world's finest cinnamon.
•Cinnamon-Sugar Plus. Our blend of superfine sugar and Vietnamese cinnamon. Intensely flavorful, and absolutely non-gritty, due to the fine grind of the sugar. Make your morning cinnamon toast with this sometime; you'll never go back.
•Baker's Cinnamon Filling. Here's what "Joni from St. Louis" says in our product reviews:
"Wow – did cinnamon schmear scones last night and then used the glaze from the mini-chocolate chip scone recipe... My, oh my, the cinnamon filling is absolutely the best WHENEVER you want that 'can't beat it' cinnamon taste! Yummy, yummy, YUMMY!!! Like others mentioned, I wouldn't be without this stuff in my cupboard!"
It's a dry powder; to make the best cinnamon filling ever, just add water.
•Cinnamon Flav-R-Bites. I know, odd name, and they look like cat food. But for strong, true cinnamon flavor in chip form, these are the BEST. Warning: unless they'll be used in a wet batter (e.g., cake or muffin), you really should soak them in milk or water before using. But the flavor is lovely, and quite intense.
And now, without further ado – Triple Cinnamon Scones.
Combine 1 cup cinnamon Flav-R-Bites with 3/4 cup half & half or evaporated milk in a small bowl. Let the mixture rest for about 20 minutes; it softens the cinnamon Bites nicely.
Can you substitute cinnamon chips for cinnamon Flav-R-Bites? Sure; the chips won't be as cinnamon-y. They also won't need to be pre-soaked as we're doing here with the Bites.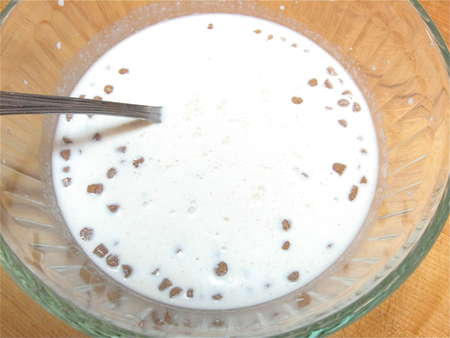 While the milk mixture is resting, get started putting together the rest of the ingredients.
In a large mixing bowl, whisk together the following:
2 3/4 cups King Arthur Unbleached All-Purpose Flour
1/3 cup sugar
1 tablespoon baking powder
3/4 teaspoon salt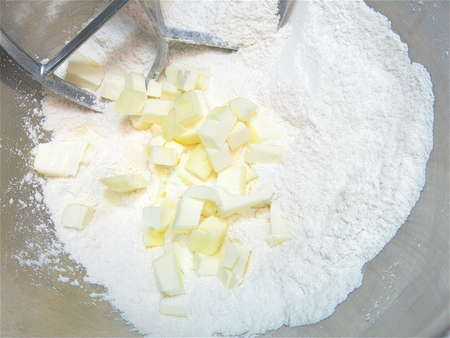 Add 1/2 cup cold butter, cut into pats.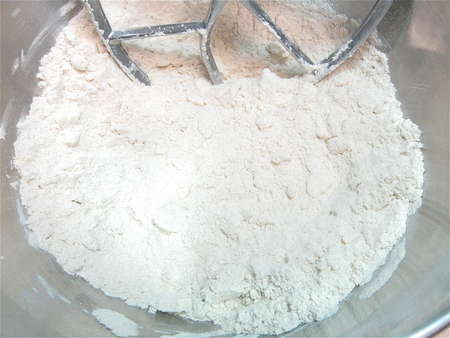 Work in the butter just until the mixture is unevenly crumbly; it's OK for some larger chunks to remain unincorporated.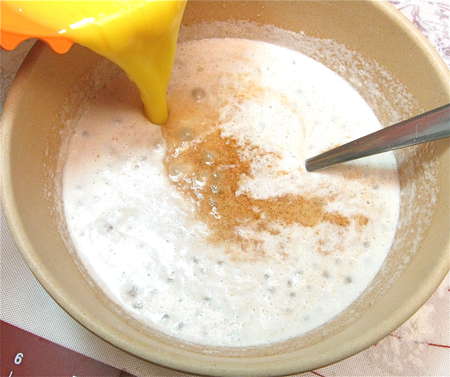 Add 2 large eggs, lightly beaten, and 1 teaspoon vanilla extract to the cinnamon-milk mixture.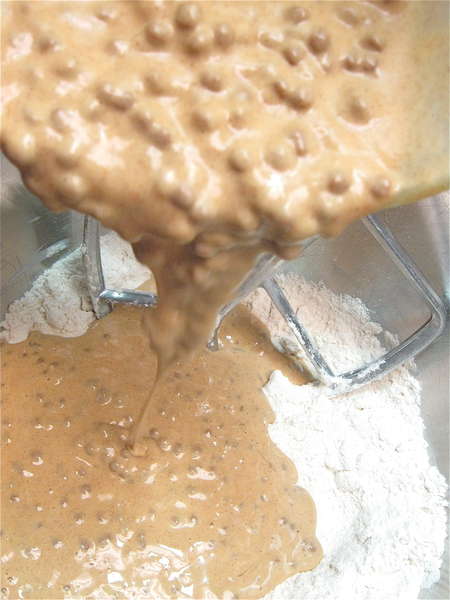 Add the milk mixture to the dry ingredients.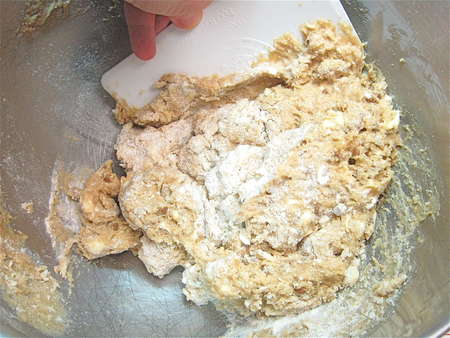 Stir until all is moistened and holds together. See the flour? This hasn't been stirred enough.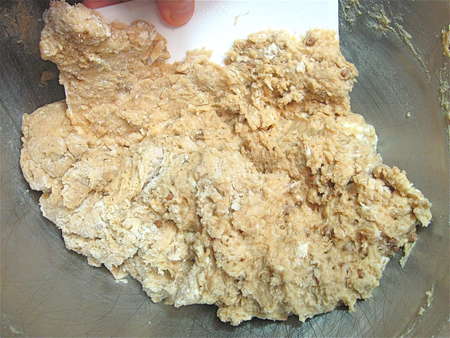 Grab your bowl scraper and work the dough to incorporate all the flour.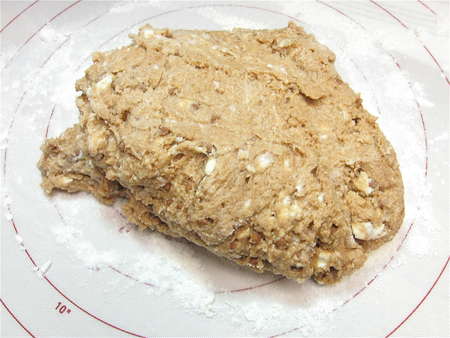 Scrape the dough onto a well-floured work surface. Our silicone rolling mat works well here.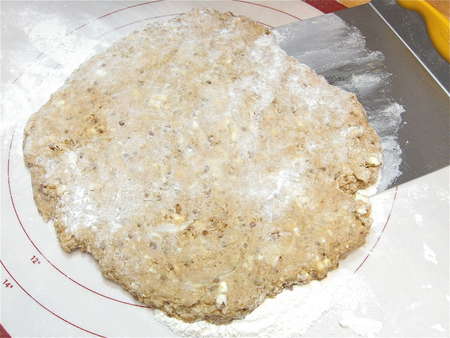 Pat/roll it into a rough 9" square, a scant 3/4" thick.
Make sure the surface underneath the dough is very well floured. If necessary, use a giant spatula (or the biggest spatula you have) to lift the square, and sprinkle more flour underneath.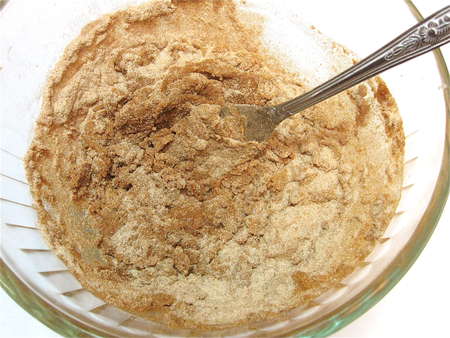 Next, make cinnamon filling. We'll be marbling and swirling this filling within the scones.
Mix 3/4 cup Baker's Cinnamon Filling with 3 tablespoons water.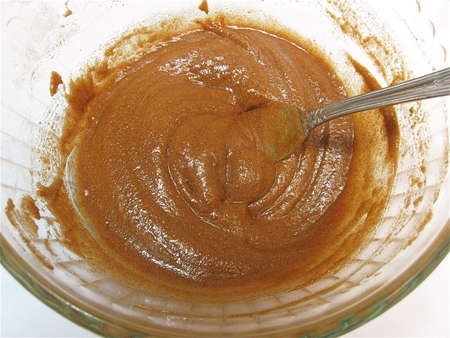 Stir till smooth.
Spread evenly atop the scone dough.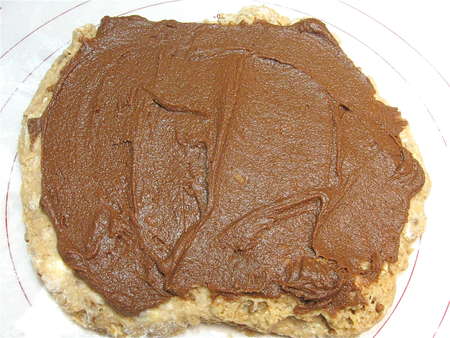 Go most of the way to the edges.
Don't have Baker's Cinnamon Filling, you say? More's the pity – the stuff is AWESOME.
You won't get the same thick, rich, gooey result, but sprinkle liberally with cinnamon-sugar if you don't have the filling.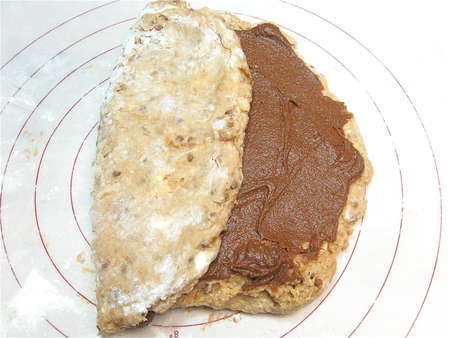 Fold one edge into the center and over the filling, as though you were folding a letter.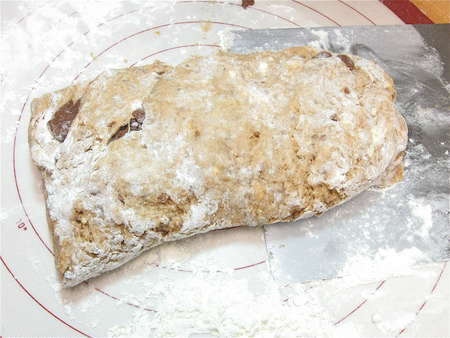 Fold the remaining edge over the center to complete the three-fold. You'll now have a rectangle that's stretched to about 4" x 12".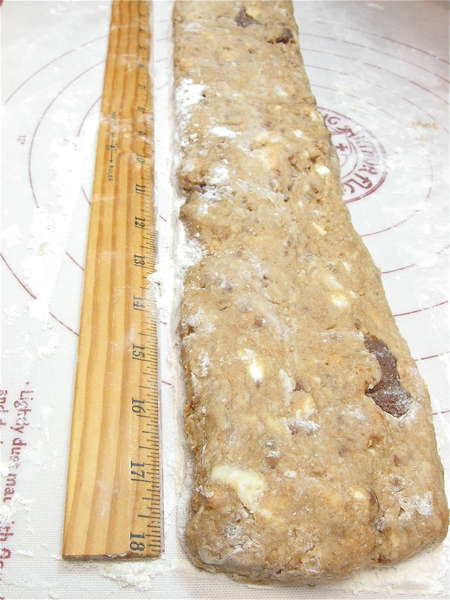 Gently pat/roll it to lengthen it into a 3" x 18" rectangle.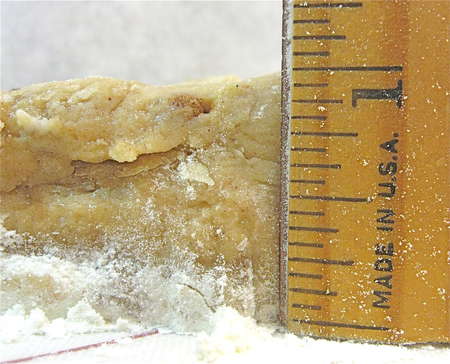 It'll be between 3/4" and 1" thick.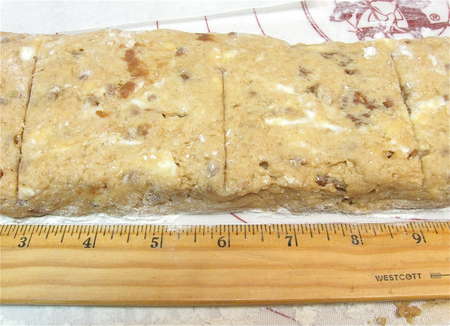 Cut the rectangle into six 3" squares. For most accurate cutting, measure the dough and score it first.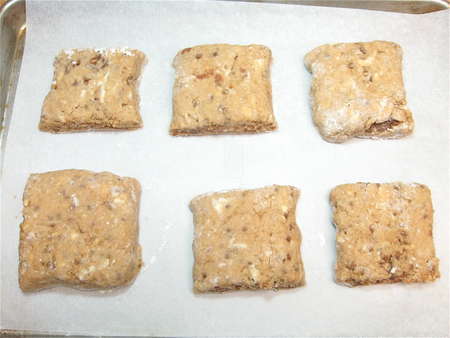 Transfer the squares to a lightly greased (or parchment-lined) baking sheet.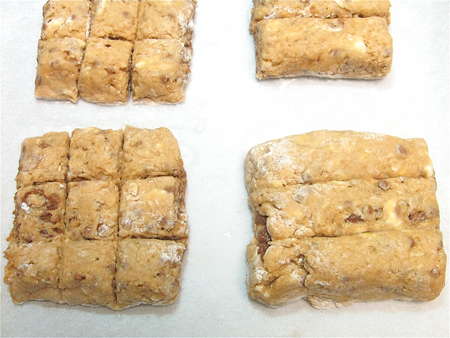 Now you have a choice. You can make scone strips, or tiny squares. Cut each 3" square into three 1" x 3" rectangles, for a total of 18 scone strips. Gently separate the strips, leaving about 1/2" between them. Or cut each 3" square into nine 1" squares, to make 54 bite-sized mini scones.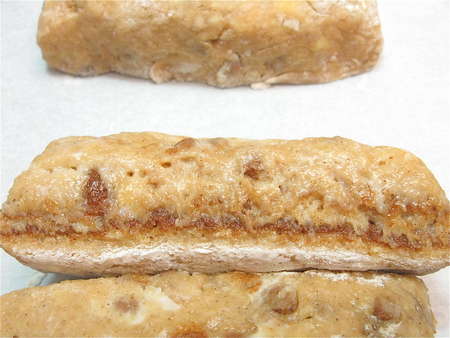 Here's a cut strip, showing its center. MMMMMM.... look at that cinnamon filling!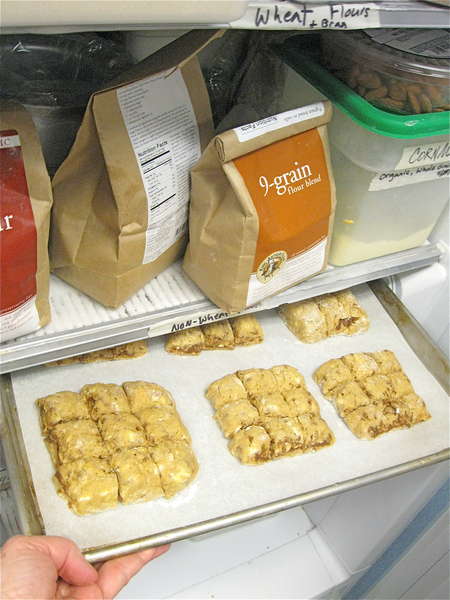 For best texture and highest rise, place the pan of scones in the freezer for 30 minutes, uncovered.
While the scones are chilling, preheat the oven to 425°F.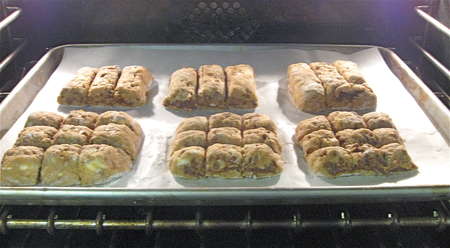 Put the chilled scones in the oven, and bake them for 16 to 20 minutes, till they're puffed and golden brown.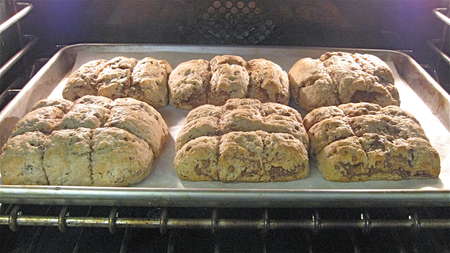 Nice oven spring, eh?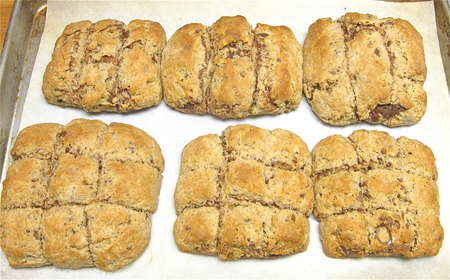 Remove them from the oven...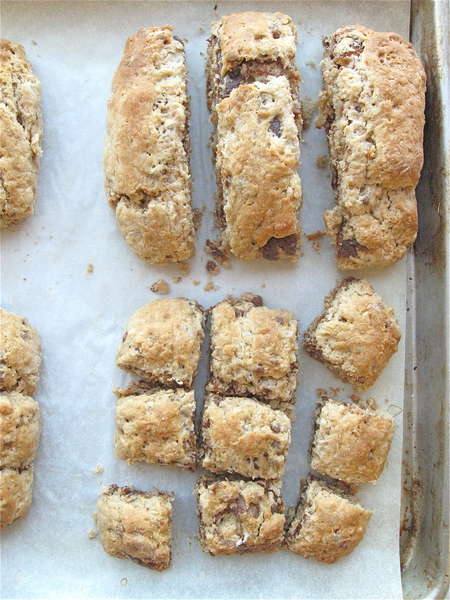 ...and gently separate.
Baking the scones this way, rather than individually, keeps them nice and moist.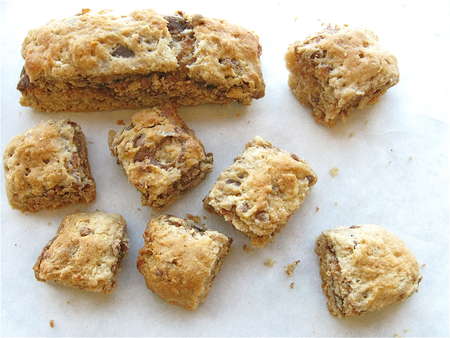 OK, now what?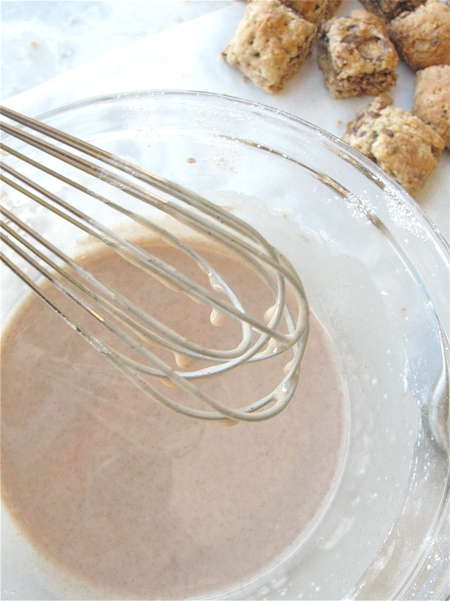 More cinnamon!
Stir together the following glaze ingredients. If the sugar seems particularly lumpy, sift it first, for an extra-smooth glaze.
3 1/2 cups confectioners' sugar
1 teaspoon ground cinnamon
7 tablespoons water
You'll have a very thin glaze, not an icing.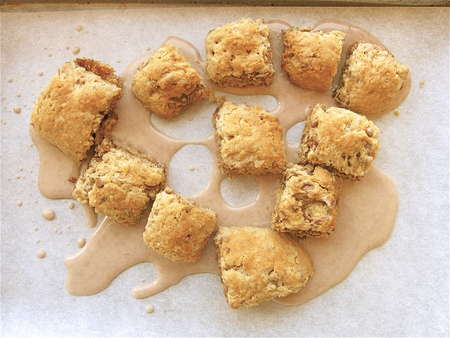 Now you're going to coat each scone with glaze. You can dip each one individually, which is quite time-consuming. Or line a baking sheet (with sides) with parchment, and pour about half the glaze atop the parchment. Set the scones atop the glaze, swirling them around a bit to coat their bottoms.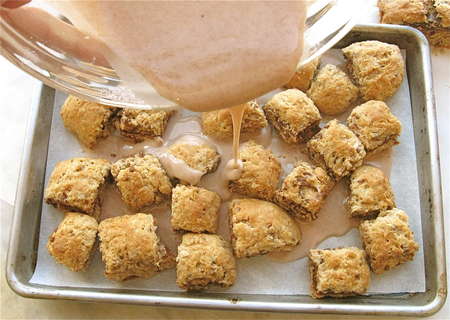 Then drizzle the remaining glaze over the top.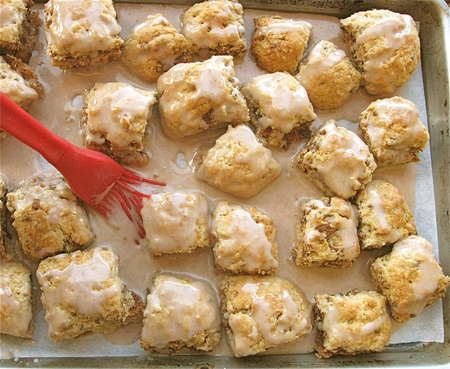 Use a pastry brush to brush the glaze over each scone, to coat it entirely.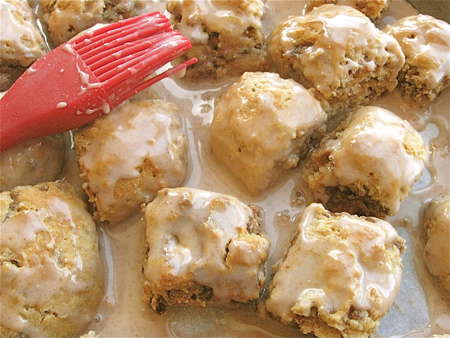 The glaze is very thin, so this is easily done.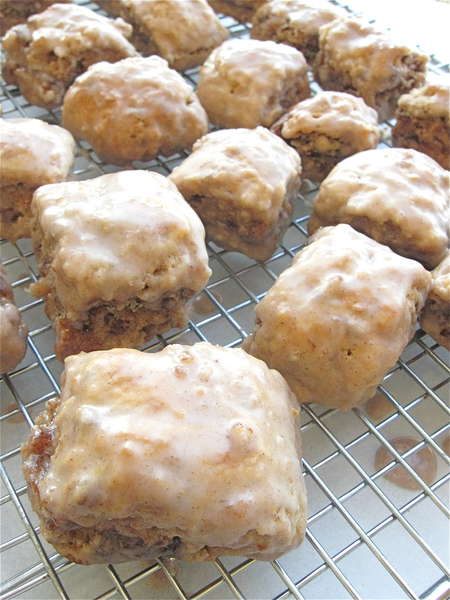 Transfer the scones to a rack set over parchment, to catch any drips. As you pick each scone up, run its sides over the glaze in the bottom of the pan, both to use up some of the extra glaze, and to make sure all sides are coated. Allow the glaze to set before serving the scones.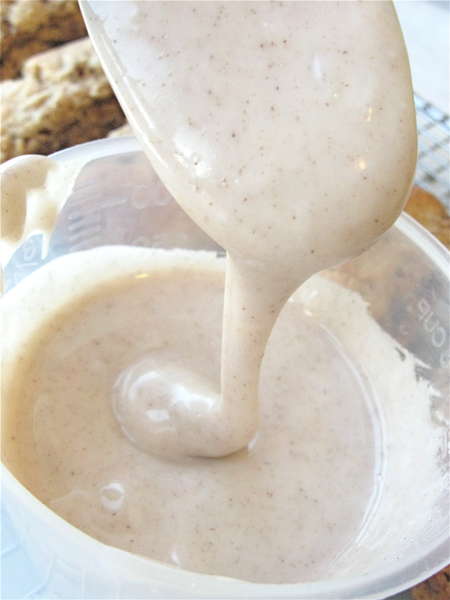 You can also choose to make a thick cinnamon icing. Mix together 3 cups confectioners' sugar, 1/2 teaspoon ground cinnamon, and 3 to 4 tablespoons milk.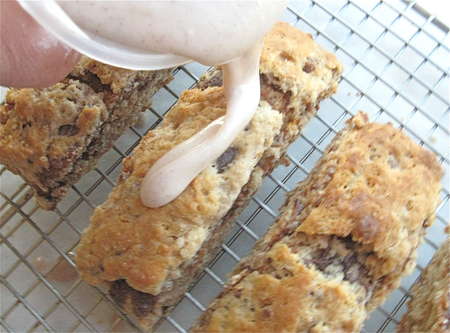 Spread/drizzle over the scones.
Why do these put me in mind of some kind of Hostess snack cake?
Must be the shape of the cake, or the "drape" of the icing.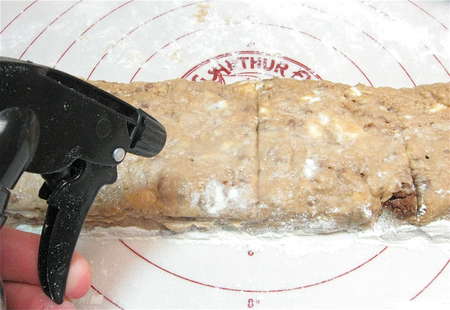 OK, all you purists out there. "Never mind all the fancy schmancy stuff, just show me how to make my normal triangular scones."
Fine. Be like that.
Go back – WAY back – to that 18" x 3" rectangle you made from the dough. Score the dough into six 3" squares, but don't cut it yet.
Spray with water...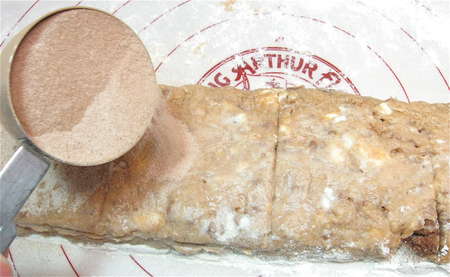 ...and sprinkle heavily with cinnamon-sugar.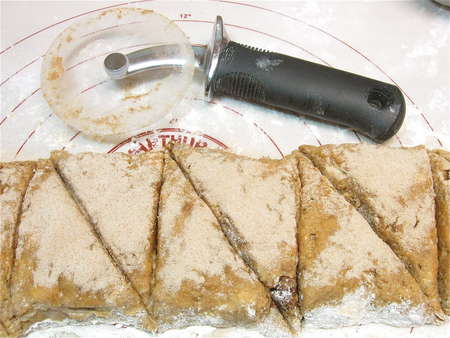 For large scones, cut each square in half diagonally to make a triangle; you'll have 12 scones.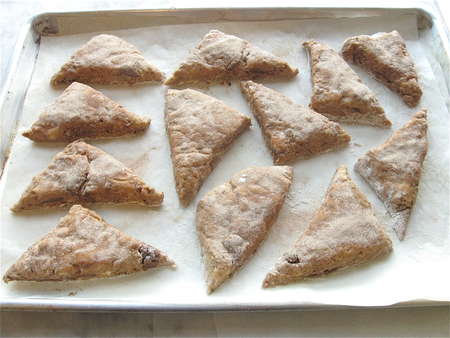 Place them on a parchment-lined or lightly greased baking sheet. Gently separate the scones (if you like scones with crunchy edges), leaving about 1" between them.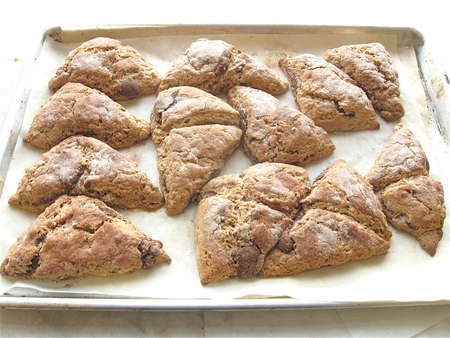 Chill and bake as directed for the smaller scones, increasing the baking time to about 20 minutes – or till the scones are golden brown.
For medium scones, cut each square in half diagonally again, making four triangular scones from each square. For soft scones, separate the scones just enough to break contact between them.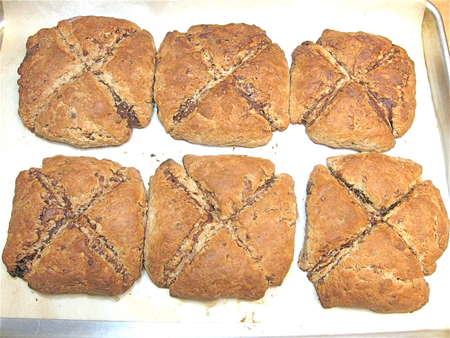 Chill and bake as directed.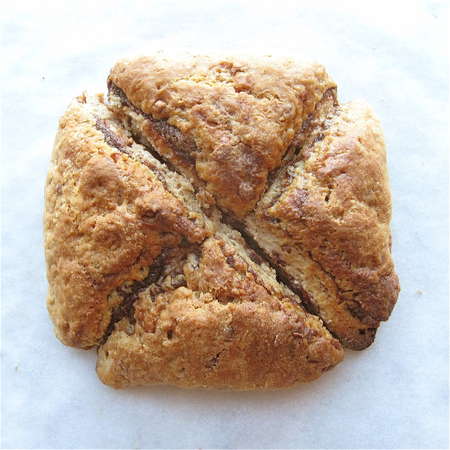 While still warm...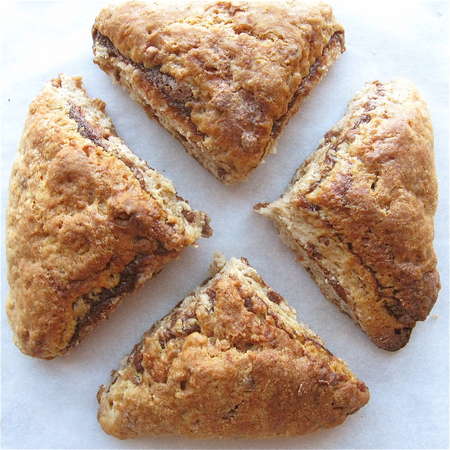 ...pull apart to create four perfect, moist scones.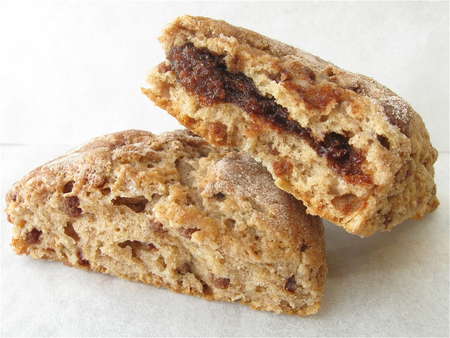 Love that filling!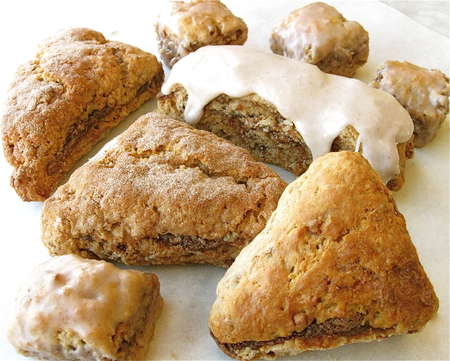 Scones on parade! This recipe is nothing if not versatile. You can make 12, 18, 24, or 54 scones, depending on the occasion and the crowd. And you can  ice' em, glaze 'em, sprinkle with cinnamon-sugar, or just leave 'em plain on top – ALL good.
Read, rate, and review (please) our recipe for Triple Cinnamon Scones.