Ah, Easter! Another holiday, another occasion to make pizzelle.
I didn't grow up Italian; I never heard of, saw, or tasted a pizzelle till after I'd married my Italian husband, and began visiting Boston's North End – close by the Haymarket, where Rick's family sold vegetables from their farm.
Since we lived in Maine, the trip to the North End was pretty much confined to holidays: Thanksgiving, Christmas, and Easter. We'd make the rounds, from the meat market, with its hanging skinned rabbits; to the bread bakery, where we'd pick up light-as-air loaves showered with sesame seeds; to Trio's, where you could get every kind of fresh pasta imaginable.
A tiny underground bakery, Galleria Umberto, offered a few desultory loaves and rolls, but mostly did a brisk business in pizza: big sheet pans of thick Sicilian-style pizza, hot from the oven. It was a mother and son operation: son baked, and mother, clad in black, hair pulled back in a severe white bun, handed you your slab of pizza on a paper napkin.
It was the simplest possible treat – bread, tomato sauce, mozzarella, and Parmesan – but walking Boston's cold streets on Christmas Eve day, it was the ultimate comfort food.
Galleria Umberto has since moved to larger quarters, and now serves arancini, panzarotti, panini, and calzone, as well as its signature pizza. Totally worth a visit if you're in Boston.
Sometimes, instead of pizza, we'd stop at Salumeria Italiana, a tiny grocery store offering dried ceci (chickpeas), farro (wheat berries), olive oils, cured meats, and cheeses. It wasn't advertised; but if you asked the old man behind the counter, he'd make you a sandwich: salami and provolone, hot peppers, a drizzle of olive oil, all on the freshest, crustiest bread ever.
Finally, we'd find a pastry bakery to pick up the obligatory box of cannolis. Mike's or Modern Pastry are Boston's two long-time contenders for cannoli supremacy; each offers a slightly different style. I prefer Modern's, but when you're talking about cannolis – they're all good.
Italian bakeries usually divide along two lines, as mentioned above: bread, or pastry. But there's one treat that can be found in either one: pizzelle. They're equally at home bagged and displayed among stacks of crusty bread, or atop a cold case of cheese-filled cannoli or cream-filled cakes.
The simplicity of this plain, unassuming sugar cookie is its major asset: pizzelle can be intensely vanilla flavored; redolent of rum or anise; aromatically almond or orange. The pizzelle is a blank slate, awaiting only your imagination.
We've flavored pizzelle with a variety of extracts and flavors: coconut, vanilla butternut, maple. We've sprinkled them with colorful sugar nonpareils, chocolate sprinkles, or coarse sparkling sugar midway through their bake. And of course, you can always simply apply their traditional final touch – a shower of confectioners' sugar.
This Easter, I thought I'd branch out a bit and try chocolate pizzelle. More milk chocolate-y than dark, they're yet another successful variation on the theme. And, since chocolate loves vanilla, how about two-tone cookies – half vanilla, half chocolate? Or half coconut, half chocolate. Or half hazelnut, half mocha...
Whoa - one thing at a time. Let's start with Chocolate Pizzelle.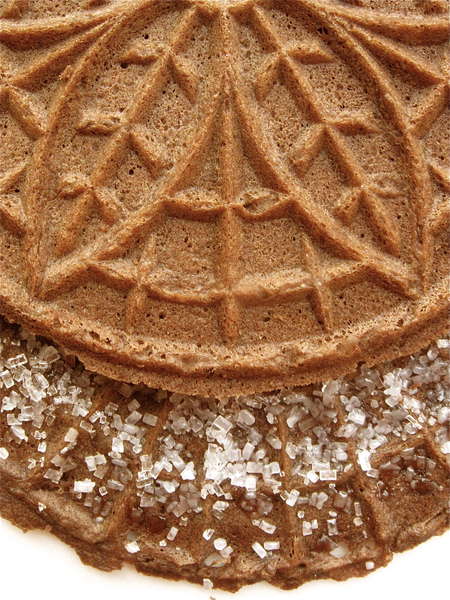 The simplest variation: Chocolate pizzelle, with coarse sugar and without.
OK, let's dive in.
No way around it: you need a pizzelle iron to make pizzelle.
Our choice is ChefsChoice. I've been making pizzelle for years, and this iron is a definite improvement over some of the slow, clunky ones I've used in the past. It's ultra-fast, cooks very evenly (no hot spots), and makes pizzelle that aren't too thick (hard), or too thin (fragile and crumbly), but just right: crunchy-crisp.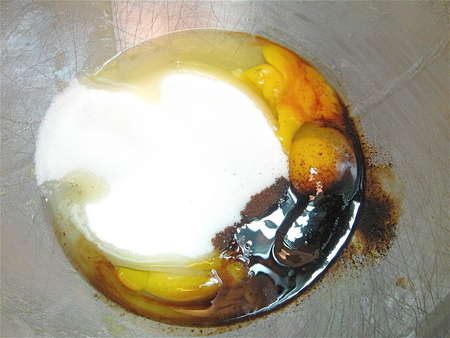 Place the following in a mixing bowl:
3 large eggs
1 cup (198g) sugar
1 teaspoon vanilla
1/2 teaspoon espresso powder, optional but good
3/8 teaspoon salt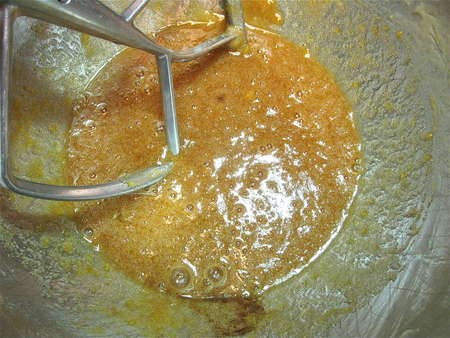 Beat till smooth.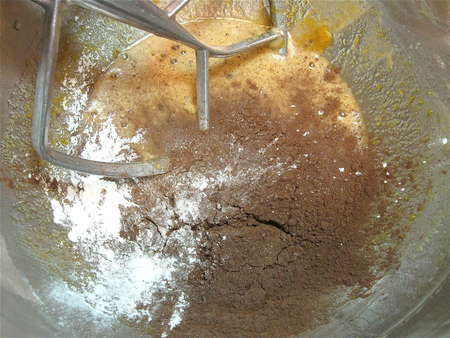 Add 1/4 cup (21g) Double-Dutch Dark Cocoa or Dutch-process cocoa, and 2 teaspoons baking powder.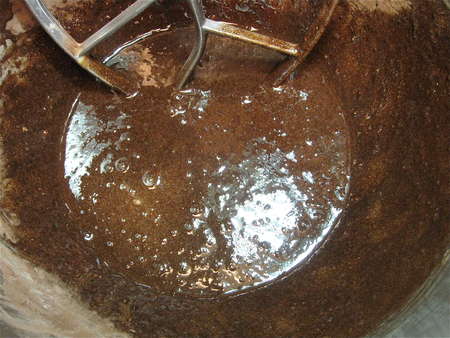 Again, beat till smooth.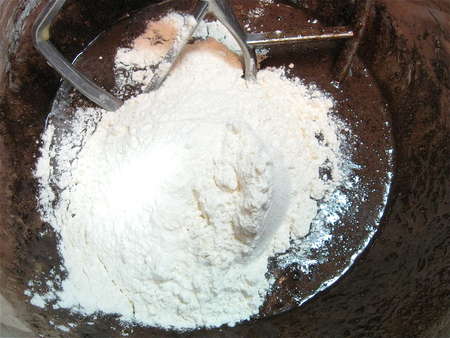 Add 1 2/3 cups (198g) King Arthur Unbleached All-Purpose Flour.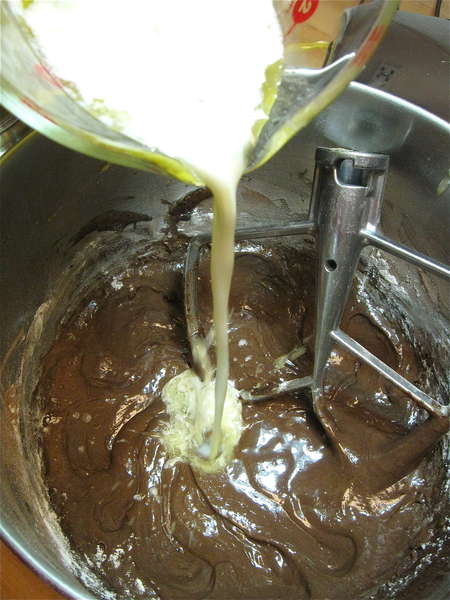 Stir till smooth.
Add 1/2 cup (113g) melted butter.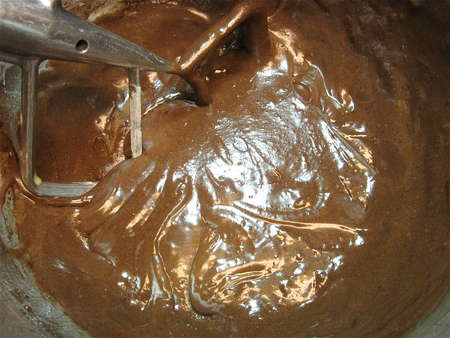 Stir till smooth. (Do you sense a repeating pattern here?)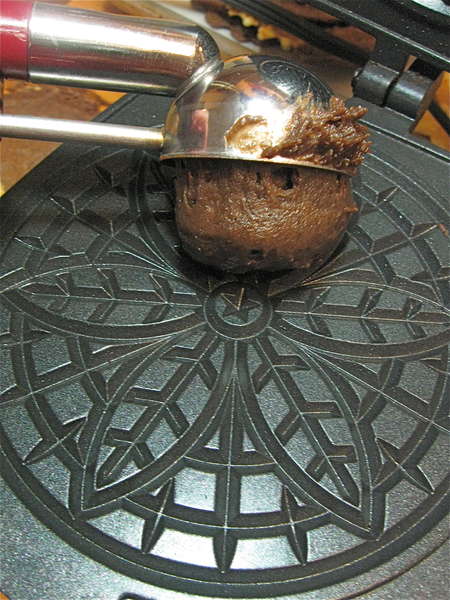 Dollop the batter onto your pizzelle iron. A tablespoon cookie scoop (which holds about 4 level measuring teaspoons) works well here.
Drop the batter just above the center line; as you close the cover, it'll be pushed forwards slightly, and end up centered in the design.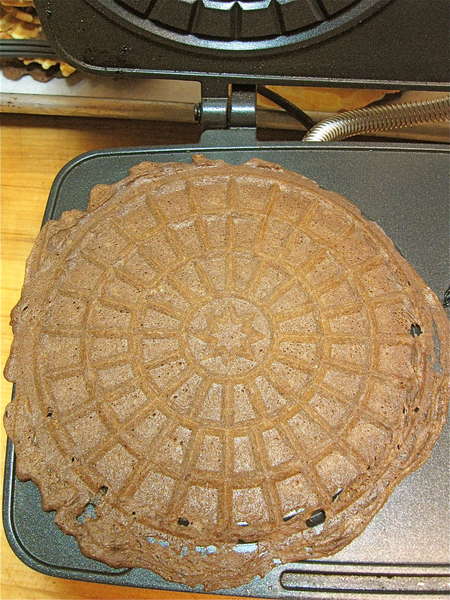 Cook according to the manufacturer's directions. Our Chef'sChoice pizzelle iron makes pizzelle in just 30 seconds flat – WOW. It's the fastest iron I've ever used; most take anywhere from 45 seconds to 2 minutes.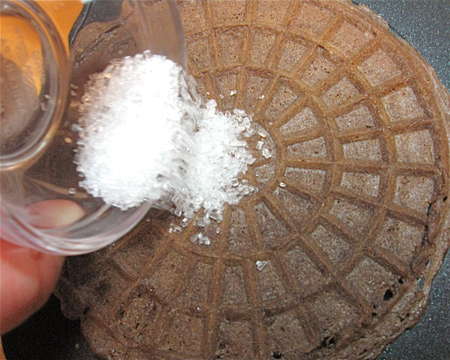 Hint: For crunchy pizzelle, cook for half the required time. Open the iron...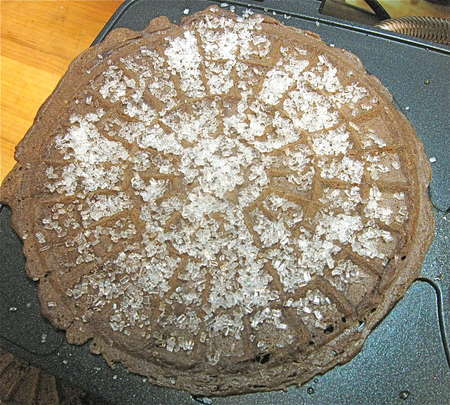 ...and sprinkle about 1 1/2 teaspoons sparkling white sugar on the pizzelle.
Close the iron, and cook for the remainder of the required time.
Here are two pizzelle: one plain, one with sugar.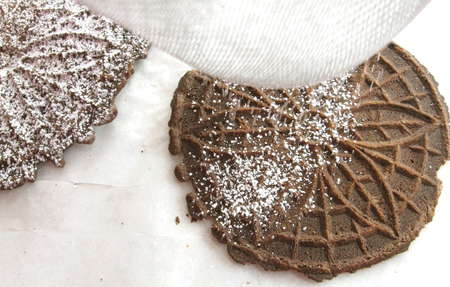 You can also dust baked, cooled pizzelle with confectioners' sugar.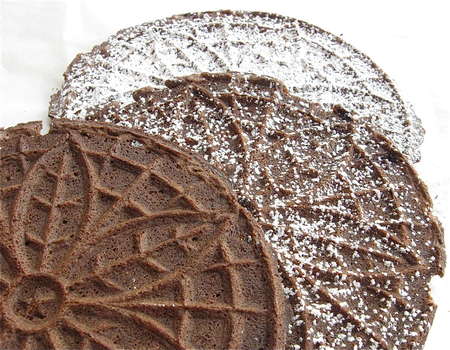 A thorough coating (back); or just a dusting (center).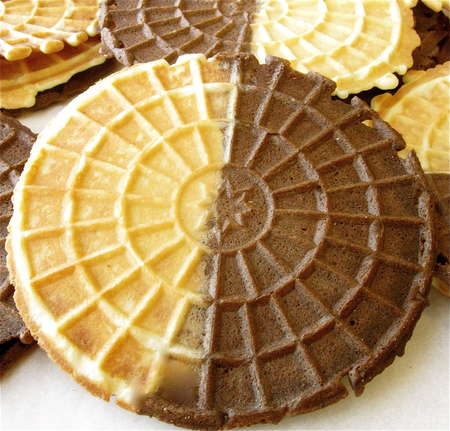 Now, how about those cool two-tone pizzelle? It took a bit of figuring, but I'll cut to the chase (pretty much) and show you how to do this.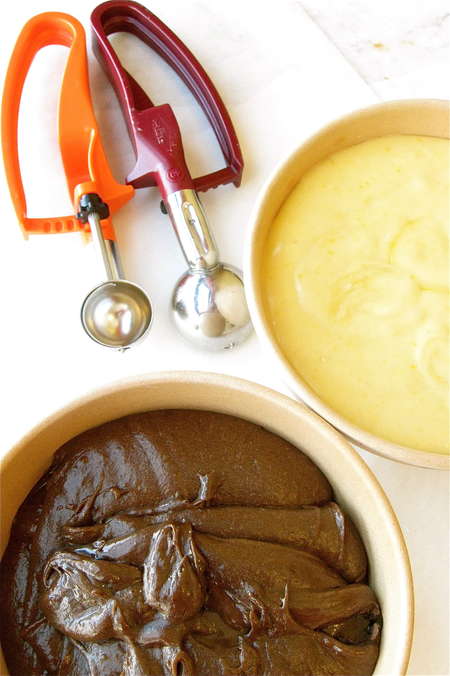 First, make both chocolate batter, and classic pizzelle batter.
A teaspoon cookie scoop is a HUGE help here. Actually, two scoops are even better. Pictured above are a teaspoon scoop (left), and tablespoon scoop (right). The smaller scoop is perfect for half-and-half pizzelle; the larger, for single-flavor pizzelle.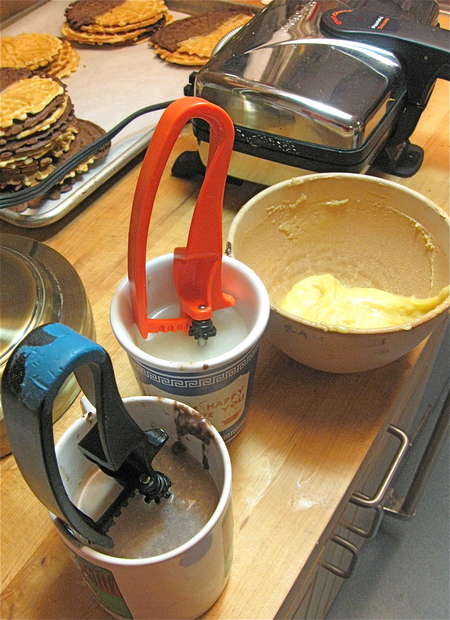 If you're using scoops, put each of them in a cup of water; ditto if you're using spoons. This will keep the batter from sticking as you scoop.
Let's quickly run through a few mistakes I made along the way.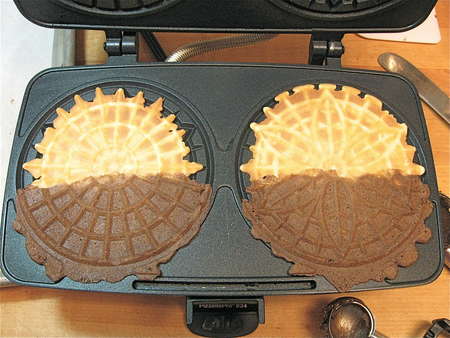 First, I dolloped equal-sized balls of batter – vanilla, and chocolate – on the iron.
Hmmm... looks like the chocolate spreads more. So, I need to use more vanilla batter than chocolate.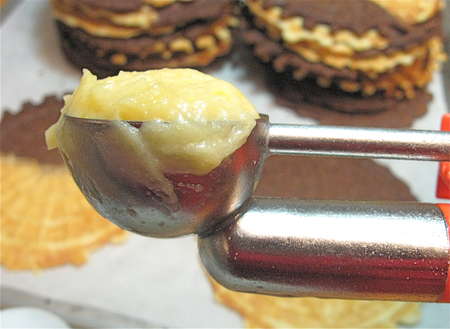 A heaping teaspoon scoop of vanilla...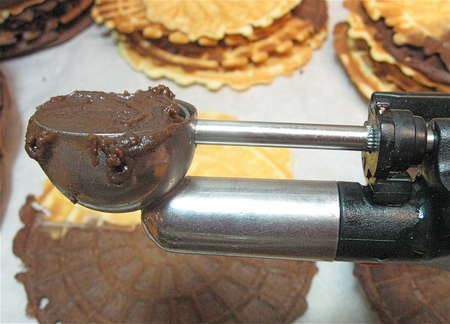 ...and a level teaspoon scoop of chocolate.
Better, but look how the vanilla pushed the chocolate right over the edge... DARN.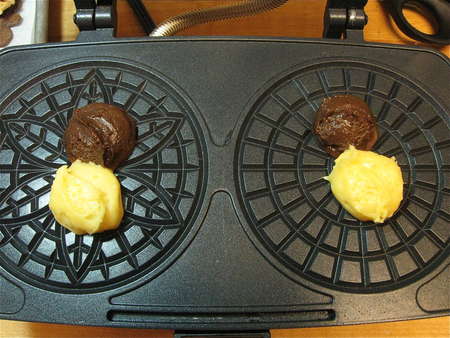 How about if I reverse the two – chocolate on the top, vanilla on the bottom?
Ah, NOW we're talking.
A few tweaks in placement, and pretty soon I was turning out nearly perfect half-and-half pizzelle.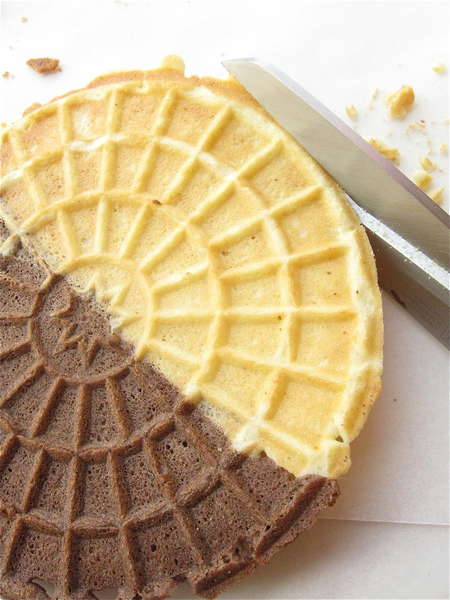 Speaking of perfect, ragged edges are inevitable. But not permanent. Simply use a pair of scissors to trim the pizzelle. Do it while they're warm, or wait till they're cool; doesn't matter.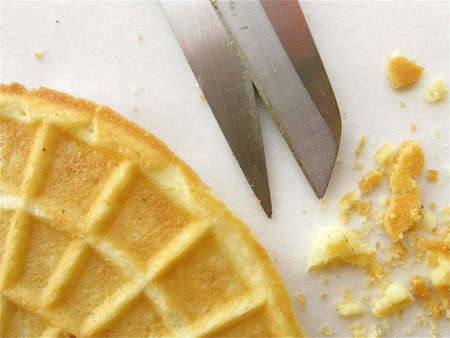 Much nicer, eh?
Here's the whole good-looking lineup: half-and-half; chocolate with coarse sugar; plain vanilla; and plain chocolate.
By the way, the next time I made these, I substituted 1/2 teaspoon hazelnut flavor for the vanilla in the plain pizzelle batter. And served the resulting pizzelle with Nutella. Be still, my heart!
One final note: The  chocolate batter makes more pizzelle than the vanilla. If you go the half-and-half route, you'll get about 47 pizzelle, with enough chocolate batter left over to make 7 chocolate ones.
Read, rate, and review (please) our recipe for Chocolate Pizzelle.
Jump to Comments