Pistachio Shortbread
Hitting the jackpot
Welcome back to Jeopardy, folks. Our Final Jeopardy category is...
The Emerald Isle.
And the Final Jeopardy answer is...
Sweet and green.
Remember to write that answer in the form of a question.
Time's up, contestants. Let's see what you've come up with.
Susan, what's your answer?
What do Irish cows think when they eat shamrocks?
No, Susan, I'm sorry... Your wager was $12,100, which puts you at $100.
(Groans)
Mike, how about you?
What do they call a hybrid Porsche Boxster in Dublin?
(Laughter)
Well, no, Mike. Your wager is $500, so you remain in second place, behind our champion, Tracy.
And Tracy's answer is...
What do you bake to bring to the office and share with your friends on St. Patrick's Day?
Absolutely right, Tracy! You remain our champion, with a 4-day total of $48,700.
(Wild applause; Alex schmoozes with contestants; fade to commercial...)
Sweet and green, indeed. That means lime. Or... kiwi? Mint? Green apple. Grapes. Honeydew...
It's fairly easy to think of sweet green flavors, but not many of them translate well to cookies, which in my opinion are the #1 thing you should bring to the office on St. Patrick's Day.
I mean, grape cookies? Nah.
For me, there are only two types of green cookies that're worth heating the oven: lime, and pistachio.
Our Key Lime Snowball Cookies live up to their billing, but they're not green. Unless you add food coloring.
Which leaves us with pistachio. And Pistachio Shortbread, a tasty, "sweet and green" treat you can easily throw together on St. Pat's Eve, after the kids are in bed.
Ready?
Let's bake.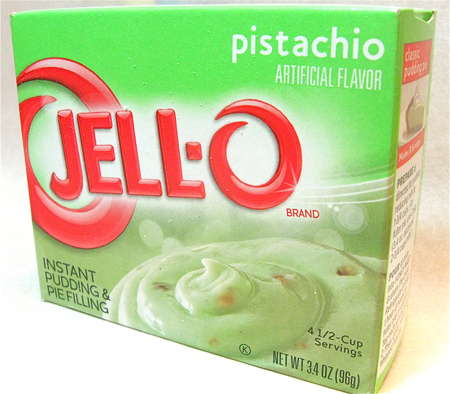 Here's where the cookies get their green color, and mild pistachio flavor: instant (not sugar-free) pistachio pudding mix. For best effect, select Jell-O brand. I've found store brands don't add nearly as much color.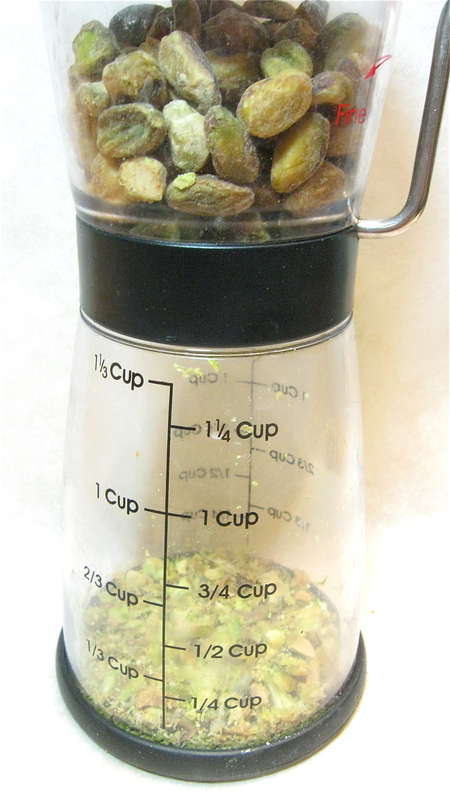 Our best-selling classic nut grinder is the perfect tool for chopping pistachios to exactly the right size for this recipe.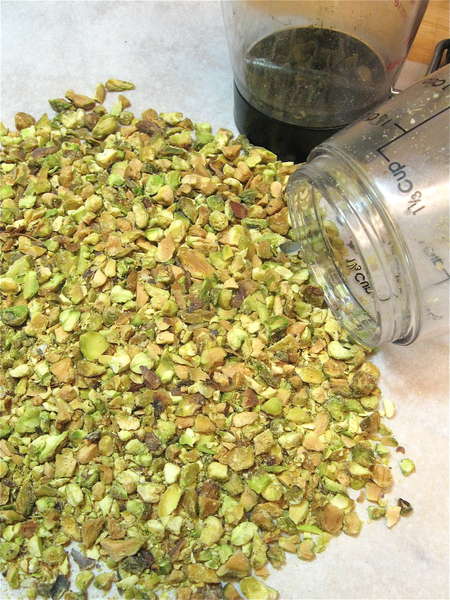 Just fill with nuts, turn the handle, and spill out a pile of chopped nuts. And hey, it's only $9.95; you can't go wrong!
Preheat the oven to 300°F. Lightly grease two round 8" or 9" round cake pans. If you worry about the shortbread possibly sticking in your particular pans, line them with parchment, and grease the parchment.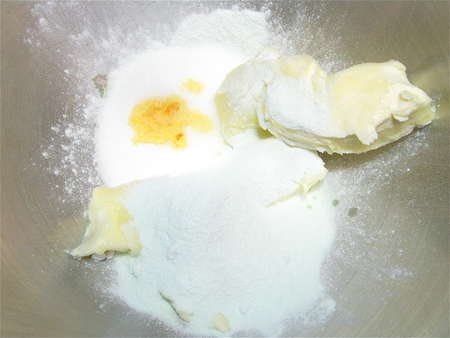 Place the following in a bowl:
16 tablespoons (227g) unsalted butter, room temperature
1 box (3.4 ounces) instant pistachio pudding mix, Jell-O preferred for best color
1/4 cup (50g) sugar
1/2 teaspoon salt
1/8 to 1/4 teaspoon pistachio flavor,* optional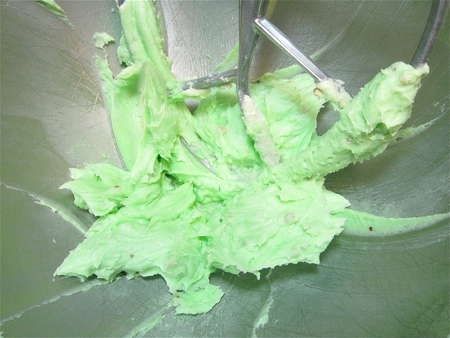 Beat till smooth.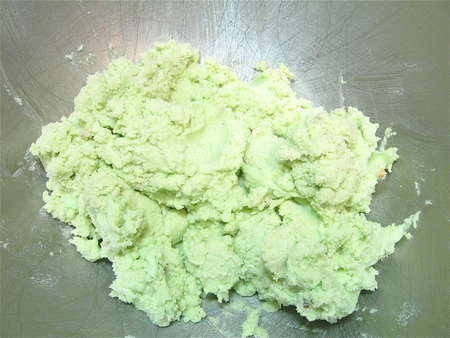 Add 2 cups (234g) King Arthur Unbleached All-Purpose Flour. Beat till well combined. The mixture may seem a little dry at first; keep beating till it comes together. If it absolutely won't come together, dribble in up to 1 tablespoon of water, until it does. This is a stiff dough.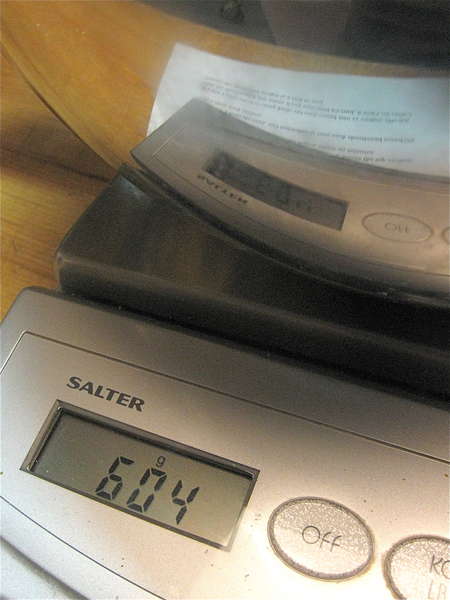 Divide the dough in half. A scale makes this easy. 604g of dough in the bowl...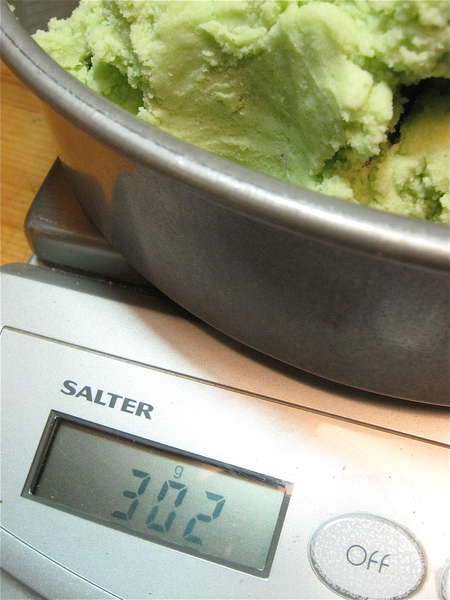 ...becomes 302g of dough in each pan.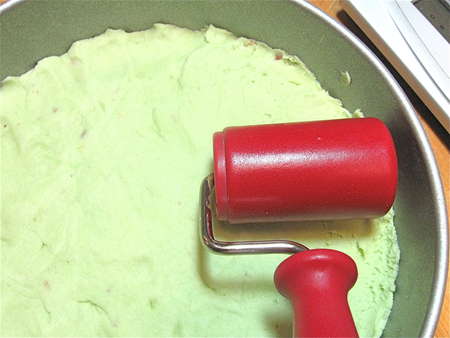 Smooth the surface of the dough with your fingers, or with a pastry roller.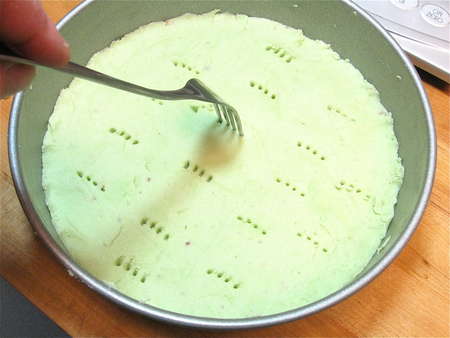 Use a fork to prick the dough all over; this allows any steam to escape, and prevents the shortbread from bubbling as it bakes.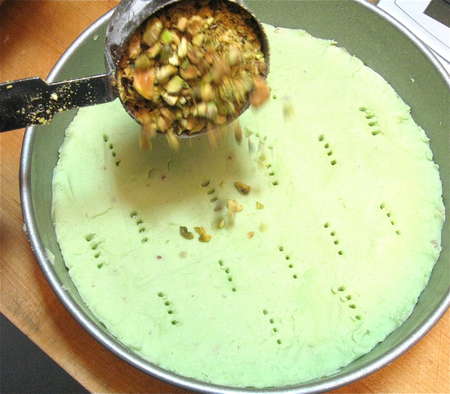 Sprinkle 1/3 cup (43g) chopped pistachios into each pan.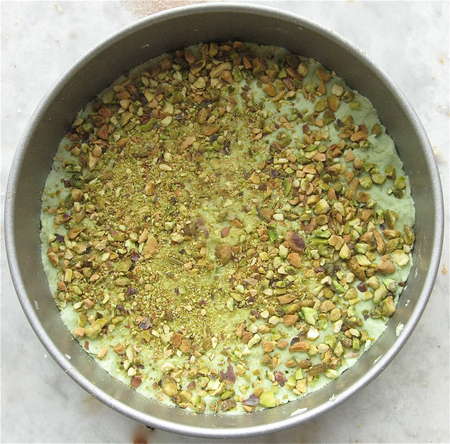 Spread to cover the surface of the dough, pressing down gently.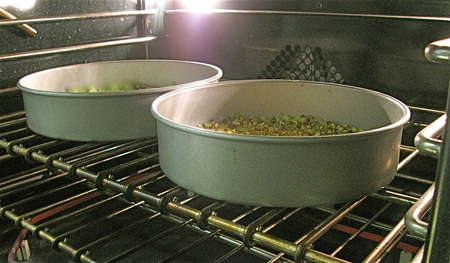 Bake the shortbread until it's golden brown around the edges, about 35 to 40 minutes.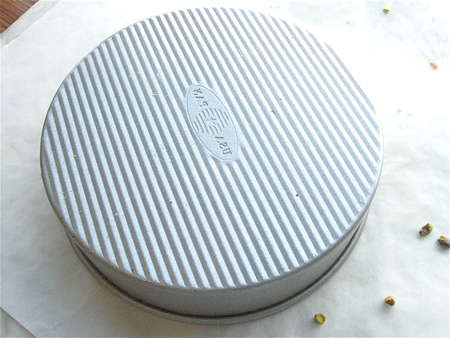 Remove it from the oven, and immediately turn each shortbread round out onto a clean work surface. I always use a piece of parchment, so I can easily collect any fallen nuts and quickly press them back onto the shortbread, while it's still warm.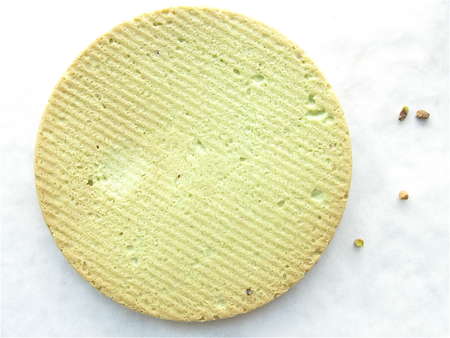 See the "corrugations" in the shortbread? That's from our USA Pans cake pan. Its base is ridged, promoting air circulation and a better bottom crust. Works like a charm!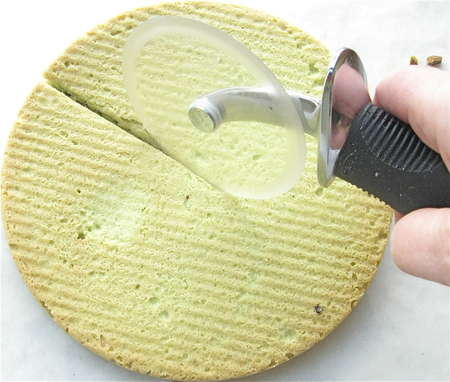 Using a pizza wheel or sharp knife, cut each round into 12 wedges.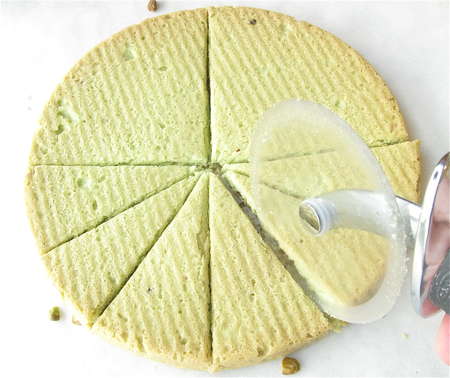 Do this while the shortbread is still warm; if you wait until it's cool, it won't cut easily.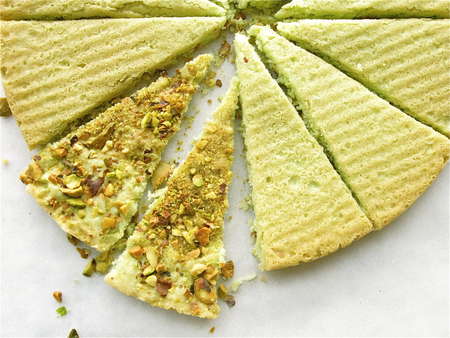 Looking good. Tasting good, too. I know, you can't resist; go ahead, enjoy a warm wedge.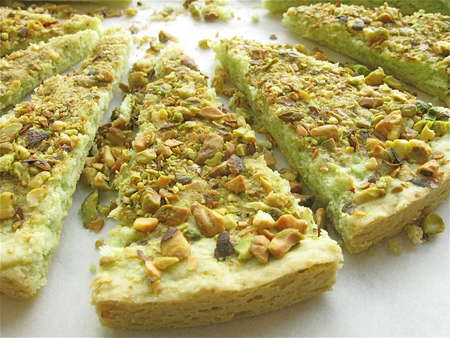 Transfer the shortbread wedges to a rack to cool. Or let them cool right on the parchment, if you've used it.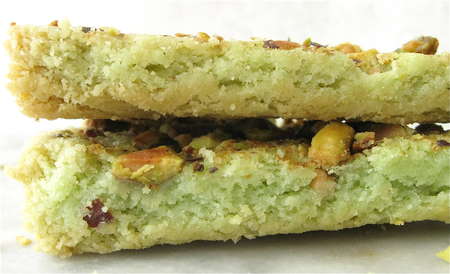 What's the difference between baking these shortbreads in an 8" pan (bottom cookie), vs. a 9" pan (top cookie)? About 1/8" in height.
Surprisingly, they bake in the same amount of time; and you really don't need to increase the amount of nuts on the top of the 9", vs. the 8". The 8" pan will yield just slightly smaller, slightly taller, slightly softer shortbreads.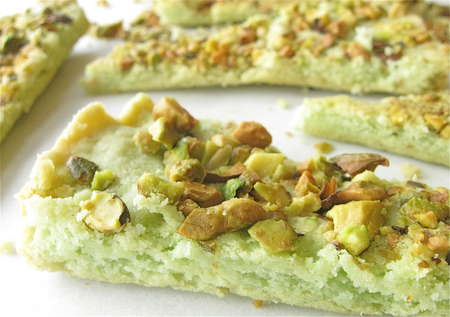 Now THAT'S a green cookie I can really enjoy!
Speaking of green - look what I found beside my south foundation on the last day of February. Hope springs eternal, as do daffodils...
Read, rate, and review (please) our recipe for Pistachio Shortbread.
Jump to Comments