When cookies grow up: Brandy Biscuits
One for the grownups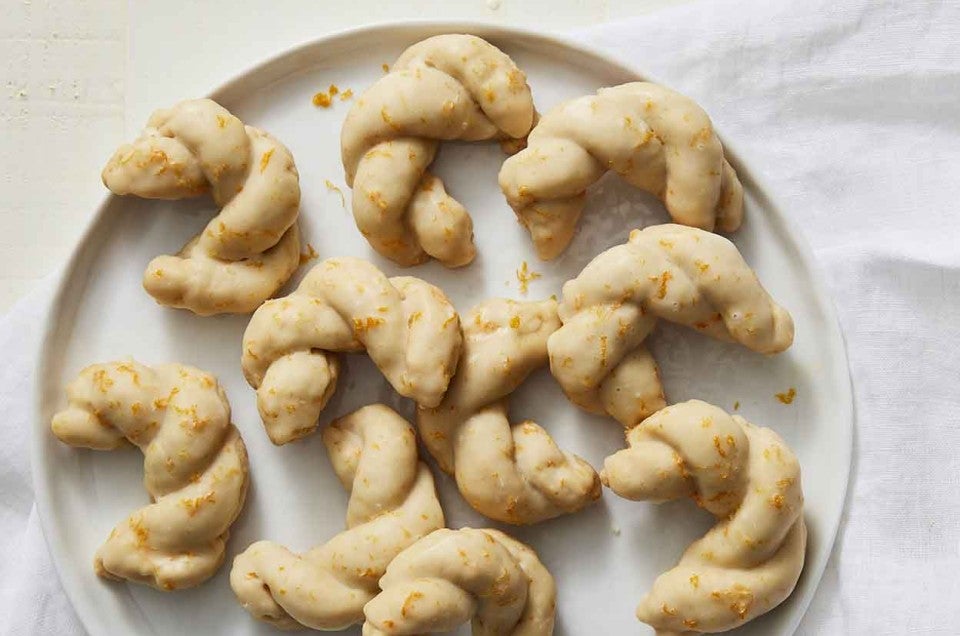 Just a post or two ago, I was thinking about foods that I never ate as a child, but love dearly now that I'm a bit older. I must say though, there are some "grownup" foods that I've always loved, like...
...lobster, I've always loved lobster. My family used to go to York, Maine once a summer, and when I was very small my parents would break off the little legs and give me a great big pile to work my way through while they enjoyed the rest of dinner. When David and I spent a week in Maine right after we were married we found a great place that served fresh steamed twin lobsters for an outrageously low price. We went three nights in a row, and I ate twins all three nights. It was the best of times.
I've also loved chicken livers, Brussels sprouts, curry, and maple-walnut ice cream for ages. Now, don't get bent out of shape over the maple-walnut ice cream if you love it too, and don't consider yourself a grownup yet. It's just one of those flavors that seems to be tied to an older generation, along with butter brickle. It is what it is, and we order it regardless.
Thinking back, I'm sure you can remember a time when you were checking out the buffet or dinner spread and some well-meaning adult came along, pointed out something that looked pretty darn good, and said to you "Oh no, honey, you wouldn't like that. It's for grownups." This usually meant it had A: expensive ingredients or B: alcohol or C: was something they wanted all to themselves (guilty of that one myself, thank you).
Sometimes, though, you'd come across an adult with a child's heart. These are the dear aunties and grammies who would save a bit of each of these forbidden goodies and pass you little nibbles along the way. For me, it was my dad who encouraged me to try new things like sips of his beer (Genesee cream ale), the aforementioned chicken livers, beef summer sausage, and the inspiration for these Brandy Biscuits, my Gramma Coppolino's wine biscuits. Thanks, Pop!
I remember their texture first. It was dry and a bit crumbly. Not at all like cookies; but again, not like dinner biscuits. They definitely tasted of sherry wine, and I found them to be delicious; you couldn't stop with just one. When I was brainstorming for ideas for a new cookie, these jumped right out of my memory, begging to be re-created with a new twist.
First, I traded out sherry for brandy. I like the mellow flavor of brandy a bit better, and find it pairs with our Fiori di Sicilia beautifully. If you prefer, you can use apple juice or all water, but keep in mind the flavor will definitely be different.
Next, I fiddled with the amount of sugar. These cookies aren't super-sweet, and that's definitely in line with their being termed biscuits and not cookies. Think of these with a cup of tea, coffee, or even wine, rather than a cold glass of milk.
Finally, I knew I wanted to use Fiori di Sicilia to flavor these biscuits. Fiori has a sophisticated citrus/vanilla flavor that brings a unique taste to baked goods. It makes tasters stop and say "What is that flavor? It's amazing!" Just the ticket for dressing up a plain biscuit/cookie.
So, hop aboard the grownup train and let's make Brandy Biscuits.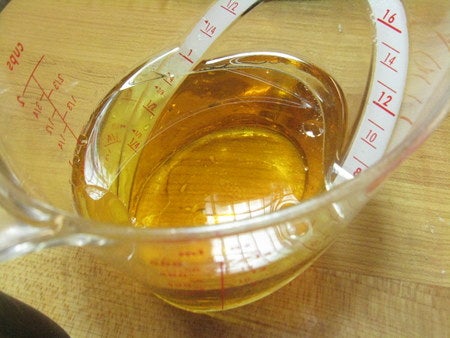 Mix the brandy (or apple juice) and water in a liquid measure.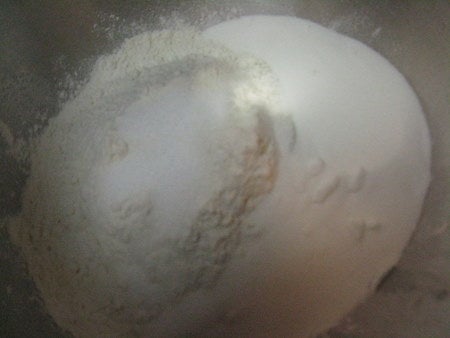 Place the dry ingredients in the bowl of your stand mixer. This dough is quite soft and could also be easily made by hand.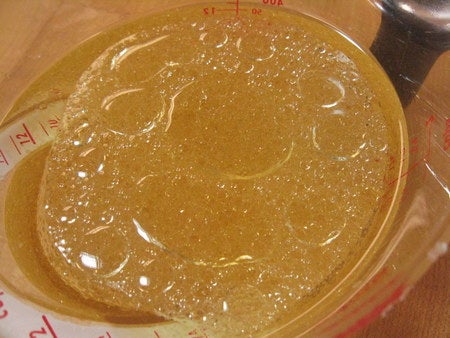 Add the vegetable oil and Fiori di Sicilia to the brandy/water mixture. Stop and relax, admiring the lava lamp-like ebb and flow of the mixture. Simple pleasures, man, it's all about simple pleasures.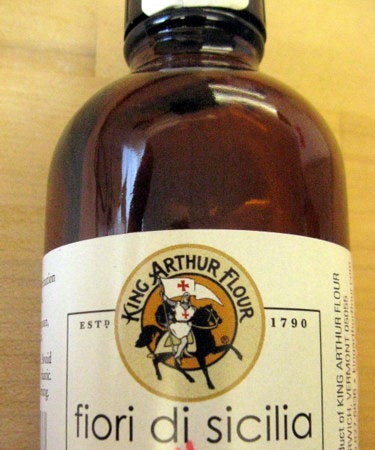 Speaking of simple pleasures, have you tried our exclusive Fiori di Sicilia yet? I'm completely in love with this flavoring. Its citrus-orange scent makes me feel calm and mellow, and the flavor of citrus and vanilla always keeps me coming back for more. It's a potent flavor, too, so my frugal Vermonter self is happy knowing a little goes a long way. I really get my money's worth out of a bottle.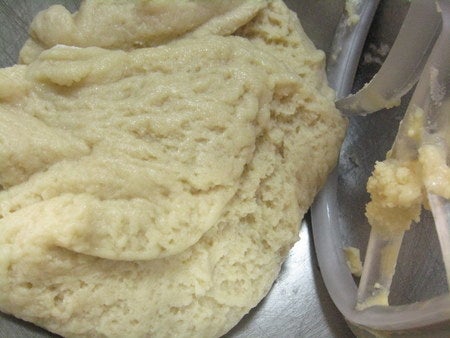 Pour the liquid into the dry all at once and mix for 2 minutes on medium-low speed until a very soft dough forms. It won't be a super-smooth dough, but rather a bit rough and "orange peel" looking. Don't worry, the texture will smooth out during the shaping. This dough also has a bit of an oily texture to it, so it doesn't stick to your hands or to surfaces.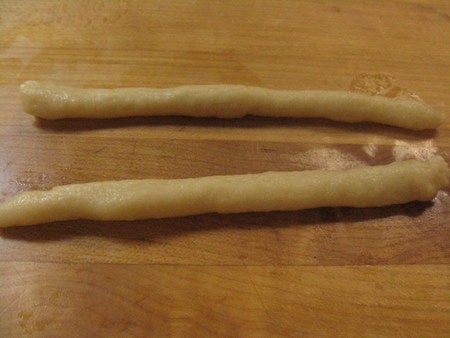 Break off small pieces of dough, each about the size of a walnut. Now, here's where you get to play a bit. You can make simple wreaths or rings, twists, sticks, braids, whatever suits your fancy. For a special presentation, try crescents.
Roll 2 pieces of dough out to about 6 inches long.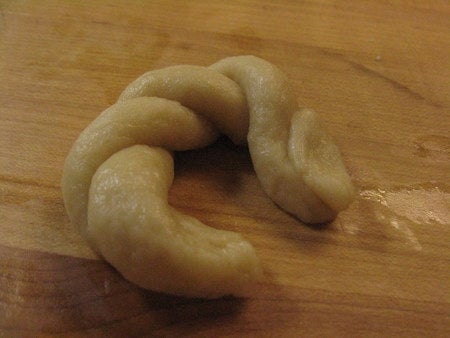 Here's what you're shooting for in the end. Keep it in mind as you twist the strands.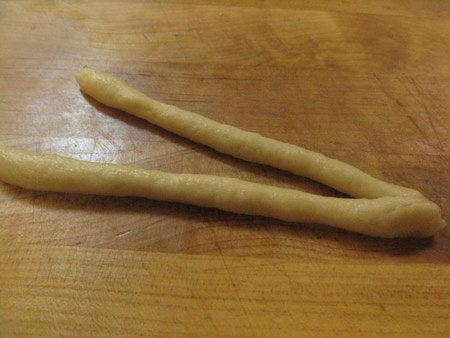 Pinch the ends of the strands together at one end.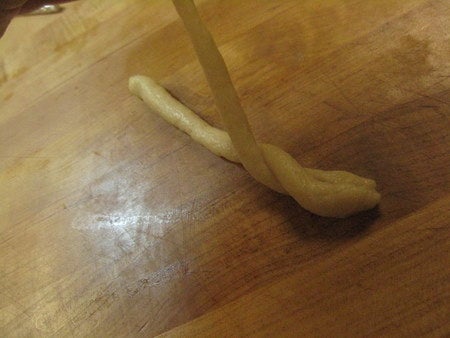 Pick up one strand and drape it across the other strand. Drape rather loosely so that the strands won't be too tight and burst during baking.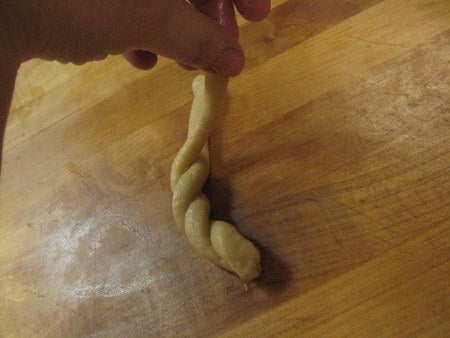 Alternating strands, drape one over the other as the twist gets longer. This always reminds me of hopscotch, first one, then the other, then the first, over and over.
When you reach the end of the strands, pinch the ends together to hold the twists in place.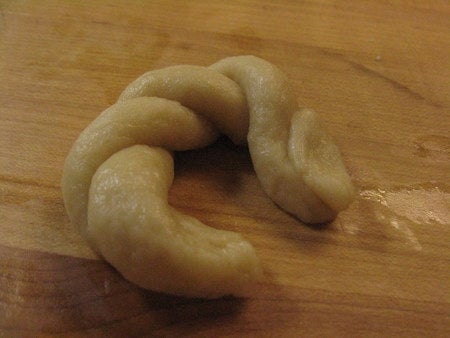 Use your fingers to curve the crescent. You can make the ends touch, or leave them open; it's up to you.
Place the shaped crescents on a parchment-lined baking sheet and bake for 25 to 35 minutes. Sacrifice one crescent by breaking it open to make sure it's baked all the way through. If it looks doughy, place it back in the oven for a few more minutes.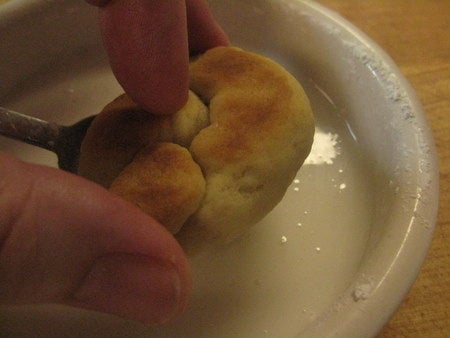 As you can see, the bottoms will be a lovely golden brown. Dip the cooled cookies into the glaze and allow to drip for a moment.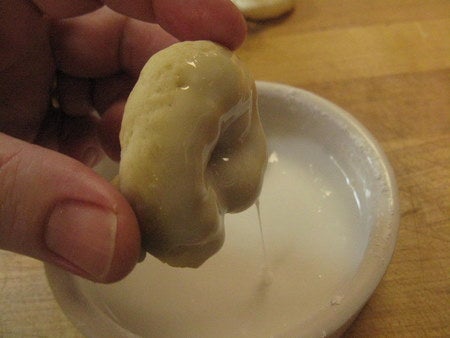 The glaze should be very thin. You just want a light coating over the cookies, not a heavy frosting.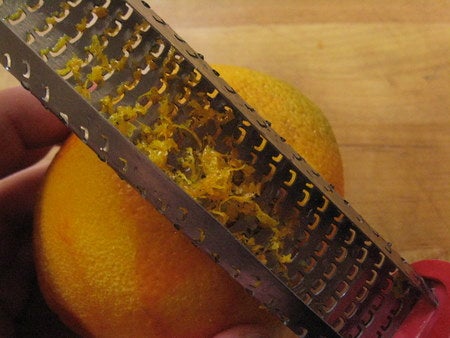 Fresh orange zest really brings out the citrus tones of the Fiori. Our handy Microplane zester shaves just the colored zest and none of the pith. If you hold the plane bottom side up, you can easily see how much zest you've gathered.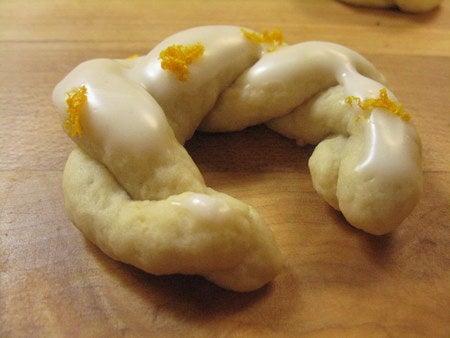 Sprinkle fresh zest on the still-wet glaze. Set aside to firm up a bit before plating, although you could just treat yourself to one right now, glaze dripping down your fingers. After all, some of the best grownups are the ones who are still children at heart.
Please bake, rate, and review our recipe for Brandy Biscuits.
Jump to Comments