Walter Sands' Basic White Bread
Sandwich bread fit for the King
"Oh, that's my FAVORITE bread!"
"It never fails. It's the one I make for sandwiches every week."
"Walter Sands bread... always and forever."
That was the reaction around King Arthur yesterday when I happened to mention I was baking "Walter Sands Bread" to test one of our new loaf pans.
I was a bit surprised; I mean, basic white bread is pretty... well, basic. How many variations can you have of the signature sandwich loaf?
I've been making the same white bread and dinner rolls for years. Potlucks, community dinners, Thanksgiving, Christmas, Easter... my rolls are in demand.
So why should I try something different?
Because I was testing a new loaf pan. A 9" x 5" pan. And every white bread recipe I typically make uses an 8 1/2" x 4 1/2" pan.
Then – light dawns on Marblehead! Over 50 King Arthur employee-owners made Walter Sands Bread last week, as part of a Martin Luther King Day/King Arthur community service project.
The recipe makes one loaf. One 9" x 5" loaf.
Bingo!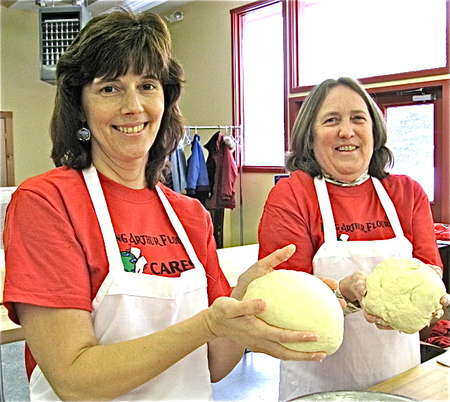 Luckily, you don't HAVE to have a stand mixer to make this dough – Patti Vaughan and Patty Hudson, from our finance team, were among the employee-owners who mixed and kneaded over 150 loaves by hand.
All donated to a community dinner, and a homeless shelter.
Here I am with Peter Bouchard, our national sales manager.
So – I retrieved my copy of the recipe, and baked a loaf in our new 9" x 5" pan. It came out absolutely perfect.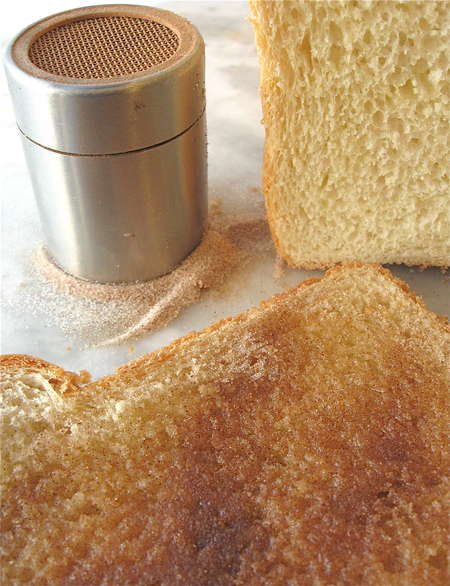 As soon as it was cool, I indulged myself with cinnamon toast, my absolute favorite comfort food in the world.
Who's Walter, by the way? Walter Sands was owner and president of King Arthur Flour from 1943 to 1968. He created this bread recipe, which he'd make each week with the help of an old hand-cranked bread bucket.
Walter's son, Frank Sands, became owner and president of King Arthur Flour in 1968. Frank and his wife, Brinna, grew King Arthur Flour to national prominence, then sold the company to us, the employees, in 1996.
Thanks, Walter. And Frank, and Brinna. For your bread, and your legacy of sharing.
Ready to make King Arthur's favorite white bread? Let's get started.
Before we begin, want to make this in your bread machine? See our special bread machine version of this recipe.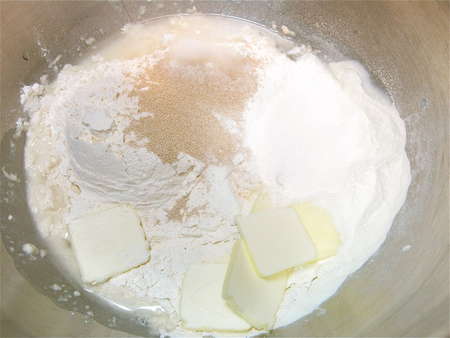 Mix the following in a bowl:
1 cup + 2 tablespoons to 1 1/2 cups (9 to 12 ounces) lukewarm water*
1 heaping tablespoon honey
2 1/4 teaspoons instant yeast
1 3/4 teaspoons salt
2 tablespoons soft butter
4 cups (17 ounces) King Arthur Unbleached All-Purpose Flour
1/3 cup Baker's Special Dry Milk or 1/2 cup nonfat dry milk granules
*We call for a fairly wide range of water here due to two variables: how bakers measure their flour, and climate/season. Flour is drier and will absorb more liquid in winter, and/or in a dry climate; in summer or in a humid climate, it's moister and will absorb less. So generally speaking, you'll use more liquid in your bread in winter, less in summer.
In addition, some bakers measure their flour by dipping the cup into the bag or canister, tapping the flour to pack it down, and leveling it off. The way we measure flour here at King Arthur Flour is to stir/aerate the flour, sprinkle it gently into the measuring cup, and level it off. If you're of the scoop/tap/level school, which measures a "heavier" cup of flour, you'll need to use more liquid. At any rate, for this recipe, start with a smaller amount of water and move up, if necessary; it's easier to add water than to take it out! Your goal is a dough that starts out a bit sticky, but as you knead becomes soft (but not sticky) and smooth, not "gnarly."
Want to make this in your bread machine? See our special bread machine version of this bread.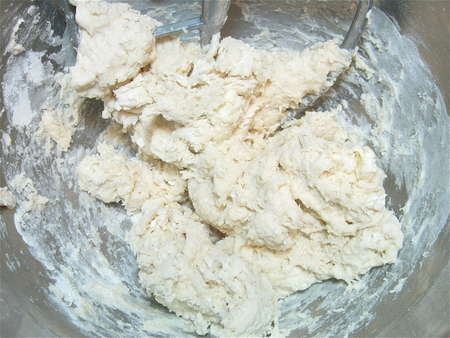 Mix with the flat beater paddle till the dough comes together. Don't worry about the stuff stuck to the sides of the bowl...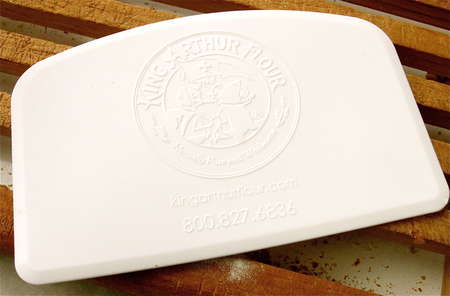 ...because you can scrape the sides of the bowl clean with your NEW BOWL SCRAPER!
Yes indeedy, I'm excited about this. You can't imagine how long we've been looking for a bowl scraper with the EXACT right flex. We tested, and tested, and tested some more....
Some scrapers were too stiff, and wouldn't bend to the contours of your mixing bowl. Some were too soft, and couldn't handle the bits of dry dough that inevitably collect everywhere when you're making yeast bread.
But, like Goldilocks with Baby Bear's bed, we finally found one that was JUST RIGHT.
Attention, those of you who tell me you've been hoarding your old King Arthur bowl scrapers - this is their updated equivalent. Hoard no more - we have plenty! Get one for your kitchen, one for Mom, one for your best friend, one to scrape the frost off your car windshield... you won't regret it.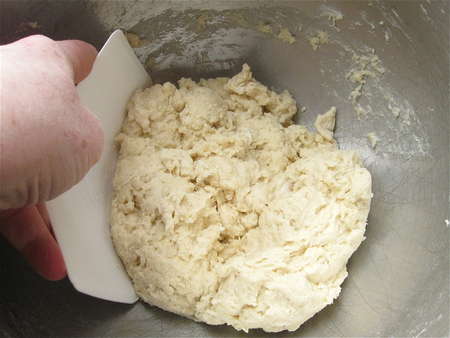 I like to scrape down the sides of the bowl before switching from the flat beater to the dough hook; it just kind of gives the hook a head start. A few easy scrapes...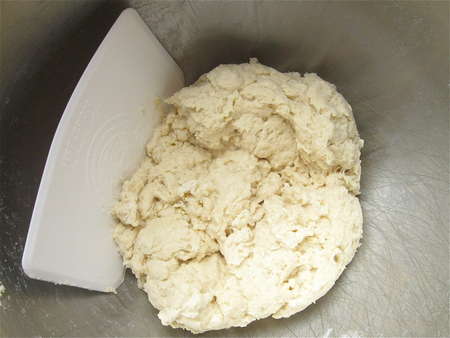 ...and, Bob's your uncle! Clean bowl, ball o' dough. Ready to knead.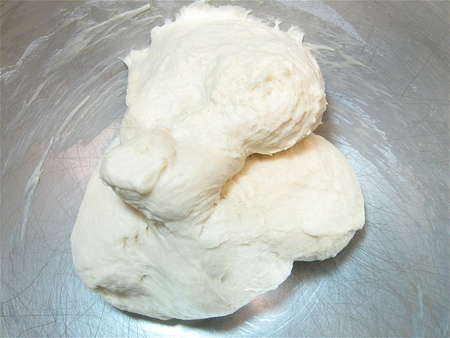 Or knead for about 7 minutes using a stand mixer set on medium speed: not ultra-slow, and not slow, but the next speed up. I know, KitchenAid tells you to only go up to speed 2 for kneading yeast dough; I don't agree. But if they say they'll invalidate your warranty if you don't comply, then knead on speed 2, but knead longer. Maybe 10 minutes or so?
Same amount of time you'll spend if you decide to knead by hand.
Your goal is a smooth dough. It won't be particularly soft nor stiff; it should be smooth and feel bouncy and elastic under your hands. Notice the dough above looks kind of gnarly; I probably could have used a bit more water.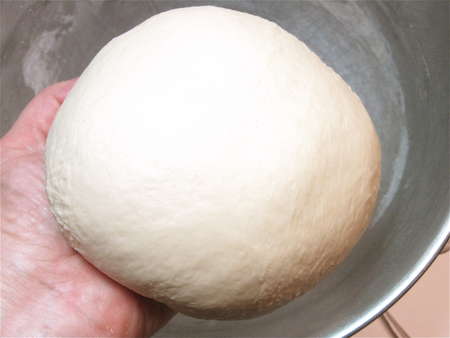 Still, once I lift it out of the bowl and shape it into a ball – smooth as a baby's bottom!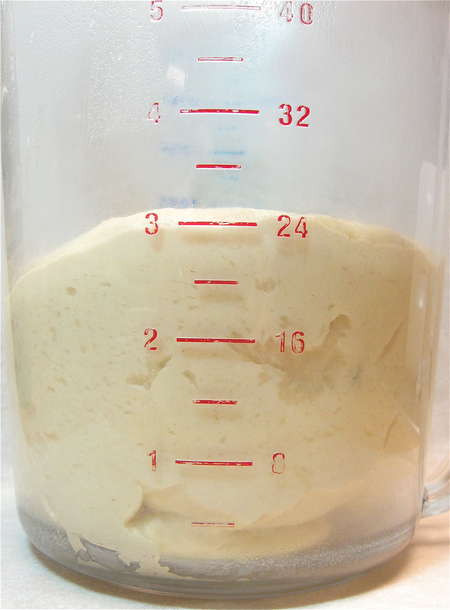 Place the dough in a lightly greased bowl, or large (8-cup) measuring cup. Cover it, and let it rise for 60 to 90 minutes.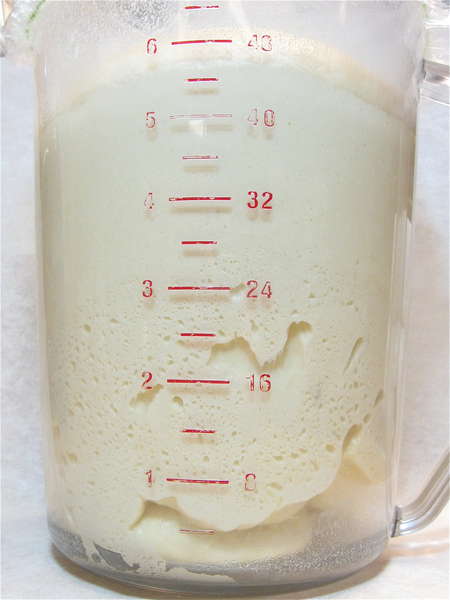 It'll become quite puffy, and should just about double in size.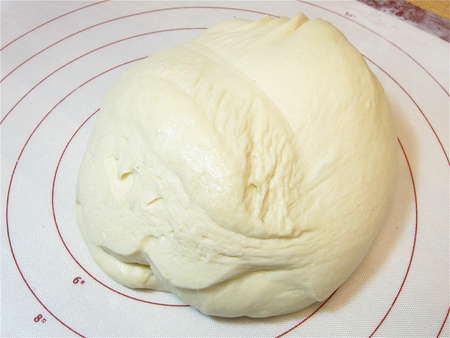 Turn the dough out onto a lightly greased work surface. I like to keep my silicone rolling mat handy.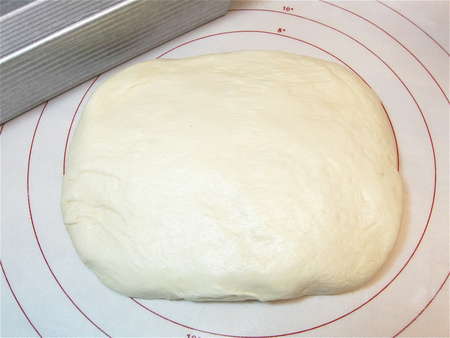 Gently deflate the dough, and shape it into a rough rectangle, about 8" long on the longer side.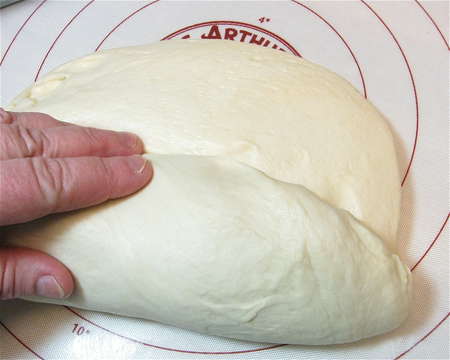 Roll the rectangle, lengthwise...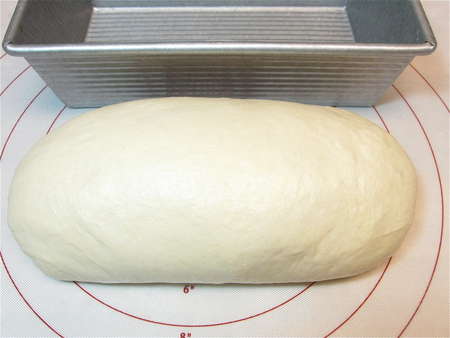 ...into a 9" log.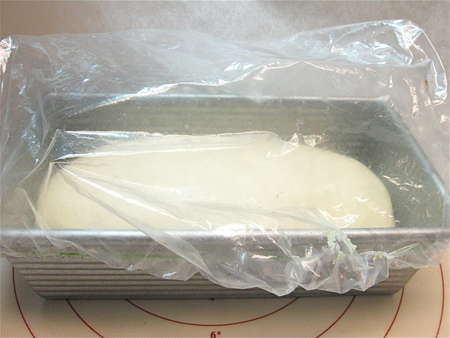 Place it in a lightly greased 9" x 5" loaf pan. Usually 9" x 5" pans are for quick breads, 8 1/2" x 4 1/2" pans are for yeast loaves. But this is a slightly bigger loaf, and requires the slightly larger pan.
Tent the pan with lightly greased plastic wrap; or use a clear shower cap, as I'm doing here.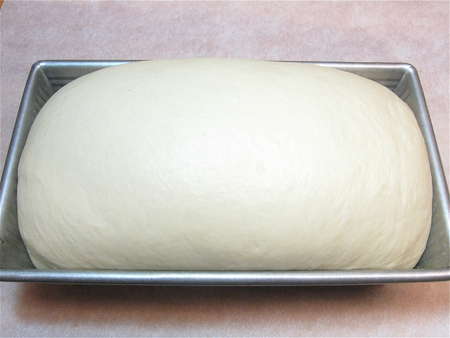 Let the dough rise for 60 to 90 minutes, till it's very puffy.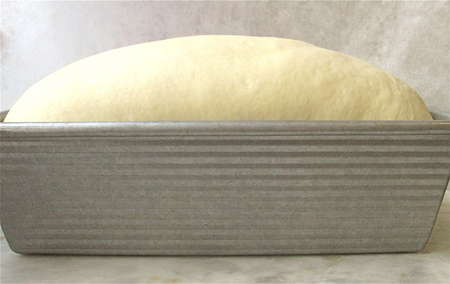 The dough should crown about 1" to 1 1/2" over the rim of the pan.
Towards the end of the rising time, preheat the oven to 350°F.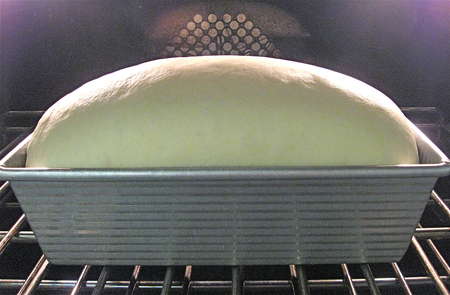 Bake the bread for 20 minutes. Tent it lightly with aluminum foil, and bake for an additional 15 to 20 minutes, till it's golden brown.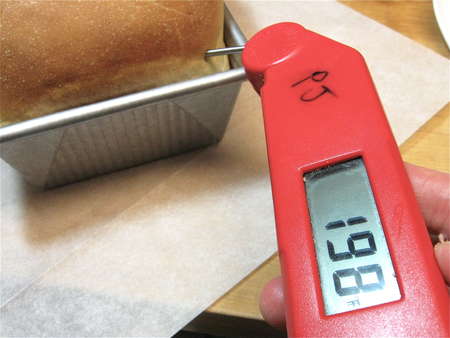 An instant-read thermometer inserted into the center will read 195°F to 200°F.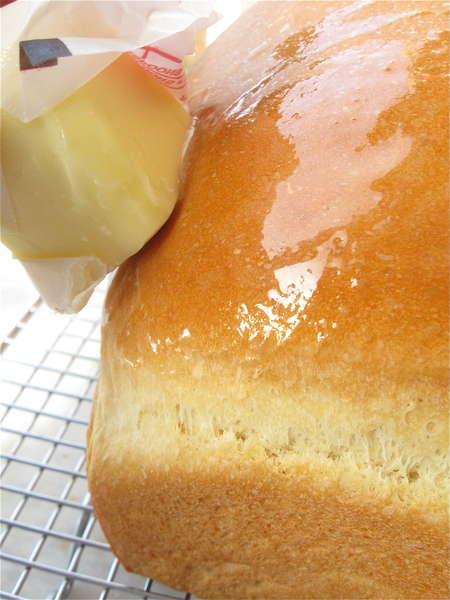 Turn the loaf out onto a rack. Immediately rub the top with a stick of butter.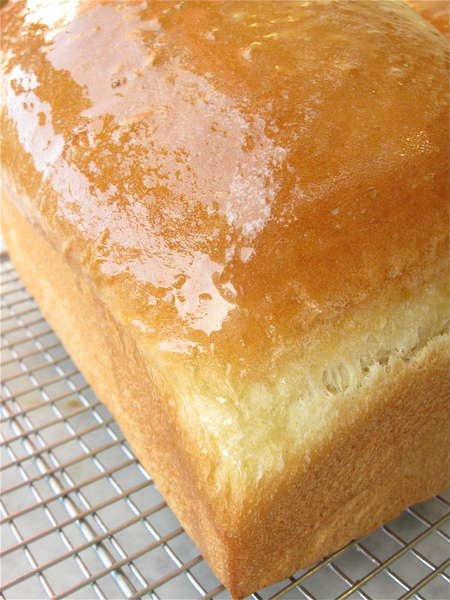 This will give the loaf a soft, buttery crust.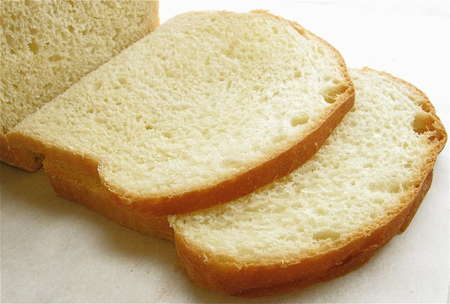 Wait till the bread is completely cool before slicing.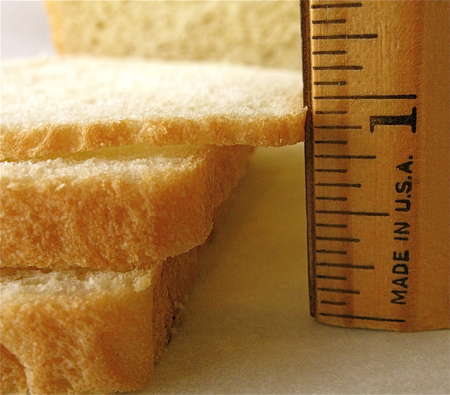 Speaking of slicing, how many recipes do you know where you can cut the loaf into whisper-thin (1/8") slices, without it crumbling? Not many, I'd wager.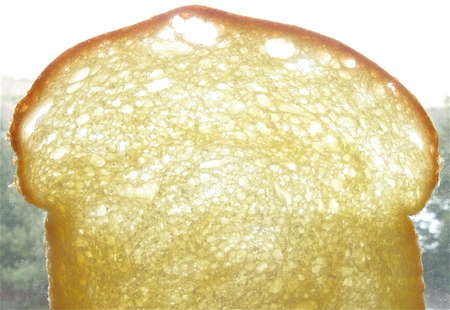 You can slice this bread so thinly, you can hold it up to the window and light will shine through. Now THAT'S thin! Pepperidge Farm Very Thin, eat your heart out...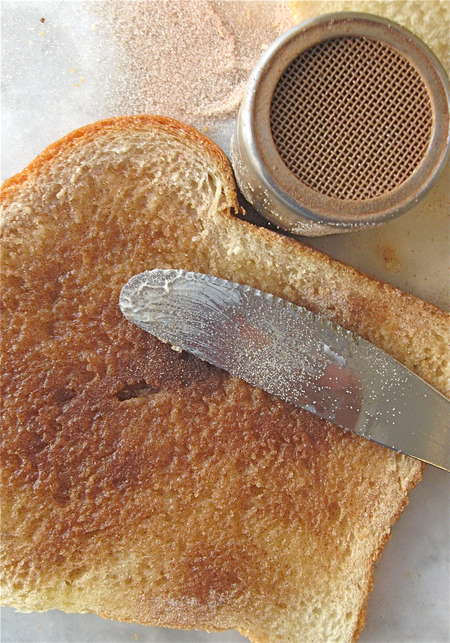 Me, I'm ready for a toaster, a pat of butter, and our special cinnamon-sugar – another of my favorite products. Made with superfine sugar and Vietnamese cinnamon. Guaranteed to melt on your toast without grittiness.
Heaven...
Read, rate, and review (please) our recipe for King Arthur's Classic White Bread.
Jump to Comments