"Help! I just went and picked apples with the kids and we don't have an apple crisp recipe on our site!"
That was the gist of an email I got one recent Saturday afternoon from my colleague Halley, who leads the Web team here at King Arthur.
"That can't be," I thought. "Apple crisp is the absolute quintessential fall recipe. How could we NOT have it on our site?"
I searched. Halley was right. No apple crisp.
Well, I can remedy that.
We actually have lots of apple crisp recipes floating around King Arthur. There's our Baking Education Center version, perfect for kids' classes: a simple mixture of apples, flour, and sugar, topped with flour, brown sugar, oats, and butter. There's Apple-Raspberry Oat Crumble, and Apple Brown Betty, both in our King Arthur Flour Whole Grain Baking book.
There's Apple (or Raspberry, or Blueberry, or Peach...) Crisp in our King Arthur Flour 200th Anniversary Cookbook. Harking back to a simpler time, this version doesn't even add sugar to the apples, relying solely on the topping for sweetening.
And then there's Apple Crumble, from our Baker's Companion book – my go-to source for anything I can't find on our site.
We wrote that book 6 years ago, but I still turn to it constantly, even with so many recipes here at kingarthurflour.com. I figure, I tested them then; I know they work; why go "outside" when the Mother Lode is right here on my bookshelf?
Admittedly, I can't resist tinkering. That's what creativity is all about, right? So I upped the cinnamon (for added flavor) and the amount of flour (for a more crumbly texture) in the topping. But other than that - it was good to go.
So - let's go!
Apple Pie Spice is a handy spice blend to have around, come apple-picking time. If your recipe calls for, say, 1 teaspoon cinnamon, 1/2 teaspoon ginger, and 1/4 teaspoon allspice (or cloves), simply substitute 1 3/4 teaspoons Apple Pie Spice.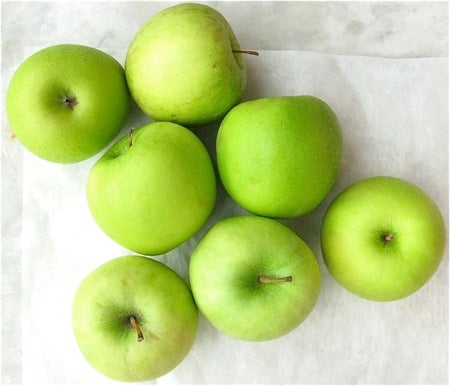 WHY am I using good ol' Granny Smiths for this crisp, with all the wonderful pick-your-own Macs, Cortlands, Ginger Golds, Paulareds, et. al. out there at this time of year? Because we photograph these blogs often months in advance; and when I did this one, Grannies were the best choice.
Let's start with 3 pounds of apples.
Lightly grease a 9" x 9" square pan, and preheat the oven to 350°F.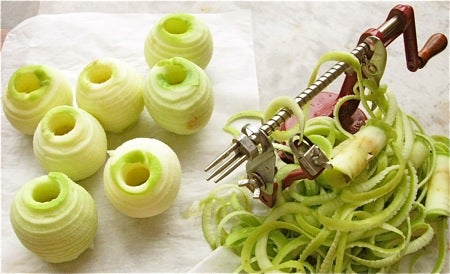 We're going to peel, core, and slice the apples to make about 2 pounds, about 9 cups prepared apples. An apple peeler/corer/slicer makes short work of this. I can peel, core, and slice an apple in just about 10 seconds - no joke! Truly, if you're an apple dessert fan, you should treat yourself to one of these babies.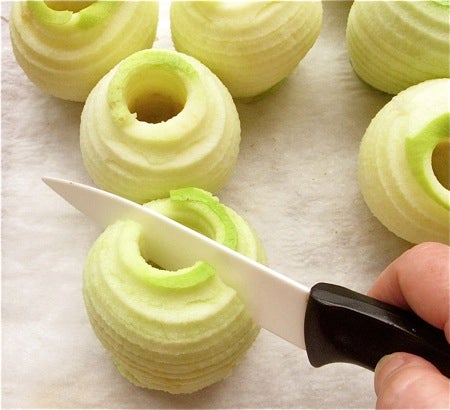 Here are the apples just as they come out of the peeler. One quick vertical swipe of the knife...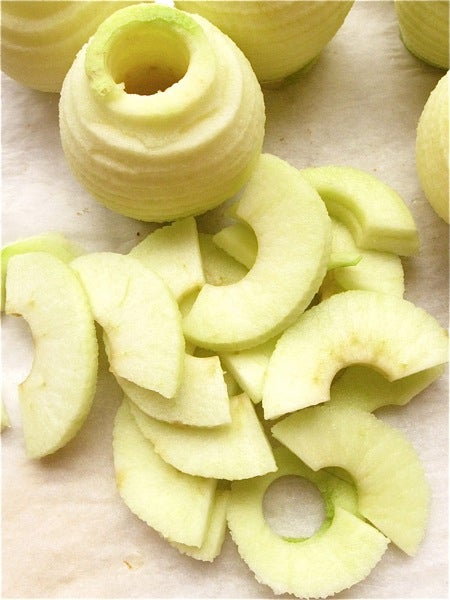 ...ahh, beautifully even slices! About 1/4" thick is right. For more "toothsome" crisp (or if you're using Macs, which become quite soft in cooking), cut the slices thicker.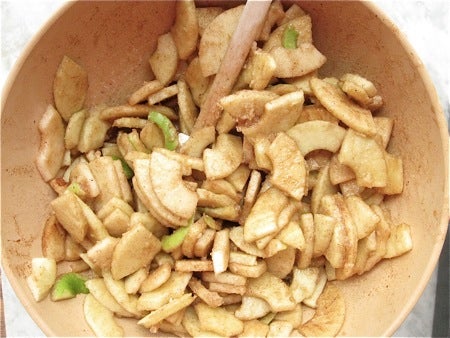 Next, we'll mix the apples with the following:
1/4 cup (57g) rum, apple cider or juice, or the liquor/juice of your choice; or water
1/4 to 3/4 cup (53g to 159g) brown sugar, depending on the sweetness/tartness of your apples
2 tablespoons (28g) butter, melted
2 tablespoons (43g) boiled cider, optional but good
1 1/2 teaspoons Apple Pie Spice, or 1 teaspoon cinnamon + 1/4 teaspoon nutmeg + 1/4 teaspoon ginger
3 tablespoons (21g) King Arthur Unbleached All-Purpose Flour or tapioca flour
1/4 teaspoon salt

Stir till everything is thoroughly combined.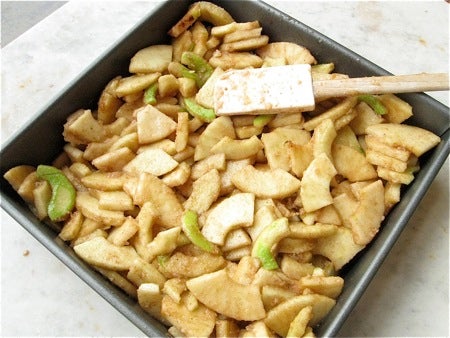 Spoon the mixture into the prepared pan.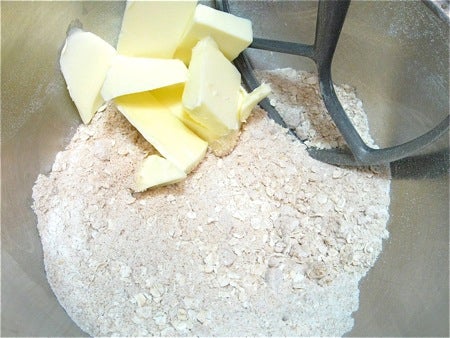 Next, the streusel topping. This puts the "crisp" in apple crisp.
Combine the following:
3/4 cup (85g) King Arthur Unbleached All-Purpose Flour
1/2 cup (50g) quick-cooking oats
heaping 1/4 teaspoon salt
2/3 cup (142g) brown sugar, packed
1 teaspoon cinnamon
3/4 teaspoon baking powder
Add 8 tablespoons (113g) cold butter, cut into pats.
Work it in till the mixture is crumbly. Add 1/2 cup (57g) diced pecans or walnuts, if you like.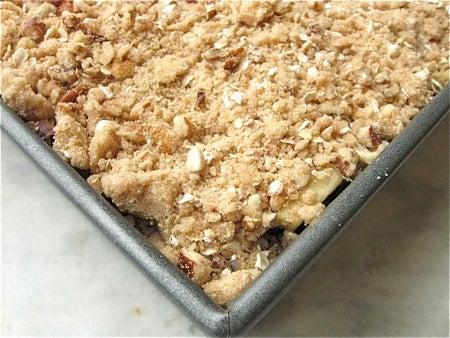 Sprinkle the streusel over the apples.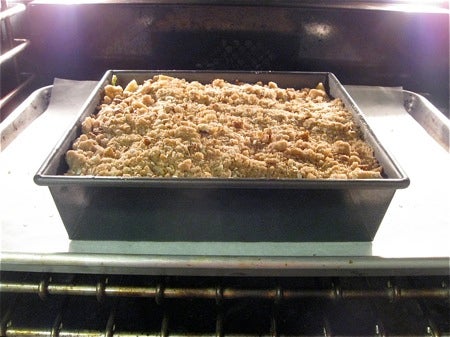 Set the crisp on a parchment-lined baking sheet (to catch any potential drips), and bake the crisp in a preheated 350°F oven for about 60 minutes.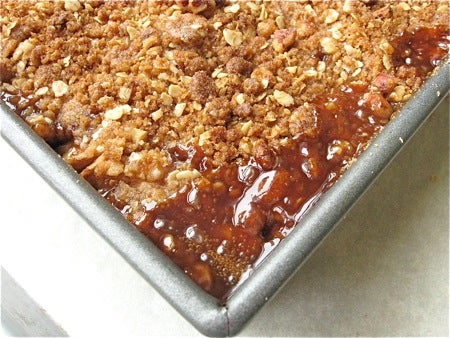 The cinnamon-y apples will become bubbly, and the streusel will brown.
Remove the crisp from the oven, and allow it to cool for at least 20 minutes before serving. If you serve it right away, it'll be watery. Ice cream, of course, is always welcome.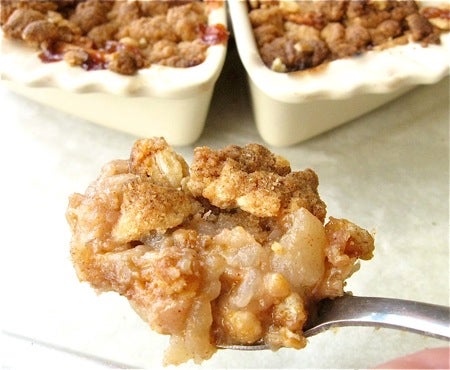 Yes, crisp is a wonderful thing - a lovely autumn dessert. And the perfect solution to all those apples you picked!
Read, rate, and review (please!) our recipe for Classic Apple Crisp.
Jump to Comments