If you read this blog regularly, you'll know that we've taken some flak lately about nonconformist interpretations of traditional treats. Like bialys and Black and White (a.k.a. Half Moon) cookies, for instance. 
I'm not complaining; I love to generate friendly controversies around baking. After all, it's more fun to disagree over the correct method for frosting Black and White cookies; or the amount of onions in the center of a bialy than, say, the merits of Congress' latest health-care plan.
Still, it's with trepidation that I publish this recipe for Classic Key Lime Pie. I KNOW there'll be residents of Key West who decry my use of anything other than fresh Key limes. And there are those who insist Key lime pie should be topped with meringue, not whipped cream. And that a graham cracker crust is an invention of the devil himself.
Well, let me tell you something: I began my quest for REAL Key lime pie assuming the classic version would NOT feature a filling based on sweetened condensed milk.
I was sure that someone, somewhere – Southern Living magazine? Paula Deen? – would offer me the original Key lime pie recipe, the Mother of all succeeding generations. Surely the true version must be custard-based, or at least lemon meringue-pie like.
Well, guess what? I was wrong. REAL Key lime pie, which first appeared prior to the Civil War, was a direct result of the Borden company's invention of sweetened condensed milk. Southern cooks, wanting to take advantage of this great new product, added lime juice, poured it into a pastry crust, and baked up what was destined to become one of America's favorite pies.
Pecan pie, another candidate for the Southern Baking Hall of Fame, had a similar provenance. It was invented in the 1930s by the wife of a Karo sales executive, to showcase that company's signature syrup.
So I'm throwing down the gauntlet. You can claim that your great-grandma's recipe for Key lime pie makes the one and only original, classic, true and REAL Key lime pie. But I'll counter with this information from one of my favorite Web sites, foodtimeline.org:
"Key lime pies were first made in the Keys in the 1850s. Jean A. Voltz, in The Flavor of the South (1977), explains that the recipe developed with the advent of sweetened condensed milk in 1856. Since there were few cows on the Keys, the new canned milk was welcomed by the residents and introduced into a pie made with lime juice. The original pies were made with a pastry crust, but a crust made from graham crackers later became popular and today is a matter of preference, as is the choice between whipped cream and meringue toppings."
And that's my last word on the subject. At least till your comments start coming in…
OK, enough with the history lesson. Let's make Classic Key Lime Pie.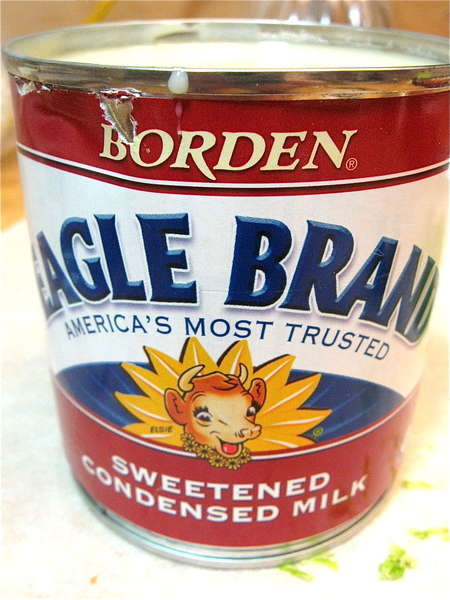 Ah, here it is, the progenitor of I wonder how many hundreds of thousands of Key lime pies since 1856... Borden's sweetened condensed milk. Thanks, Elsie!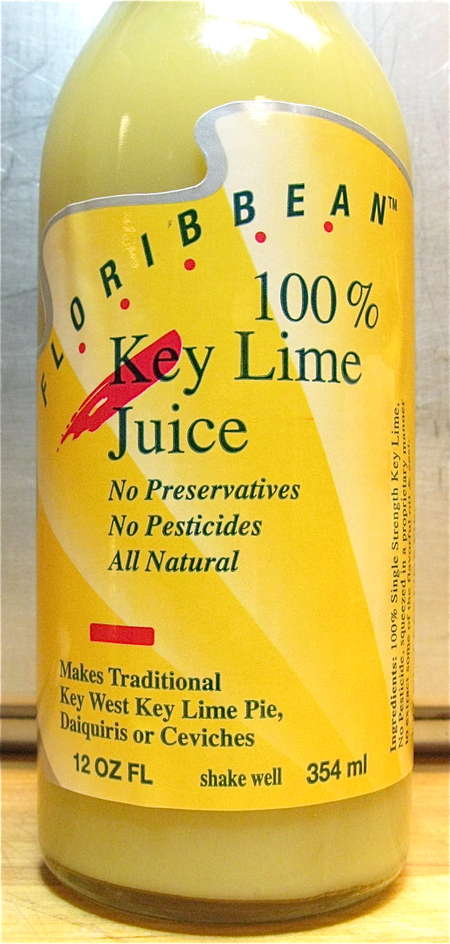 Next, lime juice. Use fresh Key lime juice, if you can find Key limes. (And no, I'm not going to get into an argument about whether all the "true" key lime trees in Florida were destroyed in the hurricane of 1927.)  Bottled Key lime juice is an option, too.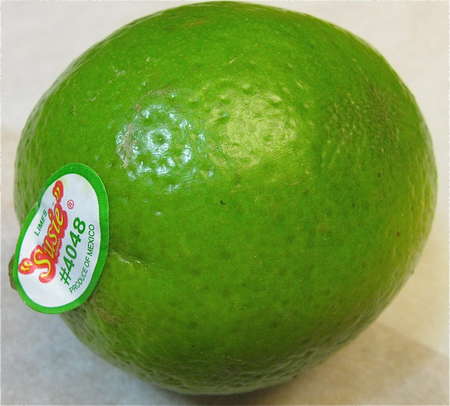 And then there are good ol' supermarket limes: Persian limes, of which "Susie" here is a nice, fat, juicy example.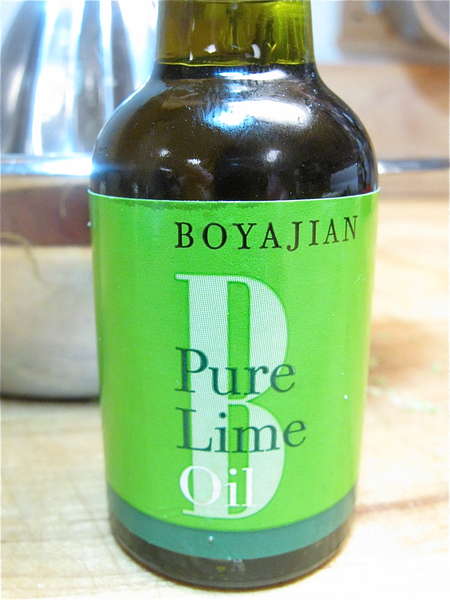 If you love-love-LOVE lime, lime oil should be a permanent resident of your fridge. It heightens the lime flavor of anything lime. Plus, it's a key ingredient in the BEST lime cookies...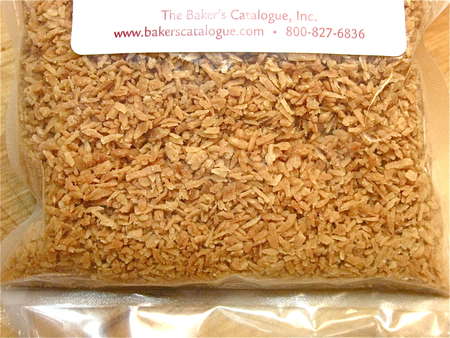 Now, talk about nonconformist – coconut in Key lime pie? Not exactly IN the pie, but toasted coconut added to the graham cracker crust is tasty indeed.
OK, let's jump in. First, select a pie pan whose inside top dimension is at least 9", and whose height is at least 1 1/4". Preheat the oven to 325°F.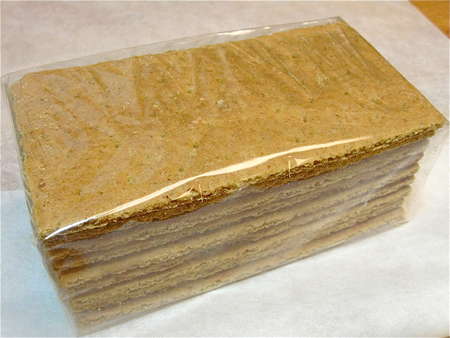 Next, get out your graham crackers. You'll need 9 crackers. There are usually 10 or 11 crackers in one sleeve, so have yourself a s'more with the extra(s).
Put the crackers into your food processor with 1/4 cup (28g) confectioners' sugar, and 1/8 teaspoon salt.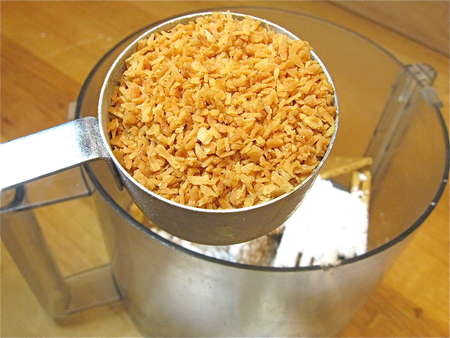 Add 1/4 to 1/3 cup toasted coconut, if desired, for that tropical touch.
Process until the mixture is pretty finely ground.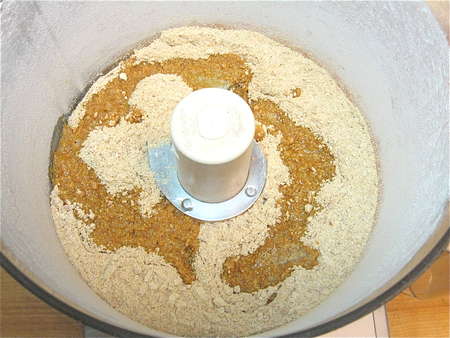 Add 5 2/3 tablespoons (74g) melted butter...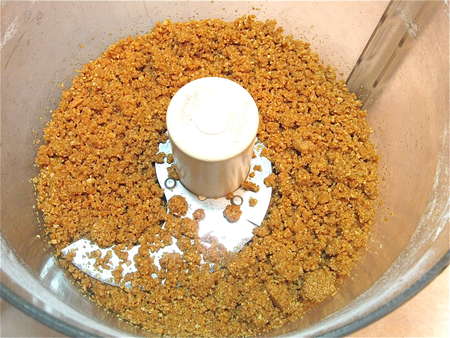 ...and process until the crumbs are moist and beginning to clump together.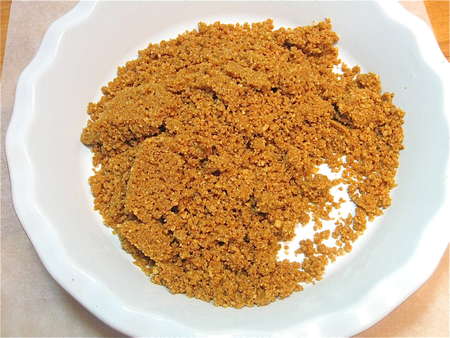 Pour into your pie pan. I've selected a stoneware pan here.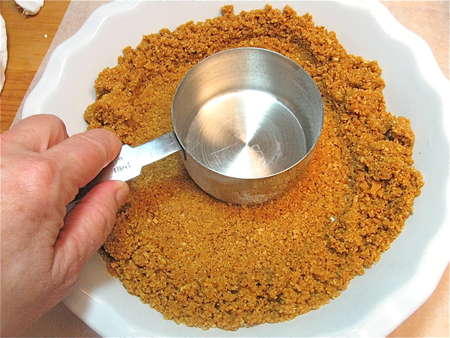 Use your fingers or, more effectively, the flat bottom of a measuring cup to press the crumbs into the bottom of the pan.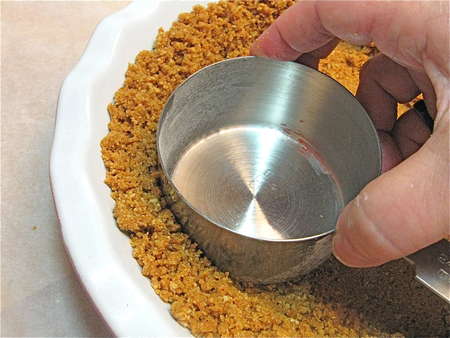 Use the side of the cup to press the crumbs against the side of the pan.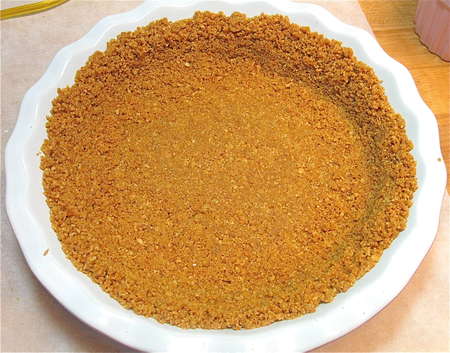 Your finished crust should look fairly smooth, like this.
Bake the pie crust for 15 minutes; it'll start to darken in color a bit. Remove it from the oven, and place it on a rack to cool while you make the filling.
WHAT are these limes doing in the microwave? Rumor has it that heating them briefly softens their interior membranes, allowing them to release more juice.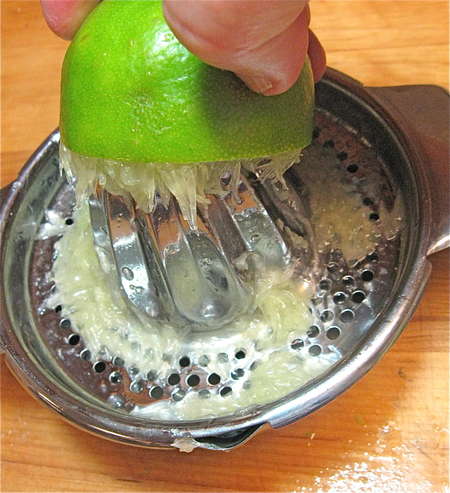 I did the test; didn't seem to make much difference. But the softened lime did feel easier to squeeze.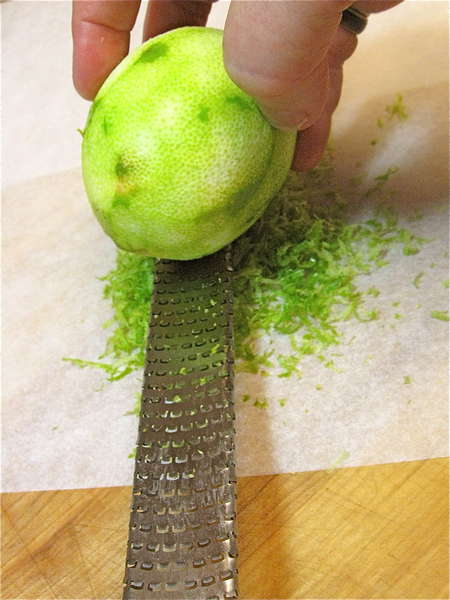 Before you squeeze the juice out of all the limes, shred the peel off one of them. I'm using a microplane zester here; it works very well indeed. Microplane definitely makes sharp, efficient graters.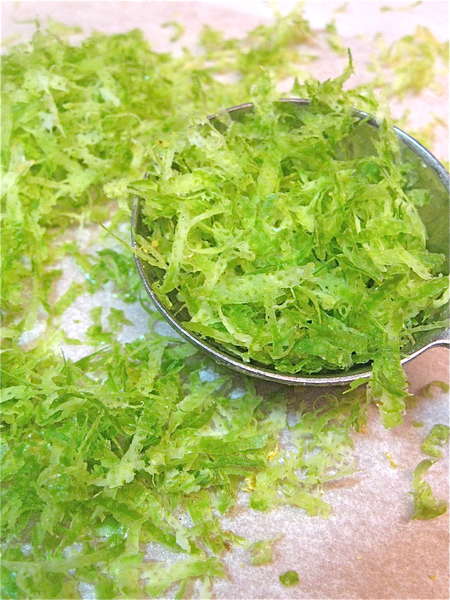 One lime should yield about 3 tablespoons (not packed) of zest. Don't stress about a bit more or less.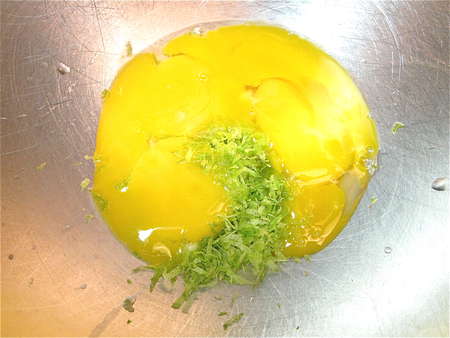 Put the zest and 3 large egg yolks into a mixing bowl.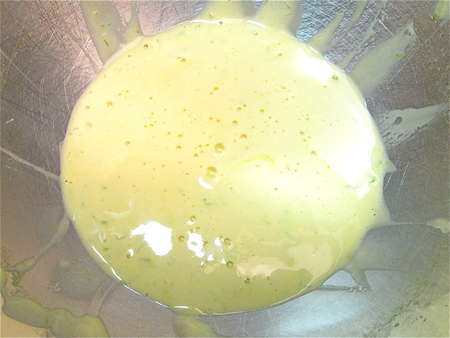 Whisk the zest and egg yolks at high speed of an electric mixer for about 4 minutes. The mixture will lighten in color and thicken somewhat, looking kind of like Hollandaise sauce.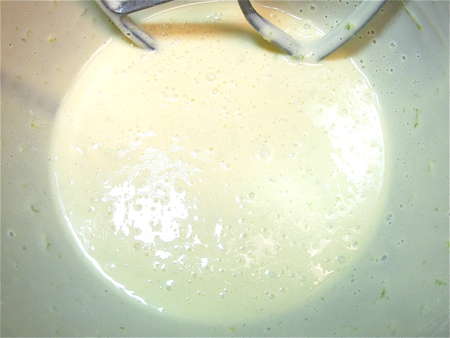 Stir in one 14-ounce can of sweetened condensed milk, mixing till smooth. Beat at high speed for 3 minutes; the filling will become slightly thicker, and gain a bit of volume.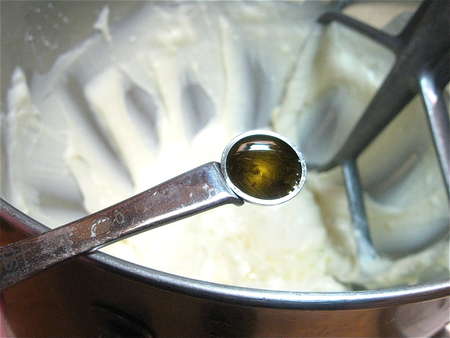 Add the 2/3 cup (152g) lime juice, stirring just to combine. The mixture will thicken. Add lime oil to taste, about 1/8 teaspoon. Keep in mind that real or bottled Key lime juice is generally more potent/sour than Persian lime juice, so you probably won't need as much (or any) lime oil if you're using Key lime juice.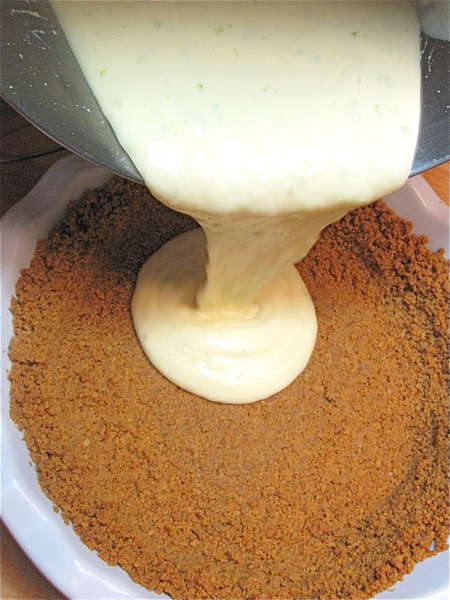 Pour the filling into the crust.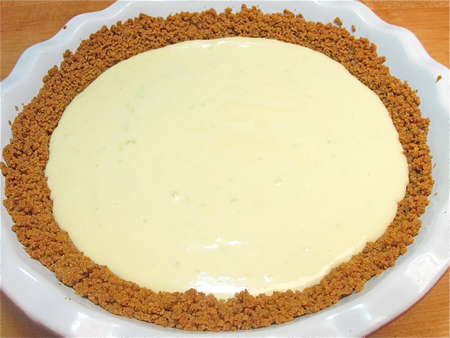 Smooth it out, if necessary.
Bake for about 25 minutes, till it appears set around the edges, though still a bit wobbly in the center. The center should read about 145°F on an instant-read thermometer. You'll want to add strips of aluminum foil, or a pie crust shield, after about the first 15 minutes, to prevent the edges from over-browning.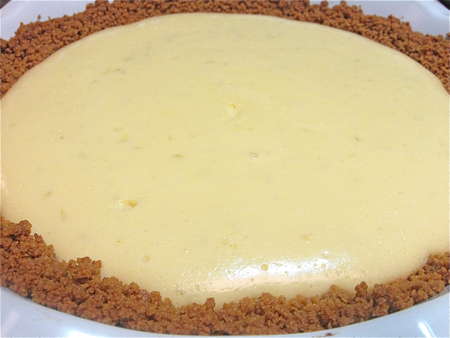 Remove the pie from the oven. It will have puffed up a bit, and it'll gradually settle as it cools.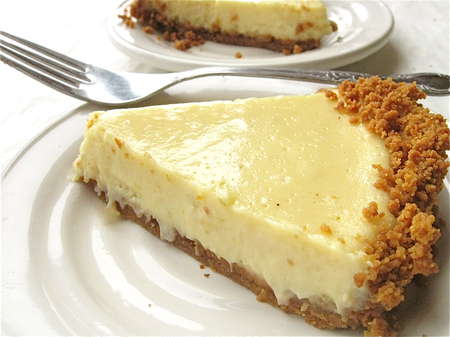 Let the pie cool to room temperature. Refrigerate for several hours before serving. Slice and serve each piece with a lightly sweetened dollop of whipped cream, if desired. (I eschew whipped cream. Not because it's untraditional; but because I take my KLP straight.)
BTW, garnishing with whipped cream is not heresy. What you do in the privacy of your kitchen is nobody's business but your own. Cool Whip, Reddi Wip, Ben and Jerry's Chunky Monkey – heck, it's all good.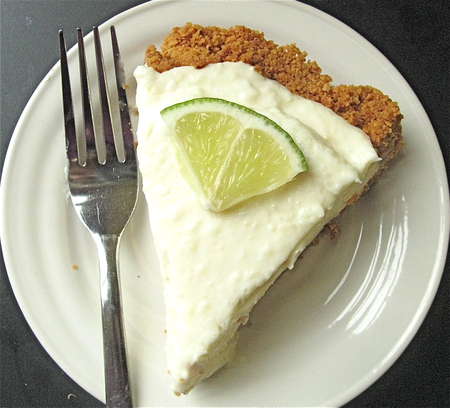 P.S. No-bake Key lime pies were popular as early as the 1940s. So if you worry about egg yolks, or simply prefer an easy no-bake filling, try this cream cheese/condensed milk Key Lime Pie.
Read, rate, and review (please!) our recipe for Classic Key Lime Pie.
Jump to Comments