Fluffy white icing
A 7-minute solution in less than 5 minutes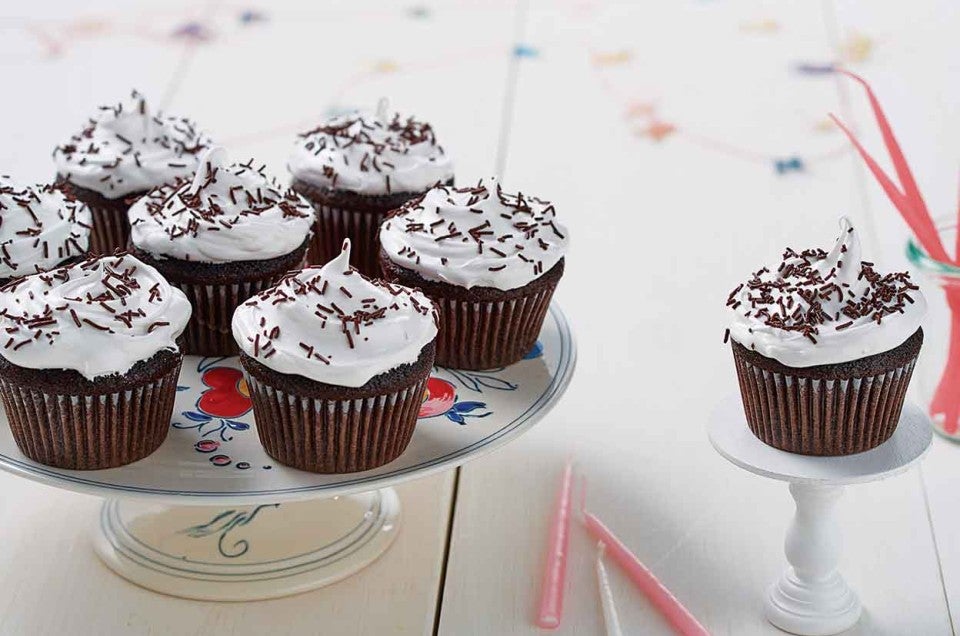 How long since you've baked cupcakes? THAT long, eh? Isn't it time to get back into the cupcake habit?
If you've ever had kids in the house, you've no doubt made cupcakes. Before school systems reacted to allergy issues by becoming super-strict about food brought in from outside, cupcakes were a must-have for class parties. Birthdays, Halloween, whatever the festive occasion, a couple of dozen decorated cupcakes were sure to appear.
And when you were really lucky, the Room Mother (yes, that's what the mom officially in charge of classroom celebrations was called) would make cupcakes mounded with marshmallow-y 7-minute icing.
To this day, nothing approaches the throwback bliss of 7-minute icing. Soft, gooey (and almost utterly tasteless, beyond its huge hit of sugar), it's the perfect kids' icing.
What's more, it's yin to chocolate's yang, the literal "icing on the cake" for fudge cupcakes. A veritable frosting nonpareil. Sometimes with nonpareils, because there's nothing that calls for a scattering of colorful decorations like a mounded swirl of stark-white 7-minute icing.
Maybe it's been years since you've made cupcakes. And even longer since you topped them with 7-minute icing. Well, times have changed, at least in the icing department. It's no longer necessary to labor over a simmering double boiler with an electric beater for 7 minutes. Now, you simply have to boil sugar and water, and beat the syrup into a bowl of egg whites; the whole thing whips up in a couple of minutes, max.
So, next time you need dessert for a crowd, bake up a batch of fudge cupcakes. And instead of the usual chocolate ganache or vanilla buttercream, top 'em with this tasty salute to the past: 7-minute icing—without the wait.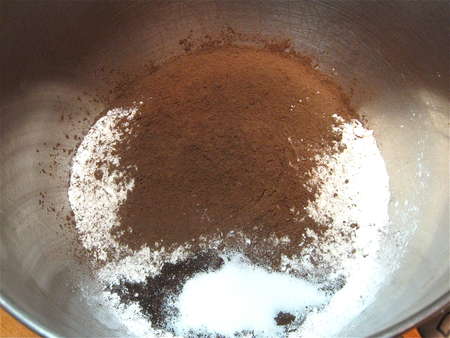 Let's start with this incredibly easy fudge cake recipe. No creaming. Just combine the dry ingredients...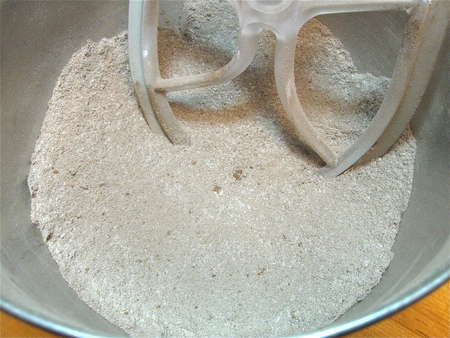 ...like this.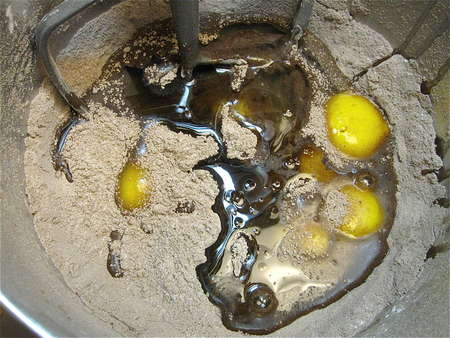 Add whole eggs, yolks, vegetable oil, and vanilla. (Eagle-eyed readers may notice I'm using the metal beater here rather than silicone. I'd neglected to take a photo of this step when originally making the cupcake batter, so made it again and randomly chose the metal beater.)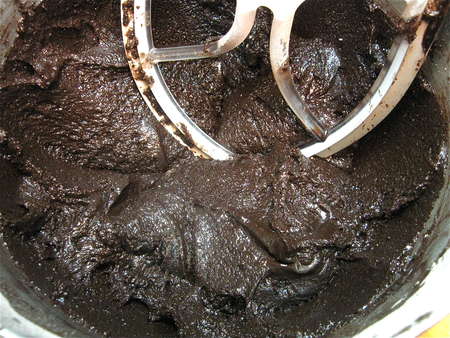 The batter will be fairly thick, and look a bit grainy.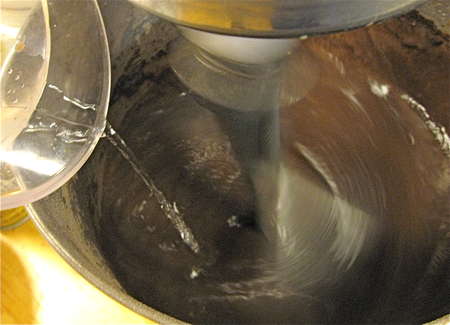 Add water with the mixer going. Take it slow; you want to minimize the splashing here.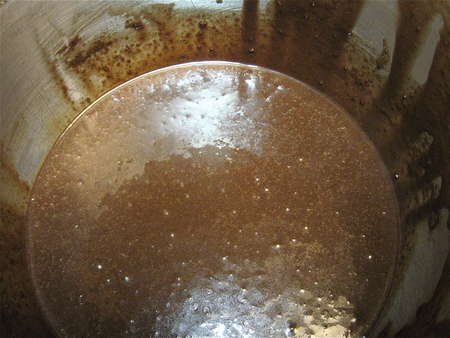 And here's your thin cake batter.
Why bother to scrape the sides and bottom of the bowl once the batter seems smooth? Because this is what you'll dredge up: a pasty flour/liquid sludge, which needs to be re-deposited into the bowl and mixed into the batter.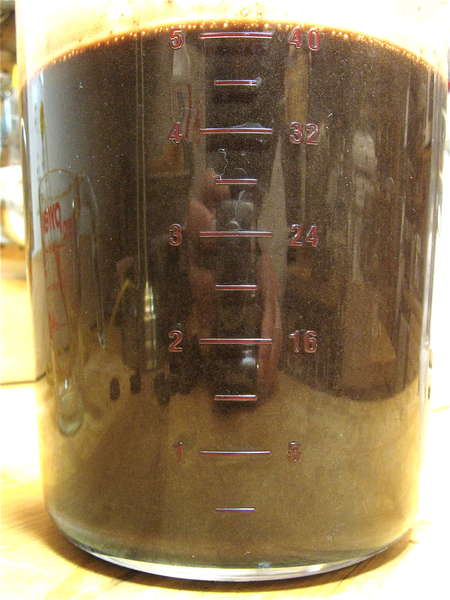 It's easiest to fill your cupcake cups if you transfer the batter to something with a spout. Like my favorite 8-cup measure.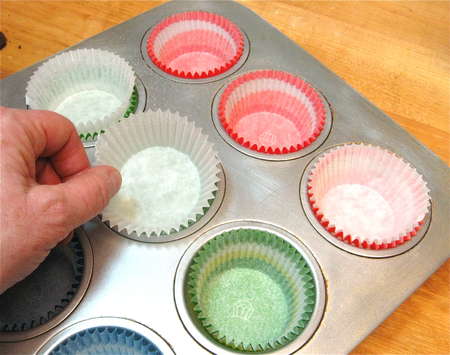 Put colorful cupcake papers into two 12-cup muffin or cupcake pans. This recipe makes 2 dozen cupcakes. If you have two muffin pans you can bake the whole lot at once. Otherwise, simply set the cake batter aside as you bake the first dozen, then re-line with papers and bake the second dozen.
To preserve the most vibrant colors in the cupcake papers, I like to line the outer colored papers with plain white papers. But this is admittedly a fussy step; skip it if you like.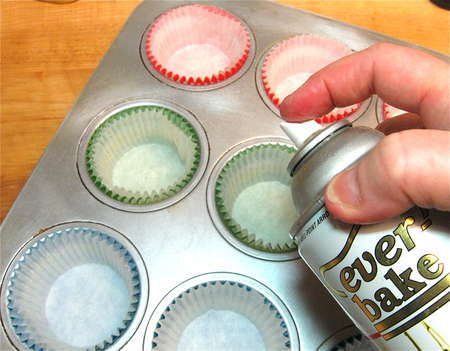 Spray cups with EverBake or your favorite non-stick vegetable oil spray. Again, you don't need to do this if you don't want to; I just like to make every effort to preserve the structural integrity of my cakes!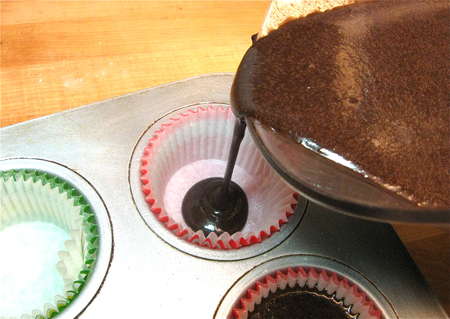 Pour batter into the prepared cups.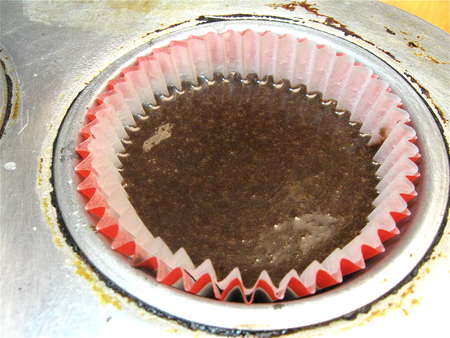 Use a scant 1/4 cup batter in each muffin cup, which should fill it about 3/4 full.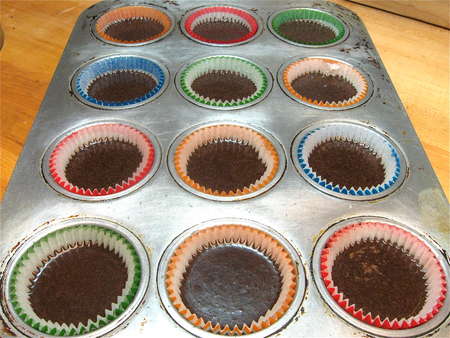 Here are the first dozen, ready to go into the oven.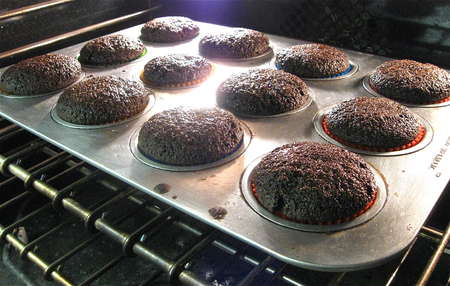 The cupcakes will dome nicely...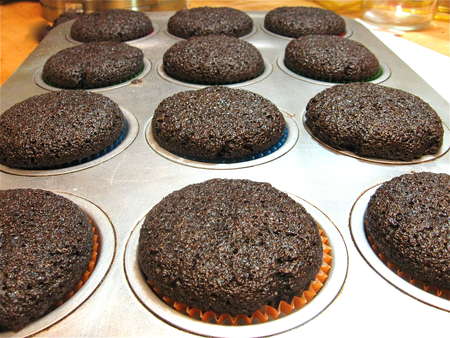 ...then settle back a bit as they cool. Bake the second dozen cupcakes, if you didn't bake them all at once.
While cupcakes cool, make the icing.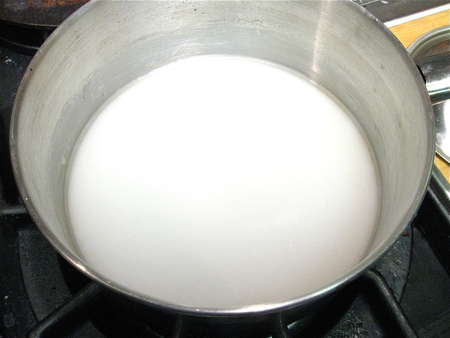 Although this tastes just like a classic 7-minute icing, it's a lot simpler to make. Icing made using this method is often known as Italian meringue. We'll start with sugar, water, salt, and cream of tartar in a saucepan.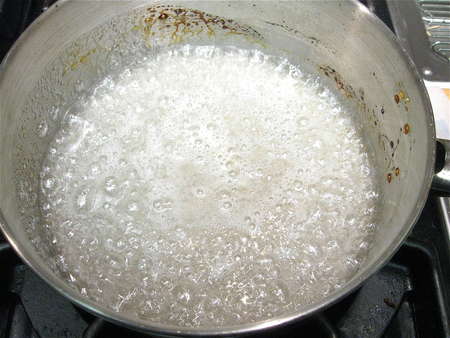 Bring to a boil; boil, stirring, until the sugar dissolves. the boil, undisturbed, for 2 minutes, or until the syrup registers 240°F on a candy thermometer or instant-read thermometer.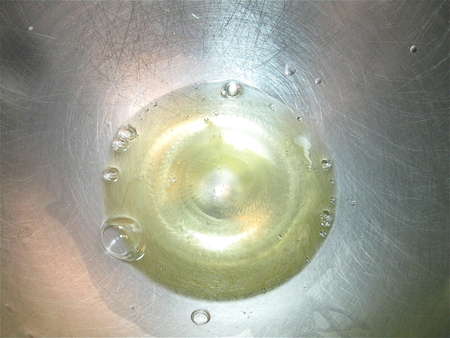 While the water/sugar mixture is coming to a boil, place the egg whites (the ones you saved from the eggs used in the cake) into a mixing bowl.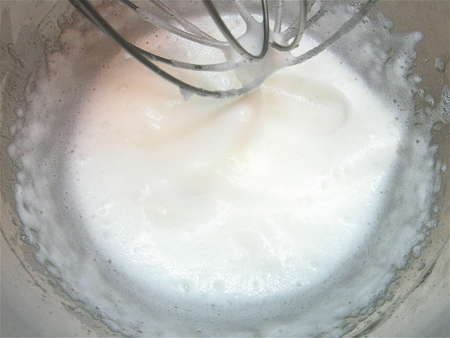 Whisk till they're white and foamy, but not stiff.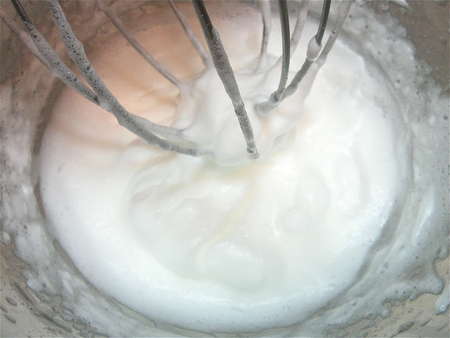 This is about right.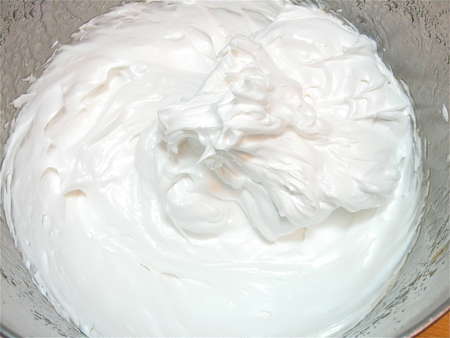 With the mixer on high speed, pour the boiling sugar syrup into the bowl in a thin stream. Be careful; don't do this with kids or dogs underfoot. The icing will gradually thicken, and increase in volume.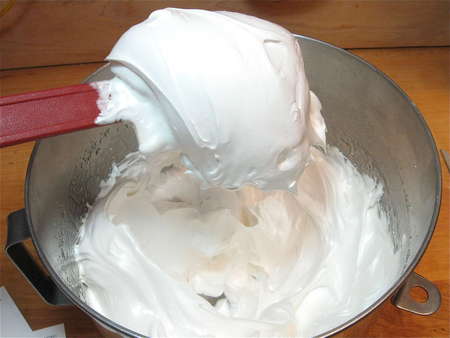 Look how thick and voluptuous it is! Stir in the vanilla extract.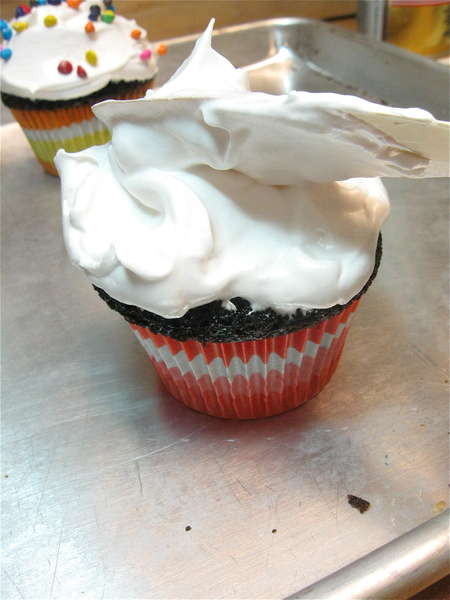 Spread the icing atop the cupcakes.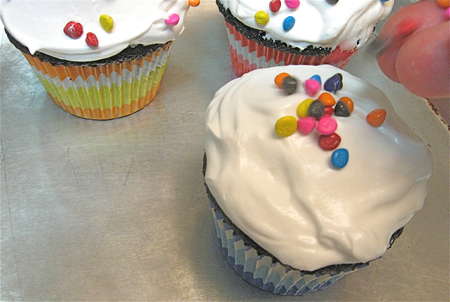 Immediately add decorations, if you're so inclined; they'll stick better while the icing is still warm.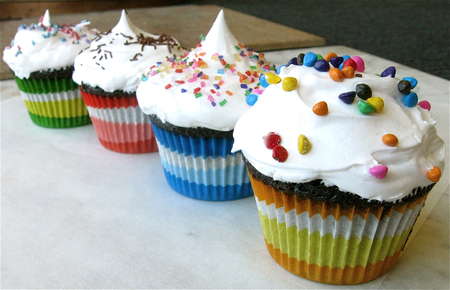 Go wild!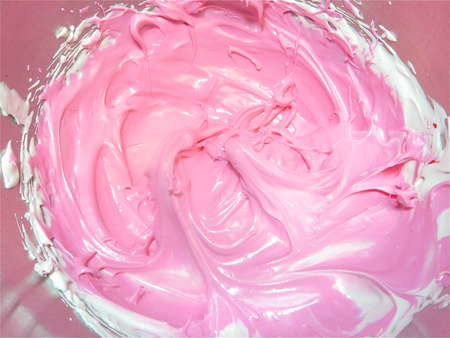 Next, color some of the icing, if you like.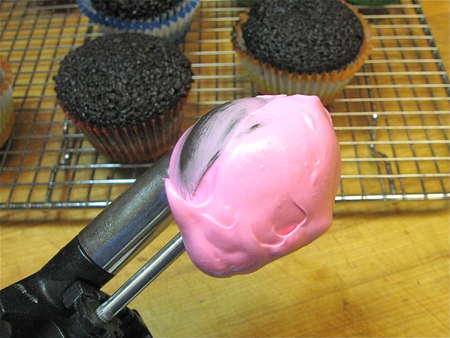 It's handy and easy to use a tablespoon cookie scoop to dollop the icing atop the cupcakes.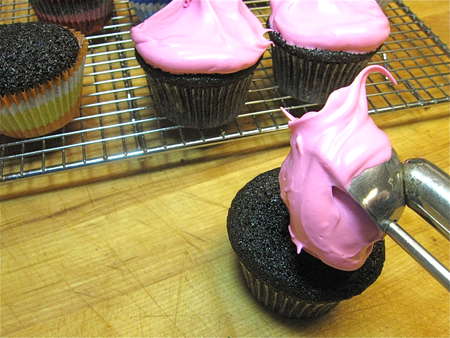 Plop...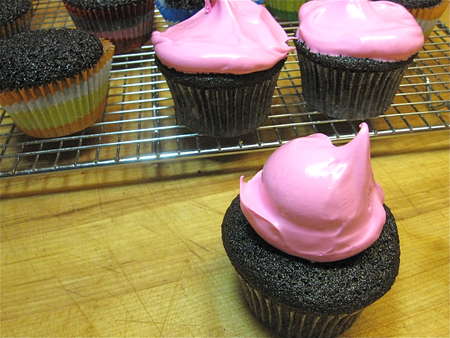 Done. No sticky fingers.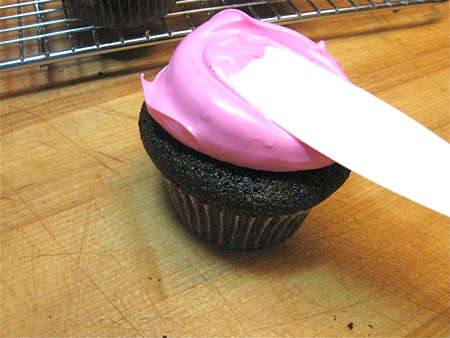 Use a spreader or spatula to smooth it out.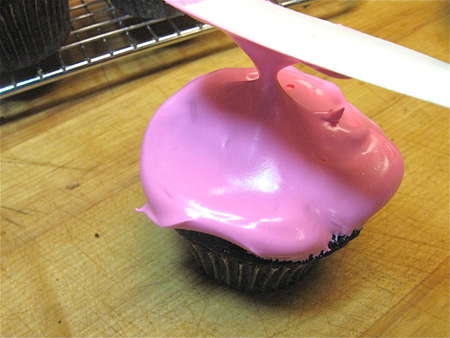 Lift the spreader gently, to leave a peak.
Like this. Deluxe, huh?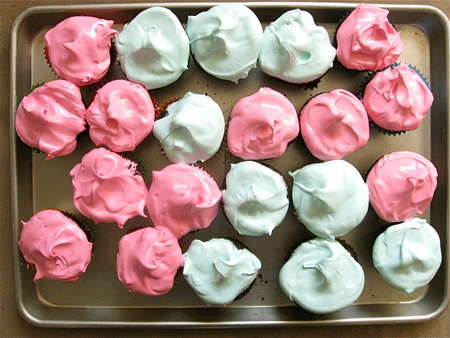 How about these for a baby shower, sports fans?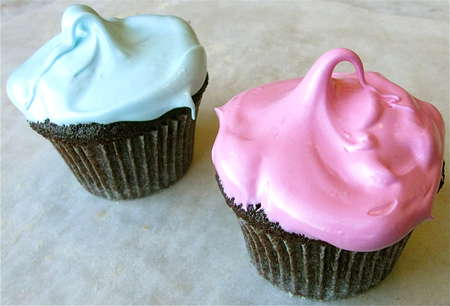 No doubt about it, cupcakes are cute. But if you're more into birthday cake...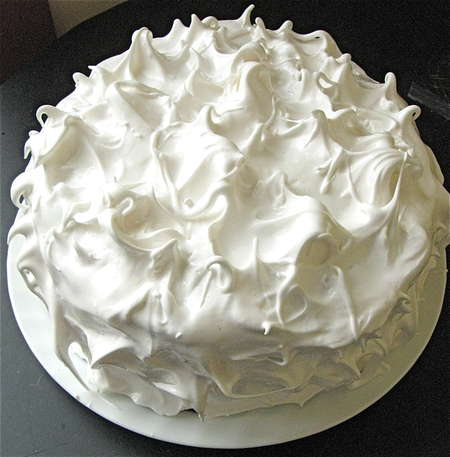 ...go for it, using this same recipe.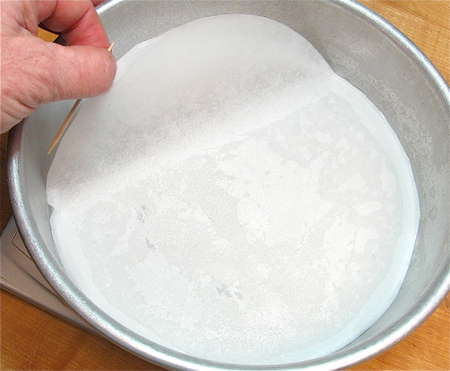 Line your 8" x 2"-deep pan with parchment. Make sure your pans are a full 2" deep; any less, the cake will overflow as it bakes. If you don't have a pair of 8" x 2" pans, use two 9" round pans. Or a 9" x 13" sheet cake pan.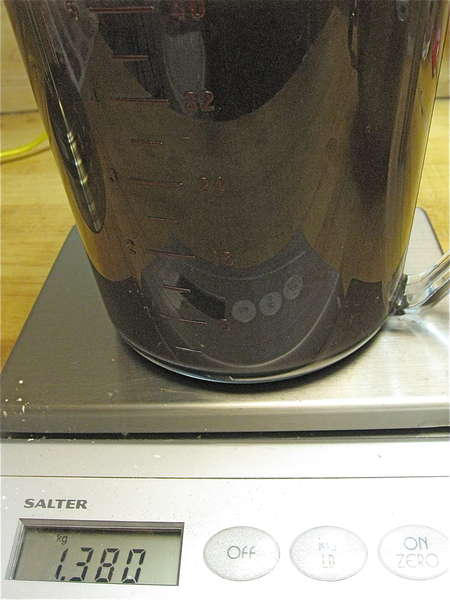 To make two layers of the exact same size, weigh the batter...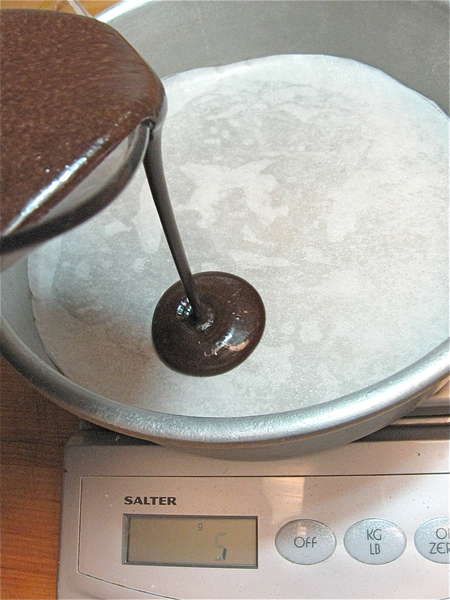 Then pour half into each pan.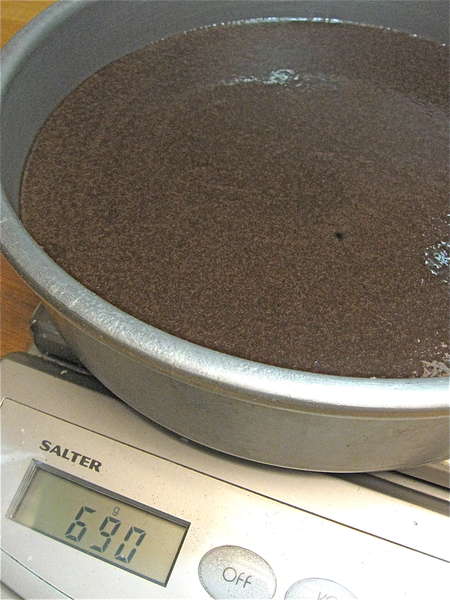 Like this. A scale certainly makes it easier, and it's a lot more accurate than simply eyeballing the batter.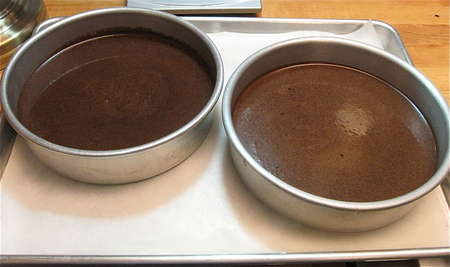 Put the cake pans on a half-sheet pan lined with parchment. If there's any overflow, it'll be contained on the parchment. Certainly easier than cleaning the bottom of your oven. Plus, setting the pans on another pan makes them easier to handle; no danger of sticking your oven-mitted thumb into the batter.
Bake the cakes for about 35 minutes, till they test done.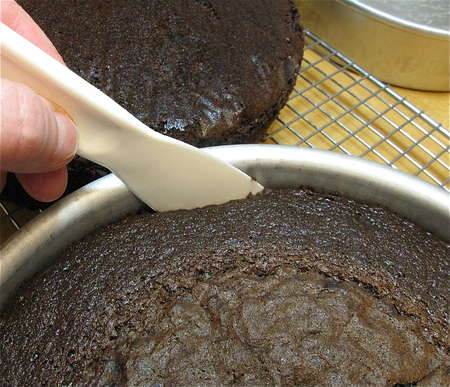 Once the cakes are baked, let them cool for 15 minutes in the pan. Run a table knife or spreader around the edge, to loosen the sides.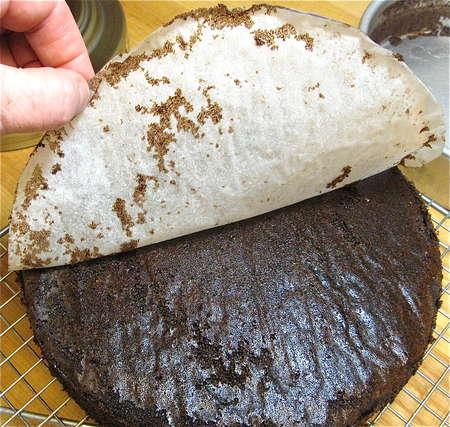 Turn out onto a rack, and peel off the parchment. It's wonderful to be assured that the cake won't stick to the bottom of the pan, isn't it?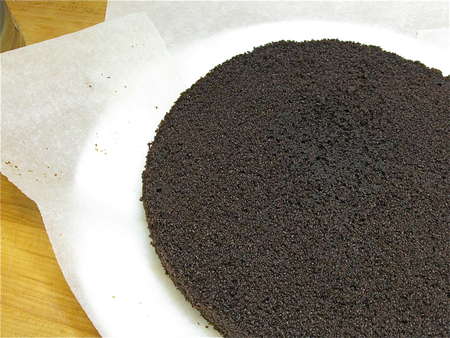 I decided to cut the two layers in half around the circumference, to make four layers. Then I placed one layer on a serving plate, tore strips of parchment, and set them under the edge of the cake, to protect the plate as I applied frosting.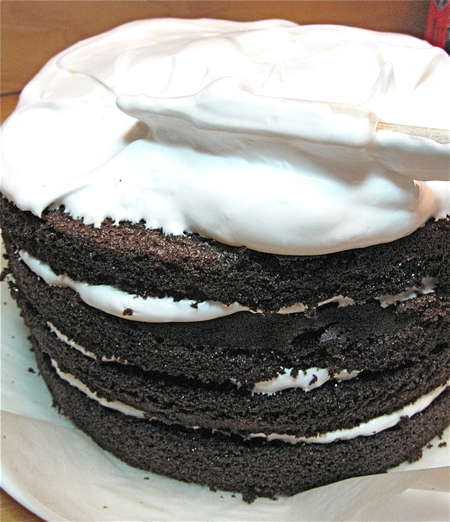 So, frost, frost, frost...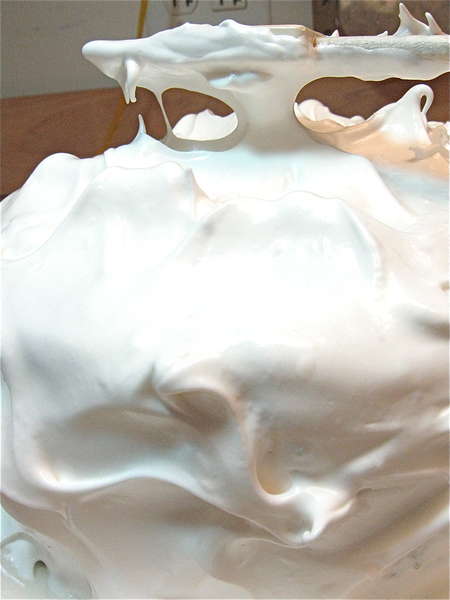 Do the "peak" trick again, to decorate the top and sides.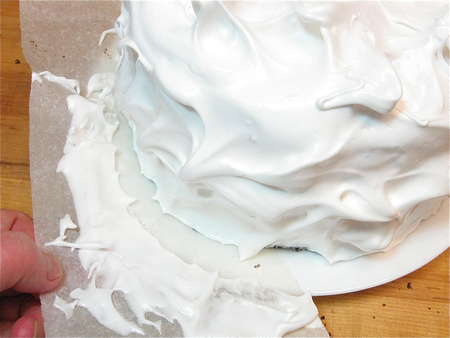 Grab the parchment and slide it out...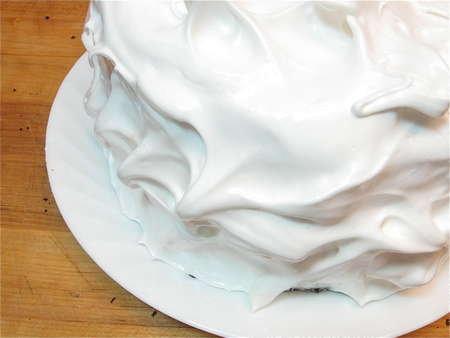 ...revealing a perfectly clean serving plate.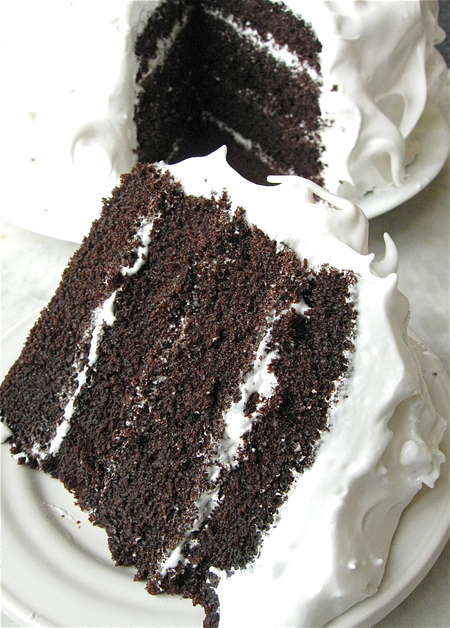 Oh, yes... The Web team gave this cake an enthusiastic thumbs-up!
Read, rate, and review (please!) our recipe for Favorite Fudge Birthday Cupcakes with 7-Minute Icing.
Note: The USFDA advises against consumption of raw eggs in any form. If you're worried about possible egg contamination and health issues, please be sure to use pasteurized egg whites in the frosting for these cupcakes or cake.
Jump to Comments