Hard times demand hard solutions. With a little over $7 of ingredients, you can bake a big, warm, cinnamon-y coffeecake, a slab o' happiness that's guaranteed to take everyone's mind off of Wall Street AND Main Street, and focus it instead on something a lot more palatable: comfort food.
If we were ever in need of comfort food, now's the time. I saw a bumper sticker recently that absolutely cracked me up: Why are we in this handbasket, and where are we going? "How can you laugh about all this?" you say. Right now, no one seems to have a clue—including our government experts—what the future will bring.
Which makes this the perfect time to laugh. None of us can influence what's happening in the global economy; we're just along for the bumpy ride. So while the world shudders, let's all "brighten the corner where you are," as my first-grade teacher used to say. To me, that means the simple pleasure of a hot-from-the-oven treat, shared with those around me: friends, family, and colleagues.
We may be in the handbasket right now. But I don't believe the destination typical of handbaskets will be ours. America is strong, tough, and resilient. In time, we'll ride this storm to calmer waters, to a new, different, and hopefully better society. And in the meantime, I intend to enjoy homemade bread, muffins, cookies, pizza, cake… and a warm square of Cinnamon Streusel Coffeecake.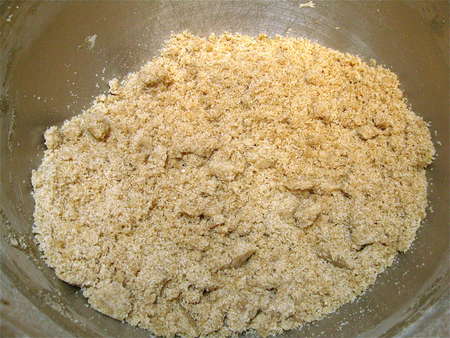 Let's begin by making the filling and the topping. That way they'll be ready to use once the cake batter is mixed up. For the filling, combine brown sugar, cinnamon, and a touch of cocoa powder (for color); I simply shake everything up in a plastic container. For the topping, we'll stir together sugar, salt, flour, and cinnamon, then add butter till the mixture becomes unevenly clumpy (above). Set both filling and topping aside while you make the cake batter.
Combine butter, salt, sugars, baking powder, and vanilla in a large mixing bowl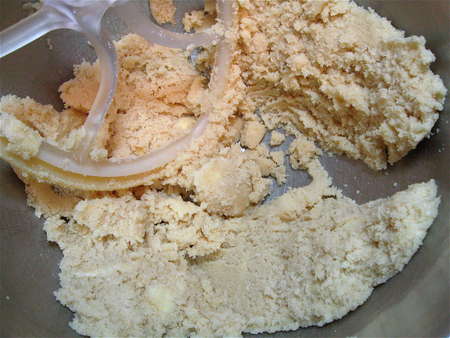 Mix till fairly smooth.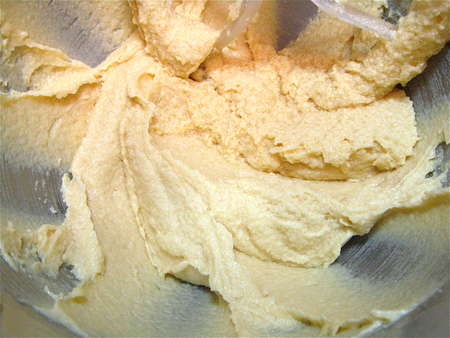 Beat in the eggs; look how the batter smooths out.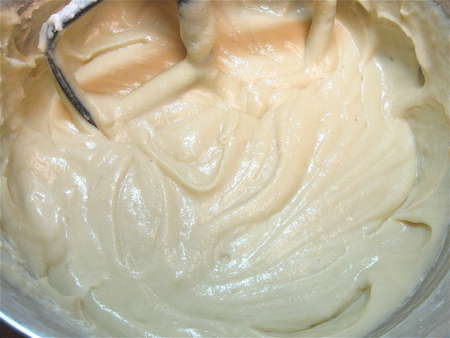 Add the flour alternately with the sour cream/milk mixture, beating gently to make a smooth, thick batter.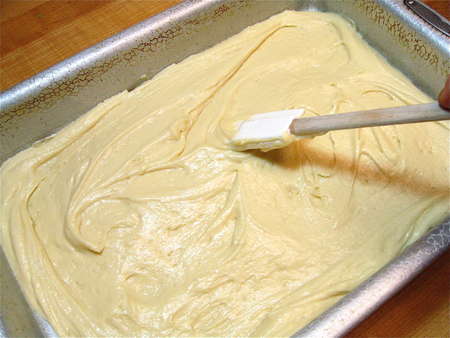 Spoon half the batter (about 28 ounces) into a 9" x 13" pan, and smooth it out with a spatula.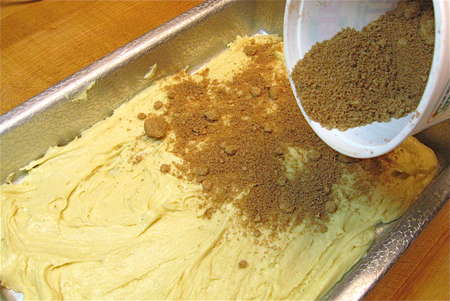 Sprinkle with the filling...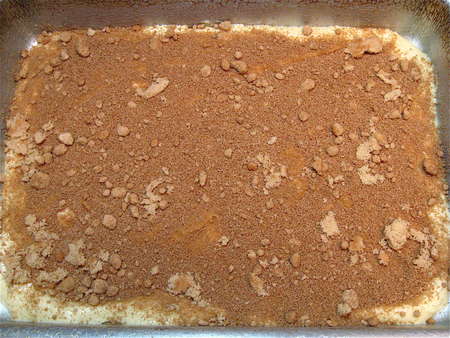 ...then shake the pan to distribute the filling evenly across the batter.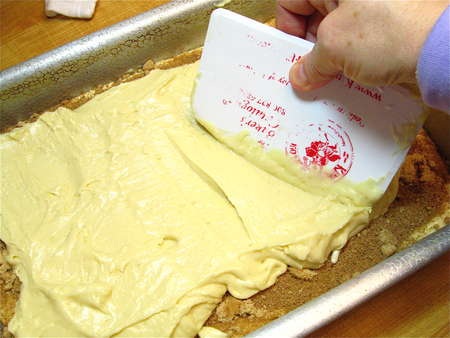 Spoon on the rest of the batter, and smooth it with a spatula dipped in water.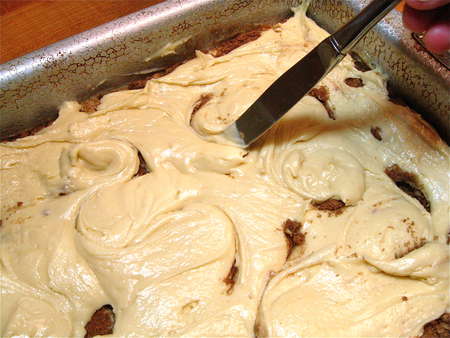 Use a table knife to gently swirl the filling into the batter.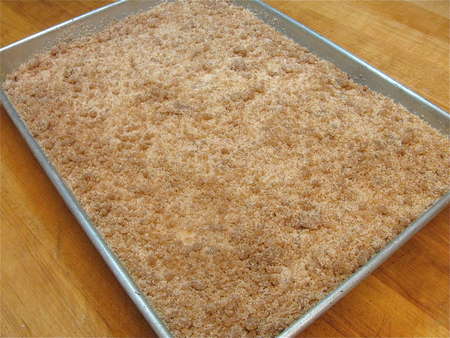 Then sprinkle with the topping, again shaking the pan to distribute.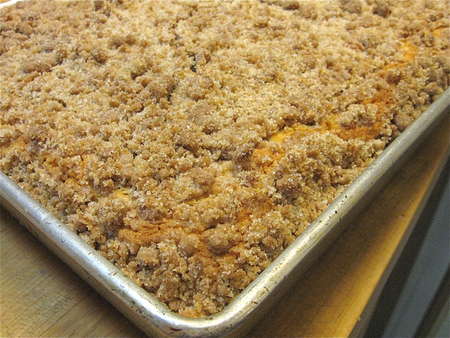 Bake till the cake is golden brown all over, with no light spots. This is important; since this is a rather large cake, you need to bake it thoroughly to be sure the center is done, as well as the edges. Just make sure it's a rich brown, not light/barely brown.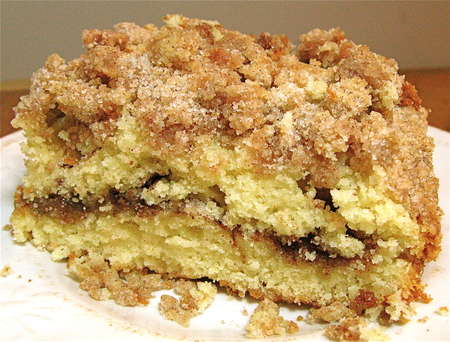 Imagine this cake warm from the oven. Imagine the aroma of cinnamon filling your kitchen. Kind of makes you wish it was Sunday morning every day, eh?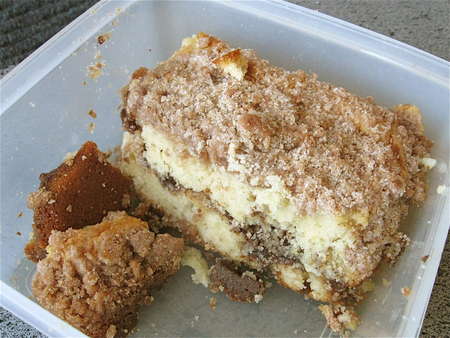 P.S. I baked this cake and brought it on a group vacation. Eleven days (and 450 miles) later, here's the little piece that was left: unbelievably, still fresh and tasty.
Read, review, and rate (please!) our recipe for King Arthur Guaranteed Cinnamon Streusel Coffeecake.
Buy vs. Bake
Buy: Boston Coffee Cake cinnamon-walnut coffeecake, 1 1/2-lb. cake, $6.99, 29¢/ounce
Bake at home: Cinnamon-Streusel Coffeecake, 5 1/4-lb. cake, $7.22, 9¢/ounce
P.S. YEE-HAW! This is my 100th post since we started this blog last Christmas. I haven't had so much fun since Hector was a pup...
Jump to Comments