What to do with all your zucchini
Make chocolate zucchini cake!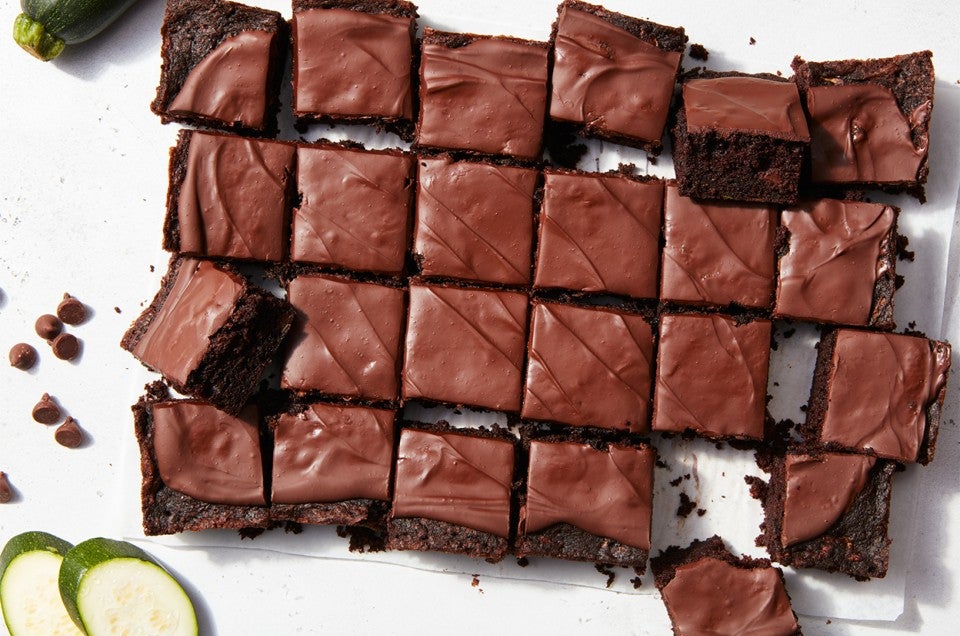 OK, I know I teased you by mentioning zucchini in a post last week. But then I took off in another direction, extolling the virtues of fresh tomatoes and cukes, mint and onions and peppers. And poor old zucchini, the orphan of the garden, got left in the dust. (Or mud, if you've had the kind of summer we've had up here in Vermont.)
But in truth, zucchini is a happy-go-lucky vegetable: you're happy when you find a recipe that features zucchini, and lucky when it actually works. For example, zucchini takes well to grilling (splash with soy sauce for flavor); and it's a nice (though potentially mushy) stand-in for eggplant in cannelloni or Parmigiana. And if you're looking to round out a stir-fry, zucchini's bulk and mild flavor are just the ticket.
So zucchini, I'm sorry we all malign you. You're like the Blue Jay: your ubiquity hides your beauty. But, given the chance, you can shine. So center stage is now yours: let's see a virtuoso performance out there. Oh, and one more thing: not that I don't love you, but remind me to plant just ONE zucchini next year…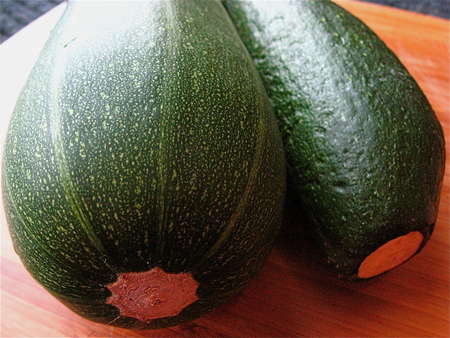 Here they are, the stars of the show. Big fat zucchini. Little skinny zucchini that fell off the vine and started to wrinkle. I'm sure your garden has every possible incarnation of ready-to-pick zucchini right now. Did you ever wonder why there aren't "u-pick" zucchini farms out there, like there are for strawberries and blueberries? Great concept, huh? NOT.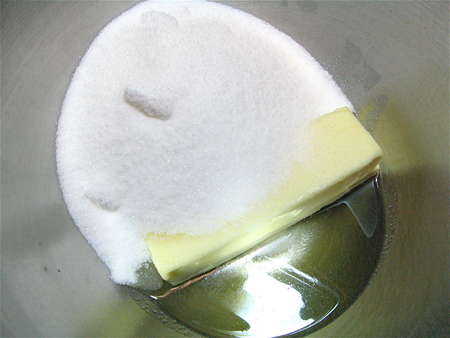 First, we're going to take zucchini and make something completely antithetical out of it: chocolate cake. You've heard of zucchini bread, right? Zucchini muffins, and pancakes? Same concept, taking zucchini and mixing it with flour, sugar, eggs, butter... But (my opinion), bringing it to a new level. Let's start with sugar, butter, baking powder/soda, salt, vanilla, and vegetable oil.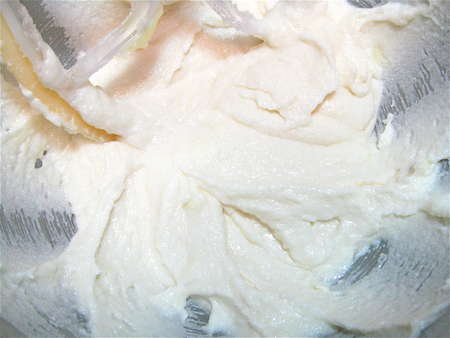 Beat till smooth.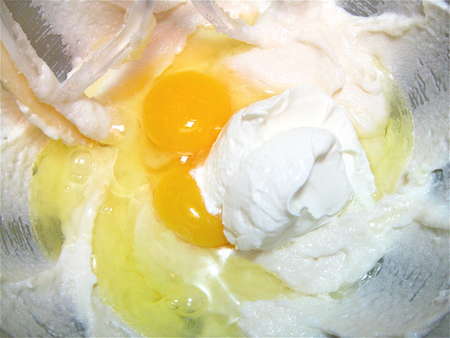 Add eggs, and beat again.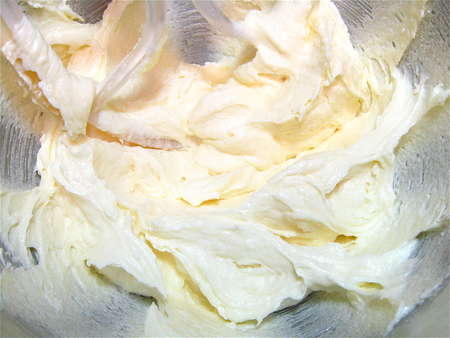 Then stir in the sour cream (or yogurt), and flour, alternating one with the other to keep the batter light and lump-free.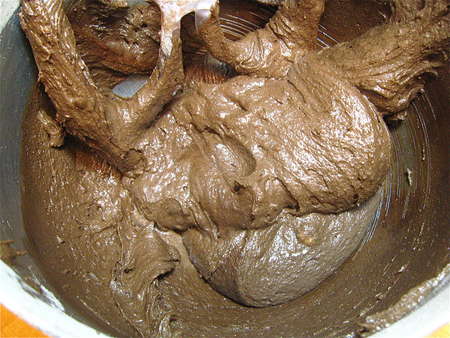 Next comes the cocoa and espresso powder. I lovelovelove our Double Dutch Dark Cocoa, a combination of black cocoa and Dutch process. It honestly makes the BEST cake and brownies. And espresso powder is like vanilla—you can't taste it, but it heightens chocolate's flavor. If you're a dedicated chocolate-lovers, trust me; you should have both of these ingredients in your pantry at all times.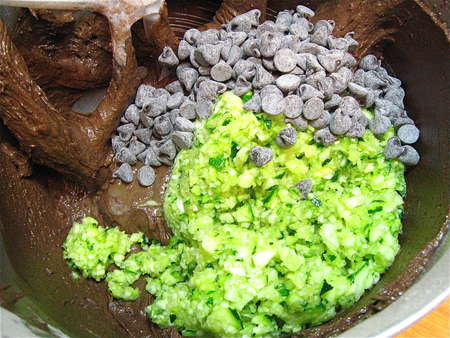 Now add chocolate chips, and 3 cups of shredded or grated (not liquefied!) zucchini. Which translates to about 1 medium (10") zucchini, about 12 3/4 to 15 3/4 ounces. I know, this doesn't make much of a dent in your crop. But wait—there's more! Let's get through the cake first.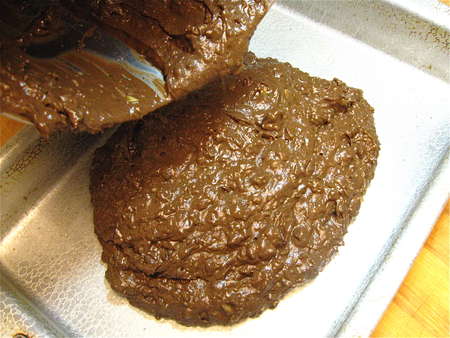 Pour the batter into a greased 9" x 13" pan...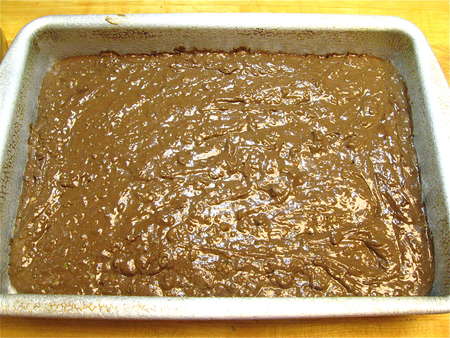 ...and smooth it into the corners.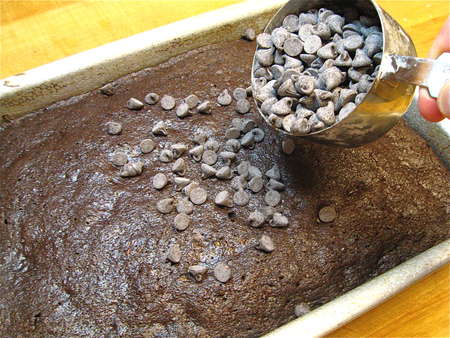 Bake the cake till the top springs back and it seems fairly set, about 30 minutes. Then remove it from the oven, and sprinkle the top with 1 cup of chocolate chips.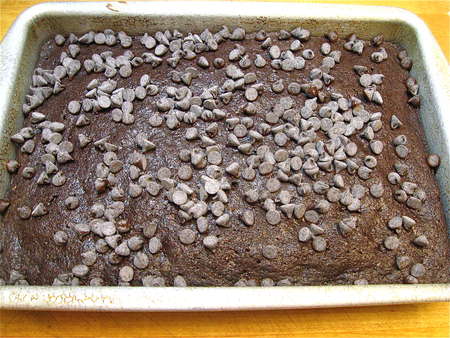 This is 1 cups' worth of chips. For a thicker glaze, feel free to increase the amount of chips.
Bake the cake for an additional 5 minutes, then remove it from the oven, and use a spatula to spread the soft chips over the surface of the cake. Instant icing!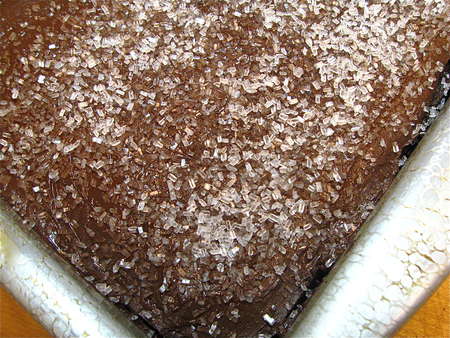 I thought the icing looked kind of boring, so I sprinkled it with coarse white sugar, my best friend when it comes to instant makeover in the world of beautiful baked goods. Not only did the sugar perk up the cake's appearance—it added an interesting and enjoyable crunch, a lovely textural contrast to the soft, moist cake and smooth icing.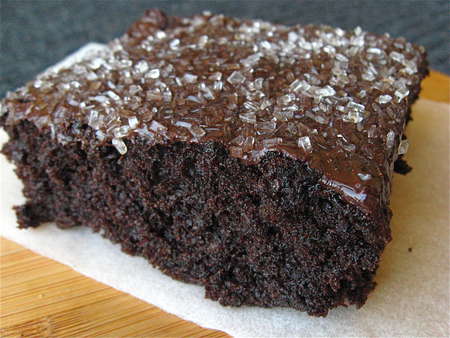 Yee-haw! Who knew zucchini could look like this?!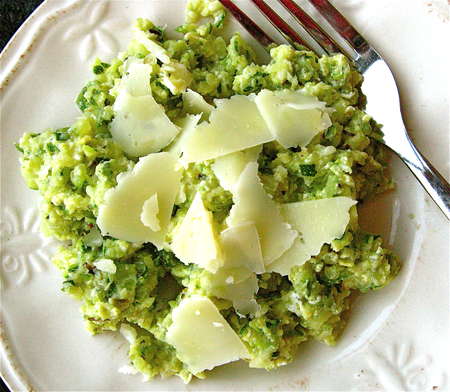 But big deal, right? You used one measly zucchini in the cake. Here's what to do when you no longer feel comfortable sneaking over to the neighbors' at midnight and leaving zucchinis on their doorstep.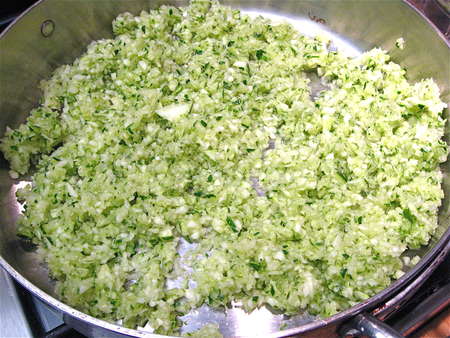 There's no written recipe for this, so don't be looking for it online. What you see here is as formal as it gets. First, heat some olive oil in a big pan. Then add grated zucchini. You can add enough to cover the bottom of the pan to a thickness of about 1/2", but don't heap it up too much; it needs to sauté.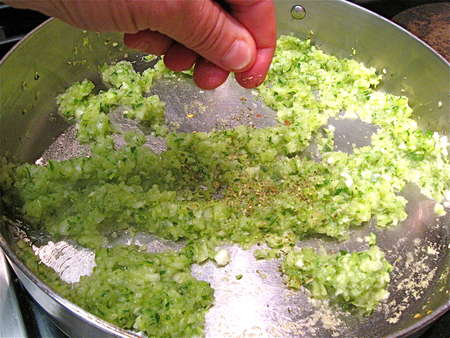 Fry the zucchini till it shrinks and its liquid evaporates, then sprinkle in salt to taste, ground black pepper, and Italian seasoning or your favorite combination of oregano, basil, hot pepper... whatever herbs you like.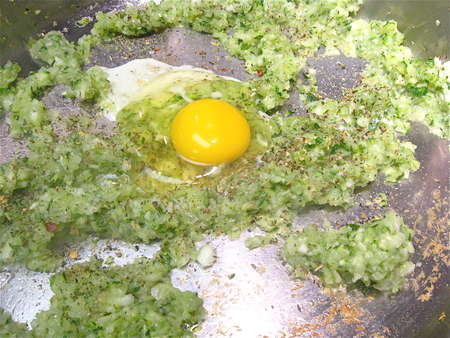 Now add an egg or two or three. For this 12" skillet's worth of zucchini, I added 2 eggs.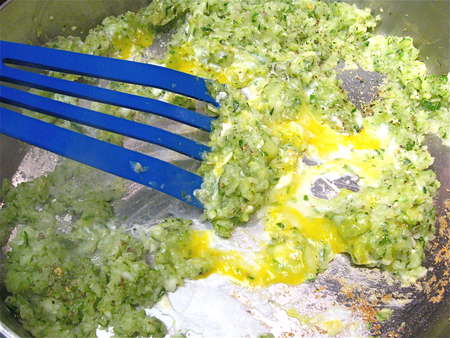 Scrape the zucchini and eggs around the pan till well combined, and the egg is cooked.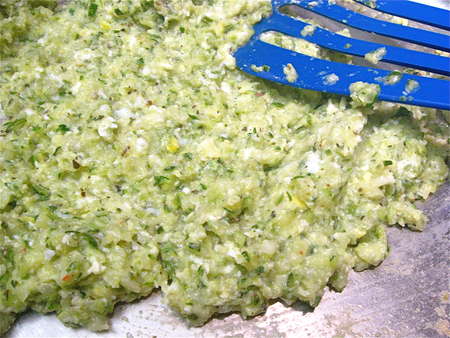 The egg will make the zucchini hang together. It turns it into something a little fancier than just plain fried zucchini.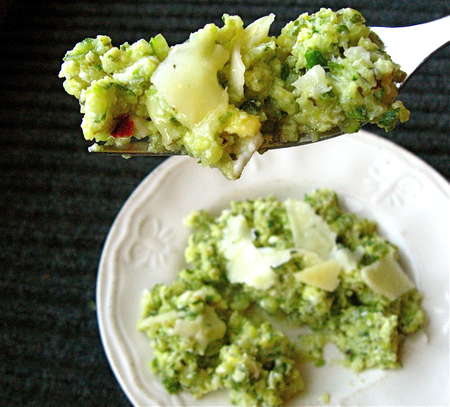 My Italian mother-in-law doesn't add cheese, but I like to shave some Asiago or Parmesan over the top. Mangia! Your zucchini never had it so good...
Read, review, and rate (please!) our recipe for Chocolate Zucchini Cake.
Jump to Comments