After Valentine's Day, Easter is the holiday most associated with chocolate (Halloween and its trick-or-treat candy bars notwithstanding). Chocolate bunnies (hollow or over-the-top solid), foil-wrapped chocolate eggs, Cadbury Cream Eggs, chocolate-covered marshmallow eggs… they've already appeared in profusion in our local CVS store, with Easter just 2 1/2 weeks away. While Peeps have their proponents, chocolate is the basis for MY favorite Easter basket.
Still, who wants to buy all the candy at CVS? I mean, how special is that? Yeah, it's cheaper than going to a chocolate shop, but there has to be some middle ground between $3 apiece chocolate truffles and 3/$1 cream-filled chocolate mini-chicks. And that middle ground is homemade truffles.
What, me? Make filled candies? Yes, you can easily make truffles. They can be as simple as three ingredients—chocolate, cream, and cocoa. Or they can include many more ingredients (chopped nuts, hazelnut flavor, Kahlua, candied cherries, toffee bars…), but still follow a simple process. Trust me; you can do this.
Want to make your own Deluxe Chocolate Truffles? Follow these steps to make 3 dozen truffles, enough for several Easter baskets.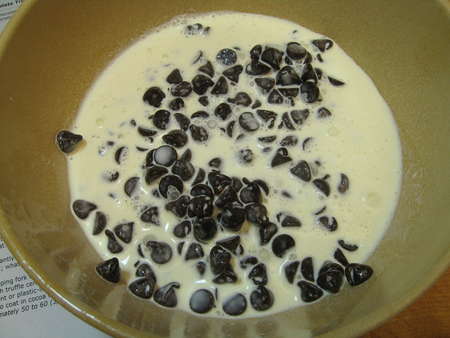 First, let's make the truffle centers. Heat the heavy cream and chocolate till the cream is very hot; you'll see tiny bubbles beginning to form.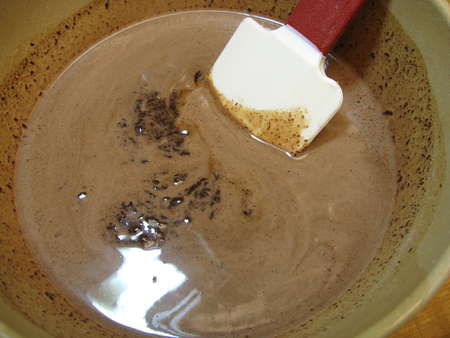 Stir with a spatula. At first you'll think, no way is this mess going together.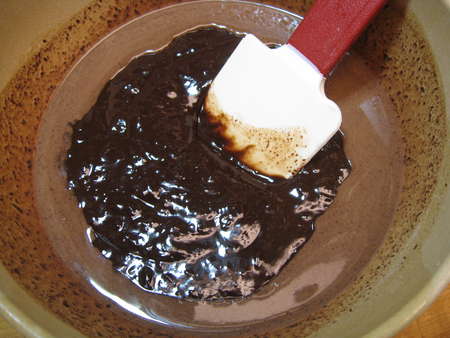 But then, magically, the chocolate starts to absorb the cream.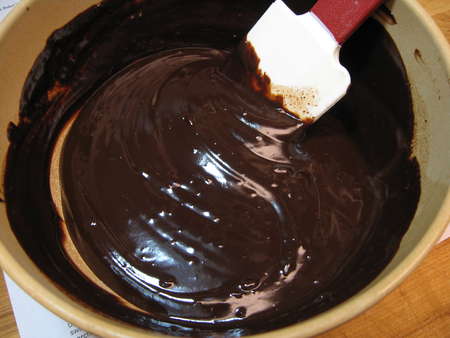 And before you know it, shazam! Beautifully smooth chocolate ganache, a.k.a. that which truffle centers are made of.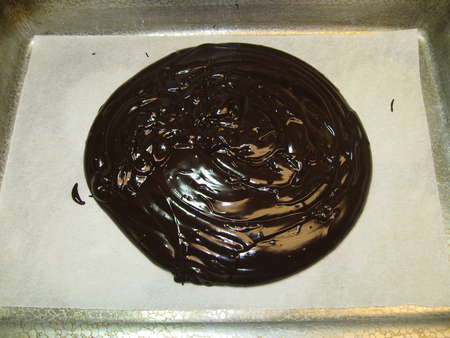 Pour the ganache into a parchment- or waxed paper-lined 9" x 13" pan. Don't spread it out; just let it sit there. Put the pan in the fridge for 60 to 90 minutes, till the chocolate is cold and "scoopable."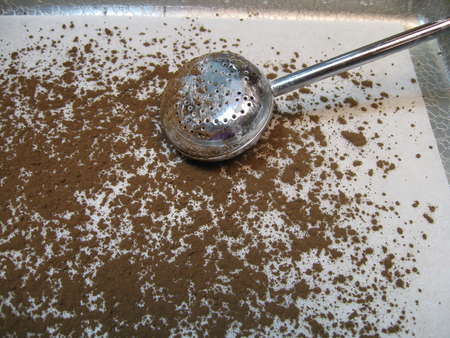 Meanwhile, sprinkle another parchment- or waxed paper-lined pan with cocoa powder. I love our own secret blend of Dutch and black cocoas, Double Dutch Dark Cocoa; its flavor is wonderfully smooth. Use unsweetened baking cocoa if you want; but be aware the flavor of the truffles will be more biting, as unsweetened baking cocoa is higher in acid than Dutch-process. Also, notice what I used to sprinkle the cocoa: a tea strainer, my favorite all-purpose cocoa-, flour-, and confectioners' sugar-sprinkling tool. Make this layer of cocoa very thin; you're using it simply so the truffle centers don't stick to the parchment. At this point, the cocoa shouldn't coat the ganache centers at all.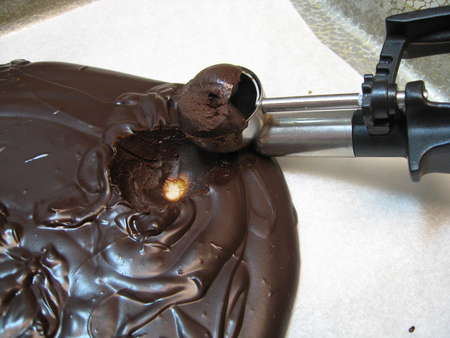 Scoop the cooled ganache into rough balls. A teaspoon cookie scoop works perfectly here. Or use a melon baller, or a couple of spoons, all of which will be much stickier to work with. But do-able.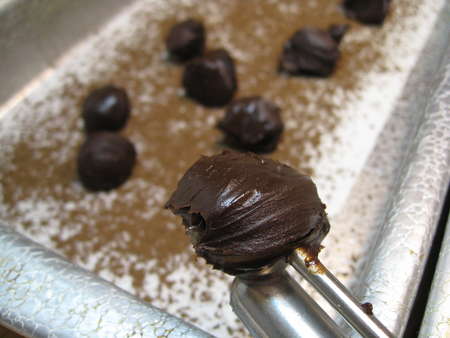 As you scoop the balls of ganache, drop them onto the cocoa-sprinkled paper in the pan.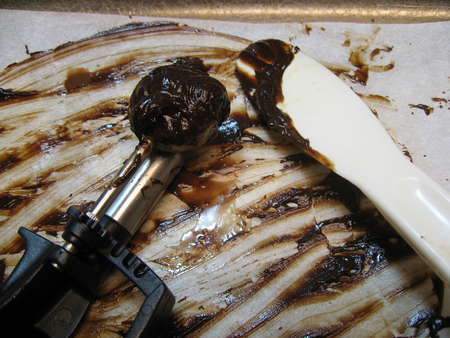 Use it all up. Don't leave any ganache in the pan (unless you plan on scraping the last little bits right into your mouth!)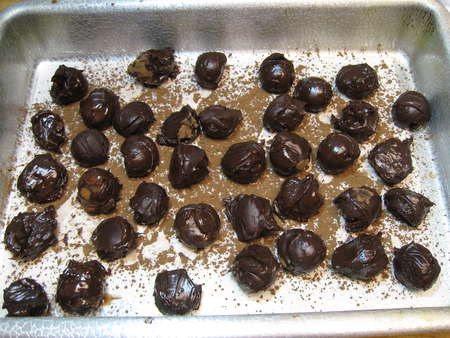 So now you have a panful of chocolate ganache balls. These are your truffle centers. Refrigerate for 30 to 60 minutes, so they're easier to handle. When they're chilled and stiff, first brush off any excess cocoa, then roll them between your palms to make nice, smooth balls. Yes, your palms will quickly become chocolate-covered. Wash your hands when they get too sticky to handle the ganache balls easily. As you roll, any of the cocoa from the parchment that's stuck to the centers will become incorporated.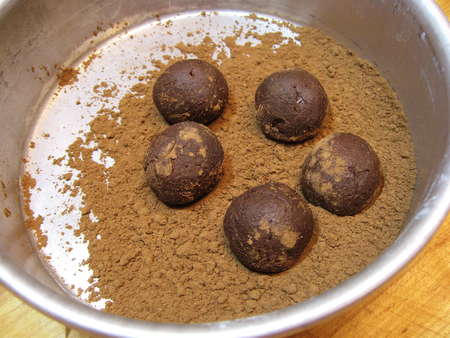 If you want the truffles' final coat to be a simple layer of cocoa (not melted chocolate), put cocoa in a shallow pan, drop in the truffle centers...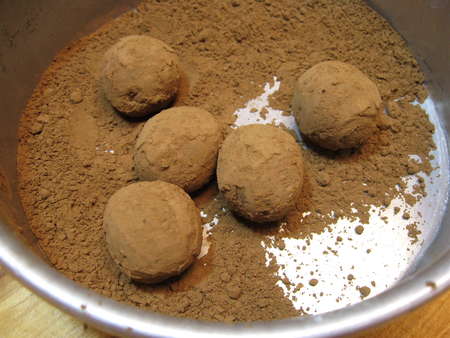 ...and gently shake to cover the centers with cocoa.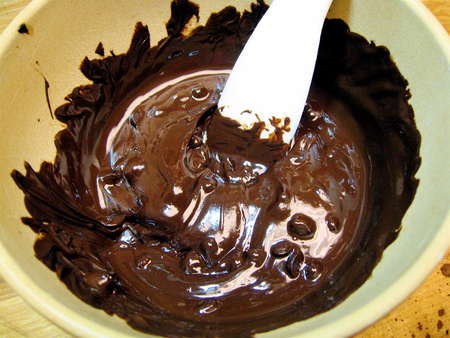 Now, if instead of coating your truffles with cocoa you want to coat them with melted chocolate and garnish them, here's what to do. Melt 2 cups of chopped chocolate (or chocolate chips) in a microwave-safe bowl till the chips start to droop from the heat. If you can't tell if they're ready, give 'em a stir; if they quickly and easily melt, keep stirring till the mixture is smooth. If they don't melt completely, reheat briefly.
When the melted chocolate is smooth, stir in an additional 2/3 cup unmelted chocolate.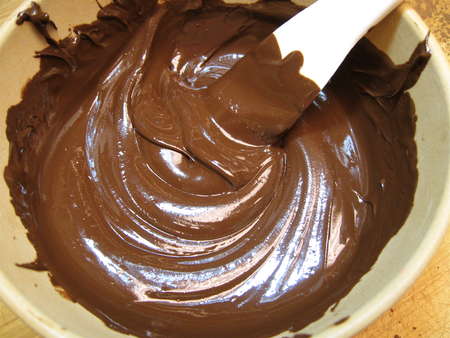 Stir till smooth again. Melting the chocolate in stages like this keeps it from becoming too hot and potentially scorching. This is also a technique for tempering chocolate, e.g., heating it gently to a certain point so that it remains shiny as it cools. That's not exactly what you're doing here, since tempering chocolate takes a candy thermometer, a fine hand, some knowledge of technique, and more time than I was willing to spend, considering I planned on covering these truffles with various garnishes, anyway.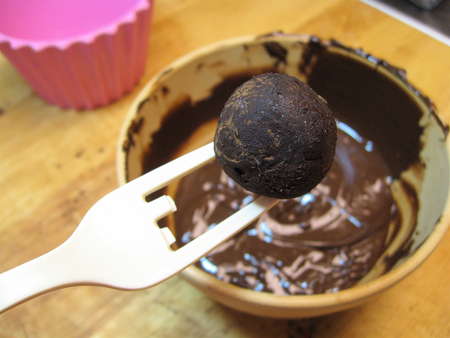 Next, you're going to dip the truffle centers in the melted chocolate. Remember, this is only if you haven't chosen to just simply coat them with cocoa. I tried fashioning a chocolate dipping tool out of a plastic fork, but it didn't actually work very well. I ended up just using my fingers. A messy (but ultimately delicious) process.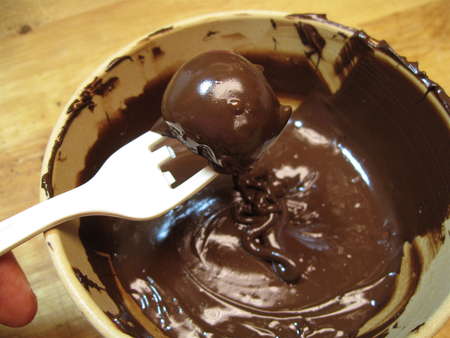 Dip each truffle center in the melted chocolate, letting the excess run off. The chocolate won't be really runny; don't expect it to drip off on its own. You'll actually have to shake off the excess. Reheat VERY briefly if it thickens too much as you work.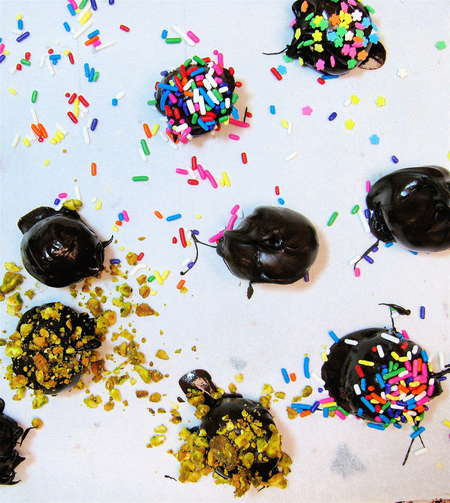 Immediately place the truffles on parchment or waxed paper, and sprinkle with the garnishes of your choice. I used chopped pistachios, nonpareils, sugar decorations, and cocoa nibs (not shown). Let them harden at room temperature, or in the fridge. This will take anywhere from 30 minutes to several hours.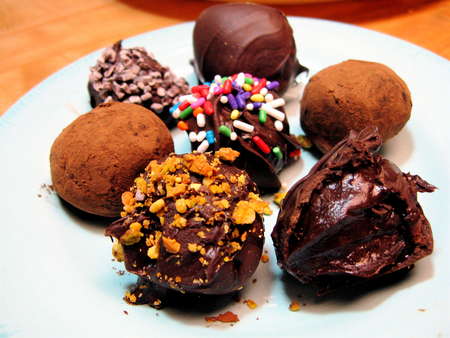 And there you have it: lovely homemade truffles. I've broken open the one on the right to show you the beautifully creamy ganache center.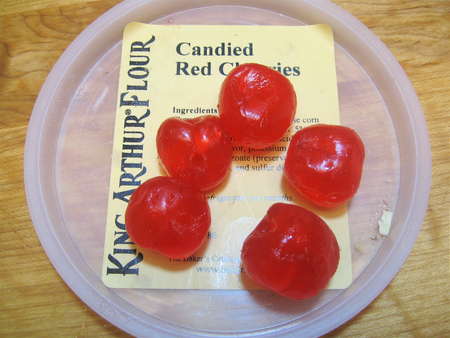 P.S. I decided to make an indulgent version of cherry cordials, those soft-centered, cherry-filled chocolates you can buy at the store. I took a dozen candied cherries (candied, not maraschino), and rolled each in one of the truffle centers till it was completely enclosed with chocolate. Then I finished by coating the truffles.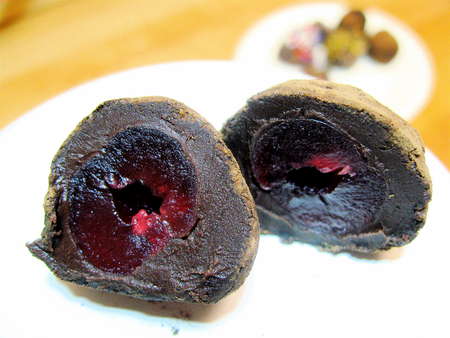 And here's the very tasty result. If you're a fan of those sometimes lackluster boxed cherry cordials, you'll love these!
Have you made homemade truffles before? Share your favorite flavors with us in the comments below! 
Jump to Comments