Soft Ginger-Molasses Cookies
They're not just for Christmas anymore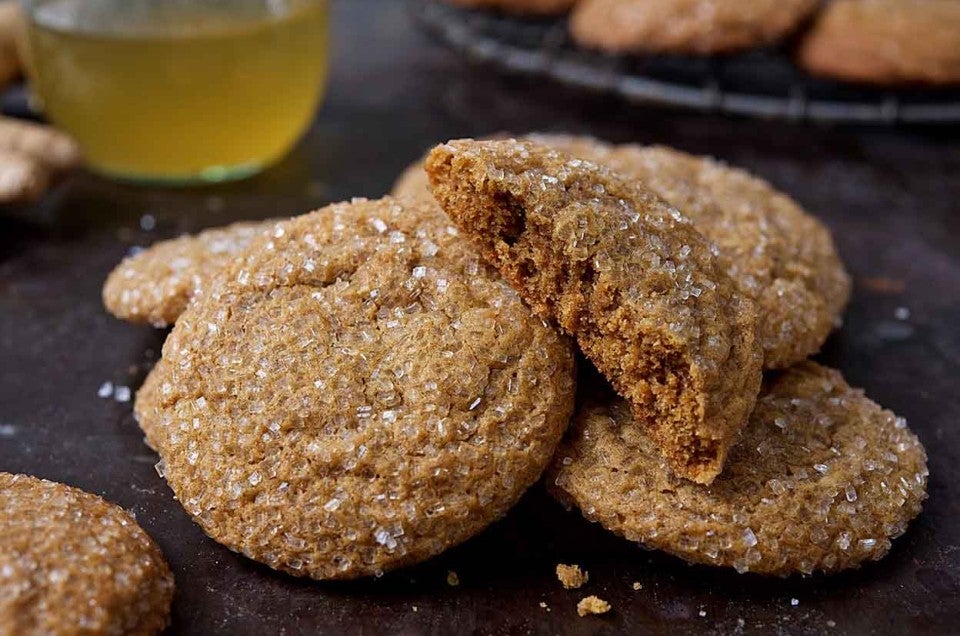 Run, run, as fast as you can, you can't catch me—I'm the gingerbread man!
Now, I ask you: was the original gingerbread man happily enjoying the holiday season, lounging around the Christmas tree, waiting for Santa to arrive? No way.
He was running around the countryside avoiding predators, till the sly fox persuaded him to get into a boat to cross the river… and, well, we all know what happened after that. (Fairy tales could be so violent, back in the day when we didn't worry about kids and their fragile psyches…)
Ginger is one of my favorite spices, and I'll be darned if I'm going to relegate it to one month of the year. I just love a good, moist gingerbread cake. Up in Maine, where I lived for 14 years, we'd anxiously await the August harvest of tiny, fresh Maine blueberries, so we could make blueberry gingerbread. And peach gingerbread is equally tempting. Apricot-ginger scones, ginger pancakes, ginger squares… this is a spice that's right up there with cinnamon. Which is why I chose to play with it on a recent snowy February afternoon.
I like soft molasses cookies. Maybe some "Yankee" has rubbed off on this Irish-Norwegian gal during the 32 years I've spent in northern New England. Or maybe it's simply nostalgia for the soft, fat cookies my Wisconsin grandma used to make. Or maybe it's even those hermit-like Archway cookies that tempt me in the cookie aisle to this very day. But whatever its source, I have an affinity for molasses cookies. And for ginger. So I decided to ramp up the ginger in my favorite molasses cookie recipe. How best to do that? Crystallized ginger.
Crystallized (candied) ginger is ginger that's been peeled, boiled in sugar syrup, and dried. The result is an assertive, sweet/hot, chewy ginger, a wonderful addition to scones, muffins, cookies, and cake. You can only go so far with ground ginger; when you want a real kick of ginger, reach for the crystallized.
Which is what I did with these cookies. They include crystallized ginger, as well as ginger syrup (which, by the way, is super-simple to make at home; see the step-by-step below, and the recipe at the end of the gingerbread cookie recipe). And added ginger is what moves molasses cookies to Soft Gingerbread Cookies.
One last word: if you see any foxes in the neighborhood, run!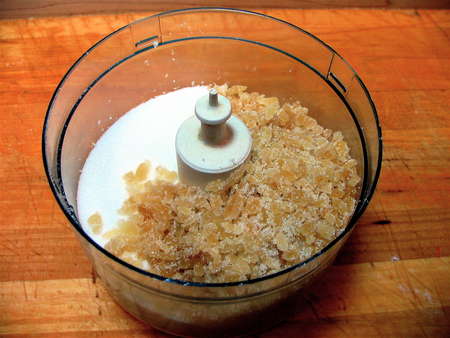 First, combine the crystallized ginger and sugar in a food processor. A mini processor is a good choice here.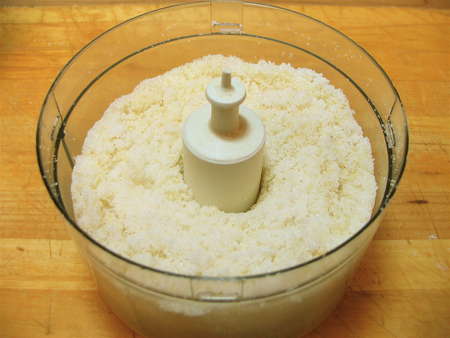 Process to make a fine-textured, golden ginger sugar.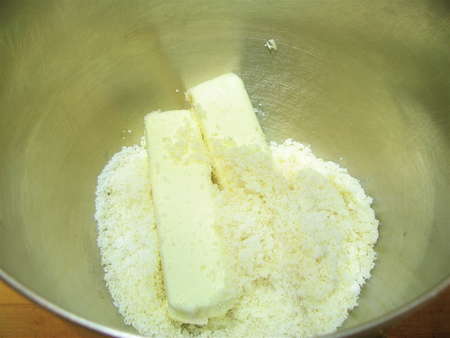 Mix the sugar and butter...
...beating till smooth.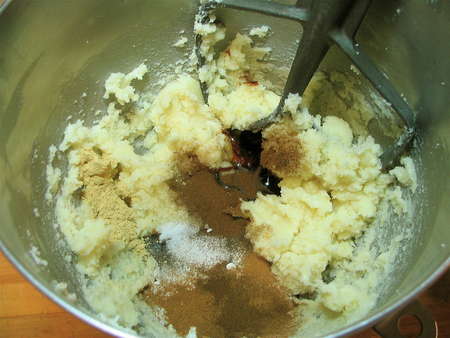 Add the molasses (or molasses and ginger syrup), baking soda, salt, and spices.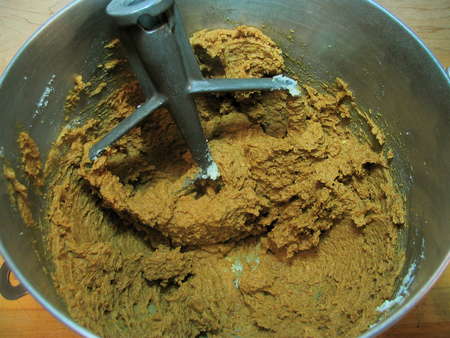 Beat thoroughly, to make a mahogany-colored, soft dough.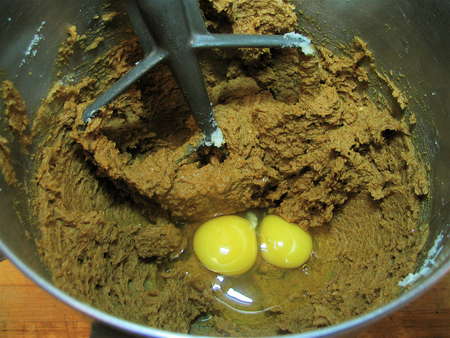 Add the eggs...
...and beat again. Notice the batter looks a little grainy; that's OK.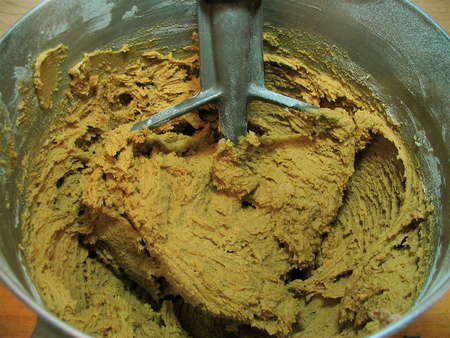 Beating in the flour smooths it out nicely.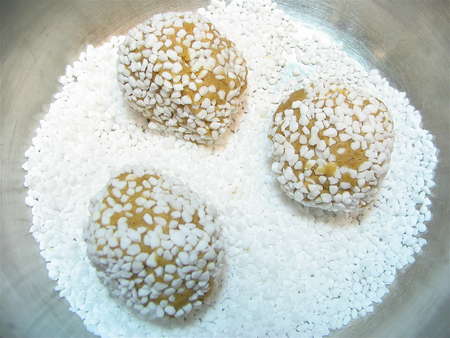 Use a tablespoon cookie scoop, or a spoon, to scoop balls of dough into the sugar coating of your choice. This is Swedish pearl sugar; it makes a real visual statement.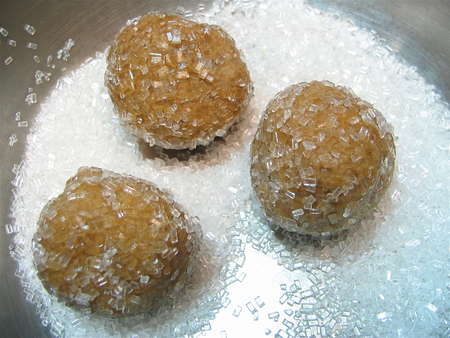 This is coarse white sugar; it makes the cookies sparkle.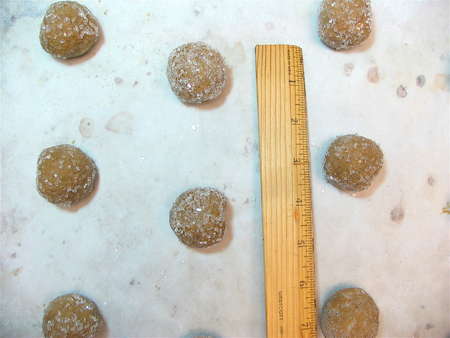 Space the balls of dough on a parchment-lined or greased cookie sheet, leaving about 2 1/2" between them on all sides. Yes, really; they're going to spread a lot.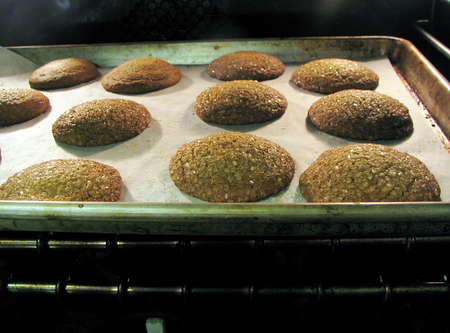 As the cookies bake, they'll puff up...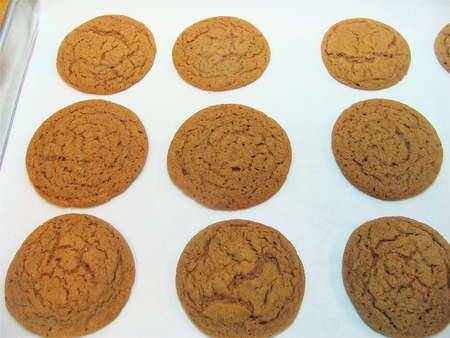 Then flatten as they cool. Notice how much they expanded.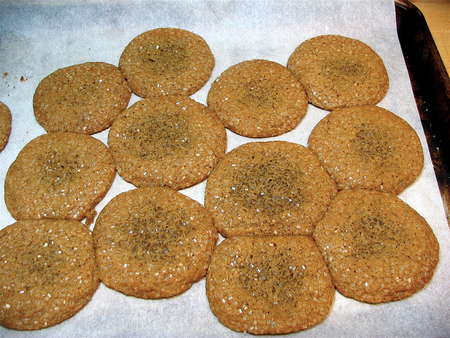 This is what happens when you don't leave sufficient space between the cookies.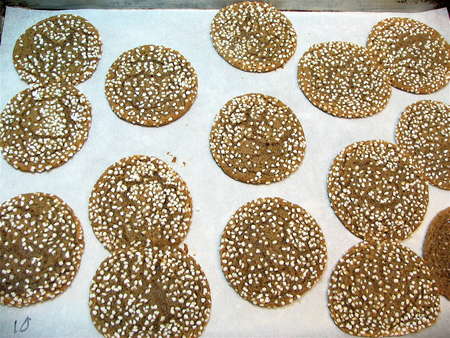 And this is what happens when you ALMOST—but don't quite—leave enough space.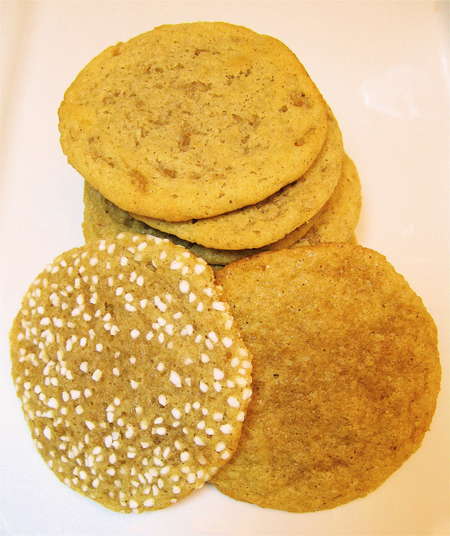 And this is what the cookies look like when you make their variation, replacing all of the molasses with ginger syrup, and leaving the diced crystallized ginger as is, and not processing it with the sugar. Notice the chunks of ginger in the top cookie–now that's what I call a ginger cookie!
And here's how to make homemade ginger syrup: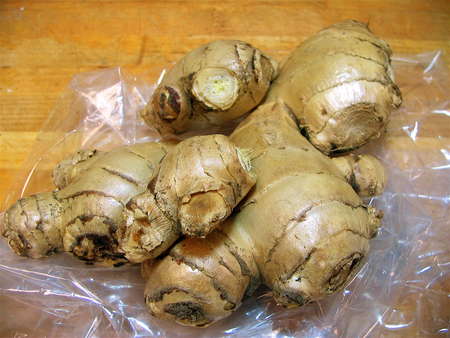 Start with 14 ounces of fresh ginger root. You'll find this in the produce section at the supermarket. I don't bother to peel it.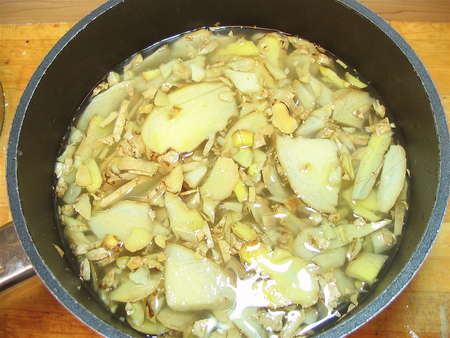 Slice the ginger 1/8" to 1/4" thick. A food processor makes short work of this chore. Combine the ginger, 3 1/2 cups water, and 3 1/2 cups granulated sugar in a deep saucepan. A DEEP saucepan; it's going to bubble up.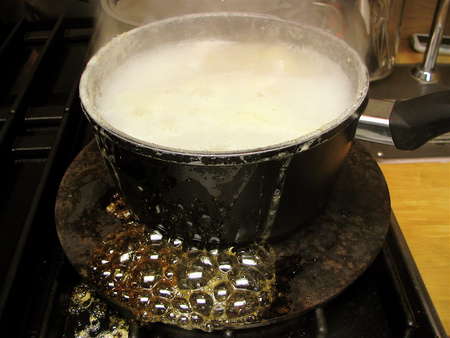 This is what happens when you underestimate the extent to which this syrup will bubble!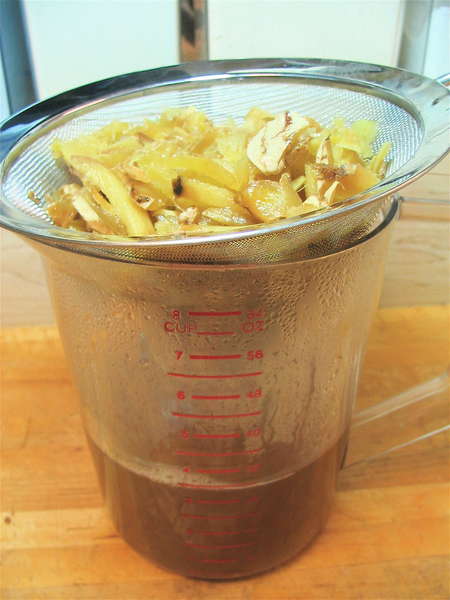 When the syrup has been at a steady, vigorous simmer (not a hard, rolling boil) for 45 minutes or so and reached the required temperature, pour the contents of the pan into a sieve set over a heatproof container.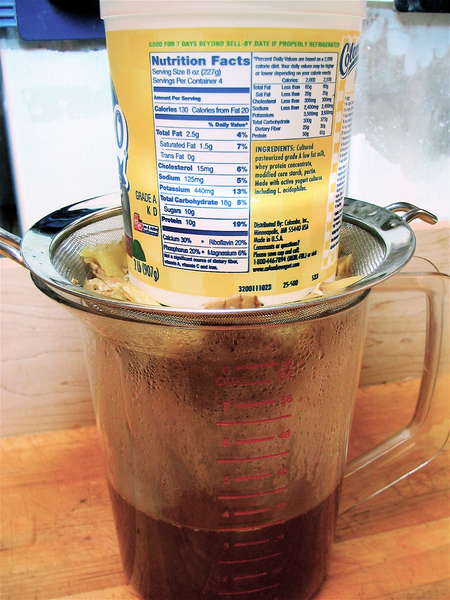 Weigh it down, to press as much syrup out of the ginger as possible. Let it drain till it stops dripping; it's OK to just let it sit on the counter for an hour or more.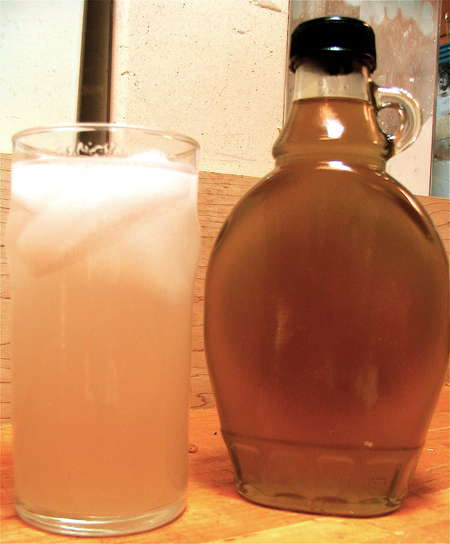 And there you have it: homemade ginger syrup. Ginger ale, anyone?
Do you love ginger as much as me? Try our Ginger Pumpkin Braid, Cider-Gingerbread Bundt Cake, and Ginger Scones too. 
Jump to Comments