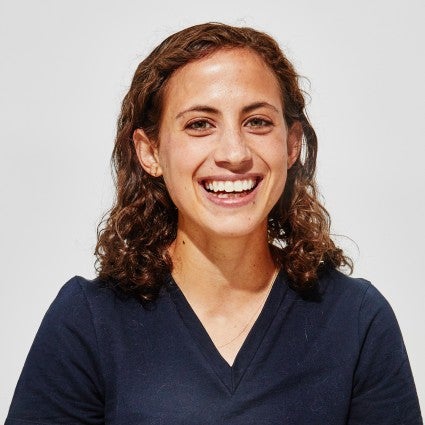 About Sarah Jampel
Employee-owner since 2022
Sarah Jampel requested — and received — a deep-fryer for her 13th birthday for the dual purpose of making samosas and doughnuts. Now, [redacted number of years and redacted number of cooking disasters] later, she is King Arthur Baking Company's Recipe Development and Test Kitchen Manager.  
While Sarah grew up turning out batches of brownies and monkey bread in Baltimore, Maryland, the road to a career in food was a winding one. Sarah spent a year studying muscular dystrophy before turning her focus to Middle English poetry as an undergraduate. More interested in words and food than in either of those topics, Sarah wound up as an editor at Food52, where, in addition to sharpening her writing and headline-crafting skills, she also learned the ins and outs of recipe development, food styling, and sourcing stone fruit in New York City in the dead of winter.  
After baking hundreds of Linzer cookies, biscotti, and pignoli in pastry kitchens, Sarah started at Bon Appétit, where her primary goal was to provide readers with the handholding, recipes, and information they needed to cook — and bake! — with confidence. In addition to helming the "Basically" section of the website, Sarah developed recipes, wrote odes to her favorite tools (like the mini offset spatula and pastry rulers), and headed the ASME-nominated package, "The Basically Guide to Better Baking." 
She loves to make challah, milk bread, and Danishes (yeast, please!), and her favorite flavors are black sesame, guava, and Thai tea. When Sarah is not in the kitchen, you can find her knitting, skiing, running, or, most often, scolding her very mischievous cats, Bunny and Plum.