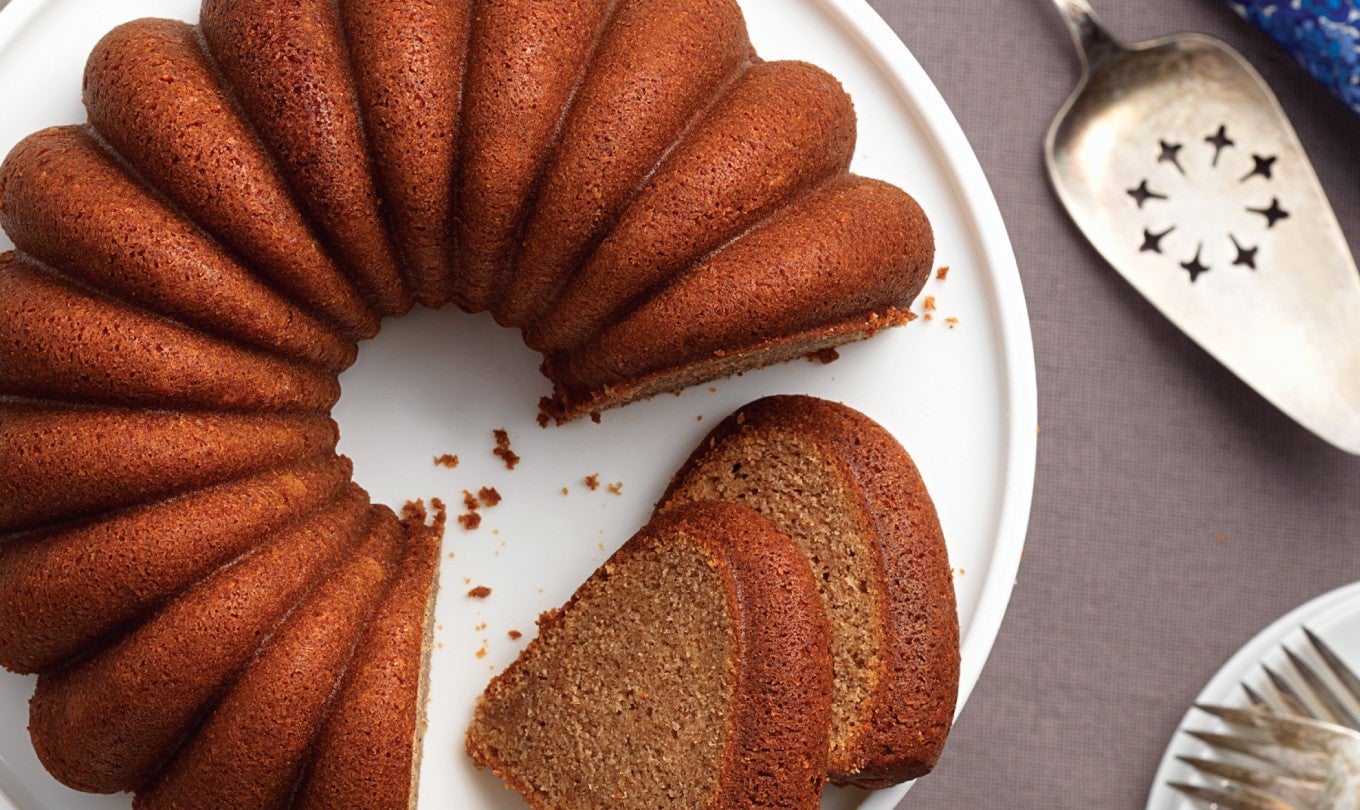 Bundt® Cakes
A simple path to creative, elegant cakes
How to make a Bundt cake
1 Thoroughly grease the pan (including non-stick pans); vegetable oil pan spray works well. If your pan isn't non-stick, grease it and then sprinkle with flour, tapping out any excess.

2 Slowly pour batter into the pan, leaving at least 1 1/4" space at the top for expansion.

3 Gently tap the pan several times on the countertop to dislodge any bubbles; smooth the batter with a spatula.

4 Set the pan on a baking sheet for easier handling, and to catch any potential spills.

5 Bake as directed. Remove the baked cake from the oven, and immediately loosen its edges with a thin spatula or table knife.

6 Turn the pan upside down onto a cooling rack. After 10 minutes, lift the pan off the cake.
Delicious Variations
Marble Pound Cake »

Use a marble cake recipe, one with two different flavors/colors of batter.

Pour one batter into the pan.

Drop scoops of the alternate batter atop the first batter.

Use a table knife to gently and briefly swirl the two batters together, creating a marbled effect.

Bake as directed.

Filled (or tunnel) cake »

Spoon about 1/3 of the batter into the prepared pan, smoothing the top with a spatula.

Distribute the filling atop the batter, centering it within the ring of batter so it doesn't touch the sides of the pan. Pat it down gently.

Dollop the remaining batter on top, again smoothing it with a spatula.

Bake as directed.

Enhancements »

Chips, nuts, and dried fruit are tasty additions to many types of Bundt cake.

To avoid add-ins sinking to the bottom of the cake, choose a cake that starts with thick batter.

Stir add-ins into the thick batter before scooping it into the pan.

Make sure your pan is large enough to accommodate add-ins.

See helpful details: Bundt cake mix-ins: 10 tips for perfect results
Recipes
Bundt cakes can range from the simplest vanilla pound cake to tantalizing combinations of fruit, nuts, and chocolate. Enjoy some of our favorites:
Simple & classic
Easy & elegant
Perfect for the holidays
For special occasions