"First hug" recipes from our employee-owners
The recipes we'll be baking for loved ones soon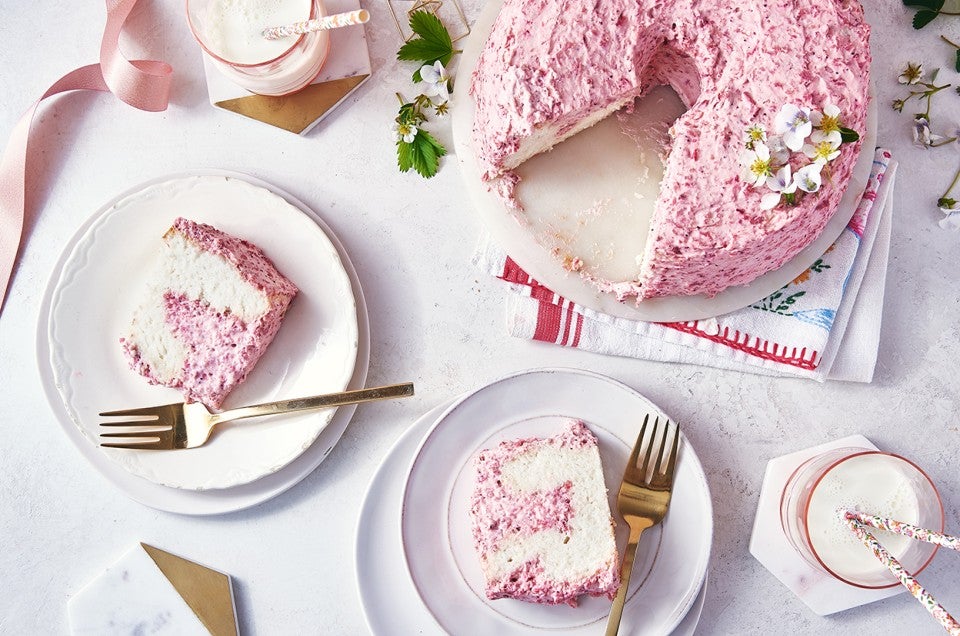 After a long year separated from friends and family, King Arthur employee-owners have baking on the brain (to absolutely no one's surprise). We've had many months to dream about the baked goods we'll make for our loved ones once it's safe to gather with them again — which we've affectionately dubbed our "first hug" recipes.  
As we look ahead to that bright and hopeful day, our employee-owners share the recipes they can't wait to enjoy with the people they love most.  
Pizza night returns
Laura Osborn, Catalog Designer: We've hosted Friday or Saturday homemade pizza night for a long time in our family, as everyone loves pizza and toppings can be easily adjusted for individual taste. I used to always make our The Easiest Pizza You'll Ever Make recipe, but we did a taste-test, and everyone liked the flavor of Sourdough Pizza Crust better (plus it's a great way to use sourdough discard). We've had lots of laughs and good times around the table during pizza nights with family and friends in the past. We haven't had pizza night with anyone outside of our household during the COVID pandemic, so it will be so wonderful when we can go back to having extended family and friends over.
Kate Farley, Food Safety Regulatory Manager: Pizza night is a family favorite. It reminds me of times that we would all gather together, whether making small individual pizzas topped with everyone's favorite ingredients or larger pizzas with something fun, like BLT pizza or Thai chicken pizza. Yum! I can't wait to be together again soon, laughing over a slice of pizza.
Celebrate with cake
Annabelle Nicholson, Associate Social Editor: For all the birthdays, holidays, retirements, anniversaries, and milestones whose get-togethers were put off, there's nothing more celebratory to honor them all than a cake. With its cheerful pink frosting, bright berry flavor, and secret whipped mousse filling, a slice of this unique dessert will be like serving up a year's worth of surprise parties.
Gwen Adams, Marketing and PR Coordinator: I'm honestly just dying to try this new cake recipe recently added to our recipe site. Cookies and cream is one of my favorite ice cream flavors. But you know who doesn't need to eat an entire cake? My family of three. (Though I'm sure my toddler would be happy to take on that challenge!) Which is why I can't wait to bake this stunning cake to share safely with extended family.  
Tara Mitchell, Customer Experience Supervisor: Bienenstich is such a unique recipe. The combination of not-too-sweet yeasted pastry layers separated by a cloud of luscious pastry cream and topped with honey-glazed almonds is unlike any other dessert I've ever made or tasted. It's special because I first started making it as a birthday treat for my daughter, Kate, and it's now become her favorite. I made it for her last May when we celebrated her birthday, distanced and outside, and I'm so looking forward to when we can enjoy it all together, inside, around the table with hugs.
Molly Marzalek-Kelly, Senior Recipe Tester: In the early days of the pandemic upheaval, when we were quickly testing and publishing the recipes featured on our newly debuted Isolation Baking Show, this gem came across my bench courtesy of Gesine Bullock-Prado. I fell in love with it as soon as I made it and immediately knew that this would be one of the first things I would make when it was safe to gather with a group and literally share the love. It's baked on a baking sheet, so it would be great for a leisurely brunch. The yeasted base, the tart plums, and the sweet streusel come together in such harmony; it's a recipe that's begging to be shared.
Sweet, summery squares
Hannah Smith, Customer Support Specialist: My family loves all things lemon, and what better easy and shareable summer treat than lemon squares? These are always a huge hit, so I can't think of a better recipe to share this summer.
Amy Cohn, Customer Support Specialist: My family members have very different dessert preferences. One is allergic to almonds, one hates peanut butter, and I won't touch anything with banana in it. But one thing we all love is rhubarb. My mom always talks about her fond memories of growing up in Maine and eating fresh rhubarb dipped in sugar. This recipe is a fun new way to utilize one of our favorite seasonal treats, and the bars can easily be cut to feed a crowd.
The gift of baking 
Baking is how many of us share our love: making a friend's favorite pie or a parent's classic cake can express our feelings without a word. And this summer, when we gather around dessert once again, it'll be all the sweeter. 
Please share your "first hug" recipe in the comments below — we'd love to hear the baked goods you'll be baking and sharing with those you love. 
Cover photo by Liz Neily 
Jump to Comments