Sourdough discard pasta, three ways
Bryan Ford takes your starter to Italy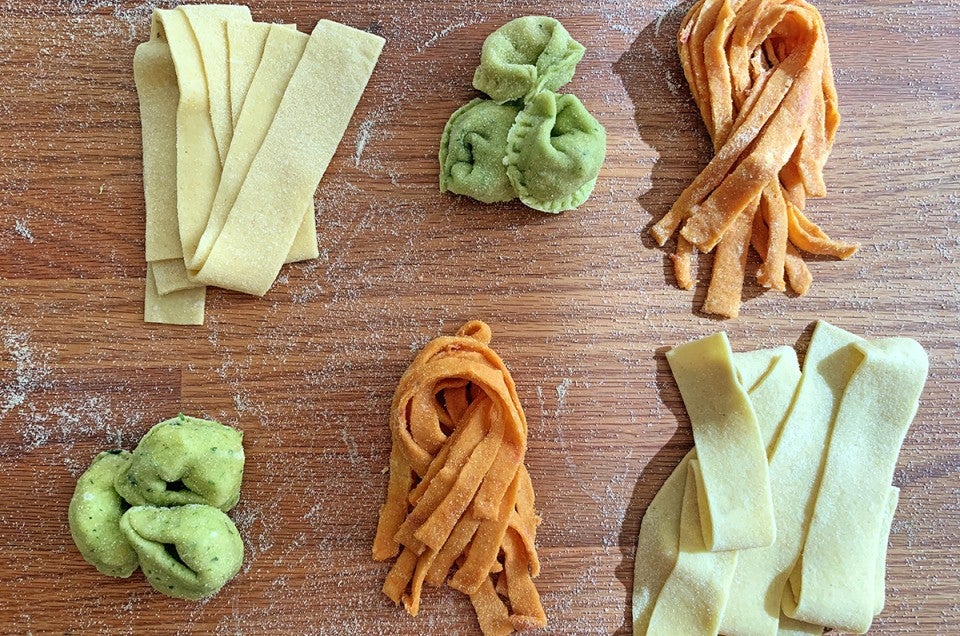 We're excited to welcome back award-winning bread baker and cookbook author Bryan Ford to share his expertise on making pasta from scratch. Below, he offers a go-to sourdough pasta recipe and three different ways to prepare it. 
* * *
If you've never made your own pasta from scratch, you're missing out on a very fun and delicious time. Lucky for me, it's become an even more tasty time since I started using King Arthur Semolina Flour in my go-to pasta recipe.
If you're not familiar, semolina flour is a coarse grind of high-protein durum wheat. Often used to make bread, pizza, and pasta, it lends a lovely pale yellow color and sweet, nutty flavor. In pasta, particularly, the flour's coarse texture and high protein content enable you to make different shapes with the dough and for those shapes to hold their form when cooked.
Additionally, semolina flour helps maintain a hearty consistency in your noodle that allows it to soak up the sauces you might be using when preparing your pasta dish.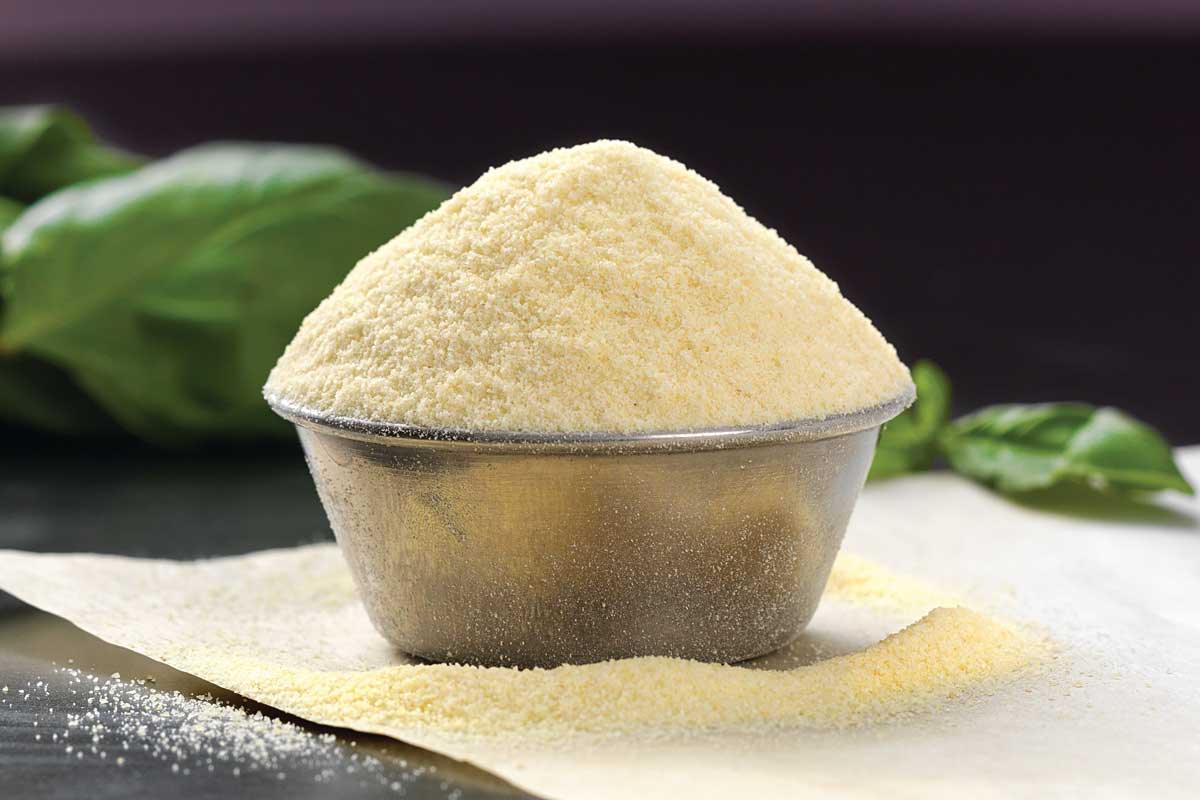 Although I typically make pasta dough exclusively with semolina, I decided to take this recipe a step further and mix in some of the new '00' Pizza Flour that King Arthur offers. Using the fine '00' flour in small quantities for pasta gives the dough a balanced and smooth feel, while still allowing the semolina to be the star of the show.
In this recipe I'm going to show you how to make three types of pasta with your sourdough discard: sun-dried tomato linguine, pappardelle, and spinach tortelli. If you don't own a pasta maker, don't worry — this recipe doesn't require one. With a rolling pin and some elbow grease, homemade pasta is well within your reach. 
Why add discard starter to your pasta?
You may be wondering, however, why you'd even add sourdough discard to pasta dough? One of the most obvious reasons is that ANY kind of dough will taste better when you add some sort of pre-fermented flour to it. That's right, adding sourdough to batters and doughs will add an enhanced, complex flavor — if you don't believe me, try it!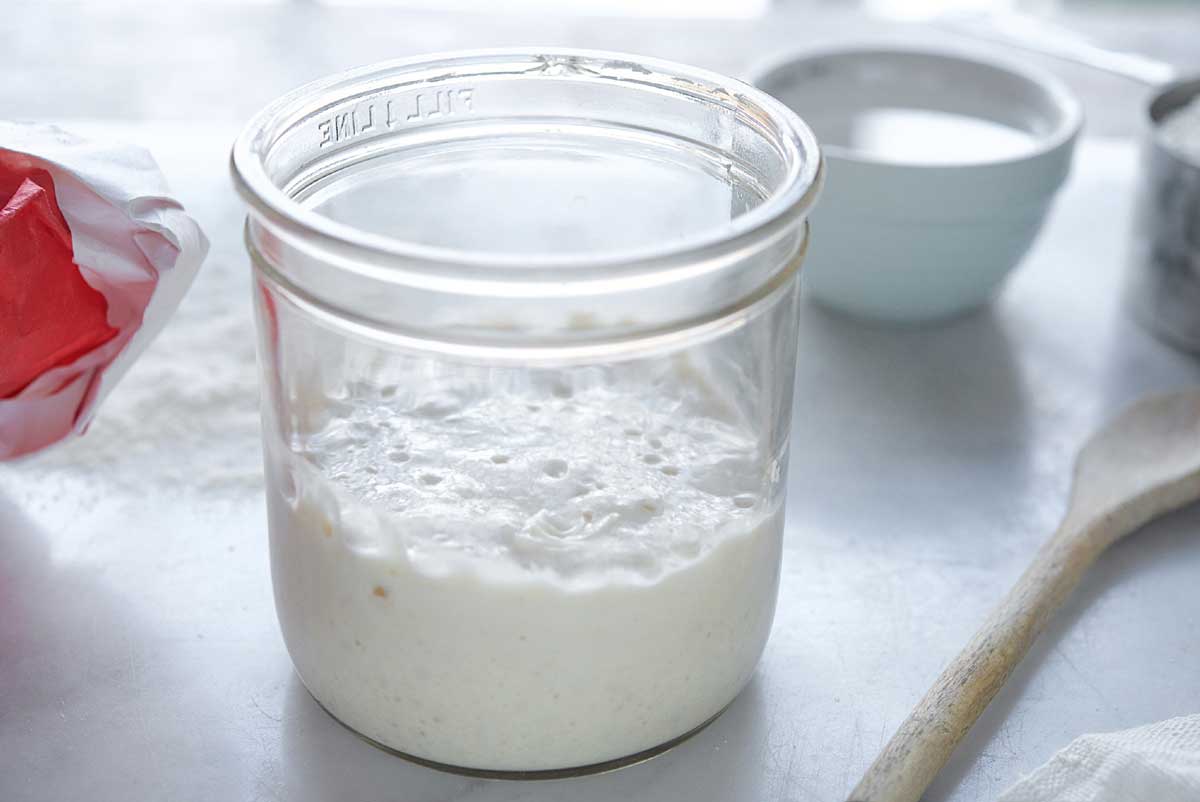 There can be other benefits to adding pre-fermented flour as well. I've found the digestibility of wheat is much easier when the gluten has been fermented for long periods of time; for me, this pasta recipe creates a smooth dough that doesn't make me feel too full. Since the starter adds additional moisture to the dough, I also find it to be slightly more extensible than typical pasta doughs. 
One dough, three pastas 
I'm a big fan of being able to use one dough to derive different flavors. I do it all the time when I bake bread, but it's really fun to be able to infuse new flavors into pasta, try different shapes, and create a rainbow of colors. 
The method for changing up the pasta color is pretty simple: you just need a good blender or food processor, and you can start experimenting with so many different things! To make green tortelli, I simply add 1/3 of the dough to my food processor with some spinach leaves and a splash of olive oil. For the sun-dried tomato dough, I add some sun-dried tomatoes as well as a bit of the oil from the jar, which provides a lovely burnt-orange hue. 
Ready to dive into homemade pasta? Break out your sourdough starter and rolling pin, and let's get started. 
What you'll need
Note: This recipe was developed using metric measurements, but if you want an approximation using American volume measurements, see the tip at the bottom of the recipe page. 
For the dough: 
100g sourdough starter, unfed/discard
4 large eggs
35g olive oil, divided
20g salt
60g to 90g water, divided
20g fresh spinach leaves, for spinach pasta
45g jarred sun-dried tomato halves, for tomato pasta
For filling the tortelli: 
spinach, cooked (or thawed from frozen)
semisoft cheese of any kind (such as mozzarella or provolone), cubed or shredded
Prepare the pasta dough
You can choose to make this dough either by hand or in a food processor. The dough is quite stiff, so for an easier time mixing I'd suggest the food processor route. 
To make the dough by hand: In a large bowl whisk together the flours. Scoop them into a mound on a clean work surface. Make a well in the center of the mound deep enough to see the work surface below.
Add the sourdough discard and eggs to the well and use a fork to whisk them together, slowly incorporating a bit of the flour around the edges. Continue incorporating more of the flour until the dough starts to form clumps.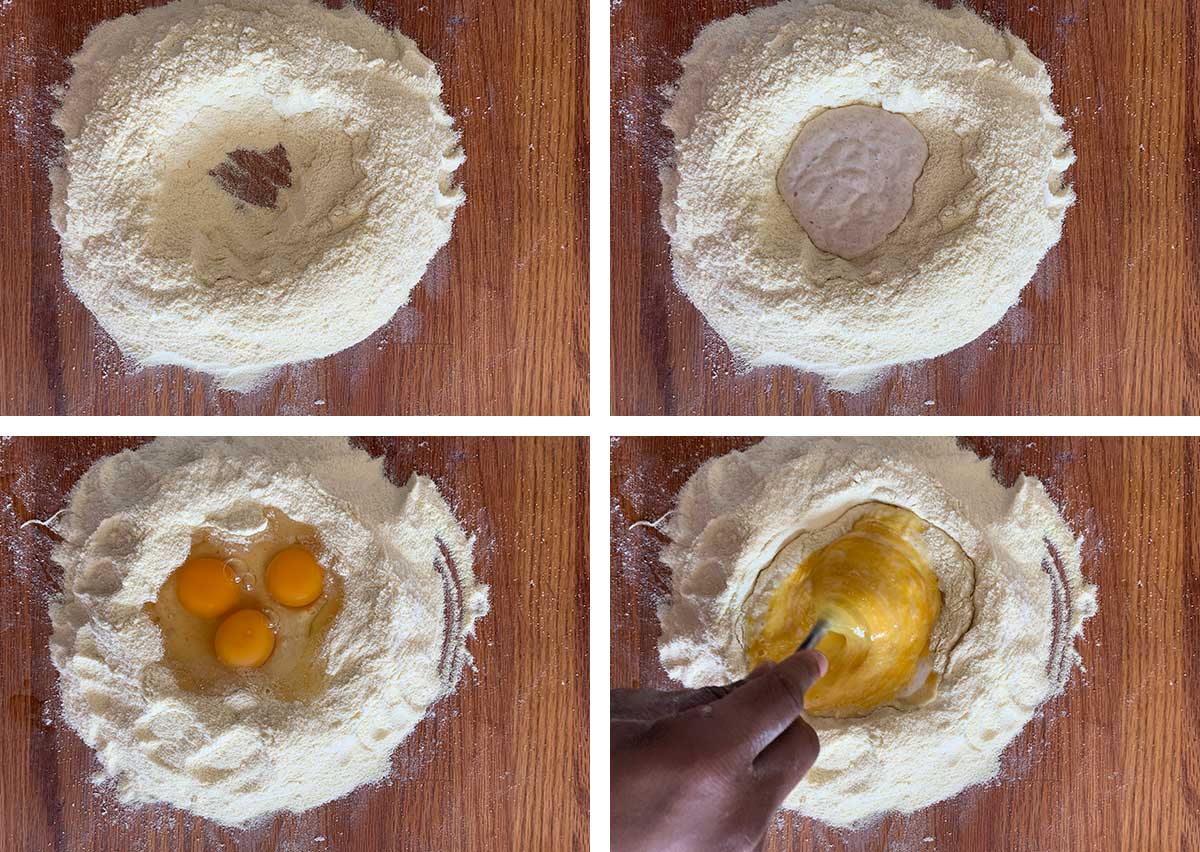 Add 25g of the olive oil and the salt, and mix and knead the dough with your hands, adding water 10g at a time until everything holds together; the dough will be stiff and will tear easily.
Divide the dough into three pieces. Set two of the pieces aside and cover them lightly with a cloth or plastic wrap.

To make the dough in a food processor: Pulse together the flours, then add the discard and eggs and process to make a crumbly, dry mixture. Add the olive oil and salt and process again to incorporate.
With the processor running, drizzle in the water until the dough starts to form clumps. Stop the processor, transfer the dough to a work surface, and divide it into three pieces. Set two of the pieces aside and cover them lightly with a cloth or plastic wrap.
Make different flavors 
This basic dough can be used to prepare three different pasta flavors: plain, spinach, and sun-dried tomato. Here's how to make all three: 
To make plain dough: Knead one piece of dough by hand, adding 10g to 30g more water until the dough doesn't crumble or break as you're kneading it. Continue to knead for 5 to 10 minutes, until the dough is smooth and elastic. Wrap the dough in plastic or place it in an airtight container and set it aside to rest for 1 hour at room temperature. You can also refrigerate it for up to 1 day.
To make spinach dough: Add one piece of dough to the food processor along with the spinach, 10g of olive oil, and 10g to 20g of water. Process until the dough turns green. Transfer the dough to your work surface and knead until it's smooth and elastic, 5 to 10 minutes. Wrap and store the dough as directed above.
To make sun-dried tomato dough: Add the final piece of dough to the food processor along with the sun-dried tomato halves, 10g of oil from the tomato jar, and 10g to 20g of water. Process until the dough turns orange-red. Transfer it to your work surface and knead until it's smooth and elastic, 5 to 10 minutes. Wrap and store the dough as directed above.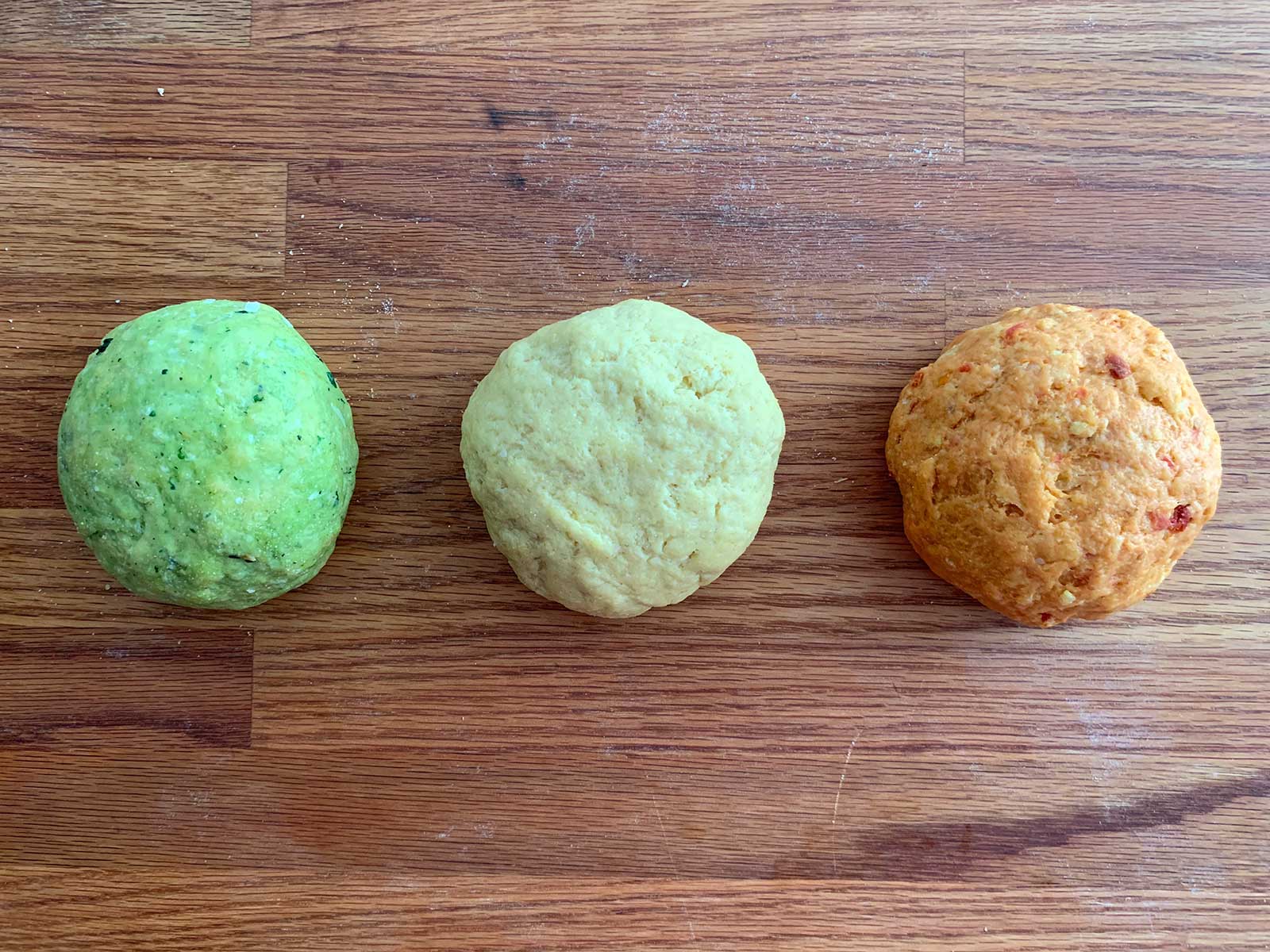 Roll the dough 
Working with half a piece of each dough at a time (keep the dough you're not working with covered), roll the dough as thinly as possible using a heavy rolling pin or pasta machine. For shaped pasta like tortelli, the dough should be about 1/32" (less than 1mm), and for long pasta, like pappardelle, fettuccine, or linguine, 1/8" or less (2mm to 3mm) is good.
Shape the pasta 
Depending on which type of pasta you'd like to make, you can shape this dough in different ways: 
To shape tortelli: Cut the dough into rounds using a 2 1/2" to 3" cookie cutter, or the top of a jar (or jar lid). Gather the scraps into a ball, cover, and set aside to re-roll once the dough has rested for 20 to 30 minutes.
Place a teaspoonful of spinach and a small cube or teaspoonful of semisoft cheese (mozzarella or provolone are good choices) in the middle of each pasta round. 
Fold opposite sides of the dough circle up and pinch them together to create a semicircle. Lay the semicircles on their sides and crimp with a fork to seal thoroughly. Finally, pinch their ends together to create crescent shapes.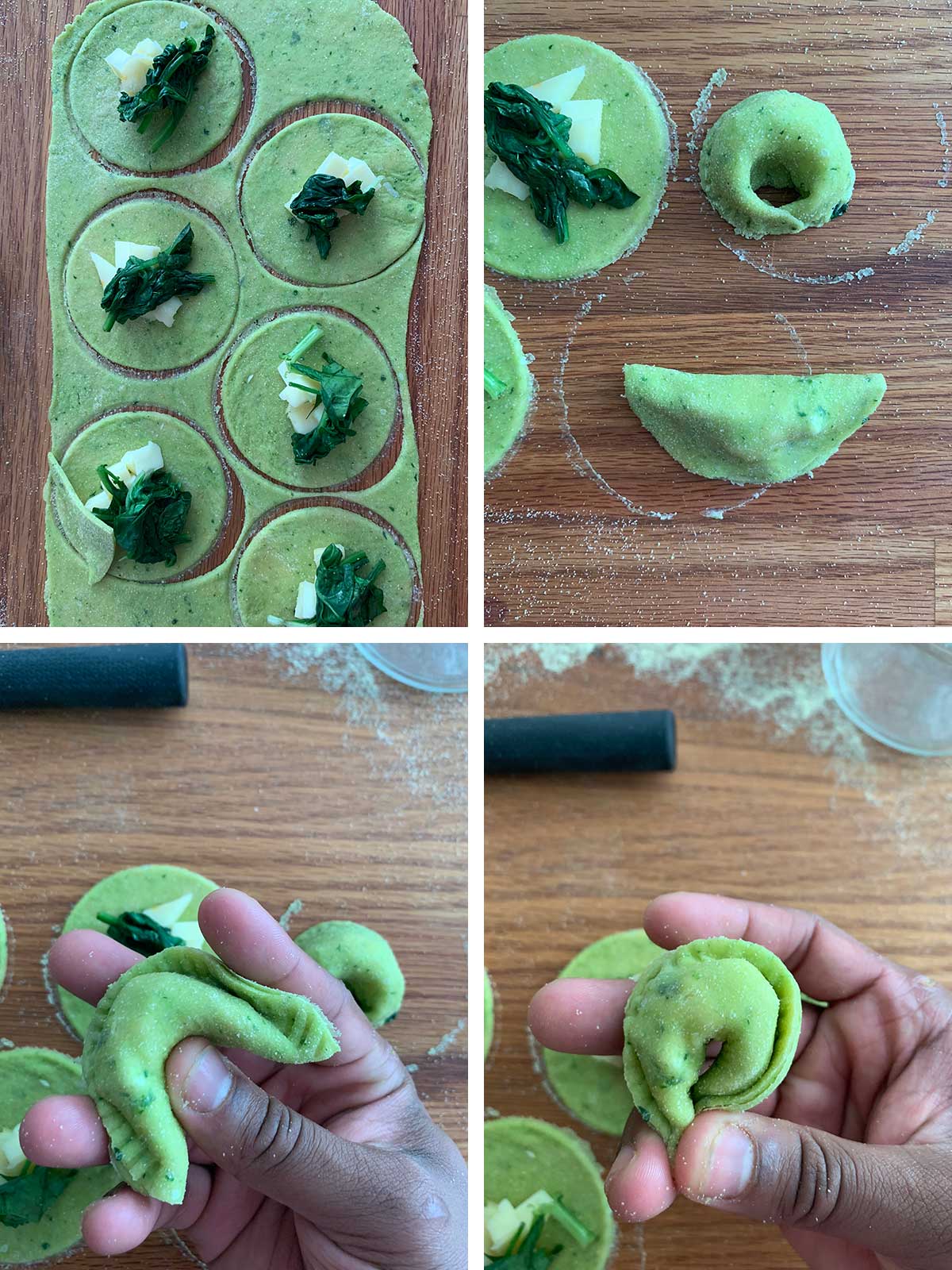 Place the shaped tortelli on a plate or baking sheet and set them aside until you're ready to boil them.
To shape pappardelle, fettuccine, or linguine: Lightly coat the top of the dough sheets with a little semolina flour, then loosely roll them up. Cut the rolled-up dough into strips — about 3/4" wide for pappardelle, 1/2" wide for fettuccine, and just over 1/8" wide for linguine. Unroll the strips and let them dry on a rack, dowel, or on a clean work surface for 20 to 30 minutes.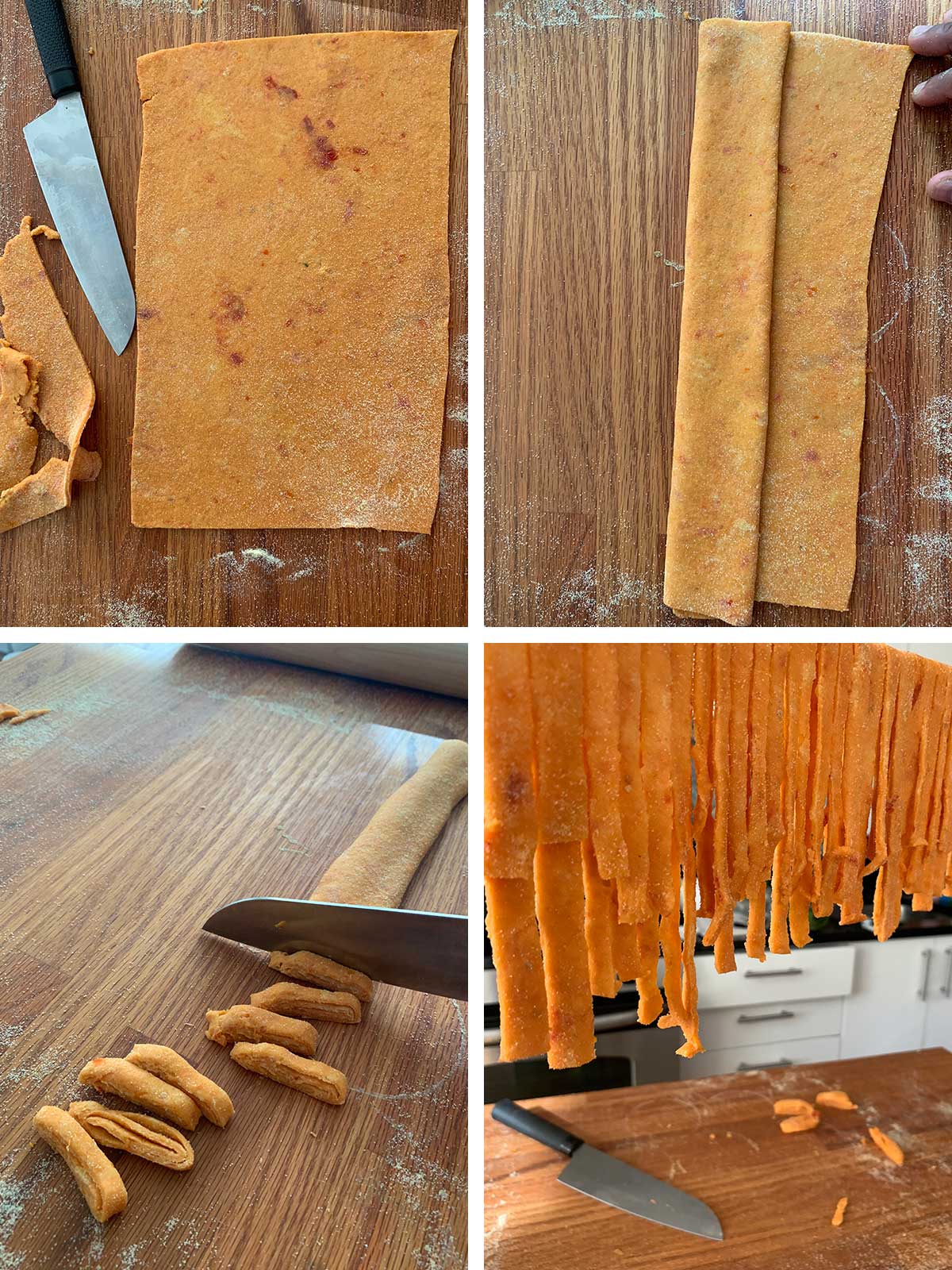 Curl the strands into loose mounds ("nests") and set them aside until you're ready to boil them.
Boil the pasta
Bring a large pot of water to a boil. Add the pasta and cook for 2 to 4 minutes; it should still have a slight bite. Drain the pasta immediately, reserving some of the cooking liquid for whatever sauce you choose to make, if desired.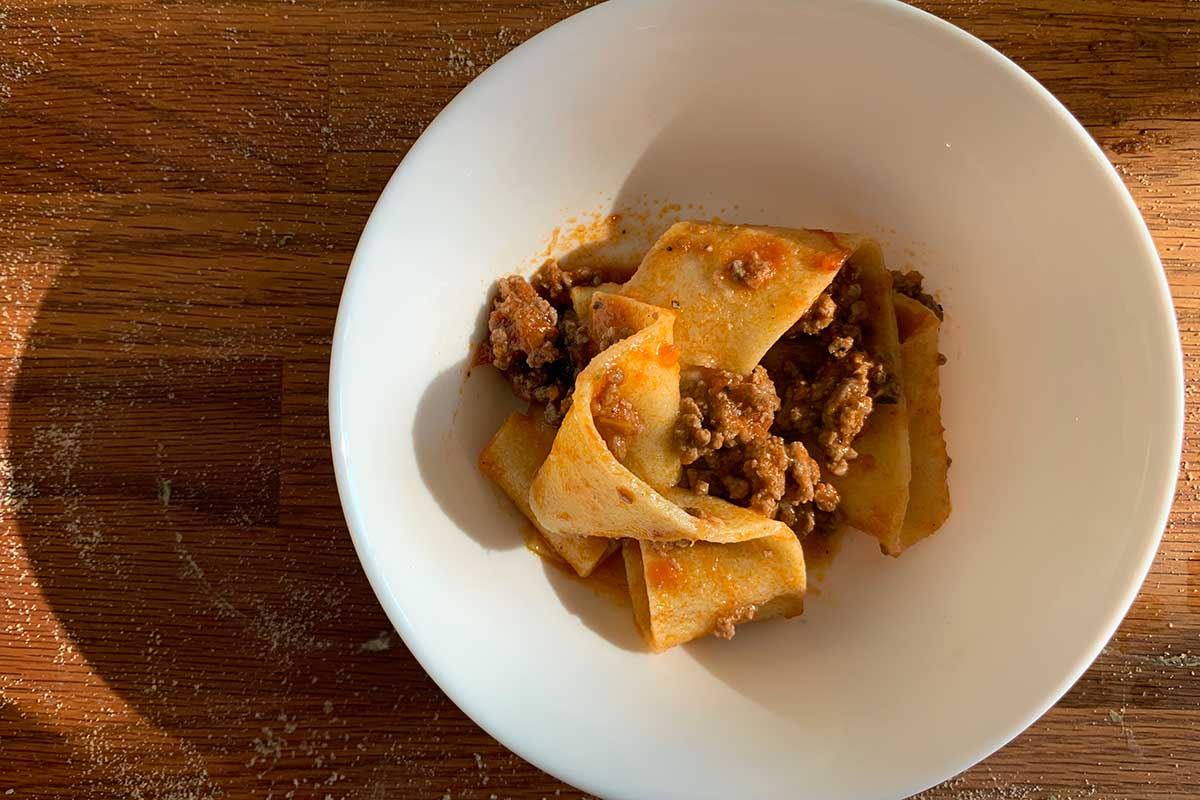 If you're planning to cook the pasta later, cover and refrigerate it for up to two days. Freeze, well-wrapped, for longer storage.  
And there you have it: yet another way to use your sourdough discard, plus a fun, colorful, and tasty project for dinnertime! 
For more homemade pasta recipes, see these recipes for Fresh Pasta, Golden Durum Pasta, and Sprouted Wheat Pasta. And for more recipes like this from Bryan, visit his blog Artisan Bryan. 
Jump to Comments