I still have dreams about the currant scones I ate when I visited Ireland. Despite being relatively simple, they were eye-opening — rich, tender, and satisfying, with a crisply burnished exterior. Growing up in the South meant it was all biscuits, all the time for me. But ever since that visit to Ireland, I've always had a soft spot for scones. 
Though these Harvest Pumpkin Scones are quite different than those round, revelatory currant ones I enjoyed in Ireland, they make my heart sing with their warm autumnal flavors and bright orange hue. 
We've talked before about how scones are the perfect blank canvas for all manner of textures and flavors, which means you're also free to deviate here and take this recipe down different seasonal paths. I'll get into some fun variations toward the end of this post, but first let's dive into what makes these scones so special. 
Why pumpkin scones are the ideal fall treat
First, the flavor. These scones have quite a bit of pumpkin (as you can see from their gorgeous color!). But actually, what we really think of when we dream of pumpkin is the spices that typically accompany it: cinnamon, ginger, allspice, and nutmeg. You can add each of these individually, tweaking to your taste, or simply reach for pumpkin pie spice, which is a perfectly balanced blend of all of them. I love these flavors so much that I usually use a little more pumpkin spice than the recipe calls for! 

The second thing is arguably the most important when it comes to scones: texture. Have you ever had a dry, crumbly scone? I'm convinced it's one of the easiest ways to ruin a day. Thankfully, that's not even close to the case here. Our basic scone recipe calls for half-and-half or milk as the primary liquid but in this recipe, that dairy is subbed out for pumpkin purée. In addition to adding flavor, the pumpkin makes these scones soft and moist without being cakey. 
Start by assembling your ingredients: 
Whisk together the flour, sugar, baking powder, salt, and spices. (I like to increase the pumpkin pie spice to 2 or even 2 1/2 teaspoons for an extra-strong dose of fall flavor.)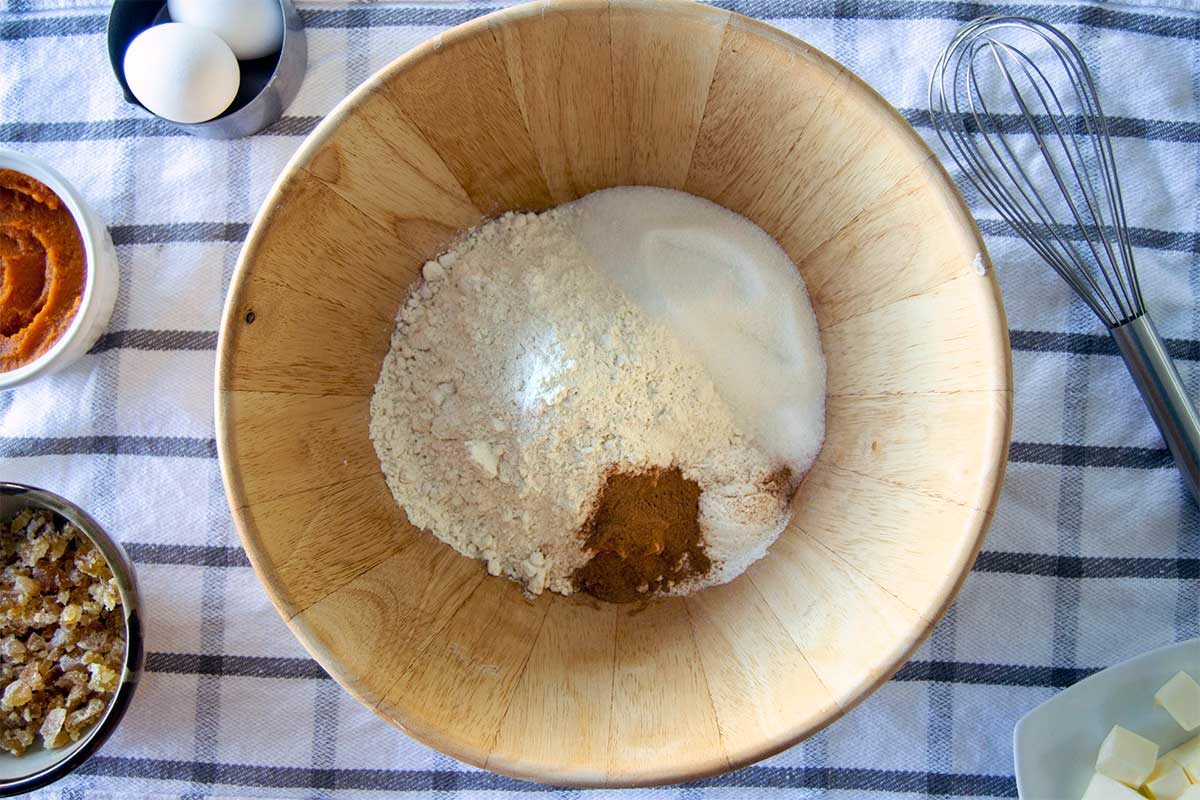 Cut the butter into 1/4" cubes, then use your hands to quickly work it into the dry ingredients. If you have a pastry blender, that also works here. You want the butter to break down into small pieces so the mixture looks crumbly, but don't go too far — keep some large chunks of butter (about the size of large peas, maybe even a little bigger), which will add to flakiness in the baked scones.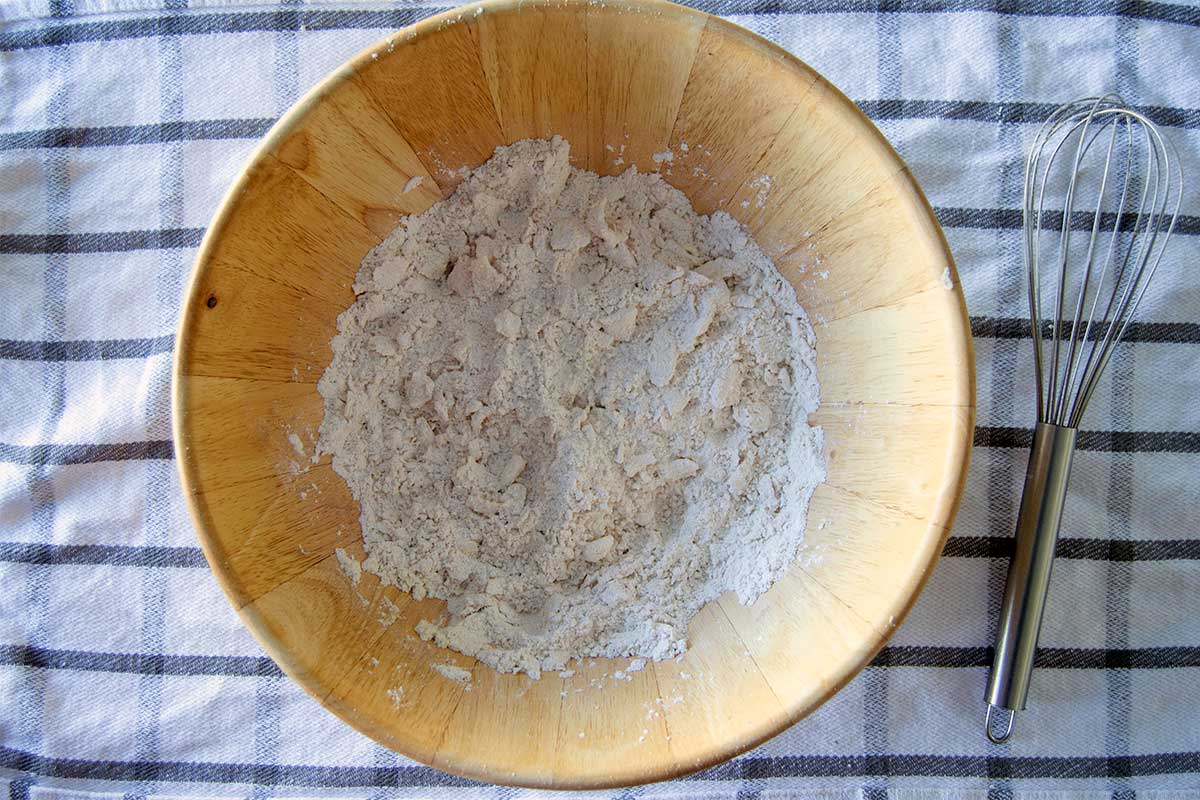 Stir in your mix-in of choice: I used chopped crystallized ginger, or you can go for cinnamon chips or cinnamon bits. There are more ideas for mix-ins down below!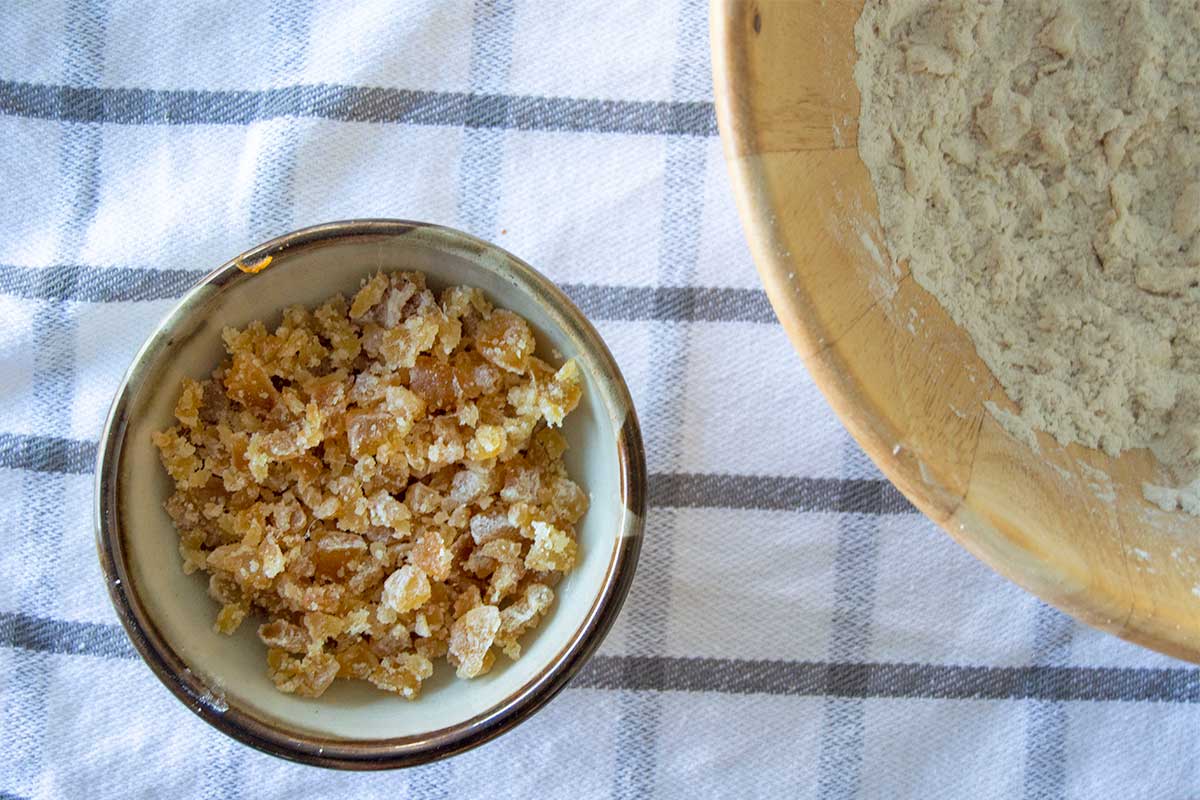 Whisk together the pumpkin and eggs in a separate bowl until smooth, then add to the dry ingredients. While mixing the dough, you'll want to be gentle and careful not to overwork it. Use a bowl scraper, spoon, or even your hands (that's what I did!) to bring the dough together. Stop as soon as it forms a cohesive mass — ideally there will even be a few flour streaks still visible.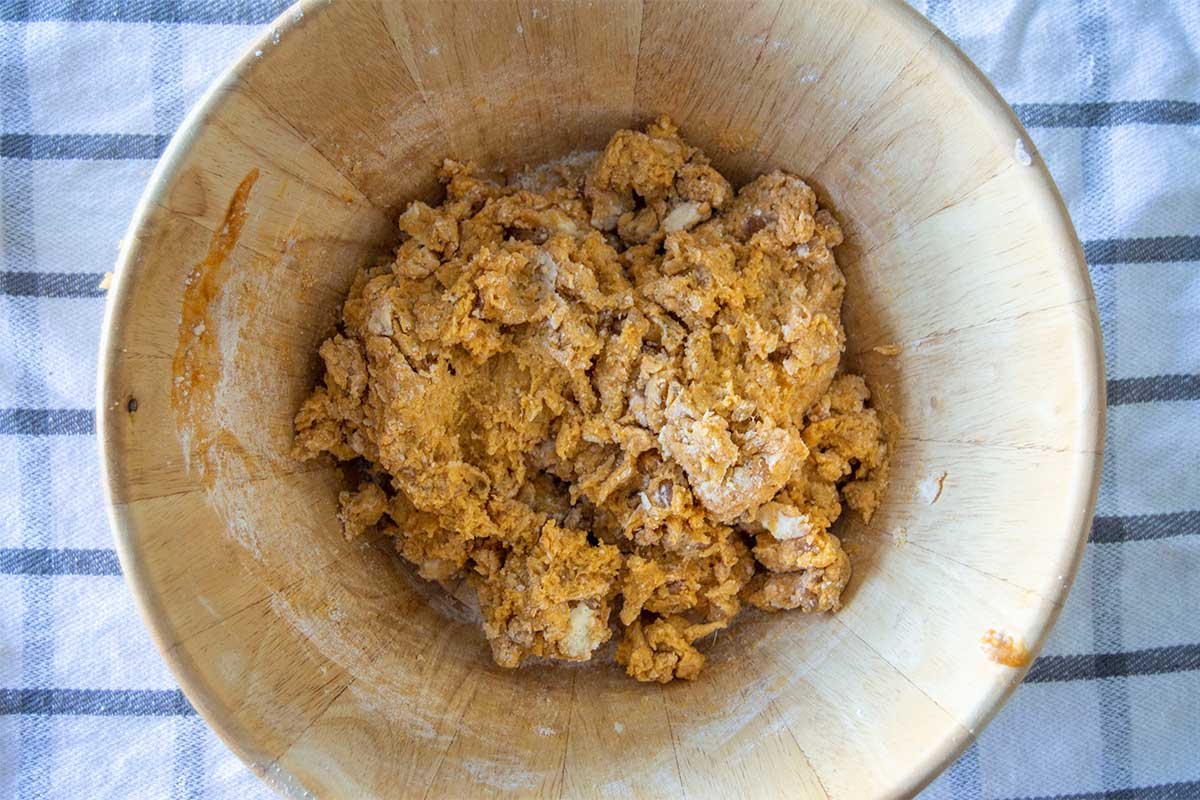 Line a baking sheet with parchment paper and lightly dust with flour. (No parchment paper? Just flour the pan directly.) Divide the dough in two and pat into rounds that are 3/4" tall. If you added mix-ins, the rounds will be about 6" in diameter; without mix-ins, they'll be closer to 5".
Brush the top of the scones with milk, then sprinkle with coarse sparkling sugar. You can also top with cinnamon sugar, as I've done here, or Demerara sugar. Use a bench knife or a sharp knife to cut each round into six triangular wedges. Carefully nudge them apart so there's about 1/2" between each scone. 
Before these scones can jaunt off to the oven, they're going to take a quick detour to the freezer for 30 minutes. This extra time spent in the cold helps give them even higher rise and flakier texture — if you have the time, don't skip it! 
Meanwhile, preheat the oven to 425°F. After the scones have chilled in the freezer for 30 minutes, transfer them to the oven and bake for 22 to 25 minutes. They'll be golden brown and shouldn't look wet or doughy at all. A tester inserted in the center should come out clean. 
These are absolutely divine warm, with a smear of butter and jam, or even homemade apple butter.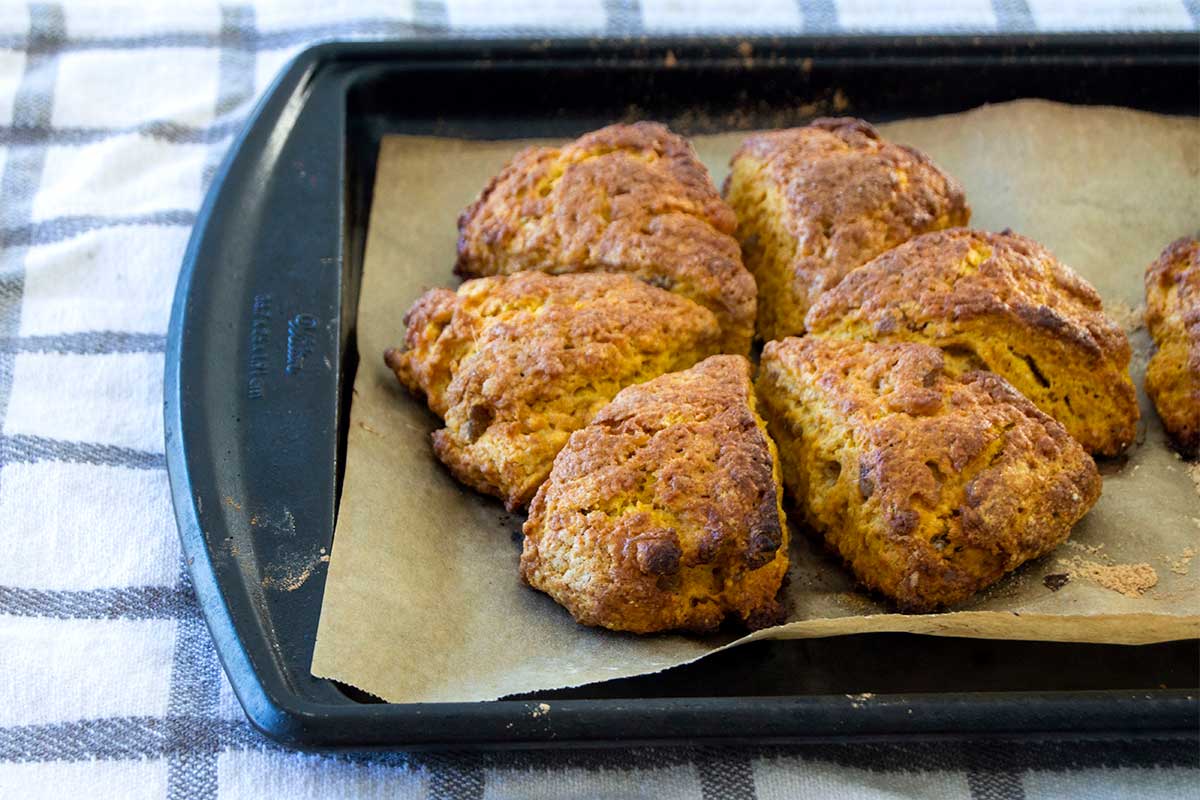 This recipe is incredible on its own, but why stop with what's written when there are so many other fall-inspired versions you could make? Here are some ways to play around ...
1) Ditch the pumpkin
Sure, these are called Harvest Pumpkin Scones. But like Cinderella's carriage, that doesn't mean they can't be transformed. Try substituting other seasonal squash purées, such as butternut squash, for a slightly different flavor profile that still complements the warm, cozy vibe of these scones. 
2) Make magic with mix-ins
Even though I'm not a fan of eating raw crystallized ginger, I love it baked into these scones and highly recommend trying it out. But there are so many other options you could add to the dough for a boost of flavor and texture.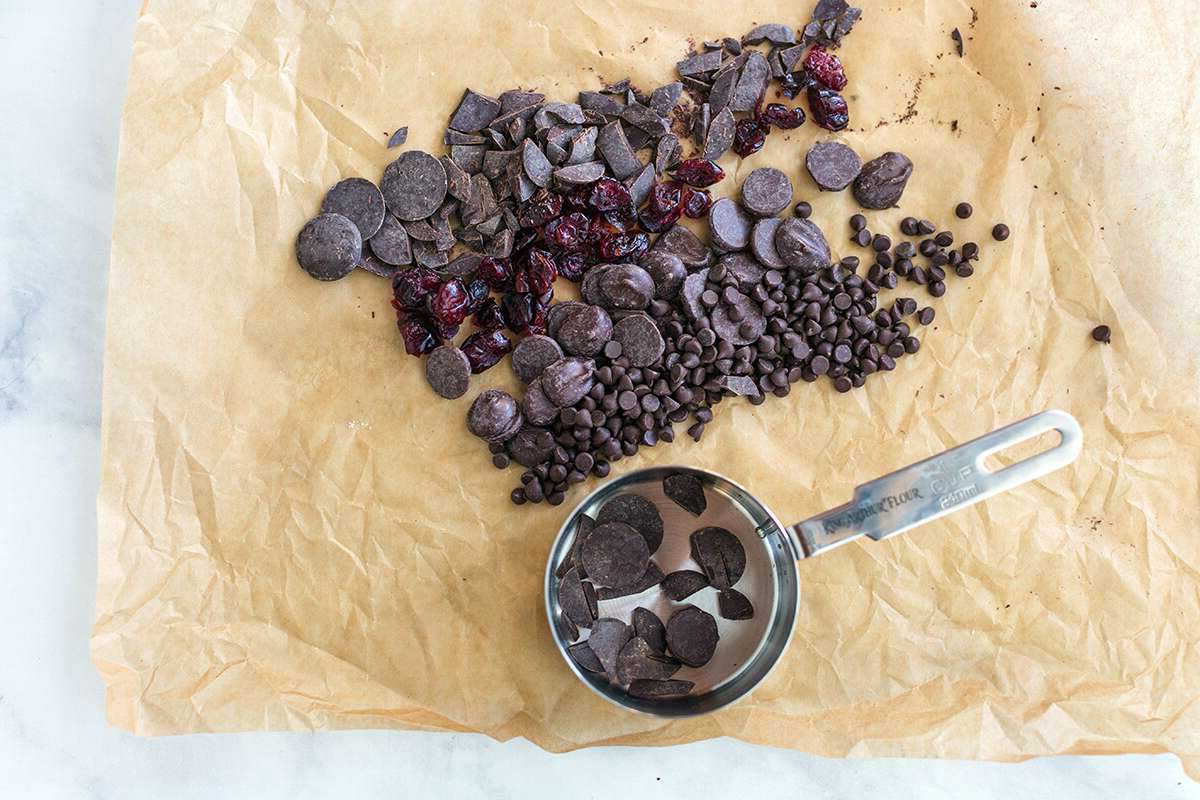 Chocolate chips, of course, would be lovely, as well as toasted chopped pecans or walnuts. Or you could add dried fruits like cranberries for little pockets of sweetness scattered throughout. And of course, caramel chips are always welcome, especially at this time of year. 
3) Get spicy
Pumpkin pie spice is basically iconic at this point. But if you're feeling creative, there are so many other DIY spice blends you can play around with!
Hit up your spice cabinet for inspiration, and experiment with options like cardamom, chai, coriander, mace, cloves, anise, and more. Or just tinker with the spices already called for in this recipe. If you love the sharp kick of ginger, for instance, add a little more to the dough and dial back the cinnamon. Think of the written recipe as a suggestion, rather than a rule. 
4) Fill them up
Inspired by my fellow blogger Posie, I decided to bake a batch of these scones with a layer of cinnamon filling in the middle. And let me tell you, they were incredible.
To make, simply form your dough into four rounds instead of two when placing on your baking sheet. Sprinkle cinnamon sugar on one round, then stack a round of dough on top and gently pat together. Slice into wedges as you would normally in the recipe. Repeat with the remaining two rounds of dough.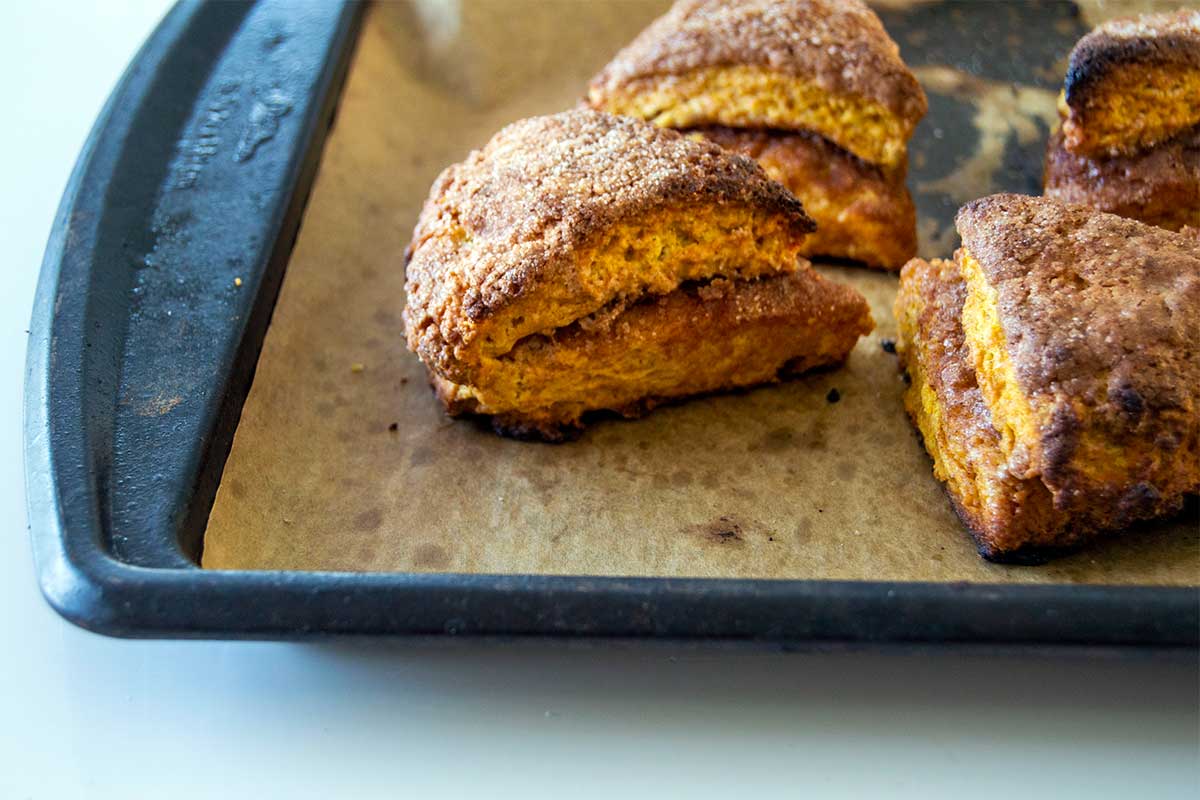 Don't stop at cinnamon sugar though: take inspiration from our post on the easiest way to make filled scones and try out jams, nut butters, or maybe even pumpkin butter for a double-dose of squash. For these liquid fillings, you'll likely want to follow the technique described in the filled scones blog post and add your filling after the scone dough has chilled in the freezer. 
Savoring seasonal scones
These Harvest Pumpkin Scones are the ultimate fall comfort food, with an enticing flaky texture and well-rounded flavor. And even better, they provide all sorts of opportunities to get creative, so that you can either stick with the tried-and-true classic or let your imagination run wild. 
For a deep dive on the ins and outs of making scones, be sure to check out our comprehensive Scone Baking Guide!
Jump to Comments