Buttered toast and jam
A quick and simple path to comfort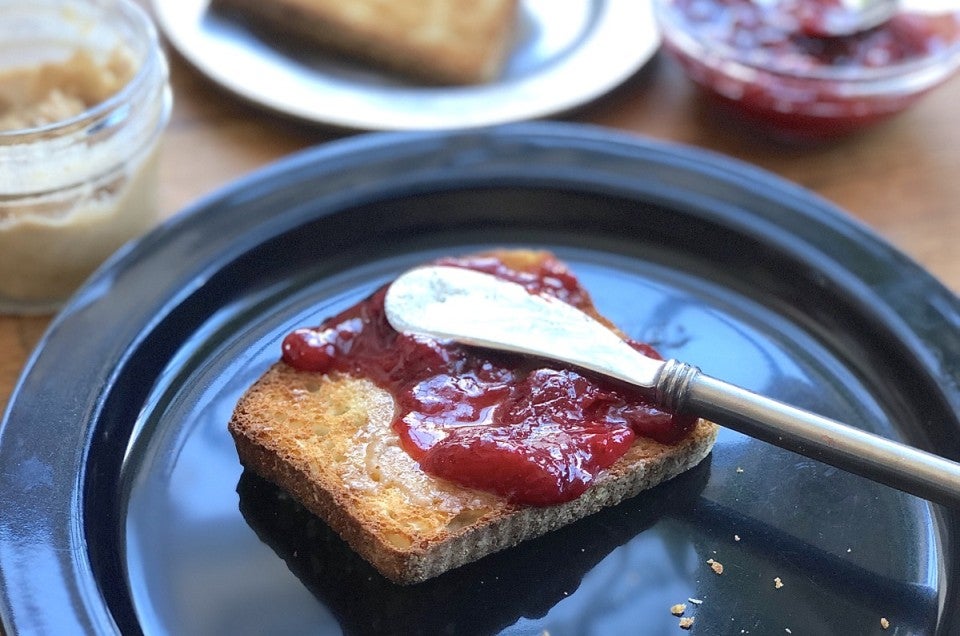 During this stressful time of social distancing, isolation, and virtual connections, many of us have seen our lives change radically. Parents suddenly have kids at home ALL DAY LONG. Those who've found daily joy in going to work are now working at home — or unhappily, not at all. And older folks, who loved the daily comfort of coffee with friends or the casual human touchpoints of post office, library, and grocery store, are suddenly living solitary lives.
Touched with loneliness (or at least the shock of a new day-to-day routine), many of us burrow deep to find a distant younger version of ourselves: the child who grew up thinking bears could talk, Mom could fix every boo-boo — and a grilled cheese sandwich was the best food in the world. 
A plate of crisp toast, salty butter, and sweet strawberries, playing their song in perfect harmony, is the simplest answer I know to life's difficult challenges.
It's no surprise food memories flood back when times are tough. Who doesn't feel their stress lift in the presence of chocolate cake? Licking an ice cream cone leads to thoughts of a summer day at the beach, hot sun saturating your wet, salty, sandy self. Tomato soup and crackers? Sudden flash of a snowy winter day spent playing board games.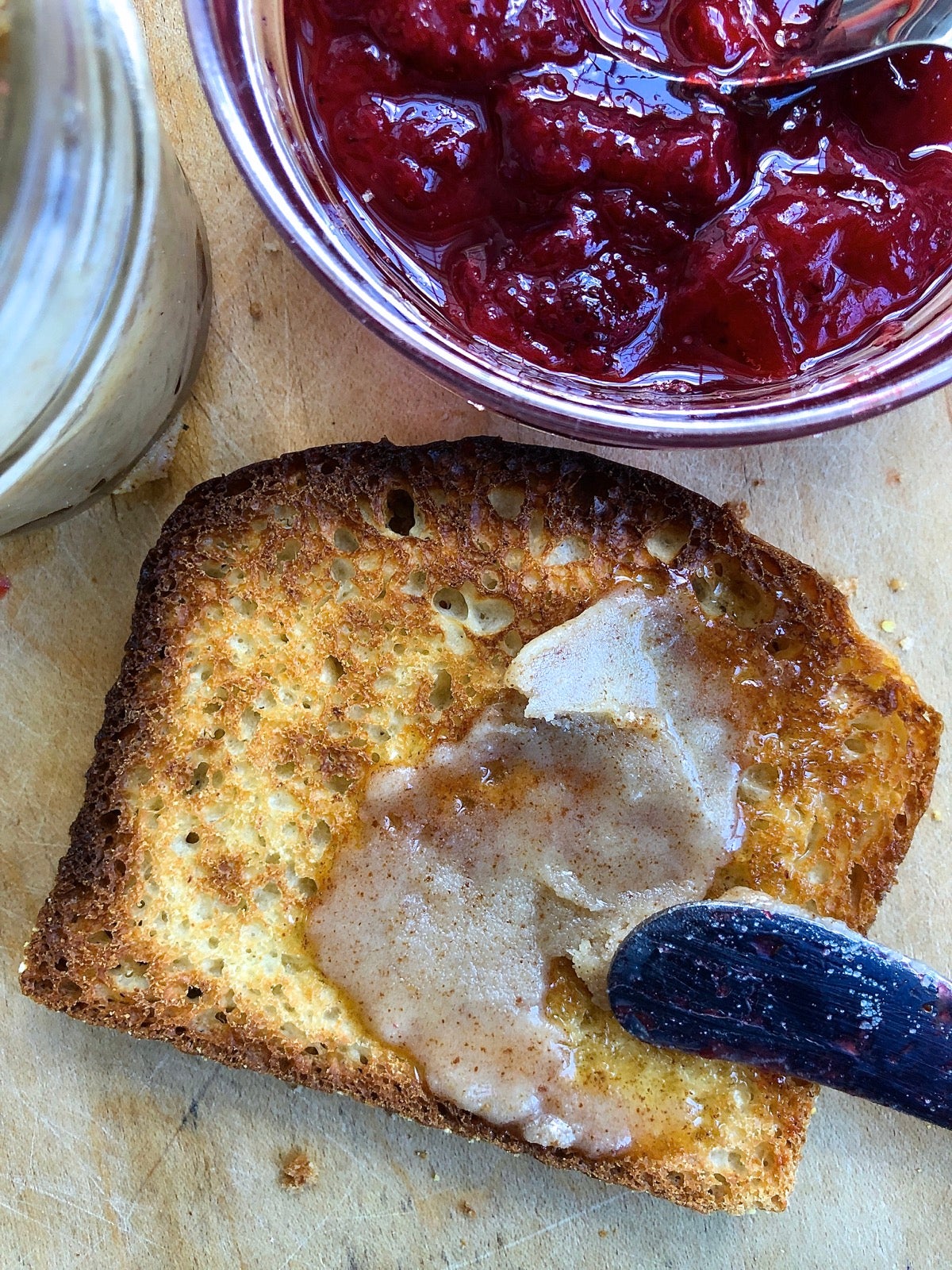 My most evocative food is simple enough: a slice of homemade toast with butter and jam.
But hold on — not just any toast: it has to be English Muffin Toasting Bread toast. Neither can I spread that toast with plain butter: these days, it's richly flavored brown butter. And the jam? Fresh strawberry preserves from my own kitchen.
Happily, all three of these elements — bread, brown butter, and jam — are quick and simple to make. A pound of fresh strawberries becomes a delightful pot of jam in just about 20 minutes (most of that time spent simmering in your microwave). A stick of butter is magically transformed into glorious brown butter in, what — 10 minutes on the stovetop?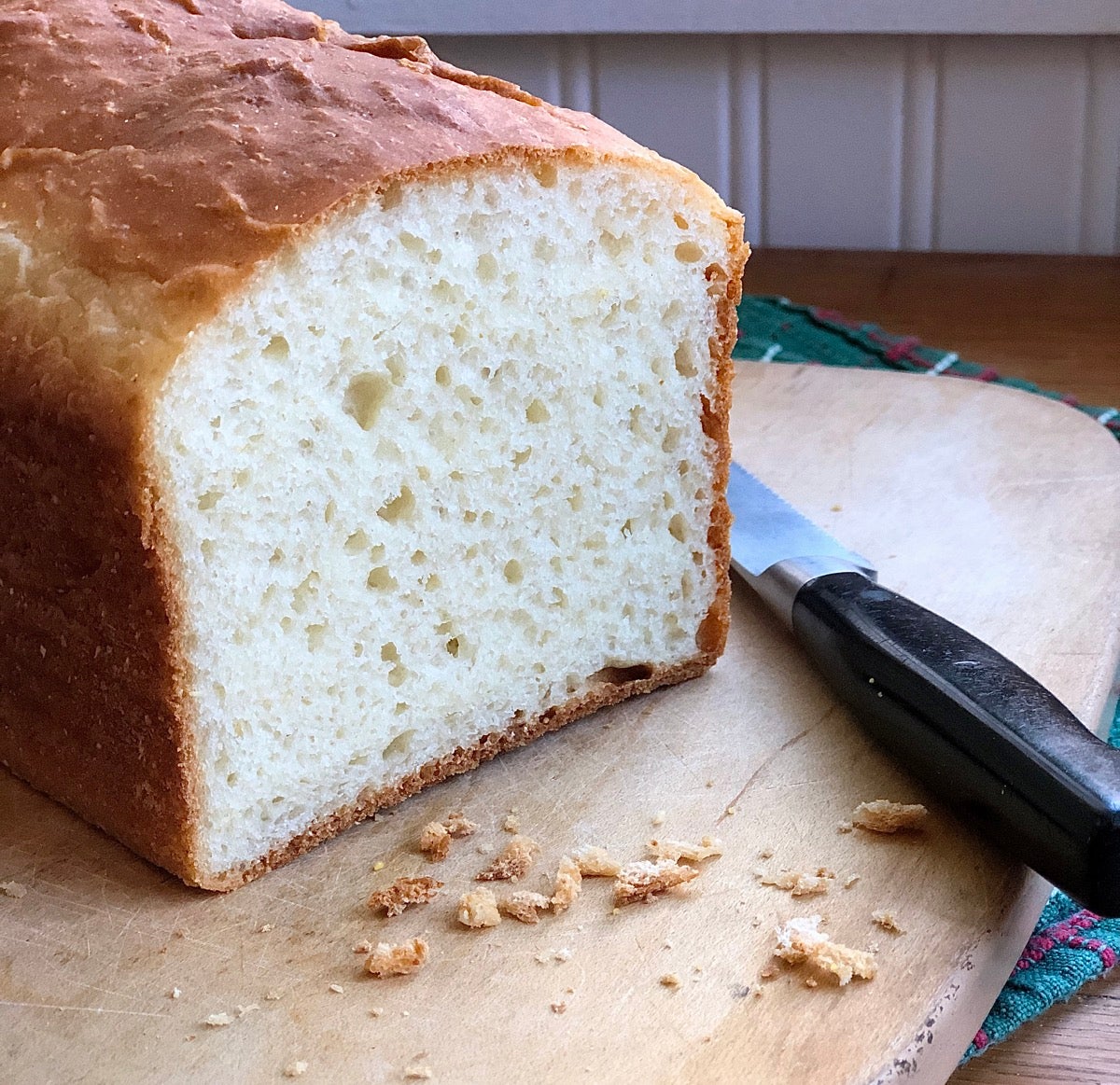 The bread does take longer: hey, it's yeast, right? But for yeast bread it's pretty darned fast: somewhere between 1 1/4 and 2 hours, depending on how long you dawdle over each step. Again, most of that time — the rising and baking — doesn't demand any hands-on tending.
Over the course of a single day I can easily rustle up the bread and the jam and the brown butter. Mid-afternoon, when spirits and energy start to flag, is my favorite time for a toast break.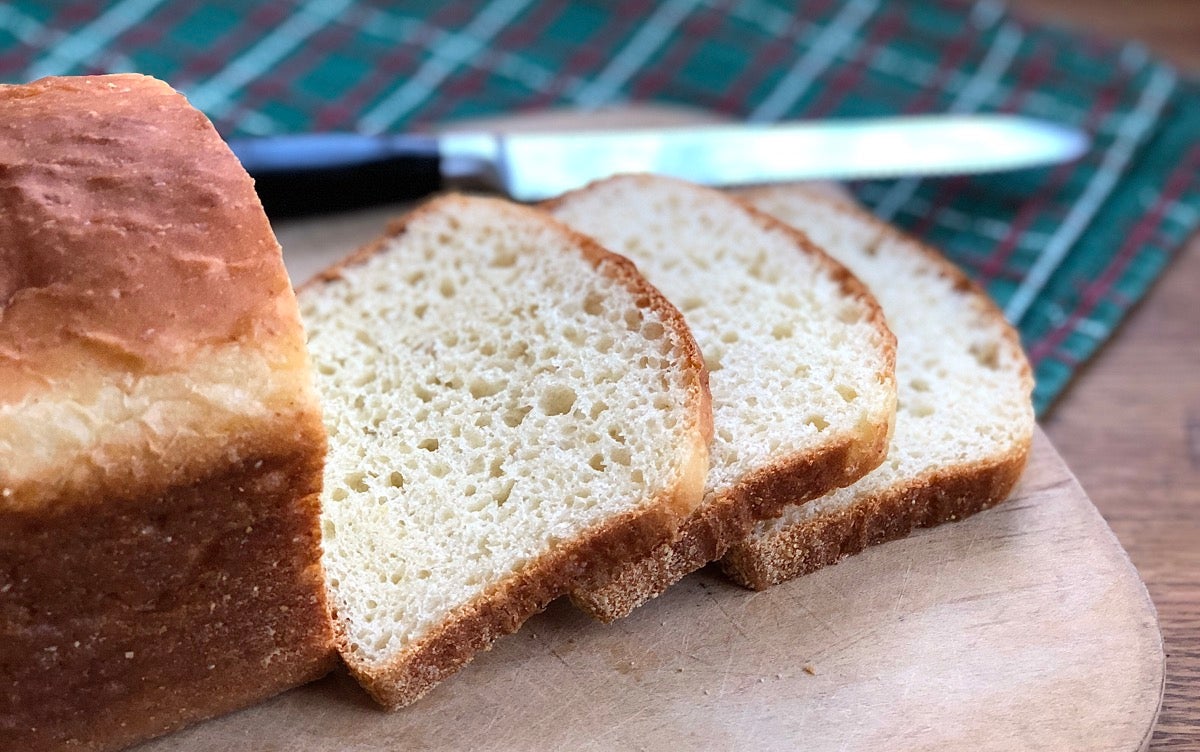 I slice the bread.
Put the jam into a little bowl, because why not make believe I'm in a British tea room? Make sure my brown butter is soft and spreadable — which it always is, given I leave it on the counter rather than in the fridge.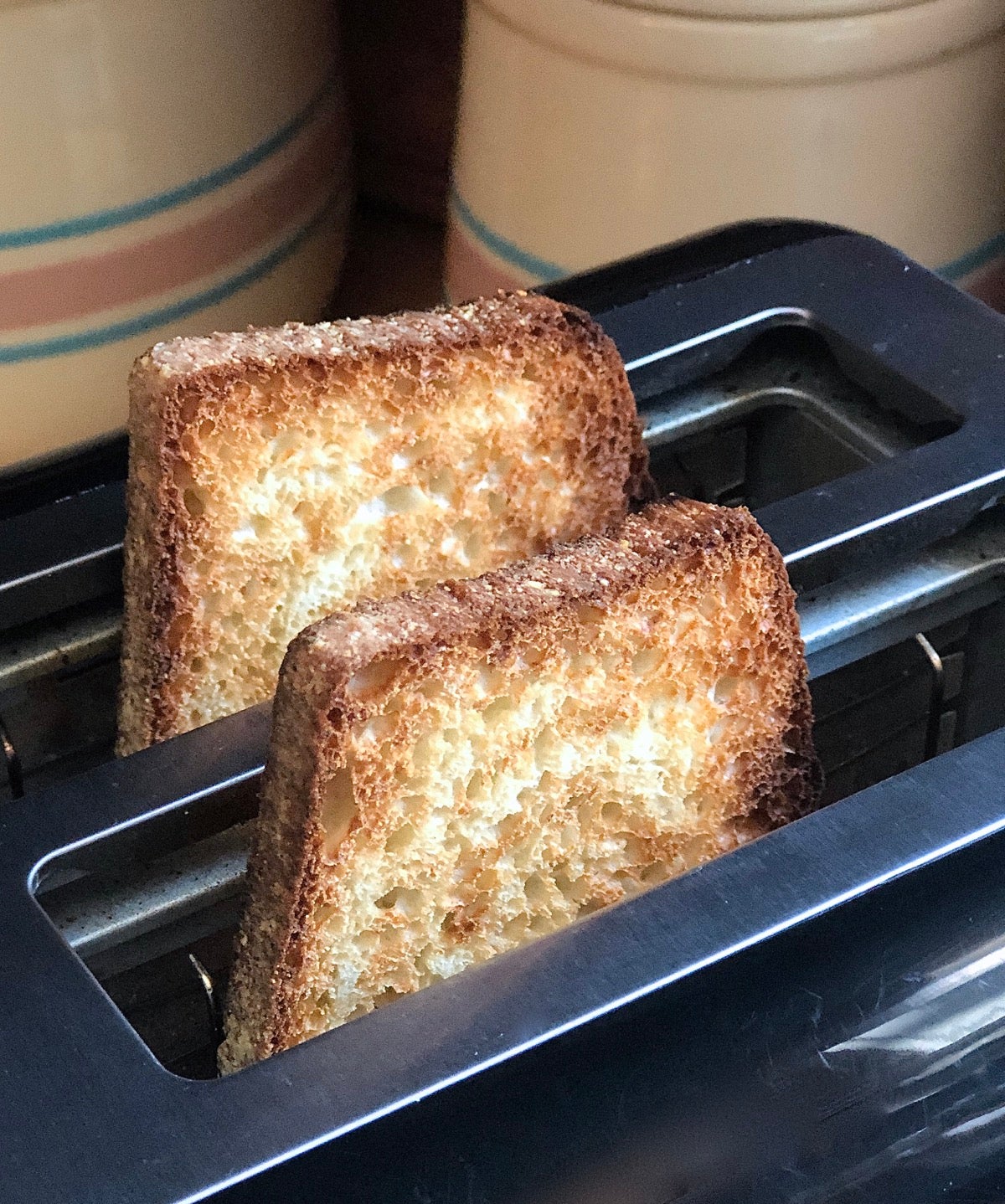 Toast.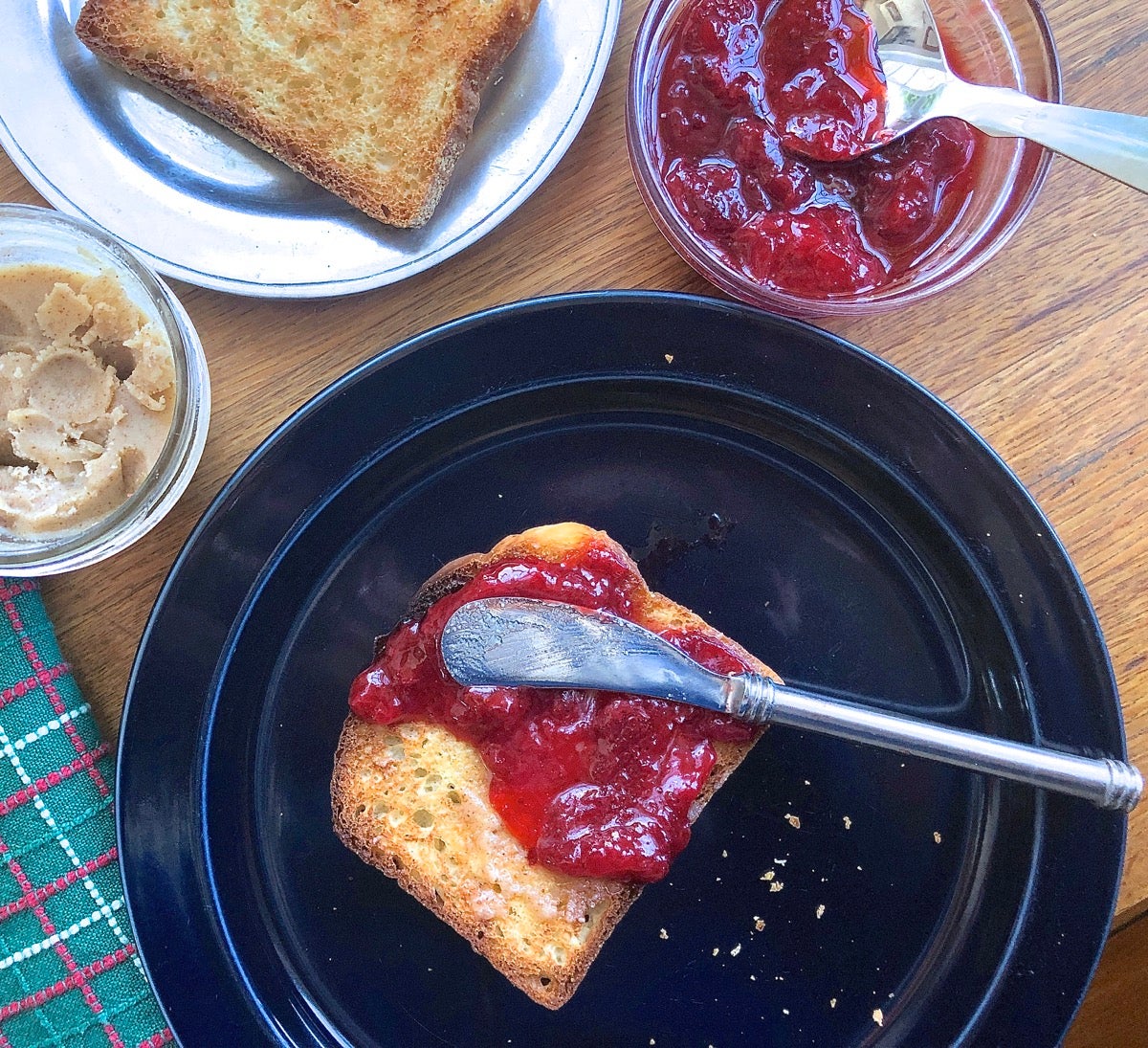 Brown butter melted on toast. A layer of fresh strawberry jam over all.
And for a few moments, at least, I forget COVID: the anxiety-ridden inconvenience it is for all of us, the tragedy for some. Crisp toast, salty butter, and sweet strawberries, playing their song in perfect harmony, are the simplest answer I know to life's difficult challenges.
Please remember: at the end of the day, we're all in this together. And most of us will emerge intact, relieved — and thanks to all the time at home, with better baking skills!
Want to join me with your own slice of buttered toast with jam? See how it's done:
English Muffin Toasting Bread
Microwave berry jam: all the flavor, none of the fuss
Brown butter: how to make your buttery baked goods even better
What's your favorite comfort food? Please share your food memories and musings in the comments section below.
Jump to Comments