Pumpkin spice latte lovers, we have a pumpkin Bundt cake recipe that'll make you swoon. It's warmly spiced, lightly sweetened, and accented with espresso. It's our Pumpkin Espresso Bundt Cake — a timeless reinvention of the beloved fall drink.
If "PSL" means nothing to you, I bet you'll still fall head over heels for this recipe. With its tender crumb and brown sugar-cinnamon-espresso swirl, it's hard not to love this cake.
Best of all, it comes beautifully packaged in the Bundt design of your choosing. This autumnal pumpkin spice Bundt cake is better than anything you can get from a coffee shop, we promise!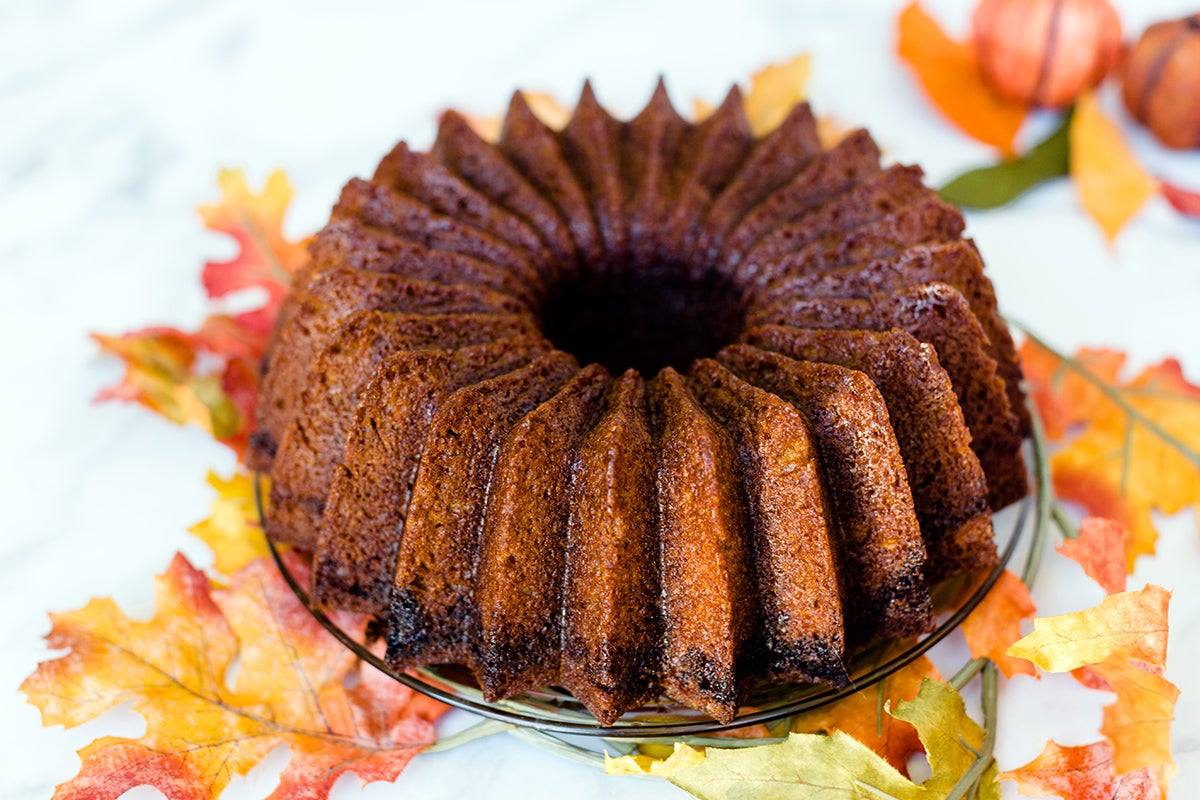 Pumpkin Bundt cake tips
Whether you're new to Bundt cake baking or you're a seasoned pro, we have some pointers from our test kitchen that are worth reviewing. These tips will ensure you nail it every time.
First, make sure you pick a Bundt pan that's the right size for the recipe. A 10-cup Bundt pan produces the best rise and shape, though a 12-cup pan could work too. Read our article, Bundt pan size, for directions on how to measure the capacity of your pan if you're unsure what you're working with.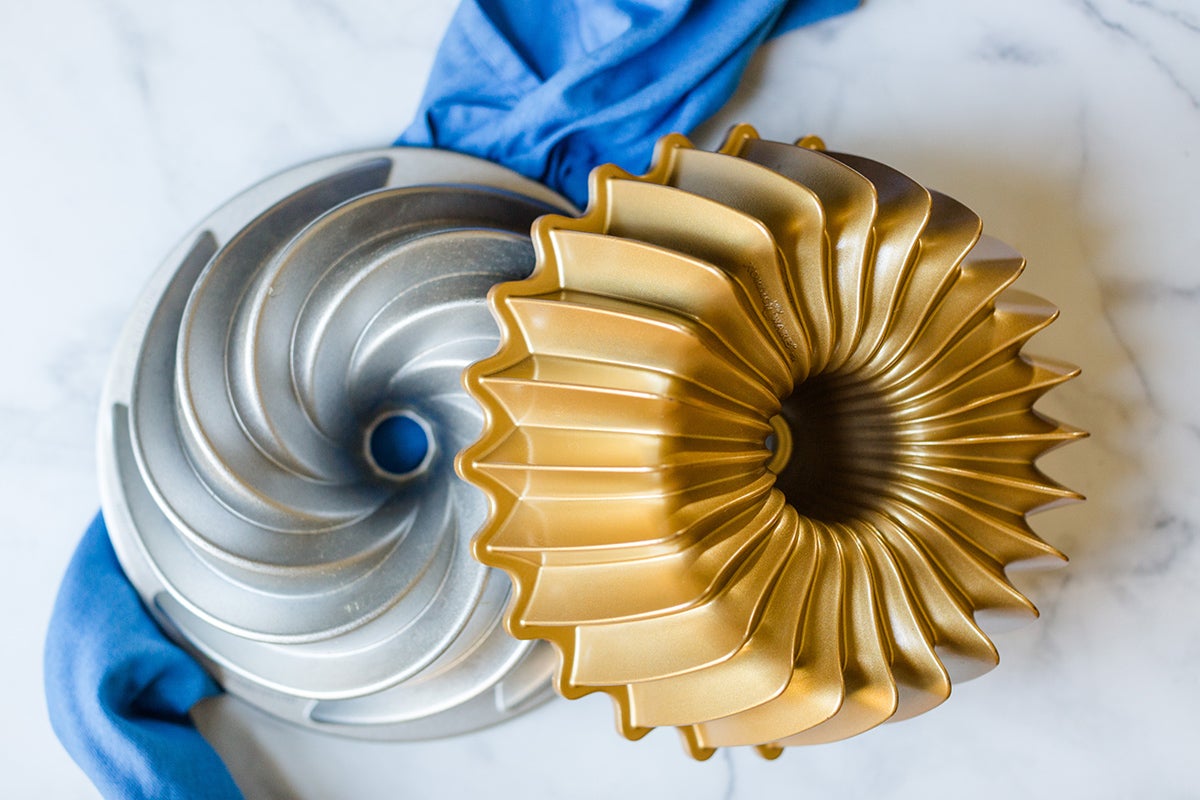 Next, make sure you grease the pan like your cake depends on it — because it does. I swear by a generous coat of our Everbake Pan Spray for non-stick insurance. Our article How to prevent Bundt cakes from sticking offers even more secrets to success.
Lastly, keep this article tucked somewhere safe in case you find yourself in a sticky situation: Stuck Bundt. My fellow employee-owner, Annabelle, walks through the steps of seamlessly removing a stubborn cake from its pan.
Now that you're equipped with the right knowledge, it's time to dive into this tantalizing recipe.
What you'll need
To make this cake, you'll need a handful of pantry staples, including a can of pumpkin purée. Don't be afraid to use the can labeled "squash" — it'll taste just as delicious. Do avoid those cans labeled "pumpkin pie filling." You're looking for pure pumpkin (or squash) with no sweetener or spices added.
Feeling crafty? You can also make your own purée if you're so inclined.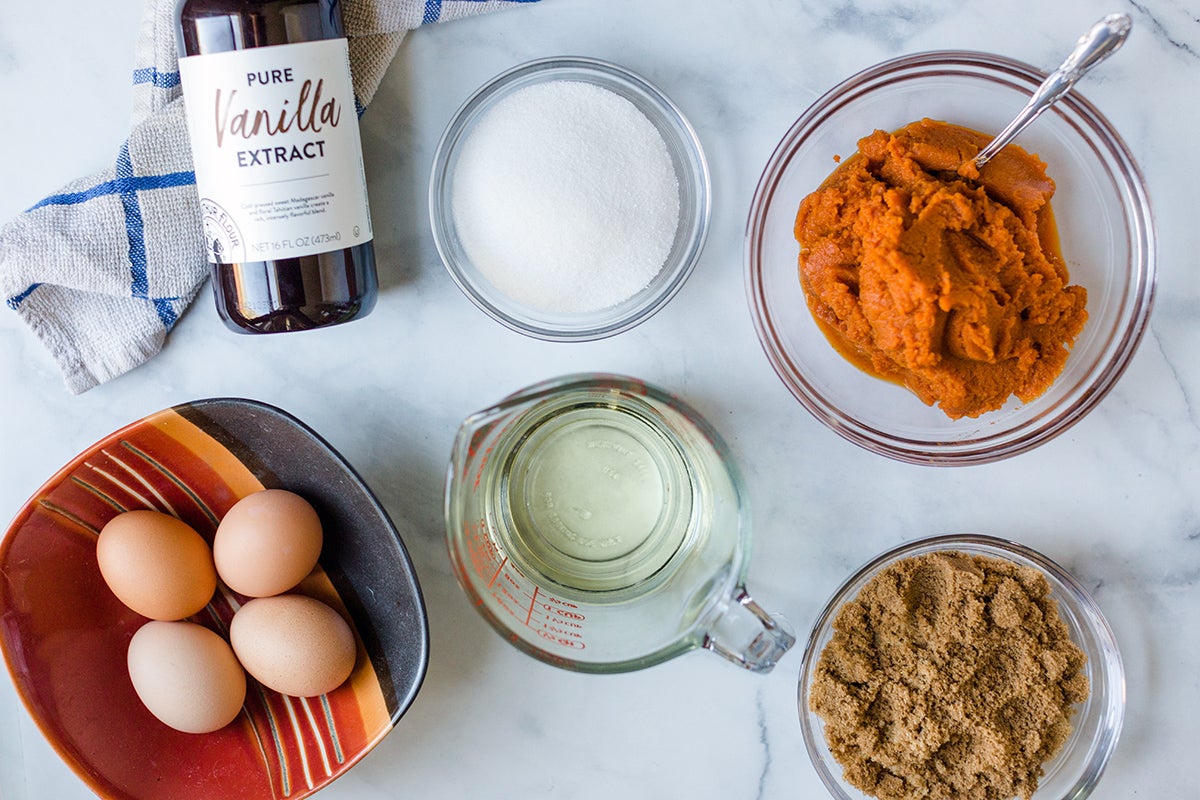 Preheat the oven to 350°F and then gather the following ingredients:
1 can (15 ounces) pumpkin purée
4 large eggs, at room temperature
3/4 cup (149g) vegetable oil
1 cup (213g) brown sugar, packed
3/4 cup (149g) granulated sugar
1 teaspoon vanilla extract
Beat all of the ingredients together in a large mixing bowl until they're well blended.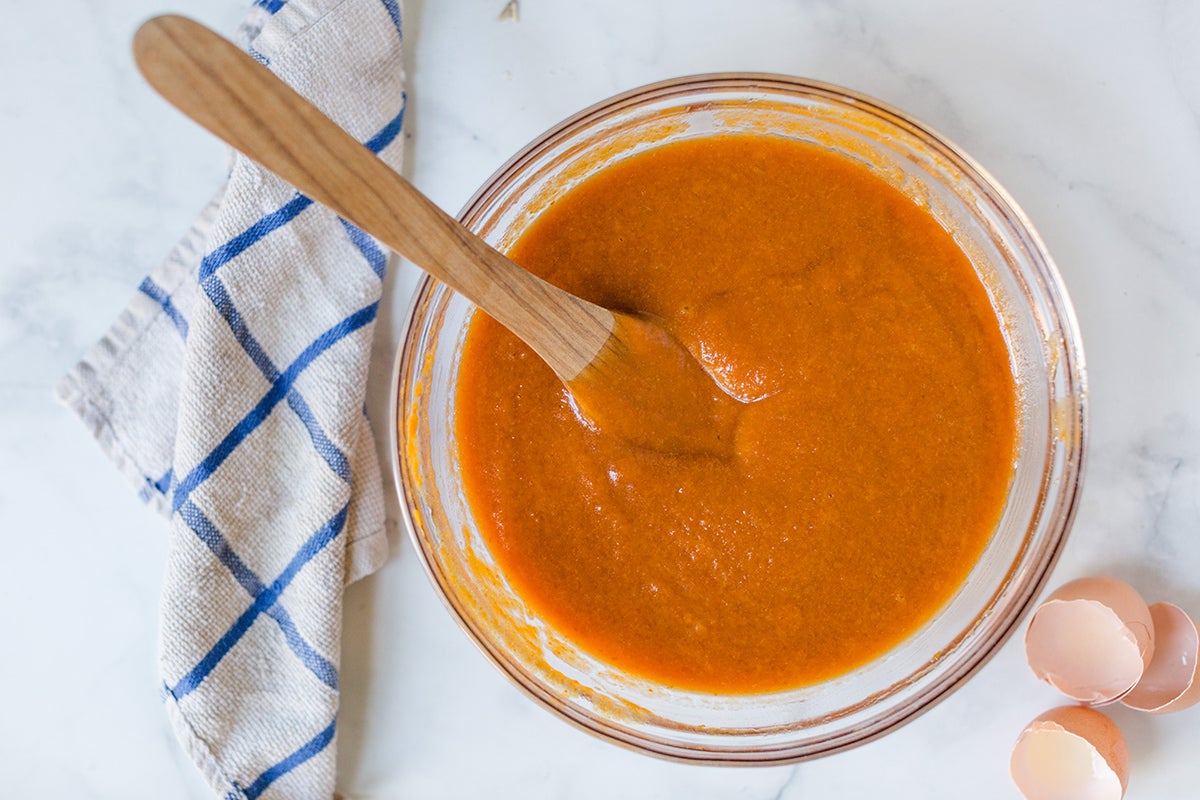 Set the bowl aside while you move on to the dry ingredients in the recipe.
The secret ingredient
You'll never guess the secret ingredient that makes this cake shine.
It's our white whole wheat flour.
That's right, whole wheat flour in cake! We promise the nutty flavor is right at home among the warm spices and earthy espresso. The crumb is tender and light — almost delicate.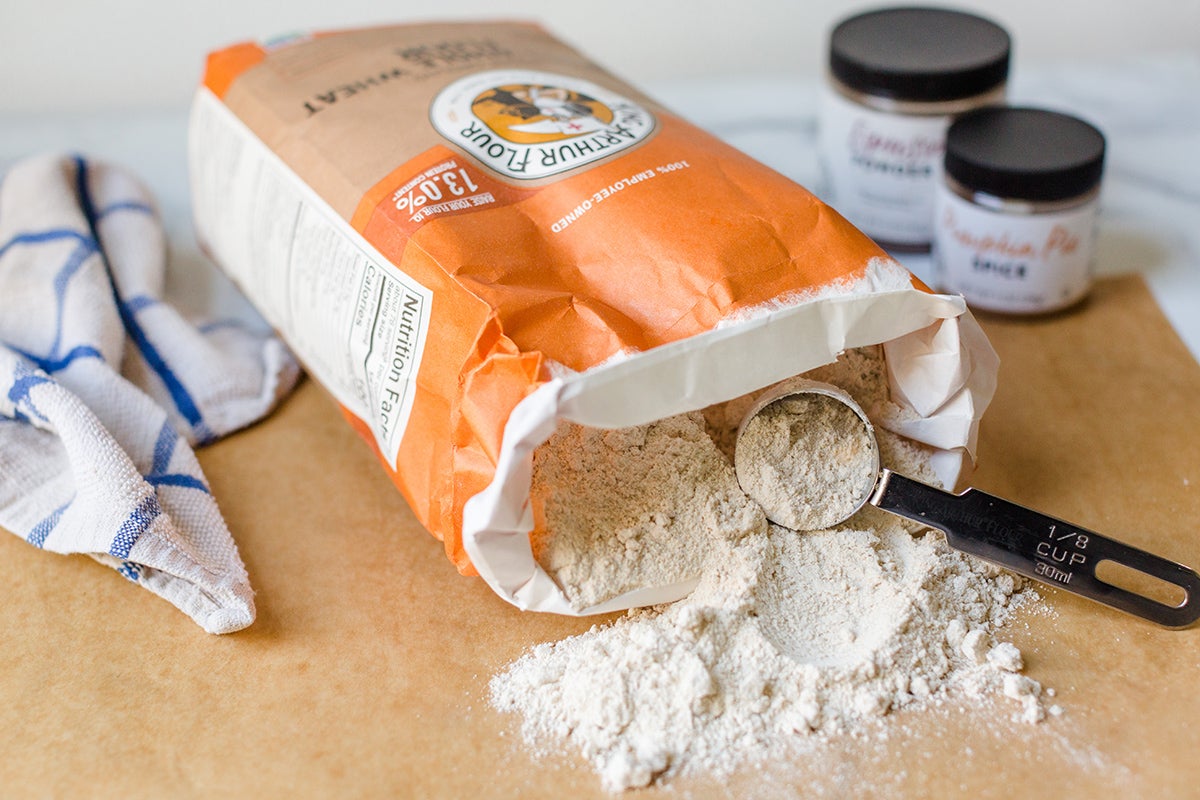 White whole wheat flour makes this cake 100% whole grain, something your friends and family will marvel at once they take a bite. The flour's flavor is less assertive than traditional whole wheat flour, so they might not even notice it's there.
Using a scale, measure out 227g of white whole wheat flour. If you don't have a scale, use the fluff, sprinkle, sweep method to gently measure 2 cups of flour.
Dry ingredients
To the white whole wheat flour, add the following dry ingredients:
2 teaspoons baking powder
1/2 teaspoons baking soda
1 1/2 teaspoon pumpkin pie spice
1 teaspoon salt
If you don't have pumpkin pie spice, combine 3/4 teaspoon cinnamon plus 1/4 teaspoon each of nutmeg, ginger, and cloves.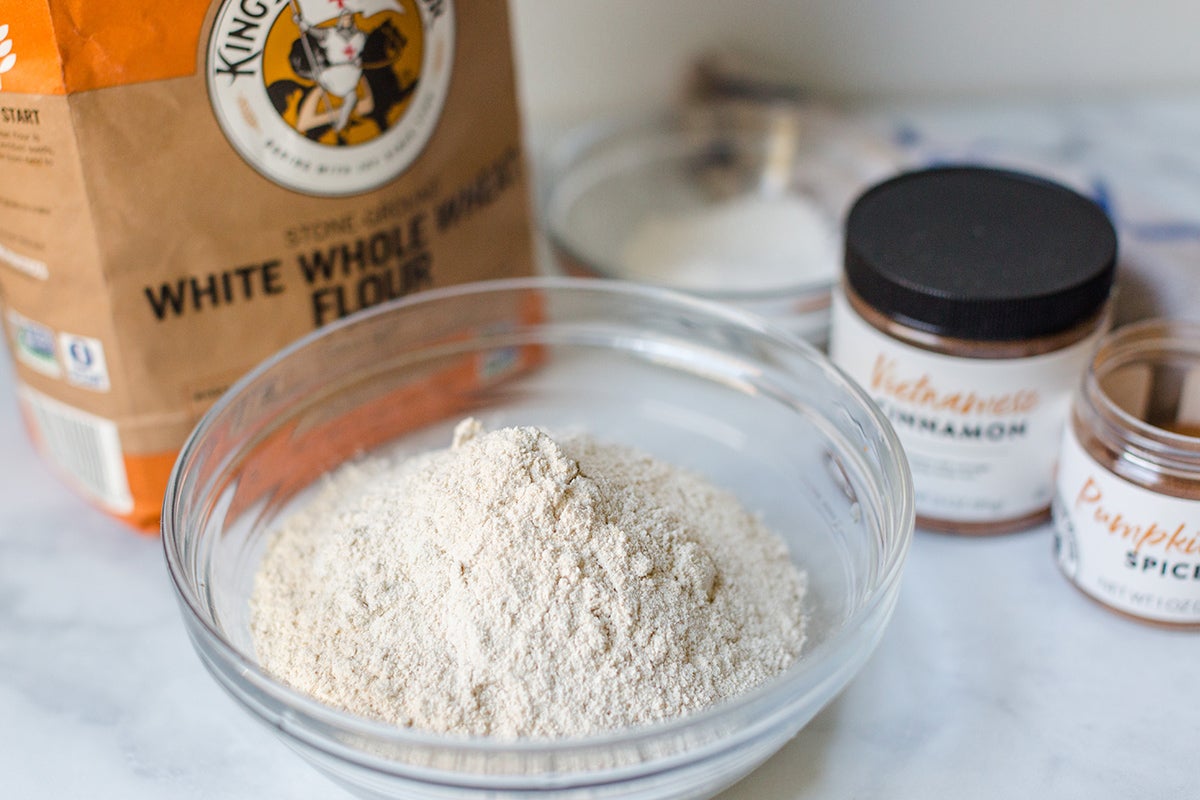 Stir gently until the ingredients are fully combined. 
Time to move on to the show-stopping element of this pumpkin Bundt cake: the espresso swirl filling!
Make the filling
To make the filling, whisk together the following ingredients:
The cinnamon and espresso powder are two ingredients that make this filling pop, so use high-quality varieties for best flavor.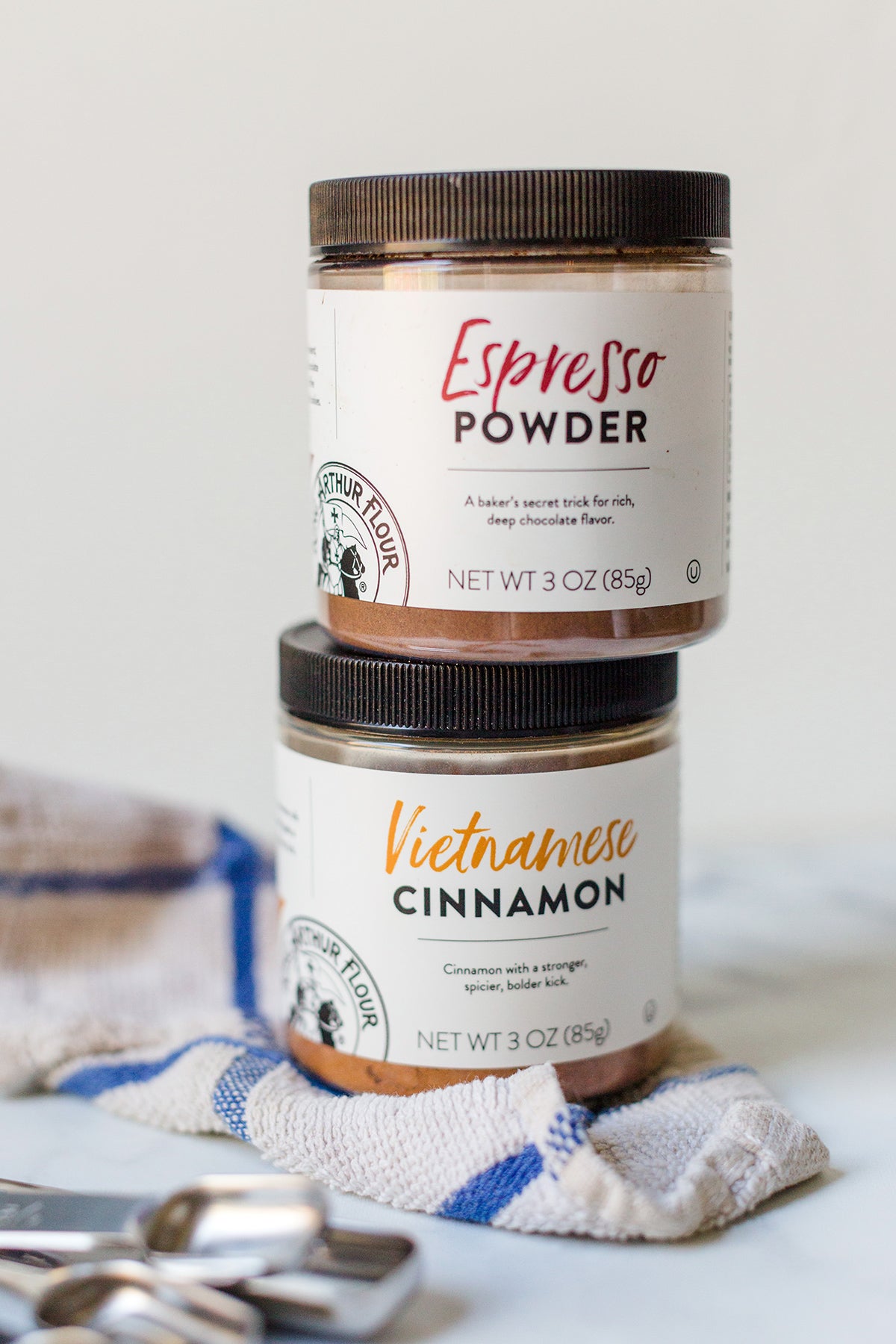 Use real espresso powder rather than instant coffee powder for best results. Espresso powder is more concentrated and robustly flavored than store-bought instant coffee; it'll elevate the taste of your cake. Real espresso powder will also disperse more evenly than instant coffee powder, which can be manufactured in large crystals.
Once you've mixed up the filling in a small bowl, set it aside.
Assemble the cake
Now that your batter and filling are both prepared, grease your Bundt pan. And remember, this is the time to be generous with the pan spray. Lay it on, making sure you coat the center flute too. Why not grease the pan right at the start, as you usually do? Because the grease tends to slide down the sides of non-stick Bundt pans if left too long without any batter. To ensure the grease is evenly distributed, coat your pan right before adding the batter.
Next, spoon about one-third of the cake batter into the bottom of the prepared Bundt pan. Our Scone and Muffin Scoop is the perfect tool for this job — easy scooping and no mess.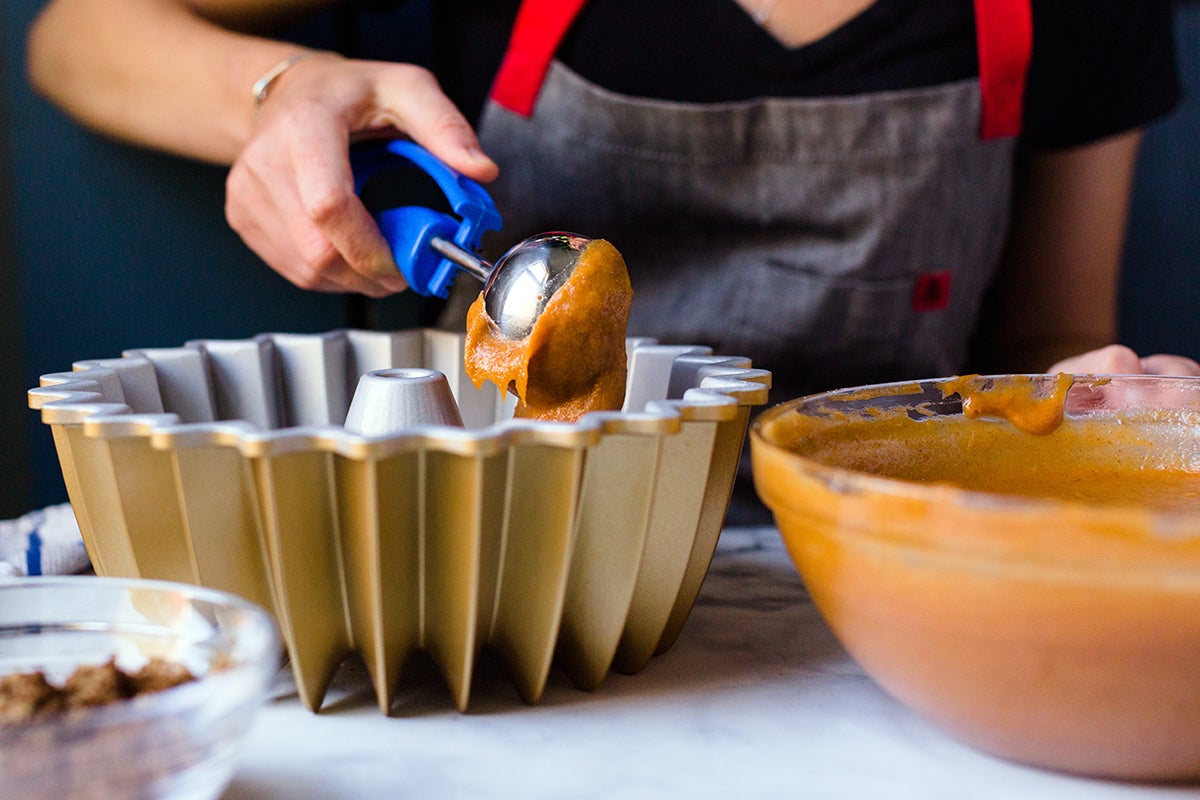 Sprinkle about half of the espresso swirl filling on top of the batter. Then, spoon another third of the batter on top of the filling. Sprinkle with the remaining filling.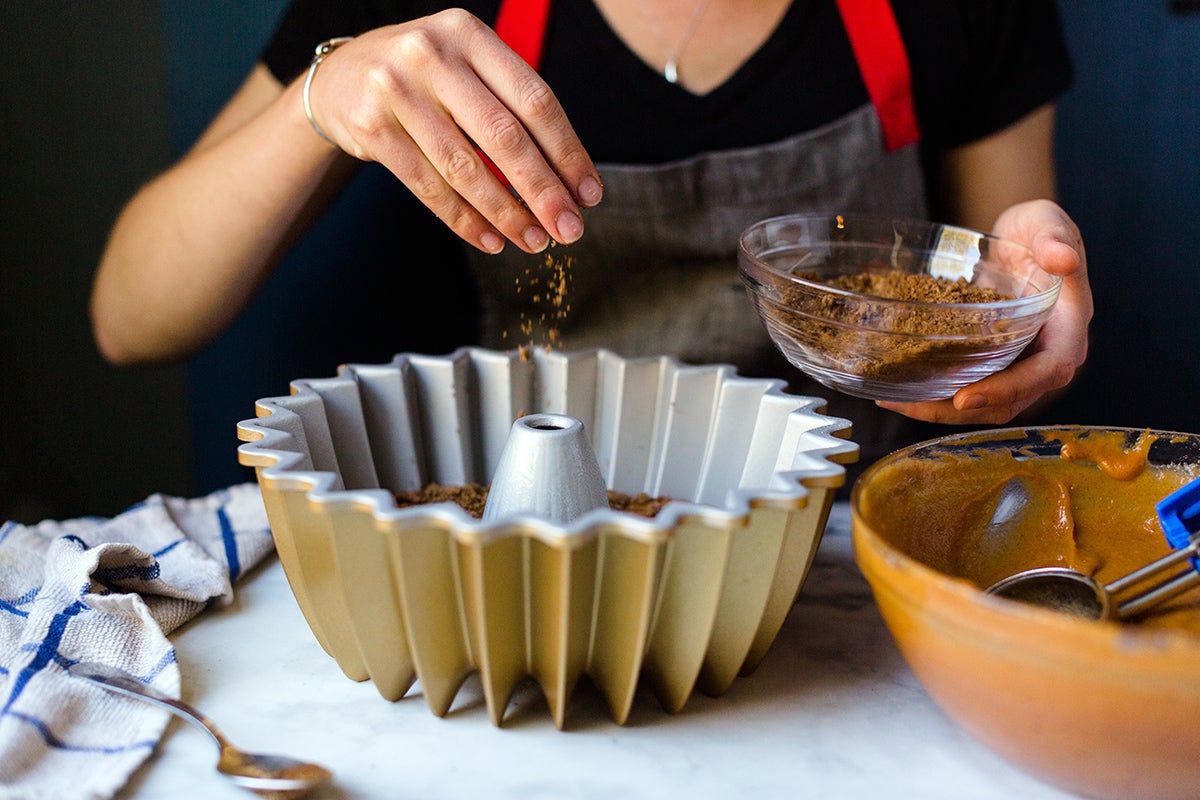 Scoop the remaining batter on top, trying to cover all of the filling. Smooth the batter with the tool of your choice (I like using a nylon spreader), which will give your pumpkin Bundt cake a stable base.
Bake your beautiful Bundt
Bake the cake for about 55 to 60 minutes. Enjoy the glorious smell of fall spices wafting through your kitchen as it bakes.
Insert a long skewer, toothpick, or paring knife into the tallest part of the Bundt cake to test if it's done. When the tester comes out clean, place the Bundt pan on a cooling rack to rest for 15 minutes while you make the glaze.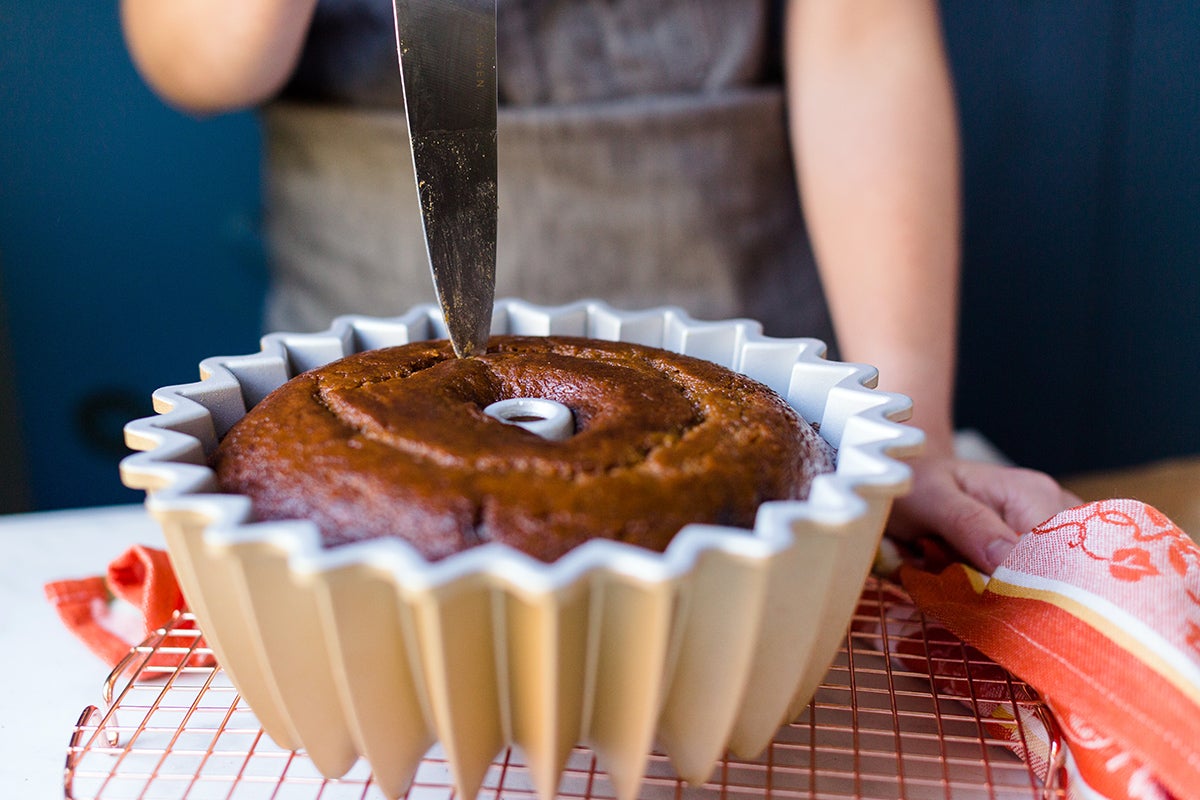 Coffee-rum glaze
Could this cake get any better? It's about to!
In a saucepan or microwave-safe bowl, combine the following ingredients:
1/3 cup (74g) strong brewed coffee
1/3 cup (64g) granulated sugar
1 1/2 tablespoons (21g) rum,* optional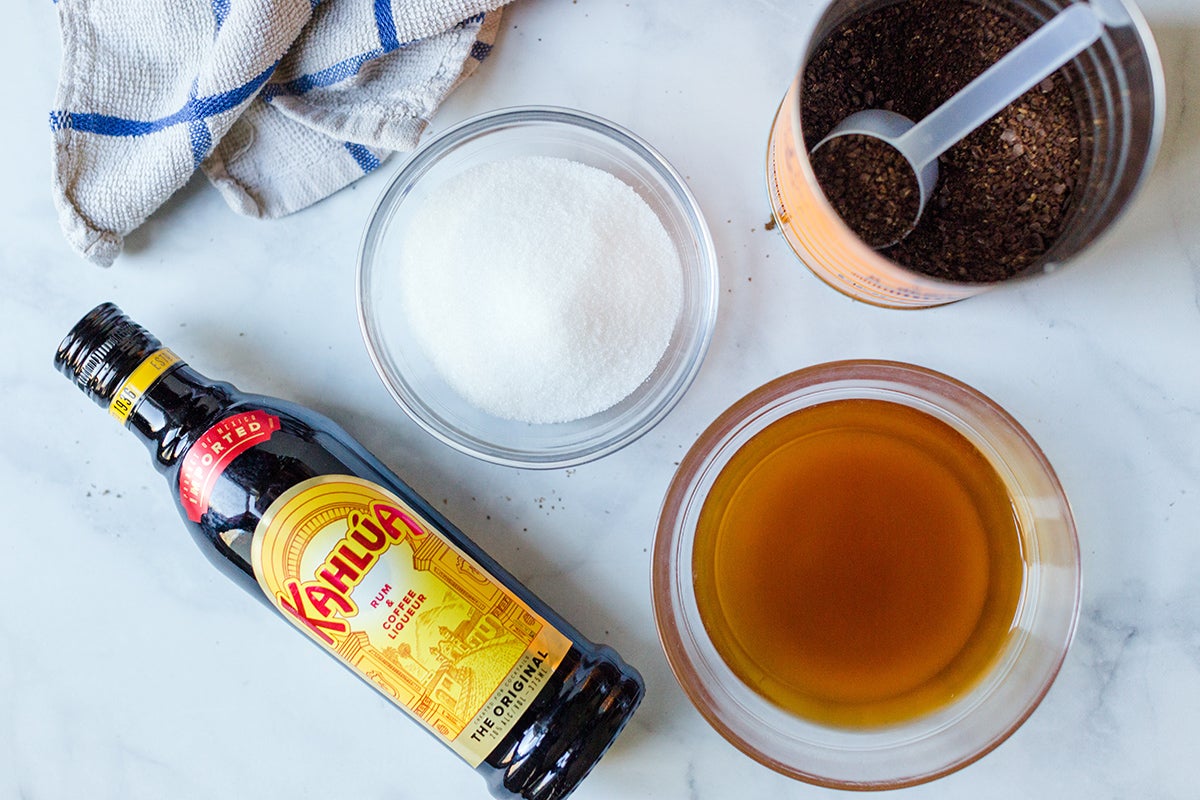 The rum or coffee liqueur will give the cake just a bit of excitement and wake up your taste buds. It won't taste boozy with this small amount, but it'll have a subtle hint of something extra-special inside.
Whisk together the ingredients, and if the coffee isn't hot enough to dissolve the sugar, heat it briefly. Then stir the glaze until the sugar dissolves.
Treat yourself to a little taste to get a sneak peek of how tasty this cake is going to be.
Remove from the pan
After you've prepared the glaze and the cake has rested for about 15 minutes, it's time to turn the cake out onto a cooling rack. To help release the cake, start by tapping the pan on your work surface a few times. This should release any parts of the cake that are stuck to the pan.
Next, put a plate or serving platter on top of the cake, and with one hand on the bottom of the Bundt pan and one hand on the plate, flip the cake over.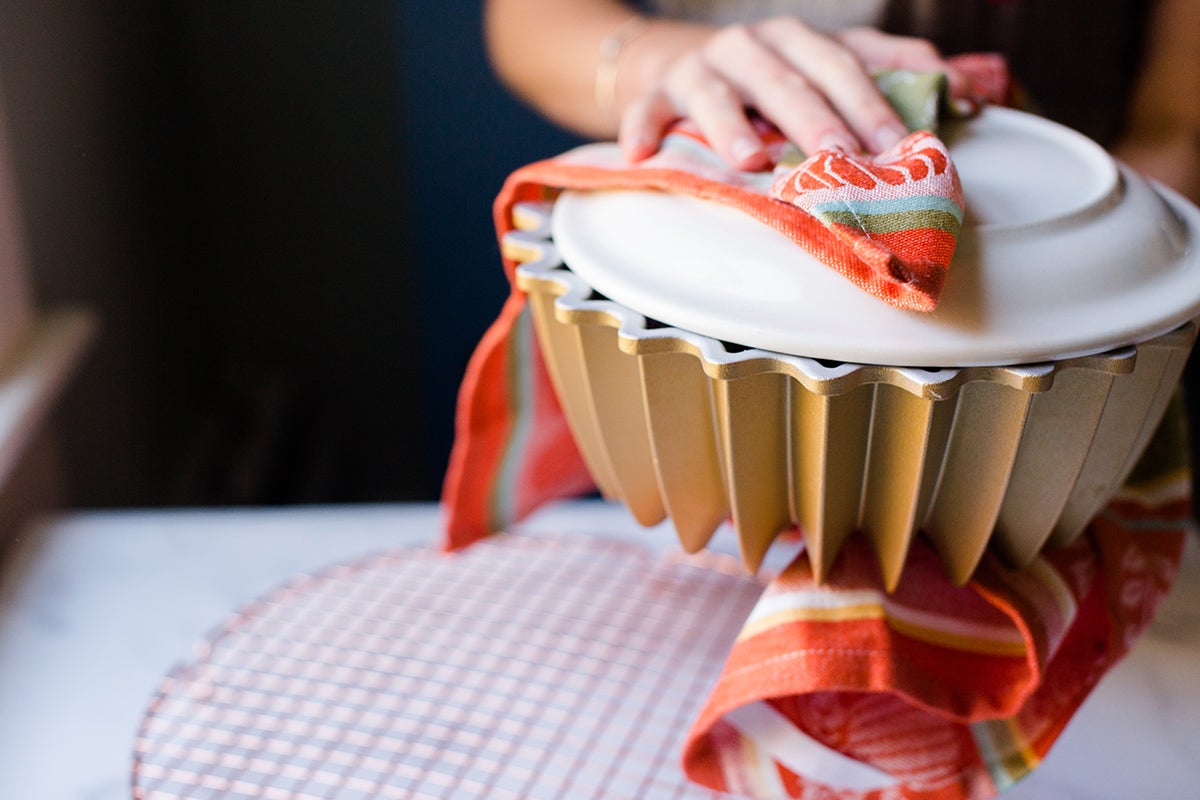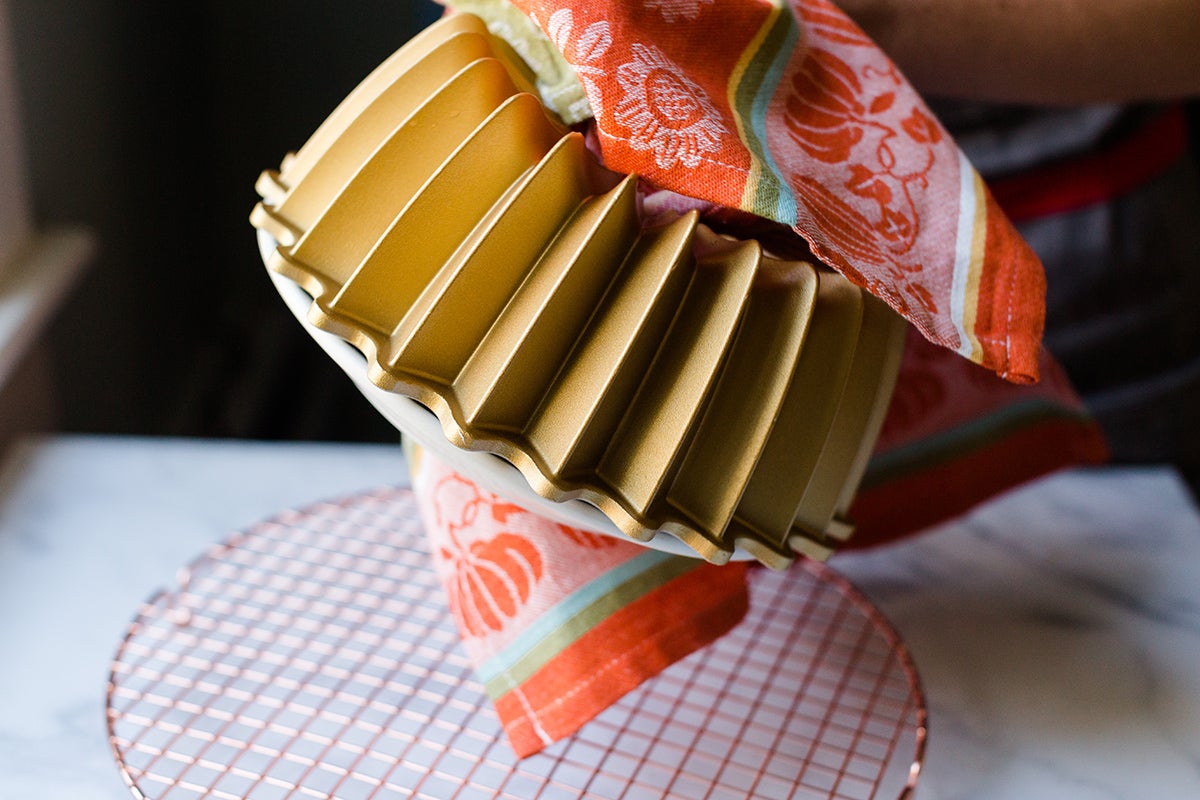 It should slide gracefully out of the pan and onto the plate.
Transfer the cake to the rack, and then place the rack on a piece of parchment paper or a baking sheet. (This will catch any errant glaze that drips off the cake and make for easy cleanup.)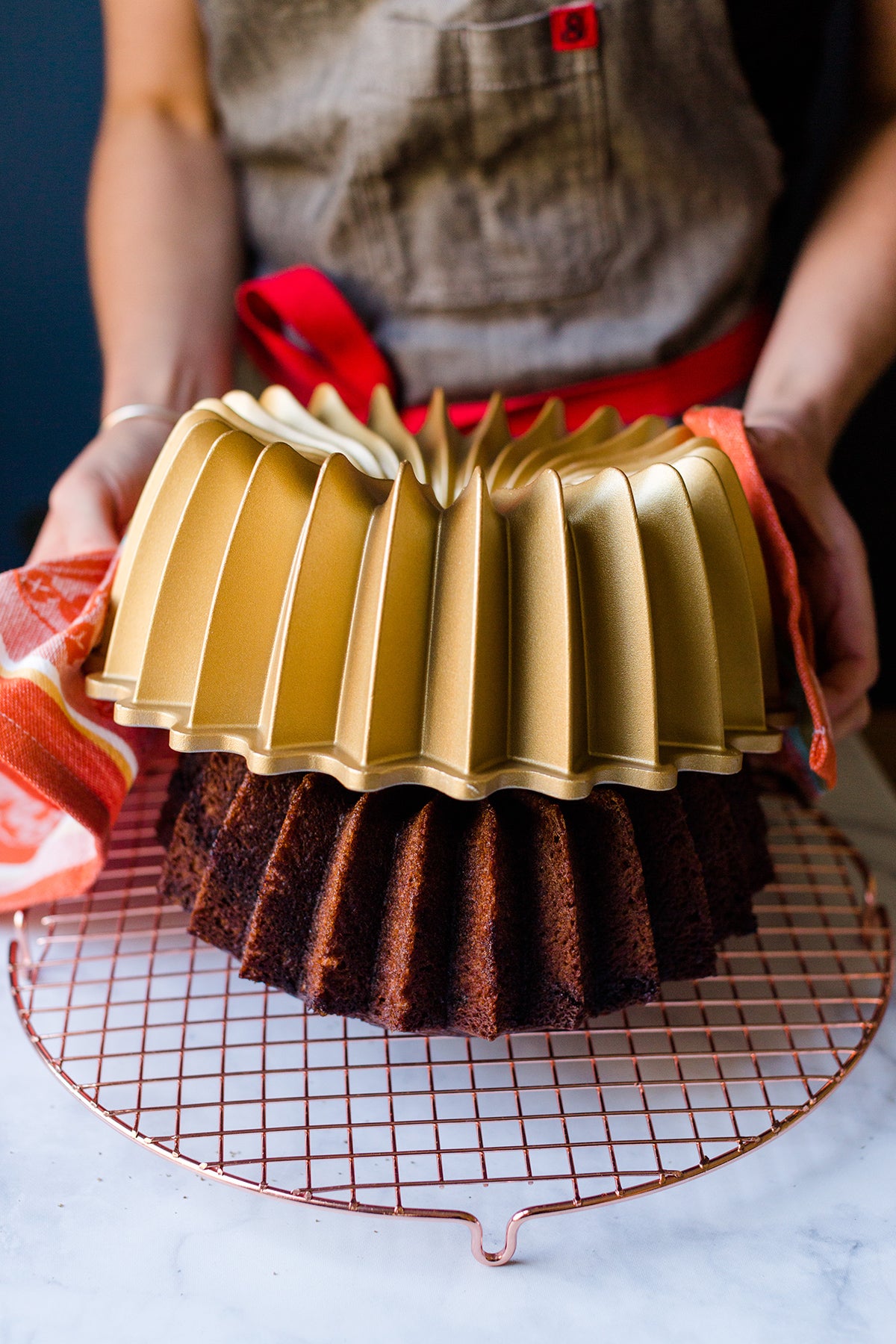 Glaze the pumpkin Bundt cake
While the cake is still warm, brush the glaze evenly over the cake using a pastry brush. You may need to pause briefly and let some of the glaze soak in before applying a second layer.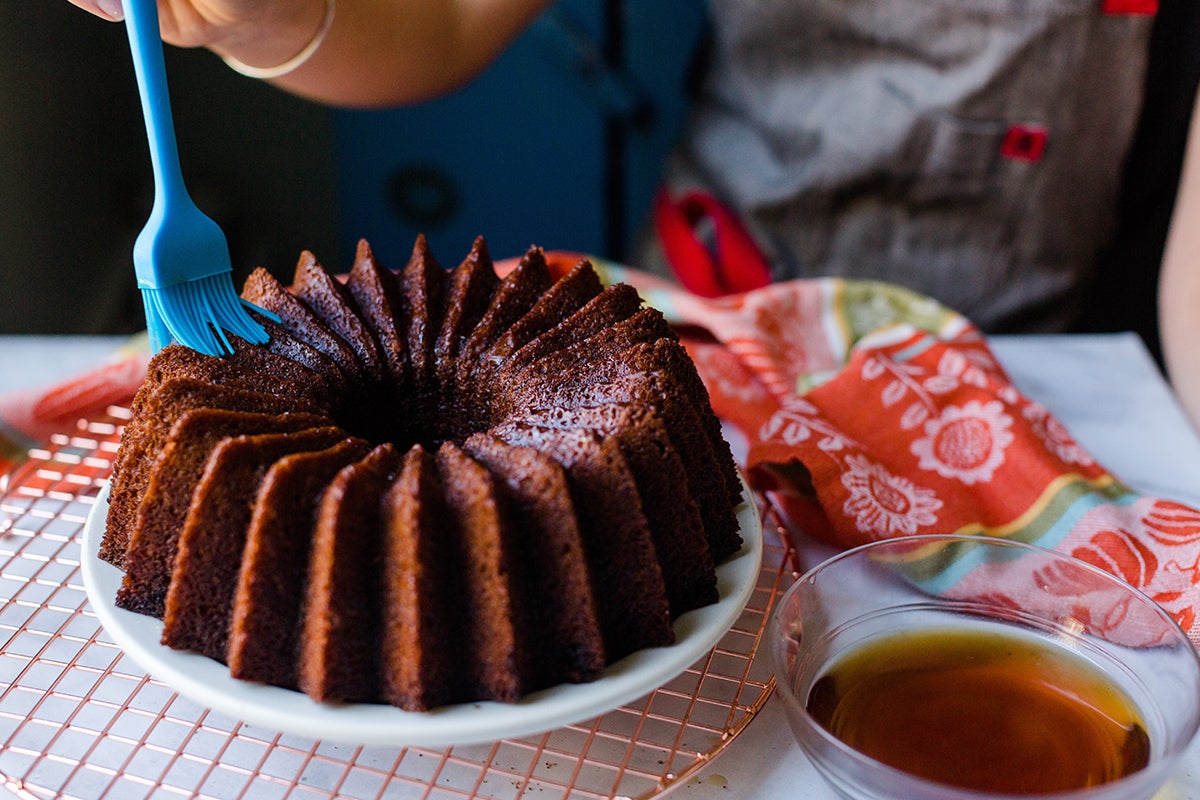 Just think, each layer of glaze = more flavor.
Serve warm
The ideal time to serve the pumpkin Bundt cake is while it's still slightly warm but the glaze has soaked in a bit. This transforms the texture of the cake into something that literally melts in your mouth. It's tender, aromatic, and full of flavor.
If you can't bake and serve this cake right away, it's also delightful to eat reheated. (Cover with foil and place in a 300°F oven until warmed through.)
I doubt you'll have any leftovers, but if you do, I highly recommend treating yourself to a slice accompanied by a hot cup of coffee as a mid-morning snack.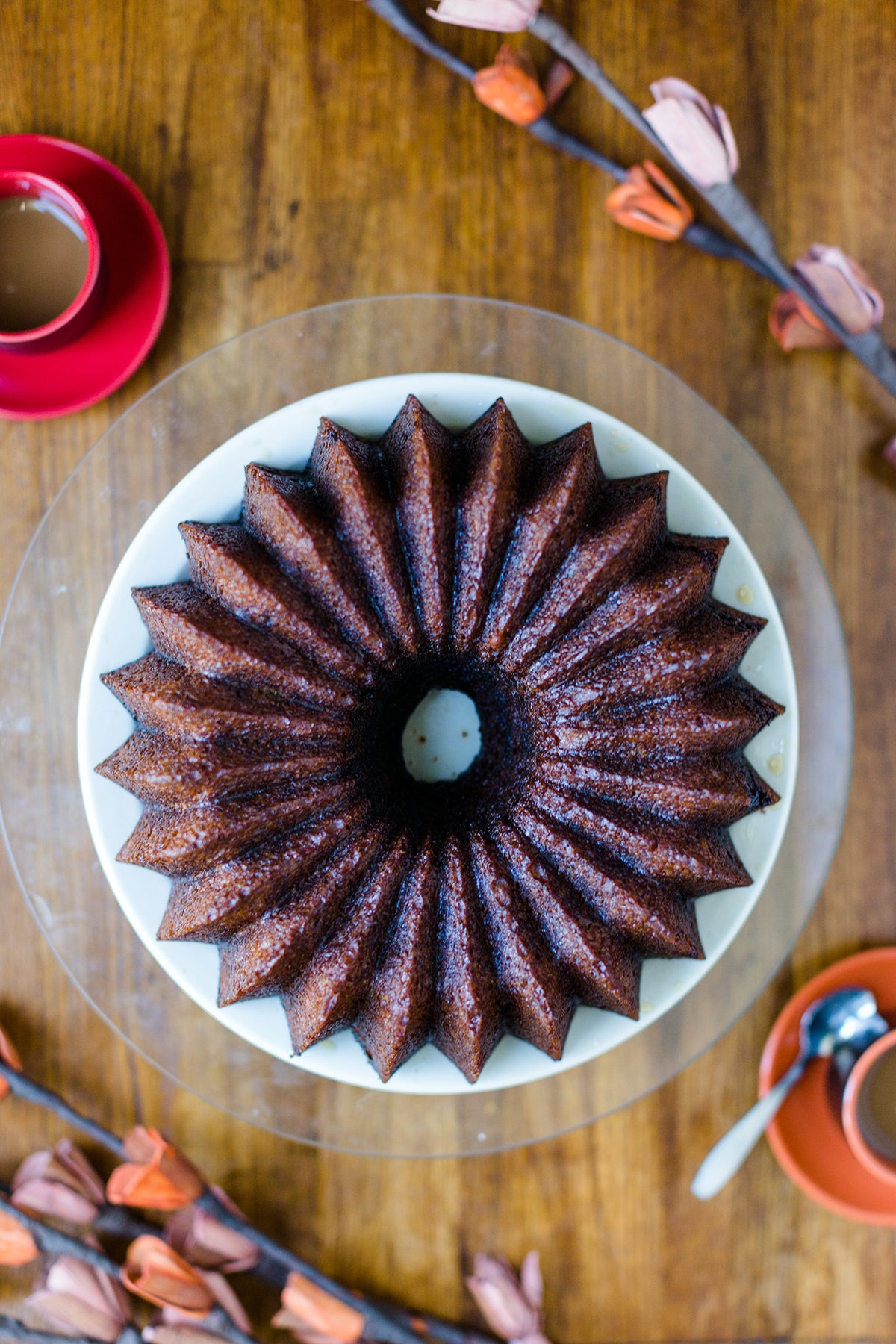 Freeze
This pumpkin Bundt cake freezes like a charm. Bake the cake and finish it through glazing, then allow the cake to cool completely. Wrap well in plastic or your favorite reusable wrap, and then freeze for up to three months.
What if you don't have a Bundt pan?
If you don't have a Bundt pan, you can still enjoy the delight that is this pumpkin Bundt cake. Transform this recipe into a stellar loaf cake instead.
Prepare the batter as directed, and then lightly grease either a 9" x 5" loaf pan or a 9" x 4" x 4" pain de mie pan. Portion about one-third of the batter into the pan, then sprinkle half the filling on top. Add another third of the batter, then the remaining filling followed by the rest of the batter.
Bake at 350°F for 60 to 70 minutes, until a toothpick or paring knife inserted into the center comes out mostly clean.
Since you'll have less surface area with the loaf version of this cake compared to a Bundt cake, you'll probably only need to make a half batch of the glaze.
Let the cake cool for 10 to 15 minutes, and then turn it out of the pan and brush with the glaze.
This version of the cake is simple and elegant — perfect for serving with a dollop of homemade whipped cream. (Brush up on your whipped cream technique with these tips for making homemade whipped cream.)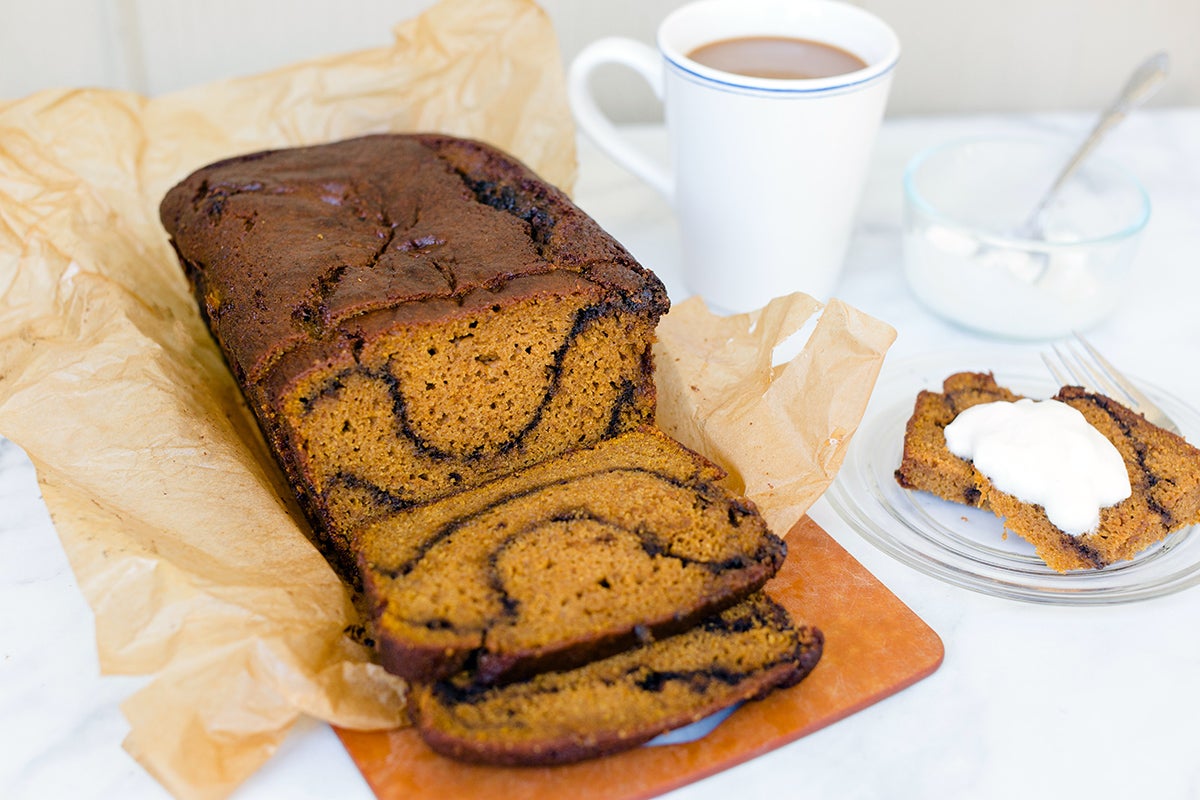 Want to make this recipe into muffins?
This pumpkin Bundt cake recipe also makes delightful muffins. They'll make any fall morning feel special and sweet.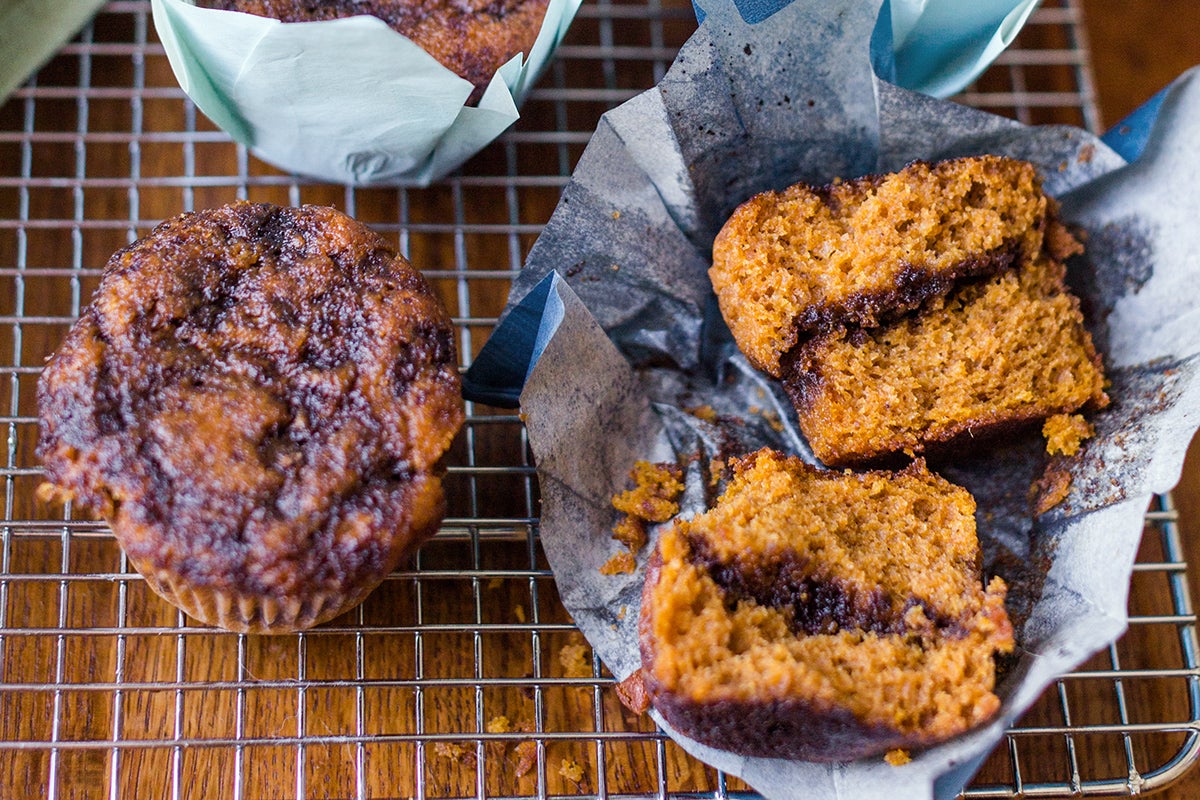 Follow the recipe as described, preparing the batter and filling as you typically would.
Line 18 wells of a couple of standard muffin pans with papers — I love using tulip papers for a fancy look. Grease the papers for extra non-stick insurance.
Scoop about 2 tablespoons of batter into each paper; a jumbo cookie scoop (about 2 tablespoons) is just the right amount. Sprinkle about 1/2 tablespoon of filling on top, and then add another jumbo scoop of batter. Sprinkle the remaining filling over the top of the muffins. Swirl the filling and batter together with a sharp knife or toothpick, if you want to create a marbled look.
Bake the muffins in a preheated 350°F oven for about 25 to 30 minutes, until a toothpick inserted into the center of one comes out clean.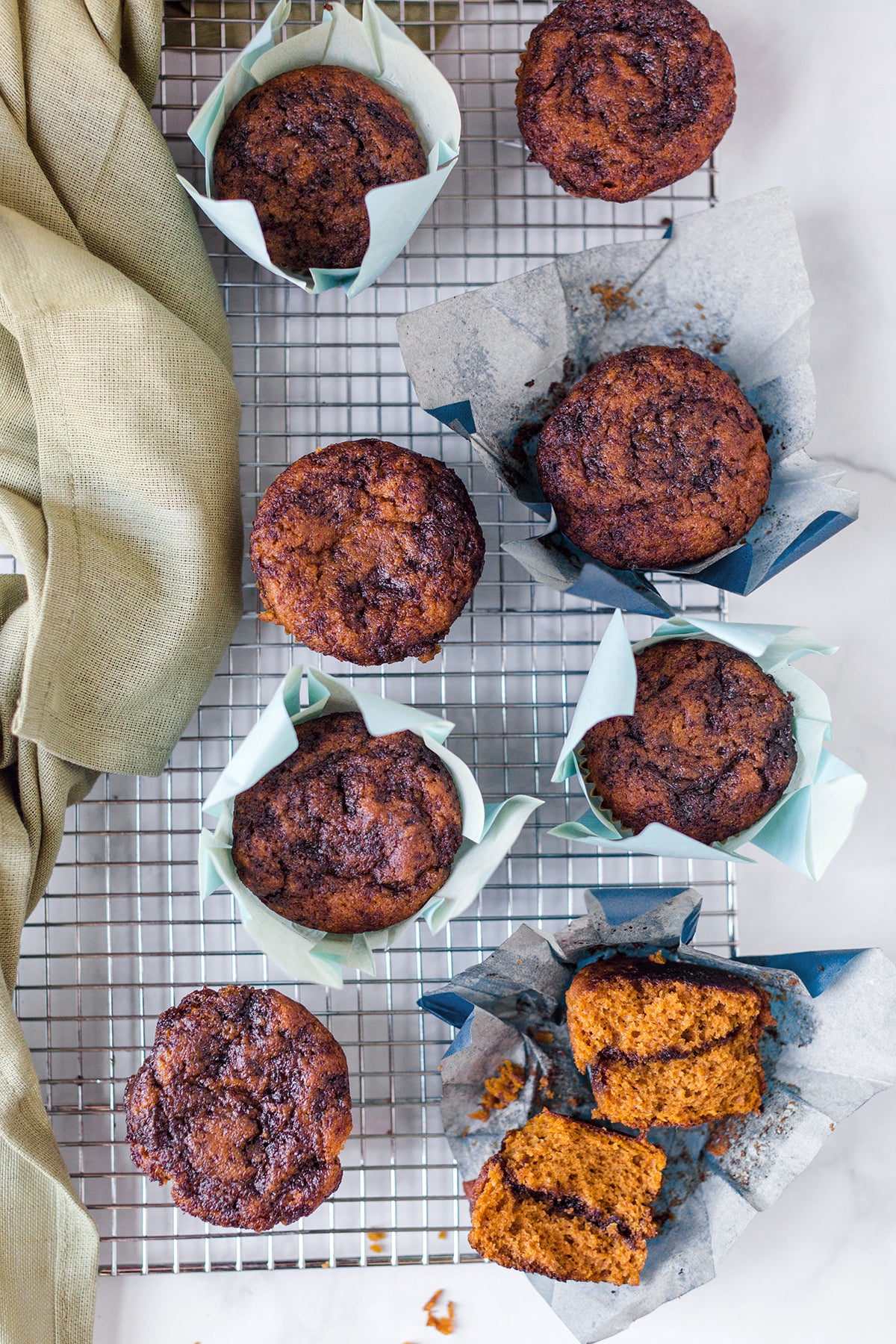 While the muffins cool slightly, prepare the glaze. (You'll want a full batch for your pumpkin muffins.) Pour the warm glaze into a small bowl.
While the muffins are still warm, dip the tops into the glaze a few times until the glaze is used up. If you're using tulip papers, use a pastry brush to apply a generous layer of glaze to the top of each muffin.
Baking gluten-free?
Don't worry — you can still make this amazing pumpkin Bundt cake! Use 2 cups (240g) Gluten-Free Measure for Measure Flour in place of the whole wheat flour in the recipe. Bake the cake for 60 to 65 minutes to ensure it's fully baked. (Gluten-free baked goods often take a bit longer to bake through than their gluten-full counterparts.)
Be sure to use certified gluten-free ingredients when making your pumpkin Bundt cake if necessary. Other than these slight adjustments, no other changes need to be made.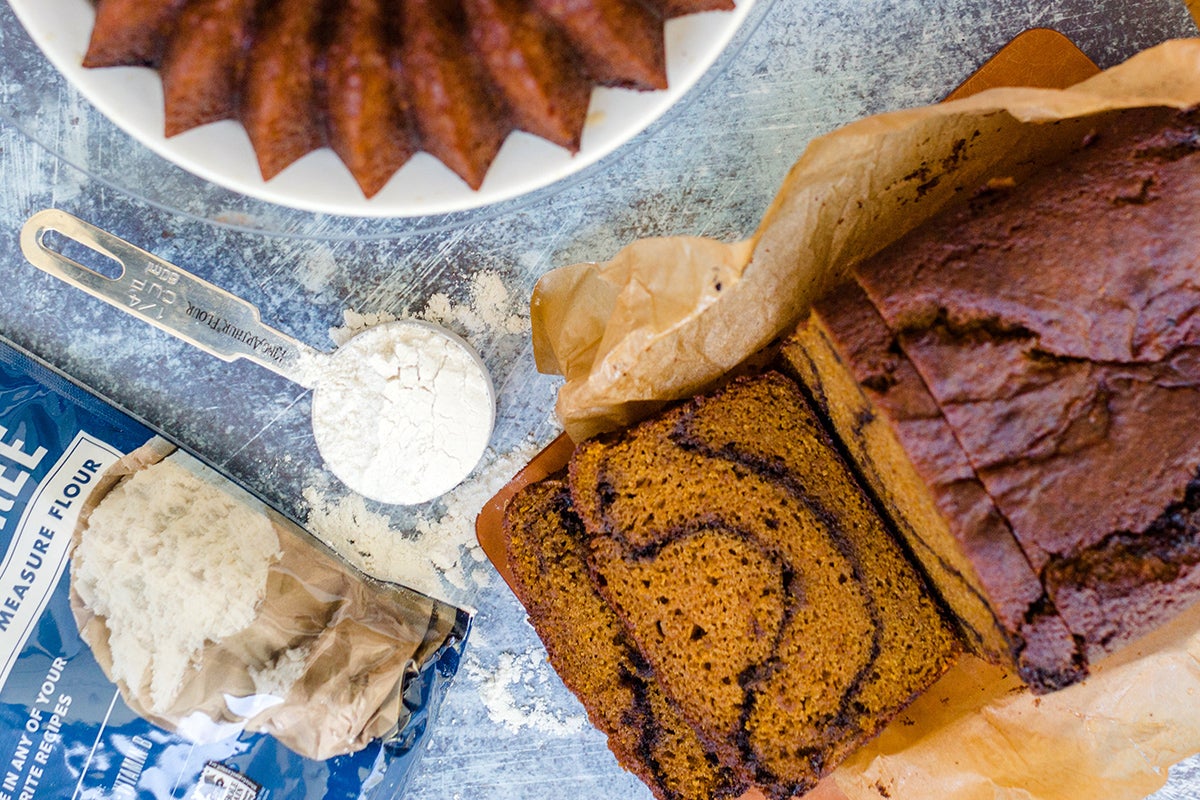 Pumpkin & coffee, a beautiful friendship
As the weather becomes cool, it's the perfect time to pull out warm spices like cinnamon, nutmeg, and cloves and turn on the oven. Embrace the flavors that made a nation fall in love with a seasonal coffee drink — bake this pumpkin Bundt cake and serve it with a piping hot cup of coffee or espresso.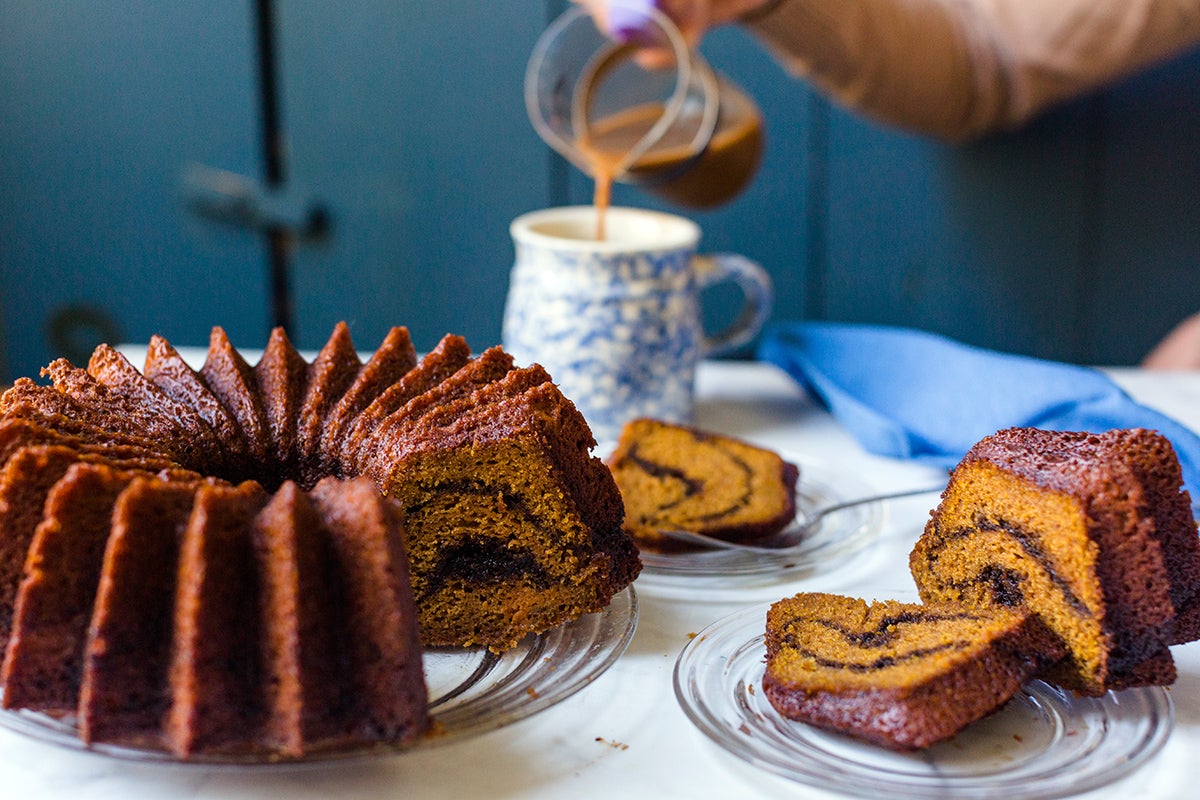 Tell us what else you're baking with pumpkin this season in the comments, below.
For more recipes like this Pumpkin Espresso Bundt Cake, check out our Harvest Favorites recipe collection.
Thanks to Anne Mientka for taking the photographs for this post.
Jump to Comments