Editor's note, September 2022: This blog post has been updated to reflect ongoing innovation at the Breadlab and King Arthur's continued partnership with the organization.  
Nestled in the heart of the fertile Skagit Valley in Washington State's northwestern corner, with the snow-capped Cascade Mountains to the east and the San Juan Islands to the west, sits the center of wheat's flavor future: the Washington State University Breadlab.
Director Stephen Jones created this place to connect his wheat breeding program at Washington State University with chefs and bakers who turn the old and new varieties he creates into food. Since 2009, King Arthur has partnered with the Breadlab to support their innovation in how wheat is developed, produced, and ultimately used by bakers both professionally and at home. In that time, Jones' work has emerged as the epicenter of a burgeoning local wheat movement from coast to coast, from chefs and bakers to brewers and distillers. 

Wheat was late to the table for the locavore feast. White flour's presence in our food, while pervasive, doesn't contribute to its flavor. Today's commercially grown wheat varieties were developed for growing in major wheat-producing areas like the Great Plains, where they've been optimizing for yield per acre, drought and disease tolerance, and the appropriate protein content for their intended use. Breeding varieties for growing elsewhere or selecting for flavor has, until very recently, not been considered a priority in wheat breeding programs.
Jones began breeding wheat in 1977, working with those large-scale varieties grown on millions of acres. Jones says, "I always questioned: Could there be more? More value for the farmer?" In 2008, when he became director of the breeding program at the research station in Mount Vernon, Washington, he saw the chance to respond to the needs and desires of local growers, whose average farm is only 120 acres, to grow wheat successfully.
The combination of science and craft — and of curiosity and commerce — is propelling the smaller-grains movement. 
Jones' goal is to show that wheat and other "forgotten" crops can have a place in smaller areas. The Breadlab, with its steam-injection ovens and equipment for testing dough quality, shows farmers and bakers the extra value these rediscovered or newly developed varieties can bring. The combination of science and craft — and of curiosity and commerce — is propelling the smaller-grains movement. The amazing flavor from these new, freshly milled wheats and grains only adds to the excitement.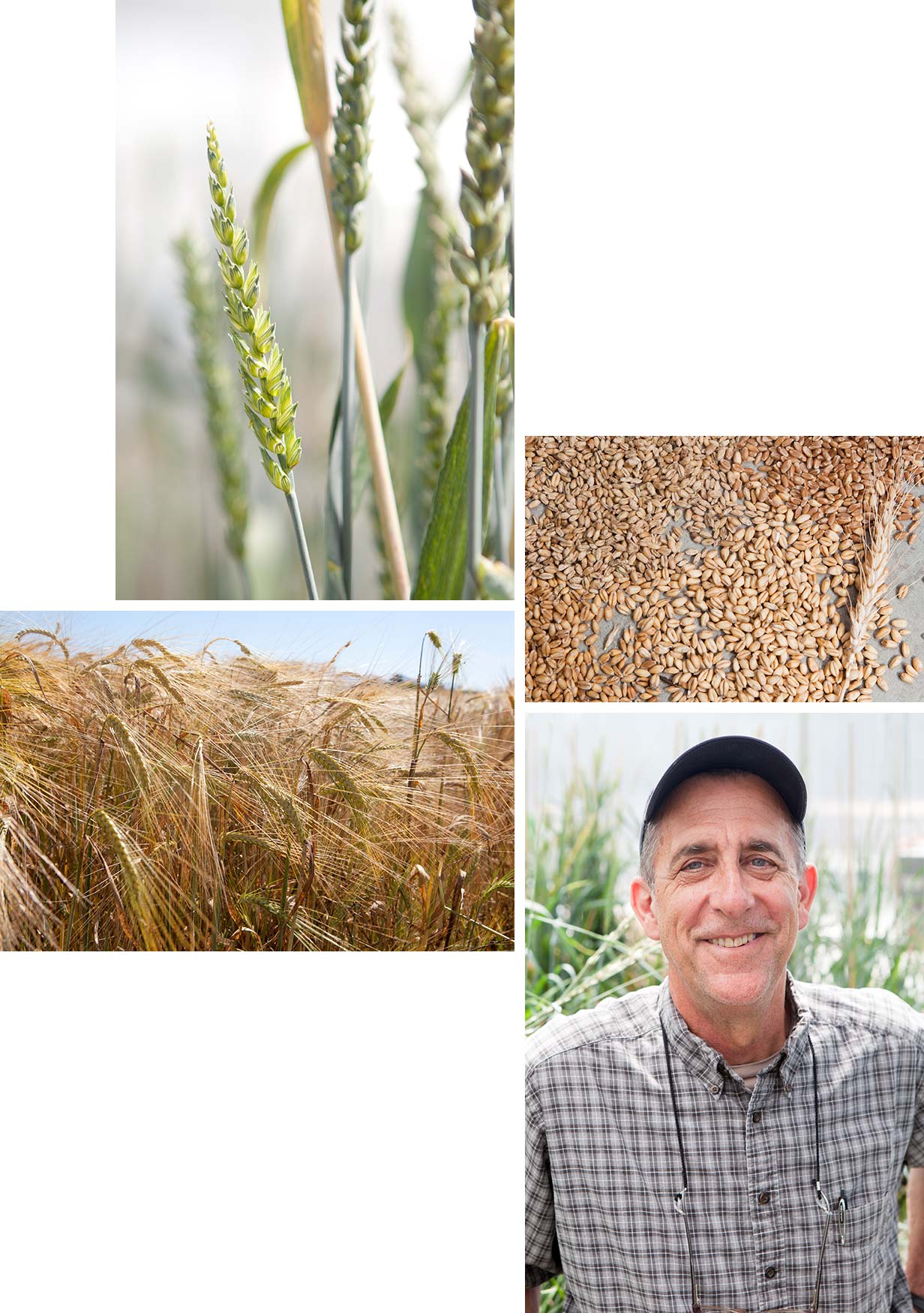 People everywhere are seeking and finding ways to eat locally grown grains. Craft bakeries and chefs all across the country are baking from locally milled, most often whole-grain flour, which is dense with nutrients and alive with flavor. Regional grain-growing conferences from New England to the Pacific Northwest bring together farmers, millers, bakers, and local food enthusiasts to learn from each other. In doing so, they reestablish connections long forgotten and collaborate on rebuilding an infrastructure that once existed in every part of the country. 
Bakers, in particular, are excited about the possibilities wheat offers. "For me, it's just more interesting," says Jim Williams of Vermont's Backdoor Bread, who bakes with a Breadlab wheat named Aurora 1109 in collaboration with local grain growers.  

"I believe that once the local system matures, then it's back in place," says Jones. Nothing has been truly lost; certain varieties were simply not grown on a large scale. A stunning array of wheat varieties is resurging. Since 1840, there have been 165 varieties of wheat grown in the Skagit Valley. "We can grow 163 of them today," Jones boasts. Those varieties are being crossed to make new wheats, with better yields and disease resistance, and even better flavor. "But," notes Jones, "it all has to work for the farmer."
This work is even more important today, when climate change is wreaking havoc to create growing conditions that Jones describes as "chaotic." With innovations in grain breeding, the Breadlab is seeking to make wheat fields "genetically diverse in a way that will handle the pressures of the climate coming toward us," according to Jones. They're identifying and developing varieties suited to drought, flood, and extreme temperatures; paired with regenerative farming practices, they're creating a new agricultural system that Jones describes as "the ultimate version of sustainability."  
And these benefits go beyond the field: In the kitchen, this diversity of wheat results in an explosion of color and flavor that brings new life to baked goods. "It's our job to make great bread and showcase what the wheat can do," says Williams. "That's why the Breadlab's work is so important. They're working on wheat that tastes great [and also has] high yield in the fields for farmers so they can make a living off it." 
The popularity of today's farmer's markets shows the yearning we have to be part of the land community.
This effort to rebuild local food-system economies offers hope for a kind of security that cannot arise otherwise. Jones believes good food of any kind should not be available only to those who can afford it. He sees family farmers as the center of this change. They are self-sustaining enterprises that reinforce our connection to the land and to each other. The popularity of today's farmer's markets shows the yearning we have to be part of the land community — even when our lives have taken us far from it.
Learn more about King Arthur's planet-forward, people-positive actions on our Impact page. 
Jump to Comments