Gluten-free chocolate chip cookies
Three different paths to cookie magic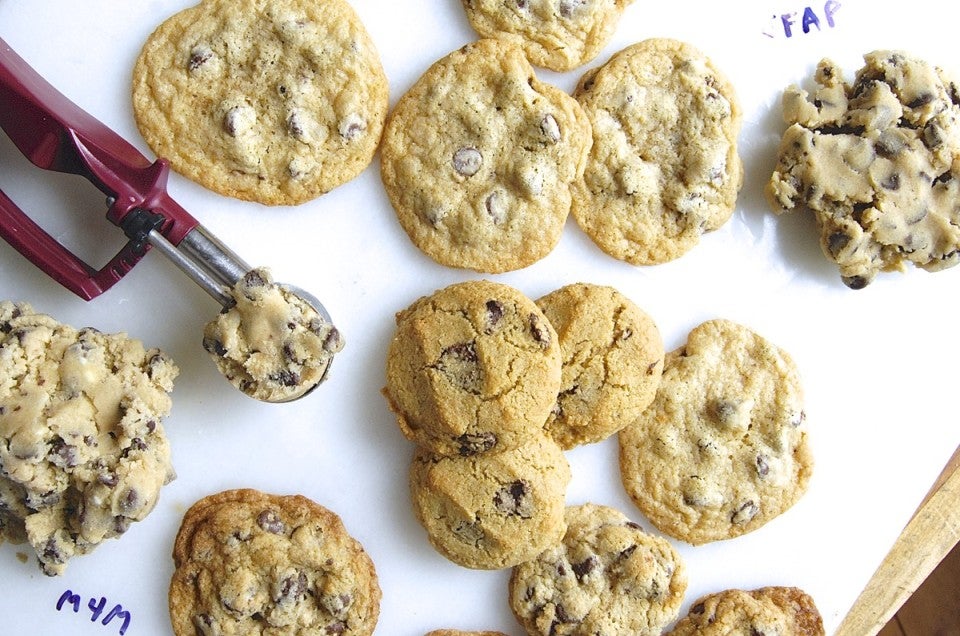 When you first start following a gluten-free diet, you no doubt experience moments of aching nostalgia for the gluten-packed treats you've always loved: crusty baguettes, a stack of hot pancakes, or a biscuit gilded with melting butter. The good news is, you can still enjoy almost all of your favorited baked goods in gluten-free form — including gluten-free chocolate chip cookies.
Gluten-free baking has come a long way in the years since home bakers needed to hand-mix blends of tapioca starch, rice flour, and potato flour to create baked treats that were sometimes only marginally similar to their original versions.
Packaged gluten-free all-purpose flour was a big step up; no more hand mixing! Still, you had to find gluten-free recipes specifically developed to use this new all-purpose blend; and the universe of such recipes could be fairly small.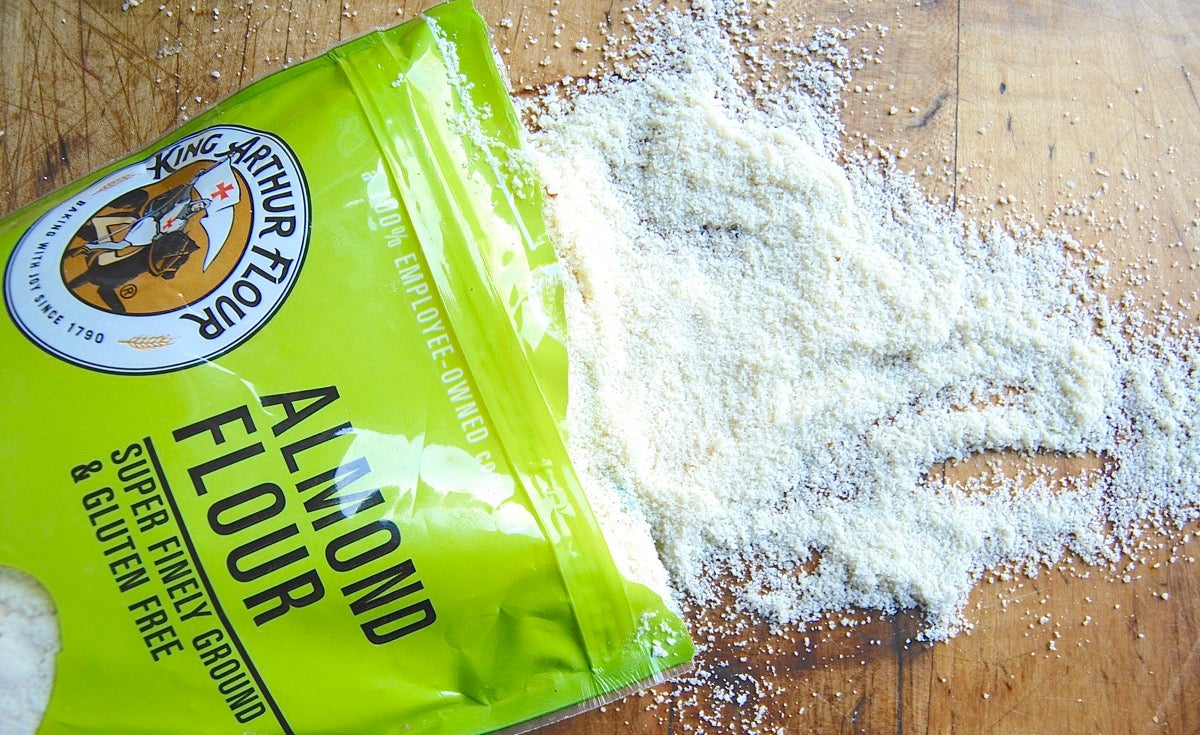 These days, though, it's easy as pie to bake nearly all of your favorite treats without gluten, thanks to two steps forward on the ingredients front:
The discovery that almond flour can step in for all or most of the flour in certain recipes;
The advent of the gluten-free 1:1 replacement flour blend (like our Gluten-Free Measure for Measure Flour). This 1:1 blend can make most of your favorite traditional (gluten-full) recipes gluten-free simply by taking the place of the recipe's all-purpose flour — no other changes needed.
Our recipe site offers three gluten-free chocolate chip cookie recipes. You decide you need cookies after dinner tonight: which recipe do you choose?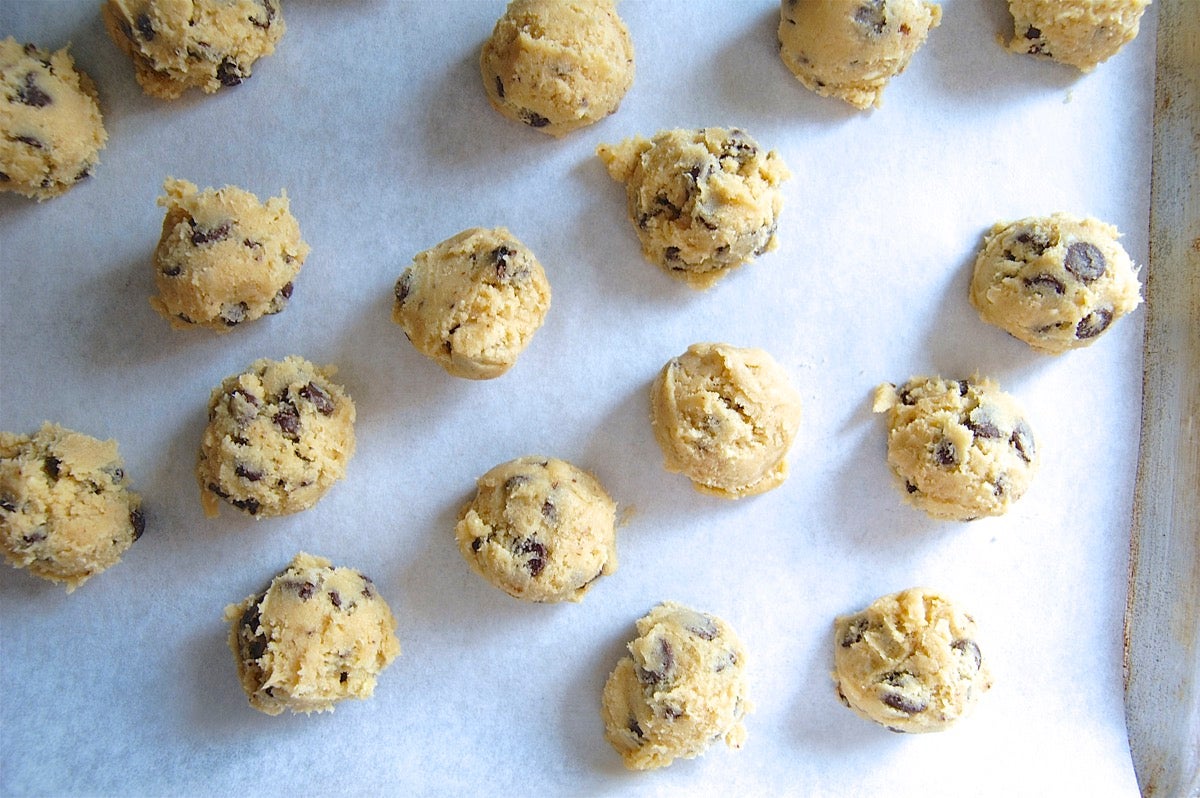 I decide to bake all three recipes to find out.
Our original recipe for this iconic treat uses our Gluten-Free All-Purpose Flour. How does it stack up?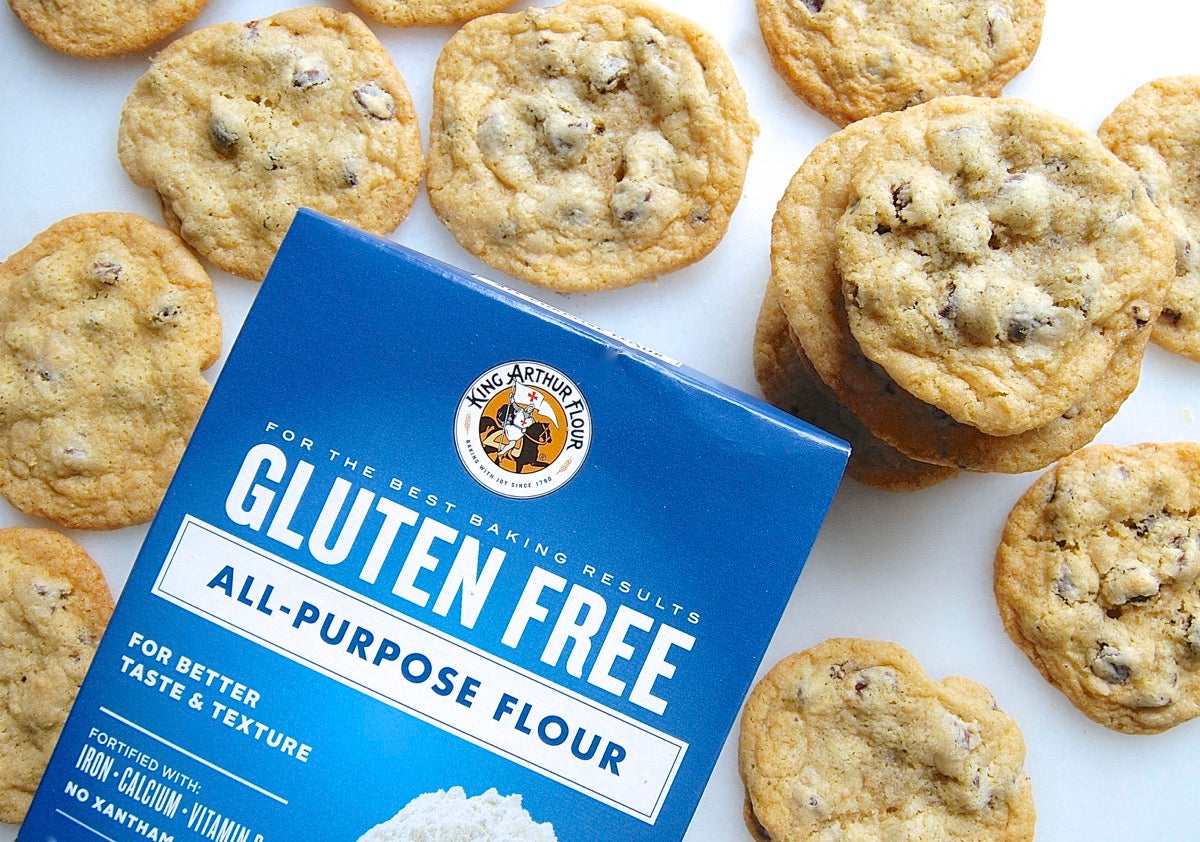 Flavor: Buttery and mild; lots of cookie, less chocolate.
Texture: Thin and somewhat chewy; "bendy" is how most taste-testers describe it. A bit of "sandiness" from the flour is apparent.
Overall impression: These cookies call for a moderate amount of chocolate chips and, since the cookies spread quite flat, the cookie/chocolate ratio tends more toward cookie than chocolate. Feel free to add more chips if you're a chocolate-lover! Also, more cookie/fewer chips mean the cookie base's mildly sandy texture is more apparent.
Almond flour makes up 100% of the flour in this recipe. That's right!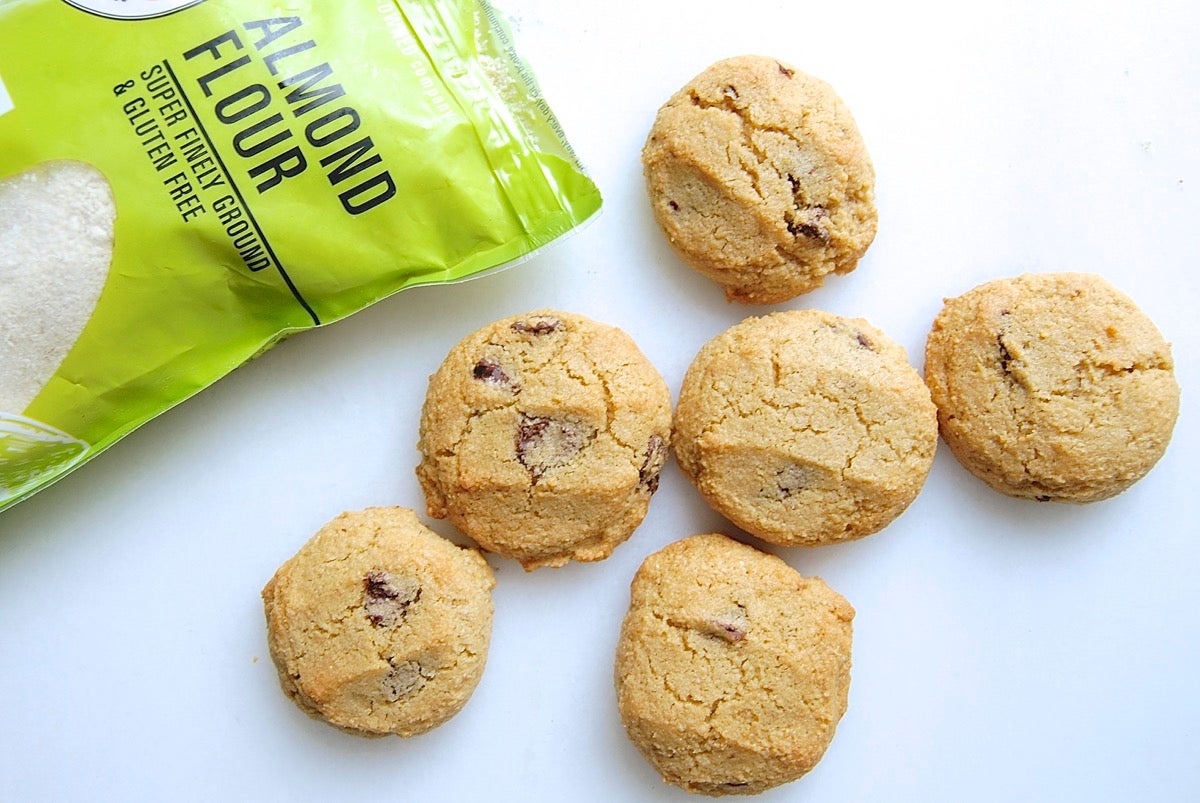 Flavor: Mildly nutty; less sweet than either of the other two versions.
Texture: With very little spread, the cookies rise high and stay there, creating a tender, cake-like texture. Their mouthfeel is definitely influenced by the almonds; the cookies aren't unpleasantly gritty, but the ground nuts are apparent.
Overall impression: These small cookies go light on the chocolate chips; again, add more as you see fit. Bordering on melt-in-your-mouth, they're a different take on the standard crunchy (or chewy) chocolate chip cookie.
Let's take the measure of this classic recipe baked with our 1:1 replacement blend, Gluten-Free Measure for Measure Flour.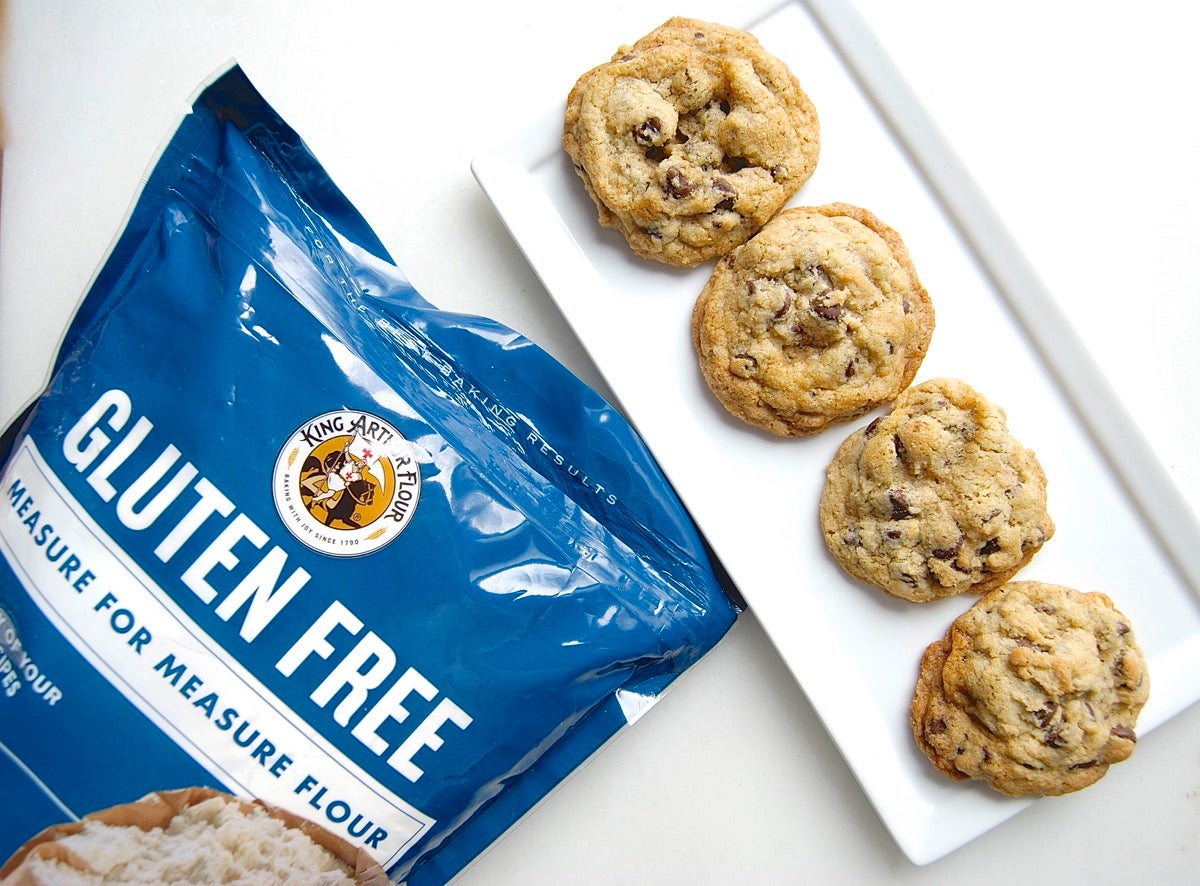 Flavor: Jam-packed with chocolate chips, these cookies are sweeter than either of the other two GF takes. Their caramel-y flavor is the result of brown sugar in the dough, a short rest in the fridge before baking, and a slightly longer bake time.
Texture: Soft in the center and crunchy around the edges, these cookies spread more than the cookies made with almond flour, less than those made with our Gluten-Free All-Purpose Flour. This lessened spread means any slight sandiness from the flour isn't as apparent, since more chips are packed into a smaller area and their presence distracts you from the underlying cookie's texture.
Overall impression: LOTS of chocolate in every bite! These golden-brown, crunchy/soft cookies are the closest thing to a typical chocolate chip cookie — which makes sense, since the recipe itself is our classic chocolate chip cookie recipe made with the Measure for Measure option.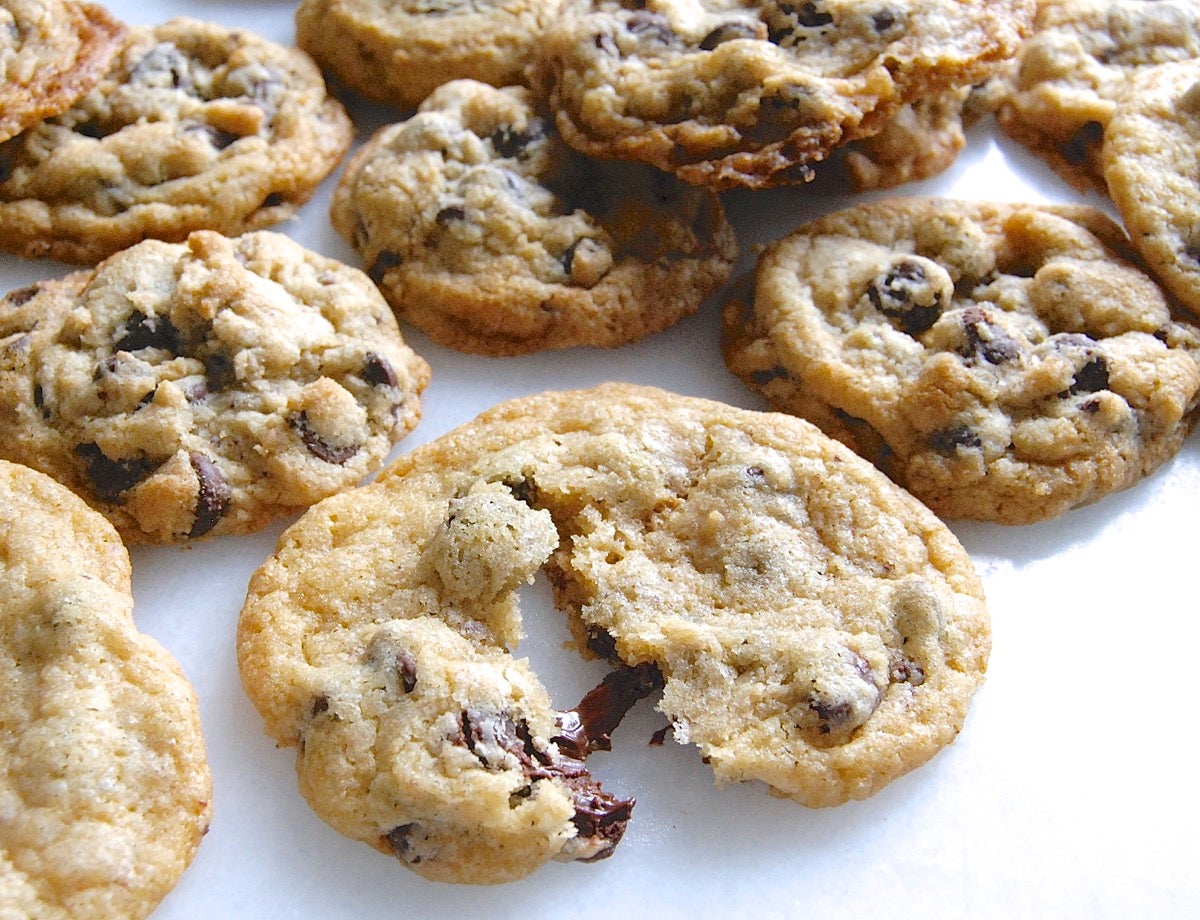 And the winner is...
Gluten-free chocolate chip cookies! All of 'em.
I mean, you just can't go wrong with chocolate chip cookies. Now, choose the one with the attributes you like best — and go bake them!
Gluten-Free Chocolate Chip Cookies 
Gluten-Free Almond Flour Chocolate Chip Cookies 
Chocolate Chip Cookies made with Measure for Measure
Want more information on when to use our gluten-free all-purpose flour, and when to use Measure for Measure? See our post, how to choose which gluten-free flour to use.
Jump to Comments