How to make high-rising biscuits has been many a baker's challenge down the years. After all, biscuits are an enormous cultural touchstone in the American South, where cooks are often judged by their biscuit prowess. Even north of the Mason-Dixon line, there's no denying most of us love a tender, flaky biscuit: stuffed with country ham, ladled with sausage gravy, or simply spread with butter.
For such a basic bread, though, biscuits can be tricky. This simple combination of flour, salt, fat, leavening, and liquid can result in biscuits ranging from light and tender to heavy and tough, depending on what specific ingredients you use, and how you put them together.
And while article after article addresses nuances of ingredients and technique (milk vs. buttermilk; patting vs. rolling), few concentrate on the penultimate step to high-rising biscuits: how you cut the dough.
OK, Grandma always used a drinking glass to cut her biscuits, and they were JUST FINE.
But Grandma had also been baking biscuits for years, and knew the perfect amount of buttermilk to splash into the flour, how to mix the dough without toughening it, and how to gently pat it to the ideal thickness. No matter what cutting implement she used, those biscuits were going to be pretty darned good.
Want to know how to make high-rising biscuits? The secret's right there in your hands.
Many of us today, though, make biscuits infrequently and our skills may not be the greatest. We need all the help we can get every step of the way — and that includes learning how to make high-rising biscuits by using the proper cutter.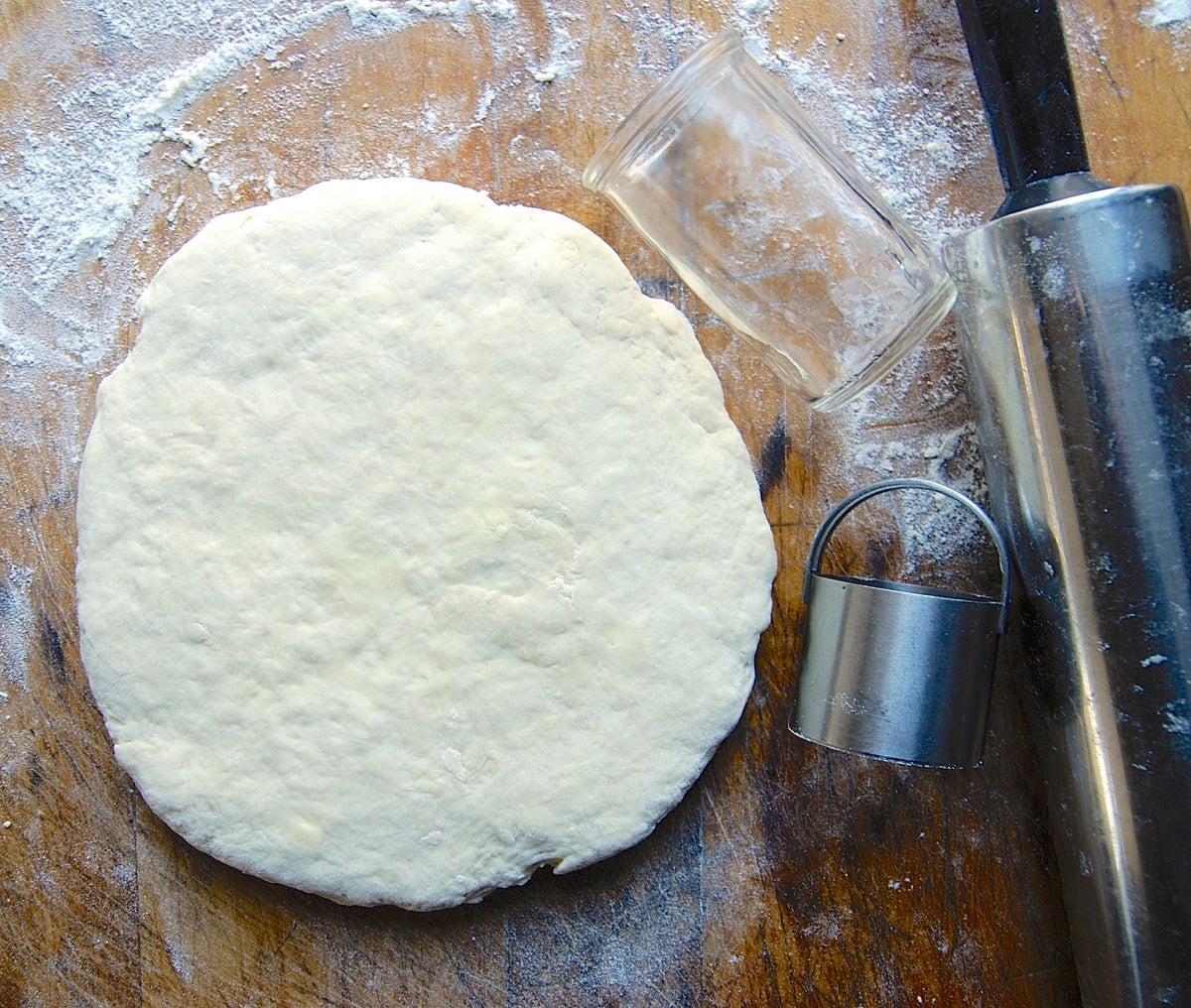 Here's the dough from our Baking Powder Biscuits recipe, patted out, gently rolled to even thickness, and ready to cut.
We'll try two cutting implements: a drinking glass, and a biscuit cutter.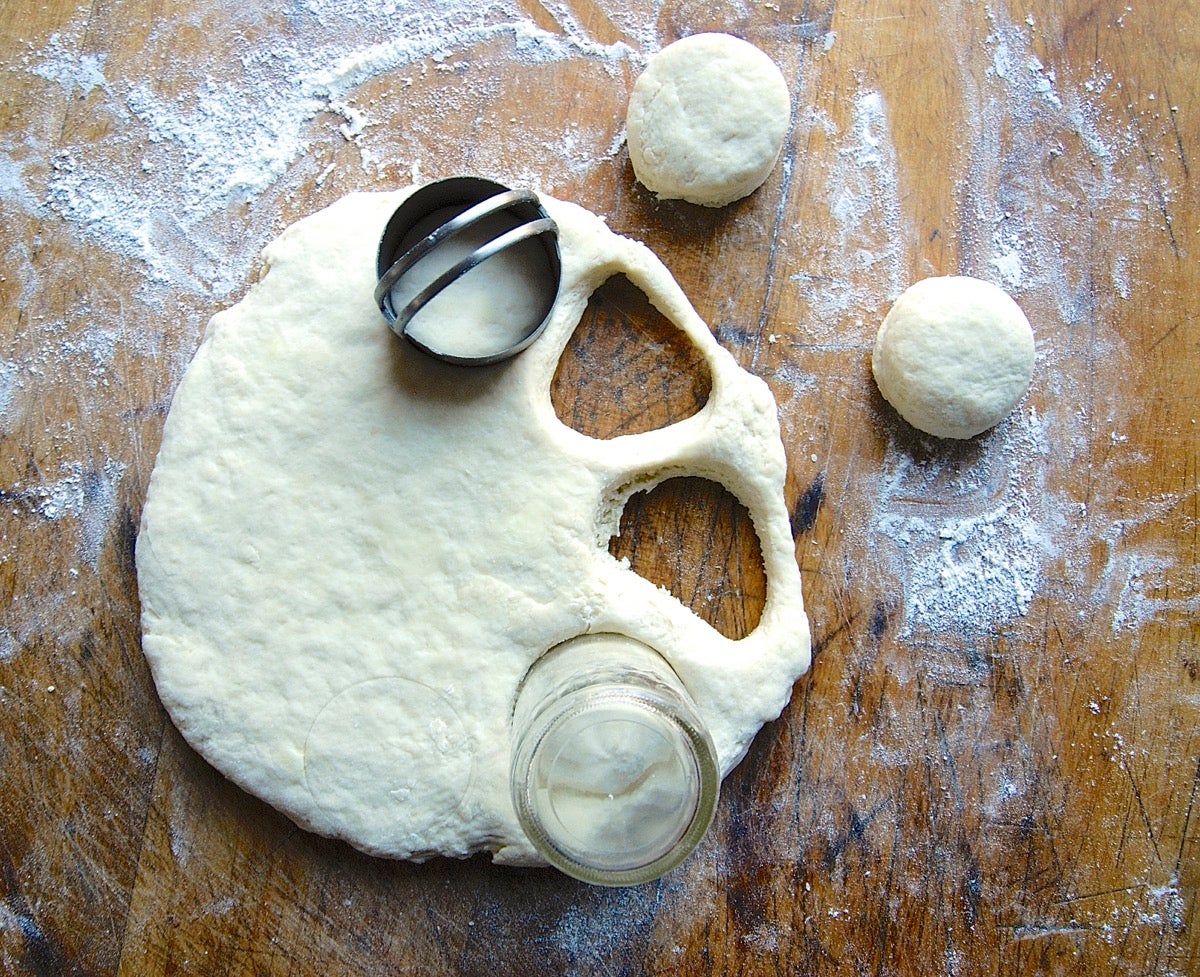 How to make high-rising biscuits? Choose the right cutter
The biscuit cutter, with its sharp edges, slices through the dough easily, simply by pushing straight down. No need to twist; in fact, twisting will help prevent a clean cut — so don't do it!
The drinking glass is more of a struggle; I have to twist it and push hard to get it through the dough.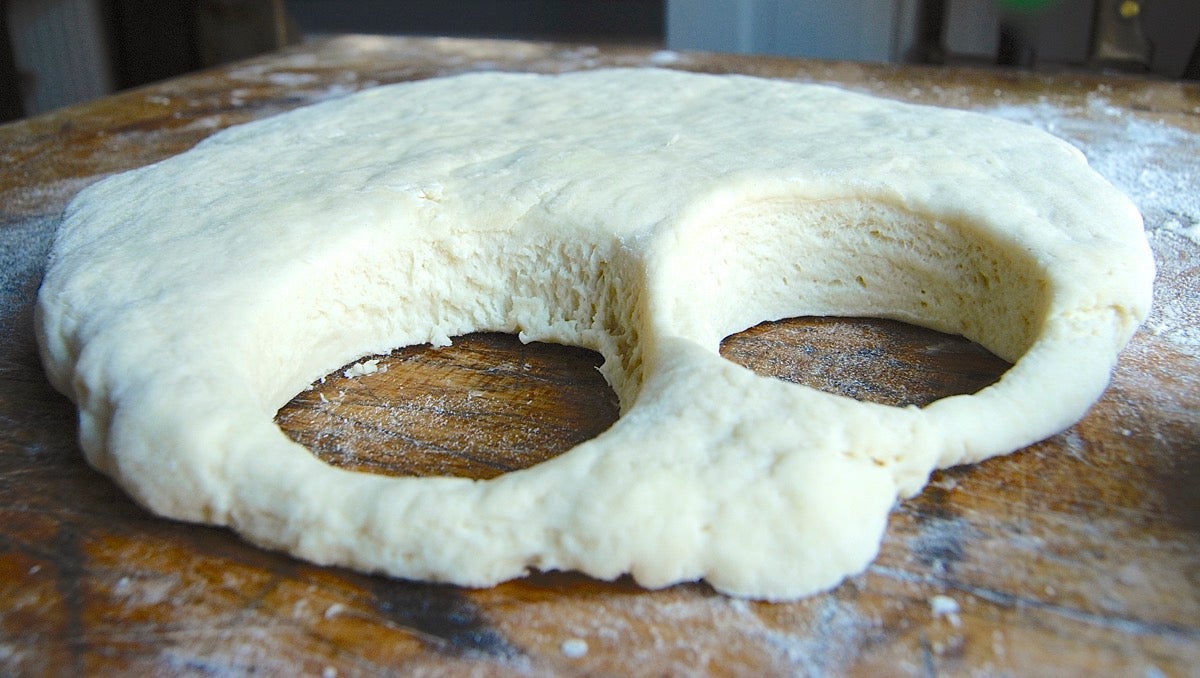 You can see the difference reflected in the cut dough: that's a hole from the drinking glass on the left, from the biscuit cutter on the right. See the ragged edges left by the drinking glass? Those are the hallmarks of a rough (rather than clean) cut.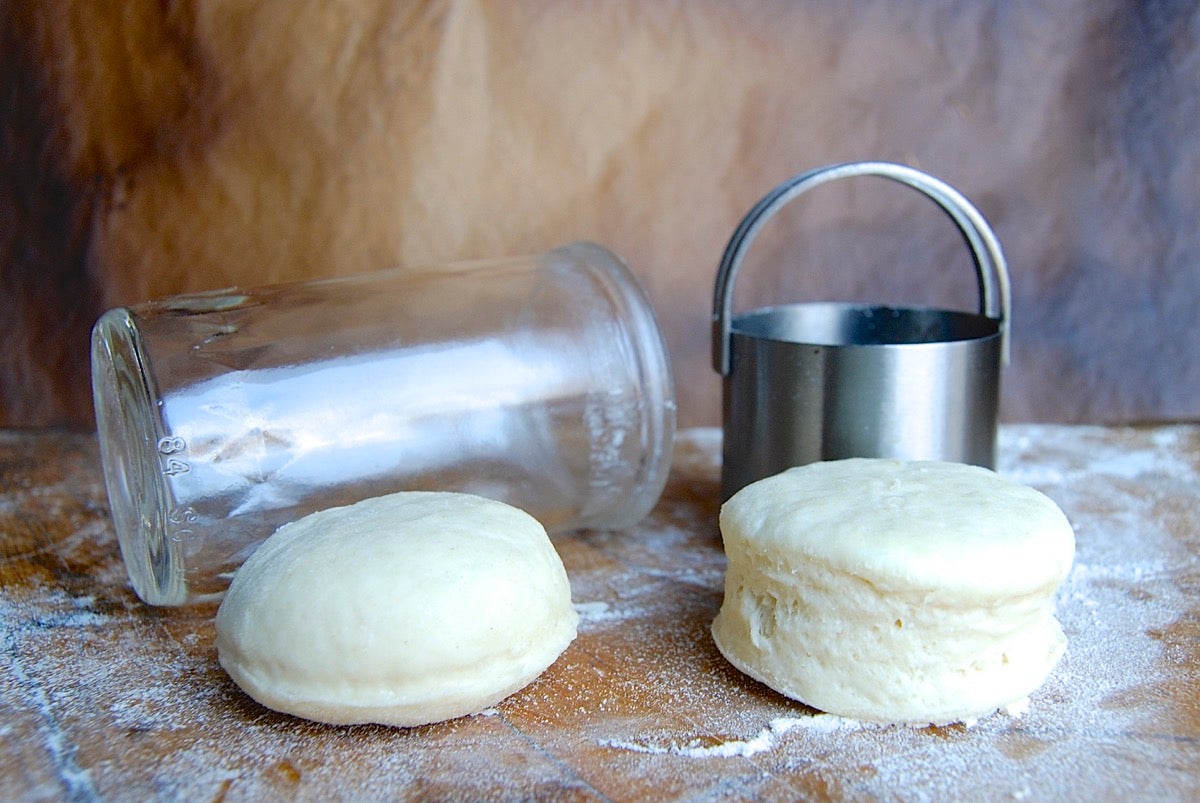 A sharp cutter leaves clean edges
Look at the difference in the actual biscuits, too. The drinking glass biscuit (left) shows obvious signs of its edges being compressed, while the biscuit cutter biscuit (right) shows a clean cut, with very little compression.
Why is this important? A biscuit whose edges are squashed together has a harder time rising than one with cleanly cut edges.

Clean edges = high-rising biscuits
The proof's in the pudding — er, biscuit! On the left, the drinking glass biscuit; see how much shorter it is than the biscuit cut with a sharp cutter? A good set of biscuit cutters is inexpensive and will last you a lifetime.
Still, if you don't have biscuit cutters you can easily make high-rising biscuits using a sharp knife or pizza wheel.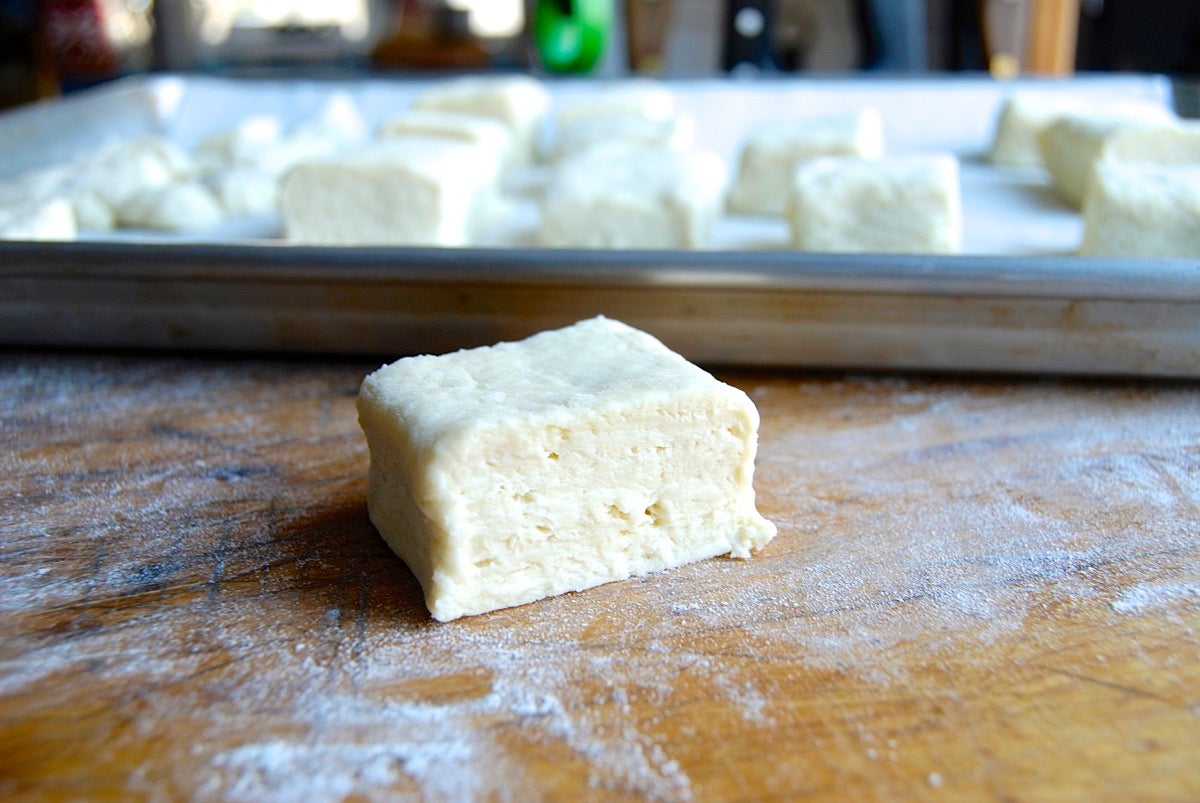 Don't have a round cutter? Cut squares
Instead of patting the biscuit dough into a circle, shape it into a square. Use a sharp knife to trim a thin strip of dough all around the edges of the square; then cut the square into smaller squares or diamonds. Bake as directed.
It may seem wasteful, but don't neglect to trim those edges of the dough before cutting the biscuits. (The trimmings can be baked right along with the biscuits; they're perfect for nibbling.)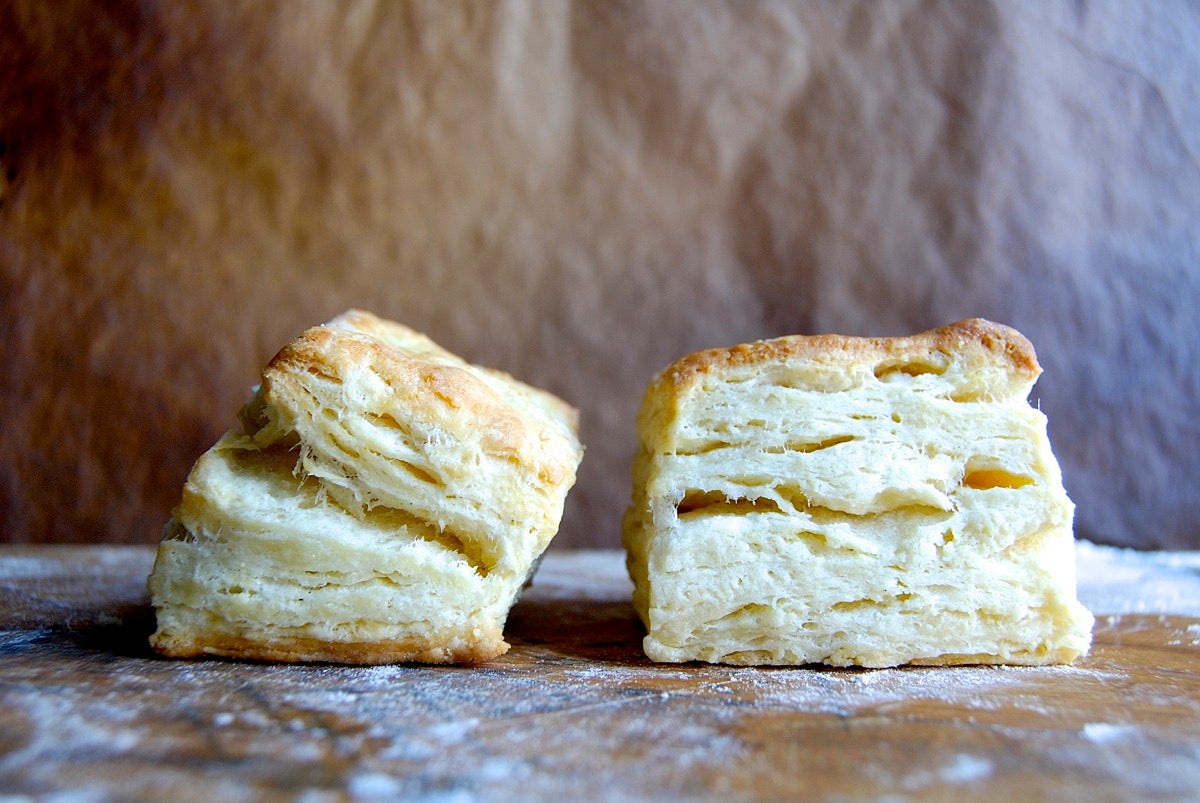 See what happens if you don't trim the dough square's outside edges? Any biscuits including an edge will be misshapen, sloping down towards their untrimmed side.
Still delicious; just not ready for any beauty shots!
You know what the best part about testing biscuit techniques is?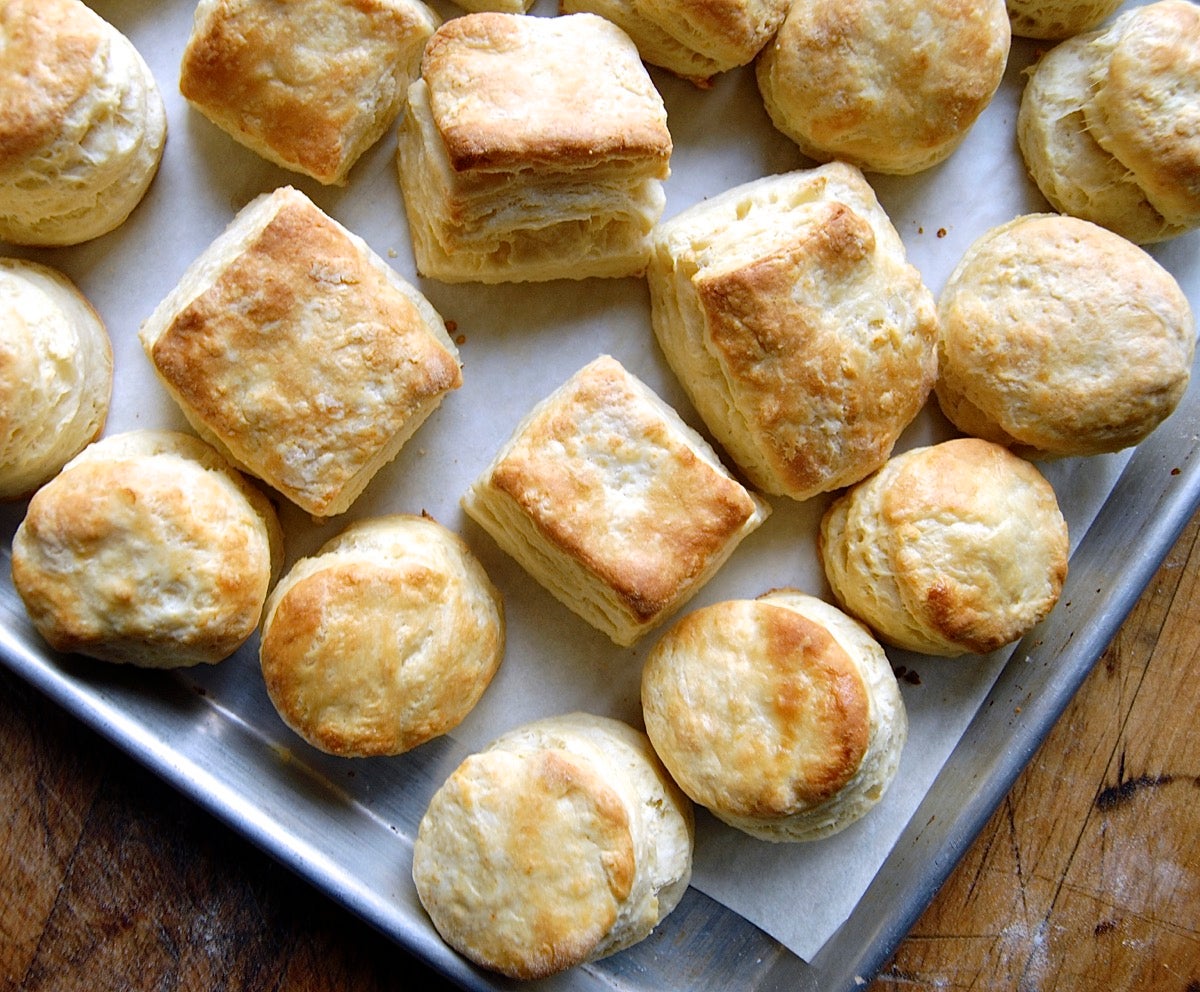 Ending up with LOTS of biscuits!
Luckily, the day I did this testing I also helped prepare dinner at a local homeless shelter; thank you, King Arthur Flour, for providing every employee-owner with 40 paid hours per year to volunteer. Trust me, all of these biscuits ended up in a good place.
Want to read more about biscuits? See these posts:
Tips for better biscuits
Fats and liquids in biscuits
Easy gluten-free biscuits
Do you have any favorite biscuit-baking tips — something special Grandma shared with you, or you discovered on your own? Please share in comments, below.
Jump to Comments