New Year's Eve is all about celebration, and no celebration is complete without cake. But New Year's is also a holiday that traditionally involves a big party, and that often means drinks all around! Whether a bottle of Champagne or a festive cocktail, there's usually some sort of alcohol in play on December 31. This year: Cosmopolitan Cake!
As bakers, our first thought in party planning is dessert. For New Year's, we wanted to pull out all the stops and so we turned to our Cosmopolitan Cake recipe. This gorgeous pink layer cake takes its flavor inspiration from a classic Cosmo cocktail: a potent mix of Triple Sec, vodka, cranberry juice, and freshly squeezed lime juice.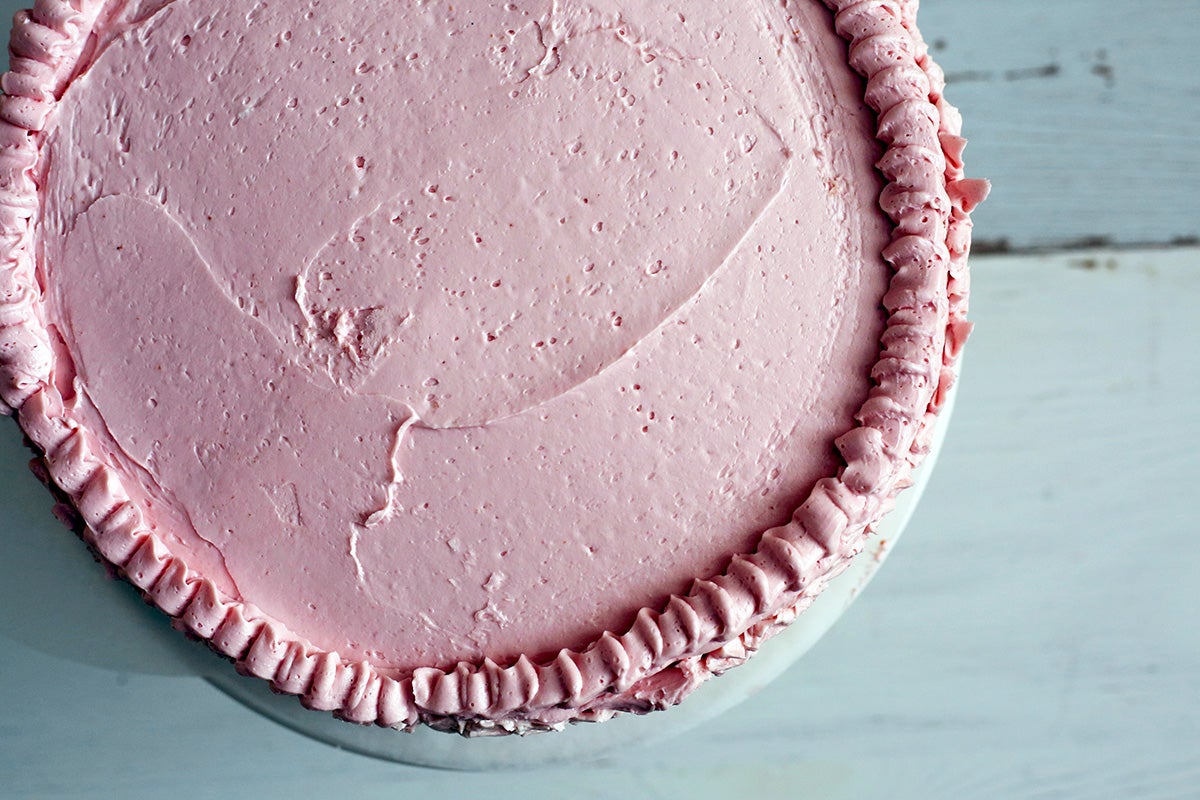 The Cosmopolitan Cake starts with delicately-crumbed cake layers that we brush liberally with a Triple Sec soak (Triple Sec is a citrus liqueur). The layers are sandwiched with a simple lime curd. The entire cake is swathed in fluffy cranberry buttercream.
Making a Cosmopolitan Cake is the perfect plan for any New Year's gathering. It's decadent and impressive, delicious and unusual, and worth the extra effort it takes. Plus, who doesn't want to ring in the new year on such a high baking note?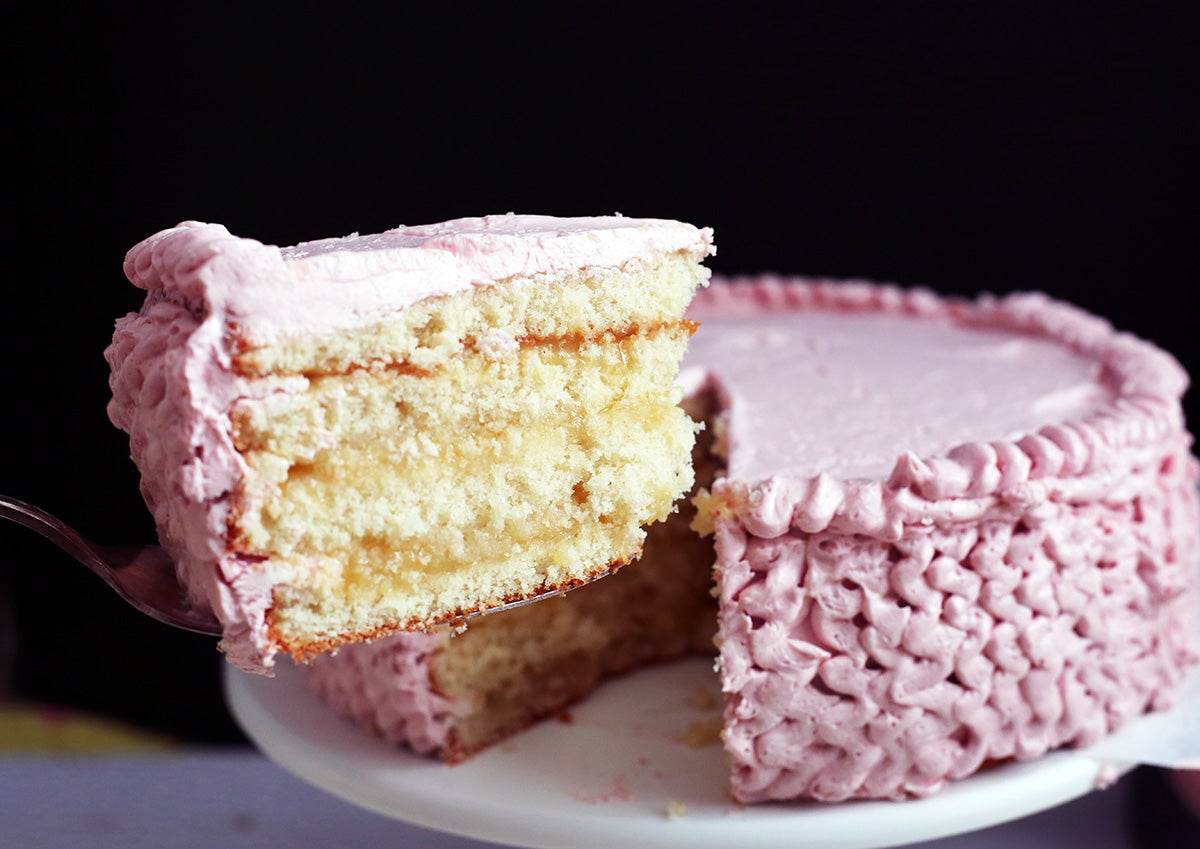 If you love the idea of a cocktail-inspired cake, take a look at other creative recipes that we featured in Sift magazine. We've got Dark & Stormy Cake, White Russian Cake, and Manhattan Cake.
And don't feel like you need to stick with one of those recipes! The beauty of a layer cake is that you can play around with the template of cake batter + filling + frosting. You can easily mix and match any of those fillings and finishing touches. You can even use a frosting or filling from our recipe archive. For example, pair the marbled cake batter from our White Russian Cake recipe with Salted Vanilla Caramel Icing.
The beauty, however, of the Cosmopolitan Cake is the combination of striking looks (pink frosting!) with such bright and sweet citrus flavors. The smooth, luscious lime curd is an ideal match for a tender cake and its creamy frosting.
A few tips for cake success: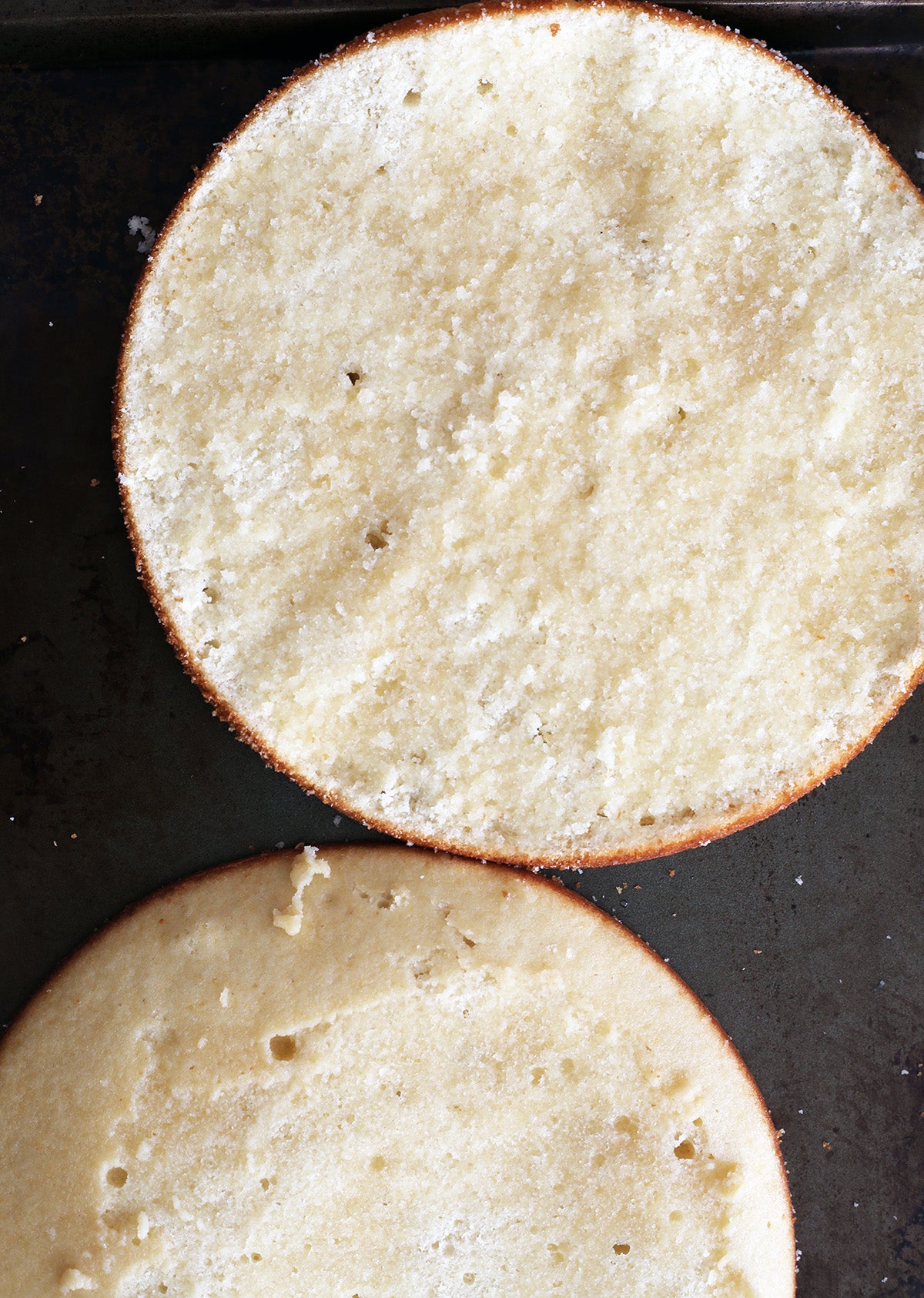 Soak seriously
The Triple Sec soak is easy to make. Heat together water, sugar, and Triple Sec, and brush it over the cake layers. It's easiest to do this using a pastry brush, and be liberal with your soaking. If you soak both sides of each layer, it will infuse the cake with maximum flavor and ensure that each bite is nice and moist.
Chill out
The frosting can be a little tricky to master. We've heard from plenty of you bakers that you've struggled with this frosting, as the meringue powder technique is a bit different than how you probably make your classic buttercream. My best advice is to stick with it! It really does work well if you follow the instructions; we've retested it and tweaked the frosting to ensure that the ratios work best in the home kitchen. However, if you find that your frosting is too soft, just stick it in the refrigerator for 10 or 20 minutes. Take it out and beat it again and it should be thicker and easier to spread.
If you're still having trouble with the frosting (or anything with your baking!), you can always reach out to our experts at the Baker's Hotline to ask questions or have them walk you through troubleshooting a recipe.
And if you prefer to use a favorite buttercream recipe you already have and just add some cranberry juice for color, go for it!

Circle time
There's a smart way to keep your lime curd filling from leaking out. Before spreading the curd on your cake layers, pipe a thin line of frosting around the outside of your cake layer (use a pastry bag or a plastic bag with the corner cut off). Then add the curd and the frosting circle will act as a barrier.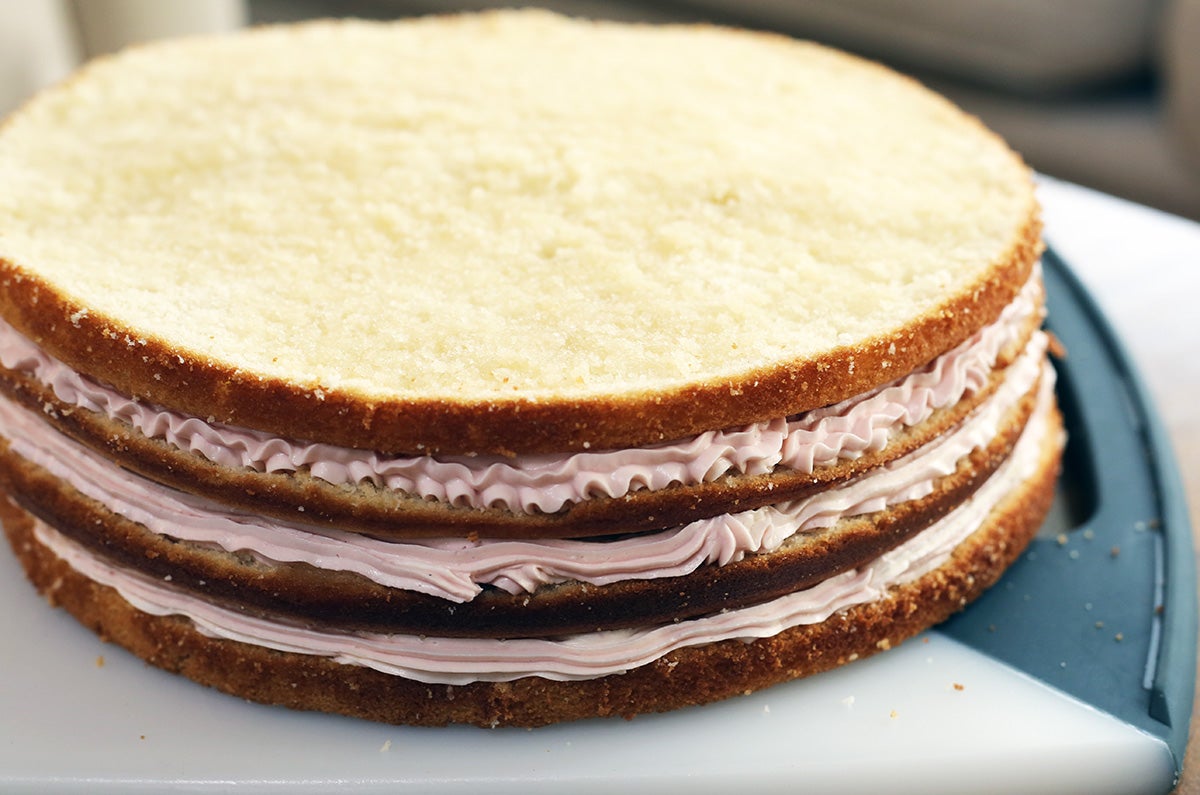 Don't worry about perfection here! You won't see the piping, and it just serves to keep the filling tidy.
Repeat the circle of piping and center of curd with each layer, then frost the top and outside of the cake with the remaining frosting. You can either do this in a decorative pattern or just frost it regularly. Read up on a few tips for frosting success here and here.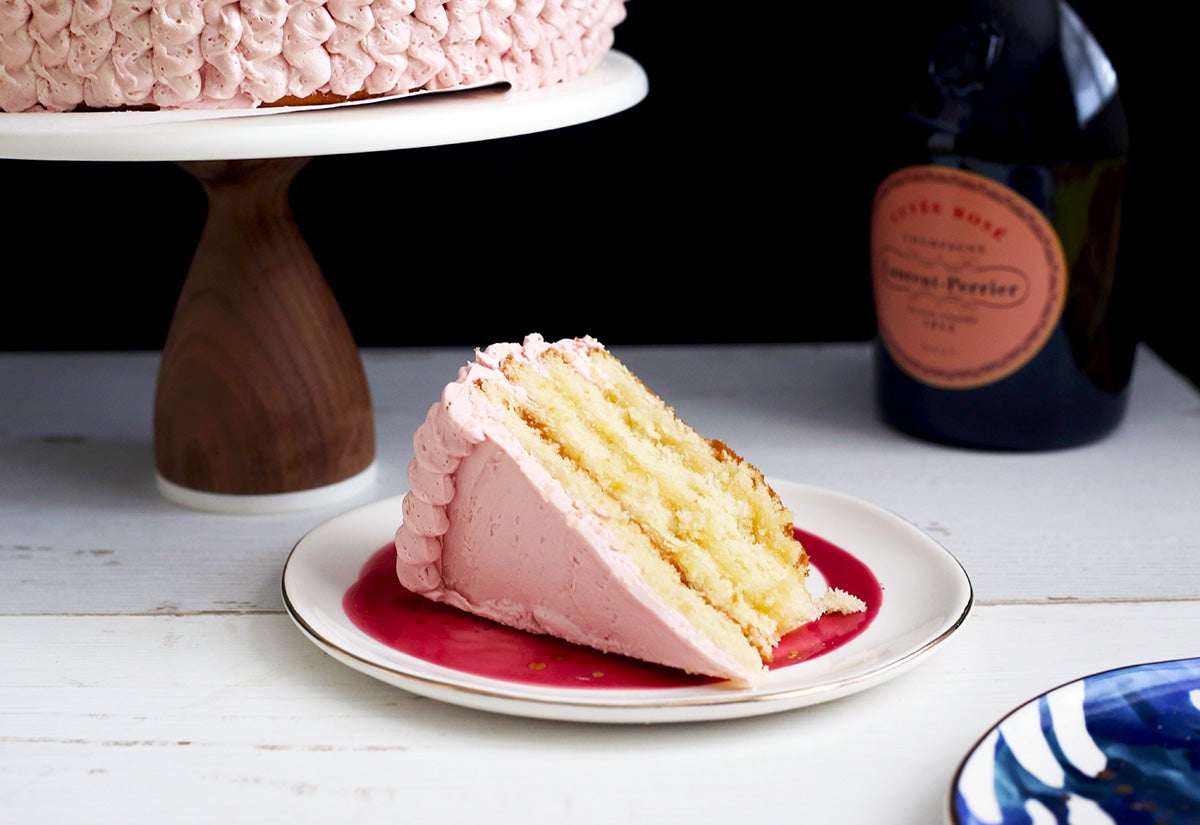 Best of all, if you bake a Cosmopolitan Cake for your New Year's Eve party, you've got the dessert and drinks covered all in one!
Please bake, rate, and review our Cosmopolitan Cake recipe.
Jump to Comments