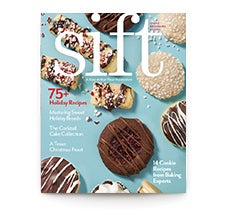 Sift magazine's holiday issue presents dozens of inspirations for baking that bring families together. In this excerpt, Sift food stylist Erin McDowell reconnects with her great-grandmother by learning to make her homemade strudel.
I set out to recreate my great-grandma Nagy's strudel dough without a recipe. My oldest brother is a photographer, and a few years back he restored some old photos for our mom. One of these photos happened to be of my great-grandma beside a table covered in fruit.
My mom told me they were making strudel, and when I squinted closer to the photo to see — sure enough — the whole table was covered with a thin dough, ready to be rolled up. I had made strudel once or twice in pastry school, but I was determined to create a new recipe, based in my family's tradition, to bake from and share.
Along the way, I learned a lot about strudel — tips and tricks worth knowing if you're going to tackle this pastry project.
The fillings are easy to prepare and the dough is easy to work with and very forgiving. The trickiest aspect of preparing any homemade strudel recipe is planning ahead, plus you'll need plenty of space to make the process go as smoothly as possible!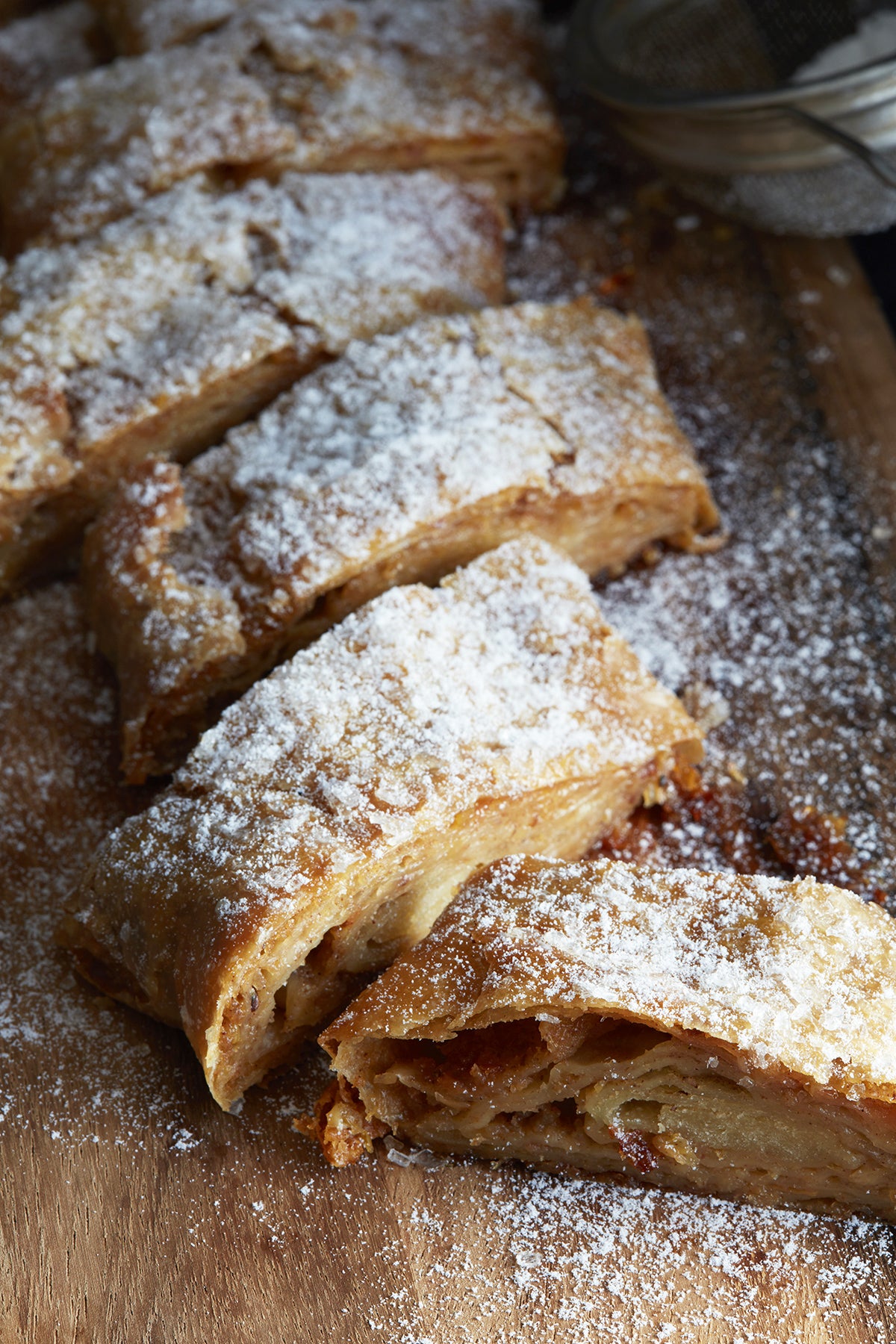 First rule of homemade strudel: Plan ahead
2 1/2 cups (298g) King Arthur Unbleached Bread Flour
1/2 teaspoon salt
3/4 cup (170g) warm water
2 large egg yolks
2 teaspoons vegetable oil
1 teaspoon white vinegar
Homemade strudel dough is so easy to make – throw the ingredients into a mixer and knead, knead, knead until you've got a super-smooth, pliable dough. This kneading is crucial to the structure of the dough – long protein strands form, making the dough flexible enough to stretch very thin (so don't skimp on the kneading time).
But all that kneading isn't the only plan-ahead item here: the dough also benefits massively from resting overnight in the refrigerator. This rest period relaxes the dough, which is key to easy stretching later.
If you don't have time for an overnight rest, never fear — the dough can be used after a solid 1-hour rest time. If you find the dough difficult to work with straight from the fridge (more on this later), you can let it warm up at room temperature for about 15 minutes before beginning to stretch it.
While we're talking about planning ahead — don't forget your fillings. Most strudel fillings are super simple to prepare, but many of them require cooking. You won't want to put warm filling onto a chilled strudel dough, so make your filling ahead (or while the dough is resting), so that you're ready to go come stretch time.
Next, prepare your workspace
You need a large area to stretch your dough. I use my kitchen island, which is a 3' x 2' rectangle. A card table or dining room table also works well – it's ideal to be able to walk all the way around the table, which makes it easier to stretch the dough!
Lay a clean tablecloth, flour sack towels, or oilcloth over the work surface — this helps prevent the dough from sticking to the table without the use of flour, as well as helps make rolling easier when the time comes. Have ready nonstick spray or a small bowl of oil – the dough is easiest to handle with lightly greased hands.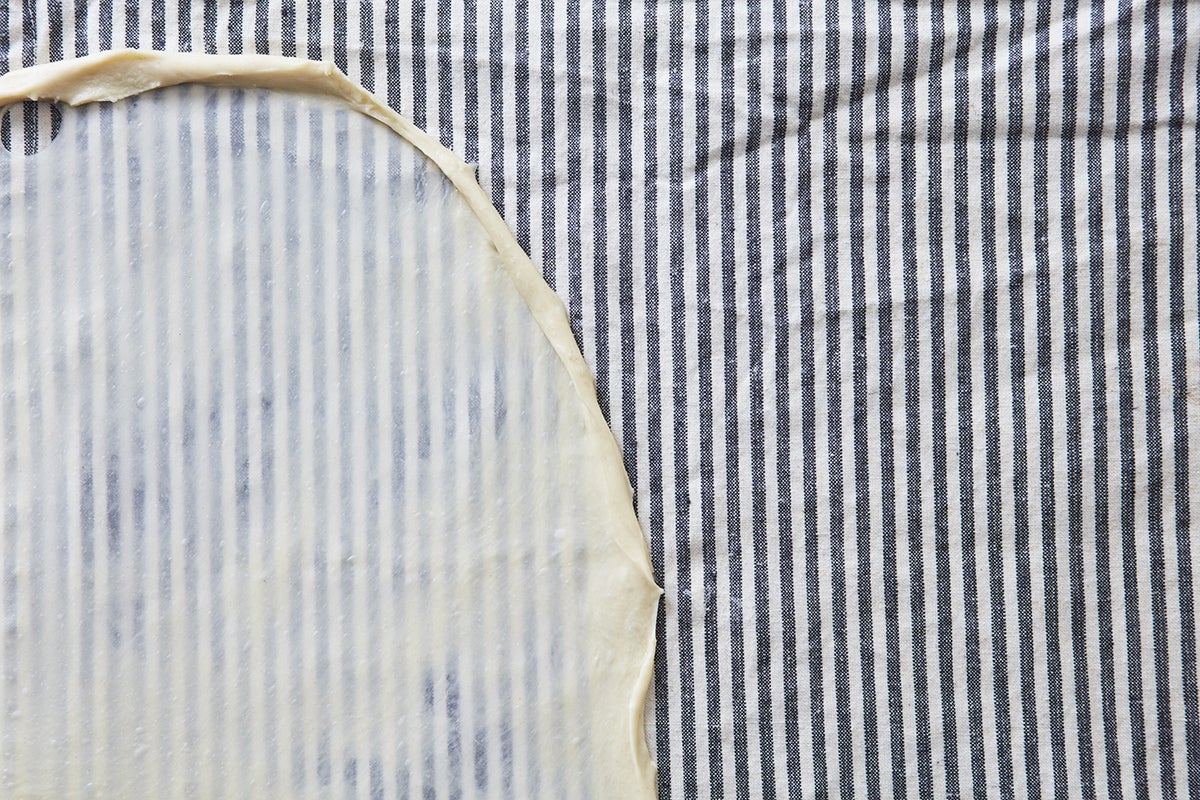 The key to stretching strudel dough is fearlessness
If you're scared, the dough will know – hesitation leads to rips and tears. That being said, don't worry if the dough does rip or tear – eventually, you'll be rolling this strudel up and it will have many, many layers – any rips will be invisible in the end product.
The dough should feel lightly tacky but not sticky, and it should stretch easily. Remember: If it isn't stretching easily, try leaving it at room temperature for a few more minutes before you begin.
Start by stretching the dough in your hands a bit like a pizza, trying as best you can to maintain a rectangular shape. When the dough gets too large to handle with your hands alone, lay it down carefully on the covered surface. Begin to stretch each side using closed fists. Put your hands under the dough at one corner, and gently work your fists outward, working toward the edge of the table.
Continue to do this, bit by bit, working around the dough to slowly stretch it out. When you reach the edge of the table, let the dough hang off. (Gravity will help "hold" it there while you stretch the other sides.)
The goal is to get it so thin you can see through it — if your tablecloth has a pattern, this can be a good guideline. The dough is very strong, and you should be able to stretch it without major tearing, but again — don't sweat any minor errors! Once the dough has stretched out very thin, run your fingers along the edges and pull gently to make sure they're thin enough, too.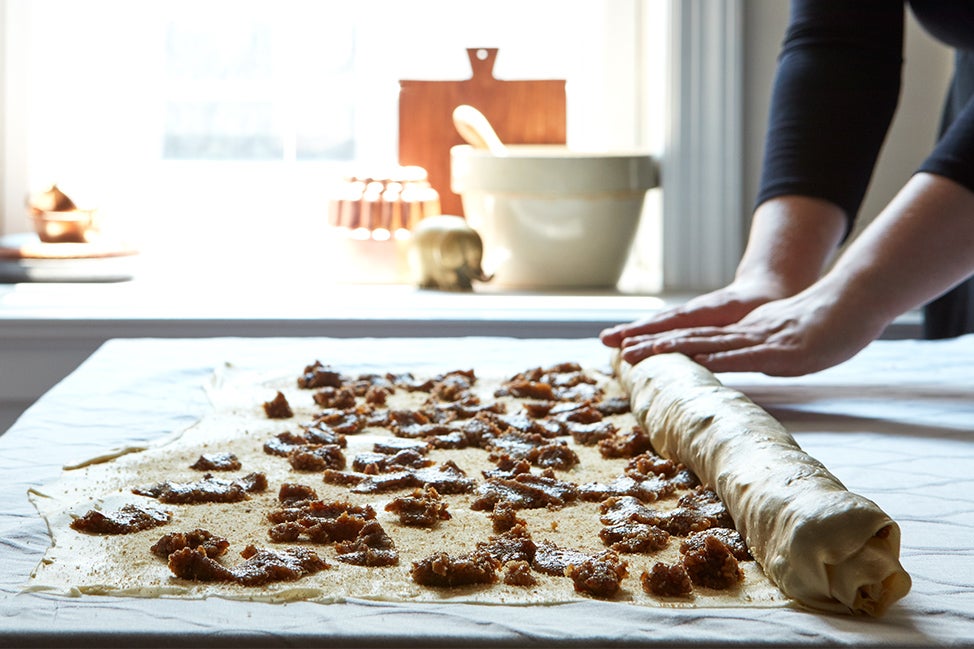 Prepare the strudel dough for the filling
This usually involves a layer of melted butter and a sprinkling of breadcrumbs. I recommend:
4 tablespoons (57g) unsalted butter, melted and divided
1/2 cup (57g) fine bread crumbs
turbinado sugar, as needed, for sprinkling
Drizzle, don't brush the butter — any unneeded motions on the surface are likely to tear your thinner-than-paper dough!
Use plain breadcrumbs for sweet strudels, and use plain or seasoned for savory strudel recipes. The breadcrumbs help absorb any excess moisture from the filling, helping to keep the strudel crisp.
Note: It's fun to get creative with the types of breadcrumbs — rye crumbs pair nicely with apples and pears, for example.
Here's what you'll need for an Apple Strudel filling:
4 medium apples (567g, about 1 1/4 pounds), peeled and cored
1 cup (170g) golden raisins, packed
1/2 cup (113g) hot water
1/3 cup (67g) granulated sugar
1/3 cup (71g) light brown sugar, packed
grated rind (zest) of 1 lemon
1 teaspoon cinnamon
1/2 teaspoon ginger
1/2 teaspoon salt
3 tablespoons (43g) unsalted butter, melted
See complete directions for making the filling in our Apple Strudel recipe.
You can also try Cinnamon-Walnut Strudel or savory Mushroom Strudel.
Apply the filling by dolloping it evenly over the surface. Fresh fruit can be scattered in an even layer — spreadable fillings should be spooned all over in little dollops, then pressed down with your hands. (Again — don't try to spread, that can tear the dough.)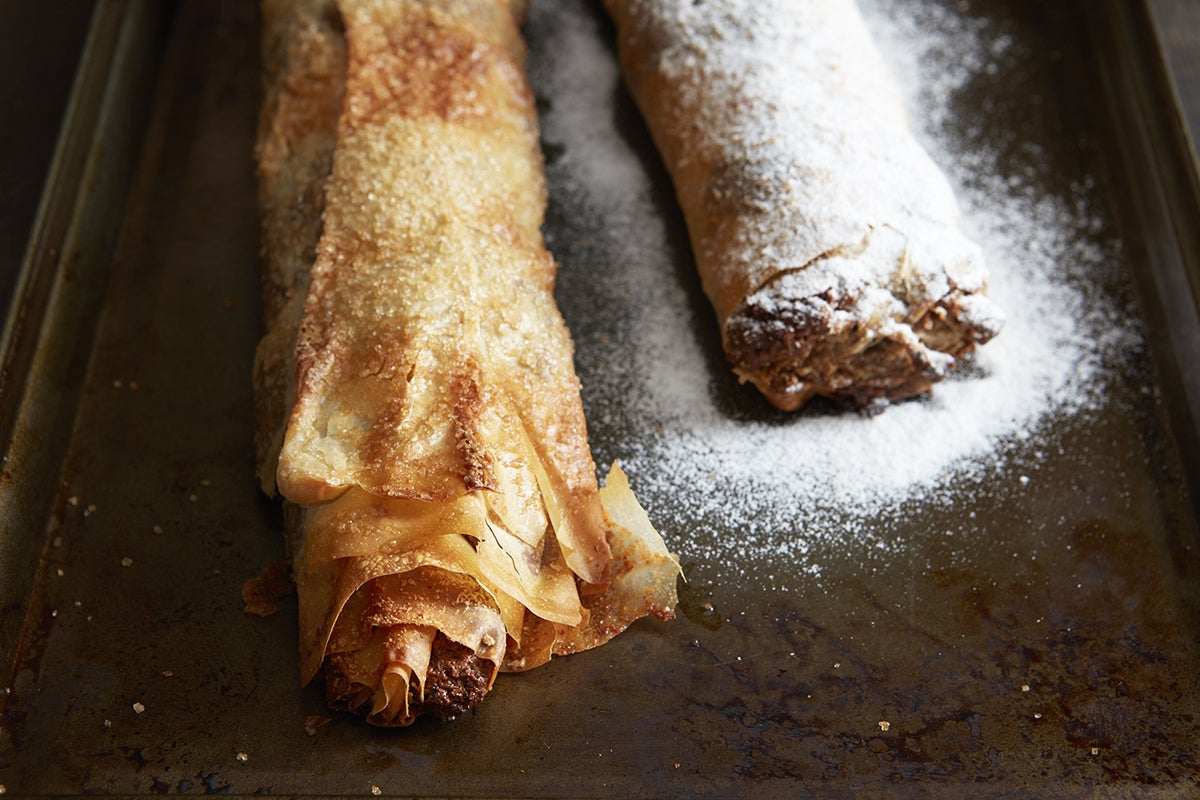 Finally, it's time to roll your strudel
The fabric/oilcloth table lining you laid down is helpful here — use it at one of the shorter edges of the dough to start the rolling process. Use the cloth to guide you to lift and roll up the dough — you want to roll it in a relatively tight spiral for best results.
The strudel can be cut into a few pieces for baking (it may be too large to fit on a baking sheet as is). Finishes include more melted butter and a sprinkling of sugar for sweet versions — could be a sprinkle of salt and pepper or a little bit of grated cheese for a savory strudel.
Bake homemade strudel at a high temperature to ensure even baking, browning, and crispness. I prefer 400°F for most recipes. Enjoy warm or at room temperature – it's a perfect baking project to do with friends or family (extra sets of hands never hurt!), and the result is as tasty as the process is beautiful.
Please read, bake, and review our recipe for homemade Strudel Dough. 
Then choose one of our three fillings: Apple Strudel, Cinnamon-Walnut Strudel, or Mushroom Strudel.
Jump to Comments